Complete Guide to Heating, Heat Pump, or Air Conditioning Thermostats
How to buy, install, wire, use, adjust, or repair room thermostats

InspectAPedia tolerates no conflicts of interest. We have no relationship with advertisers, products, or services discussed at this website.
Heating & Cooling Thermostats, how to install, set, troubleshoot & repair home page: this article series explains selection, installation, use, setting, and adjustment of heating or cooling system room thermostats or "wall thermostats".
Here in the article links found at Related Topics and at the top of this article we provide a complete guide to buying, installing, using, adjusting, & repairing thermostats for heating or air conditioning or heat pump systems. This article series answers most questions about central heating system troubleshooting, inspection, diagnosis, and repairs. Our page top photograph illustrates an antique room thermostat still in use at the FDR Estate in Hyde Park, NY.
Green links show where you are. © Copyright 2014 InspectApedia.com, All Rights Reserved.
Types of Thermostats Used to Control Air Conditioning & Heating Systems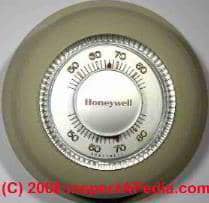 At left we illustrate a traditional Honeywell round bimetallic-spring type room thermostat that was used in thousands if not millions of homes in North America & other countries.
If your heating system is not working at all, start at HEAT WON'T TURN ON.
Article Contents:
Traditional Round Wall Thermostats & How They are Set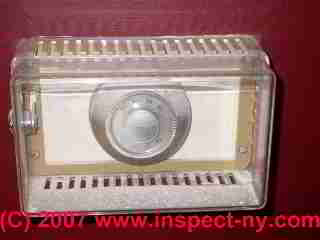 Heating & Air Conditioning Thermostats where are thermostats usually located, what types of thermostatic controls are used on various heating and cooling systems, how do we find all of the thermostats, how do we set, adjust, and use thermostats
The round Honeywell (R) wall thermostat shown in this photo has been locked in a plastic enclosure to prevent people from changing its set temperature. Set temperature and how the thermostat works are described in excruciating detail below.
At HEAT ANTICIPATOR Adjustment we describe how an internal adjustment can be made to this thermostat to improve its operation in some types of heating systems.
Room thermostats for air conditioning work and are set the same as when these devices are used for controlling heating systems. We provide lots of detail about how these devices work - see Detailed Guide to Room Thermostats below in this article.
Traditional Rectangular Wall Thermostats and how they are set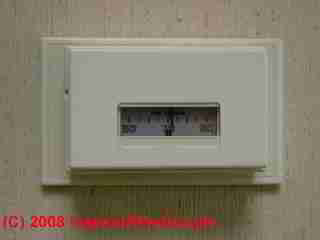 On this wall thermostat the red pointer shows the current room temperature.
The black pointer at the center of the scale at the bottom of the little window shows the temperature that the thermostat has been "set" to.
The "Set Temperature" is the temperature that the room occupant is requesting.
Moving the thermostat adjustment lever (located at the top, side, or bottom of the thermostat depending on the model) will change the set temperature up or down, causing the heating or air conditioning system to turn on or off as needed.
See Detailed Guide to Room Thermostats below.
Programmable, Digital Room Thermostats & How They are Set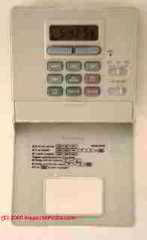 Digital room thermostats are illustrated in our two photographs shown here. A modern digital thermostat uses an LCD type display to show the current room temperature along with other information.
Typically the display changes in response to pushing the thermostat control buttons.
Most digital room thermostats are "programmable" - you can set the thermostat to set back the room temperature at night (in heating mode, for example) and many models allow different time and temperature settings both throughout the day and for individual days of the week as well.
Our digital thermostat shown at left indicates the time (5:43 PM) in the left side of the display and the current temperature (53 °F) in the right side of the display.
With the thermostat's plastic cover "shut" it's operation is very simple, just showing up and down arrows that temporarily call for a higher or lower room "set" or "desired" temperature.
We opened the plastic thermostat cover to show additional detailed controls and instructions.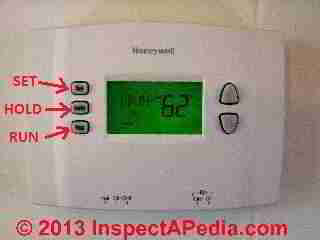 Our Favorite Room Thermostat - The Honeywell RTH2300 / RTH221
The Honeywell RTH2300 / RTH221 series room thermostats are easy to program, permit different weekday and weekend programs, and include a "hold" button that is invaluable for keeping the thermostat at a fixed setting without losing the whole program.
Honeywell displays a "Rated Overall Best Brand" sticker on the packaging indicating that this model received a "Best" rating by an independent Frost & Sullivan study.
At THERMOSTAT SWITCHES, INTERNAL we describe how to set this thermostat's internal "Gas" or "Oil" slide switch.
We describe the operation of a typical digital room thermostat for heating or air conditioning later in this article at Questions & Answers About Room Thermostats for Air Conditioners & Heating Systems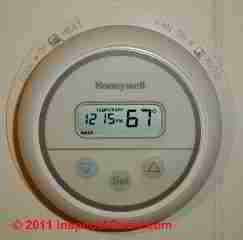 A simpler programmable Honeywell® digital room thermostat is show in our photo at left. This is a Honeywell CT2700 Electronic Round Programmable Thermostat.
The thermostat is showing the current time (12:15 PM) and current room temperature (67 °F).
This unit does not provide additional buttons under a cover. But by pressing the center "Set" button the display changes to allow the user to set a desired time and temperature setting for day and night time temperatures.
At THERMOSTAT SWITCHES, INTERNAL we discuss setting the thermostat's internal F/E toggle switch.
Watch out: we installed and tested two of these thermostats over several years of use. While the device is simple, un intimidating, and easy to program, the lack of a "hold" feature was annoying and required more fooling around; we also would have liked an additional daytime automatic setback period that this device doesn't offer.
But the worst discovery was that our oil burner was short cycling, sometimes turning on for just a few seconds - a problem that we finally traced to a defect in one of these thermostats. (The problem ceased when we swapped in our preferred thermostat shown above). We also found the flat cable wiring of this thermostat very fragile - eventually the display cable simply detached itself from its contacts.
The Nest™ Learning Thermostat - home automation features include buiding occupancy monitoring & communicating with the Nest Protect Carbon Monoxide & Smoke Detector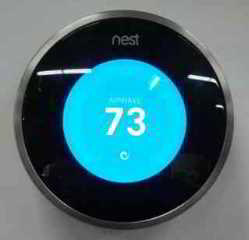 "The Nest Learning Thermostat" is an electronic device that can control room temperatures and possibly other components connected to or installed as part of a home automation system.
Photo at left: the Nest® Learning Thermostat on demonstration display at a Home Depot store in 2013. [Click to enlarge any image]
Adapting data from the company's website:
Nest learns your schedule, programs itself and can be controlled from your phone. Teach it well and Nest can lower your heating and cooling bills up to 20%.

[The] Nest [smart room thermostat] works with 95% of 24V heating and cooling systems, including gas, electric, forced air, heat pump, radiant, hot water, solar, and geothermal and includes these common thermostat control wire connections: Rc, Rh, W1, W2/AUX, Y1, Y2, G, O/B, Common "C", and also Nest - a connector that can accept one of: W3, E, HUM or DEHUM. [2]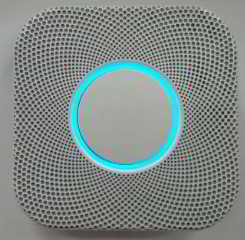 The Nest® Learning Thermostat also communicates wirelessly with Nest's Protect® shown at left, the company's carbon monoxide detector & smoke detector released in 2013 (CO DETECTION OPTIONS).
Really?: this smart thermostat is very appealing but in our OPINION it is a bit pricey at $250./ per thermostat plus $119 for concierge installation of one unit, more-so in buildings with multiple heating zones each of which requires control by an additional individual thermostat. The good news is that most consumers probably don't need to hire a concierge service to install the unit.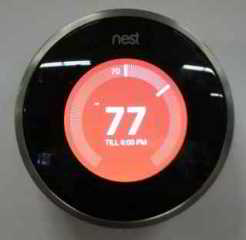 Photo at left: the Nest Learning Thermostat in programming mode with a red display indicating a programmed temperature and time.
There is no question that the Nest® learning thermostat is a beautiful and clever product. We considered buying the three Nest thermostsats that would be required to test and review the product and to try controlling our three heating zoned building temperature by cellphone from another country.
But needing three thermostats for the test building we felt that the more than $1100. price was a stumbling block. In our OPINION the promise of a 20% reduction in heating costs is probably an up-to number that will only be reached if you are not already using a programmable room thermostat that permits night and weekend temperature setbacks.
The legal definition of up to in advertising law states roughly that 10% of any product or product installation (not just this one) using the term up to in advertising should meet the up to claim.
If however you want to use building temperature sensing or time of day to automagically control additional building components such as programmable LED lighting, the value of the Nest® is increased accordingly. See LED BULB & LIGHTING TYPES for notes on programmable or controllable LED lights in buildings.
Radiator Thermostats & Baseboard Thermostats, Automatic - TRVs & How They are Set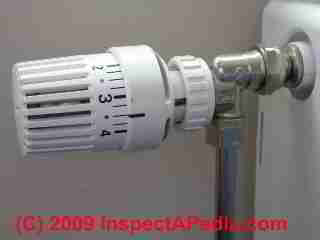 Several manufacturers provide thermostatically-controlled radiator valves (Armstrong, Danfoss, Hoffman Specialty, Jacobus (Maid'O'Mist) and others).
Automatic radiator/baseboard valves provide thermostatic controls that can be installed on individual hot water radiators, steam radiators, or heating baseboards. The automatic radiator or baseboard valve will automagically open or close to attempt to control room temperature to the desired level.
Shown at left is an adjustable individual thermostatic control installed on a hot water radiator in Molde, Norway.
For details see RADIATOR VALVES & HEAT CONTROLS This article describes these automatic or thermostatically controlled radiator valves (such as the Armstrong RV-4) that will allow you to set the desired room temperature.
Also see RADIATOR STEAM VENTS, 1-PIPE SYSTEMS for a description of automatic steam vents used to control the rate at which steam heat radiators will get hot. Automatic steam vents can help balance the delivery of otherwise uneven steam heat throughout a building.
Remote Control Room Thermostats for Heating and Air Conditioning & How to Use Them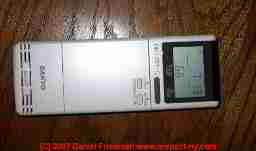 Remote control thermostats such as the unit shown at left are usually used with air conditioning or heating split systems using an outside compressor/condenser unit and one or more indoor wall-mounted cooling or heating units..
The thermostat controls in the hand-held remote control communicates with a wall-mounted air conditioner or heater using infra red signals.
The open finned area at the bottom of this Sanyo control (at the left in our photo) permits ambient air to enter the control for purpose of sensing the air temperature.
A control such as this Sanyo™ unit can be quite sophisticated and include automatic set back temperatures, timers, etc.
See SPLIT SYSTEM AIR CONDITIONERS & HEAT PUMPS for details, including troubleshooting and fixing remote control thermostats themselves as we describe in detail at SPLIT SYSTEM AIR CONDITIONERS & HEAT PUMPS-FAQs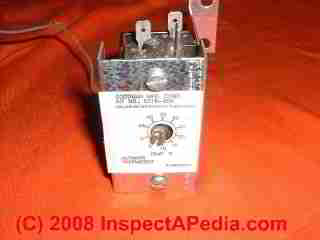 Heat Pump Outdoor Thermostats are used to control the turning on and off of backup heat.
Our photo (left, courtesy of Neal Renn shows the thermostatic control unit in the outdoor compressor/condenser unit of a residential heat pump.
See Heat Pump Thermostats - Outdoors and BACKUP HEAT for HEAT PUMPS and also see Detailed Case of a Heat Pump that Put out Heat when Cooling was Required
Choices of Room Thermostat Models, Brands, Features
In the article above and at Related Links (near page top) we describe the installation and use of most types of room thermostats used for heating, cooling, even dehumidification in buildings. But there are hundreds of models and features available. The largest selection of room thermostats we find anywhere is at Grainger who has over 250 models in their online catalog. http://www.grainger.com - but beware not every thermostat description necessarily names all features.
Room Thermostat Temperature Sensor Mechanisms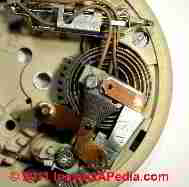 A variety of methods are used to sense room temperature and to communicate that data to the thermostat's heating or cooling switching mechanism:
Bimetallic Element thermostats use a bimetallic spring consisting of strips of two different metals fused together, typically into a coil shape. As room air temperature causes the two metals to expand or contract at different rates, the effect is that the spring coils up or un-coils, moving a switch that turns heating or cooling or or off.
Bellows Element thermostats are filled with a volatile liquid that vaporizes at temperatures typically found indoors. As the liquid vaporizes pressure inside the bellows expands, translating temperature change into the movement of a contact to turn heating or cooling on or off in response to building temperature.
Thermistor-type thermostats use a tiny solid-state electronic component, a type of resistor whose electrical resistance changes in response to temperature. By combining the thermistor with appropriate additional circuits and controls the thermostat uses the change in resistance to control the switching of the thermostat's control of cooling or heating on or off in response to room temperature.
For details: at TEMPERATURE RESPONSE of Room Thermostats we give a detailed description of how room thermostats sense & respond to room temperature, and at HEAT ANTICIPATOR Adjustment and THERMOSTAT SWITCHES, INTERNAL we explain methods used to fine-tune thermostat operation in response to temperature swings, thus adjusting the burner on-cycle or fan operation if the heating system uses a fan.
Steam Heat Room Thermostats, Wall-Mounted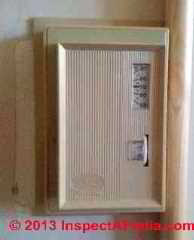 Room thermostats used to control steam heat may vary from their cousins illustrated above, or not - depending on just what the thermostat is controlling. In a residential application a standard room thermostat works fine to turn on or off the steam boiler.
But in larger buildings you may find that the room thermostat for steam heat is controlling a valve or relay that admits steam to radiators in one room or in just one section of a building.
In our photo at left, this wall thermostat controls steam heat in a college office in Poughkeepsie, NY.
[Click to enlarge any image]
The upper scale indicates the current room temperature.
The lower dial-scale is the set-temperature adjustment on this thermostat. The thermostat controls a steam radiator valve that in turn admits or shuts off heat into the space managed by this device. RADIATOR & BASEBOARD THERMOSTATS, Automatic - TRVs provide an alternative that can control individual hot water or steam radiators in buildings.
A Guide to Using Wall-Mounted Room Thermostats - How to Set the Thermostat
Detailed photos of the major components of a wall thermostat and a description of how heating & cooling thermostats work are provided below. If your heating system is not working at all, start at HEAT WON'T TURN ON.
Remote Control Thermostats & Remote Heat, Cooling, or Building Temperature Monitoring
A variety of remote control thermostats are offered by HVAC control manufacturers, permitting an owner to monitor, or even change building temperature control settings remotely by telephone or by web-enabled internet connection.
Also see FREEZE-PROOF A BUILDING or WINTERIZE A BUILDING.
Proliphix provides a range of energy control thermostats that offer remote temperature control via web-enabled communication between an individual and the building's HVAC controls. Also see Honeywell Controls, and White Rodgers thermostat controls.
Nest room thermostats are a top-end programmable room thermostat that can be controlled remotely by cellphone.
How to Set a Room Thermostat To the Desired Temperature
Here is our photo of a traditional round Honeywell (R) round room thermostat.
Heating thermostats: Here we use a traditional, and very simple dial-type round wall-mounted thermostat as an example. Notice that the thermostat face has two temperature scales and two pointers.
The top scale on the thermostat and the red arrow shows the "set" temperature that the thermostat is asking for.
The bottom scale shows the actual room temperature.
Rotating the thermostat dial to the right (clockwise) will increase the "set" temperature. Rotating the dial to the left will decrease the "set" temperature.
Heating thermostats are a simple switch to turn on a heating furnace, boiler, or other heat source. As we explain again below about cooling, for a heating thermostat to actually cause the heating system to turn on, the ambient temperature at the thermostat must be below the set point or temperature to which the thermostat has been set.
Make sure that your thermostat has been set to the proper position for the season: cooling or heating. The air conditioner will not run with the switch set to "heating" and conversely the heating system won't run if the thermostat has been set to "cooling."
An air conditioning system thermostat is a switch to turn on or off the A/C equipment as indoor air temperature varies around the thermostat's set point. Air conditioning thermostats are typically wall mounted in the living area. The thermostat, if it's a combination unit, may have both a temperature setting switch and a switch that can be moved from "cool" to "off", or "heat" positions.
For the thermostat to call for cooling it must be in the "cool" position and the temperature set to a level below the ambient air temperature at the thermostat location. Thermostats contain an internal temperature sensor which compares the air temperature at the thermostat to the temperature called-for by the user, turning the cooling (or heating) equipment on or off as appropriate.
How to Save Heating Cost & Air Conditioning Costs by Thermostat Adjustments - Thermostat Setback
Substantial heating or air conditioning cost savings can be achieved by manually setting back your thermostat when the building is unoccupied or when occupants are asleep. The thermostat is set several degrees (or more) cooler during heating season or warmer during cooling season.
The settings of thermostat "mode" switches into "heating" or "cooling" and the use of other thermostat switches to control an air conditioning blower fan or heating system blower fan are discussed in detail at Other Switches on a Room Thermostat.
Lots of websites offer calculators that will tell you how much you'll probably save in energy costs for every degree you set back your heating or cooling thermostat. Just don't set the thermostat down so low that you suffer costly damage from freezing pipes in winter or mold from high humidity in summer.
Also see Heat Won't Turn Off - Stop Unwanted Heat explanation of why heat may continue to come out of radiators or baseboards even though you have turned down the thermostat. Stop wasted heat by making sure you are not delivering heat when it is not needed or not wanted.
Backup Batteries & Default Programs for Digital Room Thermostats
Some programmable digital room thermostats include an internal battery that will allow the device to remember the program that you have set even if there has been a power outage.
All programmable digital room thermostats are designed to return to a "safe" or "standard" temperature program to be sure that heat or air conditioning will continue to work in some reasonable range in case a power outage or dead internal battery causes the thermostat to forget how it was programmed by the user.
Other Places to Look for Information about Heating & Cooling Control Troubleshooting
Because some controls are used in common on hot water heat, hot air heat, and steam boilers, readers should see these other articles:
Air conditioners & heat pumps: see A/C - HEAT PUMP CONTROLS & SWITCHES
For hot water or steam heat see BOILER CONTROLS & SWITCHES, and also see BOILER COMPONENTS & PARTS for a detailed list of heating boiler controls, other heating system components, parts such as circulator pumps & draft regulators.
If your building uses warm air heat, see FURNACE CONTROLS & SWITCHES
If your building uses steam heat see STEAM HEATING SYSTEMS. Also see Heat Won't Turn Off - Stop Unwanted Heat.Water heater thermostats are discussed separately at AQUASTAT CONTROL Functions and at Electric Water Heater Thermostats.

Readers needing to find and fix un-wanted air leaks, heat losses, or other energy wasters should see HEAT LOSS DETECTION TOOLS. Readers should see ENERGY SAVINGS RETROFIT CASE STUDY and also see HEAT LOSS DETECTION TOOLS and INSULATION INSPECTION & IMPROVEMENT for energy saving retrofit detailed guides.
Also see GAS PIPING, VALVES, CONTROLS for more details on how to inspect and test LP and natural gas piping, controls, valves, and tanks.
More Reading
Green link shows where you are in this article series.
...
Frequently Asked Questions (FAQs)
Question: Why Does the Thermostat Display Jump Back to 83 After I set It to 68 Degrees?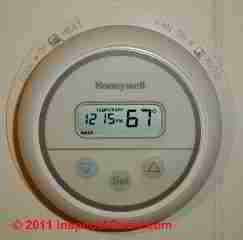 My daughter had a thermostat replaced about 2 months ago [Trane unit] replaced with Honeywell digital thermo worked well.
Today she called me and said that the thermostat is saying 83 degrees and when she sets it to 72 degrees it jumps back to 83 degrees/she says the thermo is set on the cool side.
Do you know what the problem may be. Please advise - Thank you John
Reply: How a Single-Display Digital Room Thermostat Works
A competent onsite inspection by an expert usually finds additional clues that help accurately diagnose a problem with air conditioning systems and controls, possibly including something you were not considering. That said, there may not be any thermostat problem in the case you describe. At least not with the thermostat itself.
Our first photograph (above left) shows a basic Honeywell digital room thermostat. This one happens to be set in Heating mode but the principle of how the display works is the same in both heating and cooling modes. You'll see that the display shows the time (12:15 pm) and the current room temperature (67 °F - the house was already cool).


In normal operating mode a digital thermostat whose indicator window shows only a single temperature number displays the current room temperature that it is sensing.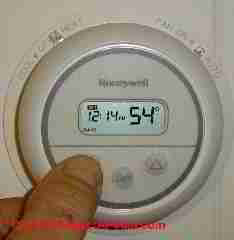 When you press the temperature "set" buttons to call for a decrease in room temperature, (say for air conditioning) or an increase in room temperature (say when in heating mode), the thermostat temperature display temporarily changes to show the "set" temperature - the temperature you are calling for.
When you stop pressing the temperature "set" buttons the thermostat display returns to showing the current room temperature.
Our second digital room thermostat photo (left) shows me pressing the "set down" button until the display shows 54 °F.
This is the new "set" temperature or the temperature I am calling for at the thermostat.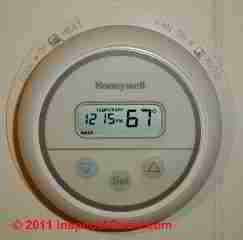 Our third Honeywell digital room thermostat photo (left) shows that a moment after I removed my thumb from the "set" button the thermostat display returned to showing the current actual room temperature (67 °F).
So if the current room temperature for your daughter was actually 83 °F (or in my case 67 °F), that is the number that will show both before and after pressing the "set" buttons.
Only while the set buttons are being pressed will the display show a different temperature (the temperature you are calling for).
As the A/C turns on and begins to lower the room temperature you should see the displayed room temp number gradually drop until it reaches the set temp.
It's possible that your daughter's thermostat is therefore working normally but she simply didn't previously notice how it's display behaves. Often when we notice something for the first time we think there has been a change even if that is not the case.
Two exceptions to this description of how the display on a digital thermostat works
First: if the A/C or heating system is not working properly then even after changing the "set" temperature on the thermostat nothing will happen, or the system may run but never reach the set temperature.
Second: some digital thermostat models show not just one, but two temperatures in the display. One of these is the "set" temperature and the second is the "current" or "actual" temperature. If your daughter's display is one of this type, then it may not be working properly. But from your description it sounds as if she's got a single-display model.
Watch out: if your heating system electrical power has been shut off, when power is restored the thermostat might have "forgotten" the program that you had set into it and you'll need to re-program the device by setting the correct time and then the desired room temperature set back time, and temperature.

Question: How to Translate the error codes on digital thermostats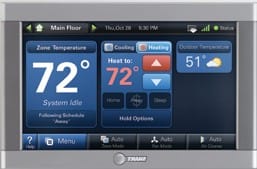 My Trane digistat has a red button lit and has error code 90? what does that mean? - Tony 7/7/2011
Reply:
Tony error codes are thermostat or heating/cooling device and model dependent. The meaning of HVAC unit error codes are usually printed on a sticker inside the unit cover or control or device cover. If yours has lost that information look for the installation and service manual for the equipment.
If that fails you'll need to call the manufacturer with your model number, serial number, and ask for the manual. That's because there is not a universal standard for digital thermostat error codes - the codes displayed and just what they mean vary among different heating & cooling devices. Some example thermostat and digistat error codes are listed below:
Trane XL19i A/C Digistat error code 89 or 90 or 91 - check for a loose wire or broken connection in the thermostat wiring;
Trane 900AC43UA error code 126 - condenser unit lost power in mid-cooling cycle. Turn off all power and wait at least 5 minutes, we recommend 15 minutes, then turn power back on. This may enable the refrigerant pressures in the system to equalize and allow the compressor motor an easier start-up.
Trane 900AC43UA error code 53 - check for blocked air filter or dirty condensing coil
Trane Furnace LED Flashing Error Indicators:

Slow regular flashing: normal condition, the thermostat is not calling for heat (modern units)
Fast regular flashing: normal condition, the thermostat is calling for heat (modern units)
Flashing (older units): System has locked out on safety - unable to start and run safely
On solid: bad control board
Off solid: no power to the unit
2 flashes then pause: System has locked out on safety - unable to start and run safely
3 flashes, then pause: vent pressure switch senses an error
4 flashes: the high temperature limit device is not working or high temperature has been reached - safety off
5 flashes: burner flame sensed when it should be off
6 flashes: reversed hot / neutral electrical power wiring or defective electrical ground connection
7 flashes: gas solenoid valve error or circuit error
8 flashes: burner flame too low
9 flashes: igniter circuit failure & wire marked from terminal "N" to 24VAC voltage is low - check for bad ground

Digistat 3 water heater Error Code 90 - the unit is not heating the water or the fan is finding airflow resistance that causes it to over-correct. Check for insufficient makeup air, an improperly installed or blocked heater exhaust vent (dangerous), a blocked fan motor or vent, or insufficient BTUs or fuel supply.
Drayton Digistat+2 Code E1 or E2 - sensor fault, system remains off, call for service [UK Product]
Our image above shows a Trane ComfortLink™ II digital thermostat that uses downloadable software that can be transferred into the device using an SD card or similar memory device. This is one of at least ten models offered by the company. Contact Trane Corporation at PO Box 9010, Tyler TX 75711, or via their website, www.trane.com or by calling Trane's Thermostat Customer Assistance Helpline at 1-877-880-3381 - don't expect to find detailed thermostat installation guides or error codes for Trane equipment online - the company does not provide that information.
Question: Control Voltage for Thermostats
I've read several pages of these troubleshooting tips and none of them refer to "control voltage" .I have found this to be the problem in more than one HVAC unit that I had to work on . FYI folks . - Charlie G 7/7/11
Reply:
Charlie G:

It would be great if you'd expand your comment and explanation about control voltage - it would surely help other readers. Working together and exchanging information makes us better informed than any individual can be working alone.

InspectAPedia is an independent publisher of building, environmental, and forensic inspection, diagnosis, and repair information for the public - we have no business nor financial connection with any manufacturer or service provider discussed at our website.

We are dedicated to making our information as accurate, complete, useful, and unbiased as possible: we very much welcome critique, questions, or content suggestions for our web articles.
Question: We changed our A/C unit and Thermostat - now it Stopped Working
Hello, Mr. Friedman. I seem to be having a strange problem. We just had our A/C unit and thermostat changed in February, and it was working wonderfully up until today. We just got back from vacation yesterday and had left the thermostat at 80 degrees. We came home, and I switched it from 80 to 75 and then from 75 to 70. And it was working fine up until about three hours ago (it is now 7:15 pm).
The thermostat registers the inside temperature, but there is no side number indicating what temperature I wish to have it at. (Ex.: It's 85 degrees, and I would set it so that it would be 75 degrees, but that number isn't showing up). The fan will run if I switch it to "on", but not on auto. I have switched the batteries, called Honeywell, flipped all the switches I can find. I'm assuming that this would be the cause of the thermostat, as opposed to the actual unit itself?
We have been having problems for a while now, with strange things. (Last month, the carpet directly across from the unit was sopping wet, and took a week to get up! But there was no leakage directly at the AC unit.) It's been kind of a Murphy's Law joke. I'm not sure what I hope to hear, but any kind of advice would be gladly received.
Thank you.
Jillian 7/9/11
Reply:
I'm not sure about your model but many thermostats show the current room temperature and do not show the set temperature except while you are pressing the set buttons to change the temp up or down. If you have set the temperature well below the current room temp and the A/C won't start, then you will want to take a look at the air conditioning diagnosis suggestions found in the article linked to at Related Topics and titled LOST COOLING CAPACITY
About that wet carpeting, if your air conditioning condensate drain system is clogged or leaking that could be the problem; watch out for hidden mold or even insect damage or rot if such a leak is left un repaired.

Question: We changed our thermostat settings and now the A/C unit won't come back on
We had our thermostat set at 79 and it read 79. My wife had some friends over and they were hot so we turned it down to 75. The reading never changed from 79. I decided to turn it off and then on again to see if it would help. When I turned the switch back on to "cool" it would not turn back on. We usually hear a click and then it starts going. Nothing now. What do you suggest? - Mike 7/11/11
Reply:
Mike on at least some air conditioning systems if you switch the compressor component off and then back on again quickly the compressor can have trouble re-starting against the head pressure in the system. Usually if you leave the system switched off for 30 minutes or longer you'll get past that problem, but it might be worth looking out for a hard-starting compressor.
Question: My new digital thermostat worked for just 6 hours then stopped
I replaced my thermostat with a digital one and it worked great for like six hours and then before it reached the desired temperature it just shut down. Now the ac nor the fan will come on. The fan will not even come on in manual mode. I flipped the breaker and nothing has worked. What is up with this A/C? Maybe I wired wrong but the unit was working perfectly for a hours. - Mike in Lubbock
Reply:
Check for a wiring error, broken or loose connection, lost power.
Question: Our digital thermostat is blank - what causes the thermostat LCD screen to go blank and refuse to respond when I press thermostat keys or controls?
When we came home from the store the digital thermostat was blank. We tried to take off the face of the thermostat to look for a battery as we were doing that the thermostat kicked on. Problem was it started to blow hot air. We went back to the thermostat and when we fiddled with it it went off but then came back on this time it blew cold air. Everything fine right?

Not so fast. In the middle of the night I woke up drenched with sweat. For some reason the AC started blowing hot air. I simply touched the thermostat and it went blank. I haven't touched it since.

Help..its hot and we have three kids. - Pearl in Annapolis
Reply: things to check if the LCD display on the room thermostat is blank or does not respond to touch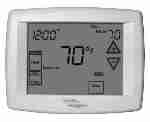 Pearl:

First make sure that your thermostat has power. When the display on a digital thermostat goes blank that means that power has been lost to the unit. Power for a digital TT comes from one or at most two sources:

The low-voltage transformer mounted somewhere, often near the electrical panel or near the heating or cooling equipment supplies normal power to the thermostat; if one of those wires is disconnected, the transformer burned up, or power to the equipment where the transformer is mounted is turned off, the thermostat will go blank

Some thermostats also use a backup battery to remember settings when someone has turned off power or there has been a power outage. If the batteries are dead that'd be a second reason for a blank display. This is a less serious concern, as thermostats have a fall-back default program that will get things running after a power outage - which takes us back to reason #1 - power is off to the thermostat.
Next, check the thermostat setting mode and physical switches. Trane gives this advice if the display on their TCONT800 series Touch Screen programmable thermostat (illustrated at above left) is blank or not responding to touch:
Check to determine if the screen is in the Locked or Clean mode. See Screen Locked or Cleaning Comfort Control Screen sections.[21]

For example on this particular thermostat, a screen lockout function is provided under user setup number 0670:

0 — All keys are available. Screen is unlocked.
1 — Screen is partially locked. All key functions are locked except the Temperature Up and Down keys and the Cancel key. Enter Advanced Setup to unlock the screen.
2 — Screen is fully locked. Enter Advanced Settings to unlock the screen.

If the display is not entirely blank, but does not respond to touch, check the thermostat's Advanced Settings to see if the device was put into locked mode.
Question: A/C system cools for just an hour, suspect thermostat or control board trouble
ok joe this is what i got. Ac system set to 75 get home flipped it on started to cool 1 hour later no more air. Flipped fan switch to on instead of auto on thermo, nothing. pulled the cover off fan unit and saw contactors go on to start fan motor than flipped off. Decided it must be a bad start /run capacitor, put a new one in and the same thing. I then pulled out the magnetic coil /contactor /control board and jumped the contactor that was for the fan motor. The motor started right up and ran fine. Either the thermostat went bad and is not sending the proper signal to the control board or the control board is bad. Got any good tests to figure what is bad? - Ray 7/19/11
Reply:
Hey Ray, try this:

If you suspect a bad thermostat you can just temporarily eliminate it from the circuit: a thermostat is basically an on-off low-voltage switch. If you connect the TT wires to the cooling circuit it's the same as the thermostat calling for cooling.

Or just replace the thermostat - they're not costly.

If the TT is not the problem then from what you described there could be a bad contactor relay or control board itself - that is, if the relay is not damaged then it could be the control board circuit not calling for cooling.
Reader follow-up:
Well I got to your e mail a few hours too late . I replaced the contactor/relay to no avail, after scratching my head for about 20 minutes I decided to find your advice. I found an old thermo and viola!! the system came right on and cooled the house quickly. Hey i just wanted to say thank you for taking the time to help all of us save hundreds if not thousands of dollars with your expert advice. There are millions of people out there that are willing to tackle problems with a little guidance keep up the good work we all appreciate it even if you don't hear back from us. Ray D
Reply:
Ray D - so glad you got things working, and that our website was helpful. We are dedicated to making our information as accurate, complete, useful, and unbiased as possible: we very much welcome critique, questions, or content suggestions for our web articles. And working together always gives us better information than struggling on alone.

Often a good general approach to trying DIY repairs is to try the easy inexpensive tests and fixes first. Replacing a questionable thermostat is a good example of that approach.
Question: A/C blower making loud sound - doesn't respond to the thermostat properly
My ac blower was making a loud sound so it went bad i replace it with a new one and know the thermostat is not working properly the setting on the thermostat it works wrong when i set it on the auto and cool it does not turn on the blower when i set it on fan and cool it works but it does not shut off i change the thermostat and it does the same thing. Do you know what it could be? - Angelo 8/5/11
Reply:
Angelo I'm not sure but most likely there was a wiring change needed, or perhaps someone shorted a control board or relay
Question: A/C freezes up after blower was shut off - compressor doesn't stop
Recently my A/C began to freeze up after the blower was shut off by thermostat at right temp, I noticed that the thermostat would shut off the blower but not the outside unit causing it to keep running and freeze up the inside coils, but when I turn thermostat to "ON" and just let it blow, it keep running and getting too cold. How do I find out what is making the thermostat only control the inside unit. - Kewl Jungles 8/8/11
Reply:
KewlJ
It sounds to me like a control problem - it's odd for the compressor/condenser to keep running after your thermostat says the indoor temp is satisfied. I'd ask for an HVAC service call to check the thermostatic expansion valve and the A/C control board circuits. Let us know what you're told - it'll help other readers.
Question: How do I Calibrate my Thermostat
How to calibrate the thermostat?My temp reads 4degrees lower than my set temp,in AC mode. - NC
Reply:
NC

Calibrating wall thermostats: most modern wall thermostats do not provide an adjustment that will calibrate the TT to the actual room temperature (and most of them are quite accurate). OLDER round Honeywell and other TTs that use a mercury bulb sensor can be tipped slightly on the wall - changing the TT out of level will change its calibration, since on those models a blob of mercury in a moving bulb rolls to connect or disconnect the two TT wires.

But take a look at other factors that might make your thermostat inaccurate, including

- its location:
is air from the A/C blowing right on to the TT,
is the TT on an exterior wall,
is the thermostat exposed to direct sunlight

and also check that the thermostat openings are not blocked by dust or debris

Finally, some thermostats include an adjustable heat anticipator that could be improperly set - see
HEAT ANTICIPATOR Adjustment
Question: Inadequate cooling, tech says just keep running the system
We just had evaporator coils replaced on both a/c systems. One system has been cooling fine ever since. The other only seems to cool at night. The thermostat seems to be working OK and the air coming out of the vents is cool although perhaps not quite as cool as that coming out of the vents driven by the other system. The system that not working correctly gets to be six degrees warmer than the set temperature on the thermostat. The company that installed the new coils came back and just checked pressures at the condenser and said everything seems to be working OK and that it may take some time for the everything to cycle through the new equipment. Any suggestions of problems that may result from new coil installation or what else could be causing the problem? Mike
Reply:
A/C equipment does not normally need a "break-in" period to begin working properly. There are a number of explanations for inadequate cooling, including in a new installation (where we figure we don't have blocked air filters etc) improper refrigerant charge, or a refrigerant metering device not working properly. Call the service company and ask for help from a more experienced technician
Mike:

A cooling system that works only at night suggests that it is not producing enough temperature drop across the cooling coil, or it's working so hard during the day that a control is failing or the coil is icing up.

The line about needing time for everything to cycle thorough the equipment is not a diagnostic I understand.

When coils are replaced on an A/C system it's easy for contaminants to enter the refrigeration piping system, compressor, and controls. Debris can clog a thermostatic expansion valve or cap tube, resulting in improper system operation. The installer usually pulls a vacuum for some time on the system to remove as much debris and moisture as possible, then installs one or two filter/dryers on the refrigeration piping.
Question: A/C fan turns on but A/C won't turn off? Is it the thermostat
my fan will turn on and off when i set mode on thermostat, but ac will not turn off. Is it safe to say I need a new stat? - Roll 8/22/11
Reply:
Roll, the thermostat is a simple "on-off" switch as far as your A/C equipment is concerned. I suspect the problem is elsewhere, in a relay or switch in the equipment itself.
Reader follow-up:
fixed. cleaned contactor, now it does not lock on or off, works as designed. case closed.
Reply:
Glad a simple cleaning step at the contactor fixed the thermostatic control. Just watch out: cleaning of electrical contact points needs to be as gentle and smooth as possible. I used to literally file off burned contactor points, but I learned that the contact point surfaces are plated and that once I too-aggressively filed them down they pitted and burned rather quickly. If the problem recurs, replace the entire thermostat or the contactor relay itself.
Reader follow-up:
Dan: thanks for the advice. I used a small flat head with caution and then used a compressed can of dust off for a final cleaning. This is a 1991 Fedders that purrs like a kitten. I clean every year myself. It feeds to a 1991 Goodman Janitrol that has new fan motor and igniter. Runs great. Key is cleaning annually including electric board. I replace filters regularly.
Reply:
Roll that sounds like a perfect wall thermostat clean-out job, and good advice for others whose thermostats seem to be acting strangely. Indeed on older thermostats I've found amazing clots of dust inside.
Question: hand held A/C remote control does not seem to be working
Have a hand held remote for TCL air-conditioner (split model TAC-30CHS/G). when we set temperature, conditioner blinks what you want it to be, then it goes to inside temperature (suppose to do this) but then it quickly jumps to 34 degrees & switches off. Guessing it is thermostat? Anne Webber 9/2/11
Reply:
Anne, sounds odd to me too. Try

- putting a new battery in the hand held remote and reinitializing it
- turn off all system power when you're not already in the middle of a cooling cycle and leave it off for a minute - or if you were in cooling cycle, wait an hour, then turn power back on - resetting everything.
- be sure you've got clear line of sight between the remote A/C controller and the receiving unit
- be sure that the wall mounted thermostat (if there is a separate one) is properly located where it can see or communicate with the indoor wall mounted blower assembly.

If those steps don't fix the problem and you don't see more help in the installation and use manual, it's time to ask for an HVACR service call as there could be a bad controller, thermostat, or control board.
Question: My inside air handler blower fan won't stop running no matter what
My inside fan will not shut off even when the thermostat is in the off position and continually blows hot air. The outside unit is not coming on in either on or off positions. I've had to turn the breaker off on both sides. Would this be a problem with the thermostat, the inside fan circuit or the outside unit? - RG 9/6/11
Reply:
RG

- check that no one has pulled the "fan on" switch on the fan limit switch - this only applies if your blower fan is on a combination heating furnace and air conditioning system.

- if that's not your case and the thermostat is not in FAN ON position, and if you are not calling for heating or cooling, I'd try disconnecting the thermostat entirely - it's basically an on-off switch; if it's removed the wires will not be connected; if the fan still runs there's a short in the wiring or a bad control board in the air handler. Most likely; or something else we haven't thought of.
Question: electric wall heater turned itself on when the thermostat was not calling for heat
My electric wall heater turned itself on last night. The thermostat was off or not set to a temp. During spring and summer I have my couch in front of it bc I don't use it. During the winter I arrange my apt accordingly to have proper clearance. But tonight I heard it running and I thought that was weird. I pulled my couch away and saw that the screen was literally red instead of white. I'm guessing it was too hot especially with my couch right up against it. So I turned it off from the breaker since at the point I couldn't turn the dial off anymore than it was. To turn it on I have to turn it above 50 degrees. Under 50 means its off. And it has been off since the end of winter. My place stays warmer than by itself so it should never cut on. Not sure why this happened. Just looking for any help. Bc had I not checked on it it could have caught fire.
Reply:
If your electric wall heater came on while the thermostat was in the OFF position then your unit probably has either a bad internal switch, thermostat, or short circuit in the thermostat or control wiring. As you suggest, the unit is unsafe and should not be used before it is repaired or replaced. And indeed, a couch, curtains, or other combustibles should never be placed in front of an electric heater exactly because of the overheating and fire risk that you observed. Thank goodness you detected the condition and turned off power to the heater. Had no one been at home, or had people been asleep the result could have been a fatal fire.

Can you tell me the brand and model of the heater?
And if you can send photos of the heater and any labeling on the unit, please do so using the CONTACT link found at top, left, or bottom of our web pages.
Question: My A/C blows warm air for a while before cool air comes out
when I turn the air conditioner onto heat it blows out warm out for a few minutes and then cool air, would this be the thermostat or would it need gassing, it is just over five years old. - Marylin 3/14/12
Reply:
Marylin, if the air produced by your system is adequately cool after the initial warm air delivery I suspect your building may have poorly insulated ductwork running through a hot attic of some length. The hot duct is warming the initial airflow.
Reader follow-up:
Hi Dan, if it was the ductwork wouldn't it have played up by now i have had the unit for just over five years, when I go downstairs to the main unit and touch the pipe it is hot,but we just cant seem to get enough heat upstairs..
Reply:
Yes Marylin I agree - that's part of the difficulty of guessing at a question with not much information. However depending on duct type, routing, condition, insulation can fall off, be torn off by animals, or open and leak - it's worth a careful inspection in any case.

You describe initial warm air followed by cool air from your cooling system supply ducts. Is it always the case at every "on" cycle? Or only when the system has been off for some time? We're trying to sort out whether the air handler or piping or other components are just warming up and warming the initial air, or whether there is a delay in startup of the cooling compressor. Working with an accomplice turn down the thermostat and see how quickly the outside cooling compressor starts up and whether it's starting normally or with buzzing, humming, a delay.
Question: My thermostat only works on a call for heat; on call for cooling a fuse blows
when I call for heat the thermostat works, when I call for ac t blows the fuse what is going on - George 4/21/12
Reply:
George,
Calling for cooling turns on the outdoor compressor-condenser unit that is not user during heat calls (presuming it's not a heat pump system). I am guessing your compressor is not starting and is tipping the breaker or blowing the fuse.
Question: How do we balance air temperatures in a triangular shaped room?
hi, i am at work in a triangular room, the shape is /_\, so at the bottom we have the regular wall, and the other 2 sides are formed of long big windows. at the top of the triangle it is always colder than at the bottom... the people in one side are always colder than the others.
We have 5 thermostats; the air vents are on the margins of the 2 glass walls; in the middle of the room we have another air vent; now we were told to keep all of them on Heat or Cold, and at the same temp.
Nevertheless the difference between temp in the room is quite big; for ex we set the temp at 73, and on heat, but the top of the triangle has temp 62 and the bottom 79.... Quite huge difference. could you help in advising what could be done or if it is ok nonetheless to set 2 thermostats on cold in the hotter part of the room and the other ones on heat in the cooler part?
or do we need to do other changes in the room? - Maria
Reply:
Maria balancing temperature in a large but irregularly-shaped open space can be difficult, but the solution usually lies in not only where the conditioned air supply registers are located but also the location of the air returns. Also whenever anyone changes "just their local area" - like moving a suspended ceiling tile or changing their supply register outlet, they upset the balance of the system. You need an experienced HVAC designer/installer to take a look at the problems you describe.
Question: After installing a new thermostat the A/C worked fine, then started making noise
2 days ago I replaced my old honeywell digital thermostat with a new honeywell digital thermostat because the old one just stopped working - there would be nothing at all on the display and nothing would appear when I pressed any of the buttons. It was not a battery backed up type. After replacing the thermostat - the AC seemed to be working quite well and I was so pleased with myself. I left to run some errands and when I returned home I could hear the outside unit clicking loudly as if it were trying to come on but then shorting out and then trying again repeatedly. It kept doing this until I got inside and turned the thermostat to "off".
Several hours later I tried again by turning thermostat to "cool" and the ac came on and blew cold air fabulously for about 10 minutes then the outside unit started making that noise again (It's a terrible noise - you know something's wrong). The AC keeps blowing cold, even when the outside unit is making that noise until I turn it to the off position again. I didn't have the problem with the old thermostat and this only started happening when I replaced the thermostat. Did I buy the wrong Thermostat? What could be causing this?
Reply:
I don't have enough information to make a good guess on this one, but it sounds as if you need a service tech to take a look at the compressor and outdoor fan. Clicking noises could be a bad relay, or even a loose fan blade or a stick that fell into the fan unit.
Question: our heat won't stay on
Thermostat has 2 readings, actual temp inside the home and the temp we set that we want inside the home, the heat comes on for 1 to 2 minutes then turns off, and will not warm up the home,we have to turn it completely off then on again for it to start again for another few minutes, what's wrong with the thermostat or is it that? - Sam
Reply:
Sam, take a look at the room temperature and compare it to the "set" temperature of the thermostat. If the room temp is different from the set temperature then the thermostat is calling for heat (in your case). If the heater wont' keep running and the thermostat keeps calling for heat, the problem is most likely not the thermostat but a start or operating problem at the heater. It may be going off on safety, then automatically resetting - not a cycle that you should continue as it could be unsafe.
Question: thermostat can't be adjusted and the digital display just shows a blank space
My digital thermostat only shows a minimal temp (61) and can not adjust to desired temp, only a blank space. Nothing happens when I place unit on cool or heat and depress the related buttons. The furnace fan will run in the "on" position, but can not make any other adjustments. The thermostat will not respond. Any idea? - William Shassere, 5/29/12
Reply:
William, it sounds as if the thermostat has lost a connection to the heating system or is defective. Some thermostats that incorporate a battery intended as backup to preserve the thermostat settings will show some data in their display when under battery power, even if their connection to the heating or cooling system has been lost or is "off".

First see that your heating and cooling equipment all has power and all components are switched on.
Then check the thermostat again to see if its display changes.

If not check the thermostat wires for voltage and if not found, check for a broken wire, lost connection, or a failed low voltage transformer that powers the thermostat.

You can also try turning its power source (usually the heating or A/C system) off for 15 minutes then back on.
Question: contactor in my AC condenser won't get the 24-volts it needs
I have a unit don't star the condensing unit the blower in the air handler work good but the contactor in the condensing unit does not get the 24V, I check the contactor with the tester an work good I check the transformer in the air handler and is good, thermostat is in cool mode and set up at 60F. room temp. is 87F Do you thinks is the thermostat? - Angel, 5/29/12
Reply:
Angel, I'm not sure from just the info in your question, but I have this suggestion: it's easy to find out if the thermostat is the problem since that device is basically an "on-off" switch. Just take the thermostat out of the loop by disconnecting it and then jumping the two TT terminals.
Also see our article LOW VOLTAGE TRANSFORMER TEST
Reader followup:
I have the thermostat in cool mode and on 55F.
room tem is 87F
The blower come on or is working.
the condensing unit or outdo side unit don't star.
I check the contactor with volt meter is is good.
I check the low volts transformer and is good in the Air handler.
but low voltage don't go true to the contactor to the contactor can be energy.
Do you thing is the thermostat? - Angel
Reply:
No Angel, if the thermostat calls for cooling and the air handler blower operates, but the outside compressor/condenser unit does not start, the problem lies in the compressor/condenser unit and its controls and relays, not in the thermostat.
Question: thermostat won't turn off fan: our attic blower fan won't turn off
Our t-stat will not turn off the blower fan in the attic. The condenser unit ... - Anon 6/8/12
Our condenser unit stopped running so it's not cooling. I tried to turn the blower fan off from our simple non-programmer digital thermostat but it wouldn't turn off. I had to go up to the attic to turn the switch off. - Anon, June 2012
Reply:
Anon,
Check that the "FAN ON" switch is not set on your thermostat. Try setting that switch to AUTO or FAN OFF.
Then if that doesn't correct the problem, see Fan won't stop: What to do if the Air Conditioning or Heating System Blower Fan Runs Continuously and Won't Shut Off? or go to our blower fan diagnostic home page at FAN, AIR HANDLER BLOWER UNIT.
Question: thermostat won't turn off air conditioner
My Honeywell round thermostat is not shutting off my A/C. I have the position set to auto and the A/C works but won't shut the A/C off. Also, it appears not to be calibrated any longer in that I need to adjust the temperature to a much higher temp than actually desired. Is it a "dirty" stat? Help! Roy K, 6/19/12
My outside unit wont shut off unless I turn it off with the breaker. A friend told me it was the thermostat so I replaced it. While in Auto/Cooling the house cools and the fan shuts off, but the outside unit continues to run. Maybe a relay? - Tim 7/16/2012
AC will not turn off when thermostat is at set temperature it run all the time - Scott 8/24/12
Reply:
Roy,
this should be pretty easy to check since thermostat wiring is not complicated. I'm not sure of the age and type of your round wall thermostat - take a look at the photos in the article above - but if it's a bimetallic spring type and dust has clogged the unit it should be possible to simply blow or vacuum debris out of the thermostat. Be careful not to bend anything.

A second diagnostic step: simply disconnect the thermostat wires from their terminals right at the thermostat. That disconnection is equivalent to the thermostat turning "OFF" the call for cooling.
If the cooling system continues to run then the problem is not the thermostat itself.

Other problems that could keep the A/C running include
- a short anywhere in the thermostat wiring that crosses the two wires together (this is equal to a thermostat "ON" call for A/C)
- a problem with the control relay or circuit board in your A/C air handler or compressor/condenser unit
Tim,
If the thermostat is not calling for heat, and PROVIDED that the thermostat wires are not accidentally shorted together somewhere (worth an ohmmeter check), then the AC equipment should not turn on. An indoor air handler blower may keep running if the fan is in ON or Manual rather than AUTO, but the outside unit would shut off. IF the outside unit does not shut off I suspect a relay or control board problem there.
Scott:
- If the thermostat is not properly located it may not properly sense room temperature; for example locating a heating thermostat on a poorly insulated exterior wall or locating an air conditioner thermostat in hot sun can cause problems
- in addition to the advice I give above, check for a dust-clogged thermostat that is not sensing room temperature properly
- a bad control board, relay, or shorted wire could be the culprit
Question: Air Conditioner sometimes won't turn on
BASICS: Apartment A/C unit with heat pump. Inside: Blower, motor, coils, clean drip pan. Outside: One-year-old compressor.

PROBLEM: A/C sometimes doesn't cycle on. Thermostat temperature climbed to 100F during the heat wave. Moving thermostat arm to 60F still doesn't cause A/C to turn on:
The trick is to turn the OFF-COOL-HEAT switch from COOL to OFF to COOL; then, the A/C comes on within a minute and resumes normal cycling (until the next random failure).

NOTE: I can hear fluid moving in the coils (that normal "tingly" sound) when the A/C SHOULD come on.

Any ideas? Apartment maintenance guys' HVAC knowledge seems lacking. Thanks!
- Sleepless in Atlanta, 7/5/12
P.S. I just had them install a brand-new clock thermostat, to replace the old-fashioned manual one. Made no difference in the problem.
Reply:
x
Question: Inside Blower Fan Runs in AUTO but not in ON - fan shuts off, coil ices up
why would the inside fan motor quit when in the auto position but yet run fine in the on position? this happens after working fine for 3 cycles in the auto position and then I have to switch to the on position because the fan shuts off and ices up the condenser. I have stat set @ 75 (stat is new) - Woody 7/21/12
Reply:
Woody you've taken a good diagnostic step; we know the problem is in a control, control board, ran relay, or switch, or thermostat wiring, not the fan motor itself.
Let's get clear which fan we're discussing and where icing is occurring. If the indoor air handler fan won't run I'd expect the evaporator coil in the indoor air handler to ice-up. The condenser coil is in the outdoor compressor/condenser unit. You wouldn't expect to see icing there.
Question: Round Honeywell Digital Thermostat - exhaust purge fan keeps cycling
My mother's home has a round Honeywell digital thermostat (just like the one pictured for a previous question). When her a/c is running, the furnace exhaust purge fan comes on and cycles repeatedly (it will run for a short while, then shut off, then start right back up before it has a chance to completely stop). She was told it was a defective thermostat. Does that sound right? - DaveM 7/31/12
Reply:
Dave M

Sounds to me as if the cooling system thermostat wiring is not hooked up correctly - in HEAT mode it would be normal for an exhaust purge fan to start when the TT called for heat. But not when it calls for cooling. It could be mis-wired or it could be that the thermostat model is not one that supports (and has wires run for ) both heating and cooling.
Question: Apartment heat is off for the summer and I don't want the Air Conditioning On but I'm Freezing Cold
The heat is turned OFF for the summer in my apartment building, and I do not want the air conditioning on. The Honeywell on the wall (rectangle), shows 72, but my portable thermostat shows 68 and I'm freezing. What should I do besides using a portable space heater? - Ellen 8/6/12
Reply:
Ellen, in the links listed at Related Topics under THERMOSTATS see the article titled COOL OFF HEAT, Thermostat Switch

you should be able to turn your thermostat to OFF

Or set the SET temperature on the thermostat to a temperature higher than the room temperature to avoid turning on the A/C
Question: Wall thermostat is not working - what do I do?
My wall-mounted thermostat is not working. - Ed 8/14/12
Reply: Things to check if a thermostat is just not working
Ed you're not giving us much to go on so my reply is a bit limited:
Check that power is turned on to the heating or cooling equipment - power off will often also turn off the thermostat since it's usually powered by a transformer connected to the same circuit as the indoor air handler, blower assembly, or furnace or boiler
Check the continuity of thermostat wiring and that the wiring is correctly installed for your thermostat and the device it controls - see THERMOSTAT WIRE CONNECTIONS - how-to, separate article. Also check for a short between the thermostat wires
Check for a blown thermostat or HVAC equipment fuse
Check for a dead thermostat battery
Check for voltage at the lowe voltage transformer that powers the thermostat - see LOW VOLTAGE TRANSFORMER TEST - separate article
If the thermostat and the equipment has power, identify the two wires that will be connected when the thermostat switch makes or closes and remove them from the thermostat entirely - just jump them together; if the equipment runs then the thermostat was the trouble; if it does not, the problem is elsewhere
Question: what doers "TT" mean in thermostat and HVAC discussions?
I was reading your help forums on thermostat trouble shooting, and needed to know what you are referring to when you say TT? (The Thermostat?) (I have no power at my thermostat)
Can you also tell me the wire colors that I would need to check,or exactly how to bypass the thermostat at the TT?
Is the voltage that I should be seeing 110,or 220 at the thermostat?
Thank You!!! Great Site!!!
Reply:
Scott, thanks for the question - it's an example of how people too familiar with a topic can speak in shorthand that is gobbledygook to everyone else.
TT is simply shorthand for "thermostat" in most discussions; for example in wiring up an aquastat the instructions might at times refer to the TT or "thermostat" terminals.
Question: why do we have to turn our heat up higher than previously just to get warm
Our heating and air unit is roughly 8 or 9 years old. When we first moved here (6 years ago) we kept the air set on 73-74 during the summer months. We were comfortable. Now, we have to keep it up to 79-80 and we still feel like the house is too cold. We had the unit checked out last year ( because we started having double and triple utility bills) and the guy said it was fine. Could this be thermostat problems? I don't really feel that the unit runs more than it should though. - Rachel 8/22/12
Reply:
Rachel,
First, are we looking at the same outdoor temperatures as previously? If not, if it's colder now than previously, the problem could be with your home's rate of heat loss - bad insulation, leaky windows &c.
If weather conditions are the same, then we have some other questions to ask: you don't say if your heat is from hot water or forced warm air. In either of those systems, even if the equipment is running as before, you could have a simple maintenance problem like a clogged air filter or air bound radiator that's the problem. I'd need to know more.
Question: where to put batteries in our Hunter 44422 Thermostat - Hunter Fan Company Programmable Thermostat Instructions
Can't find where to put batteries on Hunter 44422 help - Jeanie 8/29/12
Reply: How to Change Batteries in the Hunter 44422 Programmable Thermostat
Jeanie, the Hunter 44422 you are discussing is a Hunter Fan Company programmable thermostat. You can get product information and instructions at the company's website www.hunterfan.com or contact the company directly at Hunter Fan 2500 Frisco Ave. Memphis, TN 38114 888-830-1326 www.hunterfan.com
Quoting the company's product literature for the Hunter 44422 thermostat,
This thermostat is designed to work on the following heating and cooling systems:
Up to 2 Stage Heat/2 Stage Cool Millivolt Systems
Heat Only or Cool Only Systems 2-wire Hydronic Systems
Single and Multi-Stage Heat Pumps AC or Hard-wired
Gas, Electric or Oil Systems
This thermostat is not designed for use with 110V/220 V systems. If you are unsure of what kind of heating and cooling system you have, please contact a qualified HVAC Technician for assistance.
The batteries in this unit, or at least the one that I examined, are in the back of the hinged, removable thermostat assembly. You'll have to un-clip the thermostat from its top, swing it down and out on its hinge, and you'll see that using a plug connector the entire assembly is removable to make it easier to change the batteries without breaking something.
The company's instructions describe changing the batteries but omit a nice illustration of how to find them in the bottom-back of the assembly.
The CHANGE BATTERIES warning indicates two stages of battery power shortage. When the batteries are weak, the CHANGE BATTERIES warning flashes until three new AA alkaline batteries are installed. If the batteries become too weak for normal operation, the thermostat enters the second battery power shortage mode.

When no battery power is left, the BATTERIES USED UP warning flashes on the display and the system turns off. The system remains off until new batteries are installed. The thermostat resumes normal operation after new batteries are installed.
See http://www.hunterfan.com/uploaded Files/Support/Owner_Manuals/44002.pdf for the manual for this thermostat.
Question: my A/C system won't turn on in response to the thermostat
My a/c contactor is not receiving the "call". If I push in the contactor button, it kicks on and everything seems to work. But, the thermostat won't kick it on. I have a brand new capacitor and contactor. If there was a problem with power getting to the unit, wouldn't it NOT come on if I pushed in the button on the contactor?? Any ideas? I looked for a switch on the blower motor, but none found. Help! - Art 8/30/12
Reply:
Try
- removing the thermostat from the equation by jumping the two on-wires (see our tables of thermostat wire identification) that would be connected if the thermostat calls for heat or cooling - whichever you are testing
- if that solves the problem then the issue is in the thermostat, else I suspect a contacator or control board problem
Question: Heat/AC system cycles on and off too often
New, Heat/AC Honeywell Round Thermostat. (not digital)
Cycles unit off and on too often. Seems to be trying to hold set temperature within 1 degree.
Shouldn't it allow temp 3 degree change change before unit comes on? - Anon - 10/2/12
Reply:
Yep; check for a bad heat anticipator, dust clogged thermostat, improper thermostat location in hot sun or too cold space, or in an area where air from the supply register blows right onto the thermostat
Question: rapid on-off cycling of outdoor compressor/condenser fan
I just bought a new house and I noticed that the fan on the outside unit is cycling on and off in 1-2 minute cycles with the thermostat set to off. This doesn't seem normal to me. I know that there was a freon servicing valve that was stuck and let all the freon escape. This was fixed prior to us closing and i'm not sure if that has any relation to what is going on now. I'll probably have to call in for warrantee work unless you know why it's doing what it's doing. It seems like the wiring might be incorrectly installed, what do you think? - Joe 10/31/12
Reply:
Joe I agree that rapid on-off equipment cycling is not proper but typically I suspect a bad control or sensor, not the wiring itself.
Question: Bonnair evaporative cooler went blank
My Bonnaire ducted evaporative air con controller went blank; there's power to the unit and no breakers were tripped. Any suggestions? - Mike 12/23/12
Reply:
Mike:
check for a broken or disconnected low voltage wire between the low voltage transformer and the thermostat. Also check the transformer itself. See
Question: Our digital thermostat keeps magically switching from heat to cool
Is this a bad thermostat or is it an indication of something else? I have a basic digital thermostat and the electric heat pump system is 5 years old. The outside temperature has ranged anywhere from 14 to 50 degrees outside. I have the temperature set at 68 on heat and can wake up and the house is in the low 60's. The thermostat will read that it is on cool. I run the settings on the thermostat back to the heating cycle and the house warms back up only to change back to cool maybe 8-24 hours later again. This has been going on for a while. - Janice 12/30/12
Reply:
Janice, be sure that the manual switch on the thermostat is set to HEAT mode;
Question: Gemtech programmable thermostat troubles
I have a Gemtech GTP211D, a programmable thermostat. I set the temperature based on time pf day and day of the week. However, the thermostat program resets itself and loses all the settings. In addition, the heat and air will not be running according to my programmed temperature. Please advise. 12/30/12 - Eunice 12/31/12
Reply:
Eunice,
check for:
a dead backup battery in the room thermostat
loose or bad low voltage wires between the thermostat and the heating equipment or low voltage transformer
Question: heating thermostat seems to show wrong temperature
My heater's thermostat is showing wrong temp. At off setting , it shows the room temp at about 80 when it feels like 60 degree in the house. I tried removing and putting batteries again but doesn't solve the problem. Do I need to replace it? - P. 1/2/2013
Reply:
P
You might, but first check the thermostat's room temperature reading (not its SET temperature reading) against the actual room temperature - use a room thermometer; Then be sure the thermostat is set to HEAT mode and make sure that the SET temperature is above room temperature. Then heat should run until the sensed temperature at the thermostat turns it back off; See the next Q&A for more details.
Question: how do I fix a thermostat that I have to set lower than the level of heat I want?
My traditional honeywell simple dial-type thermostat on the wall has two pointers and two temp. scales. However I have to set it on 60 degrees to get heat temp to 70 degrees.
What can I do? It was working fine until my condo changed the air/heating system this summer. - Jeannette 1/23/2013
Reply: check these reasons for a room thermostat that keeps calling for heat
Jeannette,
On most two-scale room thermostats, one scale reads the current or actual room temperature while the other scale is the set temperature - and is adjustable. When you move or adjust the thermostat to call for a different room temperature you will see the scale pointer move to your new setting on the "set" scale.
Remember that a thermostat is just an "on-off" switch that turns heating or cooling ON or OFF in response to the actual room temperature and the desired or "set" temperature you've specified. Make sure that your thermostat is properly set - to "Heat" mode with the fan switch set to "Auto".
You are describing having to set the thermostat lower (60F) than the desired temperature (70F) to get the proper level of heat in your home. In other words, you say that the room gets too hot - hotter than you asked-for. Here are some things that would cause that problem:
The thermostat or its wires have been damaged and are not reliably signaling the heating system primary controller. I wouldn't normally place this guess first, but as you think the problem began after someone worked on the system it's worth a check. Look for a loose connection or intermittent short in wiring. For example if two thermostat wires short together that's the same as constantly calling for heat.
The thermostat is being blocked from properly sensing room heat. That could be due to movement of the warm air supply registers to a new, more distant location, or more often, due to furniture, drapes, or even dust and crud that block the air inlet openings around the thermostat that allow it to sense room temperature. Dust can also interfere with moving parts in older spring-type thermostats. See TEMPERATURE RESPONSE of Room Thermostats for details.
The thermostat is tilted out of level. If the thermostat is an older mercury-bulb type then it needs to be level on the wall.
The thermostat is located on a cold outdoor wall or where cold air blows on it; if your thermostat was not moved and is on an interior wall and in a draft of cold air, this isn't likely to be the cause of the problem you describe.
The primary controller on the heating system is not working properly; on occasion we find that the primary control on a heating system, for example an internal relay, is sticking and keeps heat on even after the thermostat has said "enough".

This is easy to check. When the heat is on and running and the thermostat is set to say 68F, when the room reaches 68F (measured at the thermostat on its scale), just disconnect the thermostat wires right there at the thermostat. If heat keeps running (more than a couple of minutes if you have warm air heat), something else is wrong.

Primary heater controls are discussed in different InspectApedia articles depending on what type of heat you have. See BOILER COMPONENTS & PARTS for hot water heating systems. If your building uses warm air heat, see FURNACE CONTROLS & SWITCHES. If your building uses steam heat see STEAM HEATING SYSTEMS.
There is some other problem we haven't thought-of. See Heat Won't Turn Off - Stop Unwanted Heat. for more help with this problem
Keep us posted, what you learn will help other readers.
Question: can I replace my Honeywell round wall analog thermostat with a new programmable one on a steam heating system?
I have a gas-fired steam heat furnace (Burnham - approx 10 years old) with an analogue Honeywell round-dial type thermostat. Is it possible to replace the thermostat with a digital type with programmable heat settings or does the age and type of furnace preclude such luxury? - Anon 2/7/13
Reply:
Replacing an old round analog room thermostat with a programmable unit should be no problem at all - the thermostat is basically just an on-off switch.

The compatibility issues we've come across more often occur if a thermostat had to control a 3-wire Flair-type zone valve - which your steam system won't have.
Question: what is the setting on this thermostat: precision of room wall thermostat settings, dials, readings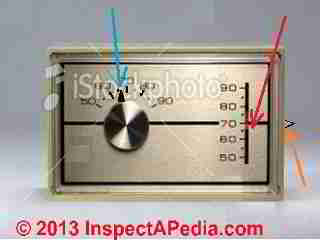 What is this thermostat set to? I would say about 66, but the website I got it from said 68? Which is most accurate? Thank you. - K.P. 2/27/2013
Reply:
KP: you sent us a "stock photo" of a room thermostat, so we don't know if the thermostat in this image is what is actually installed on your wall. We re-drew parts of the image for clarity and added explanatory arrows and have these comments:
The blue arrow is pointing to the thermostat's reading of the current room temperature and is just past 65F - probably around 66 or at most 67F as it's less than half way to the 70.
The red arrow is pointing to the set temperature on the thermostat - the temperature that the building occupant is asking for is set by moving a lever on the right side of the thermostat (the orange arrow) and the "set temperature" being called for is visible by that horizontal red line in the vertical scale on the right portion of the thermostat. The image shows the red line just about exactly between 65F and 70F - or about 67-68 °F.
In sum, in this sketch the thermostat is set to call for heat up to 67F. and the room temperature is reading as just a degree or two below that.
Watch out: the wall thermostat is not a lab-grade absolutely precise instrument in setting nor is it precisely accurate in reading, and even if it were, it would only be reading the temperature right there at the thermostat, not at other places in the room. It would be unreasonable to expect precise, to the millimeter, agreement between the room temperature read-out on the round dial and the room temperature setting on the vertical scale.
...
Ask a Question or Search InspectApedia
Try the search box just below or if you prefer, post a question or a comment in the Comments box below and we will respond promptly.
Search the InspectApedia website
Technical Reviewers & References
Related Topics, found near the top of this page suggest articles closely related to this one.
Click to Show or Hide Citations & References
[1] Proliphix Corporate Headquarters, 3 LAN Drive Suite #100 Westford, MA 01886 Phone: +1.978.692.3375 Toll Free (U.S.): 866-IP-LIVING (866.475.4846) Fax: +1.978.692.3378 - Sales: sales@proliphix.com Marketing: marketing@proliphix.com Customer support: support@proliphix.com http://www.proliphix.com/ - quoting from the company's website:
All Proliphix Network Thermostats come with our free Uniphy Remote Management Service. This unique offering lets you monitor and control your HVAC systems by simply pointing your Browser to our secure Proliphix Web Site. Enjoy the convenience of programming a thermostat from any location, using a simple graphical interface. No computer equipment or software is required. And since Proliphix takes care of the network configuration for you, you'll be up and running in no time. We'll even proactively monitor your thermostats and send you an immediate email or SMS message when an HVAC problem is detected.

[2] "The Nest Learning Thermostat", Nest Thermostat, 900 Hansen Way Palo Alto, CA 94304, Tel: 855-4MY-NEST, Email: info@nest.com, website http://www.nest.com/, retrieved 1/24/2013.
[3] Honeywell Controls, the company wants you to use their contact form at this web page: http://www51.honeywell.com/honeywell/contact-support/contact-us.html
Honeywell Consumer Products, 39 Old Ridgebury Road Danbury, CT 06810-5110 - (203) 830-7800
World Headquarters, Honeywell International Inc., 101 Columbia Road, Morristown, NJ 07962, Phone: (973) 455-2000, Fax: (973) 455-4807 1-800-328-5111

[3a] Honeywell Tradeline T87T Universal Thermostat Installation Instructions for the Trained Service Technician", Honeywell International Inc. Honeywell Limited—Honeywell Limitée 1985 Douglas Drive North 35 Dynamic Drive Golden Valley, MN 55422 Scarborough, Ontario M1V 4Z9, 60-0830—4 G.H. Rev. 8-02, retrieved 12/1/2013 Website: www.honeywell.com
[4] White Rodgers Thermostats and HVAC controls,
Homeowner information: http://www.emersonclimate.com/en-US/brands/white_rodgers/Pages/wr-homeowner-info.aspx
Contractor information: http://www.emersonclimate.com/en-US/brands/white_rodgers/wr_contractor_info/Pages/white-rodgers-contractor-info.aspx
White Rodgers Product Catalog (don't misspell the company's name as White Rogers Thermostats) -
http://www.emersonclimate.com/Documents/thermostats.pdf - Thermostat Catalog
[5] Domestic Central Heating Wiring Systems and Controls, 2d Ed., Raymond Ward, Newnes, ISBN-10: 0750664363, ISBN-13: 978-0750664363, Quoting from Amazon.com:
This unique A-Z guide to central heating wiring systems provides a comprehensive reference manual for hundreds of items of heating and control equipment, making it an indispensable handbook for electricians and installers across the country. The book provides comprehensive coverage of wiring and technical specifications, and now includes increased coverage of combination boilers, recently developed control features and SEDBUK (Seasonal Efficiency of Domestic Boilers in the UK) boilers ratings, where known.
In addition to providing concise details of nearly 500 different boilers fuelled by electric, gas, oil and solid fuel, and over 400 programmers and time switches, this invaluable resource also features numerous easy-to-understand wiring diagrams with notes on all definitive systems. Brief component descriptions are provided, along with updated contact and website details for most major manufacturers.
[6] "Automatic Oil Burner Controls - Thermostats", Domestic and Commercial Oil Burners, 3rd Ed., Charles H. Burkhardt, McGraw Hill, 1969 (and later editions), ASIN B0000EG4Y8
Hunter Fan 2500 Frisco Ave. Memphis, TN 38114 888-830-1326 www.hunterfan.com
[7] Fuel Oil & Oil Heating Magazine, 3621 Hill Rd., Parsippany, NJ 07054, 973-331-9545
[8] Domestic and Commercial Oil Burners, Charles H. Burkhardt, McGraw Hill Book Company, New York 3rd Ed 1969.
[9] National Fuel Gas Code (Z223.1) $16.00 and National Fuel Gas Code Handbook (Z223.2) $47.00 American Gas Association (A.G.A.), 1515 Wilson Boulevard, Arlington, VA 22209 also available from National Fire Protection Association, Batterymarch Park, Quincy, MA 02269. Fundamentals of Gas Appliance Venting and Ventilation, 1985, American Gas Association Laboratories, Engineering Services Department. American Gas Association, 1515 Wilson Boulevard, Arlington, VA 22209. Catalog #XHO585. Reprinted 1989.
[10] The Steam Book, 1984, Training and Education Department, Fluid Handling Division, ITT [probably out of print, possibly available from several home inspection supply companies] Fuel Oil and Oil Heat Magazine, October 1990, offers an update,
[11] Principles of Steam Heating, $13.25 includes postage. Fuel oil & Oil Heat Magazine, 389 Passaic Ave., Fairfield, NJ 07004.
[12] The Lost Art of Steam Heating, Dan Holohan, 516-579-3046 FAX
Principles of Steam Heating, Dan Holohan, technical editor of Fuel Oil and Oil Heat magazine, 389 Passaic Ave., Fairfield, NJ 07004 ($12.+1.25 postage/handling).
[13] "Residential Steam Heating Systems", Instructional Technologies Institute, Inc., 145 "D" Grassy Plain St., Bethel, CT 06801 800/227-1663 [home inspection training material] 1987
[14] "Residential Hydronic (circulating hot water) Heating Systems", Instructional Technologies Institute, Inc., 145 "D" Grassy Plain St., Bethel, CT 06801 800/227-1663 [home inspection training material] 1987
[15] "Warm Air Heating Systems". Instructional Technologies Institute, Inc., 145 "D" Grassy Plain St., Bethel, CT 06801 800/227-1663 [home inspection training material] 1987
[16] Heating, Ventilating, and Air Conditioning Volume I, Heating Fundamentals,
[17] Boilers, Boiler Conversions, James E. Brumbaugh, ISBN 0-672-23389-4 (v. 1) Volume II, Oil, Gas, and Coal Burners, Controls, Ducts, Piping, Valves, James E. Brumbaugh, ISBN 0-672-23390-7 (v. 2) Volume III, Radiant Heating, Water Heaters, Ventilation, Air Conditioning, Heat Pumps, Air Cleaners, James E. Brumbaugh, ISBN 0-672-23383-5 (v. 3) or ISBN 0-672-23380-0 (set) Special Sales Director, Macmillan Publishing Co., 866 Third Ave., New York, NY 10022. Macmillan Publishing Co., NY
[18] Installation Guide for Residential Hydronic Heating Systems
[19] Installation Guide #200, The Hydronics Institute, 35 Russo Place, Berkeley Heights, NJ 07922
[20] The ABC's of Retention Head Oil Burners, National Association of Oil Heat Service Managers, TM 115, National Old Timers' Association of the Energy Industry, PO Box 168, Mineola, NY 11501. (Excellent tips on spotting problems on oil-fired heating equipment. Booklet.)
[21] Trane TCONT800 Series Touch Screen Programmable Comfort Control Ownes Guide, American Standard, Inc., Troup Highway, Tyler TX 75711, January 2005, Telephone: Customer Service: 1-877-3381, website: www.trane.com
Books & Articles on Building & Environmental Inspection, Testing, Diagnosis, & Repair
The Home Reference Book - the Encyclopedia of Homes, Carson Dunlop & Associates, Toronto, Ontario, 25th Ed., 2012, is a bound volume of more than 450 illustrated pages that assist home inspectors and home owners in the inspection and detection of problems on buildings. The text is intended as a reference guide to help building owners operate and maintain their home effectively. Field inspection worksheets are included at the back of the volume. Special Offer: For a 10% discount on any number of copies of the Home Reference Book purchased as a single order. Enter INSPECTAHRB in the order payment page "Promo/Redemption" space. InspectAPedia.com editor Daniel Friedman is a contributing author.

Or choose the The Home Reference eBook for PCs, Macs, Kindle, iPad, iPhone, or Android Smart Phones. Special Offer: For a 5% discount on any number of copies of the Home Reference eBook purchased as a single order. Enter INSPECTAEHRB in the order payment page "Promo/Redemption" space.
Carson Dunlop, Associates, Toronto, have provided us with (and we recommend) Carson Dunlop Weldon & Associates' Technical Reference Guide to manufacturer's model and serial number information for heating and cooling equipment
Special Offer: Carson Dunlop Associates offers InspectAPedia readers in the U.S.A. a 5% discount on any number of copies of the Technical Reference Guide purchased as a single order. Just enter INSPECTATRG in the order payment page "Promo/Redemption" space.

Links to our list of additional information on heating system inspection, repair, maintenance
...