Guide to Heating Boiler Expansion Tanks
How to troubleshoot, drain, or service & repair the expansion tank on hot water heating systems

EXPANSION TANKS, BOILERS - CONTENTS: Heating System Boiler Expansion Tanks, Waterlogged tanks, How to Drain an Expansion Tank - Troubleshooting & Repair Guide: Diagnostic Tests for Waterlogged Heating Boiler Expansion Tank - How to troubleshoot an internal-bladder type expansion tank or How to troubleshoot a traditional bladderless expansion tank or compression tank

Diagnosing trouble with internal bladder Extrol type expansion tanks - What goes wrong with bladderless expansion tanks - waterlogging & its causes

TANKS TYPES OF - home
Questions & Answers about heating system expansion tanks: their function, size, location, maintenance, and need for draining (on some models)
Got a Question? Just ask us! - use the search box at upper right
InspectAPedia tolerates no conflicts of interest. We have no relationship with advertisers, products, or services discussed at this website.
How to identify, inspect, install, repair, or service heating boiler expansion tanks: here we explain the function of expansion tanks on hot water (hydronic) heating systems. We discuss what happens if the expansion tank becomes waterlogged, how to drain a waterlogged expansion tank, and what sorts of expansion tanks, like the one shown at page top, should never become waterlogged. We describe where the expansion tank may be found (sometimes in the attic!) and we illustrate different sorts of expansion tanks used over the history of hydronic heating in buildings. We provide a heating system expansion tank Troubleshooting & Repair Guide.
Green links show where you are. © Copyright 2013 InspectAPedia.com, All Rights Reserved.
Heating Boiler Expansion Tanks - Troubleshoot, Understand, Fix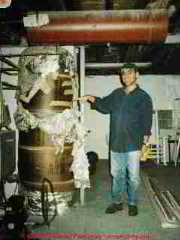 The photo at page top shows a modern Extrol(R) bladder-type heating system expansion tank.
What is a Heating Boiler Expansion Tank & How Do Expansion Tanks Work
Heating boiler expansion tanks are metal tanks of varying sizes that are installed to absorb the initial pressure increase that occurs when the heating boiler system warms up. Air molecules entrained in water inside the heating boiler itself as well as in the heating system piping, baseboards, or radiators, expands and thus cause an initial pressure increase in the heating system.
Inside of a working expansion tank is a reserve space of air. In fact, when the heating boiler and system are cool, the expansion tank will contain mostly air.
As the heating system warms up and as air entrained in the water raises system pressure, the increased pressure forces some of the heating system water into the expansion tank, thus permitting the tank to absorb the initial increase in system pressure.
Technical note: the water and air inside the expansion tank will always share the same pressure, but since water is not (very) compressible and air is, the increase in pressure will squeeze the air down to a smaller volume. That's why some heating system water can pass into the expansion tank.
If heating system pressures and/or temperatures exceed normal (for a residential heating boiler that would be a pressure above 30 psi or a temperature much above 200 degF) then the expansion tank is dismissed from duty and the pressure/temperature relief valve on the boiler will open to provide emergency relief.
How & Why do Expansion Tanks Get Waterlogged?
In older expansion tanks that do not have an internal bladder to keep air and water separate, over time air in the expansion tank may become absorbed into the heating water. Air may also find its way via the heating water to other air bleeders or vents in the system.
As air is lost and water just stays in the expansion tank, the space and pressure cushion provided by air in the expansion tank gets too small, or is lost entirely. There is no more air cushion to absorb initial pressure increases in the heating system during each heating boiler on-cycle.
What Happens if an Expansion Tank Becomes Waterlogged?
When the expansion tank is no longer able to absorb this initial pressure increase, it is possible that the heating system's internal pressure would exceed 30 psi - the typical point at which a heating boiler pressure/temperature relief valve will open to spill excess pressure. If the relief valve is forced open in this manner the heating system will first lose water each time a heating cycle starts by heating up the boiler.
Then the heating system will take in makeup water (through the automatic water feed valve) each time the system cools down. The result would be recurrent loss and then inflow of water through the boiler, increasing the risk of system corrosion as well as wasting water and possibly causing other damage or operating problems.
Watch out: spillage at the pressure temperature relief valve is potentially dangerous: eventually minerals in the water can clog a leaky relief valve, causing it to stop leaking - which might look ok but this means that the relief valve has become clogged - the boiler is operating without this critical safety device and an explosion could occur.
Signs of Trouble with a Heating Boiler Expansion Tank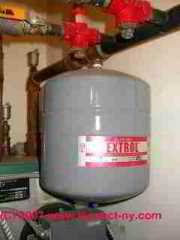 Expansion tanks on hot water heating systems can be divided roughly into two groups: older type bladderless heating system expansion tanks and newer type bladder-type expansion tanks such as those sold by Amtrol Inc.
A modern internal bladder type expansion tank like this Amtrol Extrol tank (photo at left) is generally trouble free, and it's unusual for these tanks to fail. The Ex-Trol® is properly referred to as a pressurized diaphragm-type expansion tank.
Both older non-bladder type expansion tanks and even modern (and much smaller) internal bladder expansion tanks can get in trouble.
But on occasion the internal bladder in one of these tanks could rupture or develop a leak. If that happens, because the tank is not field-repairable, the "fix" is to install a new expansion tank.
But far more often, it is older non-bladder type expansion tanks on boilers, like the one below) that become waterlogged.
Trouble signs that could be traced to a water-logged boiler expansion tank include:
Water drips or spills from the pressure/temperature relief valve on the boiler, typically at every boiler run cycle. This means that if you see dripping at the pressure/temperature relief valve on a heating boiler, one thing to check is whether or not the expansion tank is working properly. We discuss relief valve leaks caused by expansion tank problems just below.
Boiler pressure gauge reads higher than normal pressure. More than 30 psi on a typical residential hot water heating boiler is abnormal. Usually in a typical residential home the boiler operating pressure when it's up to temperature will be 20 to 22 psi.

But before blaming the expansion tank, take a look at both the temperature on the gauge (it should be under 200 degF) and also the temperature settings on the aquastat. (AQUASTAT CONTROL Functions). If the temperature is over 200 degF. then don't rush to blame either the expansion tank or the relief valve - they're doing their job and something else is wrong, probably the aquastat setting.
Expansion tank has become heavy: as we will detail below, a waterlogged expansion tank will have gained weight.
How Else We Know the Boiler Expansion Tank Needs Draining
Newer type heating system expansion tanks that use an internal bladder keep their water and air separated. These tanks should not need service. As we explained above, when a bladder-type expansion tank has become waterlogged it's because the bladder has ruptured and the tank needs replacement.
How to Try Some Neat Diagnostic Tests for a Waterlogged Heating Boiler Expansion Tank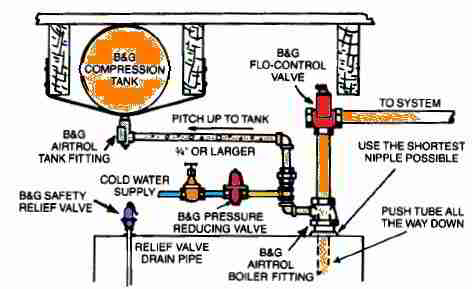 The following tips are from Bell & Gossett's installation manual for pressure reducing valves and from their Airtrol Compression Tank [expansion tank] System Installation Manual [4][5]. Our illustration at left shows the typical location of a traditional conventional, non-bladder-type heating boiler expansion tank, and is adapted from that B&G manual.
[Click to enlarge any image]
Feel the temperature of the pressure reducer valve body: put your hand on the bell-shaped body of the pressure reducer or on the piping before and after the valve. If the metal is cold to the touch in those areas, then the valve is "passing water" into the heating boiler. This should not be happening if at the same time the heating boiler is already up to its operating temperature. Possible causes:

improper reducing valve pressure setting
a leak "downstream" from the pressure reducing valve, in the heating system piping or boiler or its controls
a faulty pressure reducing valve that is not closing when it should

If the relief valve on the heating boiler periodically leaks or discharges water, on a hydronic heating system (hot water boiler) the expansion tank may be waterlogged - losing the "air cushion" intended to accommodate thermal expansion. Details offering more thorough diagnostics are at RELIEF VALVES - TP Valves on Boilers and at RELIEF VALVES - STEAM TP VALVES and of course also right here in this article on EXPANSION TANKS.
Test for leaks at an internal-bladder type expansion tank: a tip for waterlogged expansion tanks that use an internal bladder is to pump a bit of air into the expansion tank, then put a dab of water (we recommend spit) on the opening of the air valve found on the bladder-type expansion tank. If the spit bubbles the valve is leaking.
Test for waterlogged conventional (bladderless) heating boiler expansion tank: shut off the boiler for about 30 minutes to let the system cool down. Write down the heating boiler pressure that you can read on its gauge. Now turn the boiler back on and watch the pressure gauge. If

in 8-9 minutes of boiler operation (we mean that the burner or heat source is operating) the pressure gauge at the boiler reads a pressure within 10% of the spill pressure of the pressure relief valve on the boiler (see RELIEF VALVES - TP Valves on Boilers) then the expansion tank is surely waterlogged and needs to be drained and re-charged with air. B&G's instruction manual for this procedure is their Airtrol Instruction Manual S10300[5].
How to Drain & Re-Charge the Air Needed in a Heating Boiler Expansion Tank, step by step
Periodic draining of non-bladder boiler expansion tanks: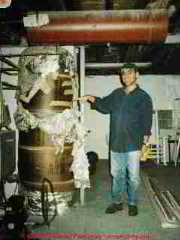 Older heating system expansion tanks such as the one shown in this photo (that large brown tank over our client's head) need periodic service: because air in the expansion tank can become absorbed into the heating water over time, eventually the expansion tank can become waterlogged.
As we detail below in another photo, the green arrow indicates the expansion tank drain valve and the blue arrow marks the isolating valve that gets shut off first.
So if no one has ever drained the expansion tank, or not for years, chances are it's ready and waiting for that attention. Or as we've explained above, it's past due for draining.
How to determine when the expansion tank needs drainage:
If the heating boiler expansion tank is heavy (try pushing it up or tapping on it) or if the relief valve is leaking, we probably need to drain the tank and let air return to it.
Watch out: don't go pushing the expansion tank all over the place. Just a tiny test push is sufficient. If you wiggle the tank around too much you're asking for a pipe leak. Also some expansion tanks are strapped tightly against the ceiling so you can't move them anyway.
So Now, Finally, Let's Drain that Heating Boiler Expansion Tank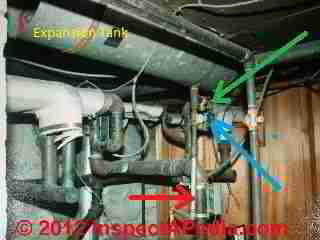 Many expansion tanks use a special drain valve that permits air to flow into the tank as water is drained out.
Turn off the heating boiler at its electrical service switch.
Identify the expansion tank feed pipe. There will usually be just one pipe leading to the expansion tank.

That pipe will be found coming from the boiler or perhaps a nearby heating water pipe to the tank to permit the tank to accept the expansion of water in the heating system (or expanding air entrained in the heating system's water) as the boiler gets hot. In our image at left, the red arrow points to the feed pipe.
Turn off the isolating valve that should be located on that hot water feed pipe between the expansion tank and the boiler or heating line.

This temporarily isolates the expansion tank from the rest of the hot water heating system. If you don't do this and you start draining the expansion tank you may end up draining water from your heating piping too - not what you want. We only want to drain the water that is inside the expansion tank. In our photo at left the blue arrow points to the isolating valve.

Technical note: an isolating valve often is omitted if the expansion tank is an internal bladder Extrol type tank since those don't need to be drained.
Connect a garden hose to the expansion tank drain valve and position the hose so that it drains into a floor drain or convenient slop sink. In our photo the green arrow points to the expansion tank drain valve. [Click any image to see an enlarged, detailed version.]
Open the expansion tank drain valve to allow

water from the expansion tank to drain out
air from the room to enter the expansion tank
Watch out: this hose idea is convenient and is recommended by some folks who lack experience with expansion tanks. But the hose only works if a special air-admittance valve is installed on your expansion tank. If your tank just has a regular boiler drain valve installed, the hose thing will be very difficult to work - in that case plan some trips with a bucket held under the opened tank drain valve instead.
Both of the expansion tanks we show with our arrows in the photos above had a simple boiler drain. We open the drain and let it spill into a bucket. That lets air bubble back up into the expansion tank - something that would take forever if we had a hose hooked up here.
Watch out, the expansion tank water could be hot, and is usually a bit smelly and dirty.
Let all of the water out of the expansion tank. You could get away with a bit less than all, but all is good. This lets us start with an expansion tank full of air. Don't worry, water from the heating system will be back in there in a jiffy.
Close the expansion tank drain valve.
Open the isolating valve between the expansion tank and the heating boiler or heating boiler piping. You will doubtless hear some water entering the expansion tank.

That's because the water in the heating system is sitting there somewhere between 12 and 28 psi and your expansion tank was full of air at "0" psi. When water stops running into the expansion tank, don't worry, it won't be waterlogged again. Rather it will contain some water, and some air, both at whatever pressure is that of your heating system at the moment.
Check for leaks. Make sure that the isolating valve (that no one had touched for a few years until you got to it) and the expansion tank drain valve (that no one has touched for a few years before now) are not dripping.

If you see a tiny drip around the valve stem of either valve, you can usually stop that by gently tightening that large packing nut that surrounds the valve stem. GENTLY. Don't over-tighten nor break anything.
Turn the boiler back on.
Check for leaks one last time when the boiler has heated up and the system is at full operating pressure. You should be ok.
Can't Find the Expansion Tank?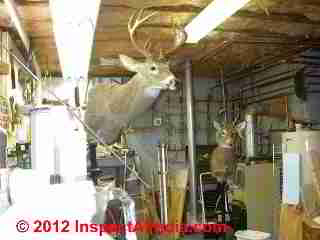 What if I can't find the boiler expansion tank?
Don't feel bad. Heck sometimes we have trouble even finding the heating boiler. Actually this heating boiler has an expansion tank, it's hiding behind that small deer in the right center of the photos. A basement full of deer may be unusual, but basement clutter is not. Look with care.
But indeed, some older heating systems may not have an expansion tank in the basement at the heating boiler. What then?
Well you've got one, if it's a hot water heating system, but the expansion tank may not be right at the boiler where young heating guys put them. On older homes there may be remote expansion tank, perhaps in the attic. If you see a heating boiler with no expansion tank and maybe no relief valve, it may have one of these systems that simply allow heating water to over-expand up into an attic tank that in turn drains outdoors.
Watch out: no heating boiler is safe without a pressure temperature relief valve right at the boiler, even if its expansion tank is remote.
Before we move on to talk about remote expansion tanks found in attics, and open cistern expansion tanks. take a look at the two pressurized diaphragm tanks shown below.
Attic Expansion Tanks for Heating Boilers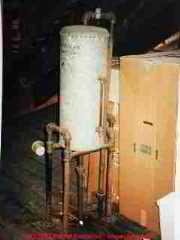 Antique non-pressurized attic expansion tanks as pressure relief systems for boilers:
Don't confuse an old heating system attic-mounted expansion tank like the one shown here for a water tank storage tank or a range boiler.
The heating system expansion tank will be connected to the heating system radiators or basement boiler and may have a simple overflow pipe to permit excessive water (or system pressure) to spill outside.
Systems which rely on a remote attic-mounted expansion tank are less safe since than a boiler that has a pressure and temperature relief valve mounted right on or at the boiler.
It's an easy fix, usually, to just add a relief valve on or at the boiler.
In identifying old steel tanks found in building basements and attics, also see HOT WATER TANKS, RANGE BOILERS.
Basement Expansion Tanks for Heating Boilers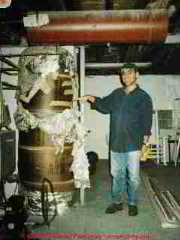 Our client is pointing to a do-it-yourself insulating job on a water heater.
The reddish-brown horizontal tank over his head is an expansion tank for the hydronic heating boiler in this building.
This is not a water storage tank, it's not a range boiler, it's an expansion tank. A big one.
This large basement expansion tank is expected to be on a heating boiler that also has a pressure and temperature relief valve.
From the size of the tank either the building is a large one with extensive (high volume of) hydronic heating baseboards or radiators, or the prior owner got tired of recharging the air in the tank.
Indirect-Fired Domestic Hot Water Tanks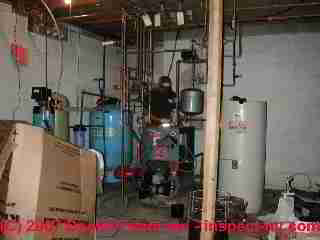 Indirect fired water heaters: In some other buildings domestic hot water is produced by cycling hot water from a hydronic or steam boiler through a loop inside of a steel tank. The water in the tank is heated by the water in the coil.
Modern systems using this approach use the term indirect-fired water heater and such systems are sold by various companies such as the SuperStorTM unit shown here as the white tank to the right of the heating boiler.

Indirect fired water heater tanks for domestic hot water, such as the SuperStorTM are usually located close to the heating boiler and will have both cold and hot water lines leaving the tank to supply the building with domestic hot water and a loop of piping that runs between the [usually the] bottom of the tank and a nearby heating boiler. Follow the pipes to see which pipes are performing which function.
The range boiler is an old concept in use for about 100 years. Indirect fired water heaters are a modern system and are in current sales and use.
See HOT WATER TANKS, INDIRECT FIRED for details about this type of water heater.
See WATER HEATERS for details about residential hot water systems.
Amtrol's Adapted Extrol®, the Fill-Trol® Diaphragm-Type Expansion Tank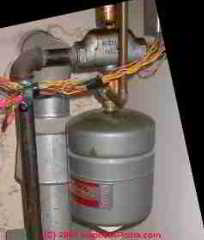 The expansion tank shown at left looks a lot like the one shown at the top of this article, right? But it's got some added features.
This is Amtrol's adapted Extrol tank called the Fill-Trol diaphragm-type expansion tank.
I wish we could push those wires out of the way, but instead, look at that brass valve just above where our red arrow is pointing. That's the adaptation. Amtrol has added a specially designed pressure-reducing valve that will automatically feed water into the heating system as needed.
So in one package we have the expansion tank (below the red arrow) and an automagic water feeder (at the red arrow). The whole assembly has been mounted to a tapping on the under-side of the air scoop and all of this is located above the heating boiler (a gas fired unit in this example).
At Water Feeder Valves, Hydronic Boiler we explain the function of pressure-reducer/water feed valves on hydronic (hot water) heating boilers in general. In the case of the Fill-Trol, the valve will put water into the heating system (via its distribution piping) should the pressure fall below 12 psi.
If you go back to look at the photo at the very top of this article you'll see a similar expansion tank, mounted in a similar location, but without this special pressure-reducing water feed valve.
Attic Expansion Tanks for Heating Boilers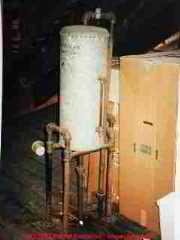 Attic expansion tanks and pressure relief systems for boilers: Don't confuse an old heating system attic-mounted expansion tank like the one shown here for a water tank storage tank. The heating system expansion tank will be connected to the heating system radiators or basement boiler and may have a simple overflow pipe to permit excessive water (or system pressure) to spill outside.
This attic expansion tank may have been connected to a drain that spilled outside of the building in case the tank became over-full. You can also see a sight glass on the front of this tank, allowing the service person to see its conation.
Don't confuse this little heating system expansion tank with a water storage tank, nor with the larger range boiler tanks discussed here.
Heating systems with this equipment installed may not have a modern pressure and temperature relief valve. Certainly in the original design the tank was put in the attic so that heating water could rise to the upper floors of the building by pressure within the heating system, but if pressure got dangerously high, heating boiler water would just spill up into the attic and thence to outside.
Systems which rely on a remote attic-mounted expansion tank are less safe since than a boiler that has a pressure and temperature relief valve mounted right on or at the boiler. It's an easy fix, usually, to just add a relief valve on or at the boiler.
Really Old "Expansion Tanks" are Attic Cisterns Open to the & Air Won't Need Draining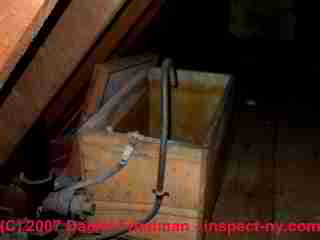 Cisterns or open overflow tanks in basements or attics are an open-type water storage reservoir found indoors, and are discussed further at CISTERNS.
But at left, this little "box" found in an attic was more likely a home-made expansion tank, or a toilet flush tank. We'd need to look further to know just what it was.
This system was in the attic of the Justin Morrill Smith historic home in Vermont.
This article series answers most questions about Heating System Boiler Controls on central heating systems to aid in troubleshooting, inspection, diagnosis, and repairs.
More Reading
Green link shows where you are in this article series.
...
Frequently Asked Questions (FAQs) About Heating Boiler Expansion Tanks: types, troubleshooting, draining, maintenance, repairs or replacements
Question: is it safe to remove and replace an old steel expansion tank with the newer type? Which is better?
is it safe to remove the horizontal type tank and replace it ? Is the old type better? is it ok to let the valve relieve the pressure and not have a tank at all? - Anon 9/11/11
Reply:
Anon, you can usually replace an old bladderless expansion tank with a much smaller internal diaphragm tank, as we describe above. The new tank will be smaller yet can handle the same job. Newer internal-bladder heating system expansion tanks such as the Fill-Trol® Diaphragm-Type Expansion Tank have the advantage that you don't need to periodically drain the tank to re-charge its air.
In choosing the size of a heating system expansion tank, the service technician will consider the size of the building being heated, or more accurately, the volume of water in the boiler and heat distribution piping & radiators.
Question: New steam heater installed for first floor; old boiler had two expansion tanks - was it ok to remove one?
I am a home owner, i had a plumber switched and installed a steam heater in the first floor. when he saw my oil boiler that had two Expansion Tanks, he said it would work more efficient if he removed one on the two. He removed a green horizontal one at no charge, but took the Expansion Tank with him. Now that same steam heater he installed does not warm up at all. Is this because he removed one Expansion Tank.
please help - Laura 10/30/11
Reply:
Laura: steam boilers won't use an expansion tank, not normally, as the boiler is making steam and open to the atmosphere up through the radiators and steam vents.

Usually on a modern hot water (not steam) heating system you wouldn't need two expansion tanks, certainly not if one of them is a new internal bladder type. So, recognizing that I can only guess from afar, it sounds like two different problems.
There are some steam heat systems that use steam to distribute heat to upper building areas and use hot water from the same boiler to circulate through hot water radiators or baseboards in a lower building area. Maybe that's what you've got ?
Question: I have to empty our boiler's expansion tank every month - the relief valve spills; how far away can I put the new replacement tank I'm planning?
I have oil burner and I have to empty the expansion tank about once a month. I know it's full when the relief starts passing water. It's an old tank that lay's on top of the heater. My question is if I install the new type what is the max distance can it be from the heater? Is 8' to far? - Tony 6/5/2012
Reply:
Tony,

Amtrol makes both thermal expansion tanks and hydronic expansion tanks used on heating and plumbing systems. Amtrol's expansion tank installation instructions specify "Install the EXTROL on the supply side of the boiler, on the suction-side of the heating circulator(s) (see Figure 1)." That is, the location is more critical than the distance.
Question: what do I need to do after my contractor removed an attic expansion tank?
Would you be able to help me determine what to do when my contractor removed my tank. I'd like to send you a before and after photos if possible? - Contractor removed attic tank 7/8/12
Reply:
We will try. Use the CONTACT US link at page top or bottom to send photos for comment, best accompanied by a specific question or concern. Keep in mind that if your building is quite old there may have been an old, unused, atmospheric pressure expansion tank in the attic.
Question: why would my heating system's expansion tank lose its air after just 3 or 4 days - the sight glass fitting shows no air
what makes expansion tank lose air in 3-4 days. I checked for air leaks with soap bubbles around tank and sight glass fittings, found none. Serviceman says domestic hot water coil may be leaking. How does that make tank lose air? Replacing coil will be expensive because of position of furnace. - J Warden 10/1/2012
Reply:
J Warden, I have to agree that I'm confused by this question. I've not found a hot water heating system whose expansion tank included a sight glass (a feature I find on steam boilers) - can you give me some details: boiler brand, type, model, and some photos to allow further comment?
In any case, if your expansion tank (if that's what we've got here) is losing its proper air charge every few days, there is either a leak out of the tank piping and fittings.
Question: confusion about how to drain an expansion tank and what boiler pressures should be found
I drained exp.tank and shut valve and bleeder valve. I noticed the entire system was low. I brought system up to proper pressure and bled all radiators. Then I opened the valve to the expansion tank. When water entered tank the pressure for the heating system dropped. Do I now add more water to system or will pressure come back when water is heated .? Thank you - Lee Davidson - Filling entire system 10/8/12
Sirs, drained the exp. tank with tank supply valve closed. Closed drain valve and bleeder valve. Entire system pressure was low so brought it up and bled whole house system. Bleeding drops pressure so brought up then i opened tank supply valve this makes pressure drop but i think it will come back when water is heated. Right or wrong? - Lee Davidson 10/8/12
Reply:
Lee, I agree with your procedure except the last step. On opening the expansion tank connection between the tank and the boiler, I would expect the boiler pressure drop briefly as water feeds into the expansion tank to bring it (and its air) up to the standard heating system cold pressure, eg. 12 psi presuming that the boiler is cold.
But unless your system lacks an automatic water feed valve, the automatic water feeder would be expected to add the necessary makeup water. Or doesn't your system gave one?

Or finally, if at a low pressure heat makes it to the highest radiator or baseboard you are provably OK.
Lee, about your second question:

Wrong.

It is a mistake to set the water pressure in a hot water heating system to an abnormally high level, and further, you shouldn't need to. Presuming that your equipment has a water feed/pressure reducing valve in place, that valve will automatically feed water to the system up to the usual COLD water starting pressure. Typically that's around 12 psi, though it may be higher for some taller buildings.

Expecting the problem to be fixed when the water is hot is also an error. It's the cold starting pressure that we attend.
Watch out: some readers have been confused about the bladderless expansion tank drain procedure: one has to close the water feed valve into the tank (from the boiler) before opening the tank drain. Otherwise we are not draining the water out of the tank to let air in, we're just running water through the heating system: from the building water supply, through the water feed valve, through the boiler, and up and out through the expansion tank drain - accomplishing nothing.
Question: once or twice a year the expansion tank needs to be emptied - else heating system pressure goes above 30 psi. How do I stop this problem?
Hi. I seem to be having an issue once or twice a year that the expansion tank needs emptied, i.e. pressure goes above 30. Is there something I can do to stop this? Thanks. Sandy. sweisber@pitt.edu - Sandy 11/12/12
Reply:
Sandy,

Sure. You can eliminate the need for periodic draining the heating boiler expansion tank by replacing it with an internal bladder type tank like the Extrol shown at the top of thus article.
Question: Comment - thanks for discussing old bladderless expansion tank systems
Thank you for this informative information. Many articles just mention the expansion tank with bladders but I have an old bladderless system and I was not sure if I should let the water out The over pressure valve was periodically going off. Thanks again, I believe you solved my problem. - John OHare 11/16/2011
Reply:
Thanks for the nice comment, John. We work hard to make InspectAPedia information accurate, complete, and unbiased and are thrilled when a reader reports that our data has been helpful. Indeed, there are still lots of buildings around whose heating systems use an older type of steel bladderless expansion tank - a component that needs periodic attention to keep the heating system working safely.
An bladderless expansion tank that loses its air charge not only causes the relief valve to spill, it is a more subtle safety hazard - as a spilling relief valve may eventually clog up from mineral deposits and crud, then stop opening, risking a BLEVE or boiler explosion. Sp if you see water on the floor under a relief valve it is something that should never be ignored.
Just how often we need to drain the water out of a bladderless heating boiler expansion tank varies from one installation to another; some need attention twice a year while I've worked on other systems that ran OK for three years or more before the expansion tank became waterlogged. If your bladderless tank doesn't need attention too often, say not more than once a year, there is no reason it can't continue in service.

Question: I drained the expansion tank but the system pressure is still too high; high radiators in the house are cold & the relief valve spills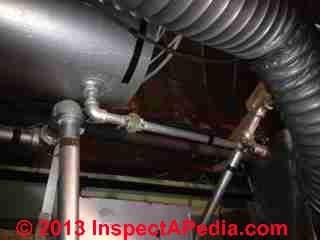 I have an bladderless expansion tank and was wondering if draining it incorrectly will not fix the problem. Here is the background of the situation.
It was noticed that a radiator one floor above the boiler (1940s oil boiler converted to natural gas) contained a lot of air in it, which was drained. Shortly after that, it was noticed that the relief valve was dripping.
I conducted a heat test to see what pressure the boiler got to, being suspicious that the expansion tank was waterlogged. I turned off the boiler and let it cool down to ~140°F and closed the feed line and expansion tank isolation valve.
I depressurized the system at the relief valve and replaced it since it was leaking. I then drained the expansion tank and took out about 2 gal. After that, I opened the isolation valve and then slowly opened the feed line valve, which repressurized the system to around 15 psi. When the system started the next morning (night time set-back), the pressure looked good and there was no dripping at the relief valve after an hour of operating, however, at two hours the pressure was at 30 psi and the relief valve was dripping.
I'm very stumped by this, because the procedure I've used seems very logical, but hope there is an issue with what I've done. We've been in this house for two previous heating season and have had no issues. There may have been leaks in the past since the relief valve outlet was slightly corroded. Any help would be greatly appreciated. - H.H. 11/20/2013
Reply:
Let's SUPPOSE for a moment that the expansion tank is fine - that is, there are no leaks anywhere. Let's pretend that you drained enough water out of the tank (which can be tricky). This would mean that the expansion tank is essentially empty.
Then the next day you see the tank is water logged again.
You saw "... at two hours the pressure was at 30 psi and the relief valve was dripping. "
The fact that the pressure is up to 30 makes me suspect that your system could have
- a bad automagic water feeder - feeding in too much pressure and water
- a tankless coil that leaks house-side water pressure into the boiler
If your system has a tankless coil you can check for a coil leak by TEMPORARILY shutting off water ahead of the valve. IF pressure still rises then the coil is leaking into the boiler.
If you don't have a tankless coil try this test anyway. If boiler pressure doesn't soar up to 30 when it heats up then the water feeder is probably leaking into the system.
Don't leave water shut off to a boiler or it could be ruined, dangerous, burn down, explode up or whathave you if it runs out of water.
Follow-up:
The system doesn't have a tankless coil and I don't think the automatic water feeder is leaking.
I took some more observations of the system last night. At the beginning the system was cooling down from running previously running and the boiler temperature was 110°F and pressure was 10 psi (why I think the automatic water feeder is not leaking).
I then turned raised the thermostat to fire up the boiler. It took about 50 minutes to reach 180°F (the temperature the aquastat is set to), during which time the pressure increased. At 160°F, it was 20 psi. At 180°F, the pressure reached 30 psi and the relief valve starting leaking again.
I then turned the system off and let it cool down, which dropped the pressure too. When the system cooled to 140°F (20 psi), I isolated the expansion tank at let things cool further. When it was 120°F, the pressure dropped to 12 psi and then I opened the expansion tank isolation valve. I could hear water flowing through the valve and the system pressure increased back to 17 psi.
Based on these results, it seems like the expansion tank is working properly but there isn't enough air in the system to compensate for the thermal expansion (which agrees with the earlier observations that this problem began shortly after I bled a lot of air from one of the radiators). I'm thinking I didn't drain the expansion tank properly and will try to do it again.
Do you have any suggestions or comments to what the problem might be? I can conduct additional diagnostic tests if you'd like. If you think the expansion tank needs to be drained again, could you provide a procedure to do it (I'm pretty sure I followed the correct one, I might have just done it when the system was too warm, but I don't see how that would have been a problem).
I've attached some pictures of the system. I now know that the lack of drain for the relief valve is very dangerous and this will be rectified once this current problem is fixed.
Reply:
The fact that you see 30 psi at just 180 degF tells us that the starting pressure in the boiler is too high.
At cold boiler you should see about 12 psi. Slighly more for a home more than two stories high. Try to be sure that you are getting ALL water out if the expansion tank. Water will reenter it but starting with a full tank of sir is usually right and sufficient.
In sum:
1. Empty the bladderless expansion tank completely.
2. With the system cold, check that the starting pressure is about 12 psi. (Keep in mind that pressure gauges on heating boilers are not lab-grade precision instruments.) If the home is taller than 2 stories see our article about setting boiler pressure to account for that difference.
3. Check that with low pressure the relief valve is not dripping.
4. Turn on the boiler and watch it go through a heating cycle. The relief valve should not spill, the temperature should be below 200F, and the pressure should be below about 28 psi.
Let's take it from there.
Reader follow-up:
Does it matter what temperature the system is at when I drain the expansion tank? Also, I wonder if the proper way to drain my expansion tank is to use the drain valve (other end of tank in the picture I sent you) and open the union between the isolation valve and the expansion tank (it is the only fitting in the system that has Teflon tape and not pipe dope, which would imply it has been opened at a different time from the rest of the system). As for the 10 psi pressure when cool, I was thinking the gauge could be a little off or maybe the automatic water feeder pressure was reduced because the expansion tank doesn't have any extra capacity.
The expansion tank was still waterlogged.  When attempting to drain it the first time, I must not have opened the valve enough to overcome the vapour-lock in the tank.  During the second attempt, the "gluging" sound was evident and it eventually drained.  Now the pressure is fairly constant during operation and the peak pressure is about 25 psi.  The cold pressure still is around 10 psi though, and was wondering if I should adjust the automatic water feeder to increase the pressure or is that pressure adequate for a one-story house?
Reply: no need to increase boiler cold pressure as long as highest radiator/baseboard is getting hot
Here's the problem - I'm just guessing because I have not see the whole expansion tank and all its fittings: You've got a container full of water with probably only one outlet - on the container bottom. And I saw no convenient valve to drain the tank - there is a special drain valve designed for this situation, one that admits air into the tank while it is letting water out. What I saw on your system was just a union (a dis-assemblable connection) on the horizontal line near the tank - probably you've got some other lower drain point. It's hell getting air up into the tank by that route unless you completely open the pipe and wait patiently for the tank to sloooowly drain. Or you can rig up something that pushes air into the tank intermittently to help get ALL of the water out. T
his design, unless we retrofit a better tank drain system or an air inlet higher on the tank, is so annoying that that's why we want to be sure to drain the tank fully - to get as long a life from the service job as possible. Over time the air in the tank is absorbed into water and the tank's compressible air volume shrinks - which is why ultimately the TP valve leaks.
With that chest beating done, back to your last question. As long as the highest radiator or baseboard in the home is getting hot we know the pressure is adequate. So I would not mess with the automagic pressure-reducer water feeder.
Except, to argue with myself, I'd like the cold start pressure to be slightly higher than the absolute minimum needed to allow the circulator pump to push hot water all around the heating system. That little margin, say 1-2 psi, might prevent a cold radiator under varying load or weather conditions. Usually the factory-set pressure on a water feeder/pressure reducer valve is 12 psi cold.
If you haven't seen it, WATER FEEDER VALVE, HYDRONIC BOILER includes a neat boiler pressure setting vs building height courtesy of Carson Dunlop Associates.
And if you're feeling curious about the physics involved in the pressure increase as we heat up water, see HOT WATER PRESSURE EXPANSION RATE
...
Ask a Question or Search InspectApedia
Use the search box below to ask a question or to search the InspectApedia.com website.
Ask a Question or Enter Search Terms in the InspectApedia search box just below.
Technical Reviewers & References
Related Topics, found near the top of this page suggest articles closely related to this one.
Click to Show or Hide Citations & References
Books & Articles on Building & Environmental Inspection, Testing, Diagnosis, & Repair