Maximum Water Pump and Tank Pressure Settings
How high can we set building water pressure?
InspectAPedia tolerates no conflicts of interest. We have no relationship with advertisers, products, or services discussed at this website.
Well pump pressure control switch maximum pressure setting:
This article describes how to adjust building water pressure by setting the water pump cut-in and cut-out pressure on the well water pump pressure control switch.
We also point to our article on how to adjust building municipal or community water pressure at a building.
Watch out: You can't just set the pump pressure as arbitrarily high as you want to. The result could be dangerous.
Green links show where you are. © Copyright 2017 InspectApedia.com, All Rights Reserved.
How High Can we Set the Water Pressure in My Building?
Here's what can go wrong with excessive pump pressure control settings:
Exceeding well pump pressure capability: If you set the cut out (stop pumping) pressure higher than the water pump is capable of reaching, the pump will just keep running indefinitely until it burns up or blows a fuse or trips a circuit breaker or overheats.
Causing a ruptured water tank internal bladder: we have had a number of reports of ruptured bladders in water tanks. In normal use the bladder in most water tanks is not stressed at all - the internal water tank bladder simply moves up and down as water enters or leaves the tank - pressure on either side of the bladder (air on one side, water on the other side) remains the same.

If your water tank were a less common model in which air were inside the bladder rather than outside it, excessive air pressure could burst the bladder. If you set the water pump pressure too high on one of these systems, you might cause the water bladder to rupture inside the tank. In an extreme case you might blow up the water tank itself. Most water tanks are not designed this way.
Blowing up a water pressure tank - serious safety hazard: if you set water pressure too high, even if the pump is capable of reaching that pressure it may be unsafe. Most water pressure tanks are

designed to operate safely in the water pressure ranges we cite
at PUMP PRESSURE SWITCH STANDARD (PSI) SETTINGS.

If you had the bad luck (and stupidity) as to be using a water tank that has NO PRESSURE RELIEF VALVE installed, it is possible to cause the tank to rupture or even explode, risking damage to the building or even serious injury or fatality if anyone is nearby.
Causing leaks at fixtures: even if your water tank were rated for high pressure, and even if your water pump is capable of high water pressure, if you run water pressure in a building over 70 or 80 psi you can expect to have recurrent leaks at plumbing fixtures: most water faucets and tub faucets are not designed for high pressure use.
Also see HOW MUCH AIR TO ADD - How Much Air is needed in the water pressure tank?
Reader Question: What should I do about sudden very high water pressure in my pump and well system?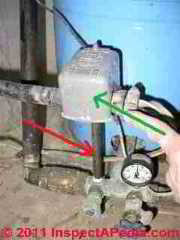 I noticed that my water pressure suddenly seemed awful high and when I checked the gauge it was. I have a 6" drilled well and the shutoff pressure was reading 80# of pressure. I tried adjusting the range nut with little success.
The gap between 'on' and 'off' was way to much. (The switch, a Square-D, indicated a gap of 20-40 ) I think that I have a bad pressure switch. Any thoughts? - J.T.
Reply: Replace the pressure control switch, check and clear debris blockage in the switch mounting piping
A competent onsite inspection by an expert usually finds additional clues that help accurately diagnose a problem.
That said, here are some things to consider based on what you've described so far:
Because you confirmed that the water pressure really is excessive by direct observation, I don't think this is a common gauge error problem and I agree that the problem is most likely with the pressure control switch. In our photo (above-left) the green arrow points to a SquareD pump pressure control switch at its typical installation location.
A well water pump pressure switch might stick in the "on" position due to debris clogging at the pressure sensing orifice, or at the switch mounting tube, or on occasion relay switch points can burn and actually weld together.
Turn Off Unsafe Water Pumps
Watch out: high pressures from a pump that is either pumping to too high a pressure control setting or that does not shut off due to a switch or wiring problem can burst water pipes or a water tank, possibly even leading to injuries, especially if your water pressure tank lacks a pressure relief valve. I would turn OFF a system pumping to or over 80 psi until the problem is diagnosed and corrected. In our photo (above left) there is indeed a pressure relief valve installed on this pump and tank system. You can see the relief valve attached just below the pressure switch mounting tube (red arrow).
How to Install a New Water Pump Pressure Control Switch
If no one had previously been attempting to adjust the pressure control switch, I'd install a new one. When you install the new switch, either replace or clean out the small-diameter (typically 1/8" or 1/4" ID NPT) pipe nipple that is used to mount the pressure switch to the piping or fitting where it is attached. In our pressure control switch photo (above left) the red arrow points to the mounting tube that we are discussing.
Watch out: As a temporary, emergency "Sunday night" repair, I have filed clean and smooth pitted, burned contact points on a relay switch (with power OFF of course), but because relay switch points are made with a protective plating on the contact point surfaces, when you file or clean burned contact points the switch may still have a short remaining life, and you risk also changing the behavior of the contact relay or even of making the switch unsafe. So it's best to replace the switch promptly.
To replace a water pump pressure control switch the installer will need to turn off electrical power to the system, remove the old switch by disconnecting its wiring and then unscrewing the switch from its mounting tube, and install the new switch in the same position. It's a good idea to label your switch wires or take some photos as well so that you wire the new switch exactly as the old one was hooked-up.
Watch out: if you do not run enough water to remove water pressure from the pressure tank, when you remove the old pressure switch you'll see water squirting out of the mounting tube. That's not necessarily so terrible if that "squirt" also cleans debris from the tube. If you drain off water pressure first, the leakage at that point will be trivial. If not, be prepared to get wet as you are screwing the new switch in place, and be prepared to dry everything out before restoring electrical power.
Don't forget to use teflon paste or tape on the threads of the mounting tube so that your new switch won't leak at the mount, but don't blob in so much pipe dope or paste that you risk clogging the switch pressure sensing orifice on the switch bottom.
You should be able to use the new pressure control switch with the factory settings for cut-in and cut-out pressure, especially if you bought one already set to one of the two standards: 20/40 psi or 30/50 psi for Cut-in and Cut-out pressures. Or see WATER PUMP PRESSURE CONTROL ADJUSTMENT if you need to adjust the pressure switch settings.
Check for Sediment Blockage at the Pump Controls
As we discuss at Water Pump Pressure Control Switch Tubing Problems, often if there is sediment or rust or debris in the water system, that small diameter pipe or even the bottom sensor openings on the pressure control switch can become clogged. The result is that the switch stops properly sensing water pressure.
At that point pressure switch behavior can go either way: the switch may fail to sense a water pressure drop and thus doesn't turn on when needed, or it may fail to sense a water pressure increase and thus does not turn off when needed. Too little water pressure is inconvenient. Too much water pressure can be dangerous.
If/when you are replacing a pump pressure control switch, check the tubing or switch mount as well as the bottom of the old pressure switch for evidence of sediment or mineral deposits or other crud that block the pressure sensing mechanism. Clean or replace blocked switch mounting tubing.
Install a Sediment Filter?
Finally, if indeed your water source is giving up debris, silt, or other sediment particles that can clog the water supply system and its controls, you should consider installing a water filter system as well. Most water filters I've seen are installed after, rather than ahead of the water pressure tank and controls. But if needed, with a few extra control valves to make filter changeout easy, it should be possible to install filtration ahead of the tank and controls, thus protecting them from sediment as well.
Increased pressure switch settings too high, lost all water pressure: check thermal reset
Reader Question: Last week I increased the cut-in cut-out pressure switch setting on my well. The system was running at 20-40 and after making the pressure switch adjustment it has been running at 40-60 just as I planned. I checked the cut-in and cut-out over several days after the change and it was working fine.
Today we found that we had zero water pressure. I looked over our system and found there is no water flowing into our pressure tank so no water is being pumped. I tested for power at the pressure switch and it is getting power but I did not check the voltage.
The well pump was here when we bought the house about 10 years ago so the pump is at least 10 years old. I don't know the specifics of the pump but the control box for the pump states 1 hp, 230 volt, single phase and includes a capacitor and some other blue device.
I assume my increasing the pressure switch seating has lead to a pump failure. Anything else I should test before running out to buy a new pump? - John M 8/34/11
Reply:
John M:
Changing a pump pressure control switch from 20/40 all the way up to 40/60 has an understandable appeal: much higher water pressure, faster flow rate. But the risk is that you set a cut-off pressure that the pump simply cannot maintain. If that happens the pump might just keep on running - never reaching that 60 psi. If your pump was a submersible you might not know that the pump is spinning itself to death down in the well.
Until it stops working or until the pump overheats and shuts down on thermal overload.

Watch out: even if you reset the thermal overload switch on a pump motor, running it too long may have exceeded its heat capacity and damaged the pump bearings or impeller assembly. So if you reset the pump and water pressure is restored but the pump later begins to run continuously you'll have to lower the cut-out pressure until you've diagnosed the problem and perhaps replaced the damaged parts.
These articles should help:
A second possibility is that sometimes when we start pumping water out of a well faster than before we can exceed the well's flow rate (especially if the well is not very deep- doesn't have a big static head). Even if the well later recovers, we can lose prime and lose water pressure, or in some cases run the pump dry and damage it.

Sorry about the bad news, but those are the worries that occur to me from your description.
Followup:
Thanks for the reply Dan,

The pump is working fine now, the following morning after my post I replaced the thermal protection device, turned on the pump and it immediately started pumping and has been running fine since. Just for clarification and as I explained in my original post, the pump is cycling properly (cutting in and out) with the higher presser setting of 40~60 psi.

I suspect the problem occurred due to my extended continuous use of water while I was working on a landscaping project which had the water running continuously for 8 plus hours. It appears the thermal protection device which is designed to protect the pump from burning out did its job.

Happy to report the pump and well are working great.
Reply:
Thanks John M - I will add "replace the thermal protection device" to our list of diagnostic suggestions when a pump motor won't run. Can you send along photos of the parts and pump? Use the CONTACT link found at page top, left, bottom.
...
Continue reading at PUMP PRESSURE SWITCH STANDARD (PSI) SETTINGS or select a topic from closely-related articles below, or see our complete INDEX to RELATED ARTICLES below.
Suggested citation for this web page
MAXIMUM PRESSURE SWITCH SETTINGS at InspectApedia.com - online encyclopedia of building & environmental inspection, testing, diagnosis, repair, & problem prevention advice.
Or use the SEARCH BOX found below to Ask a Question or Search InspectApedia
...
Frequently Asked Questions (FAQs)
Try the search box below or CONTACT US by email if you cannot find the answer you need at InspectApedia.
Question: my water pressure is too low, pump gets hot, trips breaker. Can I increase the pressure setting?
I have very low water pressure, so a neighbor turned it up for me. I couldn't even get Dawn to suds up in my sink! But now the pump runs until it gets hot & throws the breaker switch. Sometimes it keeps clicking on & off.
What can I do to get good pressure, but not burn the pump up? I don't quite get this cut-in & cut-out thing. - Gwen 5/7/11
Reply:
Gwen,
Watch out: do not try setting up the pressure on the pump pressure control switch in this case. Since your pump is tripping the circuit breaker there is a problem to find and fix first: such as a failing pump motor, wiring error, or other unsafe condition.
The pressure control switch sets the water pressure at which your pump turns on and off. Typically these switches are set to turn on at 20 and off at 40 psi or on at 30 and off at 50 psi.

If your neighbor set the pump cut-out pressure too high, your water pump may simply be unable to ever reach the "Cut off" pressure - so the pump will run until it overheats and shuts off by an internal thermal overload switch. Usually these switches reset automatically when the pump cools down.

But running the pump this way is

- DANGEROUS - too much pressure could burst a water pressure tank or other plumbing parts, even injuring someone

- and it can ruin your well pump by burning out the motor

You need help from someone with a bit more expertise, perhaps a real plumber who knows how to adjust the pump pressure control correctly.
Question: pressure goes up higher than pressure control switch setting
After turning off the power to my well pump and pressure switch and bleed the water pressure down to 25 psi; I returned about 10 minutes later and the pressure had gone back to 80 PSI. This is a 30/50 psi switch. Why would the pressure go back without the power to the pump and switch being on? Thanks - Steve Holloway 8/19/11
Reply:
It's embarrassing to keep guessing at the same cause for so many problems, but if the pressure gauge is accurate and working properly I suspect the pressure switch is not getting a good indication of system water pressure - check for debris clogging.
Question: Square D pressure switch set 30-50, can I eliminate the low pressure cut-in?
I Have suare D switch 30-50 lb. with low pressure shut off. It causes me a lot of trouble when I fill large livestock tanks,can I modify the switch to eliminate the low pressure shut off feature or must i replace the switch. thanks - Mike Jones 8/22/11
Reply:
Mike,

I'm not sure what trouble you're having with the pressure control switch, and that those details might be diagnostic.

If the pump is short cycling that's usually a pressure tank problem not a switch problem.

If the switch is burning up while staying "on" you might need to go to a two-switch system in which the Square-D switch switches on a heavy duty relay that turns on and off the pump.
Question: Pump pressure goes up to 70 psi then immediately falls to 40 psi, many times a minute
when I flush the toilet my well pump cycles on to 70 lbs then right off and drops to 40 lbs and back on to 70 lbs then drops down to 40lbs and back on to 70 lbs it does this 21 or 22 times in a matter of just a couple of minutes then it stays at 40 or 39 lbs. I think it's doing this the whole time the toilet is filling back up? What would cause this?? - Jim Gale 10/17/11
what can be wrong with my well i put a new pressurer swithch the blader tank is good not lossing air but pump cut on and off ever two min what do i have to do to fix the problem - Anon 3/1/12
The pump is new and the pressure tank is old and the pressure switch is new. I run the water the pump clicks on and off every 10 seconds. I can see condensation line above the half way line on the tank. Whats the problem? - Rep 6/5/12
My switch cycles constantly and finally (sticks and holds contact. Is this an air pressure problem in my water tank? - Martin 7/19/12
My well is for outdoor irrigation only and has a very small (maybe 3-5 gallon?) bladder tank and pressure switch set-up. When I turn on a hose the pump clicks on and then off immediately, just a few seconds then the water pressure from the hose dwindles down and then the pump kicks back on just for a second and right back off so I get a burst of water then the dwindling again & it just keeps going like that. Isn't the point of the pressure switch & bladder tank to make the pump stay on while water is running, keeping the pressure constant? What adjustment to the pressure switch should I make....increase or decrease the cut-on or cut-off point? - Jen 7/20/12
Reply:
Everyone above and Martin, I'm not 100% sure of course, but I don't think it's an air problem.

Short cycling of a water pump describes the pump turning on and off too often when water is running, but not a sticky or misbehaving pressure switch.

Burned switch contacts, a failing switch, a loose connection in the wiring, or a dirt-clogged sensor port on the pressure control switch base or in the tube that conducts water pressure to the switch are more likely at fault.

Martin when you swapped in the new switch, if you left a clogged tube on which the switch mounts or that feeds water pressure to the switch, even the sensor port on the new one could be blocked as well.

I'd also check voltage levels.

And that the pressure tank is not waterlogged.
Jen when the pump turns on and then immediately off it's as if there is no air in the pressure tank - so as water is not very compressible, the system reaches cutoff pressure immediately. If the irrigation system draws water fast enough, or if the pressure tank has an air charge, the symptom you describe should not occur.
Take a look at WATER PUMP SHORT CYCLING. I think your water tank may be waterlogged.
Question: I'd like to get the cut-on at 60 and cut-off at 70.
I just rebuilt a Sta-Rite water pump (JBMG-41S)(2hp). It had never been serviced and had alot of iron build-up. The shaft had seized. After cleaning it out and putting new seals, it was still able to run ok so I reinstalled it. Then it seemed there was a problem with the pressure switch. I cleaned out the pipes connecting to it and cleaned the switch itself but I wasn't able to get to a setting that wasn't cycling too quickly. I then looked at the air pressure in the pressure tank.
This system is installed in an old 6 floor apartment building. The city supply is about 45psi I wanted to get a cut-on pressure of about 55psi and a cut-off at about 75. The pressure tank (Challenger pc266r - 85 gallon) turned out to be over-charged. I'm not sure what the pressure was at but it was over 60psi. I let out the air until it got to around 51. Now, cut-on pressure was around 55 and the pump was staying on for around 10 minutes before it reached 70psi but even with the differential nut unscrewed all the way I couldn't get the pump to turn off at 75psi. I finally unscrewed the main nut and the pump went off but now the cut-on pressure was slightly lower.

I'd like to get the cut-on at 60 and cut-off at 70.

Help appreciated. - Ben 4/9/12
Reply:
Ben, please take another look at the details in the article above about adjusting the pump pressure control switch. You'll see that the two adjustments (on switches that have two) do not operate independently, so changing one can require fine tuning the other. The larger nut shifts the whole cut-in/cut-out pressure range up or down, while the smaller nut changes the width of that range - the differential between cut in and cut out.
Question: Will the pressure pump damage the washing machine, water heater etc? in a one story house?
Is it true that Preasure pumps fitted in a house with one floor only spoils the washing machine,water heater etc and presure pumps should not be used for such one floored house. - K Sriram
Reply:
K Sriram

I cannot undertand any reason why a well water pump would damage plumbing in a one story house in some way related to the house height. The pressure operating range - 20-40 psi or 30-50 psi is within the normal operating range of plumbing fixtures and appliances. In other words, No not in any way I can see. Maybe there is some condition someone knows about that we've never come across?
Question:
(Mar 23, 2014) Anonymous said:
my old pressure switch started sticking and we had a loss of pressure. I replaced the pressure switch with a 40/60 switch it worked fine for a week then today it lost pressure.
By shutting off the breaker and turning it back on the pressure came back. but it keeps repeating its self .Is my pump going out. its a submersible by the way.
Reply:
Check to see if the pump pressure switch sensor port or mounting tube is debris clogged.
Question: how to re-set the pressure control switch to factory specs
(Apr 28, 2014) H20 said:
how do i reset my Square d 20-40 back to factory setting? my pump stays running longer than usual and the smaller spring is all the way turned out barley any tension on the spring. pump cuts on and off just don't want hurt the bladder. its on a 30 gallon flowtech water tank also i have no way of checking the pressure inside the tank im just going by how the water pump used to run by hearing .
Reply:
H2 don't feel too bad, we've all done that trick.
See PUMP PRESSURE SWITCH STANDARD (PSI) SETTINGS
Start with a completely empty water pressure tank - let air in at ambient area air pressure, and you'll be close. Or install a gauge if there's a port to do so and set the tank pressure to 2 psi below the cut-in pressure on the switch.
Question: bang when pump turns on
(Sept 29, 2014) Tim said:
There is a bang when my pump turns on. Could this have to do with the pressure switch?
Reply:
More likely the pump is twisting and torquing piping. Watch what happens at the equipment when the pump turns on.
Question: how to set tank air precharge
12/6/2014 henry postma said:
I just installed a new pump and water tank with a bladder? All s well but my pump pressure switch is set 30-50 psi. At present the pressure in the tank is set at 18 psi and should be set at 28 psi from what i read. You think that i should drain the tank and put the air in the tank up to the 28 psi, or can i just leave it the way it is. Does it hurt the system by having a lower pressure in the tank then what is called for.
Reply:
Henry, at the More Reading article list above, under WATER TANK USES TROUBLESHOOTING
use the procedures at
Question: My well water pressure switch is cutting in at 74 PSI and cutting off at 94 PSI and I have 30 PSI in the tank
(Feb 11, 2015) Mark said:
Good Day, My well water pressure switch is cutting in at 74 PSI and cutting off at 94 PSI and I have 30 PSI in the tank. So my question is this, do I leave the cut in and cutt off alone and increse my tank pressure to 72 PSI or decrease my cut in and cut off to 40/60 and increase my tank pressure to 38 PSI? Everything seems to be running fine at it's current cut in and cut off but the pressure is a little weak. I am unsure what to do because everything I have read states that the cut off pressure should not exceed 60 PSI. Thanks
Reply:
Mark, 94 PSI is a very high cut-out pressure and risks leaks or a burst pipe; if something indeed bursts someone nearby could be injured.
At those unusually high water pressures (for a residential building we don't normally run much above 60/40) if you are seeing what you describe as "weak pressure" then I suspect that your gauges are wrong OR there is a blockage that is restricting the flow rate.
Make an independent measurement of water pressure and tell me what it is when the pump has cut out and no water is being run in the building.
See WATER PRESSURE MEASUREMENT in the More Reading articles above.
...
Ask a Question or Search InspectApedia
Use the "Click to Show or Hide FAQs" link just above to see recently-posted questions, comments, replies, try the search box just below, or if you prefer, post a question or comment in the Comments box below and we will respond promptly.
Search the InspectApedia website
Technical Reviewers & References
Click to Show or Hide Citations & References
Thank you to Jason Gapco at Education Solutions for careful editing and text suggestions, 12/2008
Thank you to Steven Prior, a reader, for questions leading to our clarification of the function of the large and small pump pressure control switch springs, and for his photograph of the pump switch springs, 3/23/2009
Thanks to reader Rise for pointing out that turning a nut clockwise means "to the right" or to the "more tight" position in the convention of how most threaded devices work. Nov 2009.
Thanks to reader Don Travis for discussing water pump adjustment details - July 2010


Pumptrol™ Pressure Switch Adjustment, Square D, Schneider Electric Corporation, 8001 Knightdale Blvd., Knightdale< NC 27545 1-888-778-2733 - Square D Technical Library, web search 07/24/2010 original source: http://ecatalog.squared.com/techlib/docdetail.cfm?oid=09008926800a93be
Books & Articles on Building & Environmental Inspection, Testing, Diagnosis, & Repair
Our recommended books about building & mechanical systems design, inspection, problem diagnosis, and repair, and about indoor environment and IAQ testing, diagnosis, and cleanup are at the InspectAPedia Bookstore. Also see our Book Reviews - InspectAPedia.
...