How to Return an Old Water Well To Service: Test, Inspect, Then Decide
OLD WELL - RETURN TO SERVICE - CONTENTS: How can we use an old water well that has been shut down? Q&A on water potability in an old, previously abandoned drilled steel casing well. Solving Water Potability in an Old Drilled Steel Casing Drinking Water Well: Tests, Repairs. Procedure to return an old well back to useful sanitary service as a water supply. Extra steps to sterilize an abandoned well & Common causes of bad well water. Do I need to drill a new well or can I use the old one?
POST a QUESTION or READ FAQs about how to return an old water well to service
InspectAPedia tolerates no conflicts of interest. We have no relationship with advertisers, products, or services discussed at this website.
How to return an old well to service:
This article describes how to cure bad water test results or or non-potable water in an old, previously abandoned drilled steel casing water well.
Our page top photograph show an abandoned well casing at a property in Red Hook, New York. There was no well casing cap, the casing top was close to ground level, and the condition of the well was unknown.
Green links show where you are. © Copyright 2017 InspectApedia.com, All Rights Reserved.
Drilled Wells - how to I fix an old, non-potable drilled well?
Most modern drilled wells for residential properties use a 6" steel casing which is inserted into the drilled hole prepared by the well driller and then sealed at top and bottom against contamination by surface water or surface runoff.
The Question and Answer below address the question of how to evaluate, test, and repair an old drilled well if an initial water test indicates that the well water is "bad" or not potable.
Question: What Do I Do About an Old Abandoned Well When the Water Test Comes Back Bad?
I just bought a 2.3 Acres of deep wood-lands in Pennsylvania. (In Hempfield Twp.) Westmoreland County. The previous owners had a 6-inch steel casing water well installed, when they lived there at one time. No one has lived at this property for years & years.
The Re-Max Realty agent that we bought this land from,told us that there was a water well at the property & that they used to use this well for their drinking water etc...
Well,we finally located the water well 6" casing & it was uncovered & the pump & electrical connections where all missing. The well casing is sticking about 6" out of the ground. You can actually see the water with a flash light running & moving at top of the water's level, 28'-6" down the pipe casing.
So! with this being said,the water well was there & sitting with an open top - that is there was no well cap on top of the casing. Not a good thing. We don't know how long it's been this way nor what else may have fallen into this water well casing, right?
First of all, we don't know very much about water wells at all. I've always lived where there's been public water at my residence.
Here is How We Figured the Depth of Our Well
So! me and my wife got around to finding out about this water well by doing a check of things. We dropped an iron~chisel attached onto a piece of twine string 200 feet long... (We took the liberties of sterilizing) the iron-chisel in boiling water before we sent it down the casing... We found the Water Well to be 68'- 6" deep.
Here is How We Tested Our Well Water
Then,we had a (sterilized) glass Mason canning jar that we attached too an different piece of new twine string & sent it down the 6" steel casing pipe. The jar stopped at 28'- 6" & into the top of the well water it was... We drew up a glass jar full of the Well Water & tightly sealed the water jar & took it too a water testing facility near where we live. The Water testing facility said, that they'd had to wait for at least 24 hour period & add certain powders to it too find out the results of the waters quality.
So! we paid them the $20.00 for the testing & called them back the next day to find out that the Well Water tested positive & not good to drink because of certain quality standards & bacteria. The Water testing Co. told us to dump about three cups of Chlorine!Bleach into the well casing. & then wait for three days & have it tested once more. Does this sound right with procedures ? We have no idea what's~what ? We are going to go back over to this Water Well today ( 2/3/ 2011) & spill that Chlorine into the well casing & wait for three days.
So! I figured I'd write to you folks & get more opinions. We plan on building our dream home at this 2.3 acres of beautiful wood lands, but there's the Water problem as of present.
Can you offer us more good advice as to what you'd do [to find out if and how we can return this well to service]?
I'd hate to drill for another water well, when there's already one there, that seems to have about 40 feet deep of water already at hand. The local well drillers want around $4,500.00 to do another water well drilling if that's what it will take? Yikes !
Any help would be appreciated, M. & R. L., Scottsdale, PA.
Reply: Before Considering Drilling a New Well, Properly Sterilize, Inspect, and Re-Test The Old One
Certainly it's not a good idea to start by thinking of drilling a new well before we understand the present one a bit better.
First Take A Look at the Failed Water Test Details
In fact, depending on the particular water test that was done, there might be more derailed information that would help us guess at the chances that the well will be fine after it is sterilized. Water tests that just give a "pass/fail" result are quick and inexpensive, but not as helpful as diagnostics as water tests that give an actual bacteria count. See Interpreting Other Water Test Results for details.
Advice about failed water tests is in the following articles.
But it's no surprise that a well that was abandoned, not sealed against surface runoff, and not used for a long time might be contaminated.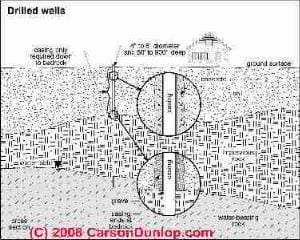 In Carson Dunlop's sketch at left we show the typical construction of a drilled water well in cross section.
You can see that the typical well casing diameter is 6" (4" in some areas), that the well depth can be considerable (50 50 ft. to 900 ft. or more), and that the steel well casing does not extend down into the bedrock.
Proper Well Shocking (Sterilization) Procedure
We suggest regardless of the existing water test details you will want to have the well itself sterilized - shocked - properly, using an amount of bleach determined by the amount of water actually in the well, not just an arbitrary formula.
There are some other details (in our procedure articles below) such as hooking up a garden hose and using the chlorinated water to thoroughly wash-down the sides of the well, that can make a big difference in whether or not the well passes its next potability test. In addition, if this "abandoned well" still has well piping entering the well casing below ground (at a pitless adapter that enters the side of the well casing), unsanitary ground water could be entering the well from that route. (Pitless adapters are special fittings that allow well piping to exit out the side of a round steel well casing below ground - they are explained at Drilled Wells - steel casings).
So to wash down the well casing as part of your shocking procedure you may want to hook up a temporary (submersible) well pump and garden hose to do the wash down procedure right at the well.
Here are key articles on how to shock or sterilize a well.
WELL CHLORINATION SHOCKING PROCEDURE
Chlorine in Wells - Safety Warnings
Well Chlorination Procedure Details

Usually well-shocking is done after a pump and piping are installed so that all of the components are sanitized at the same time.
Re-Test The Well
Then re-test the well water for potability as well as for flow rate or total water capacity. It's possible that you'll discover that well water is potable. Or maybe not.
Most Common Causes of Bad Well Water
Here are examples of common reasons the well might not, however, be giving potable water:
Leaks into the well: The pitless adapter is leaking, the well cap was at or below ground and leaking, or the well casing has become split or broken or damaged below ground in a location admitting surface water into the well. These are parts that can often be repaired or replaced.
Bad well location: the well is located too close to a septic drainfield or other source of contamination
Bad water aquifer: The well taps an aquifer that is itself contaminated.
In making decisions about new well vs. use and treat an existing well, we need to have an idea if a new well would deliver potable water itself. Start by talking with local well drillers and the health department about their experience with water potability in your area, as well as inspecting the specific well for damage that could be letting unsanitary water in from the surface, or from a bad location (such as too close to a septic drainfield).
Will A New Well Give Better Water Quality?
If a well has good flow but is not potable, unless we find a specific local cause (cracked casing for example) there is a risk that even a newly drilled well in the same area will strike the same aquifer and also won't be potable - in which case you'll have paid for a second well to no avail. SO an option is to sanitize the well, inspect for damage (by direct inspection, perhaps with a camera), and if necessary install water treatment equipment.
Will the Old Well [Or a New One] Give Enough Water Quantity?
Watch Out: There Could be a WelL Water Quantity Problem Too.
Even if the well water is potable, we won't know if the quantity of water will be acceptable - and if it's not, that could be a reason to drill the existing well deeper or to drill a new one.
Reasons to Install a Well Pump Before Testing The Well Water
So there are some important reasons to go ahead and hook up a temporary well pump at your well (or ask a well driller to set this up for you).
Flush out old water from the well casing: First, it makes sense to pump the old water out of the well casing, allowing new water to enter the well casing before you perform a new water test. After all, what's important is the potability of the water in the ground that flows into your well, not just the old water that has been sitting inside the casing for who knows how long. The water sitting inside the casing could be unsanitary but the water that enters the well from the aquifer tapped by the well could be fine.
Wash down the well casing to sterilize it: Second, having the pump allows you to wash down the well casing sides with chlorinated water, as we discussed earlier.
Test the well flow rate or recovery rate: having a pump installed on the well, especially if it's using equipment typically used by a well driller to evaluate the well's flow rate or ability to deliver water, will let you also find out how much water the well can actually provide - the well yield.
The water that is just sitting inside the well casing is what we call the Static Head - see Static Head of Water in the Well.
But the ability of the well to actually deliver a quantity of water (including water that flows into the well while you are taking water out of it, is what we call the flow rate or well yield - see WELL YIELD DEFINITION. It's the flow rate or yield that you most care about.
Details of how we address the well water quantity question are discussed at WELL FLOW RATE
Other Questions to Investigate When Returning Water Service to a Building that Has Been Shut Down for Some Time
Make an inventory of the entire building and its mechanical systems to find out what is installed and what is the condition of items such as:
Well location, depth, static head, piping, piping material, condition, routing, check valves, foot valve
Well pump type, location, condition
Well pump controls, switches and valves
Water supply controls, valves, piping, material, condition, routing, evidence of leaks, frost damage, even building damage that came from prior leaks
Water drain piping, material, condition, routing, leaks, freeze damage, blocked vents, clogged drains
If a septic system is installed, where are components located, what is their history, construction, material, maintenance. InspectApedia offers in depth information about septic system location, testing, and repair.
Plumbing fixture condition, including control valves, traps, toilet fill and flush valves
Watch out: often on return of water service we find traps that were left off, pipes that had not drained and were burst in both supply and drain system, corroded jammed faucets, toilet fill and flush valves that don't perform either task, and even hidden damage to the building from prior leaks or simple lack of attention for such a long time. That means that when we turn water back on, we have to inspect the entire building quickly for leaks in order to catch them before there is flooding or water damage. Or if working control valves permit, try turning water supply on through the building one area at a time.
...
Continue reading at WATER TEST CHOICES & WATER TEST FEES - home, or select a topic from closely-related articles below, or see our complete INDEX to RELATED ARTICLES below.
Or see DRIVEN POINT WELL RESTORATION
Or see WATER TESTING ADVICE for home buyers and building owners: water contaminants, water test procedures, well shock procedures, preventing drinking water contamination
Or see WELL FLOW RATE and also WELL LIFE EXPECTANCY
Suggested citation for this web page
OLD WELL - RETURN TO SERVICE at InspectApedia.com - online encyclopedia of building & environmental inspection, testing, diagnosis, repair, & problem prevention advice.
Or use the SEARCH BOX found below to Ask a Question or Search InspectApedia
...
Frequently Asked Questions (FAQs)
Try the search box below or CONTACT US by email if you cannot find the answer you need at InspectApedia.
Question:
(June 11, 2011) M.R. F. said:
I also bought property with an old well. I would like to see if the well can be used for limited number of farm animals (3) or keeping landscaping inventory watered before sale. Use as drinking water is not an issue. The well is in a well house with an old pump that used belts still attached. When the pump quit working 30+ years ago the man moved his cattle to another location with a pond.
I do not want the huge expense of drilling a new well. I want to know if this well can meet my needs for limited use. How do I begin? When I contact someone to visit the well to assess its status, what should the steps be to determin the viability of using the water for farm and not drinking? At some point I'd like to be able to determine if expense is justified by usage before I get too far into this. Thank You M.R.F.
Reply:
Checking out the flow rate of an un-used water well:
M.R. F. you will want to hook up a pump and do a draw-down test or flow rate test on the well to see if the well is functional in water quantity to start. Then, even if only livestock are drinking the water you'll want the water tested to be sure it's not going to make them sick.
If the well is a shallow well you may be able to rent or borrow an aboveground pump to do the flow test. If it's a deep well (more than 26 feet) you'll need either a submersible pump or a two-line jet pump and enough piping to get your pump or water pickup down to a few feet from the bottom of the well.
...
Ask a Question or Search InspectApedia
Questions & answers or comments about how to return an old water well to service.
Use the "Click to Show or Hide FAQs" link just above to see recently-posted questions, comments, replies, try the search box just below, or if you prefer, post a question or comment in the Comments box below and we will respond promptly.
Search the InspectApedia website
Technical Reviewers & References
Click to Show or Hide Citations & References
Mark Cramer Inspection Services Mark Cramer, Tampa Florida, Mr. Cramer is a past president of ASHI, the American Society of Home Inspectors and is a Florida home inspector and home inspection educator. Mr. Cramer serves on the ASHI Home Inspection Standards. Contact Mark Cramer at: 727-595-4211 mark@BestTampaInspector.com
John Cranor is an ASHI member and a home inspector (The House Whisperer) is located in Glen Allen, VA 23060. He is also a contributor to InspectApedia.com in several technical areas such as plumbing and appliances (dryer vents). Contact Mr. Cranor at 804-747-7747 or by Email: johncranor@verizon.net
Access Water Energy, PO Box 2061, Moorabbin, VIC 3189, Australia, Tel: 1300 797 758, email: sales@accesswater.com.au Moorabbin Office: Kingston Trade Centre, 100 Cochranes Rd, Moorabbin, VIC 3189
Australian supplier of: Greywater systems, Solar power to grid packages, Edwards solar systems, Vulcan compact solar systems, water & solar system pumps & controls, and a wide rage of above ground & under ground water storage tanks: concrete, steel, plastic, modular, and bladder storage tanks.
Smart Tank, Installation Instructions, Flexcon Industries, 300 Pond St., Randolph MA 02368, www.flexconind.com, Tel: 800-527-0030 - web search 07/24/2010, original source: http://www.flexconind.com/pdf/st_install.pdf [Copy on file as /water/Smart_Tank_Flexcon.pdf ] -
Typical Shallow Well One Line Jet Pump Installation, Grove Electric, G&G Electric & Plumbing, 1900 NE 78th St., Suite 101, Vancouver WA 98665 www.grovelectric.com - web search -7/15/2010 original source: http://www.groverelectric.com/howto/38_Typical%20Jet%20Pump%20Installation.pdf, [Copy on file as /water/Jet_Pump_Grove_Elect_Jet_Pumps.pdf ] -
Typical Deep Well Two Line Jet Pump Installation, Grove Electric, G&G Electric & Plumbing, 1900 NE 78th St., Suite 101, Vancouver WA 98665 www.grovelectric.com - web search -7/15/2010 original source: http://www.groverelectric.com/howto/38_Typical%20Jet%20Pump%20Installation.pdf, [Copy on file as /water/Jet_Pump_Grove_Elect.pdf ] - Cooperative Extension, School of Forest Resources, web search 07/24/2010, original source: http://pubs.cas.psu.edu/FreePubs/pdfs/XH0002.pdf
Books & Articles on Building & Environmental Inspection, Testing, Diagnosis, & Repair
Our recommended books about building & mechanical systems design, inspection, problem diagnosis, and repair, and about indoor environment and IAQ testing, diagnosis, and cleanup are at the InspectAPedia Bookstore. Also see our Book Reviews - InspectAPedia.
...