Flowing Artesian Wells Construction, Troubleshooting, Repairs
ARTESIAN WELLS, Well Spools - CONTENTS: Flowing artesian wells: types, construction, troubleshooting & repair. Characteristics, diagnosis, & repair of well casing leaks at an artesian well. Illustration source: Michigan DEP Flowing Well Handbook [8]
POST a QUESTION or READ FAQs about artesian wells: construction, troubleshooting, repair
InspectAPedia tolerates no conflicts of interest. We have no relationship with advertisers, products, or services discussed at this website.
Artesian well construction & repair:
This article describes the construction of artesian water wells.
We describe types of artesian wells, how water flow from the artesian well is controlled, special artesian well parts like the well spool, and we discuss special problems for artesian wells and the property aroudn them when there is a leak in the well casing.
Green links show where you are. © Copyright 2017 InspectApedia.com, All Rights Reserved.
Construction of Flowing Artesian Wells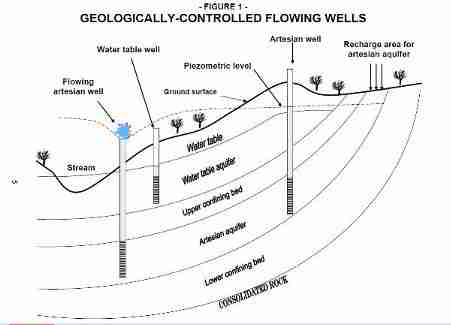 Our page top sketch, courtesy Michigan DEP, illustrates a topographically-controlled flowing artesian well.
Our sketch at left explains how an artesian well is formed, and introdudes the proper term "Geologically-controlled flowing wells".
[Click to enlarge any image]
In a geologically-contrtolled flowing well, water is sent to the top of the well casing by pressures formed in the underlying geological structure of the earth.
In a topographically-controlled flowing artesian well, pressure that pushes water to the top of the well casing is developed by surrounding land and/water that create water pressure in the well that is higher than the surrounding land pressure. Sketch courtesy Michigan DEP.[8] - Ed.
Questions about well spools & artesian well casing leak repair using well sleeves
Our water pump in the well recently went out and we hired a crew to replace the pump. However I am concerned if he used correct procedure and if caused more problems than we started with.
When he first strated pulling up the drop pipe the "spool" was stuck and he had problems with pulling it up at first, once it came free he set it back down and took the cable off.
Then he came up to the house and told me he is going to pour some acid down to soak over night and loosen up the "spool" so he could pull it up, he dumped about 2 gallons of it down there and the next day he pulled everything up again.
Later when he started blasting out the black water a bunch of sand came out and he told us we need an entirely new well because there is a hole in the case, and sleeving the case wasn't an option. However after he left I was looking at the pipes and wire left that was pulled up and they have some bad corrosion just above the water level. I am wondering if the acid he poured down the casing ate through the casing where it sat overnight and caused the hole? Also there was no sand to be found in the old pump which makes me more suspicious.
What is a Well Spool, Why a Well Spool may be Needed, How they are Installed on Artesian Wells

Your description of "a bunch of san dcame out..." may indeed be the first indicator that a homeowner sees pointing to a hole or crack in the well casing of an artesian well.
Below we describe well spools used for flowing artesian wells and possibly in other wells with a very high-rising static head.
We discuss the repair options for a cracked or leaky well casing separately at WELL CASING LEAK REPAIRS.
Our illustration of a well spool at left, edited from a schematic provided by Baker Manufacturing[7] illustrates the part of this assembly - you can see why it's called a "spool" - it looks like one. Baker Manufacturing produces and sells well spools and pitless adapters for 4", 5" and 6" diameter well casings and water wells.
The well spool is held in position by a hold-down spider [purple assembly at imiage top] and set screws to keep the spool from being pushed up in the casing by the pressure of water rising in the well casing, and O-rings seal the well spool to the well casing itself. .[7] - Ed. [Illustrasted adapted from & permission & tech review requested 6/27/12]
Is this acid treatment normal and safe for the casing? Is he telling me the truth that no one ever "sleeves" the case and that its not an option?
Thank you ahead of time for any information about this, I am not made of money and can't afford to be taken advantage of. Thanks again - B.T. 4/25/12
Reply: Description of well casing repair sleeves to repair well casing leaks at residential water wells
A competent onsite inspection by an expert usually finds additional clues that help accurately diagnose a problem, and I'm not at all sure I have a full picture of what's going on with your well.

That said, here are some things to consider about well spools, leaks in the well casing, and using acid to free up a stuck well spool in your well. Regarding your well driller's use of acid to free up a stuck well spool, our OPINION is that like you, dumping any potentially toxic or harmful chemical into a well makes us very nervous.
OPINION: when you are not comfortable with advice you've received about how your well should be repaired ("you need a new well"), start by asking your well driller to explain his reasoning in a little more detail. Most contractors are quite honest and are not out to gouge you, but they were not English majors and may not be expert in communication.
Types of well spools used to keep artesian wells from overflowing in freezing & non-freezing climates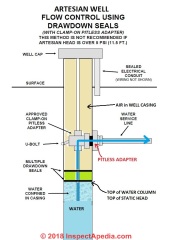 Well Spool Installation Using Clamp-on Pitless Adapter
A well spool is a special seal around the well piping used to seal a well casing in wells at which the static head of water level in the well casing rises above the frost level. Basically it's a "spool-shaped" plumbing fitting that incorporates round flanges at its top and bottom, threaded to accept well pipe fittings above and below the spool.
Well spools are required on artesian wells or "flowing wells" in freezing climates.[8] Without this component the upper well casing could be split by freezing water.
Our illustration (left) shows a low-pressure well spool using a clamp-on pitless adapter in a design suitable for artesian wells whose head pressure is equal to or less than 5 psi (a head of 11.5 ft.) - courtesy Michigan DEP.
Speaking with more precision, an artesian well is one in which water rises in the well casing high enough to deliver water to a building, and higher than the local groundwater table, due to water pressure within the drinking water aquifer, but stopping below the top of the well casing itself.
A "flowing artesian well" is one in which pressure from within the aquifer will, left alone, actually push water right up the well casing and out of its top.
Well Spool Installation for low-pressure artesian wells & non-freezing climates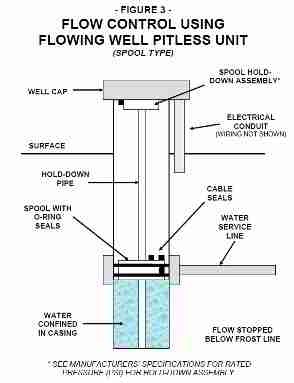 Our illustration of a low-pressure well spool at above left is provided by the Michigan DEP Flowing Well Handbook and [8] illustrates the part of this assembly more clearly than our earlier sketch.
Unlike the Baker well spool shown earlier, this version shoss the well spool being held down by an assembly accessed just under the well cap and installed quite near the top of the well - a design suitable only for non-freezing climates or for a well cap that is located below grade in a well pit where it is protected from frost. [Permission & tech review requested 6/27/12]
If your well incorporates a well spool that means that left alone water would rise in the well casing above the frost level in your area, risking well damage. And if the well spool becomes stuck, special methods may be needed to loosen it before the well piping and pump can be pulled from the well.
In non-freezing climates the well spool is not needed; instead the well installer relies on the well cap installed at the top of the well casing to keep the artesian well from overflowing.
Other Methods for Controlling Water Flow From Artesian Wells
An alternative to using a well spool to "cap" or withstand the pressure within an artesian well involves using any of several methods to first provide sufficient water pressure to supply the building and second a method to allow excess water to drain to an approved location.
Approved Artesian Well excess water discharge methods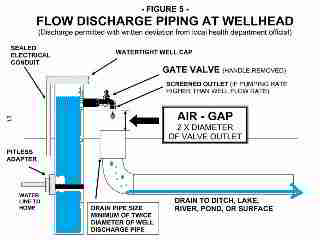 Gate valve installed near top of an above-ground well casing.

Excess flow from the well casing can be occasionally drained, using a gate valve (normally left with handle removed) and a screened outlet to protect against drawing contaminants in through the faucet mouth; the faucet gate valve drains through air (an air gap, hence no cross connection risk) into a buried drain line that conducts excess water to a ditch, river, pond, or the surface.

This excess artesian well flow discharge is permitted with written permission from a local health department official and is not expected to be constant.

Illustration adapted from: Michigan DEP Flowing Well Handbook [8]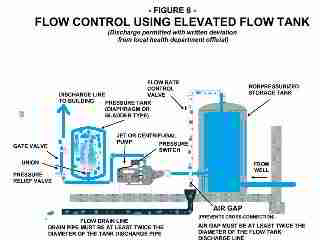 Elevated water storage tank: water from the artesian well feeds a non-pressurized water storage tank. A drain line exiting from the top of the water storage tank passes a gate valve used to control the flow rate out of the discharge line and then through a discharge tube that spills the drainage water across an air gap (hence no unsanitary cross connection) to a drain line that removes excess water to an acceptable destination.

The receiving flow drain line must be at least 2x the diameter of the storage tank discharge tube.

In this artesian well control design, a one line jet pump or equivalent is used to move water from the non-pressurized water storage tank into a water pressure tank that in turn delivers water to the building plumbing system at sufficient pressure (typicallty 20-40 or 30-50 psi).

Illustration source: Michigan DEP Flowing Well Handbook [8]
Unapproved Artesian Well excess water discharge methods
Leakage around the well casing draining by diversion pipe to a lake or stream. Leaks around the well casing should be repaired by grouting the casing - a step that can be a challenge in high-flow high-pressure artesian wells.

Allowing a leak around the well casing to continue wastes water and risks cross-contamination of the aquifer during periods of change in water flow and pressure.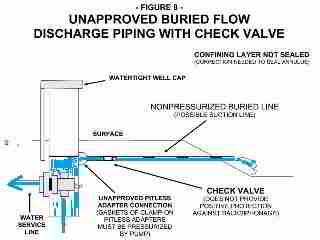 Buried artesian well overflow pipe with check valve. Figure 8 at above left (Illustration adapted from: Michigan DEP Flowing Well Handbook [8]) illustrates several defects in this approach to well flow control: the confining layer is not sealed, the check valve in the discharge line is not an approved protection against a cross-connection or back flow that risks contaminating the aquifer, and the sketch shows an improper pitless adapter installation that is not pressurized.
Submerged inlet [and outlet] drainage pipe from the artesian well casing: using a non-pressurized buried line connected directly to the well casing above the pitless adapter as a means to control the maximum static water head height in the well casing - water drawn from the casing is discharged to a lake or stream.

The risk is that under changing condtions in the aquifer and inside the artesian well, water can flow backwards from the lake or stream, forming a cross connection and back-contaminating the aquifer.

Problems with Leaks in the Steel Casing of an Artesian Well
Leaks in the well casing are a problem because of the risk of leaks of  surface contaminants into the well.
Our sketch at far left crams more parts into a small space than you'd find in a real water well - we've got the submersible pump up there near the top of the well casing; actually the pump will be located a few feet or more off of the well bottom, and actually in most water wells the steel casing extends from the ground surface down into bedrock but the well bore itself continues down through that rock to a deeper depth - the casing does not extend to the very bottom of the well. - Ed.
The Michigan DEP sketch above (figure 7) illustrates an improper means of getting rid of water leaking around the well casing of an artesian well. Illustration adapated from: Michigan DEP Flowing Well Handbook [8]
As the Michigan DEP points out,
Sealing the annular space surrounding the well casing is critical, since an ineffective seal or absence of a seal can result in the uncontrolled discharge of water on the outside of the well casing pipe.
When ground water breaks out on the outside of the well casing, erosion of the confining geologic layer and other overlying materials can occur.
The uncontrolled discharge of ground water from flowing wells can cause flooding of the well site and adjacent properties and damage to nearby structures. [8]
We discuss the repair options for a cracked or leaky well casing separately and in detail at WELL CASING LEAK REPAIRS.
...
Continue reading at WELL CASING LEAK REPAIRS or select a topic from closely-related articles below, or see our complete INDEX to RELATED ARTICLES below.
Or see WELLS CISTERNS & SPRINGS - home
Or see WELL FLOW RATE
Suggested citation for this web page
ARTESIAN WELLS, WELL SPOOLS at InspectApedia.com - online encyclopedia of building & environmental inspection, testing, diagnosis, repair, & problem prevention advice.
Or use the SEARCH BOX found below to Ask a Question or Search InspectApedia
...
Frequently Asked Questions (FAQs)
Try the search box below or CONTACT US by email if you cannot find the answer you need at InspectApedia.
Question: South Texas artesian well slowed to a trickle
(Feb 2, 2014) A. G. Roby said:
Due to our drought, my flowing artesian well is just trickeling. I want to install a smaller pvc pipe in my 3 inch casing so to lower the head pressure to increase flow. what can I use to seal off the bottom of my pvc to the casing. Like a packoff. I do have some mineral build up inside the casing downhole. calcium and such. I live in south texas.
Reply:
A.G.
I'm not sure I have a clear understanding, but it seems to me that a smaller pipe is not going to improve the performance of the artesian well if the root problem is that it's flow rate has diminished. You may be better off leaving the piping in place and installing a larger water storage tank to give the well more time to recover and produce water.
From the comment about calcium (mineral deposits) it may be worth asking a professional to take a look at the installation for mineral clogging. Well fracking can sometimes improve the well yield.
I suspect that drought conditions are dropping the water table, a condition that's likely to reduce the output of many artesian wells world wide.
Question:
11 Feb 2015 Eli said:
Wow, this has been extremely informative. My brother recently installed an artesian well to cut down on his water expenses. It made me very curious to know more and if it would be possible to do the same at my house. Is there a specific type of land that allows for digging a well, or contrarily, a type of land that is not good for it?
Reply:
The aquifer has to be one that will deliver water to you without a pump - that's what makes it an artesian well. That geology varies widely around the world.
...
Ask a Question or Search InspectApedia
Questions & answers or comments about artesian wells: construction, troubleshooting, repair, & parts including well spools
Use the "Click to Show or Hide FAQs" link just above to see recently-posted questions, comments, replies, try the search box just below, or if you prefer, post a question or comment in the Comments box below and we will respond promptly.
Search the InspectApedia website
Technical Reviewers & References
Click to Show or Hide Citations & References
[1] J.E. Johns, TecWel; D.N. Cary, Seal-Tite International; J.C. Dethlefs, ConocoPhillips; B.C. Ellis, Seal-Tite International; and M.L. McConnell and G.L. Schwartz, ConocoPhillips, " Locating and Repairing Casing Leaks with Tubing in Place - Ultrasonic Logging and Pressure-Activated Sealant Methods", Society of Petroleum Engineers, Offshore Europe, 4-7 September 2007, Aberdeen, Scotland, U.K., Document 108195 (Conference Paper), 2007
[2] Link-Pipe, Inc., 27 West Beaver Creek Road - Unit #2 Richmond Hill, ON CANADA L4B 1M8, Link-Pipe manufactures "no-dig" pipe repair products for wells. Tel: 800-265-5696 or email: info@linkpipe.com  or website: http://www.linkpipe.com/wells.htm
[3] Prentice Creel and Ronald J. Crook, Halliburton Energy Services, Inc., " Injectrol® and PermSeal Sealants Repair Leaks, Restore Integrity to Casings", Halliburton Service Center, 877-263-6071, web search 6/27/12, original source: http://www.halliburton.com/public/cem/contents/Papers_and_Articles/web/I_through_O/InjPerm.pdf [copy on file as Injectrol.pdf]
[4] Rasmussen Well Drilling, Inc., 1793 Hwy 61, Two Harbors MN. Jeremy Rasmussen provides third generation well drilling and plumbing services on the North Shore of Lake Superior. Photos by DJF. Tel 218-834-3387. Email: rasmussenwell@frontier.com
Quoting: We serve the north Shore – Lake, Cook, St. Louis, Carlton and Pine counties, including Duluth, Grand Marais, Clouqet, Carlton, Finland, Isabella, Silver Bay, Grand Portage, Saginaw, and everywhere in Northeastern Minnesota.
[5] New Electric Heat Tapes Help Prevent Fires," US Consumer Product Safety Commission (CPSC) #00936
[6] Thanks to Mark Cramer, Tampa Florida, for assistance in technical review of the "Critical Defects" section and for the photograph of the deteriorating gray Owens Corning flex duct in a hot attic. Mr. Cramer is a Florida home inspector and home inspection educator.
[7] Baker Manufacturing, 133 Enterprise St., Evansville WI, Tel: 800-356-5130, website: www.baker-mfg.com, web search 6/27/12, original source: http://www.baker-mfg.com/domestic_new/domestic_pitless_units
/PITLESS%20UNITS%20FOR%20FLOWING%20WELLS.pdf
[8] Michigan Department of Water Environmental Quality Water Bureau (DEQ), Drinking Water & Environmental Health Section, Well Construction Unit, "Flowing Well Handbook", web search 6/27/12, original source: http://www.michigan.gov/documents/deq/deq-wb-dwehs-wcu-flowwellhandbook_221323_7.pdf [copy on file as Flowing_Well_Book_MI.pdf].
This is an excellent primer for the construction of flowing artesian wells - Ed.
[9] W. B. Allen, Flowing Wells in Michigan, 1974 U. S. Geological Survey, Water Information Series Report 2
[10] ASTM D 5299-92, Standard for Decommissioning of Ground Water Wells, Vadose Zone Monitoring Devices, Boreholes, and Other Devices for Environmental Activities, 1993, American Society for Testing Materials, West Conshohocken, Pennsylvania.
[11] R. Allen Freeze, & John Cherry, Groundwater, 1979, Prentice Hall, Inc., Englewood Cliffs, New Jersey


Books & Articles on Building & Environmental Inspection, Testing, Diagnosis, & Repair
Our recommended books about building & mechanical systems design, inspection, problem diagnosis, and repair, and about indoor environment and IAQ testing, diagnosis, and cleanup are at the InspectAPedia Bookstore. Also see our Book Reviews - InspectAPedia.
...