How to Interpret & Act On Drinking Water Test Results
How to remove water contaminants indicated by a water test
WATER TEST INTERPRETATION - CONTENTS: How to interpret water test results - types of water quality & purity tests & what they mean; What to do if your water fails a water test, when to re-test, detecting cheating on water tests; When and how to shock or chlorinate or sterilize a water well; How to get rid of odors in drinking water; How to treat water for hardness, minerals, odors; How to treat water that is contaminated: choices of types of water treatment equipment
POST a QUESTION or READ FAQs about how to understand the meaning of water potability test reports & what actions to take based on water test results
InspectAPedia tolerates no conflicts of interest. We have no relationship with advertisers, products, or services discussed at this website.
Failed well test:
What to do when the well fails a potability or bacteria test.
Here we explain how to interpret and act on the results of drinking water or well water tests for various types of water contamination. This series of articles explains many common water contamination tests for bacteria and other contaminants in water samples. We describe what to do about contaminated water, listing common corrective measures when water test results are unsatisfactory.
Green links show where you are. © Copyright 2017 InspectApedia.com, All Rights Reserved.
Common Water Contamination Tests for Bacteria Levels - Identifying Unsanitary Drinking Water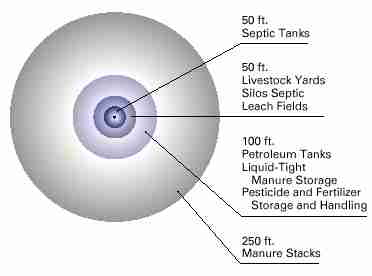 We include water testing and water correction measures warnings for home owners and especially for home buyers when certain conditions are encountered, with advice about what to do when these circumstances are encountered.
Various treatment methods for contaminated water are reviewed and the pros and cons of each are discussed.
Emergency drinking water needed? Basic water purification procedures that can be used in an emergency such as after a hurricane, flood, or earthquake are described
at DRINKING WATER - EMERGENCY PURIFICATION and
emergency sources of drinking water are described at DRINKING WATER EMERGENCY SOURCES.
[Click to enlarge any image]
If community or private wells are back in operating and providing water, do not assume that the water is sanitary and ok to drink until responsible authorities have said so. Even then, local water pipes in a building may be unsanitary and additional cleaning or disinfection may be needed.
See WELL CHLORINATION SHOCKING PROCEDURE and
See WATER TESTS for CONTAMINANTS for advice on using a private well for drinking water.
This document combines information from various sources including from the Dutchess County NY health department, from Smith Laboratory in Hyde Park NY (914-229-6536), water test developer/suppliers, and other independent sources. Pending review corrections by these sources, the author is responsible for the content which includes opinion and advice based on more than 40 years experience in the field.
Because water quality can have major effect on personal health, home owners and home buyers, & ASHI home inspectors should consult with their local health department before performing tests or taking corrective actions regarding water quality.
PA - Coliform Bacteria Test for Contamination in Water: Presence/Absence Test
This standard water test required by many banks, involves pouring use of a chemical Defined Substrate Technology (DST) reagent which produces a color change (or another signal, i.e. fluorescence), both indicating and confirming the presence of total coliform and E. Coli in a sample of drinking water. The test indicates either the presence or absence of this bacteria.
This test, used by most water test companies for real estate transactions does not produce a bacteria colony count. We order this procedure, or the lab will elect this procedure when the water sample is turbid (contains sediment or other material which precludes alternative test procedures).
The test is sensitive and specific for the detection of total coliform and E. coli at 1 CFU/100mL of sample in water samples with as many as 20,000 heterotrophic bacteria present per ml. This means that this test for coliform bacteria is not obscured by the presence of other bacteria in the water.
P/A Test results: if the test did not find an indication of a coliform bacteria problem the result will say "Less than 1" or if the lab reports carelessly, "Zero".
Accurate lab test reporting would be to say "below the limits of detection" of a given test, and then to specify the limits of detection used. The acceptable level of bacteria in water varies by jurisdiction. For example in some Canadian provinces a higher level of 10 CFU/100mL is permitted. These very slightly higher numbers are allowed because the opinion of health experts is that there is no measurable risk at those levels.
See TOTAL COLIFORM TESTING for details about coliform bacteria test procedures and standards.
See WATER TEST CHOICES & WATER TEST FEES for choices of water tests and our advice about choosing among them.
M.F.T. - Coliform Bacteria Test for Contamination in Water: Membrane Filter Technique
This standard water "test" required by many banks, involves pouring 100 ml of water through a membrane filter. The bacteria present in the water are trapped on the surface of the filter. After an incubation period of 24 hours the coliform colonies present are counted. The count may not exceed 0 per 100 ml according to recently updated New York State Drinking Water Regulations. (MFT=Multiple tube Fermentation Test.)
MFT Test results: If the lab finds apparent unacceptable results with this general test for the presence of any bacteria, the revised NY State procedure requires the lab to measure for E-coli, by performing the MPN procedure as follow up.
This is because the presence of non-coliform bacteria present in the water can obscure the test and prevent counting E-coli. The NY State Sanitary Code has no standard for total bacteria count in water supply. The need to go to an MPN test often explains additional delay of up to a week beyond usual time for obtaining water test results.
MPN - Coliform Bacteria Test for Contamination in Water: MPN testing
This test is used when the water cannot be filtered due to turbidity, high iron, large amounts of sediment, or high non-coliform bacteria count. This test involves incubation of measured volumes of sample in liquid nutrients which favor the growth of any coliform bacteria present. This is a statistical method of testing based on the number of positive tubes of media after 48 hours of incubation and 48 additional hours of confirmation.
MPN Test results: As of modified NY State procedures starting in 1991 a count of 0 indicates no coliform and water of satisfactory quality. (MPN=MilliPore Nutrient test.)
Interpreting Other Water Test Results
Examples of allowable limits (subject to change) for other tests are listed at Drinking Water Contaminant Levels - New York State Maximum Allowed or select a topic from closely-related articles below, or see our complete INDEX to RELATED ARTICLES below.
A Quick EPA Guide to Understanding Your Water Test Results
Have your well water tested for any possible contaminants in your area. Use a state-approved testing lab. (See below for sources of approved laboratories.) Do not be surprised if a lot of substances are found and reported to you.
The amount of risk from a drinking water contaminant depends on the specific substance and the amount in the water. The health of the person also matters.
Some contaminant cause immediate and severe effects. It may take only one bacterium or virus to make a weak person sick.
Another person may not be affected. For very young children, taking in high levels of nitrate over a relatively short period of time can be very dangerous.
Many other contaminants pose a long-term or chronic threat to your health - a little bit consumed regularly over a long time could cause health problems such as trouble having children and other effects.
EPA drinking water rules for public water systems aim to protect people from both short and long term health hazards. The amounts of contaminants allowed are based on protecting people over a lifetime of drinking water. Public water systems are required to test their water regularly before delivery.
They also treat it so that it meets drinking water standards, notify customers if water does not meet standards and provide annual water quality reports.
Compare your well's test results to federal and state drinking water standards. (You can find these standards at www.epa.gov/safewater/mcl.html or call the Safe Drinking Water Hotline 800-426-4791.) In some cases, the laboratory will give a very helpful explanation. But you may have to rely on other experts to aid you in understanding the results.
also see
The state agency that licenses water-well contractors can help you understand your test results. It will also provide information on well construction and protection of your water supply.

The agency is usually located in the state capital or other major city. It is often part of the department of health or environmental protection. Check the blue "government pages" of your local phone book or call the American Ground Water Trust at (614) 761- 2215 or the EPA Hotline at (800) 426-4791 for your licensing agency's phone number.
The local health department and agricultural agents can help you understand the test results. They will have information on any known threats to drinking water in your area. They can also give you suggestions about how to protect your well water.
The state drinking water program can also help. You can compare your well's water to the state's standards for public water systems. State programs are usually located in the state capital or another major city.

They are often part of the department of health or environmental regulation. Again, consult the blue "government pages" in your local phone book for the address and phone number or call or the EPA Hotline - (800) 426-4791.
The Safe Drinking Water Hotline at (800) 426-4791, mentioned above - can help in many ways. The Hotline can provide a listing of contaminants public water systems must test for. EPA also has copies of health advisories prepared for specific drinking water contaminants.

The EPA Hotline staff can explain the federal regulations that apply to public water systems. They compare your lab results to the federal standards. In addition, they can give you the phone number and address of your state drinking water program, and of your state laboratory certification officer. That officer can send you a list of approved labs in your area.
This article weries on water contaminants describes types of activities in your area that can create threats to your water supply. It also describes problems to look for and offers maintenance suggestions. Sources for more information and help are also listed. [Editing for clarity by DF are marked by brackets or italics] Initial Source of a portion of the above text: EPA 816-K-02-003 January 2002
Article series contents
...
Continue reading at WATER QUALITY TEST CHOICES & WATER TEST FEES or select a topic from closely-related articles below, or see our complete INDEX to RELATED ARTICLES below.
Or see WATER CONTAMINANT LEVELS & LIMITS for allowable water contaminant limits
Or see FAILED WATER TESTS - WHAT TO DO - water testing procedural errors can foul up water test results
Or see FAILED WATER TESTS - WHEN to RE-TEST and also see CHEATING ON WATER TESTS
Or see WATER TREATMENT EQUIPMENT CHOICES for treating contaminated water
Or see WELL CONSTRUCTION & MAINTENANCE for methods of building a safe water well
Or see WELL WATER CONTAMINATION: CAUSES, CURES - home
Suggested citation for this web page
WATER TEST INTERPRETATION at InspectApedia.com - online encyclopedia of building & environmental inspection, testing, diagnosis, repair, & problem prevention advice.
Or use the SEARCH BOX found below to Ask a Question or Search InspectApedia
...
Frequently Asked Questions (FAQs)
Try the search box below or CONTACT US by email if you cannot find the answer you need at InspectApedia.
Comment:
(June 20, 2011) Tommy D said:
I have been searching the web for information on how to read the results of my water test. This site has given me the most information on everything I've been looking for.
Reply:
Thanks Tommy. We also welcome questions & criticism - working together makes us smarter. - Ed.
Question: What does TDI represent?
(Feb 7, 2014) angela king said:
I just received results of a free water test from Home Depot.
TDI =161 Hardness = 15
What does TDI represent?
Reply: total dissolved ions
Angela,
If you search InspectApedia for our article titled "How to Measure the Hardness Water" you can read about the significance of that measurement; also see our articles about water softeners.
With NO INFORMATION I would offer a best guess that the report is indicating Total Dissolved Ions - which by addressing the ion level in water expresses its conductivity - a water quality measurement companion to hardness; And the Hardness number they gave is - well I just don't know as we don't know which hardness measurement they are reporting. Here's what I mean:
Unfortunately the fellows who wrote your "free" water test report gave you about what you paid for - a "hardness" number without telling us what terms they used nor the reference scale that leaves us a bit in the dark. It's like saying your water is as hard as a fuchimannouli.
Hardness is measured in either grains (in which 15 is quite hard) or in milligrams of minerals per liter, in which case 16.1-60 mg/L of minerals is only "slightly hard" - so I dunno.
And about TDI, there are multiple uses of that acronym as well. The World Health Organization (WHO) has a nice document on water chemistry. Quoting:
For most kinds of toxicity, it is believed that there is a dose below which no adverse
effect will occur. For chemicals that give rise to such toxic effects, a tolerable daily
intake (TDI). The TDI is an estimate of the amount of a substance in food and drinking-water,
expressed on a body weight basis (mg/kg or m g/kg of body weight), that can be ingested over a lifetime without appreciable health risk.
Guessing again and waving wildly, "TDI" has other meanings in health such as Toluene Diisocyanate - a harmful substance.
Perhaps your water report is missing the standard page that labs include that give definitions of the acronyms they are using as well as comparative measurement scales?
If you'd like to email us a copy of your report we may be able to comment more intelligently - use the CONTACT link found at page bottom or top
...
Ask a Question or Search InspectApedia
Questions & answers or comments about how to understand the meaning of water potability test reports & what actions to take based on water test results.
Use the "Click to Show or Hide FAQs" link just above to see recently-posted questions, comments, replies, try the search box just below, or if you prefer, post a question or comment in the Comments box below and we will respond promptly.
Search the InspectApedia website
Technical Reviewers & References
Click to Show or Hide Citations & References
[1] Drinking Water from Household Wells - PDF, U.S. EPA, Original source last retrieved 2/13/2013, original source: http://www.epa.gov/privatewells/pdfs/household_wells.pdf
Cheating on water tests: Testing Water for Real Estate Transactions - make sure your water test is valid
Drinking Water Supply, Contamination Levels, Water Testing Procedures
Lead Testing & Correcting Contamination from Lead Water Supply Lines/Entry Mains - Lead Pipe Problems/Advice
Life Expectancy of Water Pumps - Well Pumps: how long should a water pump last? What affects pump life?
Life Expectancy of Wells & Water Tanks how long should a water well and its components last?
Shock or Chlorinate a Well, How to - Procedure for Shocking a Well to (temporarily or maybe longer) "Correct" Bacterial Contamination
Smart Tank, Installation Instructions [ copy on file as /water/Smart_Tank_Flexcon.pdf ] - , Flexcon Industries, 300 Pond St., Randolph MA 02368, www.flexconind.com, Tel: 800-527-0030 - web search 07/24/2010, original source: http://www.flexconind.com/pdf/st_install.pdf
Typical Shallow Well One Line Jet Pump Installation [ copy on file as /water/Jet_Pump_Grove_Elect_Jet_Pumps.pdf ] - , Grove Electric, G&G Electric & Plumbing, 1900 NE 78th St., Suite 101, Vancouver WA 98665 www.grovelectric.com - web search -7/15/2010 original source: http://www.groverelectric.com/howto/38_Typical%20Jet%20Pump%20Installation.pdf
Typical Deep Well Two Line Jet Pump Installation [ copy on file as /water/Jet_Pump_Grove_Elect.pdf ] - , Grove Electric, G&G Electric & Plumbing, 1900 NE 78th St., Suite 101, Vancouver WA 98665 www.grovelectric.com - web search -7/15/2010 original source: http://www.groverelectric.com/howto/38_Typical%20Jet%20Pump%20Installation.pdf
Water Fact Sheet #3, Using Low-Yielding Wells [ copy on file as /water/Low_Yield_Wells_Penn_State.pdf ] - , Penn State College of Agricultural Sciences, Cooperative Extension, School of Forest Resources, web search 07/24/2010, original source: http://pubs.cas.psu.edu/FreePubs/pdfs/XH0002.pdf
Water Tests & Fees this water test fee schedule applies when testing is combined with other onsite building inspection services. Inspectors may charge differently if hired just to perform water testing.
CONTAMINANT CLASSES, in WATER & links to home buyer advice about water testing, drinking water, water supply
Books & Articles on Building & Environmental Inspection, Testing, Diagnosis, & Repair
Our recommended books about building & mechanical systems design, inspection, problem diagnosis, and repair, and about indoor environment and IAQ testing, diagnosis, and cleanup are at the InspectAPedia Bookstore. Also see our Book Reviews - InspectAPedia.
Handbook of Disinfectants and Antiseptics, Joseph M. Ascenzi (Editor), CRC, 1995, ISBN-10: 0824795245 ISBN-13: 978-0824795245 "The evaluation of chemical germicides predates the golden age of microbiology..." -
This well-focused, up-to-date reference details the current medical uses of antiseptics and disinfectants -- particularly in the control of hospital-acquired infections -- presenting methods for evaluating products to obtain regulatory approval and examining chemical, physical, and microbiological properties as well as the toxicology of the most widely used commercial chemicals.
Principles and Practice of Disinfection, Preservation and Sterilization (Hardcover)
by A. D. Russell (Editor), W. B. Hugo (Editor), G. A. J. Ayliffe (Editor), Blackwell Science, 2004. ISBN-10: 1405101997, ISBN-13: 978-1405101998.
"This superb book is the best of its kind available and one that will undoubtedly be useful, if not essential, to workers in a variety of industries. Thirty-one distinguished specialists deal comprehensively with the subject matter indicated by the title ... The book is produced with care, is very readable with useful selected references at the end of each chapter and an excellent index. It is an essential source book for everyone interested in this field. For pharmacy undergraduates, it will complement the excellent text on pharmaceutical microbiology by two of the present editors."
The Pharmaceutical Journal: "This is an excellent book. It deals comprehensively and authoritatively with its subject with contributions from 31 distinguished specialists. There is a great deal to interest all those involved in hospital infection ... This book is exceptionally well laid out. There are well chosen references for each chapter and an excellent index. It is highly recommended." The Journal of Hospital Infection.: "The editors and authors must be congratulated for this excellent treatise on nonantibiotic antimicrobial measures in hospitals and industry ... The publication is highly recommended to hospital and research personnel, especially to clinical microbiologists, infection-control and environmental-safety specialists, pharmacists, and dieticians."
New England Journal of Medicine: City Hospital, Birmingham, UK. Covers the many methods of the elimination or prevention of microbial growth. Provides an historical overview, descriptions of the types of antimicrobial agents, factors affecting efficacy, evaluation methods, and types of resistance. Features sterilization methods, and more. Previous edition: c1999. DNLM: Sterilization--methods.
When Technology Fails, Matthew Stein, Chelsea Green Publisher, 2008,493 pages. ISBN-10: 1933392452 ISBN-13: 978-1933392455, "... how to find and sterilize water in the face of utility failure, as well as practical information for dealing with water-quality issues even when the public tap water is still flowing". Mr. Stein's website is www.whentechfails.com/
...