EPDM Rubber Roof Coating for Repair, Life Extension, Color Change

EPDM roof coatings
InspectAPedia tolerates no conflicts of interest. We have no relationship with advertisers, products, or services discussed at this website.
EPDM rubber roof coating information:
Special coatings for EPDM roofs using silicone, latex, or acrylic paints or sealants are provided by a number of manufacturers. These EPDM coating products may be described as intended to extend the EPDM roof life, seal EPDM roof leaks, or change the EPDM roof color to improve building cooling costs.
This article series describes the properties of EPDM roofing, EPDM roof installation, inspection & repair. An EPDM roof installation study & roof repair history spanning fourteen years, from original rubber roof installation (and the mistakes & shortcuts that led to leaks and trouble) to an extensive tear-off and re-roof repair that was made along the entire problem roof's lower edge
Green links show where you are. © Copyright 2017 InspectApedia.com, All Rights Reserved.
Use of Coatings for EPDM Roof Repair or Life Extension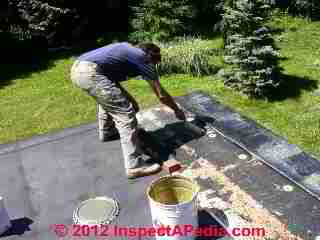 [Click to enlarge any image] Shown here, a worker is applying adhesive cement prior to gluing down an EPDM roof patch. But what about simply spraying, pouring, or painting on a roof coating to extend the life of an EPDM roof? Is it necessary? Are EPDM roof coatings recommended by the EPDM roofing industry?
A number of companies provide several types of coatings that are used for sealing or repairing flat and low slope roofs originally covered by an EPDM membrane.
Separately at EPDM, RUBBER, PVC ROOFING we define EPDM, describe its properties, and discuss its typical life and warranty periods.
Reader Question:
Can you tell me where in surrey or white rock , bc one can get liquid roofing to redo over a epdm roof and what products are ok .
Is Gaco elastomeric ok ? anything else ?
Thanks
R.B. - by private email 2016/05/11 - Surrey B.C.
Reply:
According to the EPDM Roofing Association, no special coating or surface treatment is required. Howerver quite a few roof coatings are sold for application on EPDM roofs including silicone (Gaco's product about which you asked), acrylic, and even latex.
Some of these coatings have a primary purpose of changing the roof color to a light one to reduce building cooling costs. Others might promise repair of a leaky EPDM roof or an extension of the roof life. For example, Gaco says [paraphrasing] "two coats and you're good for 50 years". Indeed silicone is a time-tested sealant that in my experience is durable.
OPINION: Any coating is going to be much thinner than the original EPDM, and subject to the same stresses as the original roof. Coatings may be pretty effective on worn surfaces of some roofing materials, but less-so on bridging cracks, gaps, tears, and still less so applied over EPDM that has water below. And don't confuse a coating intended to change the roof color as a coating expected to fix roof leaks.
I have not had good luck with simple add-on coatings on roofs; ultimately the forces that caused a crack or tear in the original roof seem to work on the coating too. I have had good luck with cleaning the area of roof damage then gluing down (contact cement) an EPDM patch over the damage, then sealing the edges of the patch with EPDM seam sealer or even black silicone.
https://gaco.com/product-details/gacoroof-100-silicone-roof-coating/ has a number of resources. You'll read that the company produces membranes and coatings used in challenging environments including spray coatings on foam insulation, underground liners, and cistern liners. You'll also read that properly installed the coatings are not a trivial application; there are adhesion testing, a requirement for surface cleaning and priming (not always required), temperature concerns, moisture concerns, pinholes in coatings, and other snafus to avoid.
Let's take just one roof wear-stress factor: the tensile strength of the roof coating - its resistance to tearing under various effects:
http://www.epdmroofs.org/attachments/2004_03_epdmrevisited_rci_trial.pdf is a study worth reading from which I excerpt:
The tensile strength for ballasted membranes ranged from 10.8 - 14.9 MPa (1560 2160 psi) (Figure 1) and from 9.4 - 13.5 MPa (1350 - 1950 psi) for exposed membranes (see Figure 2). The ASTM D 4637 minimum requirement for new sheet is 9.0 MPa (1305 psi) and 8.3 MPa (1205 psi) for heat aged samples. MRCA ME-20 requires new membranes to meet a minimum of 6.0 MPa (850 psi), and 5.5 MPa (800 psi) for aged membranes.
Now over at GacoFlex-S20 product specs
https://41z32e1503dj3gyqe3151089-wpengine.netdna-ssl.com/wp-content/uploads/PDS-GacoFlex-S20.pdf
We read Tensile Strength @ 73˚F D412 450 psi 150 min for this product.
OPINION: I am not an expert on EPDM / roof coating tensile strength testing but it looks to me as if 450 psi is a lot less than 1350 psi - the lowest tensile strength for exposed EPDM.
That data seems to support patching rather than spraying for the longest duration EPDM roof life; particularly for smaller residential roofs where the leak issues in EPDM are at flashings or seams, repair may be a better course of action than spray coatings. Coatings, on the other hand, may be a reasonable approach to extending the life of a worn roofing membrane that is suspected of pinhole or crack or oxidation or weathering problems.
A bit of research on EPDM roof coatings found information I cite below and also the observation that most of the research on "performance of EPDM roof coatings" seems focused on the advantages of adjusting roof color or reflectance to create a high-albedo roof in urban climates.
I'd give Gaco technical support a call to ask about the applicability of their coating system to your particular roof. Also be sure to review the roof coating warranty details and the installation procedures and specifications since failure to follow the manufacturer's instructions may not give very nice results.
To look at more EPDM coatings contact one of the EPDM coating specialty suppliers such as epdmcoatings.com (in the U.S.).
References on EPDM Repair & Coatings
At InspectApedia.com roof coatings are also discussed at
Bailey, David M., Stuart D. Foltz, and Myer J. Rosenfield. Long Term Field Test Results of Experimental EPDM and PUF Roofing. No. CERL-TM-M-90/09. CONSTRUCTION ENGINEERING RESEARCH LAB (ARMY) CHAMPAIGN IL, 1990.
Abstract:

Experimental roofs of single-ply ethylene-propylene -diene monomer (EPDM) and sprayed-in-place polyurethane foam (PUF) were installed during 1979 and 1980 at Fort Benning, GA and Fort Lewis, WA. This research documents the long term results of a field test program to evaluate the effects of aging/ weathering on the EPDM and PUF materials and the repairability of the surfaces. An EPDM membrane provides a satisfactory, watertight roof.

Aging is directly related to the local climate. Current repair techniques for EPDM are satisfactory when proper materials and procedures are used. PUF roofs should give satisfactory service if repairs are properly made and the surface is periodically recoated as the original coating wears away.

It is recommended that authorized roofing personnel be used or that installation personnel be trained by the roofing manufacturer to maintain and repair each type of roof system installed. Specifications for PUF roofing should be expanded to include urethane/Hypalon coating. (js)
EPDM Roofing Association, 529 14th Street, NW Suite 750 Washington, DC 20045, Tel: 202-591-2474, Email: info@epdmroofs.org, Website: www.epdmroofs.org

According to the EPDM Roofing Association, no special coating or surface treatment is required. Acrylic coatings and latex based paint coatings can be applied to a prepared EPDM surface after first obtaining approval from the particular EPDM manufacturer. . - FAQ retrieved 2016/05/11 - http://www.epdmroofs.org/what-is-epdm/faqs/general-questions#does
Trial, Tim, Robertson, Ross & Gish, M Brian, "EPDM Roof Membranes: Long Term Performance Revisited", [PDF], Roof Consultants Institute, 19th International Convention & Trade Show, Reno, Nevada, Tim Trial, P.O. Box 7000, Carlisle, PA 17013 - retrieved 2016/05/11, original source http://www.epdmroofs.org/attachments/2004_03_epdmrevisited_rci_trial.pdf,
Excerpt from paper introduction:

The long-term performance of a roofing material is dependent upon its resistance to the combined effects of water, UV radiation, ozone, heat and thermal cycling. Additionally, the design ofthe roofsystem and site location can serve to exploit or diminish the impact ofthe environmental factors.

In 1985, Strong and Puse reviewed several EPDM aging and weathering studies. 3 EPDM samples (80 mils thick) were aged for 10 years in a tropical environment. The samples were relatively unaffected by the humid conditions.

After ten years, a 25% decrease in tensile strength and ultimate elongation was observed. Samples (40 mils thick) exposed 10 - 15 years in subtropical Florida conditions displayed a 25 % reduction in tensile strength after 15 years, and a 50 % decrease in ultimate elongation after 10 years.

The tensile strength and percent elongation of exposed and ballasted rooftop samples aged seven years were compared at various test temperatures (- 20 80°C). The results indicate a relatively small decrease in tensile strength and a greater loss in ultimate elongation over the test temperature range for the exposed sample.
Gaco Western, "GacoFlex S20 Series Solvent-Free 100% Silicone Coating" [PDF] (June 2015), Gaco Western®, 200 W. Mercer St., Ste. 202, Seattle, WA 98119, Website: www.gaco.com, Tel: 800-331-0196 or Product HelpLine: 866-422-6489 Email: customerservice@gaco.com - retrieved 2016/05/11, original source: https://41z32e1503dj3gyqe3151089-wpengine.netdna-ssl.com/wp-content/uploads/PDS-GacoFlex-S20.pdf
Gaco Western, "GacoRoof 100% Silicone Coating", op.cit.,
Excerpts of product description:

GacoRoof is a single component elastomeric air dry silicone rubber coating that can be applied year round on properly prepared substrates. GacoRoof meets the requirements of ASTMD 6694.
... Bonds to aged asphalt, aged EPDM, aged TPO/CPA, built-up, cap sheet, composite, concrete, fiberglass, metal, modified bitumen, torchdown, sprayed polyurethane foam and most existing coatings on flat or sloped roofs.

... GacoRoof 100% Silicone Roof Coating creates a seamless membrane to seal and repair existing roofs and permanently protect against leaks, permanent ponding water and the damaging effects of severe weather. GacoRoof is available in several colors to enhance the aesthetics of any roof. Ideal for use on flat and sloped roofs including, but not limited to, large and small buildings, homes, garages and patio covers, sheds and barns, mobile homes, RVs and more.
Gaddy, Glen D., W. J. Rossiter, and Ronald K. Eby. "The Use of Thermal Mechanical Analysis to Characterize Ethylene-Propylene-Diene Terpolymer (EPDM) Roofing Membrane Materials." In Materials Characterization by Thermomechanical Analysis. ASTM International, 1991.
Gaddy, Glen D., W. J. Rossiter, and Ronald K. Eby. "The application of thermal analysis techniques to the characterization of EPDM roofing membrane materials." In Roofing Research and Standards Development: 2nd Volume. ASTM International, 1990.
Gaffin, S. R., M. Imhoff, C. Rosenzweig, R. Khanbilvardi, A. Pasqualini, AY Y. Kong, D. Grillo, A. Freed, D. Hillel, and E. Hartung. "Bright is the new black—multi-year performance of high-albedo roofs in an urban climate." Environmental Research Letters 7, no. 1 (2012): 014029.
Gift, Penny. "Stretching the life of the single-ply roof." Journal of Architectural Coatings (2009): 8.
Petrie, Thomas W., Phillip W. Childs, Jeffrey E. Christian, and John H. Vana. "Radiation control coatings installed on rough-surfaced built-up roofs--initial test results/Discussion." ASHRAE transactions 104 (1998): 795.
Rosenfield, Myer J. Field test results of experimental EPDM and PUF roofing. US Army Corps of Engineers, Construction Engineering Research Laboratory, 1984.
Thomas, Douglas. "Economic Impact of Improved Service-Life Prediction for Seams in Low-Slope EPDM Roofing." In Ideas to Impact: How Building Economic Standards Keep You on Track. ASTM International, 2014.
...
Continue reading at EPDM, RUBBER, PVC ROOFING or select a topic from closely-related articles below, or see our complete INDEX to RELATED ARTICLES below.
Or see
Key Articles About Low Slope & Flat Roofs
Suggested citation for this web page
EPDM ROOF COATING REPAIRS at InspectApedia.com - online encyclopedia of building & environmental inspection, testing, diagnosis, repair, & problem prevention advice.
Or use the SEARCH BOX found below to Ask a Question or Search InspectApedia
...
Frequently Asked Questions (FAQs)
Try the search box below or CONTACT US by email if you cannot find the answer you need at InspectApedia.
Question:
(Aug 15, 2012) jerry d said:
roof wrinkle was cut out and patched repaired. will the patch added hold against rain over several years?
Reply:
Yes if properly installed. The surfaces had to be clean and dry and the proper adhesive used.
Question:
(June 30, 2014) J Haynes said:
My roofer has just installed a new EPDM flat roof which 'ponds' over about a quarter when it rains. He says that this is normal. Is he right as the only way the water is displaced is by evaporation?
Reply:
Well not exactly ...
"Flat" roofs usually are very low slope and do indeed drain to a scupper, roof edge or other drain opening. They are not very often perfectly dead flat.
IF your roof has no standing water 24 hours after rainfall then it's considered to drain adequately.
Otherwise it is not draining adequately.
Question: drip edge specifications for flat & low slope roofs
(July 28, 2014) Hal said:
I have a elastomeric roof with APOC 252 white on top of APOC 302 emulsion. The previous roof had a 2" gravel guard and the elastomeric is failing in the joints of the guard and the roof. Water is getting behing the fascia and rotting it. The roof is 5/12 pitch.
Planning on cutting back the fascia. shall I cut the fascia just below the coating level? It feels like I need a connector between the fascia nd the roofing material. Any suggestions?
Reply:
Hal we had this problem on an older EPDM roof, exacerbated by the presence of a gravel guard (with a raised edge) that kept water on the roof where it should have been allowed to drain. Gravel guards belong on tar and gravel roofs, not EPDM or elastomeric roofs.
After several annoying years and seeing the EPDM begin to lift at roof edges our solution was to cut back 12" of roofing from the lower roof edges, remove the gravel guard, install the proper (flat) roof drip edge, then glue down a new length of EPDM along the roof edge and atop the upper portion of the drip edge. You can see that repair in the article above on this page.
The drip edge should extend out about 1/4" from the fascia (vertical) surface so as to direct water off of the fascia rather than onto it.

...
Ask a Question or Search InspectApedia
Use the "Click to Show or Hide FAQs" link just above to see recently-posted questions, comments, replies, try the search box just below, or if you prefer, post a question or comment in the Comments box below and we will respond promptly.
Search the InspectApedia website
Technical Reviewers & References
Click to Show or Hide Citations & References
Mark Cramer Inspection Services Mark Cramer, Tampa Florida, Mr. Cramer is a past president of ASHI, the American Society of Home Inspectors and is a Florida home inspector and home inspection educator. Mr. Cramer serves on the ASHI Home Inspection Standards. Contact Mark Cramer at: 727-595-4211 mark@BestTampaInspector.com
John Cranor is an ASHI member and a home inspector (The House Whisperer) is located in Glen Allen, VA 23060. He is also a contributor to InspectApedia.com in several technical areas such as plumbing and appliances (dryer vents). Contact Mr. Cranor at 804-747-7747 or by Email: johncranor@verizon.net
Eric Galow, Galow Homes, Lagrangeville, NY. Mr. Galow can be reached by email: ericgalow@gmail.com or by telephone: 914-474-6613. Mr. Galow specializes in residential construction including both new homes and repairs, renovations, and additions.
"Choosing Roofing," Jefferson Kolle, January 1995, No. 92, Fine Homebuilding, Taunton Press, 63 S. Main St., PO Box 5506, Newton CT 06470 - 800-888-8286 - see http://www.taunton.com/FineHomebuilding/ for the magazine's website and for subscription information.
Low Slope Roofing, Manual of, 4th Ed., C.W. Griffin, Richard Fricklas, McGraw-Hill Professional; 4 edition, 2006, ISBN-10: 007145828X, ISBN-13: 978-0071458283

Roof failure causes in depth (and specific methods for avoiding them)
Roof design fundamentals and flourishes, based on voluminous industry research and experience
New technologies and materials -- using them safely and correctly
Comprehensive coverage of all major roofing systems pecifications, inspection, and maintenance tools for roofing wor

Building Pathology, Deterioration, Diagnostics, and Intervention, Samuel Y. Harris, P.E., AIA, Esq., ISBN 0-471-33172-4, John Wiley & Sons, 2001 [General building science-DF] ISBN-10: 0471331724 ISBN-13: 978-0471331728
Building Pathology: Principles and Practice, David Watt, Wiley-Blackwell; 2 edition (March 7, 2008) ISBN-10: 1405161035 ISBN-13: 978-1405161039
Problems in Roofing Design, B. Harrison McCampbell, Butterworth Heineman, 1991 ISBN 0-7506-9162-X (available used)
Books & Articles on Building & Environmental Inspection, Testing, Diagnosis, & Repair
The Home Reference Book - the Encyclopedia of Homes, Carson, Dunlop & Associates Ltd., Toronto, Ontario, 25th Ed., 2012, $69.00 U.S., is a bound volume of more than 450 illustrated pages that assist home inspectors and home owners in the inspection and detection of problems on buildings. The text is intended as a reference guide to help building owners operate and maintain their home effectively. Field inspection worksheets are included at the back of the volume.

Or choose the The Home Reference eBook for using this reference on PCs, Macs, Kindle, iPad, iPhone, or Android Smart Phones
Note: InspectAPedia.com ® editor Daniel Friedman is a contributing author.
Best Practices Guide to Residential Construction, by Steven Bliss. John Wiley & Sons, 2006. ISBN-10: 0471648361, ISBN-13: 978-0471648369, Hardcover: 320 pages, available from Amazon.com and also Wiley.com. See our book review of this publication.
Decks and Porches, the JLC Guide to, Best Practices for Outdoor Spaces, Steve Bliss (Editor), The Journal of Light Construction, Williston VT, 2010 ISBN 10: 1-928580-42-4, ISBN 13: 978-1-928580-42-3, available from Amazon.com
The Journal of Light Construction has generously given reprint permission to InspectAPedia.com for this article. All rights and contents are ©Journal of Light Construction and may not be reproduced in any form.
Building Pathology, Deterioration, Diagnostics, and Intervention, Samuel Y. Harris, P.E., AIA, Esq., ISBN 0-471-33172-4, John Wiley & Sons, 2001 [General building science-DF] ISBN-10: 0471331724 ISBN-13: 978-0471331728
Building Pathology: Principles and Practice, David Watt, Wiley-Blackwell; 2 edition (March 7, 2008) ISBN-10: 1405161035 ISBN-13: 978-1405161039
Green Roof Plants: A Resource and Planting Guide, Edmund C. Snodgrass, Lucie L. Snodgrass, Timber Press, Incorporated, 2006, ISBN-10: 0881927872, ISBN-13: 978-0881927870. The text covers moisture needs, heat tolerance, hardiness, bloom color, foliage characteristics, and height of 350 species and cultivars.
Green Roof Construction and Maintenance, Kelley Luckett, McGraw-Hill Professional, 2009, ISBN-10: 007160880X, ISBN-13: 978-0071608800, quoting: Key questions to ask at each stage of the green building process Tested tips and techniques for successful structural design Construction methods for new and existing buildings Information on insulation, drainage, detailing, irrigation, and plant selection Details on optimal soil formulation Illustrations featuring various stages of construction Best practices for green roof maintenance A survey of environmental benefits, including evapo-transpiration, storm-water management, habitat restoration, and improvement of air quality Tips on the LEED design and certification process Considerations for assessing return on investment Color photographs of successfully installed green roofs Useful checklists, tables, and charts
Problems in Roofing Design, B. Harrison McCampbell, Butterworth Heineman, 1991 ISBN 0-7506-9162-X (available used)
Roofing The Right Way, Steven Bolt, McGraw-Hill Professional; 3rd Ed (1996), ISBN-10: 0070066507, ISBN-13: 978-0070066502
Smart Guide: Roofing: Step-by-Step Projects, Creative Homeowner (Ed), 2004, ISBN-10: 1580111491, ISBN-13: 978-1580111492
"Weather-Resistive Barriers [copy on file as /interiors/Weather_Resistant_Barriers_DOE.pdf ] - ", how to select and install housewrap and other types of weather resistive barriers, U.S. DOE
...