Modified Bitumen Roof Life, Defects, Wear

Common defects, life of modified bitumen roof, effective roof coatings
InspectAPedia tolerates no conflicts of interest. We have no relationship with advertisers, products, or services discussed at this website.
Modified bitumen roof defects, wear signs, life expectancy, life extension by coating:
This article describes common defects found on modified bitumen roofs such as buckling, cracking, granule loss, improper installation details, leaks. The article discusses the typical life of a modified bitumen life and we describe roof coatings and their effect on the life of a modified bitumen roof.
This article series describes modified bitumen roofing materials, choices, installations, inspection, defects, roofing repairs, and product sources. Modified bitumen roofs or "mod bit" roofs are a single ply roofing systems applied using heat to seal seams between runs of roofing material.
Page top photo courtesy of W. David Schwaderer.
Green links show where you are. © Copyright 2017 InspectApedia.com, All Rights Reserved.
Modified Bitumen Roofing Materials, Choices, Costs, Life Expectancy, Characteristics
Examples of Defects in Modified Bitumen Roofs
Our photographs of modified bitumen roofing shown below indicate three conditions found on a small walk-out balcony on a 1935 Poughkeepsie New York home that had been re-roofed in the prior year.
[Click to enlarge any image]
Modified Bitumen Roof Wear From Walking-on Traffic
At above/ left we can see that in less than a year there is some granule loss and wear from foot traffic, especially where people step on the modified bitumen roof membrane as exiting and entering the door into the building.
While light, careful walking on a modified bitumen roof may be acceptable for the purpose of inspection or maintenance, on a balcony where regular walking is anticipated, the roof will not wear well.
Inadequately Heated Modified Bitumen Roof Seams
Second, in the same photograph we don't see any melted runout at the heated, lapped roofing seam. It is possible that this seam was inadequately torched or heated during installation. Elsewhere on the roof we noticed granule loss at wrinkles in the roofing membrane, perhaps caused by foot traffic over the raised edges of the wrinkles.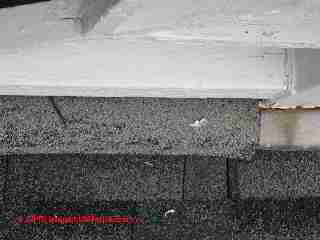 Modified Bitumen Roof Edge Bending & Wear
Our modified bitumen roof photo at right shows that the installer allowed the edge of the roof membrane to run wild about 2 inches past the roof edge. You may notice a bit of granule loss on this component as well.
While it's more of a problem with asphalt roll roofing than modified bitumen (which is thicker, more flexible, and in some products, reinforced) running an inch or two of unsupported roofing out past the roof edge invites bending and early wear or cracking in that location.
Wear and Maintenance on Modified Bitumen Roofs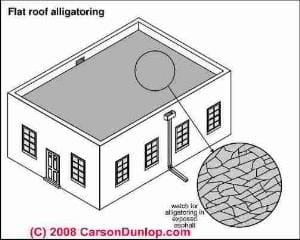 An an older mod-bit roof, particularly an older bitumen roof whose material lacked the now-common protective coating of mineral granules, you may see fine alligatoring or cracking as its surface dried.
Modified bitumen roofing manufacturers such as Johns Manville advise that at the time of unrolling and installation, "...a small amount of light cracking of the coating can be normal. These minor visual imperfections do not affect the waterproofing performance or integrity of the ... materials. For aesthetic purposes only, a recoating may be applied using JM ... Coating."
But deeper and more extensive cracks (see Carson Dunlop's illustration above) in any roofing material are an indication of wear, age, and shortened remaining life. In a freezing climate, the action of water and ice in such cracks can lead to an accelerated wear in the latter portion of the roof's life. We have successfully extended the life of modified bitumen roofs with modest cracking by coating with a roof paint formulated for use on this material. Don't use a roof coating not recommended for modified bitumen roofs or its solvents may damage the roof.
Modified Bitumen Roof Buckling Problems
Question: problem with buckling IKO modified bitumen roof
(May 31, 2016) Geoff said:
Let me being by praising your web site and all of its information. I often come here for help, direction, and ideas for my 'old house' issues and puzzles. Currently, the newly installed (autumn 2014) 2-ply, torched down modified bitumen roof membrane (IKO), +1600 sf, on my 1928 home's flat roof, after 1 1/2 years is buckling & quickly losing mineral in one area (upper, outside corner), approx. 10 ft deep over two courses.
Other isolated areas, 5 or 6, roughly the size of postcard various shapes, across the roof are scorched and missing mineral. Finally, there are pockets, about 15, along the 200 ft. perimetre where membrane has not been properly welded to the metal edge flashing, eg. when membrane edge is lifted enough room for a finger to enter, in some cases a roofing nail head is visible, potential for water to seep in. I'd like to have a better understanding for what is the normal, average, quality for a job such as this, residential, $25K. The co. was licensed, an assoc. member and so on. My questions are, 1. is this 'industry standard', is it to be expected?
From my pre-signing research of membrane types and interviews with contractors, I had thought that the added cost, say over 5-ply/gravel, would result in roof protection that should last 30-35 years, seeing what I see up there, not 2 years in and I feel poorly protected. 2. What do you think are acceptable options for remedy? The roofer, who over the phone said, "that's nothing, it can be fixed", has agreed to come by and look it over.
I expect to be offered, a patch job on the buckled area, roofing 'tar' sprinkled with mineral on the bald spots and retorching the areas that are lifting. Do you think those methods are acceptable as long lasting solutions? What are? I am looking for some resources to hold my ground, with him.
Thanks very much for any insight.
Reply:
OPINION: Mod Bit is a good product. But it should bexpect fully adhered to the deck with just a little runout at seams.
Application over wet or damp may poorly adhere or bulge.
Stepping on an overheated area while still hot can damage t HG email surface, even leave footprints.
Ask your installer to return to clean up the job.
If lots of granular loss you may want to add a manufacturer approved coating.
Here is an excerpt from IKO's Warranty for modified bitumen roofing when the torch/torch installation method is applied:
IKO Limited Labour and Membrane Warranty:
Warrant work of this Section for a period of 5 years against roof leaks as a result of material defects in accordance with General Conditions of the Contract. Promptly correct any defects or deficiencies which become apparent within warranty period, to satisfaction of Consultant and at no expense to Owner. Defects include but are not limited to; leaking, buckling, opening of seams, bond failure and extensive colour fading.
In addition to above, provide to Owner a written warranty covering defects of workmanship for a period of 2 years commencing from date of Substantial Performance of the Work and agree to Make Good promptly any defects which occur or become apparent within warranty period in conjunction with membrane manufacturer's warranty. Ensure warranty is on either CRCA's or OIRCA's "Standard Form of Warranty. - "Draft-Specs-Section-07-52-16-SBS-Mod-Bit-Torch-Torch.doc" retrieved 2016/07/25, original source: https://www.iko.com/na/documents-library/commercial/draft-specifications/

And here is an excerpt IKO's Modified Bitumen installation instructions from the same document cited above, addressing the buckling issue:
Roof Membrane:
Starting at lowest point of roof or at centerline of roof drain, unroll and dry fit base sheet ["TF-95-FF Base (2.2)"] ["TP-180-FF Base"] and allow it to relax.
Heat weld base membrane ["TF-95-FF Base (2.2)"] ["TP-180-FF Base"] in accordance with manufacturer's instructions.
Side Laps for Membranes: 90 mm (3-1/2").
End Laps for Membranes: 150 mm (6").
Reinforce around projections and drains using additional ply of base sheet ["TF-95-FF Base (2.2)"] ["TP-180-FF Base"] as per manufacturer's instructions.
Continue across field of roof until entire roof is covered with base sheet ["TF-95-FF Base (2.2)"] ["TP-180-FF Base"]. Ensure end laps are staggered from each other by a minimum of 610 mm (24") in process.
Continue application of base membrane 50 mm (2") above top of cant, at parapet.
Use a single burner torch system only for heat welding of cap sheet and base sheet end lap details.
Install cap sheet via heat welding over base sheet in accordance with manufacturer's instructions. Stagger side laps from base sheet sidelaps minimum 150 mm (6"), stagger end laps minimum 150 mm (6") from base sheet end laps and 610 mm (24") from other cap sheet end laps.
Fully adhere cap ["Torchflex TP-250 CAP"] ["Torchflex Prevent TP-250"] ["Torchflex Prevent Premium TP-250"] and base sheet ["TF-95-FF Base (2.2)"] ["TP-180-FF Base"] membranes free of wrinkles, buckles, fishmouths, voids or seams bucking natural flow of water.



-Op. Cit.
Modified Bitumen Roof Life Research
Question: compare roof life of modified bitumen vs. asphalt-coating of existing roof surface
2016/07/25 Frank said:
Is a modified bitumen roof with embedded granules better for long term life, UV and fire protection than an asphalt coating with reflective material on flat industrial roof?
Reply:
Frank,
While I have read some impressive claims from the producers of spray on roof coatings as a substitute for re-roofing, my OPINION is that a new roof that is done by installing a new membrane is more reliable. That's in part because a membrane will reliably cover cracks and defects in an original roof that otherwise have to be spanned by the coating alone. Even a fiber-reinforced coating may have less tear resistance during the stresses of thermal movement, foot traffic, storms, etc. than might a good quality, properly-installed and flashed membrane.
Reader follow-up:
Do you know where I might find more info (an article?) as to your opinion? It makes a lot of sense.

Moderator reply:
Frank, the following articles discuss the durability of more-sophisticated spray-on type roof coatings as well as modified bitumen roof life.
Watch out: Keep in mind that those coatings are likely to be far superior to the simple "asphalt coating" to which you referred. Merton (1960) and Antrim (1994) discusses thin asphalt roof coatings including using an acrylic topcoat. Also, thin asphalt roof coatings have been used to apply a light colored roof surface, thus cooling the roof and extending its life.
But it seems unlikely that any thin asphalt add-on roof coating on a worn, cracked surface would perform as well (last as long) as either a layer of modified bitumen as a new roof membrane or one of the more durable spray-on roof coating products discussed in the articles I list below.
Also the roof installation method may affect roof life: there are torch/torch, mop/torch, and mop/mop installation options depending on the roofing product and its manufacturer's instructions.
Antrim, Robert, Cynthia Johnson, William Kirn, Walter Platek, and Karen Sabo. "The Effects of Acrylic Maintenance Coatings on Reducing Weathering Deterioration of Asphaltic Roofing Materials." In Roofing Research and Standards Development: 3rd Volume. ASTM International, 1994.
Abstract:
Acrylic maintenance coatings are applied over aged organic asphalt shingle and built-up roofs and allowed to weather for 6–10 years. Test cut samples are analyzed chemically and via optical and scanning electron microscopy techniques and compared to uncoated areas subject to the same weathering. A mechanism for explaining weathering of asphaltic roofing materials is proposed, and the effect of acrylic maintenance coatings in reducing weathering is also clearly elucidated and documented.
Ashton, H. E. "Evaluating the Performance of Organic Coatings and Building Materials." In Permanence of Organic Coatings. ASTM International, 1982.
Some faults in the overall approach currently used in evaluating the durability of materials, particularly in relation to the differences between organic and inorganic materials, are discussed. The strategies used in laboratories with which the author is associated are outlined, and examples from the fields of plastics, organic coatings, and sealants are reviewed. Principles arising from work on inorganic as well as organic building materials, and required for regimens for predicting permanence, are stated.
Booth, ROBERT J. "Evaluation, testing and standards for modified bitumen." In Proc. 8th Conference on Roofing Technology (Applied Technology for Improving Roof Performance), pp. 91-98. 1987.
Cash, Carl G. "The relative durability of low-slope roofing." In Proceedings of the Fourth International Symposium on Roofing Technology, pp. 119-124. 1997.
Comment: This survey compares a mean durability of 11 years for spray coatings with a mean durability of 22 years for coal tar oragnic pitch or glass felt roofs; as I warn in other comparisons there are other differences that explain roof life: membrane vs spray or single membrane vs. multiple-ply roof approaches.
Heithaus, J. J. "Physical Factors Affecting the Weather Resistance of Asphalt Coatings." Industrial & Engineering Chemistry Product Research and Development 1, no. 3 (1962): 149-152.
Martin, K. G. "Evaluation of the durability of roofing bitumens." Journal of Applied Chemistry 14, no. 10 (1964): 423-435.
A wide range of types and grades of roofing bitumen have been subjected to bulk heating, pressure oxidation, solar exposure and water immersion separately, and the resulting changes in rheological properties determined.
Particular attention was given to the use of a sliding plate microviscometer and the means of overcoming complexities of non-Newtonian behaviour and shear rupture to develop evaluations, oxidation resistance and solar exposure resistance, involving initial viscosity, rate of increase of viscosity and a critical viscosity at rupture. Results of these tests are discussed in relation to the performance of the bitumens when exposed outdoors for 2 years as model roofs with various surfacings and evaluated by visual rating, microviscometry, and solvent analysis. Agreement is good and the advantage in durability by using as low a softening point bitumen as possible is indicated except for aluminium-painted coatings.
Mertens, E. W., and S. H. Greenfeld. "Some Qualitative Effects of Composition and Processing on Weatherability of Coating-Grade Asphalts." In Symposium on Bituminous Waterproofing and Roofing Materials. ASTM International, 1960.
Abstract:
The weathering characteristics of coating-grade asphalts cannot be associated with the crude-oil source of the asphalt alone because fluxing stocks, catalysts, fillers, and added materials can affect the weatherability markedly. The results are not general, however, but vary with different asphalts.
A fluxing oil added to the base residuum doubled the weatherability of one asphalt but reduced the life of another asphalt to less than half of the unfluxed asphalt. Similarly, a catalyst doubled the durability of one asphalt system but reduced that of another by one third.
Asphalts responded differently to the addition of polymers. Of the three asphalts tested, the weatherability of one was unaffected, another was improved, and the third was made poorer. The response to the addition of limestone dust stabilizer varied among the several asphalts. The improvement in weatherability ranged from only 20 per cent to as high as 140 per cent. The weatherability of products produced from crude oils obtained from different areas of the same field can also vary. Such differences were observed for asphalts derived from different areas in three different fields. The difference was as large as 100 per cent in one field.
Knowles, Mason. "Specifying SPF roofing systems." Buildings 99, no. 10 (2005): 52. - SPF roofing can last 30 year!
Note that IMO the study did not consider intersection and junction problems in coatings as compared with membrane products
Greenfeld, Sidney H. "Characteristics of Fifteen Coating-Grade Asphalts." Journal of Research (1960): 299.
Saxena, P. K., K. G. Raut, S. R. Srinivasan, S. Sivaram, R. S. Rawat, and R. K. Jain. "Polyurethane waterproofing coating for building applications." Construction and Building Materials 5, no. 4 (1991): 208-210.
In India problems of moisture leakage and dampness in buildings are widespread. Waterproofing treatments, including surface coating, have shown success to a varying degree. A two-component polyurethane system based on predominantly indigenous raw materials has been developed and thoroughly evaluated in the laboratory for its efficacy. Field trials have also been carried out and some results are reported.
Oba, Koichi, and Folke Björk. "Dynamic mechanical properties of single-ply roof coverings for low-slope roofs and the influence of water." Polymer testing 12, no. 1 (1993): 35-56.
Lounis, Zoubir, Michael A. Lacasse, Dana J. Vanier, and Brian R. Kyle. "Towards standardization of service life prediction of roofing membranes." In Roofing Research and Standards Development: Fourth Volume. ASTM International, 1999.
Ryan, P. A., R. P. Wolstenholme, and David M. Howell. Durability of cladding: a state of the art report. Thomas Telford, 1994.
Article Series Contents
...
Continue reading at MODIFIED BITUMEN ROOFING - home, mod-bit roofing, sold in rolls and applied to low-slope roof areas can be mistaken for mineral-granule-coated roll roofing, or select a topic from closely-related articles below, or see our complete INDEX to RELATED ARTICLES below.
Or see ROLL ROOFING, ASPHALT
Or see ROOF LEAK SOURCE DIAGNOSIS
Suggested citation for this web page
MODIFIED BITUMEN ROOF DEFECTS & ROOF LIFE at InspectApedia.com - online encyclopedia of building & environmental inspection, testing, diagnosis, repair, & problem prevention advice.
Or use the SEARCH BOX found below to Ask a Question or Search InspectApedia
...
Frequently Asked Questions (FAQs)
Try the search box below or CONTACT US by email if you cannot find the answer you need at InspectApedia.
...
Ask a Question or Search InspectApedia
Use the "Click to Show or Hide FAQs" link just above to see recently-posted questions, comments, replies, try the search box just below, or if you prefer, post a question or comment in the Comments box below and we will respond promptly.
Search the InspectApedia website
Technical Reviewers & References
Click to Show or Hide Citations & References
Eric Galow, Galow Homes, Lagrangeville, NY. Mr. Galow can be reached by email: ericgalow@gmail.com or by telephone: 914-474-6613. Mr. Galow specializes in residential construction including both new homes and repairs, renovations, and additions.
Mark Cramer Inspection Services Mark Cramer, Tampa Florida, Mr. Cramer is a past president of ASHI, the American Society of Home Inspectors and is a Florida home inspector and home inspection educator. Contact Mark Cramer at: 727-595-4211 mark@BestTampaInspector.com 11/06
Roger Hankey is principal of Hankey and Brown home inspectors, Eden Prairie, MN. Mr. Hankey is a past chairman of the ASHI Standards Committee. Mr. Hankey has served in other ASHI professional and leadership roles. Contact Roger Hankey at: 952 829-0044 - rhankey@hankeyandbrown.com. Mr. Hankey is a frequent contributor to InspectAPedia.com.
Arlene Puentes, an ASHI member and a licensed home inspector in Kingston, NY, and has served on ASHI national committees as well as HVASHI Chapter President. Ms. Puentes can be contacted at ap@octoberhome.com
Wikipedia provided background information about some topics discussed at this website provided this citation is also found in the same article along with a " retrieved on" date. NOTE: because Wikipedia entries are fluid and can be amended in real time, we cite the retrieval date of Wikipedia citations and we do not assert that the information found there is necessarily authoritative.
...
Books & Articles on Building & Environmental Inspection, Testing, Diagnosis, & Repair
Our recommended books about building & mechanical systems design, inspection, problem diagnosis, and repair, and about indoor environment and IAQ testing, diagnosis, and cleanup are at the InspectAPedia Bookstore. Also see our Book Reviews - InspectAPedia.
...