FAQs on Age of Heating Boilers & Furnaces
InspectAPedia tolerates no conflicts of interest. We have no relationship with advertisers, products, or services discussed at this website.
Q&A on finding out the age of heating equipment:
Frequently asked questions about how to figure the age of specific brands or models of heating equipment: heat pumps, boilers, furnaces are answered here.
This article series provides documents that explain and translate all of the data found on information tags and stickers used on heating & heat pump equipment, including equipment age, heating capacity, electrical requirements, and operating characteristics.
Green links show where you are. © Copyright 2017 InspectApedia.com, All Rights Reserved.
Heating System Equipment Age FAQs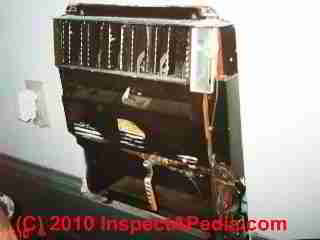 Questions & answers about decoding the age of specific heating furnaces or boilers, posted originally at AGE of HEATERS, BOILERS, FURNACES
Ron

Hydrotherm boilers (now owned by Mestek, www.mestek.com) encode the age in some but not all of the product serial numbers, depending on the Hydrotherm model and age.
By calling-in the serial number the company can often give you the date: USA 413 564 5515 or Canada: 905 672 2991

Hydrotherm as well as Carson Dunlop's Technical Reference Guide (cited in the home page for this topic at AGE of HEATERS, BOILERS, FURNACES) note that the date is often stamped at the bottom of the Rating Plate on the boiler.
But if don't see an obvious 2 or 4 digit year code, then you'd need to call the manufacturer. We include some example Hydrotherm boiler age decodings below.

With Hydrotherm's newer serial numbers in the format AA-1234-5678 the year is in positions 1234.

For SOME older Hydrotherm boilers the age follows AAA-1234 where I think digits 12 encode the week and digits 34 encode the year.
Your HNA-3191 then decodes to 1991

For OTHER older Hydrotherm boilers the age is encoded in the serial number in the first two or three positions, example:

Serial No. 8228474 with no alphabetic characters encodes the year in the first to digits as 82 = 1982

M-150 serial 08607162 encodes the year in the 2nd and 3rd digits so 086 = 1986
A-150 serial 8506226 encodes the year in the first two digits so the year = 1985

Adding to this Hydrotherm boiler hullabaloo, on other newer Hydrotherm models the year is encoded as a capitalized alphabetic character at the end of the alphabetic part of the serial number,
e.g.
OR-140 serial SCSC -1153 the last "C" decodes to 1992 and a "D" in a similar postion will decode to 1993

You can also contract the company directly at
The Hydrotherm Corp.
260 N Elm St.
Westfield, MA 01085 USA
413-564-5515

or
Hydrotherm Canada
5211 Creekbank Rd.
Mississauga, ON L4W 1R3
Canada
Phone: (905) 625-2991
Fax: (905) 625-6610
Website: http://www.hydrotherm.com
Also see HYDROTHERM Boilers
Hydrotherm gas boiler age needed serial number HNA-3191

Since the year of manufacture is often coated in the serial number, I would guess 1988 I am trying to find the age of my parents furnace. It is a Hydro Therm Model HC 125, Serial # Or22088.
Regina,

That's a great but difficult question. HB Smith, (Lowell Mass) beginning as a foundry in the 1800's, incorporated in 1878, made a superb line of cast iron boilers beginning before 1870 and continuing over many years. Boilers of the same size and type and even model were made over long periods and may look very much alike.
If we (or you) contacted HB Smith for help they's probably say that without a data tag that gives the boiler serial number setting an accurate age will not be possible.

You could try a more subtle approach that might earn your $1900:

Contact the company
Phone: (413) 568-3148
Fax: (413) 568-0525
Website http://www.hbsmith.com/
Letter: The H. B. Smith Company, Inc.
47 Westfield Industrial Park Road
Westfield, MA 01085

and ask if there were specific residential steam boiler features that are visually detectable and that first appeared in their boilers) in particular years beginning 30 or more years ago. For example a particular casting shape or mark or boiler feature.

Armed with that information, and even without a data tag you could at the very least assert that the boiler was made after that feature first appeared

or conversely

Ask what features disappeared so that you could also have an ending year.

See H.B. SMITH BOILERS Manuals, Contact information
H.B. Smith, A.O. Smith, & Smith Boilers are three different companies
Kelvin
AO Smith encodes the date in the first two digits in the second-to-last group when you see this format
K81-710-806-F0017 - that 806 = 1980
HB Smith boilers usually code the year as
Smith Boilers (Mestek subsidiary) encode the year with aletter followed by two digits of the year
Your "Smith" boilers don't exactly match these formats,
I'm not sure which "Smith" boiler (Westcast) you've got. But from the GB I'm guessing this is a Smith Boiler. Gas-Fired hydronic or steam boiler.
You can contact Smith Boilers directly at
Westcast, Inc., 260 North Elm Street, Westfield, MA 01085 (413) 562-9631 FAX: (413) 562-3799 Website: www.smithboiler.com
I'd guess (without really knowing) you've got a 1975 and a 1985 boiler each.
(thanks to Carson Dunlop Associates Technical Reference Guide cited in and available from links in this article)
I've been told my steam boiler was made by HB Smith, but the tag/sticker is nowhere on the boiler. We've owned the home since 1999, and the owners before us were here for five years before that and did not replace it.
We are planning to replace it this spring as it is rusting on the sides, and there have been some intermittent water leaks. However, none of the heating contractors we've had estimates from will certify that it is over 30 years old, which would allow us to get a $1900 tax credit/rebate. Is there a way to determine the age without that tag? The burner attached is dated from the 1986.

I have several very old H.B.Smith boilers that I need to know what the age is. They are 28A Series Serial # 28A-12-050446; H.B.Smith Model 450 Mills; Smith 28 high efficiency 8A Series, Serial #28A-11-060623

Question: Determine the age of an HB Smith gas fired boiler
how can I tell the age of my gas boiler?
It is a HB Smith Series PV150 model @200W5 - Joe 11/1/11
Reply: History of the H.B. Smith Boiler Company
Joe you gave us a model number but no serial number. Because models are manufactured over a number of years the equipment age is encoded in its serial number not its model number. Take a look on your data tag:
HB Smith boiler data tag decoding: (pattern not verified)
In the serial number the second and third digit from the left are usually the year. E.g. from Carson Dunlop's Technical Reference,
A82-2248 would translate to year of manufacture 1982
HB Smith water heater data tag decoding:
In the serial number, begining with a letter (indicating the wate heater model), the next two digits from the left indicate the year of manufacture just as the boiler serial number above.
Carson Dunlop, Associates, Toronto, have provided us with (and we recommend) Carson Dunlop Weldon & Associates' Technical Reference Guide to manufacturer's model and serial number information for heating and cooling equipment
Special Offer: Carson Dunlop Associates offers InspectAPedia readers in the U.S.A. a 5% discount on any number of copies of the Technical Reference Guide purchased as a single order. Just enter INSPECTATRG in the order payment page "Promo/Redemption" space.
See H.B. SMITH BOILERS Manuals, Contact for more information.
(May 26, 2017) kelvin said:
Trying to find the age of two Smith cast iron boilers. S/N GB300-2002-75 & GB300-2002-85
Paul you'll need to look in the serial number for digits to decode as we illustrate in the article
AGE of HEATERS, BOILERS, FURNACES
. It's not in the model number. What is the age of the Peerless MMW-145 furnace? whats the age of my lennox
g8-110t-1a I don't know what a
"monitor heater" is, Andy, please use the page bottom CONTACT link to send me some sharp photos for comment. Be sure to include images of any data tags. How do you determine the age of a monitor heater?
Question: Age of Magic Pack HVAC
how old my magic pack hvac have no idea, i have model# and serial # the is old - Charlie 10/9/11
Reply:
in the references section below we include links to some serial number decoding guide books that may be able to help you pinpoint the age of your Magic Pack HVAC system - the year is coded in the serial number.
Question: Need a rating plate for a CWF Duo-Matic Forced Air Coal & Wood Furnace
I have a CWF duo matic forced air coal and wood furnace. I have a serial number but I need a rating plate number for insurance purposes and the numbers are no longer legable. How can I get this? - Jen 10/29/11
Reply:
Jen,
Yours is probably an Olsen Coal/Wood - Oil forced warm air system. The CWF is more likely a model number.
But I think if your equipment is old, you may be out of luck finding anyone at the present company who knows a thing about it. Just look at the brand name history given below.
You might get some help from wood heat suppliers who I found still sell spare parts for Olsen coal/wood furnaces, such as at woodmanspartsplus.com though the parts I saw looked a bit generic. You will find help with estimating BTU output of wood fired heaters and furnaces at a variety of wood heat organizations.
It's no surprise that tracking down the current company selling or servicing older HVAC equipment is difficult. Look at this example: Olsen's product line originated in the 1940's. Olsen's combination heater line was purchased by DMO Inustries (previously known as Duomatic-Olsen, then as Olsen Technology). DMO Industries manufactured two brands of furnaces, Olsen and Airco. Those were sold in 2001 to ECR International (formed in 1999) who now owns Olsen, Airco as well as the Oneida Royal furnace brands, Utica and Dunkirk boilers as well as Enviromaster International central air conditioners.
You wont' find information about any combination fuel heaters in their current product line, thouigh for Olsen products more information may be available from Olsen/Airco at Olsen/Airco Heating & Cooling Products - USA P.O. Box 4729 2201 Dwyer Ave., Utica, NY 13504, Website: www.olsenhvac.com/ Their customer service number is 866-847-6656.

Question: Spencer boiler Number 6070 4 Series R550
I have a Spencer boiler Number 6070 4 Series R550. How can I find out its date of manufacture? -Jay Levy 12/30/11
Reply:
Jay, Joe, and Charlie, in addition to using the articles and books referenced above for free or cheap ways to determine the age of a heating or cooling device, you will want to note both the product name+product number or model number AND, critically, the product serial number.
The name and product number help make sure you're using the right decoding procedure. The year and month or year and week of manufacture are usually coded in the heater's or air conditioner's serial number. Often in the first four digits, as our example below illustrates.
Question: how to determine the age of a Polaris Boiler Heater by American Water Heater Co.
I have a Polaris boiler heater manufatured by Amrican Water Heater Company.
The serial number is 0405116998(digits are all in one serie,no space)
The product number is 0320030
also on the manufacturer label there is a label sating the product model PR 100-34-2NV
with all this info I still can't determine what year is the boiler as it doesn't match the critria stated in the article. - Pierre 1/8/2012
Reply:
Pierre,

Most likely your Polaris water heater was made in the week of 18 May 2003. I figured as follows:

Polaris Water Heaters, most likely follow other American Heating Equipment convention as follows:

The year and week number of manufacture are encoded in the first four digits of the heater's serial number. So your heater serial number (IF that is what you meant by "product number" - if not, look again on the data tag for the individual water heater's serial number) of 0320030 would translate to

year: 2003
week: 20

I then poked around online to find a utility that converts between week number and date, converting week #20 of 2003 to the date I gave above.

Send me a sharp photo of the Polaris water heater data tags if you want me to take another look. Use the CONTACT link found at top left side or bottom of our web pages.
Question: determine the age of a Burnham gas hot water furnace
How do I find out the age of an 80,000 BTU Burnham gas hot water
furnace with Model No. P-204A-WNU - Kern 10/10/12
Reply:
Kern we'd need the serail number not the model number to determine equipment age. In general, just to get our terminology right, usually we call hot water heating equipment a boiler and we reserve the name furnace for warm air heating systems. I know there was an exception but that's generally the case.
A typical Burhham boiler data tag will show numbers like
Model RS-112 Ser- 35044173
or Serial No. 35 048911
or Serial# 01005880
It's that serial number you want.
I am researching the first serial number decode. For the second example, after the 35 (probably model number) the next two digits 04 are month and the nect two digits 89 the year of manufacture of the unit. In the third example we're stuck again - when you've found the serial number, I'd give the company a call, give model and serial number, and just ask them. Let us know what you learn as it will assist other readers.
You can contact Burnham Corporation in Lancaster PA at their customer service number 717-481-8400 or at 888-432-8887.
Question: American Standard Heater Age? Sunbeam?
sunbeam/american standard model sl 85, any info as far as date and age? - Magic Mike 11/4/12
Reply:
Mike,

I was not sure if you meant Sunbeam water heaters or American Standard water heaters.
Information on Sunbeam water heaters is at http://www.sunbeam.com - or it would be if their website page links worked. The water heaters I found under that name were little portable devices not home water heaters.
This may help: Standard Water Heaters are is not a simple brand name I could find, except tracing to A.O. Smith. If it's an A.O. Smith product the serial number contains the date encoded as follows:
xxxYY-xM- x xxx
where YY is year and M is month beginning with A= January etc.
SUNBEAM - see AMERICAN STANDARD boilers & furnaces and A.O. Smith at WATER HEATER AGE & MANUALS - home
Question: Where can I get a circuit board for my Homart electric Furnace?
Need a circuit board for a Homart electric furnace part # R43800R6 where can i find one - Wade 10/11/12
Reply: Sears
Wade, you can obtain Homart heater parts from Sears Parts Direct.
See SEARS / KENMORE HVAC Manuals & Parts
Question: How do I determine the efficiency of my 1995 Fleetline Oil Fired Boiler?
How do I determine the efficiency of my 1995 Fleetline oil fired boiler? - Duncan 11/21/12
Reply:
Duncan,
The heating service tech (not you) should do the following:
Clean the system completely, including boiler, flue vent connector, and if needed, chimney Assure proper combustion air source Adjust the system to factory spec: oil pressure, draft, burner nozzle, electrodes, etc.
THEN
the tech will measure the stack temperature at the breech, the CO2 level.
The combination of CO2 level and temperature allow anyone to read a chart of combustion efficiency of the unit in that condition.
Just looking up a spec somewhere tells you little about how your system is actually performing unless you take the steps above.
To read details about this procedure Search InspectApedia for
Oil Burner Tests & Adjustments: Measure & Set Oil Burner Smoke & CO2 Levels
Question: Looking for age of an American Standard Furnace
Looking for the age of an American Standard furnace
Model: GUF 80D 3H
Serial: 71B03311

Any assistance will be greatly appreciated. - Dave 1/18/13
Reply:
Dave,
American Standard stopped making oil and gas furnaces in March 1968.
American Standard Boiler Serial Number Decoder:
In older serial numbers using a letter followed by two digits such as C73, the year is the two numeric digits.
In newer serial numbers such as 71B03311 I'm not sure but I'd guess the year is the first two digits (71)
You can contact American Standard to ask: telephone 800-241-4102.
Question: where do I get a part for a squirrrell cage furnace blower fan
I need to replace the u-shaped device that holds the rod for the squirrel cages that is held down by 2 bolts, which go through 2 rubber gromets and are nutted on the other end. How can I order this or these parts? - Russel Jackson 1/27/2013
Reply:
Russel, just stop by your HVAC supplier, those are common parts. Or tell us the model, brand seria
Number and well help look. Most likely the parts are also avai
Able from th heater manufacturer too.
Question: What is the age of a Bard Natural Gas Furnace?
looking for the of a bard nat. gas furnace Model: 6080D48C. Serial: 970909077 - Dan 2/9/13
Reply:
Dan, Septmber 1997
Question: how to determine the age of a Moncrief furnace made by Henry Furnace Company
I am trying to determine the age of a Moncrief furnace made by the Henry Furnace Company Model L-95 Series 4. There is no serial #. It is maroon with chrome trim - Matt Falk Aire Serv - 3/29/2013
Reply: Henry Furnaces & the Moncrief furnace name
Matt,

The Henry Furnace Company who made Monrief furnaces was a Medina Ohio company. IF data tags were legible you'd find a 3-digit series number (perhaps like 622) equivalent to a model, or an actual Model Number (L150) and a serial number sometimes in the format A-620-22-4-B.

With no data we can't know the age of yours, though sometimes there will be a clue of the "at least" age by noting data on the equipment service tag or on a date written on the original instructions stuffed up in the framing overhead.

Without any information you can stil bet the Moncrief is more than 20 years old, more likely from the 1950's. The "safe" advice is to declare a 50-year old heating furnace obsolete, and past due for replacement. A more thorough assessment by someone wanting to put off buying a new furnace would be a thorough cleaning, inspection for damage or heat exchanger leaks, tune-up, and efficiency measurement if the system was found safe and operable.
Be sure that any efficiency assessment is done after cleaning and tuning and a safety inspection.
See HENRY FURNACES & Moncrief furnaces for historical details and the chain of owners and marketers of both Henry furnaces and Moncrief furnaces.
Question: find the manual for an Anthes Intercity Furnace
I'm looking for help in finding a specification plate or manual for a Anthes intercity finance from 1974. Yesterday I had a tech come to the house to clean the furnace. The tech tagged the furnace because the specification plate was missing and I can't locate the furnace manual from 1974.
I now have 45 days to either provide the furnace manual or have a new furnace installed. If by the 45th day I haven't they will shut off the gas. Any ideas how I can get my hands on a specification plate or furnace manual from a Anthes intercity finance from 1974? - A.G. 9/18/2013
Reply: History of Inter City Gas & Its Furnace Brands: Anthes, Bullochs, Furnasman,
My understanding from reading several historical notes & reports on furnace history is that Intercity Furnace (Inter City Gas Co., Winnipeg, Canada produced Anthes, Bullochs, & Furnasman equipment) was renamed as International Comfort Products (ICP) that was in turn purchased by United Technologies in 1999. Note 1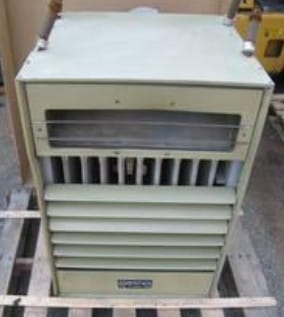 The Anthes Intercity furnace line was produced at least from the 1950's through the 1970's. In 1980 Intercity also produced an early condensing furnace - the Ultimate - that we've read did not perform well. Note 2
Anthes boilers and furnaces that are still older were produced by the Anthes Foundry in Winnipeg - discussed below.
You will find some websites online offering to sell parts for the Anthes Intercity Furnace under the new ICP brand. I'd try that approach to finding a manual; you may find someone who has one and can prepare a PDF - sorry but we don't have that manual ourselves or I'd post it for you. Here are some Anthes Intercity Furnace links that might help:
http://www.gobookee.net/inter-city-gas-furnace/ includes a link to what promises to be a "full version" manual for the Inter City Anthes brand furnace. We didn't try this link - you'll need to provide a credit card to make this purchase. Let us know if this works for you - or if you have trouble. What we learn will assist other readers.


hermanstools.com/Furnaces-toronto provides a description of a used Anthes Inter City furnace for sale, described as follows
Anthes inter city 200 000 btu commercial natural gas furnace -hi efficiency -inspected -condition- like new we do installation [see photo at left]
For information about de-coding the data tag on Inter City Gas (I.G.C. HVAC equipment) see the Technical Reference Guide below.
Carson Dunlop, Associates, Toronto, Carson Dunlop Weldon & Associates' Technical Reference Guide to manufacturer's model and serial number information for heating and cooling equipment
Special Offer: Carson Dunlop Associates offers InspectAPedia readers in the U.S.A. a 5% discount on any number of copies of the Technical Reference Guide purchased as a single order. Just enter INSPECTATRG in the order payment page "Promo/Redemption" space.

Note 1: Preston's Guide, Residential Replacement (HVAC) Sales, "Where Are They Now? Those Titans of the HVAC Industry ... Merged, Fallen by the Wayside, or Still Going Strong", http://www.prestonguide.com, retrieved 9/18/2013
Note 2: http://www.warmingupcanada.hvacrheritagecentre.ca/ history of Inter City Gas & Anthes. Quoting: The unresolved problems in those early Canadian-made condensing furnaces were still secondary heat exchanger failure; lack of knowledge of and product for condensate removal; the appliances' physical dimensions; and premature failure of the power exhaust gas venters selected.
Question: How to determine the age of an Anthes boiler
2017/09/16 Tony said:
Hello, I had to give an estimate for a boiler, upon viewing the existing boiler, I was wondering the age of the boiler, could someone email me if he / she has an idea, it is an Anthes- Imperial bolier WO 14 4, thanks tonynewyork@live.ca
Reply:
Tony,
Anthes boilers were produced by the Anthes Foundry in Winnipeg, founded by Lawrence L. Anthes ca 1915.
Lawrence Anthes' earliest patent I found was a Canadian patent No. CA 191047 for a temperature regulating device filed in 1918 and granted in 1919 (probably for the Anthes foundry).
LL Anthes along with Fred Ellis and George Pallister, under the aegis of the Anthes Foundry patented a hot air furnace as CA 376829 in 1938, and another as Canadian Patent CA 379539 in 1939.
You want to look at the serial number on your boiler.
Typically on an Anthes brand boiler (a 1940's vintage heating brand Anthes Imperial Limited sold in Canada (the HGB 100), the U.S. and the U.K.) there is a 6-digit, all numeric, serial number. 123456 OR an alphanumeric serial number like ABC12
It's safe to estimate that the boiler you saw boiler is no less than 50 years old and possibly, if it's a 1940's model, we're looking at a heater that's more than 75 years old.
For Anthes and a few other heater or boiler brands that have not come up with a clear age-decoder, take a look at the brand and serial number of (apparently-original) parts attached to the boiler such as the oil burner, burner motor, circulator pump, or other controls to find a serial number that can often get us in the right ballpark.
Also see ANTHES BOILERS FURNACES

Question: Burnham heater age
(Jan 6, 2012) Burnham said:
I want to know the year it was built
Reply:
B. check the data tag and the advice given in the article above. You'll want to look at the product serial number not just model number.
Question: age of an Olsen Furnace Serial 34470HTRL
(Jan 23, 2014) Anonymous said:
can you tell me how old my olsen furnace is. serial 34470HTRL
Reply:
Referring to Carson Dunlop Associates Technical Reference Guide for Olsen Furnaces (www.olsenhvac.com) the key is the "HTRL" in the serial number.
I'm guessing it's a 1996 furnace based on the following explanation:
In one type of Olsen the year is in the 3rd letter - but the "R" in your serial does not translate - or if it does this unit was built after year "N" which was 1992/3. If we keep counting and guess Olsen kept the same encoding "O"= 1993/4 "P" = 1994/5 "Q"= 1995/6 and "R" would date from 1996/7 model year.
Reader comment:
Thank you so much. There was another number FBL 17327E but the first number I listed was clearly marked as the serial number. Not sure if the FBL17327E was the model, or if it helps in any way. Thanks again for your help.
See also OLSEN AIRCO HVAC Olsen / Air Co Boilers Manuals & Parts
Question: information on an oudoor-installed Sterling woodstove
(Feb 10, 2014) Kari hinkle said:
Hello, I am looking for information on a outside Sterling woodstove. We purchased it with our house about 10 years ago. It runs the hot water to our home. unfortunately I am unable to find any identification numbers etc on it.
it has Sterling and a phone number written on the front. I tried the number and it is nothing to do with sterling co anymore. I am running into dead ends and was wondering if anyone cld help . thanks in advance
Reply:
Kari, I too had trouble finding useful information about Sterling brand woodstoves. What would make sense would be to ask for a prompt safety inspection by your local fire department and/or wood stove installer.
When the original company who made a woodstove or in your case a wood-fired water heater has disappeared, a first step in getting help is to try to find who installed the stove locally. Of course that person may be gone too
Watch out: an immediate safety concern that prompts my suggestion for a fire department inspection is the risk of improper safety controls (such as pressure relief valves) or improper or unsafe chimney & venting on a decade-old wood fired hot water heating appliance. You don't want to risk an equipment explosion nor a chimney fire.
(Apr 2, 2014) Don Norman said:
To add emphasis to Dan's comments, owners will occasionally burn EVERYTHING in their wood stove or, especially, their wood furnace. Creosote accumulates quickly on the flue interior and has been the cause of many flue fires.
Some years ago I inspected a home for a buyer that had installed a wood furnace in his home the year before. He had a flue fire at his wood furance that caught his house on fire. He, his wife and dogs got out and watched as their home burned to the ground. They lost everything including their vehicles. Just a word of warning.
Note: Don Norman is a professional home inspector in St. Louis MO, an ASHI member, and has served as chair of ASHI's Education Committee and as ASHI President. Mr. Norman can be contacted at Don Norman Buyers Protection Group Bridgeton, MO 63044 800-285-7006 314-291-5558 Cell: 314-504-0153, Website: http://www.bpgwi.com. - Editor.
Reply:
Thanks Don you're right on about that and I appreciate the addition as will other readers.
Woodstoves are not garbage incinerators. In another case I inspected a woodstove with unsafe fire clearance distances from wood walls; the owner knew it was unsafe and had avoided burning the house down by making only tiny low-heat fires in the wood-stove - at least that was his explanation.
We could hardly expect the new owner or future occupants to do something special. And none of them had considered the effects of pyrolysis, lowering the ignition point of nearby combustibles. That can explain a fire that occurs when people think they were doing "... nothing different than before".
What's different may include creosote, chimney clogs, lowered combustion point of nearby substances and a host of other hazards that are perhaps less obvious to normal people.
Question: Manuals & parts sources for Sears Homart Gas Furnace
8/8/2014 Diego said:
I have a Homart gas floor furnace with model no. 133-6350. I am trying to find a copy of an owner's manual or the date of manufacture. I found a building permit for it, but it is hard to read. Thanks for your help.
Reply:
Diego
Homart gas furnaces were a Sears & Roebuck brand manufactured by Dornback Hardware & Plumbing for Sears and distributed about three decades beginning in the 1940's.
See SEARS / KENMORE HVAC Manuals & Parts
I"m doubtful you'd find manuals or parts from the present Dornback Furnace Co. as furnacecompare [dot] com and other sources point out that the Dornback brand was purchased by Adams Mfg. in 1992 - that brand continues but in essence it's a newer product line.
You may be able to obtain a manual as well as parts from Sears Direct parts supply at searspartsdirect.com - or give Sears Parts Direct a call at 1-800-252-1698
Beginning at HEATING SYSTEMS - home we discuss different types of heating systems such as
We also discuss various heating appliance fuel types (coal, oil, gas) as an aid in determining the age of a home or other building.
...
Continue reading at AGE of HEATERS, BOILERS, FURNACES or select a topic from closely-related articles below, or see our complete INDEX to RELATED ARTICLES below.
Or see AGE of AIR CONDITIONERS & HEAT PUMPS
Or see DATA TAGS on HEATING EQUIPMENT
Or see LENNOX HVAC products Age PDF
Or see MANUALS & PARTS GUIDES - HVAC - sources of more information including history & age
Or see these
Articles on Building Component Age
Suggested citation for this web page
AGE of HEATER BOLER FURNACE FAQs at InspectApedia.com - online encyclopedia of building & environmental inspection, testing, diagnosis, repair, & problem prevention advice.
Or use the SEARCH BOX found below to Ask a Question or Search InspectApedia
...
Frequently Asked Questions (FAQs)
Try the search box below or CONTACT US by email if you cannot find the answer you need at InspectApedia.
...
Ask a Question or Search InspectApedia
Questions & answers or comments about how to determine the age of an air conditioner, heat pump, boiler, furnace, or water heater. .
Use the "Click to Show or Hide FAQs" link just above to see recently-posted questions, comments, replies, try the search box just below, or if you prefer, post a question or comment in the Comments box below and we will respond promptly.
Search the InspectApedia website
Technical Reviewers & References
Click to Show or Hide Citations & References
Mark Cramer Inspection Services Mark Cramer, Tampa Florida, Mr. Cramer is a past president of ASHI, the American Society of Home Inspectors and is a Florida home inspector and home inspection educator. Mr. Cramer serves on the ASHI Home Inspection Standards. Contact Mark Cramer at: 727-595-4211 mark@BestTampaInspector.com
John Cranor is an ASHI member and a home inspector (The House Whisperer) is located in Glen Allen, VA 23060. He is also a contributor to InspectApedia.com in several technical areas such as plumbing and appliances (dryer vents). Contact Mr. Cranor at 804-747-7747 or by Email: johncranor@verizon.net
[3] "Residential Electric Water Heater Installation Instructions and Use & Care Guide", American Water Heater Co., October 2001, American Water Heater Co., Johnson City, TN, [manufacturer of residential & commercial water heaters, also manufacturer of Polaris/Commercial water heaters], Tel: 800-999-9515, web search 1/12/2012, original source: americanwaterheater.com/support/manuals/res-elect.pdf [copy on file]
Lennox Heater & Air Conditioner Model & Serial Number Decoding Guide (local copy) - original source, Lennoxat http://www.lennox.com/pdfs/Lennox%20Model%20and%20Serial%20Nomenclature.pdf
Peerless Boilers - the company doesn't want you to call or send direct email - you'll need to use their website to fill in a form or contact your local HVAC dealer. Here is the Peerless Current Boiler Products Literature Download page where installation and operation manuals are provided.
http://www.peerlessboilers.com/Resources/Literature/TechnicalInformation/IOMManuals/tabid/86/Default
Scott C. LeMarr has provided his file of keys to decode Furnace and Water Heater Age from the data provided on the manufacturer's equipment labels. Mr. LeMarr is a professional home inspector, Certified Professional Inspector/President, MASTER Indoor Environmental Specialist (MIES). Vice President of Wisconsin NACHI. He and his company, Honest Home Inspections, LLC. can be reached at 262-424-5587 or by email to scott@honesthomeinspections.com
Fuel Oil & Oil Heating Magazine, 3621 Hill Rd., Parsippany, NJ 07054, 973-331-9545
Home Heating System Should Be Checked[for proper venting and for CO Carbon Monoxide Hazards - DJF]
Domestic and Commercial Oil Burners, Charles H. Burkhardt, McGraw Hill Book Company, New York 3rd Ed 1969.
National Fuel Gas Code (Z223.1) $16.00 and National Fuel Gas Code Handbook (Z223.2) $47.00 American Gas Association (A.G.A.), 1515 Wilson Boulevard, Arlington, VA 22209 also available from National Fire Protection Association, Batterymarch Park, Quincy, MA 02269. Fundamentals of Gas Appliance Venting and Ventilation, 1985, American Gas Association Laboratories, Engineering Services Department. American Gas Association, 1515 Wilson Boulevard, Arlington, VA 22209. Catalog #XHO585. Reprinted 1989.
The Steam Book, 1984, Training and Education Department, Fluid Handling Division, ITT [probably out of print, possibly available from several home inspection supply companies] Fuel Oil and Oil Heat Magazine, October 1990, offers an update,
Principles of Steam Heating, $13.25 includes postage. Fuel oil & Oil Heat Magazine, 389 Passaic Ave., Fairfield, NJ 07004.
The Lost Art of Steam Heating, Dan Holohan, 516-579-3046 FAX
Principles of Steam Heating, Dan Holohan, technical editor of Fuel Oil and Oil Heat magazine, 389 Passaic Ave., Fairfield, NJ 07004 ($12.+1.25 postage/handling).
"Residential Steam Heating Systems", Instructional Technologies Institute, Inc., 145 "D" Grassy Plain St., Bethel, CT 06801 800/227-1663 [home inspection training material] 1987
"Residential Hydronic (circulating hot water) Heating Systems", Instructional Technologies Institute, Inc., 145 "D" Grassy Plain St., Bethel, CT 06801 800/227-1663 [home inspection training material] 1987
"Warm Air Heating Systems". Instructional Technologies Institute, Inc., 145 "D" Grassy Plain St., Bethel, CT 06801 800/227-1663 [home inspection training material] 1987
Heating, Ventilating, and Air Conditioning Volume I, Heating Fundamentals,
Boilers, Boiler Conversions, James E. Brumbaugh, ISBN 0-672-23389-4 (v. 1) Volume II, Oil, Gas, and Coal Burners, Controls, Ducts, Piping, Valves, James E. Brumbaugh, ISBN 0-672-23390-7 (v. 2) Volume III, Radiant Heating, Water Heaters, Ventilation, Air Conditioning, Heat Pumps, Air Cleaners, James E. Brumbaugh, ISBN 0-672-23383-5 (v. 3) or ISBN 0-672-23380-0 (set) Special Sales Director, Macmillan Publishing Co., 866 Third Ave., New York, NY 10022. Macmillan Publishing Co., NY
Installation Guide for Residential Hydronic Heating Systems
Installation Guide #200, The Hydronics Institute, 35 Russo Place, Berkeley Heights, NJ 07922
The ABC's of Retention Head Oil Burners, National Association of Oil Heat Service Managers, TM 115, National Old Timers' Association of the Energy Industry, PO Box 168, Mineola, NY 11501. (Excellent tips on spotting problems on oil-fired heating equipment. Booklet.)
Books & Articles on Building & Environmental Inspection, Testing, Diagnosis, & Repair