Air Conditioning & Heat Pump System Life
Factors that determine the life of air conditioning & heating equipment
InspectAPedia tolerates no conflicts of interest. We have no relationship with advertisers, products, or services discussed at this website.
Air conditioner or heat pump life:
This article describes the key factors that influence how long an air conditioner or heat pump can be expected to last - its life expectancy. Some of these factors also affect the life expectancy of heating furnaces, boilers, and other HVACR equipment too. We include citatations of research on HVAC system component life expectancy and standards for measauring or estimating that data. We include links to related articles on how to determine the age of heating & cooling equipment, furnaces, boilers, heat exchangers.
Green links show where you are. © Copyright 2017 InspectApedia.com, All Rights Reserved.
What is the Average Life of an Air Conditioning or Heat Pump Compressor ?

[Click to enlarge any image] Just how long should an air conditioning or heat pump compressor unit or motor last? There is not a single right answer. The typical life of an A/C compressor ranges from 10-20 years. As you can see in Carson Dunlop Associates' sketch at left the life of an air conditioner outdoor compressor/condenser unit depends on the climate in which it is located. .
The air conditioner compressor, condenser, fan unit is the "outdoor" half of an air conditioning or heat pump installation that uses a compressor motor to compress refrigerant gas to high pressure, sending the pressurized gas through cooling coils (condensing coils) where aided by air movement drawn by the condenser unit fan, the gas is returned to a liquid refrigerant state.
The process of compressing and then condensing the refrigerant back from a gas to a liquid also moves heat out of the refrigerant and into outdoor air. We explain this process in detail at COMPRESSOR / CONDENSER OPERATION - how it works to heat or cool a building
The outdoor half of a typical air conditioning system (shown here) is a unit containing the refrigerant compressor and condensing coil and a cooling fan. In our photo the gray screened area covering one side of the condensing coil of the first compressor in this row is easily visible.
The compressor motor itself (below-right) is not visible unless the covers of this unit are removed.
Factors Affecting the Life Expectancy of Air Conditioners & Heat Pumps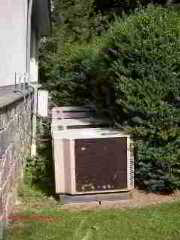 Climate & A/C or heat pump duty cycle: (how hard and how many days a year the compressor unit has to work). Total run hours or number of hours of run-time per day.

HVACR equipment installed at seacosts is exposed to salty air whose corrosive effects shorten equipment life.

Air conditioning equipment installed in hot, humid climates has a longer and harder duty cycle than the same equipment installed in a cooler climate.

Heating equipment installed in cold climates has a correspondingly longer and harder duty cycle than the same equipment installed in a warmer climate.
Compressor/condenser location: putting the unit where air flow is blocked causes the system to work harder, increases operating costs, and reduces compressor motor life
Critical needs: heat pumps or air conditioning systems that serve and are required for critical areas or critical missions (for example a hospital operating room) may need to be replaced earlier than in other applications in order to assure reliable system operation.
Energy efficiency: where older inefficient heating and cooling equipment has been installed for 15-20 years, its replacement with new, high-efficiency equipment may make economical sense even when the old equipment is still functioning.

But make your cost assessment accurate. Depending on the costs involved to replace equipment, the pay-back period for replacing a 75% efficient oil fired heater with one that operates at 85% (a 13% improvement in heating costs) can be calculated:

New Appliance Installed Cost / Annual fuel cost savings = Pay Back Period in Years.
(Or more sophisticated, include effects of equivalent interest income on keeping that installed cost in the bank for a few years).

Environment: HVACR equipment that is located where it is exposed to corrosive conditions (acid rain, swimming pool chlorine accumlating indoors, corrosive contaminants in the air) will have a shorter life, and cooling or condensing coils may be particularly vulnerable to early failure.
Maintenance of the HVACR System: Failure to install inspect, maintain, and repair the equipment means its life will be shorter. Maintenance considerations that affect air conditioner or heat pump service life include factors that reduce compressor life such as

Capacitors: A bad start-run capacitor leaving the compressor spending lots of time trying to start its motor
Cleanliness in general extends the life of just about any mechanical system including air conditioners and heat pumps.
Dirt in the system, for example following replacement of a burned-out compressor motor
Liquid slugging of the compressor by an improper refrigerant charge or by a misadjusted thermostatic expansion valve
Refrigerant pipe routing: Improperly routed or sloped refrigerant tubing, loss of lubricating oil
Repairs previously made: if there have been previous major repairs such as a compressor motor replacement or retrofit the life of the system has been extended
Voltage: Frequent low voltage conditions at the electrical power supply
Other A/C or heat pump compressor/condenser unit problems listed in our detailed repair guide (page left links under COMPRESSOR / CONDENSER REPAIR)

Size or capacity of the equipment: air conditioning and heat pump equipment that is properly sized for its application will have a longer life than oversized or undersized equipment. Interestingly, experts opine in particular that over-sized air conditioning or heating equipment will have a shorter life and will fail sooner than properly-sized components. That's because an oversized air conditioner or heat pump will cycle on and off more frequently.

Why are frequent on/off cycles harmful to HVACR equipment? It's those start-ups that are more stressful of the equipment. At start-up the equipment has to accept an intial voltage surge, and it has to begin running before lubricating oil is completely and properly distributed among moving bearing surfaces.

Heating equipment that has to tolerate frequent start-ups is subjecting its heat exchanger to more frequent temperature-swings: a thermal stress that can contribute to heat exchanger cracking failures. (LIFE EXPECTANCY of FURNACE HEAT EXCHANGER)

Soft-Start Controls & Features: newer HVACR equipment, or some of it at any rate, includes electronic controls that reduce start-up stress on compressors, electric motors such as the condenser fan or air handler blower fan and other electrical compnents. Provided thes controls themselves prove long-term durable and reliable, the use of soft-start controls and circuits should extend the life span of this newer equipment beyond that of its older but otherwise comparable equipment.
Space for service or for air flow: HVACR equipment that is installed in tight or hard-to-access spaces often has not received regular or even critical maintenance.

Installation of a compressor/condenser unit too close to other equipment or too close to building walls so that its required air space is inadequate can be expected to have to work harder to compress and condense refrigerant, to operate at higher temperatures and to have a reduced life.

Outdoor equipment, exposed to weather, often will have a shorter life than indoor equipment in its more protected location.

Indoor equipment installed in a hostile envrionment (such as a basement or crawl area exposed to wet or flooding conditions) will have a reduced life.
Type of HVACR equipment: some air conditioning and heat pump experts point out that some system types. An ASHRAE study found that the average life of a geothermal heat pump exceeded 24 years - longer than the 15-20 year typical life span generally claimed for conventional HVAC systems.
Research on HVACR System Life Expectancy
AGE of AIR CONDITIONERS & HEAT PUMPS - separate article at InspectApedia.com
ANSI/ISO, Environmental Management – Life Cycle Assessment – Principles and Framework (ISO 14040-1997), NSF International, Ann Arbor, MI, 1997.
Casper, Lawrence A., and Timothy R. Pinchback, eds. Geothermal Scaling and Corrosion: Symposia Presented at New Orleans, La., 19-20 Feb. 1979, and Honolulu, Hawaii, 4-5 April 1979. No. 717. ASTM International, 1980.
Chiasson, Andrew D. "Advances in modeling of ground-source heat pump systems." PhD diss., Oklahoma State University, 1999.
De Moel, Monique, Peter M. Bach, Abdelmalek Bouazza, Rao M. Singh, and JingLiang O. Sun. "Technological advances and applications of geothermal energy pile foundations and their feasibility in Australia." Renewable and Sustainable Energy Reviews 14, no. 9 (2010): 2683-2696.
Kostora, Nick, "HVAC System Life Cycles: How Long Should It Last?", HVACR News, July 2016, retrieved 2016/07/11, original source: http://www.achrnews.com/articles/132909-hvac-system-life-cycles-how-long-should-it-last
Prek, Matjaz. "Environmental impact and life cycle assessment of heating and air conditioning systems, a simplified case study." Energy and Buildings 36, no. 10 (2004): 1021-1027.
Self, Stuart J., Bale V. Reddy, and Marc A. Rosen. "Geothermal heat pump systems: Status review and comparison with other heating options." Applied Energy 101 (2013): 341-348.
Shah, Viral P., David Col Debella, and Robert J. Ries. "Life cycle assessment of residential heating and cooling systems in four regions in the United States." Energy and buildings 40, no. 4 (2008): 503-513.
Abstract:
Heating and cooling systems consume the most energy and are the largest source of emissions in the entire life cycle of a house. This study compares the life cycle impacts of three residential heating and cooling systems—warm-air furnace and air-conditioner, hot water boiler and airconditioner, and air–air heat pump over a 35-year study period. Simulation and life cycle assessment studies of the systems at four locations in the United States, namely Minnesota, Oregon, Pennsylvania and Texas determine the effect of regional variations in climate, energy mix, and the standard building characteristics on the systems' environmental impacts.
In Minnesota, Pennsylvania, and Texas, the heat pump has the highest impacts whereas in Oregon the heat pump has the lowest impacts. A second scenario shows that substitution by high-efficiency equipment reduces the impacts of all systems but does not affect the order of relative performance by region. Another scenario examined the replacement of coal-generated electricity by renewable generation in regional grids. In order to reduce the impacts of the heat pump system to the lowest of the three systems, renewable sources would have to replace 42% of electricity generation in Minnesota, 15% in Pennsylvania, and 38% in Texas.
Article Series Contents
...
Continue reading at AGE of AIR CONDITIONERS & HEAT PUMPS or select a topic from closely-related articles below, or see our complete INDEX to RELATED ARTICLES below.
Or see AGE of HEATERS, BOILERS, FURNACES
Or see COMPRESSOR / CONDENSER REPAIR - home
Or see LIFE EXPECTANCY of AIR CONDITIONER or HEAT PUMP
Or see LIFE EXPECTANCY of FAN / WALL CONVECTOR
Or see REPAIR GUIDES A/C / HEAT PUMP - home
Suggested citation for this web page
AIR CONDITIONER/ HEAT PUMP LIFE EXPECTANCY at InspectApedia.com - online encyclopedia of building & environmental inspection, testing, diagnosis, repair, & problem prevention advice.
Or use the SEARCH BOX found below to Ask a Question or Search InspectApedia
...
Frequently Asked Questions (FAQs)
Beginning at COMPRESSOR / CONDENSER REPAIR see the articles at the "More Reading" links at the bottom of this article for detailed HVAC compressor/condenser troubleshooting and repair procedures. We include more general compressor/condenser questions just below.
Also see COMPRESSOR / CONDENSER DIAGNOSTIC FAQs
Question: Is the problem with the fan motor or the compressor motor in my condenser unit?
I've a Lennox outside a/c unit. The fan/motor and compressor are part of the unit. The fan was not spinning and the A/c is not running. I've isolated the problem down to the fan/motor or the compressor, but don't know how to check or find out which it is. Any idea on how to check if the fan/motor is 'bad' or the compressor is 'bad'? - Fan or ... 7/23/11
Reply:
Fan or compressor: you could also have a bad control board, or relay switch in the compressor/condenser unit. If the fan is bad and the compressor is OK you'll hear the compressor turn on at the start of a cooling cycle, though a bad fan and system overheating could later cause some compressors to turn themselves back off. Similarly, if the compressor is bad your fan motor would still run. So I'm suspecting a control or switch problem./
Question: Icing at the compressor; compressor not turning on?
the outside unit of the heat pump is icing up on the compressor - Steve 8/7/11
Hi my fan in my house goes on but my compressor unit does not all the electric seems to be fine . could it be my thermostat? - Sam 8/7/11
the accu very heat,although it is new gen. clean,2Tr LS-60psi & HS-100psi, - Anon 8/6/11
Reply:
Steve: icing at the compressor/condenser sounds like a refrigerant charger or refrigerant metering problem.

Sam: if your thermostat turns on the air handler but the compressor/condenser does not run, the problem is not the thermostat. Check out the diagnostic suggestiosn beginning at LOST COOLING CAPACITY (link at the "More Reading" links at the bottom of this article )

Anon: those pressures look kind of low, no? What does your HVAC tech say about normal for that system?
Question: My A/C compressor just won't stop running
I recently noticed my AC condenser unit still running when the system inside shutoff by itself. and also, does the condenser unit have to be leveled. I notice the slap which holding the unit is slopping. Any suggestions? Thank you. - Rick 8/16/11
Reply:
A/C compressor/condenser won't stop running:

Rick usually when an A/C condenser unit won't stop running even though the inside equipment has shut off by itself my thinking divides into two investigations:

- is there a problem with the INDOOR unit such as a blower fan that won't start, an access door switch open, a condensate drain switch turning off the blower unit - these can leave the system calling for heat and the compressor running (though that's not good for the compressor)

- is there a problem with the outdoor equipment such as a bad control relay or control board
Question: loud cricket chirping sounds at the compressor/condenser unit, and slow starting
outside unit making loud cricket sounding noise when running. Takes long time to come on when temp set low. - JT 7/276/12
Reply:
JT our link at the "More Reading" links at the bottom of this article NOISE AIR CONDITIONER / HEAT PUMP provides noise diagnostics.

About taking a long time for the A/C to "come on" when the temperature is set low: the thermostat is operating like an "on-off" switch that turns the air conditioner system on and off in response to room temperature. It's not an accelerator. So if there is an operating problem related to the system controls, the number of degrees below the room temperature to which the thermostat is set should make no difference in how long it takes the A/C system to start. As long as the SET temperature is lower than the room temperature the cooling system will turn on.
Question: how long should the AC run when first turned on
Anon said
when you turn on the AC for the first day of summer or heat how long would the unit circulate air then when does it stop
Reply:
The length of time that the A/C will run depends on many factors including
- the thermostat set temperature
- the building temperature at time the A/C is tuned on
- the efficiency of and cooling power (BTUS) of the system
- where the air is delivered
- thermostat location
- the thermal mass of the building: what materials have been heated up and need to be cooled down
- the heat gain rate of the building
- outdoor temperature, wind, and sun exposure
The air will circulate and the A/C will run until the thermostat is satisified. If the system cannot satisfy the thermostat for any reason the system will keep running.
Question: water at the base of the compressor
(June 30, 2014) Anonymous said:
Is it normal for there to be water coming out of the base of my compressor
Reply:
Anon
Water at the outdoor compressor condenser is probably coming from melting ice or frost. If you see cycles of significant ice or frost build-up the refrigerant charge or metering may be incorrect and I'd ask for a check by an HVAC tech.
Question: Compressor won't start
(July 13, 2014) Anonymous said:
i have a Carrier heat pump that i cant get the blower to come on. I have replaced the board and thermostat and not sure what to do next. Any suggestions?
(Aug 2, 2014) Lou said:
I have a carrier condensing unit that the compressor wont start.I have voltage at the contactor and have replaced the start cap and run cap.odd to say,im drawing 11 amps on start and run wires coming from the contactor but i hear nothing from the compressor! any suggestions?
Reply:
Lou
Check for a bad start relay
Question: compressor won't run until it's cooled down
(Aug 14, 2014) Andre Matthew said:
my AC is not cooling well don't know the problem with that.
(Aug 21, 2014) Wayne said:
When unit is cold it will start and run. After an hour the cooling fan stops but the compressor continues for a short time then quits. It will continue to start but will not start and run until it cools down.
Any ideas?
Reply:
Look for an overheating fan motor, relay or control board or possibly a refrigerant metering valve that is sticking.
...
Ask a Question or Search InspectApedia
Use the "Click to Show or Hide FAQs" link just above to see recently-posted questions, comments, replies, try the search box just below, or if you prefer, post a question or comment in the Comments box below and we will respond promptly.
Search the InspectApedia website
Technical Reviewers & References
Click to Show or Hide Citations & References
Books & Articles on Building & Environmental Inspection, Testing, Diagnosis, & Repair
Our recommended books about building & mechanical systems design, inspection, problem diagnosis, and repair, and about indoor environment and IAQ testing, diagnosis, and cleanup are at the InspectAPedia Bookstore. Also see our Book Reviews - InspectAPedia.
...