Water System Backflow Preventers & Check Valves

CHECK VALVES, WATER SUPPLY - CONTENTS: A guide to choosing, installing, & troubleshooting Backflow Preventers & Other Check valves on water supply systems. We discuss: Backflow Preventers on Water Supply Piping; Backflow Preventer Valves on Heating Systems; Check valves on water supply piping & at pump & well water systems; What Types of Check Valves Should be Used on Well Water Piping Systems? Is it a good idea to use more than one check valve on a pump and well system? Check valves used on building drains, sewage ejector pumps, sump pumps.
POST a QUESTION or READ FAQs about locating, using, diagnosing, repairing, or replacing well pump check valves and foot valves.
InspectAPedia tolerates no conflicts of interest. We have no relationship with advertisers, products, or services discussed at this website.
Check valves on water supply systems:
This article explains water supply piping check valves used on both municipal water supply piping (usually near the water meter) and on private pump and well water supply systems (usually near the well pump). We describe various types of check valves used on building plumbing and heating systems. Where do we find the water system check valve (if any) and why are check valves used on pump and well systems?
Types of water supply system & well system check valves, flow control valves, water pressure regulators: gravity operated check valves, spring loaded check valves for wells and water piping: selection, installation, maintenance, repair. How to diagnose a bad or leaky check valve - a cause of lost well pump prime. Causes of well & pump check valve failure - Check valves & air at faucets?
Green links show where you are. © Copyright 2014 InspectApedia.com, All Rights Reserved.
Water Supply System Backflow Preventers & Check Valves
Backflow Preventers on Water Supply Piping
Definition of backflow preventer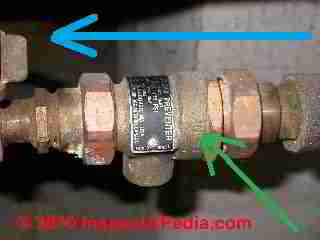 A "backflow preventer" is a check valve installed on potable water supply piping to prevent possible contamination of the water supply system by backflowing but contaminated water from the building into the outside public water supply mains.
In our photo (left) the blue arrow shows direction of water flow from the building supply mains into other in-building plumbing fixtures & equipment. The green arrow points to the backflow prevention device.
Article Contents
Use Backflow Preventers to Protect Public Water Mains from Individual Home Water Piping Contaminants
Check valves installed at the right location on water system piping are a good idea and are required by national and local plumbing codes in many jurisdictions. In a home served by public or municipal water from a public water main, the home should have a backflow preventer to make sure that potentially unsanitary water from an individual home's piping never flows backwards into the public water mains.
You will see backflow preventers - special check valves - installed on municipal water supply piping , to prevent possibly unsanitary water from inside a building's piping from back-flowing into and contaminating the municipal water supply system piping during a time of loss of municipal water pressure.
Check Valves on Water Supply Piping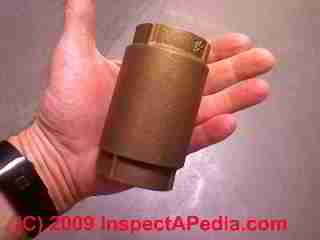 On private well water systems we still make use of check valves and backflow preventers, principally to prevent loss of well pump prime and to prevent the back-flow of water out of the pressure tank into the well when the pump is not running.
Above-Ground check valves: check-valves may be built into the well pump or physically separate check valves may be installed above-ground in the well piping (shown below).
In-Well Foot Valves: A check valve mounted in the well at the bottom of well water piping is called a foot valve and is described separately at FOOT VALVES, WELL PIPING.
Here we focus on water supply system check valves found on water supply piping above ground, usually in the building or right at or even part of an above ground water well pump.
Check valves used on well water system piping are used to hold pressure in the system when the pump stops. Check valves on well piping also prevent backspin of the well pump, water hammer and upthrust inside the pump. These problems can damage the well pump. [1]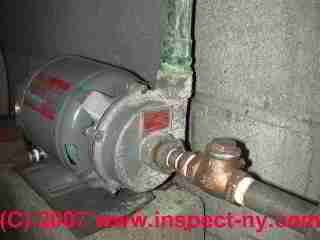 On a well and pump water supply system a check valve may be installed between the incoming water line from the well and the water pump and pressure tank, such as shown in this photograph of a one line jet pump with a check valve right at the water pump inlet.
You can see the check valve as a bronze assembly at the face of the pump, connected to well piping in this photo. (A similar check valve is visible closer to the foundation wall in a different water pump installation shown in the page top photo.)
You'll notice that this is a one-line jet pump system with the inlet or suction line from the well running horizontally from the face of the pump, and the outlet water line rising vertically off of the pump assembly. The pump's electric motor is at the rear of the assembly. (You can see corrosion and leaks on the water line rising from the pump assembly.)
The water pump check valve helps avoid loss of prime (it keeps water from flowing backwards out of the pump and water tank and back into the well when the pump motor has stopped).
What Types of Check Valves Should be Used on Well Water Piping Systems?
When installing, repairing, or updating well water piping systems, use a spring loaded check valve such as the type illustrated just below. Spring loaded check valves close quickly, prevent water hammer, and protect the pump or impeller assembly from back-flowing; most importantly a properly functioning check valve prevents loss of prime in the well piping system. Lost prime can result in burned-up well pump motors and of course loss of water pressure in the building.
"Drop pipe check valves" are spring loaded check valves that are designed to handle the extra weight of piping installed in deep wells where more than 100 feet of vertical well piping is installed.
Do not install swing-type check valves on well piping systems. Swing type check valves permit water to flow backwards through the piping system as the valve closes, risking water hammer problems or even equipment damage. [1]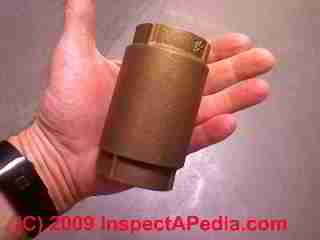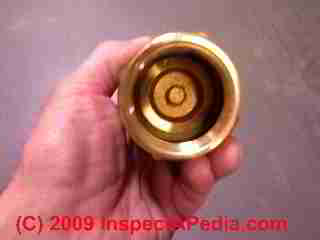 Our photos above show a typical brass well piping check valve. A spring-loaded internal valve permits water to flow through the valve only in one direction. The check valve helps assure that the jet pump can suck water out of a shallow well - most water pumps cannot move water if the inside of the pump assembly itself is air bound. Atop some pump assemblies you'll see a removable pipe plug which permits water to be poured into the pump to prime it. (DO NOT pour water into or onto the electric motor itself.)
In summary, a well piping check valve prevents water from siphoning back out of the water tank and water pump and down into the (presumably lower) water well when the pump stops running.
A check valve at this location is a great idea and reduces the risk that a failure of the foot valve down in the well leads to inability of the pump to draw water. The foot valve s located at the bottom of the well piping and intended to accomplish the same thing. This is "cheap insurance" or perhaps the foot valve has already failed (or was omitted) at this installation.
Pros & Cons of Installing Multiple Check Valves on Wells, Pumps, Water Piping
Question: Can I Install a Second Check Valve Near my (above-ground) Well Pump to Prevent Loss of Prime?
I have a small vacation place in VA. It has a 75' well with 1/2 HP jet pump that works fine. Of course, it has the check valve down in the well (WELL PIPING FOOT VALVES) that works good but I've always been concerned that it may leak down and lose the prime over the winter months when we are not there.
So, I just leave the power on, although I would prefer to turn it off when winter is approaching.
My question is: could I not install another check valve near the pump inlet as a double protection against loosing my prime IF the power is cut off for a 3-4 month period? BUT, if I DID loose prime for some reason, would not the top check valve have to be removed to allow me to prime the pump? - C.S.
Reply: Multiple Check Valves are Generally Not Recommended
I've found the same problem C.S. - a well and pump system that seemed to be just fine and seemed never to lose prime, until we left power off to the pump for a few days. A leaky foot valve slowly leaked all of the water backwards into the well from the pressure tank and jet pump, losing pump prime in the process.
Most plumbing experts agree that if you are having a problem with a leaky check valve at the pump or in the well, it's best to replace the valve. Here are details and some explanation:
It seems so easy that it is tempting to can add a second check valve if the primary check valve, probably the foot valve in the well seems to be misbehaving.
Some Experts Recommend Multiple Check Valves on Well Piping
The Water Systems Council recommends multiple check valves on well piping in some conditions. Paraphrasing, editing and expanding the WSC advice on using check valves with well pump installations::
Jet pumps often incorporate a check valve in the front of the pump assembly.

More than one check valve should always be used in submersible pump installations. On a submersible well pump installation, if your well water pump does not have a built-in check valve [many submersible pumps do have a check valve], a line check valve should be installed in the discharge pipe within 25 feet of the pump and below the drawdown level of the water inside the well. For deeper well pump settings, a line check valve is recommended every 200 feet. [1]
Problems With Multiple Check Valve Installations on Well Water Piping
But there can be some problems where multiple check valves are installed:
Reduced water flow: Adding more check valves will also increase the friction loss or obstruction in the well piping, reducing water flow a bit. If your well pump and water flow were marginal you might notice that effect.
Water hammer caused by second check valve: When there is a second check valve (besides the foot valve in the well) above ground at the pump, it is possible that the presence of the second valve will add to or even create water-hammer noise in the building.

Folks who write about water hammer and check valves argue that because the second valve allows the pump to start against so little resistance that the column of water in the piping between pump and foot valve rises rapidly and "bangs" into the second check valve and pump housing, causing water hammer.

We have read that this problem on large pump and well systems can actually interfere with proper operation of the pressure control switch by causing the switch to "bounce" between the "open" and "closed" positions.
Bottom line: replace the existing leaky check valve. If the leaky check valve is the foot valve in the well you'll face the more troublesome task of opening the well and pulling up the well line and foot valve. But doing so allows inspection of the well line - you may discover that the problem was not even the foot valve, but a hole in the well piping.
See AIR DISCHARGE at FAUCETS, FIXTURES where this is discussed.

Many plumbing experts advise that unless the check valve is part of a water tank makeup air system, it's best to use just one check valve is needed and just one should be installed in most cases. If the check valve on a jet pump has failed, it makes sense to replace the valve, or if needed, the pump assembly.
You can still go ahead and install the second valve if you want to give it a try - but be prepared to remove it if it causes these problems.
Watch out: some U.S. state plumbing codes (Wisconsin perhaps) may prohibit above-ground check valves on well lines, presumably to reduce the chances of drawing contaminants into the well piping and well.
Some Experts Advise Against Multiple Well Piping Check Valves
Watch out: Other well installers and plumbers do not agree with the Water Systems Council advice cited above. These experts recommend that you do not install a second check valve on submersible well pump systems; rely on the valve that is on the submersible pump.
A second check valve can cause contaminants to be drawn into the piping system, or if the second check valve is inside the well (on the vertical well pipe but above the pump), as in our discussion above it may cause water hammer problems in the system. If the check valve on a submersible pump has failed, you should pull the pump and replace that valve.
Short Cycling of the Water Pump Reduces Check Valve Life
Note: well pump "short cycling" or rapidly turning on and off increases check valve wear and so shortens their life. See our article on well pump short cycling. And variable speed pumping systems (Franklin Sub Drive/Mono-Drive) that cycle the pump on and off very rapidly are still harder on both the pump and the check valve.
Details are at SHORT CYCLING WATER PUMP.
Heating System Backflow Preventer Valves Protect Public Water Mains / Private Water Piping from Heating System Water Contaminants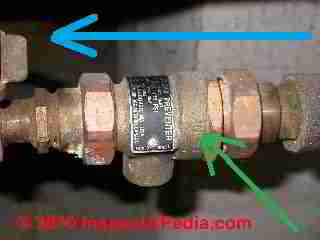 Because a building potable water supply piping cold water line is used to deliver water to hydronic or steam heating boilers, we need to prevent heating system water from back-contaminating the building water supply piping.
At a hot water heating system a backflow preventer is installed to keep hot, high pressure water in the hydronic heating system from flowing backwards through a boiler water feed line into the building water supply - a sanitation concern.
On heating systems the backflow preventer may be built into the automatic water feed valve
(BACKFLOW PREVENTER, HEATER WATER FEEDER
and/or a separate dedicated check valve
BACKFLOW PREVENTER VALVE, HEATING SYS. ) such as the one in our photo (left) may be installed..
In our heating system backflow preventer photo (green arrow, above) The blue arrow shows the direction of water flow into the water feeder and onwards into the heating boiler.
Other Applications of Check Valves on Building Plumbing & Piping
Check valves on sump pumps: Check valves are used in other plumbing applications as well, such as on sump pump drain lines to prevent back-flow of water from the sump pump exit piping into the sump pit when the sump pump turns off.
See SUMP PUMPS GUIDE
Check valves on sewage ejector pumps: check valves on sewage pumps are used to prevent backflow of sewage into the building piping or sewage pumping chamber from a sewer main (or septic tank) located higher than the building. See SEWAGE PUMPS for details.
Check valves on building drains are installed to prevent sewage backups into buildings. Check valves are also installed on drain piping such as on some sewer lines (where sewer backups are likely) and on sump pumps discussed
at BACKWATER VALVES, SEWER LINE).
Description of Types of Water Flow Control Valves & Water Pressure Regulators
Question: What's a flow control valve and why are they used on water well piping systems
I've heard that some well water systems need a flow control valve. What is a flow control valve and why would one be used on well piping? - Anon
Reply: Description of the water flow control valves & types of water pressure regulators & their applications
According to the Water Systems Council [paraphrased, edited, and expanded-Ed.]
Flow-control valves are used on well water piping systems in order to reduce or limit the amount of pump capacity - that is, to control the rate or flow of water delivered by the well pump. Flow control valves are installed mainly to prevent an overload on the well pump motor (thus limiting the current or amps drawn by the well pump) and also to control the degree of upthrust pressure on the water pump.
When well flow rate and well pump flow rate capacity conditions could allow the water pump to deliver too much capacity, a flow control valve may be installed to restrict the water flow to an adequate amount while preventing it from being excessive.
For example, a flow rate valve may be installed on a well system at which the well flow rate is rather poor. This prevents the pump from getting "ahead" of the in-flow rate of water into the well, thus protecting the well pump from running dry and becoming damaged.
Flow-control valves of this type are also installed on showers or other water-using appliances to limit the gallons-per-minute flow to these outlets. A set flow rate to equipment such as irrigation systems can also be maintained with flow-control valves. [1]
Flow control of municipal water supply into a building is provided by a water pressure regulator, a similar device that drops high incoming pressure at the water main down to (typically) 70 psi or less in order to protect the building piping from leaks caused by excessive water pressure. Details are
at WATER PRESSURE REDUCER / REGULATOR
Flow-control of domestic hot water is also often limited by a flow control valve or tempering valve where the hot water source is of limited flow rate capacity, such as at tankless coils and at demand or tankless water heaters. In that case we limit the flow rate of cold water through the hot water heating device to a rate slow enough that the water will be adequately heated.
See TANKLESS COILS

and TANKLESS WATER HEATERS for details.
Water feeders & pressure regulators for heating equipment: hot water heating boilers & steam boilers are also protected from water loss by several types of automatic water feed valves that add water to the heating system when needed. Hot water heating system automatic water feeder/pressure reducing valves at factory setting typically will feed water into a Hydronic heating boiler up to a 12 psi cutoff (or higher if necessary) if the system pressure when cold falls below 12 psi. Details are
at WATER FEEDER VALVES, HYDRONIC BOILER
and at WATER FEEDER VALVE, STEAM or select a topic from the More Reading links shown below.
Continue reading at WATER PRESSURE REDUCER / REGULATOR or select a topic from the More Reading links shown below.
Suggested citation for this web page
CHECK VALVES, WATER SUPPLY at InspectApedia.com - online encyclopedia of building & environmental inspection, testing, diagnosis, repair, & problem prevention advice.
More Reading
Green link shows where you are in this article series.
...
Frequently Asked Questions (FAQs)
Questions & Reader Commends: Check Valves: avoid check valves on suction side of well pump for closed loop systems
For closed loop systems it is not a good idea to put check valve on suction side of pump. Check valves for well piping systems should be placed on the discharge end of the piping. Centrifugal pumps sometimes can not open check valves on the suction side of the pump especially after repairs. - Butch 21 April 2011
I replaced a foot valve (with double clamps) in under ground cistern and it didn't hold the pressure anyway. So I add check valve front of the tank and it works just about ok - Wes
Reply:
Wes, I've seen above-ground check valves installed to defer pulling and replacing the foot valve; but Butch makes a proper and correct point. If your system is working OK you may be fine but if you find your pump is having trouble losing prime you might go ahead and replace the valve in the cistern. Certainly in the case of a cistern the foot valve won't be so difficult to pull as we're not talking about a deep well.
Question: Check Valve Types: Which Type of Check Valve is Best for Use on Water Systems?
Just curious as to some input on the two types of check valves and is one better than the other? It would seem that the flapper type would be less restrictive than the spring type? I have a well system and I need to replace the booster pump at the house so I want to replace the check valve to the pump suction at the same time. I currently have the spring type and it has worked ok but maybe the flapper type would be better? - Terry
Reply: Spring Loaded Check Valves are Recommended
Terry expert sources such as the Water Systems Council and many plumbers recommend spring-loaded check valves, not gravity-operated check valves and not swing-type check valves. These recommendations have been added to our water system check valve article above.
Question: Check Valve Installation: Where Should the Check Valve be Placed on Water Supply & Well Systems
Just curious as to some input on the two types of check valves and is one better than the other? It would seem that the flapper type would be less restrictive than the spring type? I have a well system and I need to replace the booster pump at the house so I want to replace the check valve to the pump suction at the same time. I currently have the spring type and it has worked ok but maybe the flapper type would be better? - Keith
Reply: List of Check Valve Locations on Water Supply Piping & Well Installations
Keith, some experts recommend multiple check valves while others make reasonable arguments for installing only one check valve on water systems. But some of the confusion probably occurs because not every plumber or well installer is talking about the same installation conditions. Take a look at the page top photo and you'll see a check valve on the incoming well line, between the jet pump and the building wall. If we're talking about the same device and situation, and if your well pump itself is not providing an internal check valve, the usual spot for an external check valve that is above ground is just as you see in the photo.

A foot valve is installed on well piping at the bottom of the well in all shallow well installations, in deep well jet pump installations, and in some deep well submersible pump installations.
Additional check valves may be installed on well piping inside the well, within 25 ft. of the well bottom and under-water that is, below the top of the static head level of the well water, and again every 200 feet of vertical well piping in very deep well installations.
A check valve is often installed near the end of the incoming well piping right before the one line jet pump, above ground, especially if the jet pump does not have its own working internal check valve (as many do).
Question: Check Valve Installation: Which way should the check valve be installed ? What does the arrow on the check valve indicate?
The check valve I bought for a shallow well that is being dug has an arrow on it. The check valve did not come with any instructions. Which way should the arrow run when installing it on the well pipe? I have the exact same check valve as shown in your picture above. Thanks - Susan
Reply: The arrow cast into the check valve body marks the direction of water flow through the valve
When you are installing a check valve on water supply piping, the arrow cast into the body of the valve points to the direction of flow of the water. So, for example, if your check valve is installed on the incoming well water supply pipe between the well and the water pressure tank or water pump, the arrow on the valve would point towards the pressure tank or pump.
Question: Check Valve Installation Tips: should the check valve be horizontal or vertical?
Should spring loaded check valves be installed vertical or horizontal? - Frank
Reply:
Frank, spring loaded check valves will operate in either horizontal or vertical position - the valve relies on the spring pressure to close the valve, not gravity.
If someone is using a gravity type or swing-type check valve, the valve can also be installed vertically or horizontally provided you notice the arrow cast into the check valve body. A gravity or swing type check valve mounted vertically presumes water is flowing "up" through the piping and the arrow on the valve body should point up.
Watch out: as we explain in the article above, well piping experts do not recommend using swing type or gravity-operated check valves. Spring-loaded check valves are recommended.
Question:
(Dec 4, 2012) Melody said:
My husband and I just replaced the check valve on our pump by adding a new one about a foot above the pump itself (it works fine). In two days we have pulled the 60ft of pipe out of the ground just to find that it has come unglued. I have purchased three different types of PVC cement, being told everytime that this stuff is awesome and will hold anything. We have let the cement sit and cure for hours even wrapping it with electrical tape to ensure that when put back into the well itself it would hold. I came home from work, took a shower and attempted to was a load of clothes.
Our son got in the shower and could not finish because the water pressure just dropped and no more water. Is there a suggestion for the glue, adhesive or cement that will hold our new check valve on so we can have water? We are at our wits end and cannot afford a plumber to come fix it. I would greatly appreciate any suggestions.
Reply:
x
Comment: PVC cement (glue) dry, set & cure time?
(Dec 8, 2012) Justin said:
Make sure you let the PVC cement set for at least 24 hours. It needs time before it can handle high pressures.
Question: water tank sizing
(Feb 16, 2014) joe said:
how to determine size of blater tank
Reply:
Hi Joe,
Please search InspectApedia for
Water Tank Size, Volume, & Requirements
and you'll see our article answering your question about how to determine the necessary size of a water pressure tank or bladder-type pressure tank.
Question: check valve prevents air backflow?
(Apr 7, 2014) Wayne said:
Will a check valve prevent the backflow of AIR ? Am suspecting that a loss of water pressure from public water supply causes backflow of water from my home, and, with a spigot open, love air back through the meter. When pressure is restored, air is then forced back through the meter and thus causes a false reading.
Reply:
Don't know Wayne - that's one I've not heard before. I'll do some research. Generally a check valve that is water tight you'd think would resist airflow.
Question: check valve cause water hammering noise?
(Apr 7, 2014) Peter said:
I have a combination domestic city water supply that serves the domestic house and also the sprinkler system of my home. The domestic supply to the house has a pressure regulator to control the psi at 50 psi. The sprinkler supply has an in line check valve installed. I have recently started to get water hammer noise on the sprinkler supply side of my service. The water hammer noise is intermittent and occurs at all hours of the day, even though no water is being used in the house. If I close the valve to the sprinkler, it stops the water hammering sounds. Could the check valve to the sprinkler be faulty and is causing the water hammering?
Reply:
Peter that sounds like a very reasonable guess. It's sudden stopping of water flow that would be the initial cause of water hammer. Try changing the check valve and let us know the result - what you report will help others.
See WATER HAMMER NOISE DIAGNOSE & CURE
Question: check valve location on rootop water tank; when are supply valves installed?
(June 28, 2014) John said:
Hi,
I have a gravity water tank roof top on my house-Water is pumped up by the city when working ok-When the water (municipal) is not working I use the roof tank,
Where should a check valve be installed at?
(July 1, 2014) Kyle said:
Supply control valves for bathroom sinks and toilets are installed during what stage
Reply:
Kyle the supply valves, if they are provided (which I recommend) are installed at the time of connection of the fixtures to the supply piping or sooner. For example one might install the rough-in plumbing, then install supply valves at fixture locations throughout the building, leaving them in closed position. That allows water to be turned on and used at some building locations before fixtures have been installed throughout.
The alternative of soldering a cap on the un-connected supply pipes is less attractive since later to connect up those supplies to fixtures building water has to be turned off.
Question: Franklin J class Series V pump runs but doesn't pump water
(Aug 14, 2014) Barry said:
I have a franklin j-class series v pump that is constantly running and not pumping any water. The pump is only three months old. It is installed in a large holding tank that is part of my water treatment system. The problem started after I drained the tank to clean it. when I fillled the tank back up, I turned on the power, and the pump ran constanty without pumping any water. I believe this pump has a check valve...but not sure how to get it to start pumping water. Any help would be greatly appreciated.
Reply:
Barry
Watch out - leaving a pump running dry can damage it.
You may need to see our procedure PRIME the PUMP, HOW TO
Question: pump runs but very little water pressure
Glenn said:
We bought this place 1 year ago the former owners had to put in a new pump, and tank.
The pump is working I can feel it and hear it hum.
The gauge reads 10 psi when I turn the water off to the house and the out faucet the presser starts to build but when I open valves psi drops.
Any thing I need to check?
Reply:
Glenn,
It sounds as if you need to look through our diagnostics on causes of lost water pressure. In the More Reading links above click on the article titled
WATER PRESSURE LOSS DIAGNOSIS & REPAIR
...
Ask a Question or Search InspectApedia
Use the "Click to Show or Hide FAQs" link just above to see recently-posted questions, comments, replies, try the search box just below, or if you prefer, post a question or comment in the Comments box below and we will respond promptly.
Search the InspectApedia website
Technical Reviewers & References
Publisher's Google+ Page by Daniel Friedman
Click to Show or Hide Citations & References
[1] wellcare® information for you about Well Components: Valves, web search 12/3/2011, original source: http://www.watersystemscouncil.org/ VAiWebDocs/WSCDocs/789912Valves_FINAL_507.pdf Quoting:
wellcare® is a program of the Water Systems Council (WSC), the WSC website: www.watersystemscouncil.org.
This publication was developed in part under Assistance Agreement No. X-83256101-0 awarded by the U.S. Environmental Protection Agency. It has not been formally reviewed by EPA. The views expressed in this document are solely those of WSC. EPA does not endorse any products or commercial services mentioned in this publication.
Books & Articles on Building & Environmental Inspection, Testing, Diagnosis, & Repair
The Home Reference Book - the Encyclopedia of Homes, Carson Dunlop & Associates, Toronto, Ontario, 25th Ed., 2012, is a bound volume of more than 450 illustrated pages that assist home inspectors and home owners in the inspection and detection of problems on buildings. The text is intended as a reference guide to help building owners operate and maintain their home effectively. Field inspection worksheets are included at the back of the volume. Special Offer: For a 10% discount on any number of copies of the Home Reference Book purchased as a single order. Enter INSPECTAHRB in the order payment page "Promo/Redemption" space. InspectAPedia.com editor Daniel Friedman is a contributing author.

Or choose the The Home Reference eBook for PCs, Macs, Kindle, iPad, iPhone, or Android Smart Phones. Special Offer: For a 5% discount on any number of copies of the Home Reference eBook purchased as a single order. Enter INSPECTAEHRB in the order payment page "Promo/Redemption" space.