Installation Guide for Septic Pumps
SEPTIC PUMP INSTALLATION - CONTENTS: A guide to installing Septic tank pumps, septic grinder pumps, septic effluent pumps. What is the difference between a sewage ejector pump or grinder pump and a sump pump? Why would using a sump pump in a sewage holding tank lead to trouble?
POST a QUESTION or READ FAQs about buying sewage pumps, sewage ejectors & grinder pump installation procedures
InspectAPedia tolerates no conflicts of interest. We have no relationship with advertisers, products, or services discussed at this website.
Guide to septic pump or sewage ejector pump installation:
This article describes sewage ejector pumps and residential or light commercial-use sewage grinder pumps used to move wastewater from low areas to a septic tank or to a municipal sewer line.
This septic pump or sewage pump article series will help you diagnose and fix problems with sewage pumps, perform normal sewage ejector pump maintenance, and when needed, select and buy a sewage pump.
This article series also explains the differences between and gives installation and maintenance advice for Sump Pumps, Sewage Ejector Pumps, Septic Grinder Pumps, Sewage Pumping Stations, & Septic Pump Alarms. Citation of this article by reference to this website and brief quotation for the sole purpose of review are permitted.
Green links show where you are. © Copyright 2017 InspectApedia.com, All Rights Reserved.
Guide to Sewage Grinder Pump Installation Parts & Procedures
Article Contents
Parts of a Sewage Grinder Pump System
The sewage grinder pump is housed in a plastic or steel reservoir which receives waste from the bathroom or other plumbing fixtures it serves.
When a float inside the reservoir indicates that the sewage level has reached a high level in the reservoir, the float turns on the grinder pump which grinds and pumps away the waste.
The pump shown at the top of this page is a sewage grinder pump which grinds the waste and pumps the solid/liquid measure to the building main drain. At left the sewage grinder pump parts include:
Sewage Grinder tank (this is an Environment One Grinder Pump System)
Lifting eyes for removing the assembly (the circles at the mid-tank seam)
Electrical wiring leads for the grinder pump and septic pump alarm
Electrical disconnect box for the grinder pump system
Drain inlet: 4" PVC tank inlet for connection to building drains served by the pump
Sewage pump tank vent. The sewage grinder tank must be vented either directly or through the inlet pipe and within 4 ft. of the tank to a building plumbing vent stack
Drain inlet gravity service line - wastewater flows into the tank by gravity from this line.
Ground sewage outlet: 1 1/4" male pipe thread discharge outlet (the small diameter pipe leaving the tank at top right and passing through the foundation wall)
Concrete septic pumping tank anchor (900 pounds, or about 6 cu .ft. of concrete to prevent the tank from floating up out of the ground)
Sewage Pumping Tank bedding gravel, 6" deep of rounded pea gravel.
(Sketch is from the Environment One Low Pressure Sewer Systems Grinder Pump catalog.)
Sewage or Septic Grinder pumps grind the solid waste entering the system, then pump it to the building drain. The building sewer drain then carries this mixture by gravity (a gravity main system) or by pump pressure (a forced main) to its destination at a septic tank and drainfield system or to a municipal sewer. Septic grinders are intended for use at residential or small commercial locations.
Because the waste is ground and pumped under pressure, these pumps can lift high distances, say from a basement floor even to a street sewer which may be uphill from the home, or to a high pressure sewer main that may be located some distance away.
For example, we inspected a summer camp community which used this force-main sewer system to move waste from buildings across a site covering several acres to a common septic system.
Small sewage ejectors are for homes and commercial applications where toilet usage and wastewater loads are modest.
A typical home sewage grinder pump uses a 1/3 to two horsepower electric motor which powers a grinder mechanism that grinds the waste, and an actual sewage waste pump which moves the ground sewage/wastewater mixture up a riser pipe to its destination: the building main sewer drain, where the wastewater is carried to a septic tank or to a community sewer line.
Sewage Pump Installation Details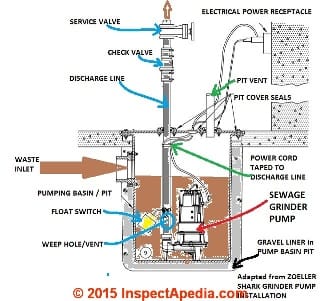 Sewage / Septic Grinder Pump Installation Tips adapted from Zoeller Pumps & other sources & installation manuals: (See REFERENCES)
[Click to enlarge any image]
Read the instruction manual from the grinder pump manufacturer
Install a duplex or two-pump system along with a pump alarm system if your building may be damaged by system overload or by an inability to keep up with water or waste inflow rates into the pump system
Check for the requirement for local building permits, electrical & plumbing inspections, code compliance requirements for your installation
Electrical power for the sewage or septic pump

Turn off electrical power to the grinder pump circuit before handling or installing the pump. The pump electrical circuit should be properly grounded, without splices in the connecting pump cord. Don't use an extension cord to take power to the pump.
Make sure that the pump basin or well is large enough in diameter to give free movement to the float assembly without binding
Don't lift the pump by its power cord
Electrical circuit splices in damp or wet area need to be in waterproof junction boxes
Install a battery-backup pumping system if your building is subject to power outages
Tape or secure the pump's power cord to the discharge line and keep it well away from the float assembly, sharp edges, moving parts
Confirm by electrical testing (DMM/VOM) that the electrical ground for the pump circuit is in fact connected and working. The pump motor should be connected using the factory-supplied 3-prong plug and it should be connected to a 3-prong grounded electrical receptacle.

Pumping basin, well or chamber for the sewage or septic pump

Be sure there is no debris in the bottom of the grinder pump well or basin; remove small pebbles, sticks, other solid debris
Be sure that the pump base can stand on a solid, flat, level base. Deepen the well accordingly if you need to install a concret block or other support below the pump
Provide a secure, child-proof basin cover for the pumping chamber

Plumbing for the sewage / septic grinder pump

The discharge pipe must not be smaller in diameter than the diameter of the sewage pump's discharge pipe connection opening
A check valve should be installed in the pump's discharge line, otherwise it will be pumping the same wastewater repeatedly at each pumping cycle.

A check valve vent should be installed in the discharge line at the proper level.
See SEPTIC / SEWAGE PUMP DISCHARGE VENT for details.
A gate valve or ball valve should be installed ahead of a Unicheck or a union on the pump discharge line to permit servicing the pump assembly

Turn on electrical power & test the pump operation by filling the pumping chamber with clean water.
Sewage, Grinder, Septic & Efflulent Pump or Sump Pump Vent Opening Requirements & Turbulence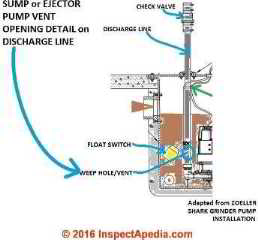 The weep hole or sewage / effluent / ejector pump discharge line vent hole permits purging of air trapped in the discharge line at the start of a pump-on cycle. This vent prevents discharge line clogging and pump seal failures. Note that some grinder pumps include a vent opening right in the pump housing oppsite the float control. Even so, the vent in the discharge line is still required.
At bottom left of our illustration you can see the weep hole vent location for a typical grinder or effluent discharge pump discharge line marked and circled in blue.
[Click to enlarge any image]

Zoeller Pump and some other sewage pump manufacturers provide a combined union/check valve, [For example Zoeller's "Unicheck" valve]. Zoeller notes that with this valve is installed, the installer must drill a 3/16" (5mm) vent opening in the discharge line at a height even with the top of the pump. This discharge line must be cleaned periodically. You should see water squirting out of this opening when the pump is running.
The following excerpt is from Zoeller (2009) cited at REFERENCES
It is necessary that all submersible sump, effluent, and sewage pumps capable of handling various sizes of solid waste be of the bottom intake design to reduce clogging and seal failures.
If a check valve is incorporated in the installation, a vent hole (approx. 3/16") must be drilled in the discharge pipe below the check valve and pit cover to purge the unit of trapped air. Trapped air is caused by agitation and/or a dry basin.
Vent hole should be checked periodically for clogging. The 50 or 90 Series [Zoeller] pumps have a vent located in the pump housing opposite the float, adjacent to a housing lug, but an additional vent hole is recommended.
Watch out: Zoeller also issues this warning about use of vent holes on high-head sump or ejector pump installations:
The vent hole on a High Head application may cause too much turbulence. You may not want to drill one. If you choose not to drill a vent hole, be sure the pump case and impeller is covered with liquid before connecting the pipe to the check valve and no inlet carries air to the pump intake.
NOTE: THE [sewage, sump, or effluent pump vent] HOLE MUST ALSO BE BELOW THE BASIN COVER AND CLEANED PERIODICALLY. Water stream will be visible from this hole during pump run period. - Zoeller (2009)
Set the Sewage Ejector Pump Float Control Switch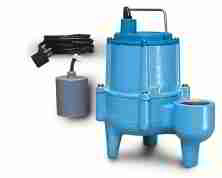 A float control switch is used to turn the sewage pump on and off. Be sure to set the switch position and to adjust the float positions that turn the pump on and off in accordance with the manufacturer's installation instructions.
Most float switches used on sump pumps and sewage ejector pumps are set to turn the pump on well before the holding chamber is at risk of flooding the building, and to turn the sewage pump off while the pump body or at least the pump impeller assembly is still below the liquid level in the chamber.
See more illustrations of types of sewage ejector float control switches and notes on float position setting found at SEWAGE PUMP DAMAGE & REPAIR.
The sewage pump shown at left is a Little Giant model, available from plumbingsupply.com [4] and other plumbing suppliers.
Guide to Non-Clogging Sewer Pumps
Non-clogging sewer pumps, or "non-clogs", are similar in principle to the grinder pumps discussed above, but they have more capacity, and can move solids up to 4" in diameter to a sewer main or waste handling system.
Non-clogging pumps are used in some residential installations but more often in commercial or community systems or
at SEPTIC PUMPING STATIONS.
Septic Pump Articles
...
Continue reading at SEWAGE PUMP BUYERS GUIDE or select a topic from closely-related articles below, or see our complete INDEX to RELATED ARTICLES below.
Or see SEWAGE PUMP DAMAGE & REPAIR
Suggested citation for this web page
SEPTIC PUMP INSTALLATION at InspectApedia.com - online encyclopedia of building & environmental inspection, testing, diagnosis, repair, & problem prevention advice.
Or use the SEARCH BOX found below to Ask a Question or Search InspectApedia
...
Frequently Asked Questions (FAQs)
Try the search box below or CONTACT US by email if you cannot find the answer you need at InspectApedia.
...
Ask a Question or Search InspectApedia
Use the "Click to Show or Hide FAQs" link just above to see recently-posted questions, comments, replies, try the search box just below, or if you prefer, post a question or comment in the Comments box below and we will respond promptly.
Search the InspectApedia website
Technical Reviewers & References
Click to Show or Hide Citations & References
Zoeller Pump Company, "Installation & Service Instructions, 803/805/807 Grinder Pumps", [PDF] Zoeller Pump Co., P.O. BOX 16347 • Louisville, KY 40256-0347, Website: Zoeller.com Retrieved 2016/04/05, original source: http://www.zoellerpumps.com/en-na/product/1242-#documents
Zoeller Pump Company, "Installation Instructions, Recommended Models, Effluent/Sump/DeWatering & Sewage[pumps]", [PDF] Zoeller Pump Co., P.O. BOX 16347 • Louisville, KY 40256-0347, Website: Zoeller.com Retrieved 2016/04/05, original source: http://www.deanbennett.com/53-install-inst.pdf
New York State Department of Health, "Appendix 75-A Wastewater Treatment Standards - Individual Household Systems", [PDF] New York State Department of Health, 3 February 2010, retrieved 3/1/2010, original source: https://www.health.ny.gov/regulations/nycrr/title_10/part_75/appendix_75-a.htm
[1] Weinman Installation and Operation Manual, Submersible Sewage Ejector Pump, Crane Pumps and Systems, 420 Third Street, Piqua, Ohio 45356 Phone: (937) 778-8947 and Crane Pumps and Systems, 83 West Drive, Bramton, Ontario, Canada L6T 2J6, Phone: (905) 457-6223 Fax: (937) 773-7157 Fax: (905) 457-2650 www.cranepumps.com. See Weinman submersible sewage ejector pump installation and service manual for an example instructions for the Weinman Series WE and 3WE sewage ejector pumps ranging from .5 to 1 hp. Web search 8/9/11, original source: http://www.cranepumps.com/downloadables/CATALOGS_OIPMs/
Manuals%20&%20Instruction%20sheets/108038.pdf
[2] Grundfos Sewage Ejector Pump Package Installation and Operating Instructions, Grundfos Pumps Corporation, 2555 Clovis Ave., Clovis CA 93612, Tel: 800-333-1366, web search 8/9/11,original source
http://www.us.grundfos.com/web/download.nsf/Pages/
7C03990D6E09EC6C882565220069C131/$File/Seeje-io.pdf
[3] Submersible Sewage Ejector Pump Installation, Operation, & Parts Manual, by Hydromatic Pentair Water, 740 East 9th Street, Ashland, OH 44805, Phone: 1-888-957-8677, Web Site: http://www.hydromatic.com
[4] Drain & Sewage Ejector Packages, plumbingsupply.com, Sewage Ejector pump types, models, float control switches using Little Giant and Zoeller sewage pumps as examples, web search 08/15/11, original source http://www.plumbingsupply.com/
[5] Float Switches for Pumps, plumbingsupply.com, Sewage Ejector pump types, models, float control switches using Little Giant and Zoeller sewage pumps as examples, web search 08/15/11, original source http://www.plumbingsupply.com/
Books & Articles on Building & Environmental Inspection, Testing, Diagnosis, & Repair
Design Manuals for Septic Systems
US EPA Onsite Wastewater Treatment Systems Manual [online copy, free] Top Reference: US EPA's Design Manual for Onsite Wastewater Treatment and Disposal, 1980, available from the US EPA, the US GPO Superintendent of Documents (Pueblo CO), and from the National Small Flows Clearinghouse. Original source http://www.epa.gov/ORD/NRMRL/Pubs/625R00008/625R00008.htm Onsite wastewater treatment and disposal systems, Richard J Otis, published by the US EPA. Although it's more than 20 years old, this book remains a useful reference for septic system designers. U.S. Environmental Protection Agency, Office of Water Program Operations; Office of Research and Development, Municipal Environmental Research Laboratory; (1980)
Eco John® Innovative Toilet Solutions, Global Inventive Industries, Fountain Valley CA, PDF, product brochure
"International Private Sewage Disposal Code," 1995, BOCA-708-799-2300, ICBO-310-699-0541, SBCCI 205-591-1853, available from those code associations.
"Manual of Policy, Procedures, and Guidelines for Onsite Sewage Systems," Ontario Reg. 374/81, Part VII of the Environmental Protection Act (Canada), ISBN 0-7743-7303-2, Ministry of the Environment,135 St. Clair Ave. West, Toronto Ontario M4V 1P5 Canada $24. CDN.
Manual of Septic Tank Practice, US Public Health Service's 1959.

Onsite Wastewater Disposal Books
Onsite Wastewater Disposal, R. J. Perkins; Quoting from Amazon: This practical book, co-published with the National Environmental Health Association, describes the step-by-step procedures needed to avoid common pitfalls in septic system technology. Valuable in matching the septic system to the site-specific conditions, this useful book will help you install a reliable system in both suitable and difficult environments. Septic tank installers, planners, state and local regulators, civil and sanitary engineers, consulting engineers, architects, homeowners, academics, and land developers will find this publication valuable.
Onsite Wastewater Treatment Systems, Bennette D. Burks, Mary Margaret Minnis, Hogarth House 1994 - one of the best septic system books around, suffering a bit from small fonts and a weak index. (DF volunteers to serve as indexer if Burks/Minnis re-publish this very useful volume.)While it contains some material more technical than needed by homeowners, Burks/Minnis book on onsite wastewater treatment systems a very useful reference for both property owners and septic system designers. We refer to it often. While Minnis says the best place to buy this book is at Amazon (our link at left), you can also see this book at Minnis' website at http://web page .pace.edu/MMinnisbook
Septic Tank/Soil-Absorption Systems: How to Operate & Maintain [ copy on file as /septic/Septic_Operation_USDA.pdf ] - , Equipment Tips, U.S. Department of Agriculture, 8271 1302, 7100 Engineering, 2300 Recreation, September 1982, web search 08/28/2010, original source: http://www.fs.fed.us/t-d/pubs/pdfimage/82711302.pdf
SEPTIC SOIL & PERC TESTS soil perc testing guide and instructions
Percolation Testing Manual, CNMI Division of Environmental Quality, PO Box 501304, Saipan, MP 96950
Planting Over Septic System Component", Daniel Friedman (author/editor, InspectAPedia.com), The Innovator, Winter/Spring 2008, BCOSSA, British Columbia OnSite Sewage Association, 201-3542 Blansard St., Victoria BC V8X 1W3 Canada
Save the Septic System - Do Not Flush These Items Down the Toilet, Daniel Friedman, InspectAPedia.com - PDF document, printable
Septic System Owner's Manual, Lloyd Kahn, Blair Allen, Julie Jones, Shelter Publications, 2000 $14.95 U.S. - easy to understand, well illustrated, one of the best practical references around on septic design basics including some advanced systems; a little short on safety and maintenance. Both new and used (low priced copies are available, and we think the authors are working on an updated edition--DF. Quoting from one of several Amazon reviews: The basics of septic systems, from underground systems and failures to what the owner can do to promote and maintain a healthy system, is revealed in an excellent guide essential for any who reside on a septic system. Rural residents receive a primer on not only the basics; but how to conduct period inspections and what to do when things go wrong. History also figures into the fine coverage.
Test Pit Preparation for Onsite Sewage Evaluations, State of Oregon Department of Environmental Quality, Portland OR, 800 452-4011. PDF document. We recommend this excellent document that offers detail about soil perc tests, deep hole tests, safety, and septic design. Readers should also see SEPTIC SOIL & PERC TESTS and for testing an existing septic system, also see Dye Tests
Grass is Always Greener Over the Septic Tank, Bombeck, Erma: $ 5.99; FAWCETT; MM; This septic system classic whose title helps avoid intimidating readers new to septic systems, is available new or used at very low prices. It's more entertainment than a serious "how to" book on septic systems design, maintenance, or repair. Not recommended -- DF.

US EPA Onsite Wastewater Treatment Systems Manual Top Reference: US EPA's Design Manual for Onsite Wastewater Treatment and Disposal, 1980, available from the US EPA, the US GPO Superintendent of Documents (Pueblo CO), and from the National Small Flows Clearinghouse. Original source http://www.epa.gov/ORD/NRMRL/Pubs/625R00008/625R00008.htm
Water Wells and Septic Systems Handbook, R. Dodge Woodson. This book is in the upper price range, but is worth the cost for serious septic installers and designers. Quoting Amazon: Each year, thousands upon thousands of Americans install water wells and septic systems on their properties. But with a maze of codes governing their use along with a host of design requirements that ensure their functionality where can someone turn for comprehensive, one-stop guidance? Enter the Water Wells and Septic Systems Handbook from McGraw-Hill.
Written in language any property owner can understand yet detailed enough for professionals and technical students this easy-to-use volume delivers the latest techniques and code requirements for designing, building, rehabilitating, and maintaining private water wells and septic systems. Bolstered by a wealth of informative charts, tables, and illustrations, this book delivers:
* Current construction, maintenance, and repair methods
* New International Private Sewage Disposal Code
* Up-to-date standards from the American Water Works Association

Wells and Septic Systems, Alth, Max and Charlet, Rev. by S. Blackwell Duncan, $ 18.95; Tab Books 1992. We have found this text very useful for conventional well and septic systems design and maintenance --DF. Quoting an Amazon description:Here's all the information you need to build a well or septic system yourself - and save a lot of time, money, and frustration. S. Blackwell Duncan has thoroughly revised and updated this second edition of Wells and Septic Systems to conform to current codes and requirements. He also has expanded this national bestseller to include new material on well and septic installation, water storage and distribution, water treatment, ecological considerations, and septic systems for problem building sites.

The NSFC Products List has an excellent list of design manuals/modules available from their website or by telephone 800-624-8301
Submissions welcome. send us a suggested document link or request an exchange of website links
...