Membrane & EPDM Rubber Roofing
Life, Types, Sources, Installation, Defects, Repairs
InspectAPedia tolerates no conflicts of interest. We have no relationship with advertisers, products, or services discussed at this website.
EPDM Roofs, Rubber Roofs & PVC Roof coverings:
this article describes membrane roofing materials, flat roof membrane choices, flat roof installations, inspection, EPDM or rubber roof defects, flat roof leak detection, flat roofing repairs, and flat roof membrane product sources.
We also provide a MASTER INDEX to this topic, or you can try the page top or bottom SEARCH BOX as a quick way to find information you need.
Membrane Roofing Materials: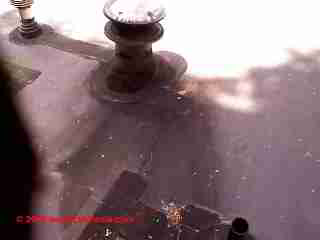 EPDM, PVC, or Rubber Roof Choices, Costs, Life Expectancy, Flat Roof or Membrane Roof Characteristics
"Membrane roofs" is a general term that may be applied to a low slope or flat roof covered by any means that is intended to produce a continuous waterproof barrier.
Our photo (left) shows roof penetrations and flashing on an EPDM roof in New York.
[That chimney may be too short, violating code and safety if it extends less than 2 feet above the roof surface.]
Look closely and you can see the marks left by round anchors that tied rooftop insulation to the roof deck below. This telegraphing of insulation fasteners is not a roof defect - it's normal.
Asphalt shingles, in contrast to the EPDM roof shown here, , are not a "waterproof membrane" and depend on the drainage offered by the roof slope to function effectively.
That's why without special measures (discussed at LOW SLOPE ROOFING) we don't expect to find shingles installed on roofs of pitch lower than 4" of rise in 12" of run.
Because we discuss other popular membrane type roofing systems separately at ROLL ROOFING, ASPHALT and MODIFIED BITUMEN ROOFING, here we focus on EPDM roofs or "rubber roofs".
Carson Dunlop's illustrations (below) compare an EPDM roof membrane installation and a PVC roof membrane installation.
EPDM Roofing Installation, Properties, Life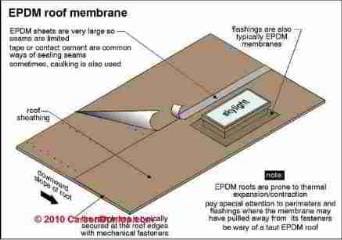 Definition of EPDM - "Rubber Roofing"
EPDM is an acronym for Ethylene Propylene Diene Monomer, a rubber-like sheet or membrane, usually black, and usually not reinforced with other materials.
EPDM roofs are usually glued down - the "fully-adhered" application method. Overlapping seams are glued and flashings are glued to the EPDM surfaces as well.
EPDM Roof Life Expectancy
The average life expectancy of an EPDM roof, according to industry sources, is 22 to 35 years, while often manufacturers warrant the EPDM material for as much as 40 years.
Separately at EPDM ROOF COATING REPAIRS we include research on EPDM life and the use of coatings to extend its life.
In a companion article EPDM ROOF LEAK REPAIRS we discuss tracking down and fixing leaks in rubber roofs.
As discussed in Best Practices Guide to Residential Construction, chapter on BEST ROOFING PRACTICES:
While a variety of single-ply roofing membranes are used on commercial jobs, only EPDM has become widely used on residential sites. EPDM, a form of synthetic rubber, owes its popularity to its relative ease of installation combined with exceptional durability. If installed correctly, roofs often exceed 20 years of service and callbacks are exceedingly rare.
While some commercial EPDM systems are loose-laid or ballasted, residential applications are typically fully adhered. Rolls typically vary from 10 to 50 feet in width and from 50 to 200 feet in length, but many distributors will cut a piece to size for smaller jobs.
If possible, use a single piece with no seams for the field of the roof. EPDM membranes are available in two thicknesses: .045 inch and .060 inch.
For fully adhered applications or any application where foot traffic or decking is planned, the thicker membrane is recommended.
If you didn't already know, and in case it's on your roofing quiz, "EPDM" is the abbreviated name of a synthetic rubber termed Ethylene Propylene Diene Monomer.
Substrates for EPDM Roofs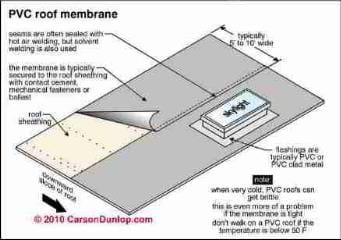 EPDM can be bonded to a wide variety of substrates, including plywood, OSB, fiberboard, and urethane insulation board.
The substrate should be smooth, even, and free of debris. Fasteners should be driven flush except in the case of insulation fastening caps, which project their shape though the membrane.
If the surface is uneven or deteriorated, a layer of fiberboard or thin plywood should be installed first.
Installation Details for EPDM Roofs
After cutting the material to fit, installers use a roller to apply a proprietary contact cement to both the membrane and the substrate. Typically, a length of roofing is set in place and folded in half lengthwise so one half can be glued at a time.
The adhesive should be fully dry on both surfaces before bonding, or bubbles may develop. Also, care must be taken to smooth out wrinkles and air pockets as the two surfaces are mated. Where seams are required, the material is lapped 4 to 6 inches and sealed with either double-faced seam tape or a special adhesive used for bonding rubber to rubber.
At openings, inside corners, outside corners, and other irregular shapes where the EPDM roof membrane has been cut, patches of uncured EPDM are applied using the rubber-to-rubber adhesive. The uncured form of EPDM is highly elastic and can be stretched to conform to irregular shapes.
The material is lapped up abutting walls and serves as its own flashing. Other terminations are usually sealed with an aluminum termination bar or an aluminum flashing covered with a strip of EPDM. Finally all exposed edges of EPDM at laps, patches, and terminations are sealed with a bead of proprietary caulking that protects the edge and acts as an extra water stop. Self-Adhesive.
For small EPDM roof jobs, a few manufacturers offer a peel-and-stick version of EPDM. Installation is similar to standard EPDM but may require a primer on plywood and OSB substrates. Seams generally require a proprietary adhesive with special caulking on exposed edges.
Although the square foot cost is greater than with site glued EPDM, on small jobs labor savings offset the higher material costs.
Pros and Cons of EPDM Roofing
While not intended as a walkway, EPDM works well as a substrate under rooftop decks. Leftover strips of membrane should be used to cushion the roofing from wood sleepers.
Leaks are rare and usually can be traced to sloppy sealing of joints.
Leaks are also relatively easy to identify and fix. One caution is that EPDM can be damaged by grease and petroleum-based products, a potential problem with outdoor grills and spillage of oil-base finishes used on siding or wood decking.
-- Adapted with permission from Best Practices Guide to Residential Construction.
Common Problems in PVC or EPDM Membrane or "rubber" Roofs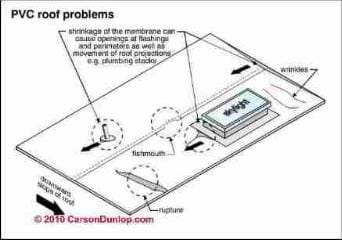 As Carson Dunlop Associates' sketches ( above and at left below) illustrate, wrinkling and failure at seams are problems to watch for where membrane roofs of EPDM, PVC, or similar materials are installed. A wrinkle in an EPDM roof is also shown at the top of this page.
[Click to enlarge any image]
Common EPDM or Rubber Roof Installation or Wear Defects include
Shrinkage and material pulling or even ruptures at flashings if proper allowances were not made during installation
Wrinkles in the rubber roof surface increase the chances of failures at adhesive-bonded rubber roof seams - as was our experience - see our rubber roof repair photos below.
Rubber roof seam failures can occur over time due to weather effects, frost push against slightly open seam edges, or due to improper original cleaning and bonding of the material edges.
Improper choice of roof edge flashing can cause extended ponding near the roof lower edge, risking frost damage to seam tapes or overlapped rubber roof seams - see our photos below.
Wrinkles in the rubber roof invite future seam failures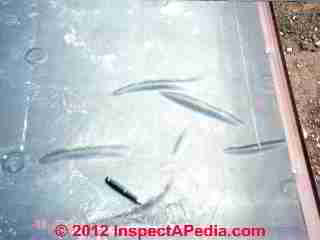 Shown during its 1998 installation above, this rubber EPDM roof was installed on a New York home by a very large and busy Kingston New York roofing company.
We followed the life of this roof and its leak and repair history for the ensuing 15 years and describe the results here.
The roofer also may have been in a bit of a rush. EPDM needs to be opened and allowed to relax before it is installed, and care should be taken to minimize the number and size of wrinkles in the roof during the bonding process.
A few small wrinkles in the center of a section of rubber probably won't cause much trouble, but wrinkles near EPDM roof seams are an other story, as we explain here.

Wrong roof edge flashing causes ponding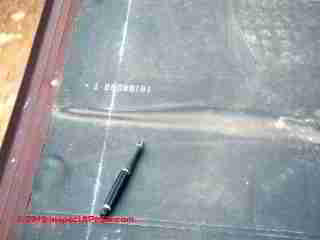 T
he use of an improper drip edge (gravel stop on a roof that did not use gravel ballast) can be seen at the left side of our photo.
The gravel stop "edge flashing" was nailed on top of rather than below the rubber roof material in order to allow the rubber to be lapped over the roof edge and extended an inch into the gutters (not shown) - which was not a bad idea, though the roof's success then depends on the seam sealing tape (not yet installed here) to prevent leaks at the flashing nails.
The problem with using the wrong roof edge flashing ( a flat drip edge should have been installed) was the ensuing ponding at the roof edge. In New York where ponding of melting snow later re-freezes, the freeze/thaw action worked open seams near the roof edge, especially where a wrinkle crossed any roof edge seal or seam tape seal.
The EPDM roof shown above leaked in less than five years, and by ten years of age we found recurrent openings and leak risks at several seams in the roof as well as along the lower roof edge where that stupid gravel stop was installed.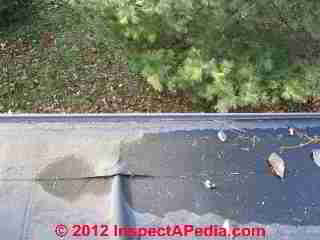 Our photos above and below illustrate what happens when an EPDM wrinkle extends into a roof seam, and as you can see by the water stains, the gravel stop caused excessive ponding that gave frost extra time to work on and push open the seam tape nearer the roof edge. These seam failures (and leaks) began appearing in the rubber roof in less than five years. The photos below show the roof edge at 14 years of age.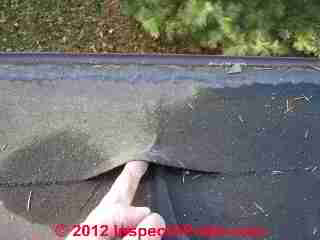 Membrane Roof Life Expectancy Comparisons
Just looking first at roof material warranty periods, surveying several industry sources as well as the opinions of individual roofing companies, and with the warning that as we discuss at WARRANTIES for ROOF SHINGLES and considering that the warranty offering will pro-rate what you might get in an early roof wear-out by the roof age - reducing the significance of the warranty at all:
EPDM "Rubber Roof" manufacturer's warranty: up to 40 years

Typical actual roof life: 22-35 years

PVC (CPA) (polyvinyl chloride) roof membrane roofing manufacturer's warranty: up to 25 years

Typical actual roof life: 30 years

Silicone membrane roofing manufacturer's warranty: up to 50 years
TPO (Thermo Plastic Olefin) membrane roofing manufacturer's warranty: up to 25 years

Typical actual roof life: 22-30 years
Question: which would you choose: silicone membrane roof or a less costly EPDM roof?
Anonymous said: - posted originally at ROOF LEAK DIAGNOSIS FAQs
Another question for my condominium:
One roofer has proposed applying a layer of "silicone roof system" on top of the two layers of modified bitumen (dated 1995 and 2009) as the best fix for one of the building's leaky roofs. The silicone roof system will cost about $14 per square foot. It has a 50-year materials warranty and a 20-year labor warranty.
The board is wondering about this option versus the less expensive (but shorter life?) full tear-out and replacement with EPDM, costing about $10.50 per square foot.
Which option would you choose?
Reply:
Anon:
EPDM, or Ethylene Propylene Diene Monomer roofs are warranted by the manufacturer often for as much as 40 years. Industry gives typically a 22-35 year life expectancy
Silicone is often described as a "50-year" material, though of course how long a specific roof lasts depends on more than the materials, since workmanship, weather exposure, roof construction, slope, maintenance, drainage, etc. are all factors.
Watch out: While various membrane roofing products each has its particular strengths and vulnerabilities (see Paroli 1993), critical in all membrane type roofs is just how well the seams are sealed - that seems to me to be the achilles heel on many flat and low-slope membrane roofs.
In fact some of the most irritating failures on EPDM roofs that I've worked-on and maintained have been in the seam tapes and flashing tapes that are sold to seal EPDM junctures at roof edge flashing - often those products deteriorate in less than ten years. See EPDM ROOF LEAK REPAIRS for details.
Let's apply some guesstimate math to your Silicone roof and your EPDM roof comparison option, JUST using the manufacturer's material warranty offering, and with the caveat that roofing warranties are often more of a marketing text than a surefire guarantee: read the fine print in your warranty, especially about pro-rating, or see this example using WARRANTIES for ROOF SHINGLES
Annualized roof cost per square foot based on materials warranty = INSTALLED COST per sq ft / WARRANTY LIFE
Silicone roof cost / life = $14 / 50 years = 0.28 - 28 cents per square foot per year (pretending that nothing goes wrong before the material wears out)
EPDM roof cost / life = $10.5 / 40 years = 0.2625 - 27 cents per square foot per year (pretending etc).
On an annual cost basis alone the two materials look about the same.
But then if you hired a professional to do this analysis you'd factor in probable roof life, your specific roof complexity, flashings, contractor reliability, workmanship, and the trouble of having to go through re-roofing sooner with one product vs. another.
For a more scholarly approach see Equivalent uniform annual cost: a new approach to roof life cycle analysis (Hoff 2006) cited below.
Research on Contemporary Membrane Roofing Material Life Comparisons
Beer, Hans-Rudolph. "Longevity and ecology of polyolefin roof membranes." In Proceedings of the Fourth International Symposium on Roofing Technology, Gaithersburg, MD, pp. 14-21. 1997.
Harvard
Note: includes TPO roofing
Cash, C. G., D. M. Bailey, A. G. Davies Jr, A. H. Delgado, D. L. Niles, and R. M. Paroli. "Predictive service life tests for roofing membranes." In 10DBMC International Conference on Durability of Building Materials and Components, Lyon, France. 2005.
Cash, Carl G. "The relative durability of low-slope roofing." In Proceedings of the Fourth International Symposium on Roofing Technology, pp. 119-124. 1997.
Cavanaugh, Laura M. "Redefining the green roof." Journal of Architectural Engineering 14, no. 1 (2008): 4-6.
Grant, Aneurin, Robert Ries, and Charles Kibert. "Life cycle assessment and service life prediction." Journal of Industrial Ecology 18, no. 2 (2014): 187-200.
Note: includes TPO roofing
Hoff, J. "Equivalent uniform annual cost: a new approach to roof life cycle analysis." In Proceedings of the RCI 21st International Convention and Trade Show, Phoenix, AZ, USA, pp. 23-38. 2006.
Kosareo, Lisa, and Robert Ries. "Comparative environmental life cycle assessment of green roofs." Building and environment 42, no. 7 (2007): 2606-2613.
Lounis, Zoubir, Michael A. Lacasse, Dana J. Vanier, and Brian R. Kyle. "Towards standardization of service life prediction of roofing membranes." In Roofing Research and Standards Development: Fourth Volume. ASTM International, 1999.
Pastuska, Gerhard. "Roof coverings made of PVC sheetings: the effect of plasticizers on lifetime and service performance." In Proceedings, Second International Symposium on Roofing Technology (National Roofing Contractors Association), vol. 173. 1985.
Saiz, Susana, Christopher Kennedy, Brad Bass, and Kim Pressnail. "Comparative life cycle assessment of standard and green roofs." Environmental science & technology 40, no. 13 (2006): 4312-4316.
Paroli, Ralph M., Thomas L. Smith, and B. Whelan. "Shattering of unreinforced PVC roof membranes: Problem Phenomenon, causes and prevention." In NRCA/NIST Tenth Conference on Roofing Technology, pp. 22-23. 1993.
...
Continue reading at EPDM ROOF LEAK REPAIRS where we describe the maintenance & leak history and the ultimate repairs required for this EPDM roof. or select a topic from closely-related articles below, or see our complete INDEX to RELATED ARTICLES below.
Or see
Key Articles About Low Slope & Flat Roofs
Suggested citation for this web page
EPDM, RUBBER, PVC ROOFING at InspectApedia.com - online encyclopedia of building & environmental inspection, testing, diagnosis, repair, & problem prevention advice.
Or use the SEARCH BOX found below to Ask a Question or Search InspectApedia
...
Frequently Asked Questions (FAQs)
Try the search box below or CONTACT US by email if you cannot find the answer you need at InspectApedia.
Question: bubbles under EPDM Rubber Roof
(Apr 28, 2011) Anonymous said:
I have a newly installed EPDM Rubber roof that has encountered a series of buubles. Will the bubbles expand and contract with weather conditions? Should I be concerned?
Reply:
A few small wrinkles such as shown at page top might be ok;
a concern is that depending on the air or gas source the bubbles may indeed grow when it's hot and somewhat contract when it's cold; I'm doubtful that that itself is a leak concern; but a wrinkle or bubble near a seam might lead to trouble.
Use the CONTACT US link at page top or bottom and send me some photos if you can and we'll take a closer look.
Question: loose flap of EPDM Roofing left on new job and many wrinkles
(July 1, 2011) Louise Perron said:
I had a EPDM rubber roof installed yesterday and I was surprised to see so many wrinkles and a 10 inch flap hanging in front of the house very visible from the street. I would really like to have a professional opinion about this. I immediatly took a series of photos and called the co. being a long weekend a dont expect them to call before monday. thanks for you advice
Reply:
Louise:
For a professional opinion you'll need an expert to make an onsite inspection; make sure your "expert" really has expertise in EPDM installations.
It's tough to install EPDM with zero wrinkles, but letting it relax and accomodate to the roof before it's glued down (assuming yours was glued) makes a big difference; if the installation was done in a rush, or over a wet roof, or was just sloppy you could have extra wrinkles.
In my experience, including 10 years of monitoring the roof shown in our photos above, I found that wrinkles that extend through seams and particularly wrinkles that extended to the lowest or drainage edge of the roof tended to produce leaks and sometimes related building damage.
A wrinkle that's in a problem area can be fixed easily enough; the problem area is cut out and a new FLAT patch of EPDM is glued in place, with of course care taken to make perfectly leak-proof seams using the proper cleaners, primer, and lap sealant.
Question: EPDM roof installed atop old surface
(Nov 28, 2011) Beth said:
I had an EPDM roof installed last week. The roofer did not pull up the old felt and laid the rubber directly on top of it. You can see the stones underneath the rubber, is this normal, will it be ok?
Reply:
Beth: EPDM over what? Directly over roll roofing? You mention stones. If this was a tar and gravel roof, certainly one would not put EPDM directly over sharp stones - future holes would be too likely. It is common practice to install a rubber roof (EPDM) over a smooth older roof surface. Our EPDM roofer installed a layer of insulating board both to provide a smooth underlayment and in some locations to provide improved sloped drainage on the roof surface. We don't want to see ponding.
Question: need to protect EPDM from sunlight using expanded clay balls?
(Apr 24, 2012) Anonymous said:
Hi, I I have a low pitch roof (3 degrees) that I want to cover with EPDM and expanded clay balls and earth to protect the EPDM from the sun. If I plant it with sedums I´m worried that there´ll be dry vegetation which could be a fire risk (the stove flue will rise about 2m above the roof and there´s another stove flue coming out of an adjoining roof that rises about 1metre above the roof). If I don´t plant the roof there´s danger of the substrate being removed by wind/ rain. I´m off the grid for water and electricity so an automised irrigation system isn´t feasible. What I´m considering is laying some thin stone slabs here and there above the substrate mentioned to reduce risk of wind/rain erosion and letting some sedums take root in between. Does that sound okay? (I´m in northern spain)

Reply:
Anonymous,
Search InspectAPedia for "Sod Roofs" to see some antique and modern roofs with lots of plants on them. Nevertheless, I share your concern with a roof plant fire. If you add thin stone slabs, perhaps slate, that material is quite fire resistant. Be sure that your roof structure is designed for all that weight.
Also, while I like EPDM as very durable, and I've seen it used below sod roofs, don't forget that every seam must be absolutely perfect. Sod or plants on roofs hold water, giving it plenty of time to find the smallest imperfection in the membrane.
Finally, EPDM is commonly used without sun protection. It appears that the EPDM manufacturers have figured out a formula that has good solar resistance. Black EPDM will be hot of course.
Question: EPDM compatible adhesive needed
(May 14, 2012) pete said:
I am reroofing my previously shingled roof which has hidden gutters, with fibreglass shingles. (also 24"EDPM in gutters). I am told that in the gutters i do not need seam tape, i only need an edpm compatable adhesive. Is this correct? If so should it be primered first? I am assuming that the edpm can just be secured down by being nailed along the upper edge and also with the nail that secures the edge cap on the facia? Thank you!
Reply:
x
Question: EPDM used on RV roof for leak repairs
(May 27, 2012) mark said:
I'm repairing rv roof and installing a self adhesive rubber underlayment down first.
Will epdm glue bond to this surface.
Reply:
If the surface is clean, dry, and not suffering from heavily-oxidized paint the glue should bond well. Or in more detail
Probably yes if if the surface is smooth and is properly cleaned first.
No, probably not if the self-adhesive underlayment is coated with mineral granules.
But I'm not sure why you'd do that. First it may not be a substrate recommended by the EPDM manufacturer and second it seems an unnecessary duplication. Properly placed and bonded, the EPDM "rubber roof" will be quite waterproof. I'm not sure what would be the gain from the self-adhesive underlayment.
Question: EPDM on a flat porch - debris left under the rubber roofing
(Nov 18, 2012) Lorraine said:
I am in the process of having an EPDM roof installed on a flat porch. They are not quite done but the EPDM has been laid and I noticed that there are numerous (15) pieces of debris under the EPDM. They put down Iso board before the EPDM and it seems like some of the gravel from the previous roof did not get cleaned off. Will this cause a problem in the future? I am paying 10,000 to have a 220 sq ft rood and railing system put in and I don't want to get screwed if this is wrong. If I need to stop the job and have it re-done I will, I also don't want those areas removed and patched, that's not what I'm paying for. Please advise, the owner of the Co treats me like a dumb woman to a certain degree so I would like to have some knowledge when we talk about this. Thanks rainy9156@aol.com
Reply:
Lorraine I agree that this does not sound so good. Any sharp edged debris left under a rubber roof is a leak point risk, especially if stepped-on but possibly even without having been walked on as over time thermal movement rubs and wears over sharp spots under the roofing.
Question: snow problems with TPO
(I already posted this question under "snow guards")
I live in Canada (Quebec), my house was built in 1956, has low-slope roofing and I had my roof redone with a TPO membrane just before the winter.
Throughout the winter the snow constantly glided (in an avalanche-style sometimes rattling the whole house) forming a massive snow bank (6 feet) at both sides of my house. Being the only house with TPO in the neighbourhood I find that I have still lots of snow to be melt whereas the other neighbours have almost none.
I asked the experts about this, if this was bad or not and I have two contradictory opinions:
1) Use a snow retention system, this will ease the amount of snow that falls to the floor, at the same time improving safety, you don't want snow at the side of your house because you don't know the state of the French drain system (this last one is a fact) and the snow is too close to the wall, even covering the wall as much as 2 feet.
2) It's useless to use a snow retention system, it'll be blown away by the speed of the snow (it's a fairly big roof) and anyway, you don't want snow on your roof. The snow at the side of your house is the same as having a big storm, if your drain can cope with a storm, it can cope with the snow.
Reply:
Snow retention systems work to stop sliding snow from smashing off gutters, crushing shrubs, mauling cars parked below the roof eaves.
If the surface slope is properly contoured away from the home then melting snow near the home should not cause a water entry problem, especially as the ground below is frozen. Of course you also need a working footing drain; in areas of rocky or porous soils you might need to take extra steps to keep water out of the basement or crawl areas but then that would be so in rainy weather too, not just during times of snow melt.
Relying on wind to remove snow from a roof uniformly and adequately is IMO a pipe dream.
Question: epdm be installed over modified bitumin with no subsaturate board
can 060 epdm be installed over modified bitumin with no subsaturate board
Reply:
Can,
I've seen rubber roofs installed over various surfaces, but for best results I'd remove the modified bitumen. I'm a little concerned about offgassing between roofing layers, and I'm more concerned about how you'd plan to bond or secure the rubber roof surface
Question: bids by two roofers to put a TPO or PVC white roof on top of LOW-E 3/16 reflective insulation
July 15, 2014) Rick G said:
My Pasadena, CA home (summers hot), was built in 1953 and has a low-sloped asphalt cap roof. Inside, there are open beam ceilings for almost all of the house (very little attic). The existing asphalt cap appears to be on top of some rigid foam insulation (thickness unknown), which is presumably on top of felt, plywood, and ceiling planking. By mid-afternoon in the summer, if it's 90 degrees outside, it will be 87 inside without turning the AC on; and when that is turned on, it cools only to low 80s. At night, the interior stays hot long after the air has cooled outside.
I am considering bids by two roofers to put a TPO or PVC white roof on top of LOW-E 3/16 reflective insulation (on top of the existing single layer of asphalt). However, I am concerned that this LOW-E material might not function as an effective thermal barrier without an adjacent airspace. Can you confirm or correct this assumption, please?
I would also greatly appreciate any remedies you could suggest. As this is a $15,000 roof, I am anxious to know whether or not it will have a significant impact on lowering the interior temperatures (and thus, lowering monthly $700 AC bills). Would more rigid foam insulation be more cost effective, and/or would another asphalt roof with white elastomeric coating be just as effective? Many thanks for any advice you can give.
Reply:
Reflective insulation will have some value, though not measurable nor estimable without plugging in specific details of the building, structure, and layers of material in the whole roof structure. More significant in reflecting heat is the roof colour and reflectance of the sun-exposed surface.
Question: use of heat tape or coils on a rubber roof?
(Oct 10, 2014) Pete H said:
Issues with snow build up and subsequent ice dams at roof to wall locations (low slope/EPDM). What is your opinion regarding the use of heat tape or coils on a rubber roof? Are either of these options worth exploring?
Reply:
Pete we have used heat tapes successfully on low-slope EPDM roofing to avoid ice accumulation in problem areas. Typically these areas occur near the roof edge of a drainage path or where gutters have encouraged a raised lip of ice formation during freezing weather.
See HEAT TAPES & CABLES for ROOF ICE DAMS (where I will add photos of our heat tapes on EPDM roofing)
Question:
(Oct 17, 2014) Anonymous said:
New TPO installed the 1st week of October on a 2,000 s/f roof over 2" of insulation board. Starting the next day lots of wrinkles, bubbles and/or blisters formed. Too many bubbles to repair. The proposed solution is: 1..cut open all existing bubbles and flatten out thr TPO 2.. Install in underlayment 1/2" screwed through TPO, the insulation and into the 3/4"existing plywood. 3.. Install new TPO Over th 1/2" underpayment. 4.. Pray.
Is this a good fix assuming the roofer corrected his original installation problem?
Jerry
mrtwollp@gmail.com
Bensalem, PA
Reply:
The procedure sounds reasonable to me,.Though I'm not sure we can find studies demonstrating a correlation between prayer and roof leakage prayer will do no harm.
Question:
(Mar 4, 2015) D. Gross said:
Am having a flat roof of townhouse completely redone. Due to weather concerns, the company now wants to do the entire procedure in one day....this may be possible but is it wise....since it involves the application of asbestos, etc. and a polymeric top coating.
Reply:
D Gross, I don't believe that any roofing company is going to apply asbestos to a roof surface in 2015. This sounds like a misunderstanding.
About applying EPDM in general, a rush job that does not let the EPDM spread out and relax before gluing is likley to increase the number of wrinkles and bubbles in the job.
...
Ask a Question or Search InspectApedia
Questions & answers or comments about the installation, inspection, properties & repair of EPDM or "rubber" roofs.
Try the search box just below, or if you prefer, post a question or comment in the Comments box below and we will respond promptly.
Search the InspectApedia website
Technical Reviewers & References
Click to Show or Hide Citations & References
Mark Cramer Inspection Services Mark Cramer, Tampa Florida, Mr. Cramer is a past president of ASHI, the American Society of Home Inspectors and is a Florida home inspector and home inspection educator. Mr. Cramer serves on the ASHI Home Inspection Standards. Contact Mark Cramer at: 727-595-4211 mark@BestTampaInspector.com
John Cranor is an ASHI member and a home inspector (The House Whisperer) is located in Glen Allen, VA 23060. He is also a contributor to InspectApedia.com in several technical areas such as plumbing and appliances (dryer vents). Contact Mr. Cranor at 804-747-7747 or by Email: johncranor@verizon.net
Eric Galow, Galow Homes, Lagrangeville, NY. Mr. Galow can be reached by email: ericgalow@gmail.com or by telephone: 914-474-6613. Mr. Galow specializes in residential construction including both new homes and repairs, renovations, and additions.
"Choosing Roofing," Jefferson Kolle, January 1995, No. 92, Fine Homebuilding, Taunton Press, 63 S. Main St., PO Box 5506, Newton CT 06470 - 800-888-8286 - see http://www.taunton.com/FineHomebuilding/ for the magazine's website and for subscription information.
Building Pathology, Deterioration, Diagnostics, and Intervention, Samuel Y. Harris, P.E., AIA, Esq., ISBN 0-471-33172-4, John Wiley & Sons, 2001 [General building science-DF] ISBN-10: 0471331724 ISBN-13: 978-0471331728
Building Pathology: Principles and Practice, David Watt, Wiley-Blackwell; 2 edition (March 7, 2008) ISBN-10: 1405161035 ISBN-13: 978-1405161039
Historic Preservation Technology: A Primer, Robert A. Young, Wiley (March 21, 2008) ISBN-10: 0471788368 ISBN-13: 978-0471788362
Problems in Roofing Design, B. Harrison McCampbell, Butterworth Heineman, 1991 ISBN 0-7506-9162-X (available used)
Books & Articles on Building & Environmental Inspection, Testing, Diagnosis, & Repair
Our recommended books about building & mechanical systems design, inspection, problem diagnosis, and repair, and about indoor environment and IAQ testing, diagnosis, and cleanup are at the InspectAPedia Bookstore. Also see our Book Reviews - InspectAPedia.
Best Practices Guide to Residential Construction, by Steven Bliss. John Wiley & Sons, 2006. ISBN-10: 0471648361, ISBN-13: 978-0471648369, Hardcover: 320 pages, available from Amazon.com and also Wiley.com. See our book review of this publication.
Decks and Porches, the JLC Guide to, Best Practices for Outdoor Spaces, Steve Bliss (Editor), The Journal of Light Construction, Williston VT, 2010 ISBN 10: 1-928580-42-4, ISBN 13: 978-1-928580-42-3, available from Amazon.com
The Journal of Light Construction has generously given reprint permission to InspectAPedia.com for this article. All rights and contents are ©Journal of Light Construction and may not be reproduced in any form.
Building Pathology, Deterioration, Diagnostics, and Intervention, Samuel Y. Harris, P.E., AIA, Esq., ISBN 0-471-33172-4, John Wiley & Sons, 2001 [General building science-DF] ISBN-10: 0471331724 ISBN-13: 978-0471331728
Building Pathology: Principles and Practice, David Watt, Wiley-Blackwell; 2 edition (March 7, 2008) ISBN-10: 1405161035 ISBN-13: 978-1405161039
Concrete Folded Plate Roofs, C. Wilby PhD BSc CEng FICE FIStructE (Author), Butterworth-Heinemann, 1998, ISBN-10: 0340662662, ISBN-13: 978-0340662663
Concrete Shell Roofs, C. Wilby PhD BSc CEng FICE FIStructE (Author),
Concrete Dome Roofs (Longman Concrete Design and Construction Series),
Green Roof Plants: A Resource and Planting Guide, Edmund C. Snodgrass, Lucie L. Snodgrass, Timber Press, Incorporated, 2006, ISBN-10: 0881927872, ISBN-13: 978-0881927870. The text covers moisture needs, heat tolerance, hardiness, bloom color, foliage characteristics, and height of 350 species and cultivars.
Green Roof Construction and Maintenance, Kelley Luckett, McGraw-Hill Professional, 2009, ISBN-10: 007160880X, ISBN-13: 978-0071608800, quoting: Key questions to ask at each stage of the green building process Tested tips and techniques for successful structural design Construction methods for new and existing buildings Information on insulation, drainage, detailing, irrigation, and plant selection Details on optimal soil formulation Illustrations featuring various stages of construction Best practices for green roof maintenance A survey of environmental benefits, including evapo-transpiration, storm-water management, habitat restoration, and improvement of air quality Tips on the LEED design and certification process Considerations for assessing return on investment Color photographs of successfully installed green roofs Useful checklists, tables, and charts
Handbook of Building Crafts in Conservation, Jack Bower, Ed., Van Nostrand Reinhold Company, NY 1981 ISBN 0-442-2135-3 Library of Congress Catalog Card Nr. 81-50643.
Historic Preservation Technology: A Primer, Robert A. Young, Wiley (March 21, 2008) ISBN-10: 0471788368 ISBN-13: 978-0471788362
Historic Slate Roofs : With How-to Info and Specifications, Tina Skinner (Ed), Schiffer Publishing, 2008, ISBN-10: 0764330012 , ISBN-13: 978-0764330018
Low Slope Roofing, Manual of, 4th Ed., C.W. Griffin, Richard Fricklas, McGraw-Hill Professional; 4 edition, 2006, ISBN-10: 007145828X, ISBN-13: 978-0071458283

Roof failure causes in depth (and specific methods for avoiding them)
Roof design fundamentals and flourishes, based on voluminous industry research and experience
New technologies and materials -- using them safely and correctly
Comprehensive coverage of all major roofing systems pecifications, inspection, and maintenance tools for roofing work

Problems in Roofing Design, B. Harrison McCampbell, Butterworth Heineman, 1991 ISBN 0-7506-9162-X (available used)
Roofing The Right Way, Steven Bolt, McGraw-Hill Professional; 3rd Ed (1996), ISBN-10: 0070066507, ISBN-13: 978-0070066502
Slate Roofs, National Slate Association, 1926, reprinted 1977 by Vermont Structural Slate Co., Inc., Fair Haven, VT 05743, 802-265-4933/34. (We recommend this book if you can find it. It has gone in and out of print on occasion.)
The Slate Roof Bible, Joseph Jenkins, www.jenkinsslate.com, 143 Forest Lane, PO Box 607, Grove City, PA 16127 - 866-641-7141 (We recommend this book).
Slate Roofing in Canada (Studi4es in archaeology, architecture, and history),
Smart Guide: Roofing: Step-by-Step Projects, Creative Homeowner (Ed), 2004, ISBN-10: 1580111491, ISBN-13: 978-1580111492
Tile Roofs of Alfred: A Clay Tradition in Alfred NY
"Weather-Resistive Barriers [copy on file as /interiors/Weather_Resistant_Barriers_DOE.pdf ] - ", how to select and install housewrap and other types of weather resistive barriers, U.S. DOE
Wood Shingle Roofs, Care and Maintenance of wood shingle and shake roofs(EC), Stanley S. Niemiec (out of print)
...