Plumbing Noise Type Checklist

List of Plumbing Sounds & Their Causes
InspectAPedia tolerates no conflicts of interest. We have no relationship with advertisers, products, or services discussed at this website.
Checklist to diagnose causes of plumbing noises sorted by type of sound:
We describe plumbing system & equipment noises alphabetically ordered from banging to whistling.
Use this list to track down the sources of plumbing system noises by starting with the kind of sound you hear.
This article series provides a plumbing noise diagnosis checklist useful for plumbing system noise control, starting with a list of sources of plumbing system noises in buildings: water supply piping noise, drain pipe noise, plumbing fixture noises, water main pipe noise, well pump and piping noises, and water heater noises.
We also provide a MASTER INDEX to this topic, or you can try the page top or bottom SEARCH BOX as a quick way to find information you need.
Checklist of Plumbing System Sounds in Buildings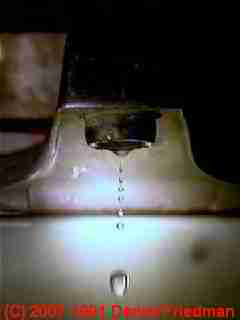 Note: separately at PLUMBING SYSTEM NOISE DIAGNOSIS & CURE you will find a complete catalog of sources of noises in buildings that are traced to plumbing systems and equipment: controls, drain or supply pipes, faucets, fixtures, switches, and equipment such as sump pumps, septic pumps or water pumps.
Watch out: to avoid damage or in rare cases unsafe conditions, some of these sounds require prompt action, such as a water pump that won't shut off.
Turn off such equipment right away. Urgent action is also needed to stop building flooding of sewage backup or to shut down other equipment that may be unsafe.
These noise groups are ordered alphabetically. Also use your browser's FIND function (Ctrl-F or CMD-F) to search for your own noise keywords in this article.
Banging, Clanging, Hammering Plumbing Noises
Buzzing or Vibration Noises in Pipes
Plumbing Supply Piping Noise: vibration, buzz, hum: vibration from a well pump or other pumps (such as a hot water circulating pump) are readily transmitted through metal and even some plastic plumbing pipes.

Wherever water piping is attached to the building such as to wall studs or floor/ceiling joists, the vibration is readily transmitted to the wall or floor structure in a manner that makes that whole assembly act as a giant loud speaker.

Use sound-isolating plumbing pipe mounting clamps, foam pipe wrap under clamps, neoprene pipe clamps (less effective) or similar resilient pipe support products to isolate the water piping from the structure itself at each attachment point.

The use of sound-isolating resilient supports for plumbing piping is key in reducing plumbing noises from piping.

According to the Canadian CNRC, "Noise reductions up to about 15 dBA can be obtained relative to systems where no resilient mounts are used for pipes."

At Technical Reviewers we list some sources of resilient pipe clamps and plumbing support systems. CONTACT us to add to that list (no fees involved).
In new construction route plumbing pipes on a path that keeps them away from bedrooms and dining or sitting areas. If a plumbing drain must be run through one of these areas, especially when using plastic drain piping (noisier than cast-iron) you will need to sound-insulate the pipe chase.
Buzzing is also transmitted through piping or tubing from electric motors that may be part of a plumbing system.

See OIL LINE BUZZ & VIBRATION CURE
Clanking & Rumbling Noises at the Water Heater
Water heater noises: These might be normal, but scale formation in a water heater can increase the sound of clanking, popping, rumbling or on electric water heaters, hissing.

WATER HEATER NOISES where we explain the clanking, rumbling, popping, or hissing noises that may be traced to a water heater problem.
Water Tank Noises: clanks, bangs, other sounds traced to the water storage tank or water pressure tank:
See WATER TANK NOISE FAQs
Clicking Snapping Noises in Plumbing Systems
A water pump relay may click occasionally or the water tank is waterlogged it may click rapidly - the pump is short cycling on and off if See WATER PRESSURE SWITCH NOISES
Electrical relays or controls on other plumbing equipment such as spa and hot tub pumps may also click or snap as may some heating controls
Clicking snapping sounds when heat is rising in hot water heating baseboards or radiators may be traced to thermal expansion of pipes passing through the building
Clunk or Thunk sounds in Plumbing Systems
A "thunk" or "clunk" sound heard around the water pressure tank or water pressure tank controls can be caused by check valve, control, or piping troubles.

See WATER PUMP NOISE DIAGNOSIS for details.
Crashing Whooshing Noises at Toilets
Some pressure-assist toilets make an impressive crash or whoosh sound when flushed. That's normal.

See our discussion of power-assist-flush toilets at LOW WATER USAGE TOILETS
Dripping Sounds from Plumbing

Drips at plumbing fixtures may make an obvious drip or splash sound. But dripping water can be tricky to track down. Don't forget to consider

A small supply leak inside of a building cavity can produce a noise that is hard to track down.

Supply pipe leaks may be continuous (and thus are eventually discovered by water stains or mold) or intermittent, such as a leak around a tub or shower control that drips into the wall cavity only when the valve is turned "on".
A drain piping leak inside of a building cavity can also produce a noise that is hard to track down.

But a drain drip noise should not be present when no fixtures have water running into them. But don't forget that a quietly running toilet can also produce a drip or other plumbing problems downstream from the toilet in the building drain piping.
Plumbing drain piping or plumbing fixture noise diagnosis and cure -

see PLUMBING DRAIN NOISE DIAGNOSIS,
and
See PLUMBING DRAIN NOISE REPAIR.

Also see NOISE CONTROL for PLUMBING where we describe reducing the annoying sounds of normal plumbing system piping and fixtures.

Heating system dripping noises make a cameo appearance in our list of plumbing dripping noises because some pipe or fixture noises may be traced to heating system piping, radiators, controls, pumps, etc.

See NOISE DIAGNOSIS, HEATING SYSTEM
Gurgling Plumbing System Noises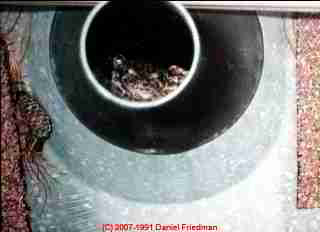 Hissing, Whistling, Whining Noise in Plumbing Systems
Check for water running somewhere inside or outside the building.
Check for air or water leaking out of a pressure tank, boiler, or steam boiler, steam piping, or steam radiator (normal if at the steam vent).
Leaks in water pipes outside of the building but in water supply piping coming to the building from a municipal water main or city water piping can produce a humming, hissing, or ringing sound in the building.

If you turn off the main water shutoff at the building and listen with a mechanic's stethoscope to the water pipes on the street side of the shutoff valve, comparing this sound to pipes in the building you can identify this problem.

See WATER SUPPLY / DRAIN PIPE LEAK TYPES
and
see WELL PIPING LEAK DIAGNOSIS.
Plumbing Supply piping noises: hiss, whistle, whine: Plumbing noise that include a high-pitched hissing or whistling sound may be heard as water runs through building supply piping.

This sound should stop immediately when you turn off any fixture that is running water in the building.

You may be able to stop or reduce plumbing supply piping noise by changing the water system pressure at a municipal water supply valve. Try first just slightly reducing the incoming water pressure.

See WATER SUPPLY PIPE WHISTLE NOISE for details.
Water heater hissing can be due to scale formation on the heater bottom or particularly on the heating electrodes in an electric water heater, geyser, or calorifier.
Water Tank Noises: hissing and other sounds may be traced to the water storage tank or water pressure tank:

Hissing noise of air escaping at water tanks: air escaping from the air volume control valve on some water pressure tanks, such as the U.S. Gauge Type 310WJ Air Volume Controls makes a hissing noise and is normal but should only occur on occasion, not constantly.

Otherwise there is a problem putting too much air into the water tank.

See WATER TANK AIR VOLUME CONTROLS.

See WATER TANK NOISE FAQs
For other sources of hissing in buildings. See HISSING SOUNDS in BUILDINGS
Mysterious plumbing sounds
Hard-to-describe plumbing sounds may be coming from a remote point in the building but transmitted by metal piping or conduit. Try turning off equipment and then water controls, one by one when the sound is present.

See also GHOST NOISES in BUILDINGS
See also SOUND CONTROL for PLUMBING.
Screaming Shrieking noises in plumbing
See WATER SUPPLY PIPE WHISTLE NOISE
Whirring electric motor noises
Whistling Shrieking Noises in Plumbing Systems
Whistling noises are often a shrill or horrible shriek caused by water running through supply piping at a specific velocity that sets up a high frequency vibration.

See WATER SUPPLY PIPE WHISTLE NOISE
Pump Noise Diagnosis: Clicks, Hums, Rattles, Bangs & Screams from Water & Well Pumps
Water pump noises and their discussion about finding the cause and cure have moved to their own page at WATER PUMP NOISE DIAGNOSIS

In the article series about building noises NOISE / SOUND DIAGNOSIS & CURE we discuss how to locate the source of, identify and correct various building sounds and noises indoors or on occasion, noises from outside that penetrate indoors at annoying levels.
...
Continue reading at PLUMBING SYSTEM NOISE DIAGNOSIS & CURE - home or select a topic from closely-related articles below, or see our complete INDEX to RELATED ARTICLES below.
Or see PLUMBING NOISE CHECKLIST FAQs - Q&A posted originally on this page
Or see DEVELOPMENTS in NOISE CONTROL, an NRCC document, you will find other suggestions for building noise control discussing block wall noise transmission, plumbing noises, and some general theory.
Or see these
Plumbing Noise Articles
Suggested citation for this web page
PLUMBING NOISE CHECKLIST at InspectApedia.com - online encyclopedia of building & environmental inspection, testing, diagnosis, repair, & problem prevention advice.
Or use the SEARCH BOX found below to Ask a Question or Search InspectApedia
Or see
Or use the SEARCH BOX found below to Ask a Question or Search InspectApedia
...
Frequently Asked Questions (FAQs)
Try the search box below or CONTACT US by email if you cannot find the answer you need at InspectApedia.
Questions & answers about plumbing system noises were posted originally on this page are now found at PLUMBING NOISE CHECKLIST FAQs
...