Pressure-Assisted & Reservoir Barrier Water Saving Toilets
Low-Water-Usage & Power-Assist Toilet Designs Brands, Features & Sources
LOW WATER USAGE TOILETS - CONTENTS: pressure-assisted or "power flush" water saving toilets, toilet designs, functions, properties, features, & identifying photographs including FLUSHMATE TOILETS and other power-assisted flush water conserving toilets that use vacuum assist flush methods, air pressure assist toilet flush designs, or other pressure boosted toilet flush mechanisms.
POST a QUESTION or READ FAQs about properties, features, & identifying photographs of top flush & dual flush toilets
InspectAPedia tolerates no conflicts of interest. We have no relationship with advertisers, products, or services discussed at this website.
Power assisted flush water saving toilets:
This article describes low water consumption toilets that use special design features ranging from simple reduced flush water volume to power-assisted-flush toilets using the Flushmate™ design. Here we describe the operation and sources of power-assisted flush toilets using vacuum-assisted flush, air pressure assisted flush, or other pressure-boosted toilet flush mechanisms.
We give typical water flush volume quantities for different types of toilets and we explain how power-assisted flush toilets work. This article also gives information about the Flushmate III Series 503 toilet safety recall notice.
Green links show where you are. © Copyright 2017 InspectApedia.com, All Rights Reserved.
Low Water Consumption Toilets - Water Saving Toilets
Approaches to Water-Conserving Toilet Designs
Water saving toilets use one or more of several strategies to reduce the volume of water used in flushing away waste
Dual flush toilets offer a smaller flush volume (often 1.1 gallons U.S.) for liquid-only waste and a larger flush volume (often 1.6 gallons) for solid waste.
See TOP FLUSH TOILETS and also

See DUAL FLUSH TOILETS for details
Pressure-assisted toilets, discussed here, use increased water velocity, some with air entrainment, to improve toilet bowl cleansing while using a smaller flush water volume. (See examples below.)
Reservoir barrier toilets (also illustrated here and shown in our photo at left) have an added internal plastic barrier (the rectangular plastic surrounding the overflow tube and flapper valve and pointed to by the blue arrow in our photo) that keeps much of the water inside the toilet tank during the flush cycle.

Holes or notches in the sides of the reservoir barrier may be used to add some of the "outside" water to each flush, but as water level drops more rapidly inside the barrier than outside it, the flapper valve closes "early". We found reservoir barriers added to conventional toilet tank and control designs as an early and simple means of reducing the flush water volume.
Waterless toilets, discussed separately
at ALTERNATIVE & WATERLESS TOILETS These toilets and urinals use very low water or no-water designs such as incinerating toilets, composting toilets, and other designs.

Simpler are WATERLESS URINALS designed to drain urine while mimizing odors by accepting urine without using any cleansing flush water whatsoever.
Typical toilet water flush volumes for various toilet types & designs
The water volume used in each toilet flush varies quite a bit, and flush volume will vary by flush type for dual flush toilets. Also the nominal flush volume for toilets may not accurately describe an individual toilet unit depending on how the toilet fill valve has been adjusted.
0.9 gpf / 1.6 gpf DuoFit™ in-wall toilet tank system from Toto [4]
1.1 gallons per flush (gpf), e.g. Gerber Ultra Dual Flush DF-21-318 pressure-assisted, liquids flush on dual-flush units and some pressure-assist toilets
1.28 gpf, e.g. American Standard Compact Cadet 3 FloWise 24103.128 high performance toilet
1.4 gpf, some pressure-assist model toilets
1.6 gpf, e.g. Toto Drake CST744S gravity-flush two-piece toilet, flushometer valve toilets, solids flush on dual-flush toilets. This is the most common modern toilet flush volume; most toilet manufacturers make one or more toilets that flush using 1.6 gpf (6 liters).
6 gpf - some old and some wall tank-mounted toilet models
Air & Water Powered Flush Toilets (Pressure Assist): the Sloan Flushmate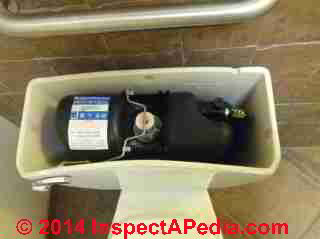 Air-powered pressure-assist flush toilets: if when you flush a top-flush-control toilet the fixture flushes with a rather stunning WHOOSH! that leaves you glad you didn't drop your wallet into the toilet, it's probably a power flush toilet such as the Sloan Flushmate. Sloan Flushmate® toilets: power-flush system reduces water use.
Power flush toilet model shown in our photo below: Sloan Flushmate® Model M-101526-F3 using a 1.6 gpf or 6LPF toilet flush volume. Other Flushmate® toilet models (Flushmate IV) use less than 1 gallon per flush.
The FLUSHMATE® system traps air and as it fills with water, it uses the water supply line pressure to compress the trapped air inside.
The compressed air is what forces the water into the bowl, so instead of the "pulling" or siphon action of a gravity unit, the pressure-assist unit "pushes" waste out. This vigorous flushing action cleans the bowl better than gravity units. - quoted from www.flushmate.com, retrieved 2/2/2014
The manufacturer points out that the increased pushing action provided by the air-powered Flushmate® design combines the advantage of reduced flush water volume with improved drain-carry performance: that is, solid waste that would be carried along a typical sewer line for a distance of 40 feet (12 meters) to comply with ANSI standard requirements will in the Flushmate® design be carried for 60 feet (18 meters) - a 50% improvement over a standard gravity-operated toilet flush tank. - APSE Research Report 91-01 & Standards: ANSI/ASME A112.19.2M and CSA B-45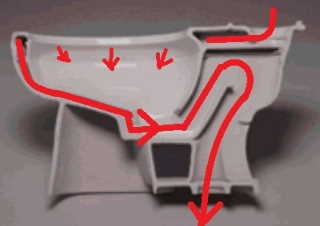 Note: the Flushmate® toilet design is apparently not suitable for a retrofit to existing toilets.
Image at left adapted from Sloan Flushmate literature. (On this particular toilet bowl the water comes down from the front of the rim to the jet (red arrows.) - image used courtesy of Sloan Flushmate ® with permission 2/4/14
The company points out that their toilets use an "advanced bowl design" described as follows:
FLUSHMATE®-equipped bowls are hydraulically designed to "push" contents out of the trapway instead of gravity siphoning. Siphoning requires a more complicated trapway, impeding performance.
FLUSHMATE'S trapway is simple, only needing one bend. FLUSHMATE®-equipped water closets eliminate the need to double flush because the trapway design has fewer bends. Toilets with FLUSHMATE® use a siphon-jet bowl to meet and exceed ANSI/ASME A112.19.2M and CSA B-45 performance requirements.
FLUSHMATE®-equipped water closets have trapways that are specifically designed to allow waste to be extracted earlier in the flush, unlike gravity trapways, which require a choke area or siphon bend that ultimately restricts flow. - quoted from www.flushmate.com, retrieved 2/2/2014
Sloan Flushmate power-flush toilet: Sloan Flushmate, 30075 Research Drive, New Hudson MI 48165, USA, Tel: 1-800-533-3450, Website: www.flushmate.com. Flushmate is a division of the Sloan Valve Company.
Excessive Flush Noise, Splash, Power Flush Toilet Repairs: Causes & Cures
Question: bubbles in lower floor toilet after installing water saving toilet upstairs
(June 7, 2016) Mary said:
We installed a new water saving toilet upstairs and now the toilet on the 1st floor is acting like a huge bubbler system every time we flush. Using a hose, we poured water down the vent stack on the roof and no water back up. Then we poured water down the sewer line and no back up. Then we flushed the 2nd floor toilet with the sewer drain left open there was zero splashing. We are at a loss as to what to try next. Any ideas?
Reply:
Typically those conditions mean that the toilet(s) are not venting adequately or there is a drain blockage downstream from the lower floor toilet.
Your tests were a good place to start, but I'm not sure that the water-pour test will tell us if a toilet is too far from or inadequately vented; rather you're simply finding that the vent system - whatever it is and wherever it's routed - isn't blocked.
Your second test was brilliant - thank you. To me your test suggests that the 2nd floor toilet is either not connected to a vent at all or is too far or the vent is inadequate.
Hmmm. This was a new toilet, but it replaced an older one, right? And am I right that you never saw this problem with the prior toilet?
If yes, and yes,
then
I suspect that the new toilet, in order to flush with less total water volume, is perhaps flushing faster, more aggressively, perhaps you're even using a toilet that gives an air shot to help the flush process? IF so that may be showing an underlying vent inadequacy. And air in the power flush may be showing up in that lower floor toilet bowl if, as I suspect, there ius also a partly blocked drain or vent.
I'll give it more thought. Let me know what you find.
(June 8, 2016) Mary said:
Had the sewer line cleaned out (found tree roots) and now the problem is solved. :)
(June 9, 2016) Mary said:
Well, scratch that for a fix. When we checked it yesterday after the clean out, the cover for the vent was not put back on(discovered that this morning). Only other thing we can think to do is put an old style toilet back in. Will let you know
(mod) said:
It's true that some toilets don't flush well; but there are certainly power-assisted low-water-usage or low-flush toilets that are very aggressive and clean-flushing; check those out.
FYI cleaning out tree roots is a short term fix - the roots will return as will blockages from collapsing pipe damaged by the roots or by other causes. Did you have the whole line scoped? Is this on a private septic that could be backing up?

Question: How do you stop your toilet from splashing after flushing the toilet?
(Feb 24, 2016) Rick Moore said:
How do you stop your toilet from splashing after flushing the toilet?

Reply:
I'm not sure, Rick. If the toilet has always splashed I think it may be an artifact of the bowl design.
You could check that the toilet tank level is filled to the fill line marked in the tank.
Beyond that you'd have to experiment with different flush valve designs.

If your toilet is a power-flush or power-assisted flush model, then see the Q&As below.
Question: after flushing toilet water backsplashes from bowl
(Apr 9, 2016) dave said:
after flushing toilet water backsplashes from bowl, tub and sink do not seem to have a problem. problem started after a clogged toilet incident that I plunged away. for the most part toilet flushes normally except for the powerful backsplash after every flush. there has been an occasional slow flush reported
Reply:
Check the toilet fill level - if too full
Check for slow drainage or gurgling at other drains when flushed; I suspect the blockage is not fully removed.
If your toilet is a power-flush or power-assisted flush model, see the Q&As just below
Question: water conservation toilet splashes fecal matter when flushed
2016/10/10 MetalTiger said:
Ever since we had "water conservation" toilets installed every flushing throws fecal matter up onto the underside of the toilet lid. I am sick of cleaning this off.
Guests of course wouldn't know to do this so the next person sitting down is actually resting their back against dried fecal matter. How do I fix this? I mentioned it to a plumber once and his response was "...a lot of people complain about that.." Hello??!
Is there a fix? Thanks.
This question was posted originally at TOILETS, INSPECT, INSTALL, REPAIR
Reply: Repairs for wild too-strong power-flush toilet splash-up
Good question, Tiger.
Fixing a splashing or too-strong power-flush type toilet:
Power-flush toilets can misbehave in ways similar to conventional flush toilets: e.g. running, or a weak flush. those troubles are typically fixed by adjustment and cleaning, for example you may need to clean the intake screen on the water supply assembly.
A Sloan flushmate toilet that runs may be caused by insufficient water pressure to the toilet or simply misadjustment of the actuator flush rod or push-button. A clogged inlet screen can cause the same troubles as low water pressure.

But
Excessive power in a power-flush toilet can splash sewage so unpleasantly that it can drive users back to the outhouse.
The trouble may be simply one of adjustment of the power flush system, or it may require cleaning or repair of the air regulator.
First: check the water level in the toilet bowl after the toilet has been flushed and the flush-tank refill cycle has completed.

. If the toilet bowl water level is too high that can cause splashing. Some flush systems allow adjustment of the bowl fill level, some by a simple plastic squeeze valve mounted on (or added onto) the plastic tube conducting water to the toilet bowl during toilet tank refill.
Next: check for an obstruction, crud, debris blocking the front of the toilet bowl = a source of splash-up. (and unlikely IMO)
Next: check the building water pressure level and compare that with the operating range specified by your power flush toilet brand and model.

Typical building water pressure is between 20 psi and 70 psi. Much higher pressure is going to cause trouble at fixtures: leaks and of course wasted water.

Send me (page bottom CONTACT) a photo of the toilet, its flush mechanism, labeling, model name and I can help research this for you.
If the incoming water pressure is too high you will need to install a pressure regulator to drop it back. Just closing a supply valve part way won't fix the trouble.
Next: check for mineral or crud clogging the water holes around the toilet rim. During a toilet flush water directed out of the bowl rim is designed to clean the bowl and to assist the flush.

But if the holes are clogged too much water may be directed through other holes or through the primary water supply path causing ugly splashing or a "too-strong toilet flush" that is downright violent.
A newly-installed Flushmate type toilet probably won't have rim hole clogs. In that case, since the pressurizing system is set at the factory and is not user adjustable, you're left with installing a whole-house pressure regulator OR a pressure regulator on a water line supplying jut the toilet Set that output pressure down to closer to the minimum operating pressure of the power flush toilet, typically 20-30 psi.
Let us know how that works for you.
Last: replace the toilet. Some power flush toilets suffered from such bad behavior that they were recalled.
Joe Barrett reported on this in the Wall Street Journal (Barrett, Joe, "High-Pressure Toilets Shake Up Bathrooms" The Wall Street Journal, Dec. 18, 2002), noting that pressure assist flush toilets were particularly noisy and troublesome.
A Kohler power flush toilet model actually could break (talk about dangerous!) and was recalled. Later power-flush toilet models should have corrected the worst of these problems. Also see the Flushmate toilet recall notice below.
Hope you can help. Approximately eleven years ago we were remodeling two of our bathrooms.
At the suggestionn of the installer, we opted for type of aparatus in the tank I had never seen. There was no visible water in the tank, and instead, there was a rather large stainless steel tank which appeared to be a pressuse tank.
When the toilet was flushed, there was a"wooshing" sound like air pressure. It was similar to the sound of toilets on cruise ships.
It was very efficient and I would like to have one installled in our current home. The installer is deceased and I cannot recall the type or brand. I do recall the cost was approximately one one hundred dollars more than a mid level convential toilet. Can you help?
This question was posted originally at WATER TANK: USES, TROUBLESHOOTING
Richard this sounds like a pressure-assisted flush toilet that uses a combination of building water pressure and an air charge to flush the toilet bowl while using less water than some other systems.

Searching InspectApedia for Power Assist or Pressure Assist Toilets finds the most detail about these at https://InspectAPedia.com/plumbing/Water_Saving_Toilets.php

There I use the "Air & Water Powered Flush Toilets (Pressure Assist): the Sloan Flushmate" as an example.

At https://InspectAPedia.com/plumbing/Toilet_Types.php I also describe this as "Pressure-assist flush toilet: the toilet is flushed by water that is given a velocity boost by a pressure system using a pump,compressed, air, or other means. Typically pressure-assist toilet designs are found on water-saving low-flush-volume toilets."
Our home page for power assisted flush toilets is this article LOW WATER USAGE TOILETS

Pressure assist or "power assisted flush" toilets are also described in a bit more detail at TOILET DESIGN CHOICES
For details about air, water pressure or other assisted-flush or power-flush toilets see LOW WATER USAGE TOILETS or go directly to FLUSHMATE TOILETS (within that article) where we discuss power-assisted flush toilets that also conserve water.
We also discuss power flush toilets also at TOILETS REPAIR FAQs
Flushmate III Series 503 Toilet Safety Recall Notice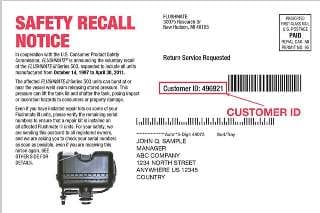 Watch out: The Flushmate III toilet was subject to a safety recall notice. If you have a Flushmate III toilet that was manufactured between October 14, 1997 and April 30 2011, the recall notice applies, and a repair kit should be installed.
[Click to enlarge any image]
The Flushmate toilet safety recall notice also states that:
The affected FLUSHMATE III Series 503 Units can burst at or near the vessel weld seam releasing stored pressure. This pressure can lift the tank lid and shatter the tank, posing impact or laceration hazards to consumers or property damage.
Even if you have installed repair kits on some of your Flushmate III units, please verify the remaining serial numbers to ensure that a rpair kit is installed on all affected Flushmate III units.
For your safety, we are sending this postcard [sic] to all registered owners and we are asking you to check your serial numbers as soon as possible, even if you are receiving this notice again. SEE OTHER SIDE [of the post card] FOR DETAILS.
Contact the company by telephone at 1-800-303-5123.
Also see https://www.flushmate.com/recall/.
You can also contact Flushmate at 30075 Research Drive, New Hudson MI 48165.
...
Continue reading at ALTERNATIVE & WATERLESS TOILETS or select a topic from closely-related articles below, or see our complete INDEX to RELATED ARTICLES below.
Or see WATERLESS URINALS
Suggested citation for this web page
LOW WATER USAGE TOILETS at InspectApedia.com - online encyclopedia of building & environmental inspection, testing, diagnosis, repair, & problem prevention advice.
Or use the SEARCH BOX found below to Ask a Question or Search InspectApedia
...
Frequently Asked Questions (FAQs)
Try the search box below or CONTACT US by email if you cannot find the answer you need at InspectApedia.
...
Ask a Question or Search InspectApedia
Use the "Click to Show or Hide FAQs" link just above to see recently-posted questions, comments, replies, try the search box just below, or if you prefer, post a question or comment in the Comments box below and we will respond promptly.
Search the InspectApedia website
Technical Reviewers & References
Click to Show or Hide Citations & References
Del Porto D. (2000) The Composting System Handbook, The EcoS
an Center, The Center for Ecological Pollution Prevention,
http://www.cepp.
cc/ecosan.htmDel Porto D. (2000) The Composting System Handbook, The EcoS an Center, The Center for Ecological Pollution Prevention, http://www.cepp. cc/ecosan.html . Lachapelle P. (1995) A Report on human waste management in Mt Everest National Park, http://www.uvm.edu/~r lachape/toilets.html
Mara D. and Feachem R. (1980) Technical and public health aspects of low cost sanitation progra mme planning. Jour nal of Tropical Medicine and Hygiene 83:229-240. Pacey A. (1978) Sanitation in Developing Countries.
Oxfam and Ross Institute of Tropical Hygiene. Papaport D. (1995) Sewage pollution in Pacific island countries and how to prevent it. A report produced for Greenpeace Pacific, Center for Clean Development, http://www.uvm.edu/~rla chape/dev-pacis.html .
Peasey A. (2000) Health aspects of dry sanitation with waste reuse. Well Studies in Water and Environment no 324, http://www.lboro.ac.uk/well/

"Story: Rock, limestone and clay Part of page 8 – Ceramics and pottery ", TEARA, The Enyclopedia of New Zealand, Video retrieved 9/18/14, original source: http://www.teara.govt.nz/en/video/5254/clay-toilets, Te Ara, Manatū Taonga Ministry for Culture and Heritage, PO Box 5364, Wellington, New Zealand, Tel: +64 4 499 4229, Email: TeAra@mch.govt.nz
[1] Carson, Dunlop & Associates Ltd., 120 Carlton Street Suite 407, Toronto ON M5A 4K2. (416) 964-9415 1-800-268-7070 info@carsondunlop.com. Thanks to Alan Carson and Bob Dunlop, for permission to use illustrations from their publication, The Illustrated Home which illustrates construction details and building components. Carson Dunlop provides home inspection education including the ASHI-adopted a Home Inspection Home Study Course, and publications such as the Home Reference Book, the Home Reference eBook, and report writing materials including the Horizon report writer, and home inspect ion services. Alan Carson is a past president of ASHI, the American Society of Home Inspectors.
[2] 1991 ADA Standards for Accessible Design, U.S. Department of Justice, 28 CFR Part 36, Revised as of July 1, 1994, excerpts; web search 5/10/12, original source: http://www.ada.gov/stdspdf.htm [copy on file as ADA_Standards_1994.pdf]
[3] Alliance for Water Efficiency, 300 W Adams Street, Suite 601 Chicago, Illinois 60606, Tel: 866-730-A4WE, Website: http://www.allianceforwaterefficiency.org/ Quoting:
The Alliance for Water Efficiency is a stakeholder-based 501(c)(3) non-profit organization dedicated to the efficient and sustainable use of water.  Located in Chicago, the Alliance serves as a North American advocate for water efficient products and programs, and provides information and assistance on water conservation efforts.
OSHA toilet standards: OSHA's sanitation standard for general industry, 29 CFR 1910.141(c)(l)(i), specifies that employers shall provide toilet facilities for their employees. Web-search 5/10/12, original source: http://www.osha.gov/pls/oshaweb/owadisp.show_document?p_id
=22932&p_table=INTERPRETATIONS
[4] Toilet Manufacturers' Product literature or websites were consulted for the following:

American Standard brand toilets (illustrated in this article), includes these additional plumbing fixture & component brands: Jade, Porcher (see below), Crane Plumbing, Eljer, Fiat, American StandardsProSite, Safety Tubs, http://www.americanstandard-us.com/
Atlas International brand toilets, Atlas USA, http://atlasusa.net/
Barclay brand toilets, Barclay Products Limited, 4000 Porett Dr., Gurnee, IL 60031, 847-244-1234, website: http://www.barclayproducts.com/
Caroma brand toilets, Caroma is Australian company; in Canada & the USA Tel: 800-605-4218, website: http://www.caromausa.com/
Church Seats, [toilet seats only], http://www.churchseats.com/ - our photo (left) shows a church toilet seat installed.
Circle City Copperworks 9325 Uptown Dr., Suite 500 Indianapolis, IN 46256-1079, sinks, other copper products, not toilets, website: http://www.circlecitycopperworks.com/
Crane Plumbing - see American Standard Products, above
Danze brand toilets, Tel: USA: 1-877-530-3344, Canada: 1-866-884-8841 http://www.danze.com/room_solutions.asp
Eljer brand toilets, (e.g. Titan one-piece elongated bowl 16 1/8" ADA-compliant)
Gerber brand toilets (e.g. Gerber Ultra Dual Flush elongated ErgoHeight DF-21-318 pressure-assisted 1.6 gallon flush unit.), USA: 1-866-538-5536 (9AM-6PM) Mon-Fri Canada: 1-866-884-8841 (8:30AM-5PM) Mon-Fri, http://www.gerberonline.com/default.aspx
Glacier Bay brand toilets, [Home Depot brand] porcelain, made in china, top flush control low-water ADA-height unit shown in this article. Cf. Globe Union Industrial Company of Canada, China, elsewhere. Also see Pegasus, Danze, Gerber. Glacier Bay Faucets and sanitaryware, 2455 Paces Ferry Road NW, .Atlanta, Ga. 30339-4024, 800-220-3036. http://www.glacierbayfaucetsreview.com/
Hastings Tile & Bath toilets, includes "hatbox" and wall mount sinks, bidets, & toilets, 30 Commercial Street Freeport, N. Y. 11520, Tel: (516) 379-3500. http://www.hastingstilebath.com,
Herbeau Creations brand toilets, Herbeau Creations of America 3600 Westview Drive Naples, FL 34104, Tel: (800) 547-1608, (since 1857), http://www.herbeau.com/Products.aspx?Item=5501
Inax brand toilets, 15 West 20th Street, New York, NY 10011, Tel: 855-823-4434, http://www.inax-usa.com/gallery-ny/
Jacuzzi brand toilets, Tel: 800-288-4002., website: http://www.jacuzzi.com/
Jade, see American Standard Products, above
Jemal Wright Bath Designs toilets, Brazil & USA, 3140 SW 19th St. #572, Hallandale FL 33009 USA, Tel: 305-915-0960, email: info@jemalwright.com, website: http://www.jemalwright.com/
Kohler® brand toilets, Kohler Co. 444 Highland Drive Kohler, WI 53044, Tel 800-456-4537, Website http://www.kohler.com/corporate/index.html
Laufen Ceramicware brand toilets, world wide, LAUFEN Bathrooms AG Wahlenstrasse 46 CH-4242 Laufen, USA: Laufen Bathrooms North America 11190 NW 25th Street Miami, FL 33172, Tel: Tel: +1 866.696.2493 / +1 305.357.6130, Website: http://www.laufen.com
LeBijou brand toilets, - good luck finding this company or a home page for them - Ed.
Mirabelle brand toilets (e.g. Key West MIRKW241ABS), showrooms in the U.S. & Canada, Email: info@mirabelleproducts.com, Website: http://www.mirabelleproducts.com/
Nameek's brand toilets, 1561 Gehman Rd., Harleysville, PA 19438, Tel: (215) 256-4197, Website: http://www.nameeks.com/Bathroom/
Neo-Metro Collection brand toilets, Neo-Metro 15125 Proctor Ave City of Industry CA 91746 U.S.A, Tel: 800.591.9050, Website: http://www.neo-metro.com
Panasonic brand toilets, (e.g. Panasonic toilet bowl with warm water flush system for washing user beauty cabinet de toilette W moment-type pearl ivory DL-WD60-CP; also the Zaraku portable toilet - http://ex-blog.panasonic.co.jp/exhibition/en/2008/09/hcr08_400.html)
Porcher brand toilets, originally a French brand, acquired by American Standard Companies in 1992, Website: http://www.porcher-us.com/
ProFlo brand toilets (e.g. Proflo PFCT 103WH)
Rapsel brand toilets,RAPSEL Spa Via Volta 13 - 20019 Settimo Milanese (MI), Italy Tel. 0039 02 3355981 Fax. 0039 02 33501306, Email: rapsel@rapsel.it Italian company, offices in Milan & New York, Website: http://www.rapsel.it/ or in the U.S. http://rapsel.wordpress.com/
Samuel Heath brand toilets, US & UK, USA Customer Service 111 E. 39th St. 2R New York NY 10016, Tel: 212 599 5177, Email: usa@samuel-heath.com, or UK Head Office Samuel Heath & Sons plc Leopold Street Birmingham B12 0UJ, Tel: +44 121 766 4200, Email: info@samuel-heath.comWebsite: http://www.samuel-heath.com/
Sterling brand toilets (e.g. Rockton S4020880), Sterling Plumbing 444 Highland Drive Kohler, WI 53044, Tel: 800-783-7546, Website: http://www.sterlingplumbing.com/
St. Thomas Creations brand toilets, St. Thomas Creations 3A South Middlesex Avenue Monroe Township, New Jersey 08831 USA, Tel. (800) 536-BATH (800-536-2284) Fax (609) 655- 2421, Email: E-Mail: info@stthomascreations.com, Website: http://www.stthomascreations.com/
Toto brand toilets (e.g. Toto Drake CST744S, Neorest Hybrid, ) Brazil & USA, TOTO USA, INC. 1155 Southern Road Morrow, Georgia 30260, Tel: 888-295-8134, Tel: 1-888-295-8134, Email: custservice@totousa.com techsupport@totousa.com, Website: http://www.totousa.com
Villeroy & Boch Bath & Kitchen brand toilets, International, offices in Canada, Mexico, United States, Villeroy & Boch AG Corporate Headquarters P.O. Box 1120 D 66688 Mettlach, Phone +49 (0) 68 64 - 81 - 0, Website: http://www.villeroy-boch.com/, Company founded 1748.
VitrA USA brand toilets, International, Brazil?, USA contact: Shawnee North Business Center 305 Shawnee North Drive Suite 600 Shawnee USA, Phone : +1 770 904 68 30 Fax : +1 770 904 68 91 www.vitra-usa.com, Website: http://usa.vitra.com.tr/
Whitehaus Collection brand toilets, Whitehaus Collection - 589 Boston Post Rd. West Haven, CT 06516 USA, Tel: 800.527.6690, Email: info@whitehauscollection.com, Website: http://whitehauscollection.com

[5] Wikipedia provided background information about some topics discussed at this website provided this citation is also found in the same article along with a " retrieved on" date. NOTE: because Wikipedia entries are fluid and can be amended in real time, we cite the retrieval date of Wikipedia citations and we do not assert that the information found there is necessarily authoritative.

"Flush Toilet", web search 5/10/12, original source: http://en.wikipedia.org/wiki/Flush_toilet#Tank_style_with_flapper-flush-valve
"Japanese bidet toilet", web search 5/13/12, original source: http://en.wikipedia.org/wiki/Japanese_toilets
Books & Articles on Building & Environmental Inspection, Testing, Diagnosis, & Repair
Our recommended books about building & mechanical systems design, inspection, problem diagnosis, and repair, and about indoor environment and IAQ testing, diagnosis, and cleanup are at the InspectAPedia Bookstore. Also see our Book Reviews - InspectAPedia.
...