Heating Oil Line Buzzing & Vibration

Causes & Cures for oil line noise
InspectAPedia tolerates no conflicts of interest. We have no relationship with advertisers, products, or services discussed at this website.
Heating oil piping buzzing noise or vibration in the oil burner supply & return piping:
Causes & effects of noise & vibration in heating oil supply or return piping or at oil line fittings, valves, or other locations.
Vibration or "buzzing" sounds at heating oil equipment may appear to originate in the oil piping itself - which is possible, but more-often the actual vibration source is at the oil burner. Beware that vibration can lead to oil line or equipment oil and air leaks, loss of heat or even a puffback explosion.
Green links show where you are. © Copyright 2017 InspectApedia.com, All Rights Reserved.
Heating Oil Line Buzzing or Vibration can lead to oil heat system puffback and loss of heat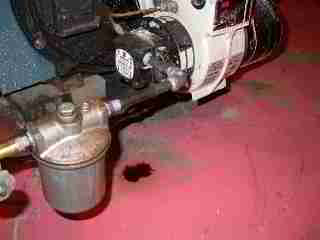 This article discusses the causes & cures for buzzing noises & vibration in the oil piping line(s) between an oil storage tank and the oil burner(s) that it supplies.
Watch out: leaks in heating oil appliance piping or filters can be much more serious than just a drip spot on the floor.
The same leak that allows oil to drip out of the oil filter or piping connections allows air to be drawn into the system when the oil fuel unit (oil pump for the water heater, oil fired boiler or furnace) is running.
That air leak into the system results in improper oil burner operation, soot clogging, and even a loud bang at oil burner start-up or worse, a dangerous puffback. See OIL BURNER SOOT & PUFFBACKS.
[Click to enlarge any image]
Separate from buzzing or vibration detected at the heating oil piping itself, this separate article at HEATING SYSTEM BUZZING NOISE discusses other sources of vibration & buzzing in heating equipment.
Question: my oil heat service company wants to put a snake in my oil line to "fix" a vibration noise
I don't know if boiler or furnace is the correct term; my heating system has pipes going through baseboards that circulate hot water to make heat. It does not have ducts or vents where hot air comes into the house.
There is no smell at all. I just had the second company replace the firebox and heating coil. I looked in myself and it was absolutely clean. This is an oil burner.
As for getting a senior technician, the company owner is the one who came back. I'm 65 and he looks older than me. But he didn't look for loose bolts or anything. Of course it wouldn't make the loud noise when he was here. It's a buzzing/vibrating noise which is heard all over the first floor, especially near the 2 fireplaces. He said the flue didn't need cleaning.
What he said was that he would put some metal snake inside the oil line to absorb the vibrations. I've spent the weekend reading hundreds of posts and websites about noises from furnaces. None say anything about inserting something to absorb vibrations to decrease noise.
They all say, as you do, that it's loose or bad bolts or parts, bad bearings, something with the blower motor or wheel. I'm thinking that since it was not making this noise before the new firebox was installed, that they damaged or didn't tighten something during the work.
The only reference I've seen to putting a snake into an oil line is when there is a clog in the line. That's a sputtering, coughing noise, not a steady vibrating buzz.
If you have time, I'd like to know if you've ever heard of putting a snake into an oil line to absorb vibrations that cause noise. - Anonymous by private email 2017/09/11
The reader question and comments above are a continuation of a discussion about the diagnosis & cure of a hard-to-track-down buzzing noise at an oil fired heating system. The discussion starts at HEATING SYSTEM BUZZING NOISE
Reply: List of Causes of & Cures for Buzzing & Vibration Observed in Heating Oil Piping
Hot water in pipes type heating means that your heating system is best called a heating boiler or just "boiler".
If the oil line is vibrating it can transmit sound to other parts of a building. I'm not familiar with a metal snake inside of an oil line that would itself cure a vibration problem but sure, let him try whatever he wants. I suspect the service company figures that there may be a debris blockage in the oil piping.
At OIL LINE CLOGGING FIX we describe other ways people un-clog a blocked oil line.
You don't need to learn all of these parts but you're welcome to print this page or the oil line vibration article I'll refer below as information that you can give to the owner with my request that I'd much welcome any critique or suggestions he has to offer and am glad to credit and cite technical content contributors:
Once a service tech has checked or repaired common causes of oil line vibration such as
a clogged oil filter
clogging or debris in the oil line, including a kinked or mis-routed oil line that sometimes gets moved when equipment is being serviced or modified
a defective or mis-wired high voltage transformer on the oil burner
an oil burner that is not set up well and is running poorly: wrong nozzle, wrong flame pattern for the combustion chamber and heating appliance, wrong nozzle type (A instead of B or solid instead a hollow cone spray pattern or instead of Anti-Noise depending on the specifications of the oil heater manufacturer) or the wrong or dirty flame retention ring on the oil burner,
has double-checked for loose bolts or parts such as
loose oil burner mounting bolts
loose oil burner fuel unit or electric motor mounting bolts
and has ruled out defective parts or components that may be having abnormal vibration such as
bad fuel unit (the oil pump part of the oil burner)
bad electric motor (or its bearings) or an electric motor that has not been lubricated and is running dry
bad burner blower fan bearing
bad coupling between the oil burner electric motor and the burner fan and fuel unit (other parts of the oil burner that could cause abnormal vibration)
an oil filter at the burner that is touching other plumbing or metal parts to transmit vibration
and made sure that the oil piping is not rubbing on or touching other metal systems like water supply or drain piping (or for a forced air heat, the metal ductwork)
Cures for Buzzing & Vibration Noise at Heating Oil Piping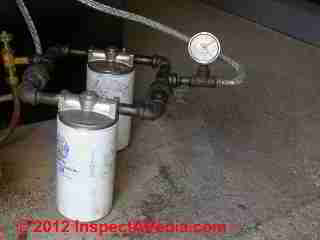 Best solution: find and repair any of the defects we list above at the oil burner motor, pump, blower, coupling, mounting bolts or other loose or defective components.

Photo: a braided line connecting a dual oil filter set-up at an oil burner connected to an old heating oil tank where sludge was a concern.

The braided line was pulled a bit tight but it accomplishes a nearly-complete vibration dampening separation between the oil burner and the oil piping system.
Best solution if there are no abnormal vibration sources at the oil burner: install a length of flexible steel-braid-covered oil line between the oil burner and the rest of the oil piping, or if there are two oil lines (a supply and a return line) then install that flexible section on both of the oil lines at the burner
Solution that can help: install vibration isolation clamps to secure the oil line in place where it passes over wood framing.

This is a smart move if oil piping was simply clamped tightly to the underside of floor joists over a basement where the heating equipment is located, since the floor above acts as a speaker/amplifer for vibration noise.
Alternative solution - piping loop: (not as nice as the flexible steel-braid-protected oil line section): install a free loop of extra oil line at the oil burner end to allow extra movement without damage
...
Continue reading at HEATING SYSTEM BUZZING NOISE - causes of buzzing & vibration in heating equipment, or select a topic from closely-related articles below, or see our complete INDEX to RELATED ARTICLES below.
Or see BUZZING SOUNDS sounds from A/C, heat pump or inverter or from other equipment in, or, or near buildings
Or see OIL LINE PIPING LEAKS
Or see OIL LINE PIPING LEAK CAUSES
Or see OIL TANK PIPING & PIPING DEFECTS
Or see HEATING SYSTEM NOISE DIAGNOSIS - home
Or see NOISE, WATER HEATER
Or see these
Heating System Noise Diagnosis Articles
Suggested citation for this web page
OIL LINE BUZZ & VIBRATION CURE at InspectApedia.com - online encyclopedia of building & environmental inspection, testing, diagnosis, repair, & problem prevention advice.
Or use the SEARCH BOX found below to Ask a Question or Search InspectApedia
...
Frequently Asked Questions (FAQs)
Try the search box below or CONTACT US by email if you cannot find the answer you need at InspectApedia.
Question: how to seal off an unused copper oil line
(July 6, 2014) lee said:
I have a 2 line system one of the line leaking. I can setup as a 1line no problem but I need to seal off the leaking one ! wondering if there is anything I can put into that line that would not break down with the fuel and save me from having to dig up the second line caulking ?
Reply:
Lee,
to close off a copper oil line without creating a future mess the best approach is to simply buy a flare fitting and a flare-threaded plug that will screw into the fitting. Using a flaring tool, install the flare collar, flare the tubing end, install the flare fitting and screw the collar tight; then screw the flare threaded plug into the flare fitting. All of these few parts (and the tool if necessary) can be obtained at a local plumbing supplier. You simply need to measure the OD of your oil line so that you buy the correct flare fittings - 3/8" or 1/2" for example.
...
Ask a Question or Search InspectApedia
Use the "Click to Show or Hide FAQs" link just above to see recently-posted questions, comments, replies, try the search box just below, or if you prefer, post a question or comment in the Comments box below and we will respond promptly.
Search the InspectApedia website
Technical Reviewers & References
Click to Show or Hide Citations & References
[1] "Fuel Oil Piping and Storage", 2006 Mechanical Code, Chapter 13, International Code Council, 500 New Jersey Avenue, NW, 6th Floor, Washington, DC 20001, Tel: 888-ICC-SAFE (422-7233); Website: iccsafe.org/, Email: webmaster@iccsafe.org, Customer Store (buy publications) 800-786-4452. Also see 2009 International Codes and 2012 International Codes.
[2] "The application of a continuous leak detection system to pipelines and associated equipment", Sandberg, C. Raychem Corp., Menlo Park, CA, Holmes, J. ; McCoy, K. ; Koppitsch, H, Industry Applications, IEEE Transactions on, Sep/Oct 1989, Vol. 25 No. 5, pp. 906-909, ISSN : 0093-9994 INSPEC Accession Number: 3582593 Digital Object Identifier : 10.1109/28.41257, Abstract:
An overview of classical leak detection systems is given and the engineering basis of a novel type of detector is examined. This system is a flexible hydrocarbon-sensing cable that can be installed along pipelines, in double-containment tanks and piping, or in trenches to detect and locate leaks of common industrial hydrocarbon solvents or fuels while ignoring the presence of water. The simple electrical circuit that locates and detects a leak anywhere along the length of the sensor is also described
[3] "A Case Study of a Large Scale Precision [oil or fuel] Tank Testing Program", Diane H. Heck, Tetra Tech Richardson, Newark, Delaware, web search 4/27/12, original source: http://info.ngwa.org/GWOL/pdf/870143411.PDF, copy on file as /heating/OIl Tanks UST/Tank_Test_Heck_870143411.pdf Abstract:
In September 1986, a precision tank testing program was started to bring a major Maryland utility into compliance with the State of Maryland Oil Spill Control Regulations regarding underground storage tanks. This program involved the testing of over 240 tanks ranging in size from 300 gallons to 1,500 gallons located throughout the entire state of Maryland.
Analyses of the testing results revealed that 40% of the systems tested leaked. Piping leaks caused 82% of the testing failures and tank leaks caused the remaining 18%. Tank systems located in urban areas experienced a 50% testing failure rate, while tank systems located in rural areas experienced only a 25% failure rate. Leaks in tank systems in urban areas appear to be the result of structural loading and corrosion, affects [effects] absent in rural areas. The age, capacity, and usage of the tanks did not have a role in causing leaks either in the piping or the tank.

[4] "An Engineering Guide to Modern Fuel Systems", Critical Fuel Systems, division of BFS Industries, LLC www.criticalfuelsystems.com, 200 Industrial Drive, Butner, NC 27509, (919)575-6711, retrieved 12/30/2013 original source: http://www.criticalfuelsystems.com/wp-content /uploads/2010/05/Design-Guide-print-22.pdf
Mark Cramer Inspection Services Mark Cramer, Tampa Florida, Mr. Cramer is a past president of ASHI, the American Society of Home Inspectors and is a Florida home inspector and home inspection educator. Mr. Cramer serves on the ASHI Home Inspection Standards. Contact Mark Cramer at: 727-595-4211 mark@BestTampaInspector.com
John Cranor is an ASHI member and a home inspector (The House Whisperer) is located in Glen Allen, VA 23060. He is also a contributor to InspectApedia.com in several technical areas such as plumbing and appliances (dryer vents). Contact Mr. Cranor at 804-747-7747 or by Email: johncranor@verizon.net
Arlene Puentes, an ASHI home inspector in Kingston, NY, contributed the example photograph of an outdoor aboveground oil tank. Ms. Puentes can be contacted at ap@octoberhome.com
Audels Oil Burner Guide, Installation, Servicing, Repairing, Frank D. Graham, 1940's edition (obsolete). Updated versions of this guide are available in various editions, 1947, 1950, 1955, 1958, 1959, 1962, 1965, 1967, and at prices from around $3.00 to nearly $70.00 - useful for simple, clear, but not current, explanation of how heating equipment works. The original retail price was $1.00.
Bottini Fuel service, 4/26/2011. Bottini Fuel is a residential and commercial heating oil distributor and oil heat service company in Wappingers Falls, NY and with offices in other New York locations. Bottini Fuel, 2785 W Main St, Wappingers Falls NY, 12590-1576 (845) 297-5580 more contact information for Bottini Fuel
Dave Ferris - M&S Environmental Systems, Dutchess County, New York. Mr. Ferris was an HVAC expert. Personal communication to DJF 1987. Remove the firematic or fusible oil supply line valve on return oil-line side - in case of fire if this one closes first the pump continues to run, blows its seal, and sprays oil all over the fire. Proper installation is to have a fusible link valve only on the supply side, and to install a check valve on the return line to prevent back-siphonage from the tank.
"HUD Regulation for Manufactured Homes; Requirement that Heat-Tape not include a GFCI [ copy on file as /plumbing/GFCI_Heat_Tapes_HUD_CPSC_Letter1994.pdf ] - ", Meeting Log, US CPSC, HUD, Dennis McCoskrie, ESEE, 2/14/1994
Books & Articles on Building & Environmental Inspection, Testing, Diagnosis, & Repair
Our recommended books about building & mechanical systems design, inspection, problem diagnosis, and repair, and about indoor environment and IAQ testing, diagnosis, and cleanup are at the InspectAPedia Bookstore. Also see our Book Reviews - InspectAPedia.
...