Asphalt Shingle Roof Installation Procedures
Best Roofing Practices Guide

ASPHALT SHINGLE INSTALLATION - CONTENTS: Asphalt roof shingle installation procedures: good workmanship. Asphalt shingle installation temperature. Asphalt roof shingle sealing methods. Asphalt shingle nailing spacing and locations. Asphalt roof shingle course offset requirements. Low slope and steep slope limits for asphalt shingles. Asphalt shingle roof flashing at eaves & skylights. Best practices for roofing material installation, flashing, ventilation, nailing, underlayment
POST a QUESTION or READ FAQs about the best practices to follow when installing asphalt shingle roofing.
InspectAPedia tolerates no conflicts of interest. We have no relationship with advertisers, products, or services discussed at this website.
This article discusses best roofing practices for the installation of asphalt roof shingles, including installation temperature, shingle sealing methods, shingle course offsets, asphalt shingle nailing location and specifications, low slope and steep slope limits for asphalt shingles, and roof flashing at building eaves and around skylights. This article series discusses best practices in the selection and installation of residential roofing.
Green links show where you are. © Copyright 2014 InspectApedia.com, All Rights Reserved.
Installation Recommendations for Asphalt Shingle Roofs
Adapted/paraphrased with permission from Best Practices Guide to Residential Construction, chapter on BEST ROOFING PRACTICES:
Installation Temperature Requirements for Asphalt Shingle Roofs
Ideally, shingles should be installed at temperatures ranging from 40°F to 85°F. Below 40°F, shingles are brittle and crack easily when hammered or bent.
Above 85°F, it is easy to tear the shingles or mar the granular coating. In hot temperatures, roofers often start very early in the morning and break at midday. In cold temperatures, it is best to store the shingles in a heated enclosure until they are installed.
Details about shingle temperatures in manufacture and on-roof are at ASPHALT SHINGLE TEMPERATURES
Manual Sealing Requirements for Asphalt Shingle Roofs
Details about the sealing recommendations from asphalt shingle roofing experts are at WIND DAMAGE to ROOFS and at CELLOPHANE STRIP REMOVAL? we include an exhaustive review of the argument around whether or not one should remove the cellophane strips from the back of asphalt roof shingles before they are installed [basically, no provided they are secure and in place].
Here is what the GAF Materials Corporation, Grand Timberline™ Premium Architectural Shingle Application Instructions say about the glue strips and cellophane. You'll note that we are to leave the cellophane in place, but if site conditions (high wind) require immediate shingle sealing, an extra step, using additional shingle tab adhesive, is permitted.
WIND RESISTANCE/HAND SEALING: These shingles have a special thermal sealant that firmly bonds the shingles together after application when exposed to sun and warm temperatures. Shingles installed in Fall or Winter may not seal until the following Spring. If shingles are damaged by winds before sealing or are not exposed to adequate surface temperatures, or if the self sealant gets dirty, the shingles may never seal. Failure to seal under these circumstances results from the nature of self-sealing shingles and is not a manufacturing defect.

To insure immediate sealing, apply 4 quarter-sized dabs of shingle tab adhesive on the back of the shingle 1" (25mm) and 13" (330mm) in from each side and 1" (25mm) up from bottom of the shingle. Press shingle firmly into the adhesive. For maximum wind resistance along rakes, cement shingles to underlayment and each other in a 4" (102mm) width of asphalt plastic roof cement.

NOTE: Excess tab adhesive can cause blistering of the shingle.

[The company is referring to the use of additional roof shingle adhesive, not the factory-applied glue strip. Also see BLISTERS on ASPHALT SHINGLES - Ed.]

The film strips on the back of each shingle are to prevent sticking together of the shingles while in the bundle and to keep dirt and debris out of the adhesive material so that after installation the adhesive will work. Their removal is NOT required during application.
In cold climates, the asphalt shingle sealant strip may not set up properly and may require manual sealing.
For three-tab shingles, place two quarter-size spots of plastic roof cement under the lower corners of each tab (as shown in Figure 2-7).
With laminated shingles, place four to six quarter-sized dots, spaced evenly, about one inch above the bottom of the overlapping shingle.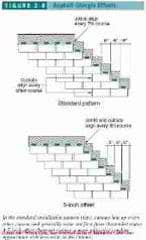 Our page top photo shows the standard sealant strips found on asphalt shingles, in this case a GAF® product we photographed at a Home Depot® store.
Details about the sealing recommendations from asphalt shingle roofing experts are
at WIND DAMAGE to ROOFS.
Starter Course Requirements for Asphalt Shingle Roofs
After the underlayment and drip edge are installed, a starter course of asphalt shingles, with the tabs removed, is nailed along the eaves so its sealant strip seals down the first course.
Offsets Between Shingle Courses, Requirements for Asphalt Shingle Roofs
Successive courses are typically offset 6 inches (half a tab) on a 36-inch shingle in a stepped fashion, making cutouts align every other course and butt joints align every seventh course (Figure 2-8).
For a more random pattern where cutouts align only every eighth course, offset shingles only five inches.
Both of these patterns effectively resist leakage, but the 5-inch offset may provide longer wear since water will not be channeled down the cutouts thereby eroding the stone topping.
Shingle Laddering Not Recommended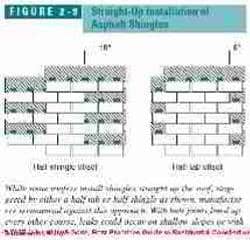 As we discuss in detail
at LADDERING vs STAIR STEPPING SHINGLES, for ease of installation some roofers install shingles straight up the roof, staggering shingles 6 inches or 18 inches back and forth (Figure 2-9).
Since this lines up butt joints every other course, this is considered a less watertight roof and may leak under extreme situations, such as windblown rain on a low pitch.
Ladder style application of asphalt roof shingles is not recommended by any roofing manufacturers. Manufacturers also claim that shingle color patterns may create splotches or stripes if laid this way.
Fastening (Nailing) Requirements for Asphalt Shingle Roofs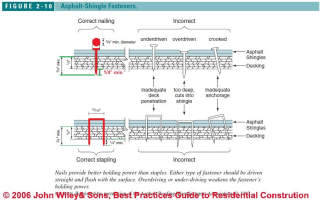 The preferred fastener is galvanized roofing nails with a minimum 12-gauge shank and head diameter of at least 3/8 inch.
Although staples are allowed in some jurisdictions, they do not provide the same holding power.
[Click to enlarge any image]
Both nails and staples should be long enough to penetrate the roof sheathing by 3/4 inch or penetrate 1/4 inch through the sheathing if it is less than 3/4 inch thick.
Fasteners should be driven straight and flush with the shingle surface (Figure 2-10 above).
Overdriven nails or staples can cut into the shingle or crack it in cold weather.
Fastener Location Requirements for Asphalt Shingle Roofs - Where Do the Shingle Nails or Shingle Staples Go?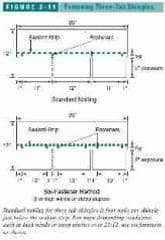 Standard shingle nailing for three-tab shingles is four nails per shingle, about 1 inch in from either end and one over each slot.
Shingle nail placement should follow manufacturers specs, which typically require nailing or stapling just below the sealant strip (Figure 2-11 at left).
Nailing the roof shingle too high can allow wind to get under the shingles.
Nailing the roof shingle too low will expose nails to the weather and to view from below.
Nailing the shingle through the sealant strip can interfere with sealing.
Shingle Nailing in Areas of High winds
For areas subjected to high winds, use six nails as shown in Figure 2-11 or add two dabs of sealant at the bottom of each tab (as discussed
at WIND DAMAGE to ROOFS and as shown in Figure 2-7).
Also special wind-rated shingles with heavier sealing strips are available by special order and may be required in some jurisdictions.
Nailing Requirements for Laminated or Architectural Asphalt Roof Shingles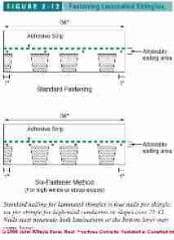 Use 4 or 6 roofing nails in architectural shingles, as shown here.
With laminated asphalt roof shingles, standard nailing is four fasteners spaced equidistant as shown in Figure 2-12, or six fasteners equidistant for heavy-duty installations.
It is important that fasteners go in the designated nail area where they will penetrate both laminations.
Nailing a laminated or architectural asphalt roof shingle too high will leave the bottom lamination loose and subject to slipping out of place.
Low Slope Roof Specifications for Asphalt Shingle Roofs: Special Procedures
Asphalt shingles can be installed on roof slopes of 2:12 to 4:12 if special procedures are followed for underlayment (see details
at ROOFING UNDERLAYMENT BEST PRACTICES or see comments on page 54 in the printed text Best Practices Guide).
Eaves flashing to a point at least 24 inches inside the interior wall is recommended if there is any possibility of ice dams or water backup from leaves or pine needles.
A conservative approach is to run self-adhering bituminous membrane over the entire low slope area. Once the underlayment is complete, shingles are installed in the standard fashion. In cold weather, manual sealing may be required as wind uplift will be greater on shallow roofs (see manual sealing discussed
at "WIND DAMAGE to ROOFS," or see page 57 in the printed text Best Practices Guide).
Steep Slope Limits & Shingle Nailing and Hand Sealing Requirements for Asphalt Shingle Roofs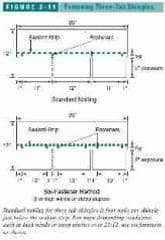 Asphalt shingles should not be installed on vertical walls, but they can be used on steep slopes, such as mansard-style roofs.
For slopes greater than 21:12, apply underlayment in the normal fashion.
However, shingle sealing may be a problem, particularly on shaded portions of the roof.
For best performance, use the six-fasteners-per-shingle method (Figure 2-11 at left) and manually seal the shingles with plastic roofing cement (see manual sealing discussed
at "WIND DAMAGE to ROOFS" ).

Nailing & Sealing Asphalt Shingles on Near-Vertical Building Surfaces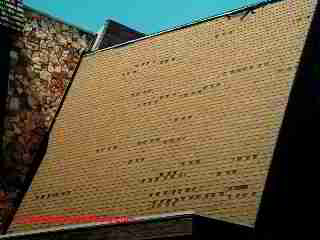 Our steep roof photo (left) shows quite a few shingles lost from this rather steep church roof slope. Similar problems occur when asphalt shingles are nailed to the steep sides of mansard roofs unless proper nailing and sealing have been performed.
Flickinger cites the NRCA Roofing and Waterproofing Manual 4th Ed where, in referring to roof slopes of 18" rise in 12" of run (150%) or more, [note that this is more cautious than Bliss's advice above] the NRCA (Flickinger) points out that there are differing views within the roofing industry about the maximum slope on which asphalt shingles may be applied using typical methods.
We discuss the recommended installation details for installing asphalt roof shingles on very steep or near vertical roof slopes and also use of roof shingles or even roll roofing on vertical building walls separately at ASPHALT SHINGLES on VERY STEEP ROOFS

Flashing Requirements for Asphalt Shingle Roofs
Flashings for asphalt shingles should be corrosion resistant metal with a minimum thickness of 0.019 inch. A cricket or saddle should be installed on any chimney greater than 30 inches wide and can be covered with flashing or the same materials used as a roof covering.
See these roof flashing articles:
Underlayment Requirements for Asphalt Roof Shingles
The roof deck should be sound and level before laying the underlayment. Fifteen-pound or heavier felt underlayment is required by code in some areas. Whether or not it is required, underlayment is cheap insurance against problems. There are several good reasons to install underlayment:
It protects the roof deck from rain before the roofing is installed.
It provides an extra weather barrier in case of blowoffs or water penetration through the roofing or flashings.
It protects the roofing from any resins that bleed out of the sheathing.
It helps prevent unevenness in the roof sheathing from telegraphing through the shingles.
It is usually required for the UL fire rating to apply (since shingles are usually tested with underlayment).
Details about the requirements and benefits of roofing underlayments are at these articles:
Underlayment On Standard Slopes where Asphalt Roof Shingles are Installed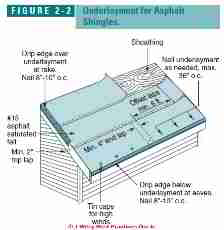 On roofs with a slope of 4:12 or greater, use a single layer of 15 lb. asphalt-saturated felt, starting at the eaves and lapping upper courses over lower by a minimum of 2 inches. Vertical joints should lap a minimum of 4 inches and be offset by at least 6 feet in successive rows (see Figure 2-2 at left).
Secure each shingle course along seams and edges with enough corrosion-resistant nails to hold it in place until the roofing is installed.
In high-wind areas, apply fasteners a maximum of 36 inches on-center along overlaps.
For best protection against leaks, run felt 6 inches over ridges and hips, from each direction, and 6 inches up any adjoining walls. Valleys should be lined with a full width of roofing felt (or bituminous membrane) pushed tight into the valley so there is no slack.
Side courses of underlayment should run over the valley lining and extend 6 inches past its edge. (see ASPHALT SHINGLE VALLEY FLASHING)
Underlayment Application of Asphalt Shingles on Low Slope Roofs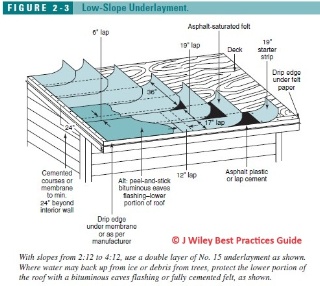 Asphalt shingles can be used on roofs with a slope of 2:12 to 4:12 if double-coverage underlayment is used.
Start with a 19-inch strip of 15 lb. asphalt-saturated felt along the eaves, and lap succeeding courses by 19 inches as shown in Figure 2-3 at left.
Wherever there is a possibility of ice or snow buildup or the backup of water from leaves or pine needles, install a self-adhering bituminous membrane along the eaves that extends up the roof to a point at least 36 inches inside the interior wall line.
An alternative approach, not widely used anymore, is to seal all laps in the lower courses of roofing felt with lap cement or asphalt plastic cement.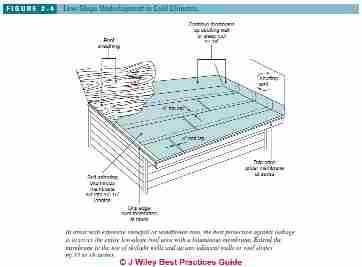 In areas with extensive snowfall or windblown rain, the best protection against leakage is to cover the entire low-slope roof area with a bituminous membrane, as shown in Figure 2-4.
Vertical end laps should be at least 3 inches and horizontal laps 6 inches.
If the roof changes to a steeper slope, for example, where a shed dormer joins the main roof, extend the membrane 12 to 18 inches up the main roof slope.
Bituminous membranes are self-healing around nail holes, and because they bond fully to the sheathing, any leaks that occur cannot spread.
As a safeguard against expensive callbacks, many roofers now apply membrane to the entire surface of any roof with a slope of 4:12 or less.
Eaves Flashing Recommendations for Asphalt Shingle Roofs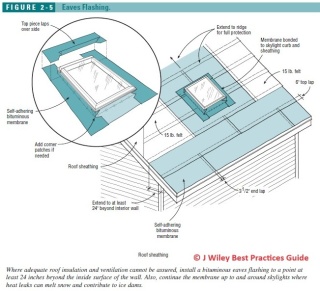 The best defense against ice dams in cold climates is a so-called "cold roof," consisting of high levels of ceiling insulation separated from the roof surface by a free-flowing vent space
(see Preventing Ice Dams on Roofs).
Where a cold roof cannot be achieved due to complex roof shapes, unvented roofs, or retrofit constraints, ice dams may form during severe winters, in some cases, causing pooled water to wet wall cavities and interior finishes.
Where adequate insulation and ventilation cannot be assured, self-adhering bituminous eaves flashing should be installed.
The membrane should go from the lower edge of the roof to a point at least 24 inches inside the interior wall line (Figure 2-5 at left).
Where two lengths of eaves flashing meet at a valley, run each across the valley, starting with the length from the roof with the lower slope or lesser height. The valley flashing should later lap over the eaves flashing.
Skylights and Ice Dams on Asphalt Shingle Roofs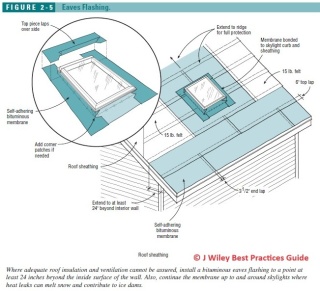 With deep snow, melting water from above and around the skylight can lead to ice dams below.
For full protection, some contractors extend the eaves membrane up to the bottom of any skylights and continue it around the sides and top of the skylight.
By wrapping the skylight curb with membrane as well, any potential flashing leaks are also eliminated as shown in Figure 2-5 at left.
See also "Skylight Flashing," page 127 in the printed text Best Practices Guide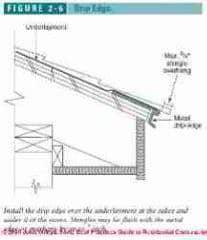 If it is impractical to install membrane all the way from eaves to skylight, install a 3-foot-wide band of membrane below the skylight, lapping the bottom edge of the membrane over the row of shingles where the membrane terminates.
Drip Edge. Drip edge should always be used along the eaves to kick water away from the fascia, and it is a good idea along rakes as well.
Drip edge should lap over the underlayment at the rakes and under it at the eaves (as shown in Figure 2-6 at left).
Overlap joints in the drip edge by 2 inches. Shingles can be set even the with the drip edge or overlap by up to 3/4 inch.
Some manufacturers of eaves membranes specify that the drip edge be installed on top of the membrane along the eaves, violating the principle that upper layers of flashing should overlap lower layers.
To remedy the problem, the manufacturers suggest using a second strip of membrane to seal the top of the drip edge to the eaves membrane. In practice, however, most installers place the drip edge first and lap the eaves membrane over it, consistent with good building practice.
-- Adapted with permission from Best Practices Guide to Residential Construction.
Asphalt Roof Shingle Exposure
Reader Question: is this shingle exposure correct?
8 Sept. 2014 Pam said:
Is anyone familiar with this type of roofing installation? We could be wrong, but it seems as if the rows are too far apart? We would be very grateful for any information or insights. Thanks in advance!
Reply:
Pam I took a look at your photo and will also post it here for others to comment. It looks as if there was a deliberate effort to expose a black shadow-line between courses. I can't know if this is a shingle appearance feature or if the roofer separated the courses by more space than the usual 4-5" of asphalt shingle exposure. Make some measurements and tell us the shingle exposure amount: that is, the distance from the lower edge of a course of shingle tabs down to the lower edge of the successive course below.
If you know the shingle brand and model number that would also be useful.
Watch out: on typical 3-tab asphalt roof shingles, using an exposure amount greater than 5 5/8" risks leaving the shingle nails exposed to the weather - asking for roof leaks.
Details are at SHINGLE EXPOSURE AMOUNT
Resources: List of Roofing Materials & Equipment Suppliers
Manufacturers
Asphalt Shingles
Atlas Roofing Corp. www.atlasroofing.com Fiberglass and organic felt shingles
Certainteed Roofing www.certainteed.com Fiberglass shingles
Elk Premium Building Products www.elkcorp.com Fiberglass shingles
GAF Materials Corp. www.gaf.com Fiberglass shingles
Georgia-Pacific Corp. www.gp.com/build Fiberglass and organic felt shingles
IKO www.iko.com Fiberglass and organic felt shingles
Owens Corning www.owenscorning.com Fiberglass shingles
Tamko Roofing Products www.tamko.com Fiberglass and organic felt shingles
Low-Slope Roofing Membranes
Duradek www.duradek.com Vinyl roofing and walkable deck membrane
Firestone www.firestonebpe.com RubberGard EPDM residential roofing system
GenFlex Roofing Systems www.genflex.com Peel-and-stick TPO membrane
Hyload, Inc. www.hyload.com Kwik-Ply self-adhering polyester and coal-tar roofing membrane
Ridge Vents
Air Vent/A Gibraltar Company www.airvent.com A complete line of roof ventilation products, including shingle-over and exposed-ridge vents with exterior wind baffles and internal weather filters. Also soffit and drip edge vents and passive and powered attic turbine-type vents.
Benjamin Obdyke www.benjaminobdyke.com Shingle-over ridge vents. Low-profile Roll Vent uses nylonmatrix. Extractor vent is molded polypropylene with internal and external baffles.
Cor-A-Vent www.cor-a-vent.com Shingle-over low-profile ridge vents, including Cor-a-vent, Fold-a-vent, and X-5 ridge vent, designed for extreme weather. Corrugated core.
GAF Materials Corp. www.gaf.com Cobra vent: roll-out shingle-over ridge vent with a polyester-matrix core 102 CHAPTER 2 | Roofing
Mid-America Building Products www.midamericabuilding.com Ridge Master and Hip Master shingle-over molded plastic ridge vents with internal baffles and foam filter
Owens Corning www.owenscorning.com VentSure corrugated polypropylene ridge vents; also passive roof vents and soffit vents
Trimline Building Products www.trimline-products.com Shingle-over low-profile ridge vents, Flow-Thru battens for tile roofs
Elk Premium Building Products www.elkcorp.com Highpoint polypropylene shingle-over ridge vents
Tamko Roofing Products www.tamko.com Shingle-over ridge matrix–type Roll Vent and Rapid Ridge (nail gun version) and Coolridge, which is molded polypropylene with external and internal baffles
Venting Underlayments
Benjamin Obdyke www.benjaminobdyke.com Cedar Breather, a 3/8 -in.-thick matrix-type underlayment designed to provide ventilation and drainage space under wood roofing
More Information about Roofing Materials, Methods, Standards
Asphalt Roofing Manufacturers Association (ARMA) www.asphaltroofing.org
Cedar Shake and Shingle Bureau www.cedarbureau.org
Metal Roofing Alliance www.metalroofing.com
Tile Roofing Institute www.tileroofing.org
#######
-- Adapted with permission from Best Practices Guide to Residential Construction.
Continue reading at ASPHALT SHINGLE LIFE / WEAR FACTORS or select a topic from the More Reading links shown below.
Or see SHINGLE EXPOSURE AMOUNT
Suggested citation for this web page
ASPHALT SHINGLE INSTALLATION at InspectApedia.com - online encyclopedia of building & environmental inspection, testing, diagnosis, repair, & problem prevention advice.
More Reading
Green link shows where you are in this article series.
...
Frequently Asked Questions (FAQs)
No FAQs have been posted for this page. Try the search box below or CONTACT US by email if you cannot find the answer you need at InspectApedia.
Ask a Question or Search InspectApedia
Questions & answers or comments about the best practices to follow when installing asphalt shingle roofing..
Use the "Click to Show or Hide FAQs" link just above to see recently-posted questions, comments, replies, try the search box just below, or if you prefer, post a question or comment in the Comments box below and we will respond promptly.
Search the InspectApedia website
Technical Reviewers & References
Click to Show or Hide Citations & References
"GAF-Elk Timberline ® Prestique ® Grande ® 40 High Definition Roofing Shingles Product Information" (2008) GAF-Elk Corporation 5/08 13 61 Alps Road, Wayne, NJ 07470 www.gaf.com, retrieved 9/8/2014, original source: http://www.gaf.com/Other_Documents/ Legacy_Products_Discontinued/Timberline_Prestique_Grand%C3%A9 /Timberline_Prestique_Grande_40_Info_Spec_Sheet.pdf [Note that this is a discontinued product]
GAF Materials Corporation, Grand Timberline Premium Architectural Shingle Application Instructions.
http://www.gaf.com/Content/Documents/20573.pdf discusses the requirements for successful asphalt shingle installation including the condition of the roof deck, the use of roofing felt underlayment, the selection of roofing nails by type and length and penetration of the roof decking, and the role of glue strips on the back side of asphalt roof shingles.
Roofing The Right Way, Steven Bolt, McGraw-Hill Professional; 3rd edition (November 1, 1996), ISBN-13: 978-0070066502, p. 350 for one of many citations on this point.
"Hurricane Damage to Residential Structures: Risk and Mitigation", Jon K. Ayscue, The Johns Hopkins University, Baltimore, Maryland, published by the Natural Hazards Research and Applications Information Center, Institute of Behavioral Science, University of Colorado, November 1996. Abstract:
"Property damage and loss from hurricanes have increased with population growth in coastal areas, and climatic factors point to more frequent and intense hurricanes in the future. This paper describes potential hurricane hazards from wind and water. Damage to residential structures from three recent intense hurricanes - Hugo, Andrew, and Iniki - shows that wind is responsible for greater property loss than water. The current state-of-the-art building technology is sufficient to reduce damage from hurricanes when properly applied, and this paper discusses those building techniques that can mitigate hurricane damage and recommends measures for mitigating future hurricane damage to homes." - online at www.colorado.edu/hazards/publications/wp/wp94/wp94.html
"Evaluating OSB for Coastal Roofs," Paul Fisette, Coastal Contractor, Winter 2005, online at coastalcontractor.net/pdf/2005/0501/0501eval.pdf . Fisette cites: "Jose Mitrani, a civil engineer and professor at Florida. International University in Miami, was ... Florida's official damage assessment team. ... After Hurricane Andrew, Florida code advisers ruled OSB sheathing inferior to plywood."
ARMA - Asphalt Roofing Manufacturer's Association - http://www.asphaltroofing.org/
750 National Press Building, 529 14th Street, NW, Washington, DC 20045, Tel: 202 / 207-0917
ASTM - ASTM International, 100 Barr Harbor Drive, PO Box C700, West Conshohocken, PA, 19428-2959 USA The ASTM standards listed below can be purchased in fulltext directly from http://www.astm.org/
NRCA - National Roofing Contractors Association - http://www.nrca.net/, 10255 W. Higgins Road, Suite 600, Rosemont, IL 60018-5607, Tel: (847) 299-9070 Fax: (847) 299-1183
"Applying Shingles on Extreme Slopes", Dave Flickinger, RRO, Professional Roofing, July 1999. [PDF copy] - National Roofing Contractors Association - http://www.nrca.net/, 10255 W. Higgins Road, Suite 600, Rosemont, IL 60018-5607, Tel: (847) 299-9070 Fax: (847) 299-1183, Office hours: 8 a.m. to 5 p.m. CST
UL - Underwriters Laboratories - http://www.ul.com/
2600 N.W. Lake Rd.
Camas, WA 98607-8542
Tel: 1.877.854.3577 / Fax: 1.360.817.6278 E-mail: cec.us@us.ul.com
Books & Articles on Building & Environmental Inspection, Testing, Diagnosis, & Repair
The Home Reference Book - the Encyclopedia of Homes, Carson Dunlop & Associates, Toronto, Ontario, 25th Ed., 2012, is a bound volume of more than 450 illustrated pages that assist home inspectors and home owners in the inspection and detection of problems on buildings. The text is intended as a reference guide to help building owners operate and maintain their home effectively. Field inspection worksheets are included at the back of the volume. Special Offer: For a 10% discount on any number of copies of the Home Reference Book purchased as a single order. Enter INSPECTAHRB in the order payment page "Promo/Redemption" space. InspectAPedia.com editor Daniel Friedman is a contributing author.

Or choose the The Home Reference eBook for PCs, Macs, Kindle, iPad, iPhone, or Android Smart Phones. Special Offer: For a 5% discount on any number of copies of the Home Reference eBook purchased as a single order. Enter INSPECTAEHRB in the order payment page "Promo/Redemption" space.
Best Practices Guide to Residential Construction, by Steven Bliss. John Wiley & Sons, 2006. ISBN-10: 0471648361, ISBN-13: 978-0471648369, Hardcover: 320 pages, available from Amazon.com and also Wiley.com. See our book review of this publication.
Decks and Porches, the JLC Guide to, Best Practices for Outdoor Spaces, Steve Bliss (Editor), The Journal of Light Construction, Williston VT, 2010 ISBN 10: 1-928580-42-4, ISBN 13: 978-1-928580-42-3, available from Amazon.com
The Journal of Light Construction has generously given reprint permission to InspectAPedia.com for this article. All rights and contents are ©Journal of Light Construction and may not be reproduced in any form.
Architectural elements: the technological revolution: Galvanized iron roof plates and corrugated sheets; cast iron facades, columns, door and window caps, ... (American historical catalog collection), Diana S Waite, available used out of Amazon.
Building Pathology, Deterioration, Diagnostics, and Intervention, Samuel Y. Harris, P.E., AIA, Esq., ISBN 0-471-33172-4, John Wiley & Sons, 2001 [General building science-DF] ISBN-10: 0471331724 ISBN-13: 978-0471331728
Building Pathology: Principles and Practice, David Watt, Wiley-Blackwell; 2 edition (March 7, 2008) ISBN-10: 1405161035 ISBN-13: 978-1405161039
Built-Up Roof Systems, Manual, C.W. Griffin, Mcgraw-Hill (Tx); 2nd edition (July 1982), ISBN-10: 0070247838, ISBN-13: 978-0070247833
Concrete Folded Plate Roofs, C. Wilby PhD BSc CEng FICE FIStructE (Author), Butterworth-Heinemann, 1998, ISBN-10: 0340662662, ISBN-13: 978-0340662663
Concrete Shell Roofs, C. Wilby PhD BSc CEng FICE FIStructE (Author),
Concrete Dome Roofs (Longman Concrete Design and Construction Series),
Concrete Roofing Tile, History of the, Batsford, 1959, AISN B000HLLOUC (availble used)
Copper Roofing, by CDA
Copper Roofing, Master specifications for copper roofing and sheet metal work in building construction: Institutional, commercial, industrial, I.E. Anderson, 1961 (hard to find)
Corrugated Iron, Building on the Frontier, Simon Holloway
Green Roof Plants: A Resource and Planting Guide, Edmund C. Snodgrass, Lucie L. Snodgrass, Timber Press, Incorporated, 2006, ISBN-10: 0881927872, ISBN-13: 978-0881927870. The text covers moisture needs, heat tolerance, hardiness, bloom color, foliage characteristics, and height of 350 species and cultivars.
Green Roof Construction and Maintenance, Kelley Luckett, McGraw-Hill Professional, 2009, ISBN-10: 007160880X, ISBN-13: 978-0071608800, quoting: Key questions to ask at each stage of the green building process Tested tips and techniques for successful structural design Construction methods for new and existing buildings Information on insulation, drainage, detailing, irrigation, and plant selection Details on optimal soil formulation Illustrations featuring various stages of construction Best practices for green roof maintenance A survey of environmental benefits, including evapo-transpiration, storm-water management, habitat restoration, and improvement of air quality Tips on the LEED design and certification process Considerations for assessing return on investment Color photographs of successfully installed green roofs Useful checklists, tables, and charts
Handbook of Building Crafts in Conservation, Jack Bower, Ed., Van Nostrand Reinhold Company, NY 1981 ISBN 0-442-2135-3 Library of Congress Catalog Card Nr. 81-50643.
Historic Preservation Technology: A Primer, Robert A. Young, Wiley (March 21, 2008) ISBN-10: 0471788368 ISBN-13: 978-0471788362
Historic Slate Roofs : With How-to Info and Specifications, Tina Skinner (Ed), Schiffer Publishing, 2008, ISBN-10: 0764330012 , ISBN-13: 978-0764330018
Low Slope Roofing, Manual of, 4th Ed., C.W. Griffin, Richard Fricklas, McGraw-Hill Professional; 4 edition, 2006, ISBN-10: 007145828X, ISBN-13: 978-0071458283

Roof failure causes in depth (and specific methods for avoiding them)
Roof design fundamentals and flourishes, based on voluminous industry research and experience
New technologies and materials -- using them safely and correctly
Comprehensive coverage of all major roofing systems pecifications, inspection, and maintenance tools for roofing work

Metal Roofing, an Illustrated Guide, R.A. Knowlton , [metal shingle roofs],
Patio Roofs, how to build, Sunset Books
Problems in Roofing Design, B. Harrison McCampbell, Butterworth Heineman, 1991 ISBN 0-7506-9162-X (available used)
Roofing The Right Way, Steven Bolt, McGraw-Hill Professional; 3rd Ed (1996), ISBN-10: 0070066507, ISBN-13: 978-0070066502
Slate Roofs, National Slate Association, 1926, reprinted 1977 by Vermont Structural Slate Co., Inc., Fair Haven, VT 05743, 802-265-4933/34. (We recommend this book if you can find it. It has gone in and out of print on occasion.)
Roof Tiling & Slating, a Practical Guide, Kevin Taylor, Crowood Press (2008), ISBN 978-1847970237,
If you have never fixed a roof tile or slate before but have wondered how to go about repairing or replacing them, then this is the book for you. Many of the technical books about roof tiling and slating are rather vague and conveniently ignore some of the trickier problems and how they can be resolved. In Roof Tiling and Slating, the author rejects this cautious approach. Kevin Taylor uses both his extensive knowledge of the trade and his ability to explain the subject in easily understandable terms, to demonstrate how to carry out the work safely to a high standard, using tried and tested methods. 
This clay roof tile guide considers the various types of tiles, slates, and roofing materials on the market as well as their uses, how to estimate the required quantities, and where to buy them. It also discusses how to check and assess a roof and how to identify and rectify problems; describes how to efficiently "set out" roofs from small, simple jobs to larger and more complicated projects, thus making the work quicker, simpler, and neater; examines the correct and the incorrect ways of installing background materials such as underlay, battens, and valley liners; explains how to install interlocking tiles, plain tiles, and artificial and natural slates; covers both modern and traditional methods and skills, including cutting materials by hand without the assistance of power tools; and provides invaluable guidance on repairs and maintenance issues, and highlights common mistakes and how they can be avoided. The author, Kevin Taylor, works for the National Federation of Roofing Contractors as a technical manager presenting technical advice and providing education and training for young roofers.
The Slate Roof Bible, Joseph Jenkins, www.jenkinsslate.com, 143 Forest Lane, PO Box 607, Grove City, PA 16127 - 866-641-7141 (We recommend this book).
Slate Roofing in Canada (Studi4es in archaeology, architecture, and history),
Smart Guide: Roofing: Step-by-Step Projects, Creative Homeowner (Ed), 2004, ISBN-10: 1580111491, ISBN-13: 978-1580111492
Solar heating, radiative cooling and thermal movement: Their effects on built-up roofing (United States. National Bureau of Standards. Technical note), William C Cullen, Superintendent of Documents, U.S. Govt. Print. Off (1963), ASIN: B0007FTV2Q
Tile Roofs of Alfred: A Clay Tradition in Alfred NY
"Weather-Resistive Barriers [copy on file as /interiors/Weather_Resistant_Barriers_DOE.pdf ] - ", how to select and install housewrap and other types of weather resistive barriers, U.S. DOE
Wood Shingle Roofs, Care and Maintenance of wood shingle and shake roofs(EC), Stanley S. Niemiec (out of print)
...