Heating System Noise FAQs
Q&A on Diagnose, & Repair Heating System Noises
InspectAPedia tolerates no conflicts of interest. We have no relationship with advertisers, products, or services discussed at this website.
Heating equipment noise diagnosis and repair questions & answers:
Frequently-asked questions on the causes and cures for noises coming from heating equipment in buildings.
This noise control article series discusses the diagnosis and cure of heating system noises, including heating equipment noise, heat piping or ductwork noises, radiator noises, steam pipe banging, and steam radiator vent noise control.
Green links show where you are. © Copyright 2017 InspectApedia.com, All Rights Reserved.
Heating System Noise Questions & Answers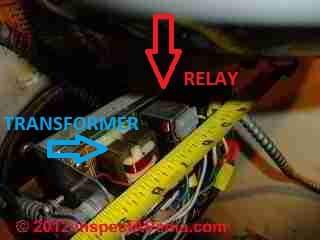 Recently-posted questions & answers about heating system noise diagnosis that were posted originally at HEATING SYSTEM NOISE DIAGNOSIS - home
Deirdre
FIRST let's confirm where the noise is occurring. If it is at the boiler itself then the system may be unsafe, particularly if the noise is a gas explosion. IN that case I would TURN OFF the boiler and call for emergency repair.
If the banging noise is coming from other mechanical components like a zone valve or circulator pump, the problem is probably mechanical and still needs repair but is less likely to be an emergency.
Also search InspectApedia.com for BANGING HEATING PIPES to see more banging noise diagnosis and repair advice for heating boilers. We have a new gas boiler that has been installed. One zone makes a loud banging noise when the zone comes on or turns off.We did not have this problem with the old boiler. What can we do to fix the problem?
Sg,

I'm sure there may be other causes of hissing at the heating boiler besides that which occurred to me immediately. But the first thing I would look for would be a leak in the boiler itself. For example a leak into the combustion chamber. Sometimes also a leak in piping or controls above the boiler May drip water onto a hot surface. So I'm suggesting we start by looking for water leaks.
This may be difficult for you to do unless you have some training. But your heating service contractor can certainly inspect the inside of the combustion chamber and should be able to show you if there is an indication of leakage there.
My hot water tank/boiler/immersion heater is hissing even when everything is off. Any ideas of what this may be? Thanks We just replaced our boiler it's a Burnham 231iq
It's in our bacement
The boiler make lots of noice
Also we hear it from the chimney outside
Chimany had been cleaned
Watt you think this may be do I need to worry
Thanks H Rapid rhythmic pulsing sound from baseboard heating system boiler Hi ,
Our ducted heating system sounds like we are sitting in plane.. Dnt know what to do... We build new home 3 yrs back... Heating installed at that time... Any advise pls.
Mary

From just your e-text I can't know what's going on nor what is causing the buzzing - it could be an electrical component such as a relay, switch or transformer, or it could be bees.

I suggest

turn off the gas supply to the heater

turn off electrical power to the heater or if there is no separate electrical switch, ask your electrician to disconnect it and to safely cap off its wires.

A bath heater that has not been used for 50 years is surely not needed.
See
See HEATING SYSTEM BUZZING NOISE
There is a gas wall heater in the bathroom. It has not been used since 1965. Yesterday it began making a buzzing sound and has no stopped. There is no odor of gas. Is this a dangerous problem? What could be causing this? I replaced our water heater and I still have a sound like a drum a various hours of the day. Look for thermal expansion of metal parts - if so that's probably harmless.
Other sounds, if related to flame or to overheating could raise safety concerns. Ihave a miniboiler model emb-9 that is making a kind of crackling noise when heat is called for then stops and seems to work and heat properly
Reader Question: (July 11, 2012) vanessa said: Hello, Our brand new home with American Standard thermostat control display unit make a loud "popping" sound when activated for the a/c. Slightly less when it goes off. We've had the contractor/builder, electrician and HVAC guy out and they say there isn't anything to do. "All these low voltage thermostats make this noise." This is the first time in a slew of homes we have owned that this is an issue. Is this an issue? Should we be concerned? Should we have an independent HVAC company out to review the system prior to our one year warranty with the builder expires. Any help would be grateful..... Thanks, V
Reply:
Vanessa, I suggest noting the brand and model of your thermostat and then giving the manufacturer a call. Or send us a photo of the thermostat along with its brand and model number and we'll research it further. Most thermostats in homes use low voltage wiring at which electricall-generated noises would be unusual. If your thermostat is a 120V model, an unsafe electrical short or electrical arcing could be the problem. But for this question and with no more information we can't second guess your onsite people, but loud popping from a thermostat sounds unusual to me and I imagine that the manufacturer would like to know about it and would have some advice for you. Keep us posted on what you're told - what you learn will help other readers.
Question: chirping noises in my new house
(July 16, 2012) Bill said:
Hi....maybe you can diagnose a sound for me? I am in a new house, about 3 yrs old. Ever since our move-in I've noticed a sharp chirp which occurs at a fairly consistent time interval, maybe 2-3 minutes apart. It sounds very much like a smoke detector that needs a new battery. I've wandered around our unfinished basement trying to pinpoint the sourse and it appears to come from the furnace, an electric model (can't remember brand right now).
I want to put an extra bedroom in the basement but this chirping would drive me crazy if I had to sleep there. It seems to be coming from higher up on the unit, somewhere north of where the ducting comes from the top of the unit but I can't be sure. This isn't a chirping like a bird, ie multiple rapid chirps. This is just one sharp, loud chirp which repeats every couple minutes like clockwork. Any suggestions? I appreciate your help!
Reply: check your smoke or CO detectors
Bill, you might want to go back to our root noise diagnosis article beginning at
On this page at Continue reading we provide an INDEX to RELATED ARTICLES that includes a live link to - NOISE / SOUND DIAGNOSIS & CURE
Chirping as you describe is often traded to a smoke detector that was stuck somewhere not obvious. Look also for a CO detector that someone may have just plugged into a wall receptacle somewhere.
Question: no heat until I push on wires at the zone valve
(Oct 8, 2012) Everett said:
no heat, zone valve cover is warm. When I push up on the wires going intoo the bottom of valve, the burner ignites and iI get heat. problem is intermittent. Furnace is only four years old, and we have already replaced three zone valves at considerable cost.
Reply:
I think you want to see the troubleshooting help found at
Question: sparking noises at the heater
(Apr 3, 2013) kev said:
Keep hearing spark noises
Reply:
Kev take a look at the diagnosis and repair advicve at
Watch out: if your gas appliance is not igniting and working normally it may be unsafe; in that case shut it off and call your heating service company for inspection and repair.
Question: heating baseboard noises, ticking clicking noises from heat piping
(Feb 4, 2014) Anonymous said:
the thermal baseboard heater is making a lot of noise in my apartment, and I don not wich is the problem
(Mar 2, 2014) Mumtaz said:
A loud ticking noise is coming from my ceiling in my living room when ever heater is running. There is a bedroom above my living room and it looks like it is coming from heating pipes running across the ceiling, need advice what needs to be done to fix the problem. Thanks.
Reply:
Mumtaz
Often these ticking noises are thermal expansion of piping or building materials. Often we can fix the problem by using noise-resistant plastic or nylon pipe supports or by cutting clearance openings around the pipe at passages through building materials. You may need to seal such openings with a fire-resistant foam.
Question: noise from outdoor furnace: Raytherm Raypack 133 furnace
(Mar 5, 2014) Anonymous said:
I have a noise coming from my furnace which is located outside. I have a raytherm (raypak) 133 furnace which also heats up my domestic water.
My circulator pump runs 24/7 and I recently just replaced it, so I know it can't be that. The noise I hear is a quick 2 second noise that happens right before the furnace turns on. I'm not sure if it can possibly be some type of valve that might be broken inside and that's rattling or perhaps something else? Can someone please help me. I will try to make a video and post it on youtube... will post the link once I get that done.
Reply:
Anon we'll be glad to look at your video, even copy it at InspectApedia to invite further comment if that's helpful.
A first step might be to try to isolate the noise to a specific component. One can do this by careful observation at equipment start-up or by employing a mechanic's stethoscope or even a simple short length of pipe to check and listen to different device.
Another approach is to ask what device operate at the start of a heating cycle. Examples include:
- an automatic barometric damper or flue damper that operates before the burner comes on
- a quickstop valve on the oil line
- relays that are turning on a hot water circulator
- a draft inducer fan
Keep us posted and we'll pursue it.
Question: train sounds when furnace shuts off
(Nov 19, 2014) Kathleen said:
Train like sound when furnance shuts off...usually when the downstairs shuts off first
Reply:
Kathleen,
Watch out: Since a train like sound can indicate a chimney fire I would turn off the system and call your heating service company for emergency service.
If the noise continues AFTER you turn off power to your heater you should leave the home and call the fire department.
Hopefully the issue is something else.
Question: water hammer noises in heat piping
(Dec 26, 2014) Robin said:
We are having our unfinished basement finished which included moving some water pipes about 12 inches over on the ceiling of the basement. Ever since we are hearing many water hammers and banging noises both when hot water is running and not running. The plumber has insisted that all he did was move the pipes and it is nothing he has done. Any ideas?
Reply:
Robin it would be odd for adding finish materials to directly impact plumbing though I suppose it might re-direct sounds a bit. I'd take a look at our water-hammer diagnosis and repair advice at
inspectapedia.com/plumbing/Water_Hammer_Noise.php
Question: buzzing noise from electric heat vent
(Jan 9, 2015) Anonymous said:
I hear a buzzing sound coming from my vent in the upstairs hall way. I have electrical heating and air condition. How do I locate the problem.
Reply:
If we assume the noise is related to the operation of equipment, try turning off individual appliances or circuits one by one to narrow down the source. I'm not sure if you are hearing a relay buzz, a control buzz, a fan motor buzz, or loose ductwork rattling.
Question: loud bang from expanding metal in propane fireplace
25 January 2015 Sandi said:
I have a propane fireplace about an hour after turning it off there is a very loud bang. The dealer states this is the metal contracting. My question is will this cause any damage to the chimney?
Reply:
Sandi:
OPINION: I would indeed ask for a careful inspection by a certified chimney sweep or fireplace installer (not your dealer), and I would also give a call to the manufacturer of your fireplace heater - or give us the brand and model of your heater and we'll also research this question.
Watch out: While some metal expansion noises may be normal, I'm concerned that flexing of metal components might ultimately cause cracking that could create a fire or carbon monoxide hazard.
Question: banging boiler noises after it was modified
(Mar 24, 2015) Anonymous said:
My boiler was modified (shortened) to build another room in the basement. Ever since that happened, it makes a banging noise when the blower goes into the shut down cycle. Does anyone know what that is?
Reply:
Anon
Ask what has changed?
Where is the banging : ductwork, pipes, or at the boiler itself. The latter could be dangerous.
please see these diagnostic articles
BANGING HEATING PIPES RADIATORS
BOILER NOISE SMOKE ODORS
and
PUFFBACKS, OIL BURNER
found in the Article Index that you can see at More Reading above
Question: burring noises
July 1, 2015) Anonymous said:
Ray.I live in terraced house number 2, whenever number 1 switches on her heating I can hear burring noise in the vicinity of number 1 c/how unit coming from the party wall. Also higher up the stairs a meter or so away. Help
Reply:
I suggest trying a mechanics's stethoscope to pin down the exact noise source.
Question: whining noise coming from all my walls when the heat goes on
J2015/10/27 Jody said:

I have a high pitched whining noise coming from all my walls when the heat goes on. The sound is even present in the hall. My downstairs neighbor also has the sound I live in a two story garden apartment and this noise started three years ago when the management installed a new boiler.
the maintnenace people cant seems to figure it out and its only getting worse. Any idea what this could be?
Reply:
Usually the noise situation you describe is traced to electric motor vibration, a circulator pump vibration, or noises that originate at the boiler but that are transmitted into the building via the heating pipes. Sometimes simple sound isolation such as using sound isolation on pipe supports or on oil burner fuel piping will fix the complaint.
Because there could also be unsafe conditions right at the boiler, a professional inspection of the system is warranted.
...
Continue reading at HEATING SYSTEM NOISE DIAGNOSIS or select a topic from closely-related articles below, or see our complete INDEX to RELATED ARTICLES below.
Or see AIR CONDITIONING & HEAT PUMP NOISES
Or see NOISE / SOUND DIAGNOSIS & CURE - home
Or see these
HVAC Noise Articles
Suggested citation for this web page
HEATING NOISE DIAGNOSIS FAQs at InspectApedia.com - online encyclopedia of building & environmental inspection, testing, diagnosis, repair, & problem prevention advice.
Or use the SEARCH BOX found below to Ask a Question or Search InspectApedia
...
Frequently Asked Questions (FAQs)
Try the search box below or CONTACT US by email if you cannot find the answer you need at InspectApedia.
...
Ask a Question or Search InspectApedia
Questions & answers or comments about how to diagnose and fix heating system noises, rattles, bangs, hisses, clanking, and other sounds.
Use the "Click to Show or Hide FAQs" link just above to see recently-posted questions, comments, replies, try the search box just below, or if you prefer, post a question or comment in the Comments box below and we will respond promptly.
Search the InspectApedia website
Technical Reviewers & References
Click to Show or Hide Citations & References
Books & Articles on Building & Environmental Inspection, Testing, Diagnosis, & Repair
The Home Reference Book - the Encyclopedia of Homes, Carson, Dunlop & Associates Ltd., Toronto, Ontario, 2010, $69.00 U.S., is a bound volume of more than 450 illustrated pages that assist home inspectors and home owners in the inspection and detection of problems on buildings. The text is intended as a reference guide to help building owners operate and maintain their home effectively. InspectAPedia.com ® author/editor Daniel Friedman is a contributing author. Field inspection worksheets are included at the back of the volume.
Domestic and Commercial Oil Burners, Charles H. Burkhardt, McGraw Hill Book Company, New York 3rd Ed 1969.
National Fuel Gas Code (Z223.1) $16.00 and National Fuel Gas Code Handbook (Z223.2) $47.00 American Gas Association (A.G.A.), 1515 Wilson Boulevard, Arlington, VA 22209 also available from National Fire Protection Association, Batterymarch Park, Quincy, MA 02269. Fundamentals of Gas Appliance Venting and Ventilation, 1985, American Gas Association Laboratories, Engineering Services Department. American Gas Association, 1515 Wilson Boulevard, Arlington, VA 22209. Catalog #XHO585. Reprinted 1989.
The Steam Book, 1984, Training and Education Department, Fluid Handling Division, ITT [probably out of print, possibly available from several home inspection supply companies] Fuel Oil and Oil Heat Magazine, October 1990, offers an update,
Principles of Steam Heating, $13.25 includes postage. Fuel oil & Oil Heat Magazine, 389 Passaic Ave., Fairfield, NJ 07004.
The Lost Art of Steam Heating, Dan Holohan, 516-579-3046 FAX
Principles of Steam Heating, Dan Holohan, technical editor of Fuel Oil and Oil Heat magazine, 389 Passaic Ave., Fairfield, NJ 07004 ($12.+1.25 postage/handling).
"Residential Steam Heating Systems", Instructional Technologies Institute, Inc., 145 "D" Grassy Plain St., Bethel, CT 06801 800/227-1663 [home inspection training material] 1987
"Residential Hydronic (circulating hot water) Heating Systems", Instructional Technologies Institute, Inc., 145 "D" Grassy Plain St., Bethel, CT 06801 800/227-1663 [home inspection training material] 1987
"Warm Air Heating Systems". Instructional Technologies Institute, Inc., 145 "D" Grassy Plain St., Bethel, CT 06801 800/227-1663 [home inspection training material] 1987
Heating, Ventilating, and Air Conditioning Volume I, Heating Fundamentals,
Boilers, Boiler Conversions, James E. Brumbaugh, ISBN 0-672-23389-4 (v. 1) Volume II, Oil, Gas, and Coal Burners, Controls, Ducts, Piping, Valves, James E. Brumbaugh, ISBN 0-672-23390-7 (v. 2) Volume III, Radiant Heating, Water Heaters, Ventilation, Air Conditioning, Heat Pumps, Air Cleaners, James E. Brumbaugh, ISBN 0-672-23383-5 (v. 3) or ISBN 0-672-23380-0 (set) Special Sales Director, Macmillan Publishing Co., 866 Third Ave., New York, NY 10022. Macmillan Publishing Co., NY
Installation Guide for Residential Hydronic Heating Systems
Installation Guide #200, The Hydronics Institute, 35 Russo Place, Berkeley Heights, NJ 07922
The ABC's of Retention Head Oil Burners, National Association of Oil Heat Service Managers, TM 115, National Old Timers' Association of the Energy Industry, PO Box 168, Mineola, NY 11501. (Excellent tips on spotting problems on oil-fired heating equipment. Booklet.)
...