Guide to Steam Vents on Steam Heating Radiators & Steam Pipes
Definition of steam vents & how they work; how to diagnose and fix steam vent problems: won't open, won't close, hissing, leaks, etc.
STEAM VENTS - home - CONTENTS: How to identify, inspect, and use steam vents as heat delivery controls and on residential steam heating system
POST a QUESTION or READ FAQs about steam vents on steam heating radiators and convectors
InspectAPedia tolerates no conflicts of interest. We have no relationship with advertisers, products, or services discussed at this website.
Steam vents on heating systems:
Here we provide an inspection and repair guide to the vents found on radiators and piping used with Steam Heating Systems.
We explain one pipe and two pipe steam heating vents and how they work, and the article includes diagnostic and repair advice for hissing sounds at steam radiators, steam vents that don't close when they should, steam vents that don't open when they should, noisy steam vents, and steam vent leaking or spitting.
We describe how to identify, service, or repair steam radiator air vents. How to regulate heat using air vents on steam radiators & troubleshooting steam heating system radiator vents & controls. How do we know if the steam vent is working on a radiator?
Green links show where you are. © Copyright 2017 InspectApedia.com, All Rights Reserved.
Guide to Steam Vents on Residential Heating Systems
Article Contents:
Our photo (above left) shows a common model of automatic air bleed valve used on residential steam heat radiators.
[Click to enlarge any image]
This article series answers most questions about central heating systems to aid in troubleshooting, inspection, diagnosis, and repairs.
Steam Vent Safety Warning
Watch out: Never remove a steam vent nor any other fitting or plug from a steam radiator if the heating system is hot and/or in use. Both the hot radiators and steam itself can cause serious burns. If you are not trained to do so, do not attempt to adjust or remove steam vents or control valves on steam heating radiators.
Even something as simple as removing a non-functioning radiator steam vent to try to allow air to escape and thus allow the radiator to heat up can be very dangerous. At first it seems easy: remove the steam vent and rising steam in the system will push air out of the radiator. But suddenly things turn ugly. When steam begins to enter the radiator it finds and streams out of the opening from which the steam vent was removed.
At that point it becomes essentially impossible to re-install the steam vent because you're reaching into a plume of boiling hot steam!
See COLD STEAM HEAT RADIATORS if you need to fix a cold radiator using safer and more-effective means. .
In 2017 the New York Times reported on the steam heat scalding deaths of two girls in the Bronx. The article gave no details about exactly what went wrong but the article states, "Ibanez, 2 and Scylee, 1, were scalded to death on Dec. 7 by radiator steam in a city-funded apartment for the homeless in the Bronx. A valve on the radiator in their bedroom had come off; ..." - Neuman, William, "Parents Sue in Deaths of 2 Girls From Scalding", The New York Times, 16 Dec. 2017, p.17.
OPINION: we don't know what actually happened in this tragic apartment in the Bronx, but as residential steam systems operate at a low pressure of under 1 psi, it's not likely that a steam vent "came off" of a steam radiator on its own. Take care not to bump, hammer, bend, whack or remove a steam vent if you are not trained about how and when to do so safely.
How Steam Vents Work on Steam Heating Systems
At the start of a heating cycle as steam rises in the building steam pipes and begins to enter the heating radiator, air in the cool radiator is pushed out through this valve.
As the radiator gets warm, then hot due to the rising steam, a mechanical thermostatically operated valve inside of the air vent, also called a steam vent, closes the vent so that steam does not continue to escape.
Automatic or Thermostatically Controlled Steam Vents
When steam is first rising in a one pipe or two pipe steam heating system, the steam heating radiator will be cool as will be the steam vent. Our photo (above left) shows what looks like a Hoffman 1Afloat-type radiator steam vent. This is a residential low-pressure (1.5 psig) steam vent. Similar models include the Hoffman Model 40 (6 psig) and model 70A (11 psig).
Two Pipe Steam Heat
In a two-pipe steam heat system, steam rises through the supply side of the radiator (where the radiator valve is found) and may push air and later condensate out through the return or condensate drain side of the radiator.
One-Pipe Steam Heat
On one-pipe steam heat systems the radiator valve is normally fully open (for the radiator to operate properly) or fully shut (no heat); you may find that some one-pipe steam heating system radiators will not work properly if the valve is left "in between" these positions.
Steam rises and enters each heating radiator through a single pipe, pushing air out of the radiator through its vent. Condensate returns to the boiler through the same pipe, passing out through a special passage in the radiator control valve.
For details about steam heat piping & steam pipe radiator connections & definitions of different types of steam heat see STEAM RADIATOR PIPING CONNECTIONS
Diagnosing Hissing Sounds at Steam Radiators
It is normal to hear a hissing sound from the steam vent as air escapes from the radiator at the start of a heating cycle.
The hissing sound should stop and the valve close when the radiator gets hot.
Steam Vents that Do Not Shut Off When They Should
If steam continues to escape from the valve even after the radiator is hot, the valve is defective and should be replaced since continuous loss of steam increases the water consumption by the heating system.
Other causes of steam radiators to fail to get hot include a radiator valve that is shut or a steam radiator valve that has become clogged with rust and debris (more likely on a one-pipe steam heating system where returning condensate through the valve can become blocked), or a one pipe steam radiator that has become tipped the wrong way so that it becomes clogged with condensate.
Steam Vents that Do Not Open When They Should
If a steam vent stops working and fails to open, rising steam cannot enter the radiator and it will be slow to heat or may not heat at all.
If your one pipe steam radiator won't get hot, the air vent may be clogged or it may just be worn out and need replacement.
Steam vents that won't close properly:
If a steam vent stops working properly and fails to close, the vent will hiss and release steam (and sometimes produce condensate or water) continually all during the heating cycle, wasting heat, increasing heating cost, and in some cases creating a moisture problem or even a burn risk at the radiator.
Steam vents on individual radiators or main steam vents may not be opening when they should. If an individual steam radiator vent fails to open, that radiator won't get hot even though its supply valve is open.
But if a main steam vent (master steam vent) is not opening, the whole heating system may continue to work, but we expect to see two problems:
The steam heat rises too slowly, as the larger volume of air in the main steam riser piping is not venting from the main vent(s) - instead all of this extra volume of air has to exit through the individual radiator vents.
Individual radiator steam vents may clog and fail more quickly by having to pass more air and moisture, or because the boiler pressure is too high.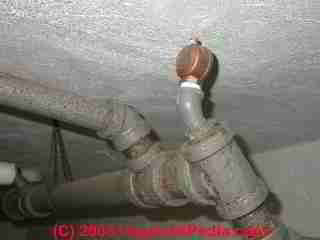 Main steam vents: Our photo (left) shows an automatic air vent found on steam piping in a basement - not all steam vents are located right on the radiators. This is a line vent or main vent, and it too needs to work. (Most likely this is a 2 pipe steam system]
This vent may have been added to help speed rising of steam in a building by purging air from a section of steam piping.
If no air escapes from this valve during the heating cycle it may be that the valve is jammed, is not releasing air, and the steam radiator may not ever warm up.
The valve may need to be replaced if it is corroded, leaky, doesn't vent, or if the steam system appears not to be venting properly.
We also discuss this valve at STEAM VENT TYPES, SELECTION.
Noisy Steam Vents or Steam Radiators
It is normal for steam vents to make a hissing noise (also described as a whistling noise) at the start of a heating cycle while air is being vented out of the steam piping or steam radiator as it is pushed by rising steam.
Watch out: If the radiator continually makes noises (hissing, whistling or wheezing) at the steam vent, there is a problem that needs to be fixed: a bad steam vent, steam piping problem, steam pressure set too high, or boiler oversized for the heating distribution system.
First, make sure that the noise complaint is coming from the steam vent and not from water hammer or clanking steam piping.
Next: mineral deposits or dirt in a steam vent can prevent it from opening or closing properly. While it is often possible to disassemble and clean (soak in vinegar) a mineral-clogged steam vent, other internal vent failures can also occur, so considering the low cost of replacement steam vents, it usually makes sense to simply replace the steam vent entirely.
At RADIATOR STEAM VENTS, 1-PIPE SYSTEMS we list a variety of replacement steam vents.
A rattling sound at a steam vent may be heard at any radiator or at a main steam riser where a main line vent is installed. If your steam vent is rattling an internal part has become loose. Replace the vent.
Watch out: Steam condensate return problems can cause banging clanging steam heating pipes & radiators.
As we discuss at BANGING HEATING PIPES RADIATORS, if your heating boiler does not have an automatic water feeder and you've been putting makeup water into the boiler manually, a blocked condensate line and low water in the boiler will eventually lead to total loss of heat when the low water cutoff switch.

See LOW WATER CUTOFF CONTROLS , a key boiler safety device, simply shuts down the boiler.
Also see HEATING SYSTEM NOISE DIAGNOSIS - where we list heating system noise types, sources, problem indicators, cures

What to Do About Steam Vents that Leak or "Spit" Water
If water is "spitting" out of your steam radiator's air vent it's most likely that debris, sediment, mineral deposits, or rust flakes have partly clogged the air vent. Steam experts such as Dan Holohan suggest that you may be able to clean a spitting or partly-clogged steam vent by disassembling and boiling the vent in vinegar (to dissolve minerals).
Watch out: don't remove a steam vent when the heating system is in use or hot. You can get badly burned. But some specialty steam vents (air valves) such as the Hoffman Model 508 (Part No. 401475) can be disassembled and cleaned without removing from the line.
If a lot of water is really leaking out of a steam radiator's steam vent, the radiator may also have become waterlogged (according to some writers). We don't think this is a common problem, since most steam vents are mounted at mid radiator height or higher - the radiator would have to be really full of condensate for a lot of water to be coming out of the steam vent - unlikely.
If a steam radiator contains condensate (water from condensed steam) that fills the radiator to a level above the steam vent, the steam vent cannot function, air won't be pushed out of the radiator by rising steam, and the radiator won't heat.
If your steam vent is mostly venting steam but spits a few drops of water, the vent may not be working properly and may need replacement, but it is not as likely to be a sign that the steam system has become waterlogged.
Watch out: are you sure your system is using steam heat? Hot water radiators often include a manual air-bleeder valve that must be opened to let air out of the hot water (not steam) radiator or the radiator won't heat. On a hot water (hydronic) heating system if you leave the air bleeder valve open after air has stopped coming out, indeed water will come squirting out of the valve - indefinitely. Don't do this.
See AIR BLEEDER VALVES for details.
Automatic and thermostatically operated steam vents used to provide room temperature control are discussed in detail also at RADIATOR VALVES & HEAT CONTROLS.
Also see RADIATOR STEAM VENTS, 1-PIPE SYSTEMS where we explain automatic steam vents and heat regulation using air vents on steam radiators
If you don't know what kind of heat your building uses, we explain how to figure out the answer at HEATING SYSTEM TYPES.
If your heating system is not working properly, s ee NO HEAT - BOILER or NO HEAT - FURNACE.
Because some controls are used in common on hot water heat, hot air heat, and steam boilers, readers should see these other articles: If your building uses forced hot water heat see BOILER CONTROLS & SWITCHES. Some of those controls also appear on steam heating equipment.

...
Continue reading at STEAM RADIATOR VENT REPAIR or select a topic from closely-related articles below, or see our complete INDEX to RELATED ARTICLES below.
Or see STEAM VENT TYPES, SELECTION where we explain more about the different venting requirements for 1 pipe vs. 2 pipe steam systems, we describe the extra controls and vents needed at two-pipe steam systems.
Suggested citation for this web page
STEAM VENTS at InspectApedia.com - online encyclopedia of building & environmental inspection, testing, diagnosis, repair, & problem prevention advice.
Or use the SEARCH BOX found below to Ask a Question or Search InspectApedia
...
Frequently Asked Questions (FAQs)
Try the search box below or CONTACT US by email if you cannot find the answer you need at InspectApedia.
Question: steam valve replacement: mounting thread problems
July 17, 2011) RJ said:
Can i rethread a radiator in order to properly hold a valve?
or is there any kind of adapter i can insert in a stripped radiator to hold a valve?
Reply:
Great question on radiator repair RJ.
I haven't come across leaks at radiator vents or bleed valves, but it's certainly possible. If the threads are so badly damaged that you cannot seal in a new vent or valve with LeakLok or teflon tape or teflon paste, then it may be possible to drill and re-thread the opening by using an automotive product. We are talking about standard pipe threads.
Provided there is enough thickness in the surrounding metal (cast iron in your case?) you might have to drill out, tap to the next size, and insert a short nipple or plumbing reducer to mount the new vent or bleeder valve. When I come across a problem like this I tell myself that surely others have run up against it before me, and there is probably already a solution available. For example auto supply stores carry tools for drilling and tapping out stripped spark plug openings in automotive engines. The stripped opening is drilled to an over-size and an isert is then threaded into the opening to reduce it to the proper spark plug thread dimension.
Ask one of the older guys at your heating supply house for advice too.
Question: water is spitting out our steam vents
(Nov 9, 2011) Dean said:
We recently replaced our our old boiler with a new one. Since the heating season started we have noticed water spitting out of the two air vents on the condensate return line to the boiler after the heat has been on for a while? How can this be prevented?
Reply:
Dean spitting steam vents may need to be cleaned or replaced - I agee that we don't want water spraying into the home.
But watch out: a blockage in the condensate return line could mean abnormal levels of condensate in the system and improper operation. If your steam boiler is using abnormal amounts of water I'd ask for a service call promptly.
Question: combined steam and hot water heat: does the hot water part need an air valve?
(Jan 12, 2012) Saul said:
I have a steam boiler and the house uses steam heat/radiators; however, we added a hot water baseboard system for the basement that works off the steam boiler -- hot water is pumped from the boiler through the pipes to the baseboard heating system; all of the pipes except for the pipes directly attached to the boiler are below the water level of the boiler; does the hot water system need an air bleeder valve?
Reply:
Saul:
Add an air vent on a hot water loop fed by a steam boiler?
Small amounts of air in the hot water heating loop may be pushed around by the circulator pump, return to the steam boiler and vent out with the steam. But larger amounts can block the loop of hot water piping, especially anywhere that it is higher than the boiler and circulator pump themselves.
In my opinion it's good practice to include a manual air bleed valve at the end of the hydronic (hot water) baseboard in any room or building level. It makes bleeding out an air-bound segment of baseboard much easier when that occurs in the future - as it can certainly occur over the life of a system.
Question: loud spitting steam vents
(Dec 30, 2011) Ashley said:
The vents on the radiators in my apartment were incredibly loud, so I had maintenance replace them today. However, one of them is now spitting (a very small amount) of water droplets. It never did that before. The radiator is getting hot, so there's no heating issue. It sounds like spitting vents are a problem and that new vents shouldn't do that! Could the vents be faulty?
(Oct 11, 2012) R said:
If I hammer a nail into my steam vents hole to stop it up, will it explode?... Our steam vent is UNBEARABLE. It is so loud, and rattles, it is next to the bed, and spits water on us. We live in a 5 story building, and we are on the top floor. There are four units below us. Do you see any problem with just corking the love thing up? YES- we could call the super... but 15 phone calls havent fixed it, so we are just taking matters into our own hands.
Reply:
Ashley, very loud spitting steam vents may be damaged or improperly sized for the radiators. They're not costly to replace, but be sure to ask your installer to match the vent to the radiator and system requirements.
R
Don't try hammering anything into a steam vent- when you break it you may be unable to stop steam from pouring into the room. The right repair is to replace defective steam vents that don't close when they should
Question: do steam systems ever create a vacuum?
(June 26, 2012) Is a vacuum created when the fur said:
When the furnace is turned off, the steam condenses. Does this create a vacuum in the system? This could be a problem. How is the vacuum eliminated?
Reply:
If you watch the pressure gauge on a residential steam boiler you will generally see that pressure rises from zero psi cold up to about 0.5 psi hot and then when the system stops heating pressures fall to zero. Residential steamnoperates at low pressure.
But yes, particularly in two pipe steam systems a vacuum can be created in the main piping system when the system shuts off and cools. Air is allowed into the system to accomodate this by vacuum breakers installed on the steam mains.
Question: steam radiators don't get hot. How do I fix this?
(Nov 7, 2012) ashley said:
some of the radiators in my steam system do not get hot what can i do to correct this
Reply:
Ashley, in addition to checking for a stuck shut steam vent, see our COLD STEAM HEAT RADIATORS article for diagnostic procedures and repair tips.
Question: how to select the right steam vent
(Mar 19, 2013) John Bolan said:
We recently had a two foot section of steam baseboard installed in our bathroom. It is a small 8x5 foot room. What vent valve should be installed? We are noticing water coming from radiator.
Reply:
John, first get your installer back to fix the leaky condensate return. Then take a look at
The steam vent type is first chosen based on the type of steam piping system: one pipe vs. two pipe, as in most installations different vents and controls area used.
Question: how to turn off a radiator
(Oct 27, 2011) Mathew said:
I am trying to prevent my radiator from getting hot. Would turning the steam relief valve off accomplish this? Or would this be dangerous?
Reply:
Matthew: it's better to close the radiator valve.
Question:
(Nov 1, 2011) rory said:
i may have a water logged steam radiator. I'm in an apartment complex, and the steam def works thru out. I have a 3" riser with a radiator on the floor, another T half way up going to a radiator that does work, but they have added a return pipe for condensate.
The problem lies with the radiator on floor level, the piping is tilted, and i just bought a new steam air vent and i tilted the radiator about an 1/2 inch. its a one pipe system and the radiator will not heat up. the second radiator in the line gets really hot. Could the shut off valve be trapping water or does the radiator have that much water that its coming out of the side air vent? and should i continue to drain the water from the union? i'm a novice to this type of steam system. and my land lord stinks and i need heat quickly.
Reply:
x
Question:
(Jan 12, 2013) phillip schopper said:
I have discovered a vent valve, typical of that on the end of a radiator, on the heat riser BETWEEN FLOORS. It has begun to leak water badly. Should there even be a valve on a vertical riser? Is this something left over from earlier construction in this old building?
Reply:
x
Question:
(Feb 1, 2013) Tracey Bates said:
Our radiators have started leaking from the steam vents and in one of our bedrooms it is leaking from the switch that turns them on and off. How do we fix these problems
Reply:
x
Question:
(Feb 26, 2013) (February 26, 2013) Marc Alexand said:
I have Have one very large Cast Iron Radiator in my bedroom (2nd Floor) which leaks very little water from the valve after a long heating run (about 1 hour). All other radiators run very quietly without a problem except this one. This radiator is the last to heat up.
Why does it take in so much water when it should heat like the others?
Reply:
x

Question: Vent-Rite #11 air valve failure - replacement selection
(Feb 28, 2014) Ken said:
I have a question about a Vent-Rite air valve.
I had a Vent-Rite #11 air valve fail.
I wanted to replace it in kind,but the suppliers around here only carry the Vent-Rite #1
I was wondering if anyone knows what setting on the #1 is equal to the #11.
I called Emerson Swan.No one was sure.One person said he thought it was full open (8) but I would have thought it would be more in the mid range.
Thanks
Reply:
Ken, you will want to check the Vent-Rite product literature but here's the basic difference between the Vent-Rite #1 and #11:
The Vent-Rite #1 has a 3/32" vent port and operates at 3 psi.
The Vent-Rite #11 has a 1/16" vent port and operates at 6 psi. So I'm not sure that a #11 is a proper substitute for a #1. Both are still produced by the manufacturer. If I were attempting to use the #11 I'm guessing that you'd set it venting down to a reduced level to see how the radiators heat.
You can ask the company for help: Vent-Rite Valve Corporation:
1875 Dewey Ave. Benton Harbor, MI 49022 TEL: (269) 925-8818 FAX: (269) 925-7888
Question: moaning steam vent
(Nov 1, 2014) Anonymous said:
air release valve on riser pipe moans
Reply:
x
Question: which way up for steam vents - vent positoin
Should a steam vent be installed a certain way?
Reply:
Individual steam vent installation instructions may tell you otherwise, and may permit angular or even horizontal installation, but the vents that I see on steam equipment have a definite up-direction necessary for the vent to function properly. SLightly out of vertical may not be a problem but steeper angles or horizontal are likely to mean trouble.
Question:
(Dec 6, 2014) Anonymous said:
One of my home heating radiator is not working properly

Reply:
x
Question: radiators pooling water, not draining
5 Jan 2015 Anonymous said:
single pipe steam system in 20 apt walkup in NYC. ground floor rads are pooling water (yes, they are sloped slightly towards pipe to drain properly). We temp. drain the water so the hammering goes away but regularly when system starts up (no water) first 10 min. goes quiet for abt a minute. then you can hear bubbling sound just before system kicks in again and then loud clanking almost gear shifting sound starts for a few seconds. after abt a minute run stops for abt 30 sec. bubbling sound again, then a popping noise and the boiler kicks in again with more clanking but not as loud. rest of the startups are mostly quiet.
This happens every hr. (there are about 6 start ups and stops within one run). 15 min of quiet btween runs when the weather is really cold. Landlord is not being helpful. any feedback or anything that a super for the bldng can do until the boiler people come would be greatly appreciated.
Reply:
Anon:
It sounds to me as if there is a blockage in the building's condensate return piping system. If that's so, the problems are more than just noise and clanking, but also excessive boiler water usage, increased rate of boiler and piping corrosion, possible leaks into and damage to the building, and stretching out a bit, a potential for leak-related mold contamination and health issues, depending on what gets wet where when a leak occurs.
I'm doubtful that a building manager can fix a problem like this as the steam heating experts need to find and fix the blockage. What a building manager can do is call the service company and also screen the building for leaks or for areas at risk of freeze damage from loss of heat.
12 Jan 2015 Anonymous said:
thank you for your response. could the blockage(s) be in one of the apt's or just in the basement with the boiler?
Reply:
Anon
A condensate blockage can be anywhere; it's often at individual radiators and very often close to the boiler at the lowest section of condensate return line.
Question: leaky steam vents
(Jan 31, 2015) mario carmona said:
put different steam vents on radiator and they all still leak
Reply:
Mario
If the leak is at the steam vent mounting tapping on the radiator then the problem is with inadequate taping or sealing during vent installation.
If the water leaking is from the steam vents themselves then I suspect that as long as you installed the right type and model of steam vents then there is a problem with condensate not returning to the boiler: radiators or piping may be blocked with rust and crud.

Question: steam vent sizes
(Feb 2, 2015) frank said:
steam air valves want to know sizes of four floor building to change steam air vaives.
Reply:
Sure Frank
In More Reading just above you'll find steam vent specs at
STEAM VENT TYPES, SELECTION
Question:
(Feb 3, 2015) Elisa said:
I live in a 1923 building in San Francisco with what appears to be a 2-pipe steam heating system (one pipe at top of radiator coming from the wall with a valve handle, and another near the floor boards with a steam trap/thermostat. The boiler is in an outbuilding about 30 feet away and one floor below the apartments. Pipes travel outside for those 30 feet. The pipes are slightly pitched upward toward the building, seem to be well insulated, and most are new. The boiler had extensive service in the last 2 years. However I have been experiencing tremendous noise when the heat is running for the 10 years I've lived here, and no service outfit has offered a solution, other than to suggest tearing up the floor in my unit and replacing all the main pipes. OK, not going to happen. However in an attempt to figure out a solution myself, I have discovered that a 2-pipe system should not have air vents on the radiators. Two of the four in my apartment do have them. Before I call this out as a flagrant mistake, can you tell me if there is ever a reason a 2-pipe steam system might have them legitimately? Could our system be some strange hybrid of 1 and 2 pipe system for example? When the building was constructed the boiler was directly beneath the apartments, but that space was later converted for commercial use and the boiler was moved to this outbuilding at a distance. Maybe in that conversion they did something wrong? I'm willing to invest time and some money to alleviate the noise issue (rattling, gurgling, sloshing, hammering, clunking, you name it in all radiators and underneath the floorboards), but need some understanding of what might have been done earlier that was not correct.
Reply:
Elisa that question is a bit more than I can make-out. But in general, water noise in steam systems means there's a condensate return or condensate handling problem. I figure an on-site steam heating tech ought to be able to help sort this one out.
...
Ask a Question or Search InspectApedia
Questions & answers or comments about steam vents on steam heating radiators and convectors
Use the "Click to Show or Hide FAQs" link just above to see recently-posted questions, comments, replies, try the search box just below, or if you prefer, post a question or comment in the Comments box below and we will respond promptly.
Search the InspectApedia website
Technical Reviewers & References
Click to Show or Hide Citations & References
Barnes & Jones Corporation, 91 Pacella Park Drive Randolph, MA 02368, Tel: 781-963-8000calibrated steam traps and vents, Email: bnesbitt@barnesandjones.com. Vent-Rite steam vents for radiator control.
Energy Savers: Heat Distribution Systems, Steam Radiators & Hot Water Radiators, U.S. Department of Energy, web search 12/27/2010, original source: http://www.energysavers.gov/your_home
/space_heating_cooling/index.cfm/mytopic=12580
Gorton Heating Corporation, 546 South Avenue East, Cranford, New Jersey 07016, Tel: 908-276-1323, email: info@gorton-valves.com, fast venting valves for steam heating systems.
"Rv-4 One-Pipe Steam Radiator Valve", available from Armstrong International, 816 Maple Street, Three Rivers, MI 49093 USA, Tel: (269) 273-1415, Armstrong has offices in Beijing, China, Belgium, India and Mexico. Web search 12/27/2010, original source:
http://www.armstronginternational.com/thermostatic-valves-rv-4-one-pipe.
"Special Steam Vents", Hoffman Specialty heating products, web search 12/27/2010, original source:
http://www.hoffmanspecialty.com/pdf/hs900/HS900-3474.pdf
"Steam and Water Vents, Selection Guidelines - Steam Vents", Hoffman Specialty, web search 12/27/2010, original source:
http://www.hoffmanspecialty.com/pdf/hs900/HS900-stvents.pdf
Hoffman 1A adjustable steam vents, available from Hoffman Specialty, ITT, web search 12/27/2010, original source:
http://www.drillspot.com/products/51570/Hoffman_1A_Adjustable_Automatic_Air_Vent_For_Steam_Radiators
Hoffman Convector Steam Vents, available from Hoffman Specialty, ITT, web search 12/28/2010, original source:
http://www.hoffmanspecialty.com/pdf/hs900/HS900-conv109.pdf
Report 95-14, PB96-198163 Thermostatic Radiator Valve (TRV) Demonstration Project, contact NYSERDA. 17 Columbia Circle, Albany, NY 12203-6399 Toll-Free: 1-866-NYSERDA, Tel:(518)465-6252, Ext. 241. Web Search 12/27/2010, original source: http://www.homeenergy.org/archive/hem.dis.anl.gov/eehem/96/960509.html
VariValve® Quick-Vent from Heat Timer, adjustable radiator and main line vent valves for one pipe steam systems, web search 12/27/2010, original source: http://www.heat-timer.com/enFiles/ProductDocument/literature/VariV056082C.pdf
"Care & Feeding of Air Vents", Dan Holohan, Old House Journal Online, November 2004
Steam Boiler Inspection, Diagnosis, Repair books at the InspectAPedia bookstore - Amazon.com
The Steam Book, 1984, Training and Education Department, Fluid Handling Division, ITT [probably out of print, possibly available from several home inspection supply companies] Fuel Oil and Oil Heat Magazine, October 1990, offers an update, (see next item in this list). ITT Fluid Technology, 1133 Westchester Avenue
White Plains, NY 10604, tel +1 914 304 1700 fax +1 914 696 2950 www.ittfluidbusiness.com
Principles of Steam Heating, $13.25 includes postage. Fuel oil & Oil Heat Magazine, 389 Passaic Ave., Fairfield, NJ 07004.
The Lost Art of Steam Heating, Dan Holohan, 516-579-3046 FAX
Principles of Steam Heating, Dan Holohan, technical editor of Fuel Oil and Oil Heat magazine, 389 Passaic Ave., Fairfield, NJ 07004 ($12.+1.25 postage/handling).
"Residential Steam Heating Systems", Instructional Technologies Institute, Inc., 145 "D" Grassy Plain St., Bethel, CT 06801 800/227-1663 [home inspection training material] 1987

The Heat Efficiency of Steam Boilers, Bryan Donkin
Steam Boiler Operation, Principles & Practice, James J. Jackson
Domestic and Commercial Oil Burners, Charles H. Burkhardt, McGraw Hill Book Company, New York 3rd Ed 1969.
National Fuel Gas Code (Z223.1) $16.00 and National Fuel Gas Code Handbook (Z223.2) $47.00 American Gas Association (A.G.A.), 1515 Wilson Boulevard, Arlington, VA 22209 also available from National Fire Protection Association, Batterymarch Park, Quincy, MA 02269. Fundamentals of Gas Appliance Venting and Ventilation, 1985, American Gas Association Laboratories, Engineering Services Department. American Gas Association, 1515 Wilson Boulevard, Arlington, VA 22209. Catalog #XHO585. Reprinted 1989.
The Steam Book, 1984, Training and Education Department, Fluid Handling Division, ITT [probably out of print, possibly available from several home inspection supply companies] Fuel Oil and Oil Heat Magazine, October 1990, offers an update,
Principles of Steam Heating, $13.25 includes postage. Fuel oil & Oil Heat Magazine, 389 Passaic Ave., Fairfield, NJ 07004.
The Lost Art of Steam Heating, Dan Holohan, 516-579-3046 FAX
Principles of Steam Heating, Dan Holohan, technical editor of Fuel Oil and Oil Heat magazine, 389 Passaic Ave., Fairfield, NJ 07004 ($12.+1.25 postage/handling).
"Residential Steam Heating Systems", Instructional Technologies Institute, Inc., 145 "D" Grassy Plain St., Bethel, CT 06801 800/227-1663 [home inspection training material] 1987
"Residential Hydronic (circulating hot water) Heating Systems", Instructional Technologies Institute, Inc., 145 "D" Grassy Plain St., Bethel, CT 06801 800/227-1663 [home inspection training material] 1987
"Warm Air Heating Systems". Instructional Technologies Institute, Inc., 145 "D" Grassy Plain St., Bethel, CT 06801 800/227-1663 [home inspection training material] 1987
Heating, Ventilating, and Air Conditioning Volume I, Heating Fundamentals,
Boilers, Boiler Conversions, James E. Brumbaugh, ISBN 0-672-23389-4 (v. 1) Volume II, Oil, Gas, and Coal Burners, Controls, Ducts, Piping, Valves, James E. Brumbaugh, ISBN 0-672-23390-7 (v. 2) Volume III, Radiant Heating, Water Heaters, Ventilation, Air Conditioning, Heat Pumps, Air Cleaners, James E. Brumbaugh, ISBN 0-672-23383-5 (v. 3) or ISBN 0-672-23380-0 (set) Special Sales Director, Macmillan Publishing Co., 866 Third Ave., New York, NY 10022. Macmillan Publishing Co., NY
The ABC's of Retention Head Oil Burners, National Association of Oil Heat Service Managers, TM 115, National Old Timers' Association of the Energy Industry, PO Box 168, Mineola, NY 11501. (Excellent tips on spotting problems on oil-fired heating equipment. Booklet.)
Books & Articles on Building & Environmental Inspection, Testing, Diagnosis, & Repair
Our recommended books about building & mechanical systems design, inspection, problem diagnosis, and repair, and about indoor environment and IAQ testing, diagnosis, and cleanup are at the InspectAPedia Bookstore. Also see our Book Reviews - InspectAPedia.
...