Furnace Heat Exchanger Leaks

Heat Exchanger Testing & Safety Inspection Procedures
HEAT EXCHANGER LEAK TEST - home - CONTENTS: how to inspect and test furnace heat exchangers for leaks & CO Carbon Monoxide Hazards; Photographs show clues indicating leaky, dangerous furnace heat exchangers. Furnace heat exchanger leak testing, A Complete List of Methods Used to Find or Test for Leaks in a Furnace Heat Exchange. 13 leak detection procedures for furnace heat exchangers. Heat Exchanger Testing and Test Devices: Who's Right? Recommendations for reliable furnace heat exchanger testing procedures
POST a QUESTION or READ FAQs about furnace heat exchanger leaks, cracks, damage, inspection & testing
InspectAPedia tolerates no conflicts of interest. We have no relationship with advertisers, products, or services discussed at this website.
Furnace heat exchanger inspection, troubleshooting, and leak testing guide: This heating system test article describes how to inspect furnace heat exchangers for leaks.
We compare and evaluate the reliability of all of the various furnace heat exchanger testing methods, we explain just how much leakage is "acceptable" by industry standards, and we conclude with recommendations for reliable heat exchanger testing and inspection.
Green links show where you are. © Copyright 2017 InspectApedia.com, All Rights Reserved.
How to inspect a furnace heat exchanger for damage or leaks & carbon monoxide CO gas hazards
Visual Inspection of the Furnace Heat Exchanger can Detect Some Leaks but Not All
[Click to enlarge any image]
We recommend that you never rely on visual inspection alone to determine the safety of a furnace heat exchanger. Readers of this document should also
see CARBON MONOXIDE - CO
and
see BACKDRAFTING HEATING EQUIPMENT.
More about carbon monoxide - CO - is at CARBON MONOXIDE WARNING.
include the text from historical articles on methods used for testing furnace heat exchangers for leaks, and the allowable or standards for heat exchanger cracks, holes, leaks, or carbon monoxide hazards from such leaks.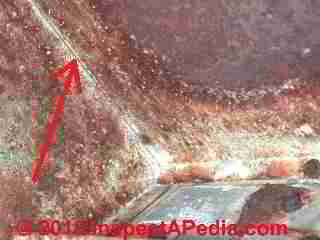 Watch out: Dangerous carbon monoxide gas leaks, potentially fatal, can be present intermittently depending on variations in heating system operation and building conditions.
This article series answers most questions about central heating system troubleshooting, inspection, diagnosis, and repairs.
We describe how to inspect, troubleshoot and repair heating and air conditioning systems to inform home owners, buyers, and home inspectors of common heating system defects.
Readers of this article should also
see HOW to INSPECT HEATING SYSTEMS
Those considering using instruments to test heat exchangers for leaks should review RECOMMENDATIONS for GAS LEAK TEST INSTRUMENTS & gas detector tubes for indoor gas level tests.
In response to a reader who wrote that they have a G14Q3, installed in 1988, Lennox Pulse Furnace and who was wondering if there are any visual inspections for signs of a defective heat exchanger we provide the furnace heat exchanger inspection suggestions described in this article.
The photographs shown just above are two examples of rust and flame marks on a furnace that would be a basis for further inspection of the condition of the heat exchanger for cracks, rust perforation, or other unsafe conditions. But heat exchanger leaks can occur in a variety of locations and parts, including:
Cracks or open seams in the heat exchanger at various locations due to heat stress, mechanical stress, mechanical damage. Similarly, seams in the heat exchanger may have come apart or been improperly joined at manufacture, or the manufacturing process may have failed to fully crimp closed a heat exchanger seam
Rust perforations in the heat exchanger such as those shown above or simply thinning of the heat exchanger wall (to 50% or less of original thickness) due to rusting. Rust may occur due to condensate leaks onto the heat exchanger from an air conditioner coil, from humidifier leaks, or simply from location of the furnace in a damp or wet location.
Mechanical holes in the heat exchanger, for example due to lost or loose screws, or cleanout ports that were not closed properly or were lost during cleaning
Gasket or sealant leaks: other writers also cite these heat exchanger leaks: broken crimped rings, broken or leaking heat exchanger furnace seals or gaskets, including cemented seals
A Complete List of the Methods Used to Find or Test for Leaks in a Furnace Heat Exchanger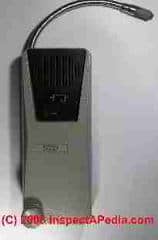 The following is a catalog of all known methods for testing residential heating furnace heat exchangers for dangerous flue gas or carbon monoxide leaks. Contact us to add methods or critique. The list is arranged alphabetically rather than in any order of recommended procedure.
Watch out: SAFETY WARNING: Any evidence of furnace heat exchanger damage or of carbon monoxide or flue gas leaks should be taken seriously and those heating systems should be immediately checked by a professional.
Combination methods to check for heat exchanger leaks: DeWerth's Three Step Method for Detecting Unacceptable Flue Gas Leakage from Furnace Heat Exchangers describes a combinatorial approach to inspecting furnace heat exchangers for unsafe flue gas or carbon monoxide leakage.

See HEAT EXCHANGER LEAK 3-STEPS
Common heat exchanger leak, crack, or rust points: that should be included in an inspection include cracks at welds, seams, and on certain models, a heating service technician may know that defects have been found at a particular location.
Dye test: Heat exchanger test using a penetrating dye such as Magna Flux: liquid dye (red or fluorescent dye) is sprayed over an area of the heat exchanger expected of leakage and the interior is inspected for evidence of the dye. If using a fluorescent dye the heat exchanger is examined using a UV or "black" light.
Instrument tests: Heat Exchanger Leak Detection Instruments measuring flue gases or carbon monoxide (CO) in the plenum:

A flue gas leak or carbon monoxide detection instrument such as the TIF8800 combustible gas analyzer or other hand-held gas detectors, other carbon monoxide testing methods, or a home carbon monoxide detector can detect the presence of carbon monoxide or heating system combustion gases (even without carbon monoxide in the case of the two references above),

but the absence of detection of flue gases or carbon monoxide at any particular time cannot be taken as a guarantee that the heat exchanger is not damaged and leaking.

Similar tests check changes in the CO level or for oxygen levels greater than 0.5% in the flue.

Watch out: testing for flue gases or CO as a sole method for testing for heat exchanger leaks is unreliable. Depending on whether or not the blower fan is operating, where the leak is located, and burner adjustment, the heat exchanger may have a leak that goes undetected by instruments. Be sure to check measurements both before and after the blower fan has begun to operate.

Depending on where the damage is on the heat exchanger and whether or not the furnace blower is operating, a leak may be present but remain undetected.


Knowledge-based heat exchanger tests:

Known causes of heat exchanger damage: in addition to the possibility of leaks and rust damage we've already discussed, other conditions can make a visible or hidden heat exchanger crack or opening more likely to have occurred.

These include evidence that the system was dropped or damaged during shipment or installation, or knowledge of or evidence of overheating, such as the furnace's burner having been forced to operate past the normal high temperature limits of a fan limit switch.

We encountered this last damage after an inspector, knowing that once the blower comes on any furnace gas leak may be diluted or even reversed in direction, wired the furnace's gas burner to keep operating past the normal high limit on that safety control, so that s/he would have a longer period to test the system for leaks.
Known problem furnace or heat exchanger brands: Some heating furnace brands and models have become known to have frequent or specific safety concerns.

If your furnace model has been recalled or has had a safety warning issued concerning it that information can often be found by searching the US Consumer Product Safety Commission's website or by asking your local heating contractor to check that information for you. Some examples of heat exchanger and carbon monoxide warnings about heating products include:

Pressure changes: Heat exchanger test measuring pressure changes: the magnehelic gauge test. T

he heat exchanger is sealed, a special gauge connected to the unit at a pressure sensing port, and the blower is operated. Gauge reading changes can indicate that the blower is pressurizing (leaking into) the heat exchanger.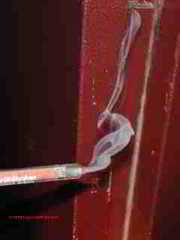 Smoke tests: Heat exchanger test using a "smoke bomb": a smoke bomb is lit inside the heat exchanger and the inspector watches for smoke escaping into the plenum. Properly used smoke bombs can be a very sensitive test as the smoke bomb pressurizes the heat exchanger with smoke when it ignites.

Similar to the smoke bomb, but without the risk of placing a burning device into the heat exchanger is use of an external smoke source (chemical) that is used to blow smoke into the heat exchanger.

We have read that some technicians used a lit piece of roofing felt inside the heat exchanger as a smoke source. We do not recommend this method - it is unreliable, but for other applications such as tracing air leaks smoke pencils can be quite useful.
See SMOKE PENCIL / SMOKE GUN SOURCES.
Trace Gas test: Heat exchanger test using special gases: AGA has described a test gas mixture of nitrogen/methane inserted into a plugged heat exchanger (also may require disassembly in some cases).

A less sophisticated gas test burns a small quantity of sulphur inside the heat exchanger while the inspector looks (subjectively?) for a sulphur odor in the living area, rising through the ductwork. [Not recommended.]

More reasonable and safe is the use of refrigerant gases and a halogen leak detector such as
the TIF 5000 Gas Detector - very sensitive.

Also see REFRIGERANT LEAK DETECTION. Refrigerant gas as a tracer gas if used to check for heat exchanger leaks is no longer recommended nor permitted where discharge of refrigerants to the environment is a possibility.
Visual inspection of the heat exchanger for cracks: It is possible in some cases to see a damaged heat exchanger by spotting Cracks in the steel, discoloration, or soot. We illustrated and discussed visual inspection of heat exchangers just above.

Prach (1993) points out that in a great many furnace installations it may be impossible to inspect all sides of the equipment as it may be obstructed by walls, ceilings, or adjacent appiances.

Only by complete disassembly would it be possible to make a "complete" visual inspection of the heat exchanger, and even in that case, some areas of the heat exchanger may be visually inaccessible simply because of the design and shape of the heat exchanger itself. [0]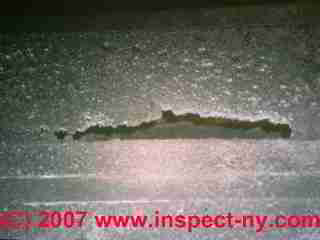 Extending the heat exchanger visual inspection with light and mirror: One can try with a flashlight and mirror to extend the total area that can be seen above the Burner itself (with the burner off of course).

This photograph shows a significant hole in an oil fired heat exchanger. This damage was visible through the inspection door above the oil burner on the front of the furnace.

Using a telescoping mirror and flashlight one can inspect most of the interior of most oil fired furnace combustion chambers and most of the interior of the simple can-type oil fired furnace heat exchangers. But don't forget to use the other inspection methods discussed in this article.
Extend the heat exchanger inspection by examining from the supply air plenum: One can also often see the top section of a heat exchanger by inspecting it through an opening in the Supply air plenum (in an up-flow system).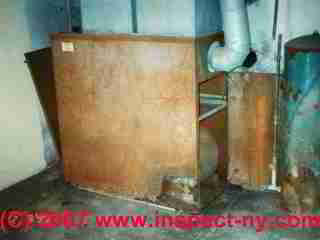 Indirect heat exchanger inspections - signs of causes of heat exchanger damage:

One might inspect "indirectly" by observing external evidence that indicates a risk of heat exchanger damage, such as exposure of the furnace to wet conditions
or FLOODING CONDITIONS [image], evidence of water leaks onto or into a fur nace heat exchanger

(say from a HUMIDIFIER mounted above the heat exchanger [image],
or a plumbing leak onto the system,
or from an air conditioning CONDENSATE LEAK [image],

or an air conditioning system DRIP TRAY LEAK [image] that may have sent water onto a heat exchanger leading to rust perforation.
Direct visual inspection of the heat exchanger using a powerful flashlight; but keep in mind that it virtually impossible to see all, or often even most of the heat exchanger during this type of inspection.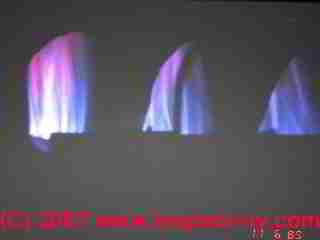 Inspect for Heat Exchanger Leaks by Evidence at the furnace burner - flame test: for evidence of a heat exchanger crack or leak by watching for a change in flame pattern or color when the furnace blower just starts to operate.

Sit (not too close) where you can see the gas flame on a gas-fired heating furnace, then have someone turn up the thermostat to cause the furnace to start. Normally the burner will ignite and burn for a time (seconds to a minute or so) before it is warm enough for the fan limit control to turn on the blower fan.

When you hear the furnace blower fan start to operate be especially alert for a change in the color or pattern of the flame at the furnace's gas burner. (You can't to this test with an oil fired heating furnace).

If the flame pattern suddenly jumps, wavers, or changes color this is a strong suggestion that the heat exchanger is damaged. In the photograph we show inconsistent gas flame patterns at a gas fired heating furnace - additional inspecting and testing for safety were needed.
Special flame test: to check for heat exchanger leaks makes use of a chemical sprayed into the blower compartment while the burner is operating. If the blower is sending air into the heat exchanger the flame changes color. (VAPO HEAT HT-1Q. )
Water spray test: Heat exchanger water spray test: (requires disassembly of the furnace) - the heat exchanger exterior is sprayed with water or a soap solution and its interior is examined for water entry
Visual Inspection of the Furnace Heat Exchanger Alone is Unreliable for Detecting Furnace Heat Exchanger Leaks or Damage
Relying on visual inspection of heat exchangers: Given that a lot of the heat exchanger surface simply cannot be seen without completely disassembling the system, we would not rely on a visual inspection alone to decide if a system was damaged or not. There are other Tests using pressure testing or more commonly, tracer gas testing, that are more reliable.
Relying on gas detection instruments: Relying on gas detection instruments alone, without a visual inspection of the system is also dangerous and can falsely indicate that no problem in present when in fact the heating system is unsafe.
We discuss the reasons for this at SOME WARNINGS about relying on instruments for detection of hazardous gases in buildings.
Install CO detectors in buildings, as well as smoke detectors. Ultimately the combination of expert inspection, testing, and the use of carbon monoxide detectors and smoke detectors will make a significant improvement in the safety of any home heating system.
Smells and odors in the building could be an indicator of heat exchanger leaks -
see DUCT & AIR HANDLER ODORS.
A Review of 13 existing leak detection procedures
Gas utility servicemen use a variety of procedures in attempts to identify potentially dangerous leaks in furnace heat exchangers. The procedures would be used in response to service calls for
odors
fluttering burner flames
suspected cracked heat exchanger
sooted heat exchanger
routine service
Thirteen different procedures [for testing furnace heat exchangers for leaks] were identified after surveying utility companies. Many of these methods do not give reliable results, thus often more than one method is used. Some methods are corrosive to the heat exchanger.
Others are performed under unrealistic conditions (such as increased pressure in the heat exchanger), or are so sensitive that they indicate leakage even in new heat exchangers.
Visual Inspection of the Furnace Heat Exchanger for Cracks, Burns, Leaks, Damage
One of the most common methods used is a visual inspection of the heat exchanger with a strong light. The serviceman must then make a judgment as to whether any cracks or holes he finds are large enough to warrant replacement of the furnace. Generally any fault is reason for recommending that the home owner obtain a second opinion of the need for replacement of a heat exchanger.
Smoke Bombs for Heat Exchanger Tests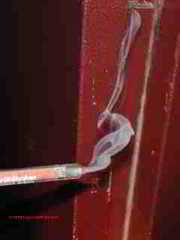 The use of smoke bombs is the second most common practice. With the flue outlet and burner access opening blocked a smoke bomb or candle is ignited in the heat exchanger.
Observations for smoke are then made in the circulating air side of the heat exchanger. When the bomb explodes a positive pressure is created inside the heat exchanger forcing the smoke out of very small cracks.
This makes the test very sensitive. Precautions are also needed with this method so the smoke does not get into the house where it may stain certain paints, fabrics, and tiles.
An air analysis test may be used in addition to the smoke test. This test detects combustion products in the circulating air stream as an indirect indication of heat exchanger cracks. If high readings are obtained there is no doubt that the heat exchanger has a crack or fault.
With slight increases a more thorough examination of the heat exchanger may be required. The drawbacks of this method are that it is complicated and time consuming to perform. Also the detection device is expensive.
Editor's note: See Matzen and other articles [below] for an evaluation and survey of this equipment. Significant to Matzen et al, DeWerth does not say these tests are necessarily invalid. Odorants, such as sulphur candles and oil of wintergreen have been used for detecting leaks.
A small quantity of the odorant is introduced into the combustion side of the heat exchanger; the hot air registers in the house are then checked for the characteristic odor. Any odor in the circulating air would indicate a heat exchanger leak. With the sulphur candle this test can be quite reliable, but very unpleasant smelling. The wintergreen is more pleasant, but the odor clings to the serviceman's hands and clothes, making the test unreliable.
Tracer Gas Tests for Furnace Heat Exchanger Leaks
Another test procedure is to release a small amount of carbon monoxide (CO) in the hot heat exchanger and then check for high concentrations of CO in the circulating air stream. The detector needed for this method is expensive and the use of CO is dangerous. Freon has been used as a tracer gas with a halogen leak detector.
Freon gas is released in the combustion side of the heat exchanger and if the halogen leak detector senses halogens in the circulating air stream a leak is present. A problem with this method is phosgene gas (a deadly poison) can be generated if the freon passes through a flame. Also, freon is heavier than air.
Spray Dyes for Heat Exchanger Tests
A spray can of fluorescent solution is marketed which is sprayed into the heat exchanger with a suspected leak and penetrates even the finest crack. Then the crack is detected using an ultraviolet light; however the heat exchanger must be accessible for close examination of all surfaces.
Chemical Smoke Tests of Furnace Heat Exchangers
The American National Standards for Gas-Fired Central Furnaces (Z21.47-1978) outlines a test method using a fuming or smoking material such as titanium tetrachloride. The material is introduced into the combustion chamber, and if combustion products are discharged through door cracks or other openings, their presence will be revealed by observing the smoke. A drawback to this method is that titanium tetrachloride is very corrosive.
Another widely-used procedure involves spraying a sodium salt solution into the burner flames and checking the circulating air stream with a propane torch for the presence of sodium ions. [Detection of Cracked Heat Exchangers in Warm Air Furnaces , J.F. Wunderlin, Wisconsin Gas Co., GV-6, June 1978.]
If the blue flame of the torch turns yellow, this indicates the presence of sodium ions and a leak. As the solution is sprayed into the burner flame, visual inspection of the heat exchanger surface below the burner port is needed.
If a solution of sodium chloride (table salt) is used, corrosion of the heat exchanger can be accelerated. Sodium bicarbonate salt solutions, on the other hand, are non-corrosive. The drawbacks to the sodium ion tracing method are that dust in the air can be mistaken for the sodium ion and acceptable leakages may be detected as the test is very sensitive.
A procedure similar to the sodium ion tracing is to trace the lithium ion, with the same drawbacks.
All of these methods have some undesirable drawbacks. The ideal method for detecting the leakage of flue gases into the circulating air stream would not be harmful to the furnace components of the home environment, would be performed under realistic operating conditions, and would not detect small amounts of acceptable leakage.
Furnace Heat Exchanger Pressure Measurements for Leak Detection
The pressure drop across the furnace heat exchanger surface has a significant effect on the tendency of flue gases to pass from one side of the exchanger to the other. Only if the flue gas side is more positive than the circulating air side will there be a tendency for flue gases to leak into the circulating air through any cracks or corrosion holes in the heat exchanger.
In order to determine the actual operating pressure inside and outside the heat exchanger, measurements were made with four furnaces with typical heat exchangers. ["A Simple Test That You Can Use to Check a Furnace for Leaks," American Artisan, September 1966.]
Two of the furnaces were equipped with atmospheric burners, one with an induced draft system, and the fourth with a power burner. Flue gas pressure taps were attached at two-inch intervals up the side of the heat exchanger from the burner port to the flue outlet. Circulating air taps were located adjacent to the flue gas taps.
Pressure measurements were taken with and without the circulating air blower in operation. The results showed that with atmospheric burners the average pressure on the flue gas side with the burners operating is about 0.02 inch water column (w.c.).
The average pressure on the circulating air side of the heat exchanger is 0.3 inches w.c. when the blower is operating. Thus the air side of the heat exchanger is more positive than the flue gas side when the circulating blower is on. If there were a hole leakage would be from the air side to the flue gas side.
When the blower is off the air side pressure is less positive than the flue gas side and leakage would occur from the flue gas side to the air side. This condition exists only during the short heat up period before the blower starts.
An induced draft system has a negative pressure of about 0.2 inch w.c. or less on the flue gas side of the heat exchanger at all times. The flue products are drawn through the combustion chamber causing the flue gas side to always be under a negative pressure. A positive pressure on the air side of the heat exchanger, caused by the circulating air blower, further insures that the flue gases stay in the combustion chamber.
With a power burner system the flue gas side of the heat exchanger must have a positive pressure of as much as 0.4 inch w.c. Thus, the pressure on the flue gas side is more positive than the air side, whether the circulating air blower is on or off. The only exception is the top of the heat exchanger where the circulating air blower may impinge directly onto the heat exchanger.
Air side pressure would be more positive than the flue gas side at these points. If there were a hole or crack, flue gases would leak into the circulating air stream at all times except if the hole or crack were at the top of the heat exchanger.
Table 1 summarizes the various systems and the leakage potential due to the pressure drop across the heat exchanger. In a furnace with atmospheric burners flue gases could only leak into the circulating air system if there were a hole or crack during the time the blower was not operating.
Induced draft furnaces would not allow any leakage through the heat exchanger as they operate under a negative pressure. A power burner system is more critical in that the flue gas side of the heat exchanger is always more positive than the circulating air side when the furnace is operating. Thus, if there were a hole or crack flue gases could leak into the circulating air stream.
This analysis of flue gas leakage based on the pressure difference across the heat exchanger is true for relatively small holes. For heat exchangers with large perforations flue gases may leak regardless of the pressure differential. Large perforations would be detected by visual observation of the heat exchanger or by the flame pattern. No further test procedure would then be needed.
Test methods should not subject the heat exchanger to abnormally high pressures, and should not detect insignificant leakage which may occur from pin holes in welded seams or other manufacturing imperfections.
Heat Exchanger Testing and Test Devices: Who's Right?
- Daniel Friedman
For an accurate understanding of how we should look for an unsafe heat exchanger the pass-fail criteria must first be defined. Matzen's heat exchanger test procedure looks for levels of CO as low as 2-3 ppm at the heat exchanger.
DeWerth's heat exchanger test procedure looks for levels of 200 ppm at the heat exchanger. Can we reconcile these views? Both articles are carefully reasoned; both articles cite authoritative sources for exposure levels. How are readers to interpret these differences?
The Matzen and DeWerth articles provide food for serious thought. Here Journal staff suggests some interim opinions and some questions. The reviewers end with a call for inspection priorities.
Matzen's Test Method for Heat Exchanger Leaks
Matzen calls for testing at very low levels of CO, in part because of the concern, beyond that of CO hazards, for the presence of formaldehyde (HCHO) which may be present in flue gases, and to which people have reactions at lower levels than those permitted for CO.
He describes using a calibrated CO monitor, testing for CO, with the presumption that if CO is present, HCHO may be as well.
Matzen recommends use of a CO monitor with digital readout to permit explicit level monitoring and reporting. He measures both at the heat exchanger, and in the house air - an important additional measurement which looks at actual levels rather than an inferred level based on measurement only at the heater.
These monitoring techniques will identify early failure where small quantities of 2-3 ppm are in evidence. Grossly damaged heat exchangers may admit 10-30 ppm in the room air in one cycle of the furnace, in his experience.
However this procedure does not deal with the question of actual CO exposure in the house at equilibrium. At such an inspection, data regarding actual house air changes per hour is generally not obtained.
Further, DeWerth argues that very low levels of CO found at the heat exchanger may be within acceptable limits and may not indicate equipment failure.
DeWerth's Test Method for Heat Exchanger Leaks
DeWerth's test for flue gas leaks at the heat exchanger of a gas-fired appliance looks for a level of 200 ppm flue product. Readers should pay particular attention to the careful sequence in which DeWerth develops his argument.
Is This Heat Exchanger Safe?
In testing any hypothesis, such as "This Heat Exchanger is Unsafe" there is more than one type of error possible.
Accepting for use a heat exchanger which is dangerous is not permissible since human life could be at risk. For this reason, DeWerth would be expected to be quite cautious in choosing the assumptions for his methodology.
Readers should look for, and will find, some examples of caution and significant margins for error (100% safety factor is commonly used) in DeWerth's assumptions throughout his analysis. DeWerth himself, has not presented the cumulative effect on risk of all of the conservative steps in his process.
Rejecting for use a heat exchanger which is safe, and which meets or exceeds industry manufacturing standards is also an error. While the consequences are less dire, the consumer's interests are not served by requiring replacement of an acceptable heat exchanger. Few heating companies will actually make such a replacement. Usually the entire furnace is replaced, for a typical cost around $2000.
Derivation of Test Criteria for Heat Exchanger Leaks
DeWerth's analysis does not test house air. Rather, his measurement standard, 200 ppm to be tested at the heat exchanger is derived from answering the following:
What is the smallest hole in a heat exchanger which should be detected? Answer, 1/8" diameter.
What CO concentration should we assume is in the flue gas? Answer, 200 ppm.
ANSI Standard Z21.47-1983 allows 400 ppm air-free CO. 200 ppm affords a 100% safety factor.
What is the most CO that will leak out of a hole of that size? Answer, 200 ppm.
How much CO will be found in the house air, at equilibrium, from a leak of this size? Answer: 15ppm at equilibrium in the house.
A Test Methodology for Furnace Heat Exchangers - Conclusions
DeWerth's description of Visual Inspection and Flame Pattern Inspection procedures should be studied by every home inspector, regardless of whether or not s/he uses other more sophisticated techniques. These first two, of DeWerth's Three Step Procedure, are visual-only, and should be followed by anyone inspecting a gas-fired heater in compliance with ASHI Standards of Practice.
DeWerth's third step involves purchase of special equipment, as does that of Matzen. However, in addition to a flue gas analyzer device, the DeWerth method requires purchase and use of a tracer gas and a gas regulating device.
The procedure is involved and time consuming. It's an appropriate procedure for a heating company expert who is called in to offer a second opinion regarding the condition of a heat exchanger.
Combining Both Methods of Testing for Heat Exchanger Gas Leaks
The choice to offer services which exceed the ASHI Standards of Practice is permitted by the Standards. Inspectors should beware of offering advanced services if they are not qualified. However this should not be taken as a suggestion by ASHI that an inspector may not make him/herself qualified in additional areas.
Every inspector should follow the first two (visual) steps of DeWerth's procedure
Qualified inspectors may follow a combination of the DeWerth Procedure with the Matzen suggestions for use of a CO monitor, substituting the CO Monitors for the more cumbersome tracer gas, as a step beyond visual inspection of heat exchangers.
CO Monitors were not dismissed as inaccurate. DeWerth raised questions of cost (now add the cost and time to use a gas cylinder/regulator) and a question of rejecting a good heat exchanger by a test which is too sensitive.>
Digital readout CO Monitors are now available. The inspector is free to elect the American Gas Association's standards of acceptability (or others if identified) while using this simpler and faster test instrument.
Inspectors who prefer Matzen's standards of acceptability will report any CO levels found in a building.
Inspectors who follow DeWerth's standard, itself a cautious one, would not call out a heat exchanger as "failed" if it leaked less than 15 ppm CO into the house living area at equilibrium conditions.
Based on DeWerth's explanation of the mechanism of failure and leak rates, a very low leakage detected
in the plenum at the heat exchanger, such as 2-3 ppm CO, should probably be reported as a caution rather than an assertion. Inspectors detecting the presence of
any levels of CO
in the house air should report it as a concern.
A call for Priorities:
reviewers (A. Carson and D. Friedman) agreed that some perspective is needed in considering heat exchanger tests. Little data was provided, and only by Matzen, regarding deaths caused by faulty heat exchangers.
It is possible that some deaths and many complaints traced to high CO levels in homes are due to backdrafting and spillage from blocked or otherwise improper flues and vent connectors. Similar complaints may be attributed to inadequate supply of fresh makeup air in buildings, often seen as high CO 2 .
The concern for testing for leaks in heat exchangers and in some cases the methods used in the field are often poorly reasoned. If ASHI professionals are to expend training and inspecting time on life-safety issues perhaps we should first obtain loss data which would allow us to properly prioritize our efforts.
Virtually every home safety survey cites tripping hazards as the number-one cause of injuries in homes. Future research (and Journal articles) ought to address this question of priority. But if you test, do it correctly!
As a final note, report the authoritative sources used for your standards, identify your equipment, and state the procedures used and the quantitative measurement obtained. This may avoid embarrassment and will add credibility to your findings.
For inspectors who feel that documenting these data is too much work, we suggest skipping instrumented tests entirely.
It's little effort to pre-print a standard explanation identifying the test instrument, it's levels of performance, and the inspection standard used. The only "custom" writing necessary is the actual level measured in the building.
...
Continue reading at HEAT EXCHANGER LEAK ALLOWED or select a topic from closely-related articles below, or see our complete INDEX to RELATED ARTICLES below.
Or see FURNACES, HEATING - home
Or see
Furnace Heat Exchanger Articles
Suggested citation for this web page
HEAT EXCHANGER LEAK TEST at InspectApedia.com - online encyclopedia of building & environmental inspection, testing, diagnosis, repair, & problem prevention advice.
advice.
Or use the SEARCH BOX found below to Ask a Question or Search InspectApedia
...
Frequently Asked Questions (FAQs)
Try the search box below or CONTACT US by email if you cannot find the answer you need at InspectApedia.
Question: how long should my gas furnace last?
what is the normal life of natural gas furnace? - Marlin 10/30/12
Reply:
Just about the warranty period - manufacturers know their equipment well; warranty periods run from 10 years to "lifetime"
Please see FURNACE HEAT EXCHANGER LIFE where we give details about residential heating furnace life expectancy.
Question: why does the pilot flame keep going out on my hot air furnace?
What would cause standing pilot flame to keep going out . thermocouple was replaced hoy air furnace - Bruce 11/17/12
Reply:
Bruce,

Check for these other causes of loss of the gas pilot flame
A bad replacement thermocouple or one that was bent, kinked, damaged during installation
Thermocouple not properly connected at the control, e.g. the sensor connector not fully screwed-in
Thermocouple sensor tip not properly mounted, secured in the flame path
Sudden drafts
Low gas pressure, weak flame
Inadequate combustion air - very dangerous, can be fatal
Dirt on the equipment
Something else we haven't thought of
See THERMOCOUPLES for details
Question: is it possible to temporarily patch a leaky furnace heat exchanger?
I have a rooftop unit and have been told i have a few very small holes in the heat exchanger that can be repaired with an appropriate silicone which should hold for a season or two. True? Thanks.
Reply:
Tom,

You may be lucky to find a service tech who will touch a heat exchanger with a leak. Sure, it's plausible that leaks can be sealed with an appropriate heat-proof sealant (there are high temperature silicones).

The risks that I can think of include:

- not being able to see, find, access all of the leaks to seal them safely
- improper surface cleaning, bad bond, a "sealed" leak remains leaky
- since leaks due to rust are in the form of perforations that are usually surrounded by a larger thin-rusted area of steel, there is a real risk that just touching the leak area may poke a bigger hole, making repair difficult, or that the extent of sealant doesn't cover enough area and the patch is not reliable.

Watch out: Even though your heating unit is on a rooftop (thus outdoors) a heat exchanger leak can still send dangerous flue gases, even fatal carbon monoxide into building air.

So while no one is likely to be dumb enough to bet your life on any kind of promise or guarantee, you can yourself reduce risk by making darn sure that you've got working CO detectors properly installed in proper locations in the building.
See CARBON MONOXIDE - CO and CARBON MONOXIDE WARNING
Question: safe silicone sealant for heat exchanger on a furnace?
(Nov 10, 2014) Anonymous said:
i have a silicone holding my heat exchanger tubes on some has come off is there a safe silicone for the air stream inside the furnace
Reply:
Anon
Yes probably. I would check with the unit's manufacturer for what sealants they recommend, particularly as heat and other issues will vary among equipment and even location within the same appliance
(Nov 10, 2014) Anonymous said:
Called american standard furnace they gave me a local repair mans # he said go to the automotive store i want the factory type but that wont even go there
Reply:
I doubt that's what the American Standard furnace manufacturer had in mind. Call someone else.
Question:
(Nov 16, 2014) craig loeschke said:
there is water leaking where the secondary heat exchanger is. Would that mean my heat exchanger is bad or is there a pan that is leaking. the condensate trap is doing its job, water around the base of the secondary heat exchanger is located. hoses are clear not plugged.

Reply:
The water leak from condensate could indeed destroy a heat exchanger. A more expert inspection is needed to assure your system is safe.
Question: Safety of furnace heat exchanger test procedures
Susan said: what is a heat exchanger test? Won't a pressure test suggested by my landlord cause damage to y furnace?
Reply:
Susan a heat exchanger test is a check for potentially carbon monoxide leaks out of a furnace into building air. There are several test approaches including the use of a tracer gas that will not risk damaging the system. I'm not sure what pressure test your tech has in mind. Discuss the system safety and the test risks with the service manager. Let us know what you're told.
Question: Oil burner forced hot air odor problem
(Sept 22, 2015) Steve Schassler said:
Oil burner forced hot air odor problem. In this small 1/2 duplex home severe uncombusted air smell. Severe summer summer months when furnace off. Bad also when furnace is on. During summer closed off all supply and return registers (sealed each one tightly) and oil smell has all but disappeared.
We have a new furnace but during pre-closing inspection, inspector could see burner flames via supply plenum access port due to a corrosion problem allowing combustion gases directly into supply plenum.
Could this be that supply ductwork has been contaminated prior to corrosion problem being fixed? Afraid to allow family to live in this unit. Recommendations?
Reply: warning about dangerous heat exchanger leaks
Steve:
Watch out: there is a Primary life-safety issue: if your home inspector could see the burner flames through the supply air plenum then the furnace is unsafe, should not be used, and needs repair or more likely replacement. It's not just an odor problem there's a risk of setting the building afire or dosing occupants with combustion gases that can be themselves harmful or dangerous. I can't imagine what "fix" was done to a hole in a heat exchanger. The proper repair is to replace the heat exchanger or replace the furnace. Patch jobs are likely to be un-warranted and unsafe and unreliable.
We need a more accurate diagnosis of what you're smelling - "uncombusted air" I don't know what that means.
Secondary issue: If you are smelling heating oil odors then there has been a spill or there is a leak. Those odors may be transported through the building even when the forced air system is off. Follow the oil tank from fill through tank through piping through burner to look for leak possibilities. A spill of heating oil itself in the ductwork would be odd unless some fool ran oil lines though the ducts.
See ODORS FROM HEATING SYSTEMS
and
Question: is it safe to use a furnace with a small crack in the heat exchanger
(Mar 14, 2016) Anonymous said:
can i operate my furnace if there is a small crack
Reply:
Anon:
What we MUST say for LIFE SAFETY: depending on the heat exchanger crack size, location, and other conditions such as the blower fan and duct properties, it is possible for a heat exchanger crack to kill the building occupants with fatal carbon monoxide. Also keep in mind that what's a "small crack" (at least in your view - where "small" is not defined), it can suddenly become large as heat exchanger temperatures fluctuate.
The fact is that not every small heat exchanger crack is fatally dangerous:
For example in some positions (as I said it depends on where the crack occurs), when the blower fan runs air is pushed into the heat exchanger rather than allowing dangerous flue gases out into the building's duct system. When that's the case the only time you can even measure CO at the heat exchanger is during that interval between when the burner has turned-on and before the blower fan starts.
Watch out: But as I warned, small cracks can become big fatal ones. And there may be other cracks, holes, or damage that you've not seen. So no one in their right mind would tell you , not on-site, and not by e-text, that your heating system is safe. It is not.

...
Ask a Question or Search InspectApedia
Use the "Click to Show or Hide FAQs" link just above to see recently-posted questions, comments, replies, try the search box just below, or if you prefer, post a question or comment in the Comments box below and we will respond promptly.
Search the InspectApedia website
Technical Reviewers & References
Click to Show or Hide Citations & References
[0] Keith R Prach, Residential Furnace Heat Exchangers : History of Metal Failure and Behavior Inspection Techniques and Procedures [at Amazon.com], KRP Enterprises, 1993, ISBN-10: 0963742426 ISBN-13: 978-0963742421
You may also be able to purchase this book from its author: Keith Prach, K&P Enterprises, Inc., 1800 E. Lincoln Suite C-3, Fort Collins CO 80524
[0a] Ellis Prach, Heat Exchanger Experts Residential Furnace Inspection Manual [at Amazon.com, may be out of print], Heat Exchanger Experts Residential Furnace Inspection Manual [at Amazon.com], Quoting: This full-color residential furnace inspection manual will broaden your understanding of how defects occur in furnace heat exchangers and will enable you to accurately assess the integrity of any furnace. You will be led through the steps to identify defects, according to the history of metal failure in a variety of commonly used residential furnaces, and taught the techniques required to conduct furnace heat exchanger evaluations. The Heat Exchanger Experts Manual will prove to be invaluable for seasoned technicians, novice technicians and everyone in between
[1] "Three Step Method for Detecting Unacceptable Flue Gas Leakage from Furnace Heat Exchangers", Douglas DeWerth, P.S., The ASHI Technical Journal, Vol. 2 No. 1, July1991
Also see HEAT EXCHANGER LEAK ALLOWED where DeWerth determines the allowable level of flue gas leakage from a furnace heat exchanger.
[2] "Heat Exchanger Testing, Who's Right?" Dan Friedman, The ASHI Technical Journal, Vol. 2 No. 1, July1991. DJ Friedman (editor of InspectAPedia.com) served as a professional home inspector and forensic investigator of building failures from, 1986 to 2010. He previously operated a heating and cooling service and repair company and a residential construction and renovation firm.
[3] "Case History: LP Gas Leak - Using the TIF 8800," Dan Friedman, The ASHI Technical Journal, Vol. 2 No. 1, July1991
[4] "Choosing and Using a Carbon Monoxide CO Monitor," Dan Friedman, The ASHI Technical Journal, Vol. 2 No. 1, July1991
[5] American Gas Association, Fundamentals of Gas Combustion, 7th printing, September 1985. Prepared by American Gas Association Laboratories for American Gas Association, 1515 Wilson Boulevard, Arlington, VA 22209 and Gas Appliance Manufacturers Association, Inc., 1901 North Fort Myer Drive, Arlington, VA 22209.
[6] National Fuel Gas Code, NFPA 54 1988 and ANSI Z223.1 1988, available from AGA at the address above, or from the National Fire Protection Association, Batterymarch Park, Quincy MA 02269
[7]NFPA and AGA, National Fuel Gas Code Handbook, Z223.2, same source as above
[8] "Residential Gas Furnace Heat Exchanger Testing", Douglas DeWerth, P.E. American Gas Association (AGA) Laboratories under SAM number 630-92 9/86. , Refrigeration Service Engineer's Society's Service Application Manual (SAM)" The manual outlines and explains the many test methods that are used and have been used to inspect and test heat exchangers. This manual also goes into detail about the test equipment used in the 3 step method that the AGA developed. RSES members can view the SAM minus the photographs and diagrams at http://www.rses.org. If you are not a member or want to purchase a complete copy call RSES (800)297-5660 for availability and cost.


[9] Furnace Heat Exchanger Leak Test, American Gas Association .

Step 1 Visual inspection.
Step 2 Burner flame deviation test.
Step 3 injecting a nitrogen/methane gas mixture into the burner chamber. The heat exchanger outlet of the heat exchanger is plugged and a combustible gas detector is used to check for gas leakage on the exterior of the heat exchanger. A detailed fact sheet on the AGA test procedure is of the heat exchanger.
Source: http://www.aga.org/NR/rdonlyres/A156C36A-9324-4978-91B4-E78DB63DAD7D/0/8612FURNHEATEXCHNGLEAKTEST.pdf

[10] Jennifer Moore, Sales Administrator, Nextteq, LLC, Tampa FL, www.nextteq.com 813-249-5888. Nextteq is the master Distributor for Gastec in the United States. According to the company's website, Gastec Gas Sampling Pumps are the industry's first and only pumps to provide on-the-spot measurement of ambient temperature. [Private email, JM to DF 5/23/08]


[11] AGA mixed gas test method for heat exchangers: see http://www.aga.org/pdf/publicinfo/co...facts8612b.pdf also see the gas test kit available from http://www.testproductsintl.com/gas.html


American Gas Association, Fundamentals of Gas Combustion, 7th printing, September 1985. Prepared by American Gas Association Laboratories for American Gas Association, 1515 Wilson Boulevard, Arlington, VA 22209 and Gas Appliance Manufacturers Association, Inc., 1901 North Fort Myer Drive, Arlington, VA 22209.
National Fuel Gas Code, NFPA 54 1988 and ANSI Z223.1 1988, available from AGA at the address above, or from the National Fire Protection Association, Batterymarch Park, Quincy MA 02269
NFPA and AGA, National Fuel Gas Code Handbook, Z223.2, same source as above.
DJ Friedman (editor of InspectAPedia.com) served as a professional home inspector and forensic investigator of building failures from, 1986 to 2010. He previously operated a heating and cooling service and repair company and a residential construction and renovation firm.
Bacharach Instruments, 301 Alpha Drive, Pittsburgh, PA 15238 412-782-3500.
Gas Tech, Inc., 331 Fairchild Drive, Mountain View, CA 94043 415-967-6794.
Lynn Products Company, 400 Boston St., Lynn MA 01905 617-593-2500 and 617-596-0430 FAX.
National Draeger, Inc. 101 Technology Drive Pittsburgh, PA 15275 412-878-8383 412-787-2207 FAX
R.W. Beckett Corporation, PO Box 1289, Elyria, OH 44036 216-327-1060
Sensidyne Corp. 12345 Starkey Rd. Suite E, Largo, FL 33453 813/530-3602. Sensidyne does not sell retail. Their equipment is marketed by Industrial Products Company, 21 Cabot Boulevard, Langhorne, PA 19047 800-523-3944 or in PA 800-562-3305. This distributor also can supply GasTec colorimetric tubes used with the Sensidyne calibrated pump.
TIF Instruments,Inc., 9101 NW 7th Avenue, Miami, FL 33150. Some ASHI Members operate inspection equipment companies and offer varieties of gas detection equipment:
Professional Equipment, 143 Plainview Road, Woodbury, NY 11797 800-334-9291.
The Specialty Tool Company, 145 D Grassy Plain St., Bethel, CT 06801 800-456-4605.
Draeger equipment is marketed to home inspectors by Kirsopp Home Inspections Inc., Belleville, IL 618-397-3057.
Dan Friedman is an ASHI Member in New York, NY Metro ASHI President, chairs the ASHI Technical Committee, and edits the ASHI Technical Journal. He has owned and operated a heating equipment service and repair company.
Chimneys, Flues, Woodstoves & Fireplaces: Safety Concerns, safe and proper venting of combustion gases, carbon monoxide hazards
GAS EXPOSURE EFFECTS, TOXIC Toxic Gas Exposure Hazards and Test Protocols including links to our toxic gas exposure screening and gas testing protocols.
A Toxic Gas Testing Plan: A Gas Sampling Plan for Residential and Commercial buildings lists some of the toxic indoor gases for which we test, depending on the building complaint and building conditions
Gas Exposure Hazard Levels: for Toxic Gas Exposure to Ammonia, Arsine, Arsenic, Bromine, Carbon Dioxide, Carbon Monoxide, Hydride, Ozone - allowable exposure levels and hazard levels
Carbon Dioxide Gas Toxicity hazard level, poisoning symptoms, & testing
Carbon Monoxide Gas Toxicity hazard levels, poisoning symptoms, & testing
Formaldehyde: US EPA. UFFI (Urea Formaldehyde Foam Insulation) was previously considered a hazard (formaldehyde outgassing). Subsequent research virtually closed concern regarding this material; however formaldehyde appears to remain a health concern for sensitive individuals.
Ozone Warnings - Use of Ozone as a "mold" remedy is ineffective and may be dangerous.
Sampling for gases in air such as VOC's, MVOC's, toxic chemicals, and combustion products.
Unfortunately no single test or tool can detect all possible building contaminants. We use methods and equipment which can test for common contaminants. If the identity of a specific contaminant is known in advance we can also test for a very large number of specific contaminant gases in buildings.
We use gas sampling equipment provided by the two most reliable companies in the world, Draeger-Safety's detector-tubes and Drager accuro bellows pump, the Gastec cylinder pump and detector-tube system produced by Gastec. We also have used gas detection tubes by Gastec previously marketed for use with Sensidyne pumps but Sensidyne pumps now use Kitagawa gas detection tubes. We also use Sensidyne's Gilian air pump. For broad screening for combustibles and a number of other toxic gases and for leak tracing we also use Amprobe's Tif8850 and 8800, and the TIF 5000 automatic halogen leak detector (for air conditioning and cooling system refrigerant leak detection). All of these instruments, their applications, and sensitivities (minimum detectable limits) for specific gases are described in our Gas Sampling Plan online document.
Domestic and Commercial Oil Burners, Charles H. Burkhardt, McGraw Hill Book Company, New York 3rd Ed 1969.
National Fuel Gas Code (Z223.1) $16.00 and National Fuel Gas Code Handbook (Z223.2) $47.00 American Gas Association (A.G.A.), 1515 Wilson Boulevard, Arlington, VA 22209 also available from National Fire Protection Association, Batterymarch Park, Quincy, MA 02269. Fundamentals of Gas Appliance Venting and Ventilation, 1985, American Gas Association Laboratories, Engineering Services Department. American Gas Association, 1515 Wilson Boulevard, Arlington, VA 22209. Catalog #XHO585. Reprinted 1989.
"Warm Air Heating Systems". Instructional Technologies Institute, Inc., 145 "D" Grassy Plain St., Bethel, CT 06801 800/227-1663 [home inspection training material] 1987
Heating, Ventilating, and Air Conditioning Volume we , Heating Fundamentals,
The ABC's of Retention Head Oil Burners, National Association of Oil Heat Service Managers, TM 115, National Old Timers' Association of the Energy Industry, PO Box 168, Mineola, NY 11501. (Excellent tips on spotting problems on oil-fired heating equipment. Booklet.)
Books & Articles on Building & Environmental Inspection, Testing, Diagnosis, & Repair
The Home Reference Book - the Encyclopedia of Homes, Carson, Dunlop & Associates Ltd., Toronto, Ontario, 2010, $69.00 U.S., is available from Carson Dunlop, and from the InspectAPedia bookstore. The 2010 edition of the Home Reference Book is a bound volume of more than 450 illustrated pages that assist home inspectors and home owners in the inspection and detection of problems on buildings. The text is intended as a reference guide to help building owners operate and maintain their home effectively. InspectAPedia.com ® author/editor Daniel Friedman is a contributing author. Field inspection worksheets are included at the back of the volume.