Speed up Delivery of Hot Water in buildings

Installation & use of hot water circulator pumps
HOT WATER CIRCULATOR PUMP SPEEDS DELIVERY - CONTENTS: How to get instant hot water to plumbing fixtures. Slow hot water delivery causes & cures. Also tankless water heaters = demand water heaters = instantaneous water heaters. Hot water supply loop circulating systems for plumbing fixtures
POST a QUESTION or READ FAQs about how to get hot water faster at the sink, shower, or tub
InspectAPedia tolerates no conflicts of interest. We have no relationship with advertisers, products, or services discussed at this website.
Instant or fast hot water delivery to plumbing fixtures in buildings:
This article explains methods used to speed up the delivery of hot water to plumbing fixtures. This discussion applies to conventional water heaters as well as indirect fired water heaters, tankless coils, tankless water heaters, instant water heaters or "on demand" water heaters.
If you are waiting endlessly for hot water to arrive at your sink, tub, or shower, your home may feel as if the piping is as long and the hot water as far away as if your home were as large as the Victoria Hotel on Victoria Island (above). Hotels use a hot water piping loop or point of use heaters to give guests hot water. Some people make these improvements in their home as well.
Green links show where you are. © Copyright 2017 InspectApedia.com, All Rights Reserved.
How to Speed Up the Delivery of Hot Water in a Building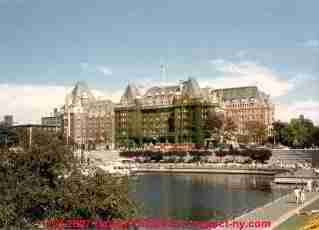 Before you start fixing or buying stuff to fix a hot water problem hot water problems and diagnostic guides for all kinds of hot water troubles are summarized at WATER HEATER PROBLEM DIAGNOSIS. You might want to check there to be sure you're fixing the right problem.
Length of Time for Hot Water to Get from The Tankless Water Heater to the Plumbing Fixture
Unless your hot water piping system is using a continuous hot water loop to circulate hot water between plumbing fixtures and the hot water heater (hotels, perhaps like the Hotel Victoria, Vancouver Island BC, shown at left do this) the time to get hot water from its source to any given plumbing fixture (sink, tub, shower, etc). is a function of water pressure, pipe size, and any obstructions in the water pathway.
The starting temperature of the hot water (from the heating source) is also a factor since the water loses heat to cool piping along the way to its destination.
Water flow obstructions include clogged pipes, clogged plumbing fittings or faucets and valves, flow restrictors, or mixing valves. These conditions exist regardless of how your hot water is made.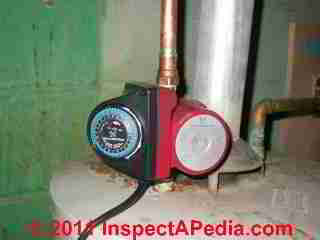 Rinnai provides this example of tankless water heater delivery speed:
If your kitchen sink is 50 feet and the water flow rate is 1 gallon per minute than it will take 90 seconds for hot water to reach your sink.
Our photo (left) shows an energy-saving Grundfoss circulator and timer installed on a water heater whose plumbing includes a hot water piping loop through the building. [The plumbing loop is not visible in the picture].
Other Grundfos hot water circulating pump models (described below) include automatic timer and smart-learning features, and other brands (Watts, also described below) also provide hot water circulating pump systems and equipment.
Various plumbing sources including Rinnai offer several solutions to speeding up hot water delivery in buildings:
Place the water heater close to the point of hot water use. This might be easier with a tankless water heater, though plumbing for water, fuel, and also flue gas venting need to be considered. If you need to install many point of use water heaters the cost of providing quick hot water in all of those locations may not be justified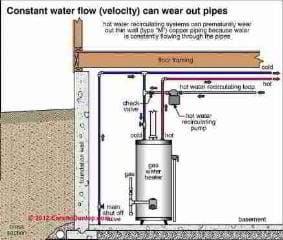 Install a hot water re-circulating line (photo at below left) that keeps hot water following through a loop in your water system and then through the water heater.

Unless you include special controls this is a poor choice because it wastes energy and because running any water heater continuously will shorten the life of the heater and will probably affect its warranty terms.

[Click to enlarge any image]

To make a hot water loop system efficient in a private home or small office (as opposed to hotels where there may be no choice), you'll need to install a hot water piping loop to the area where you want this feature, a hot water pump and control switch, and an occupant sensor switch that turns on the hot water pump whenever someone enters the room and turns the pump off when they leave.

This system will reduce but not always eliminate the hot water delay (how long are you in the bathroom before you turn on the hot water) and it is costly. We don't recommend it for normal residential use.

A simpler but similar system for quick hot water delivery uses a simple timer switch that turns on the hot water pump and loop during shorter times of the day when hot water use is anticipated.

Watch out: as Carson Dunlop Associates' sketch above warns, the constant water velocity found inside of hot water recirculating loops can lead to early wear in water supply piping and thus to leaks.
Install a small electric hot water tank (only a few gallons) to the hot water side of your tankless water heater and run a re-circulating loop through it. Rinnai explains that the tankless system will still heat all the water and you will not shorten the life of your Rinnai or impact its warranty but you will still waste energy.

You could lessen the energy waste by running the pump on a timer.
All of these methods add cost to the hot water production and delivery system in a building.
Portions of the original text of this article was provided courtesy of Carson Dunlop and Rinnai water heaters. Our OPINION is that readers looking for plenty of hot water heated efficiently should also consider the heater we describe at Indirect-fired Water Heaters.
Use Hot Water Circulator Pump to Speed Hot Water Delivery to Building Plumbing Fixtures
Question: how to choose & install a hot water circulating pump for water heaters or tankless coil water heating systems
2017-05-15 pbmass said:
I have a tankless coil in my boiler which combined with a Watts LFMMV thermostatic valve produces sufficient hot water. The problem is it takes 1 1/2 minutes for hot water to reach the baths & the kitchen. I would like to install a Watts 500800 hot water recirculation pump and a 3-4 gallon expansion tank.
Any real differences between the Watts 500800 and the Grundfos Comfort PM systems?
I have been told this will not work on a tankless but I think there is confusion on tankless which can be the coil in the boiler and not the new point of use electric tankless heaters.
This question and reply were posted originally at TANKLESS COILS
Reply: comparing the Grundfos Comfort PM Auto & the Watts 50800 hot water recirculating pumps for instant domestic hot water supply systems
Thanks for an interesting question about using a hot water recirculating pump on a tankless coil hot water heating system, PB
Our illustration above shows a typical domestic hot water delivery piping loop and the location of the hot water circulator pump, adapted from Grundfos' installation manual for their Grundfos Comfort PM Auto circulating pump installation manual cited below. [Click to enlarge any image]
I certainly respect the quality of components made by both Watts and Grundfos and have used both of them. My impression is that Grundfos offers more models (over 20) of hot water circulator pumps so might have more experience in alterenative designs.
But NEITHER of these pumps is designed for a tankless coil hot water heating system: circulating hot water through the tankless coil in the boiler will cause the boiler to run intermittently 24 hours a day even when you are not using hot water, as you're now keeping the water in the piping loop hot.
Because the amount of heat stored in a modern high efficiency home heating boiler is probably less than that stored in a 40 or 50 gallon hot water heating tank (cylinder, calorifier, geyser - depending on where you live), short cycling may be an issue for some systms.
It MIGHT be possible to use a circulator pump anyway in YOUR tankless coil hot water system design, arguing that the volume of water in the hot water piping is so small that it won't cause the boiler to run too frequently. But I would NOT install either of these without first discussing the idea with the manufacturers (Watts and Grundfos).
The Grundfos Comfort PM Auto ($175 - $225. U.S.D.) is a low-noise, low-power-consumption hot water circulating pump (5 to 8.5 Watts) using a control that runs the pump intermittently when needed to keep hot water in the loop sufficiently hot. It also has a 100%-on or "always-on" mode that can be selected if needed. The company's sales literature describes it as
The COMFORT pump with AUTOADAPT features three operation modes. The AUTOADAPT mode learns, stores and adapts operation time to the consumption pattern of the home owner. The temperature mode keeps the water temperature within an automatically detected range in the individual system. And finally, the 100% mode lets the pump run constantly at full speed. Regardless of the operation mode, the COMFORT range provides silent operation and hot water in an instant.
The Grundfos pump uses two temperature sensors, one within the pump and the other connected to the pump by a cable installed in the hot-water flow pipe. The pump is installed in the hot-water return pipe.
This Grundfos hot water recirculating pump also has a vacation mode I don't see on the Watts model:
If no tappings are detected in a 24-hour period, the pump will (self-modulate) automatically switch to standby mode (except for disinfection) and reactivate to the same consumptive pattern when 2 tappings occur within a 20-minute time period.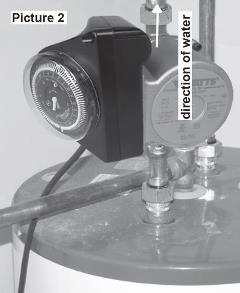 As with all pumps of all types, the actual flow rate capacity of the pump depends on the lift or head height of the water system - something that may not be much of a worry in a residential hot water heating loop system. The GPM ranges from 2.2 gpm at 1.5 ft. head, to about .2 gpm at about a 3.75 ft. head.
For a typical home my OPINION is that unless your hot water piping loop is long and uninsulated and running through a cold space, even a low flow rate will still keep the water hot enough.
The Watts 50800 hot water recirculating pump ($120. to $220. USD) uses a programmable 24-hour automatic timer to control pump operation. The company's specification sheet describes their pump and includes a warning that might come up with the Grundfos too:
A pump with a built-in programmable timer (push-pull pins or tabs on a clock dial) is installed on the hot water line from the water heater (Fig. 1).
A patented sensor valve (Fig. 2) opens when the water on the hot water side cools and pushes the cool water back to the water heater. As the temperature in the hot water line hits 98º, the valve closes.
As standard, both of these circulators mount at the water heater (gas or electric, possibly oil for some models), and both need a nearby electrical receptacle for powering the pump.
In my OPINION either will work perfectly well with a tank type water heater; both sell in a similar price range. The Grundfos has a more automated self-programming control that may appeal to some users.
Watch out: be sure you understand the layout of the hot water piping in your building beore installing a hot water circulator pump to provide instant hot water, as additional controls may be needed. More from Watts' installation manual (provided below) for the Watts 50800:
Some homes are designed with multiple hot water loops, one per floor, etc.
If one section of the house does not receive hot water, you will need to purchase a Watts Sensor Valve Kit (Fig. 3) for each loop. For best results, the valve should be located at the faucet furthest from the water heater in each loop.
Contact Grundfos or Watts for more details about these hot water circulating pumps for plumbing fixtures:
Grundfos North America, 2001 Butterfield Rd, Suite 1700 Downers Grove, IL 60515-1011 USA, Website: http://us.grundfos.com/nav/contact.html
GRUNDFOS HOT WATER RECIRCULATING PUMP MANUAL [PDF] Op. Cit., retrieved 2017/05/15, original source: http://us.grundfos.com/content/dam/GPU/Products/98563206_0614_Grundfos_Comfort_US_QG.pdf
Watts Water Technologies, Inc., Watts USA, 815 Chestnut Street, North Andover, MA 01845-6098 USA, Tel: +1 978 688 1811 / 800-752-5582 Website: www.watts.com
WATTS HOT WATER RECIRCULATING PUMP MANUAL [PDF] Op. Cit., retrieved 2017/05/15, original source: http://media.wattswater.com/IS-IHWRS.pdf
If you are not in North America, both companies have services and sell products world wide.
Question high rise building hot water boilers with a holding tank are located on the top of the building
(Jan 22, 2017) Carter said:

I have a fifteen story high rise building and the hot water boilers along with a holding tank are located on the top of the building. Nuts, right? This system is being supported by a 20 hp water pump pressurizing the street water coming into the building at the first floor and going to the boilers on the roof.
In order to facilitate hot water "on demand" at the first floor, I have a recirculation motor and pump.
I have a question about how to hook up the recirculation pump. Currently, the recirculation pump has hot water coming directly from the holding tank and going through the recirculation pump to the recirculation pipes all the way to the first floor. Is that correct or should it be reversed? Carter my email is cesrentals@yahoo.com
This question was posted originally at CIRCULATOR PUMPS & RELAYS
Reply:
(mod) said:
I don't know, Carter. But I think your pump would have a longer life if it were on the cooler end of the loop - that is on the return end where water returns to the tank.
...
Continue reading at HOT WATER PRESSURE IMPROVEMENT or select a topic from closely-related articles below, or see our complete INDEX to RELATED ARTICLES below.
Or see CIRCULATOR PUMPS & RELAYS - home
Or see TANKLESS WATER HEATERS - instant, demand hot water, no reservoir tank
Or see these hot water improvement articles
Suggested citation for this web page
HOT WATER CIRCULATOR PUMP SPEEDS DELIVERY at InspectApedia.com - online encyclopedia of building & environmental inspection, testing, diagnosis, repair, & problem prevention advice.
Or use the SEARCH BOX found below to Ask a Question or Search InspectApedia
...
Frequently Asked Questions (FAQs)
Some of the FAQs discussed below are adapted from information provided by the Watts Regulator Company in a 1973 publication.[10]
Question: how do I size the T&P relief valve on a hot water recirculating system?
What should be the size of the hot water circulating pipes & connections to keep balanced temperature in the hot water storage tank and to prevent the temperature and pressure relief valve from opening up when it shouldn't? - Watts
Reply: set proper circulating piping diameter
Circulating piping on a hot water recirculating system should be at least equal to the full size of the circulation connection on the heater (the circulating pump connections) and never smaller than 3/4" in diameter. [10] paraphrased
...
Ask a Question or Search InspectApedia
Use the "Click to Show or Hide FAQs" link just above to see recently-posted questions, comments, replies, try the search box just below, or if you prefer, post a question or comment in the Comments box below and we will respond promptly.
Search the InspectApedia website
Technical Reviewers & References
Click to Show or Hide Citations & References
Books & Articles on Building & Environmental Inspection, Testing, Diagnosis, & Repair