Asbestos Content in Drywall FAQs
Q&A on asbestos content in drywall or joint compound
InspectAPedia tolerates no conflicts of interest. We have no relationship with advertisers, products, or services discussed at this website.
Recent questions & answers on the question: does drywall or "sheetrock" contain asbestos?
This article series explains where asbestos is likely to be found in gypsum board or drywall systems, particularly in the taping compound and in skim coats using drywall "mud" that contained asbestos.
Green links show where you are. © Copyright 2017 InspectApedia.com, All Rights Reserved.
FAQs on the Asbestos content in Drywall, wallboard or Sheetrock® or in joint compound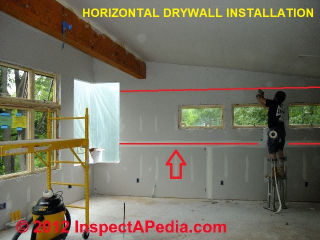 Recently-posted questions & answers about asbestos & other materials in gypsum board, drywall, or Sheetrock® panels, posted originally at ASBESTOS in DRYWALL
Question: I'm so worried about breathing asbestos from drywall that I can't eat or sleep
Sep 19, 2017 Anonymous asked:

I have read extensively through your site and still have some questions (actually opened up more)
Our home is 1984 built. A handyman cut out a section of drywall in bathroom when he removed baseboards that got wet. The baseboards I know are 2002 by previous owner.

The drywall assuming original. Hen it took a few weeks for him to patch the part he cut out and replace baseboards. I am terrified of potential asbestos my kids breathed. I have a company coming to test in a few days.
This research lede to realize from family conversations that when my brother and sister in law remodeled a 1962 house themselves my mom took my kids over there on several occasions during remodel. Not when active sanding going on but work in process.
Am going to have to assume massive asbestos exposure right? They won't agree to any testing at all not will my parents in their 1979 house that my father frequently cuts holes in drywall.
Am I to assume all of these three homes have asbestos?
I am so worried sick I cannot sleep or eat.
Reply: OPINION:
Thank you for the note, Anon,
In our main article on this topic ASBESTOS in DRYWALL - home, I express an opinion that to the early 1980's (ca 1982 if we use Canada instead of the U.S.) there could be asbestos in drywall and in joint compound.
In a 1984 home the drywall wouldn't be likely to be an asbestos product, though no one can guarantee that without a number of test of joint compound as well as the board itself, enough to be sure the samples represent the home.
Certainly cutting drywall with a knife to remove wet or damaged sections is a comparably low-dust procedure compared with such work is done by a dope with a power saw. A power saw can make a lot of airborne dust that could well be hazardous to breathe even if it contained no asbestos.
Un-finished drywall work doesn't emit significant dust particles if it's not being disturbed, particularly if decent clean-up was done after cutting and again after taping and sanding (if sanding was even used - I use a wet sponge).
For a 1960's house the assumption that asbestos was present in low levels in the actual drywall and in higher levels in the taping compound is a reasonable one.
I have discussed acute asbestos exposure with several people who recall the most-hazardous work environments such as in the shipbuilding industry where high-asbestos insulating and other materials were used and where at times the air was literally thick opaque with dust that was very high in asbestos.
That extreme condition as well as some industrial jobs in which workers had to labor directly with high concentrations of asbestos and who tracked it home in their clothing, are the highest-risk situations for people. No one in North America is working in such situations now.
I would not assume that you or your kids had a massive asbestos exposure, particularly if you were not there when the air was thick with drywall dust.
Being terribly frightened [about a low-probability of having breathed in drywall dust that might (probably didn't) contain asbestos]) is itself bad for your health.
I hope you'll discuss your worries with your doctor; most likely she'll agree that there is no human testing that's appropriate at this point unless there are specific health complaints that she finds pertinent.
If you decide to have your home tested for asbestos keep in mind where the greater hazards would have been: joint compound that was most likely no longer in use when your home was built. So if someone punches a sample from the center of wallboard they're missing the joint compound.
I'm glad you didn't get dizzy reading our articles and sorry that maybe reading our information made matters worse by raising more questions. But that's why I'm glad you've contacted me - I can try to address your question and also clarify what we've published.
Editor.
Hi I am working in a building built in the late 1800- early 1900 in Vt. Renting office space and the hot water radiator steamed a hole into my wall it was fixed fir a long time and I thought nothing if it. Until it dawned on me there could be asbestos in the wall. Now I am very nervous and don't even use my office. Can you tell me the chances of the wall containing asbestos and or how I can find out fur sure the person I rented from says they don't know! Thank you!
We live in a home built in 1984 in Irvine CA. We had a water leak in bathrooms and had four inches of drywall cut out along wall. I never even thought to have it checked for asbestos now am worried sick about whether it contained. I understand there is now at of knowing without testing. But any idea if the chances would be higher or lower? How worried should I be???? I mean my brother cuts all intonhisndrywall in home built in 1979 and tells me I being ridiculous.
Oon

It would be unusual for a 1987 Canadian home to use friable asbestos in its materials, since Canada outlawed the production of most asbestos-containing materials back in 1979. However a builder could have used "new old stock" of some asbestos-containing materials so no one can, by e-text, bet their puny life savings nor your concern on a mere e-text.
"Testing" in your daughter's room sounds iffy to me. Test what? Air? There is so much variability in such tests that a negative result wouldn't be enough. Testing settled dust? Maybe if you had a representative dust sample.
Testing remaining original materials, probably could be done if handled properly. "Inspect" for asbestos? Not very useful as by eye no one can say for sure if there is asbestos in drywall or joint compound.

More often asbestos hazards in drywall are more significant in the joint compound used to tape joints not in the drywall body. But you're right about the limited usefulness of looking at drywall photos - it all looks the same.

Canada has strict controls on asbestos (Canada's Hazardous Products Act 1985) but not comprehensive ones. Non-friable asbestos containing materials such as cementious items might still be produced, and Canada continues to export products containing chrysotile asbestos.

You could have a representative dust sample tested - see ASBESTOS TESTING LAB LISThttp://inspectapedia.com/hazmat/Asbestos_Test_Lab_Lists.php for labs and procedures.

You could do appropriate cleanup - damp wiping and HEPA vacuuming.

Or you could hire an expert - if it's a real one - to collect samples from walls and ceilings.

If it were my home, in my OPINION, I'd focus on proper cleanup of any remaining dust. The un-disturbed wall or ceiling drywall now finished and patinted, isn't going to be releasing dust from its components.
Hi there,

So sorry to bother you, but very worried about something. I am renting a townhouse built in 1987 in Vancouver BC. I assumed something built so recently wouldn't have asbestos in it, but now am worried. There was a roof leak over my daughter's room and a restoration company had to come and cut through the ceiling in her room to see if there was mold, etc, as a result of the leak.

It didn't even occur to me that there could be asbestos in the ceiling above her room and the restoration company only took basic precautions regarding the spread of dust in our home as a result of the repair, and there was no testing for asbestos before it was done.

I know I need to have a company come in and test her room, but I literally can't sleep at night worrying about it and our possible exposure until such a time as it is done.

Would a new townhouse build in 1987 in Vancouver BC be likely to have asbestos in the ceiling or drywall? I have studied your photographs and they do not seem similar, but who knows?

Thank you ever so kindly,

Oonagh
I haven't had success with numeric code lookups, 1973.
I'd treat the drywall as presumed to contain asbestos, though frankly the greater risk will be in the drywall mud not the drywall sheets. That means cutting and removing using minimal dust-making methods, and taking appropriate precautions in both dust control in the building and personal protection.

In my OPINION, demolition dust is bad stuff to breathe in anyway - take it from a really old guy who developed adult onset allergic asthma from just such work.

Or you can search our site for ASBESTOS TEST LABS if you want to have a test performed. You'd need to test the joint mud not just a central section of drywall.
Is there a way to find out if our fire protective drywall contains asbestos by looking up the 8 digit code printed on the back? Our neighbor, who's house was built within a couple years of ours, found out his place has it in the mud, and we plan to renovate.
Jenni

At a companion article RESILIENT SHEET FLOORING ID GUIDE http://inspectapedia.com/hazmat/Sheet_Flooring_Identification.php we start our article series about asbestos in sheet flooring productrs.

At ASBESTOS DUCTS, HVAC -http://inspectapedia.com/hazmat/Duct_Asbestos.php we discuss the use of paper both as a joint tape and as a total; covering on heating air ducts in older homes.

Don't panic - but do avoid creating a dusty mess. Or if you have to face a dusty demolition then I'd have the material tested for asbestos

Search InspectApedia for ASBESTOS TEST LABS if you need that service.

Trivial cuts (an installation drill hole) ought never justify expensive asbestos testing and remediation, but even there you could minimize risk by either wetting or more-likely by using a HEPA-rated vacuum for dust control followed by damp wiping cleanup.
We have a 1959 rancher. I know that there is a likelihood of asbestos in areas like sheet vinyl (original) and tape on heating ducts, but until recently I was not aware that it could be in drywall/mud systems. Like many homeowners we have put nails into walls, drilled large holes to anchor our flat-screen television, and more.
Now I am worried we might have contaminated our home by doing so, and yet it seems crazy to think we can't put small holes in our walls. Is it safe to do so?

Also, in the future we would like to add recessed lights and another window to our kitchen (plus a vent pipe opening after we move the stove to that wall). Would we need to have everything tested first, or is it safe to make a few cuts/drills openings into the kitchen wall?
Lee

I think you're talking about cleaning up dust from an opening in drywall that is just a couple of square inches. Seems to me that damn wiping will be perfectly sufficient for case like that
Hi,

We recently purchased a home built in 1976. We have a need to do a small amount of handyman work that requires disturbing it. A towel rod fell out, leaving some crumbling drywall that we want patched up and painted. We also want to have some baby gates installed on the stairwell.

The drywall joint compound probably has asbestos (an asbestos testing company told us ~80% likelihood).
Assuming this is true, do you have any advice on how we do this type of light work that will disturb small amounts of drywall? It seems your typical handyman wouldn't know how to deal with asbestos drywall. Indeed, most contractors that we've talked to so far seem unaware of asbestos joint compound, let alone are trained with how to deal with it.

We were also thinking about adding recessed lighting, but this is a luxury, and might not be worth the complications involved.
Tom,

Asbestos can be present in board-type products both as long fibers and as very short fragments, even dust though the latter was used more-commonly as filler in floor tiles and perhaps in some asbestos-cement board. I'd like to see photos of the material you describe - our email is at the page top/bottom CONTACT link.

Keep in mind that if the material you have is gypsum board ("drywall"), the asbestos hazard is more likely to be in joint compound used on taped joints.
I am currently removing ceilings in a house! The board is pioneer baseboard and it looks quite modern although there are fibres within the board. Will this be asbestos or another form of fibres like glass wool? I am not sure of the age of the board but the house is 1930s.

Thanks in advance for your help.

Tom
Curious

It's a fair question and not one for which I've been able to find authoriatative research that gives an answer. Let's both try Google and Google Scholr and Patent Research to see if we can find a better answer.
Were there any drywall finishing compounds that didn't contain asbestos in the 70's? If so, what percentage of compound on the market then didn't use it? My house was built in 1976 and this seems to be a pretty big problem.
YOu can use the page top or bottom CONTACT link to send us photos for comment, Kimberly. The Comments box code doesn't allow links or photos - to avoid possible malware. Sorry.

Maybe just damp wipe exposed surfaces.
It's specifically the ducts running in and out of the ventilation unit. The insulation was sticking out of the black sleeving around the ducts. It's since been taped so none seems to be exposed. It's in a living area/spare room. There are many shiny fibers on the unit and the sleeving. I'm not sure if there is a way to put a picture up and better describe
Surely the fiberglass insulation on a vent is not in the living space, right? If it's in a ceiling or wall that's closed, sealed, covered-up you should be ok.
Thank you for your prompt reply. I've taped over the couple edges where it was exposed and coming apart. One more question, regarding my new home. We have a Venmar Constructo (2.0?) ventilation unit in one of our storage rooms that we intend to put kitchen supplies etc.
It has a few metal ducts/pipes connecting it to everything and they're covered in a black sleeve filled with insulation. At our request, the landlord taped up all the joints because it had tons of insulation sticking out. Now the unit and on the black sleaving there appears to be dozens if not 100+ small tiny fibers all over it.
Again, I'm assuming fiberglass. What is the best method of cleaning this up? How hazardous is this actually? I'm afraid I can't vacuum it because it'll grab the black sleeving in and rip it, creating a more serious problem. And it's like loose plastic wrap around the duct, so wiping it is difficult. Would something like a swiffer duster be wise, or would it just spread it around?
Kimberly,

Most-likely you're seeing fiberglass reinforcement of the gypsum board, referred to in the building trades as FRP or fiber-reinforced panels. Unless there is drywall debris getting all over your stored materials, what you describe is not likely to be a concern. Certainly you could, if bothered, just tape over the exposed edges using anything convenient, even wide blue masking tape.

These products have been around since at least the early 1990's (or on request we'll research patents to narrow the date range).

US Gypsum, producer of Sheetrock(R) brand gypsum board or drywall, produces Sheetrock(R) MoldTough(R) VHI (Very High Impact) gypsum board panels used in interiors. These panels use fiberglass reinforcement in the panel composition.

Georgia Pacific produces DensGlass, a gold colored fiberglass-mat reinforced exterior sheathing board as well as DensArmor Plus, a fiberglass-reinforced gypsum board product that applies a fiberglass matt to both sides of the panel for improved moisture resistance.

I recently moved into a new place and in a storage room on the ground floor there is some exposed Sheetrock/drywall? with the gypsum core exposed. The house was built in 2005 according to my boyfriend, so I'm not concerned about asbestos.
There are shiny fine fibers sticking out of the gypsum though, they're difficult to see without a light directly on them. Is this fiberglass? Something else? Some of it is crumbling and I store things in that room, should I be concerned?
Kimberly,
Most-likely you're seeing fiberglass reinforcement of the gypsum board, referred to in the building trades as FRP or fiber-reinforced panels. Unless there is drywall debris getting all over your stored materials, what you describe is not likely to be a concern. Certainly you could, if bothered, just tape over the exposed edges using anything convenient, even wide blue masking tape.
These products have been around since at least the early 1990's (or on request we'll research patents to narrow the date range).
US Gypsum, producer of Sheetrock(R) brand gypsum board or drywall, produces Sheetrock(R) MoldTough(R) VHI (Very High Impact) gypsum board panels used in interiors. These panels use fiberglass reinforcement in the panel composition.
Georgia Pacific produces DensGlass, a gold colored fiberglass-mat reinforced exterior sheathing board as well as DensArmor Plus, a fiberglass-reinforced gypsum board product that applies a fiberglass matt to both sides of the panel for improved moisture resistance. I recently moved into a new place and in a storage room on the ground floor there is some exposed Sheetrock/drywall? with the gypsum core exposed. The house was built in 2005 according to my boyfriend, so I'm not concerned about asbestos. There are shiny fine fibers sticking out of the gypsum though, they're difficult to see without a light directly on them. Is this fiberglass? Something else? Some of it is crumbling and I store things in that room, should I be concerned? @Andy Clark,
Did you ever find out? I have the same drywall, house built in 1974 (Ontario, Canada). Already remodelled a couple rooms and took it all down... Sure Andy,
Search InspectApedia.com for ASBESTOS TEST LABS to find a certified lab or a list of them; send a small sample - cost is about $50.
Keep in mind that more common was asbestos in joint compound. My drywall is Branded Gyprock, Fire protection. House constructed in 1972. Is it possible to determine if there is an asbestos risk if disturbed? I've decided to stop dancing around the issue and get it tested. -:)
I have contacted two asbestos remediators who work in the area. They told me there's definitely no asbestos in the insulation. Definitely no asbestos in the sheetrock. But they were certain there was asbestos in the seam compound.
About 150 to 250 sq ft of wall was ripped out. Is this serious enough that I should consider not buying the house or can it be cleaned up safely? Dennis, I can't guess if your home has an asbestos hazard or not - by e-text. But to allay concern it'd be reasonable to collect some settled-dust samples that represent indoor conditions and have those examined by a certified asbestos test lab. Search InspectApedia using the box just above, to fine ASBESTOS TEST LABS and for a simple inexpensive dust sample collection method search for DUST SAMPLE COLLECTION Not sure my post below is very clear. It's already done.They tore down the walls that had asbestos in the float compound and did nothing about containing it. Now I'm concerned about asbestos particles in the home, about a year-and-a-half later 1. is it serious? 2.what should I do?
I apologize if this is a double post.
I'm buying a 1979 home where the homeowners did some renovation in the kitchen. They removed a few walls. No concern for the asbestos in the tape compound. A few years later, how much concern should I have for asbestos dust? Options? Sure: even paint, wallpaper, or a laminate layer of 3/16" gypsum board or paneling reduce the remaining asbestos hazard to trivial (though not to absolute zero, as somebody drilling ito a wall can create a bit of dust).
Most expert sources such as the US EPA advise that the best approach to most asbestos materials is to leave them alone and in place, covering over the surfaces involved. Only when material is soft, friable, damaged, or in an area subject to damage and subject to dispersal of asbestos debris in occupied space does removal or other more expert encapsulation come to be urgent. thank you, this can make life a lot simpler, to ensure a safe living environment, that any potential asbestos products in the wall or wall surface, can be covered with a layer of gypsum to ensure a safe living environment for renters. In general if you cover drywall or taping compound and leave it undisturbed I think there will be no measurable airborne asbestos levels traceable to that source. if there is suspected asbestos in the drywall compound, and in an insulation board behind the sheetrock, 1; is a durable paint over the wall surface good enough to seal any possible containing plaster compounds. 2; will applying a layer of plaster over the entire surface and then painting be sufficient to seal any asbestos product. 3; or simply applying another layer of gypsum board, plaster and paint and seal all electrical outlets and other protrusions be more than sufficient if asbestos is suspected because of the age of the home. your comments on the 3 questions much appreciated, thank you, doug This is indeed an NYC drywall classification elaborated as:
DRY WALL CONSTRUCTION TYPE X AS PER B. S. & A., CAL. NO. 301-60 6. S.M. MOISTURE RESISTANT GYPSUM WALLBOARD AS PER B.S. & A., CAL NO. 486-39 S.M. MASTIC ADHESIVE FOR WALL TILE AS PER B.S. & A., CAL. NO. 748-41 S.M. & CAL. NO. 518-60 S.M
In some job and project specifications. As best I can determine there was a standard (not found online) for moisture-resistant drywall using that number.
While asbestos was used in some drywall, sheetrock or more properly "gypsum board products, the greater hazard is likely to be in the taping or joint compound.
Following question received by private email, sender kept anonymous:

We are seeing sheet rock in a few places in the basement (built 1965) that has a stamp on it reading "Approved by the board of standards andappeals for use in New York City Under Calendar No. 486-39-SM."
Are you familiar with the meaning of that stamp? Any guesses on the odds the sheet rock contains asbestos?

Dan:
I suggest covering the damaged area with joint compound or spackling compound or a product like Dash Patch before painting.
Even if the area exposed an asbestos-containing substrate, I doubt that there would be a measurable airborne asbestos level from a roughly 2x2" exposure of otherwise undisturbed surface. Sorry for double-posting. But for added clarification, the property was built in 1905 with no major renovations listed since. What are the chances of the drywall (not piping insulation, boiler insulation, etc) containing asbestos?
Recently removed something I had hanging on my wall that was attached with a strong, double sided adhesive tape. During removal it took with it the outer layer of the wall. I'm not sure if the wall is plaster or drywall construction.
What is underneath looks like stone, and does not appear to be hairy like some asbestos is. What I want to know is that if it is asbestos, is it dangerous to leave it there? I haven't gotten the wall repaired for more than a month, and only started concerning myself recently of whether or not it contained asbestos. The tear/ripped area is pretty high, and I generally have a ceiling fan running.

Also, what kind of repair should I get?

Thanks.

Anon:

To permit space for a detailed reply and to include research citations we repeat your question and give a detailed answer in ASBESTOS in DRYWALL.
The short answer is both Chrisotile and Amphibole asbestos were used in some drywall or gypsum board products, though primarily Chrisotile asbestos.

What variety of asbestos was used in drywall, Chrisotile or amphibole?
Question: is there an asbestos hazard in 1973 Domtar Construction Materials (DCM) Drywall?
2016/09/11, said:

KJohnson said:
I have a house built in 1973 that I had knocked out a piece of drywall not knowing that it may contain asbestos. The drywall was manufactured by Domtar Construction Materials Ltd (DCM Ltd) with a brand name "Gyproc" rather than gyprock. It was also labeled as fireproof. This drywall has a bit of a pinkish hue and has some sparse but fine fibers sticking out of some of the cut edges. From what I understand, DCM Ltd was a Canadian division, but also had an American counterpart that used asbestos in its drywall mixture.

Would the Canadian drywall likely have used the same asbestos mixture, or could this have been made with fiberglass? I have been unable to find any manufacturing information on DCM Ltd.
The reader cites this study:
Health Consultation, Domtar Gypsum American, Inc., 801 Minaker Drive Antioch, Contra Costa County, California Epa Facility Id Cad089182810 May 7, 2008, [PDF] U.S. Department Of Health And Human Services, Public Health Service, Agency For Toxic Substances And Disease Registry, Division Of Health Assessment And Consultation, Atlanta, Georgia 30333 Contact ATSDR 1-800-CDC-INFO http://www.atsdr.cdc.gov
This question was posted originally at CELOTEX ASBESTOS PRODUCTS
Reply: Domtar, Antioch CA study did not find conclusive evidence of a high level of asbestos related illnesses / hazard
Mr. Johnson:
The study that you cite is of vermiculite including vermiculite processed at Domtar Gypsum American, Inc., in California. The word "drywall" does not appear in the study, but the words "Gypsum Wallboard" do. The study included sampling for worker exposure to asbestos at gypsum wallboard facilities. (op. cit. p. 6). Excerpt:
Exposure to dust that contained vermiculite (and asbestos) could occur when any clean-up tasks or tasks involving maintenance of equipment in dusty areas were conducted. Although clean-up and equipment maintenance processes were not observed, dry clean-up methods such as sweeping were reportedly used in the past (14). Dry sweeping would be expected to generate significant levels of dust into the air. - (op. cit. p. 6).
A read of this U.S. ATSDR drywall, vermiculite & asbestos exposure study suggests that the level of dust exposure of workers in the Domtar facility as well as possibledust exposure of their families to dust carried home on clothing, shoes, bodies of workers, would likely be enormously greater than dust exposure in an individual home by breaking away a single section of drywall; further if that drywall were removed at its seams the dust from the drywall itself would have been minimal, and in my OPINION a greater dust exposure hazard would occur from the disturbance of drywall compound typically used at taped drywall butt joints.
Ingredients in drywall
Fiberglass, about which you inquired, is indeed an ingredient in drywall along with other dry ingredients including vermiculite (used in fire-resistant drywall products), perlite, starch, and sometimes sugar. These ingredients are mixed into calcined gypsum alongwith water to form a slurry that is spread over paper backing and then covered with paper and kiln dried.
History of Domtar Gypsum Drywall excerpting and adapting from the report cited above:
WR Grace and Company purchased the Libby Montana Zonolite vermiculite mine from the Zonolite Company in 1963. Between the 1960s and 1980s, as much as 80% of the vermiculite used
worldwide came from the WR Grace and Company mine near Libby. Libby vermiculite was shipped to over 200 locations in 30 states in the United States for
processing or packaging. Twenty of these facilities were located in California, including the Domtar Gypsum American, Inc., a gypsum wallboard manufacturing plant in Antioch, California.
From 1967 to 1978, this facility was called Kaiser Gypsum Company, Inc. Kaiser Gypsum was sold to Domtar, a Canadian company, in 1978 for $35 million. Domtar, the Canadian company was later sold to Georgia Pacific in 1996.
Since 1996, the current owner of the facility has been Georgia-Pacific Gypsum (G-P Gypsum). The current G-P Gypsum facility at the former Domtar site manufactures various building construction products, including gypsum wallboard.
With this corporate ownership history one cannot drywall made in or before 1973 was asbestos-free. However the actual risk involved in the case you describe sounds very small based on just your e-text which is, of course incomplete information.
Asbestos hazard from DOMTAR-branded Drywall - fire-resistant drywall contained Libby Vermiculite
More to the point, the study you cite is focused on asbestos hazards in vermiculite, an insulation material, processed at the site. Between 1967 and 1984 at this site, Domtar used vermiculite to manufacture fireproof gypsum wallboard. This distinction is important. Unless your home's Domtar-branded drywall was a fireproof-rated version of drywall, it is not likely that your drywall contained asbestos-laden Libby-mined vermiculite.
It is important to note that at any facility where Libby vermiculite was processed and airborne dust levels were high, there could have been cross-contamination of some undetermined levels of asbestos and other products being manufactured, stored, or handled at the same facility even if those products were not intended to contain asbestos. It seems likely, however, that the level of incidental asbestos in such non-asbestos products would be very small compared with the level of asbestos in products deliberately manufactured with Libby vermiculite that itself contained asbestos.
A review of the DEHS study that you cite combined with speculation about the reasonable chance that "knocking out" a piece of un-known-asbestos-content-drywall produced a significant risk of hazardous asbestos exposure for the building occupants suggests that unless you ran power tools or used similar methods that produced high levels of drywall dust, chances are the hazard concern you raise would have been below the limits of detection in the building.
Nevertheless good practice with any building demolition, dust, and debris would include use of damp wiping and HEPA vacuuming to clean up dust to minimize dust spread.
To know with more confidence what was in an unknown drywall sample I'd consider spending the (typical cost of) $50. to send a sample to a certified asbestos test lab. You can find such labs by searching InspectApedia for ASBESTOS TEST LABS.
2008 DEHS Asbestos hazard study at Domtar did not find evidence of significantly-higher rates of asbestos-caused cancers (lung cancer and mesothelioma) than the U.S. population
Here are excerpts from the study that you cite:
Foreword
Libby vermiculite was distributed to and processed by facilities located throughout the United States. Because human exposure to asbestos has possibly occurred in communities near these facilities, the Division of Health Studies of the federal Agency for Toxic Substances and Disease Registry (ATSDR) initiated a nationwide follow-up effort.
This project is designed to screen for similar impacts on the health of populations living near facilities that received shipments of Libby vermiculite. As part of that effort, the Environmental Health Investigation Branch of the former California Department of Health Services, now California Department of Public Health (CDPH), received funding to conduct health statistics reviews on communities located near facilities that received Libby vermiculite.
This health consultation presents the results of the health statistics review for the population living near Domtar in Antioch, California.
Conclusions:
The cancer statistics review did not find any evidence that the census tract 3060.01 population experienced statistically significantly higher incidence rates of asbestos-caused cancers (lung cancer and mesothelioma) than the U.S. population during the years 1986-1995. The SIR and SRR results for the remaining cancers evaluated in this review indicate that an excess of asbestos-related cancers in this Antioch population is not being obscured by physician misdiagnosis.
...
Similarly, if exposure to asbestos can worsen the condition of pulmonary disease and lead to premature death or higher disease fatality, then the SMR and SRR results for chronic obstructive pulmonary disease are consistent with the hypothesis of community exposure to Libby asbestos.

However, SMR and SRR for other diseases of the respiratory system and for diseases of pulmonary circulation did not show that asbestos exposure led to increased rates of these diseases in the ZIP Code 94509 population compared to the U.S. population.

Cancers overall and selected outcomes assumed to have no causal relationship with asbestos were reviewed for comparison. Results showed that the study and U.S. populations generally had comparable incidence and mortality rates for reference cancers, with a slight deficit for incidence of cancers overall. - Op. Cit. (2008)
Also see MESOTHELIOMA doctors, organizations, treatment resources, legal advice.
Question: Asbestos used in Faspite gypsumplaster or Pioneer Insulated Baseboard produced at Billingham by ICI ?
2016/05/12 TRM said:
We have building built in 1961. The plaster work is 1 "Faspite" gypsum plaster manufactured by the Billing ham division of ICI 2 "Pioneer" insulated baseboard made by the same firm. Do these contain asbestos?
[This question was posted originally at ASBESTOS PHOTO GUIDE to MATERIALS]
Reply:
Thanks for the question TRM. Faspite is not a product with which we're familiar, nor is Pioneer insulated wallboard.
Please use the page top or bottom CONTACT link to send me photos of your plasterboard or insulating board along with any identifying markings on it as that will help us research further.
In this article (above on this page) you'll see a discussion of asbestos in drywall along with links to articles offering more detail on that hazard. Please check those out. Especially, see inspectapedia.com/hazmat/Asbestos_in_Drywall.php where we will re-post your question along with any further research results.
Our research to date has found that the principal source of asbestos in wallboard products has been in joint compound used to tape and seal the abutting joints of drywall or gypsum board. The plethora of mesothelioma lawsuit websites who list information on asbestos in drywall seem to confuse the joint compound source of asbestos with the drywall product itself. Though of course we can't absolutely rule out asbestos in some gyp-board or drywall products, that source makes little appearnce in the literature we've found to date. More information is in the REFERENCES section of this article.
I'll do a bit more research and add remarks here. Tell me if you are asking about a U.K. product or if you're located elsewhere.
Gypsum plasterboard was indeed manufactured by ICI in the early 1960's and marked as you describe 1 Faspite gypsum plaster, produced by Billingham division of ICI and Pioneer insulated board as well.
History: According to Encyclopedia.com, ICI was a British conglomerate that produced chemicals and industrial products and that was Britain's second-largest wallboard producer until 1967. British Plaster Board, BPB plc, now a wholly-owned subsidiary of Saint Gobain Inc. (http://www.bpb.com) bought Bellrock Gypsum in that year (1967). By the end of 1968 ICI had given up its wallboard producing machinery to BPB, giving that company a virtual monopoly on gypsum board production.
...
Continue reading at ASBESTOS in DRYWALL or select a topic from closely-related articles below, or see our complete INDEX to RELATED ARTICLES below.
Or see ASBESTOS IDENTIFICATION IN BUILDINGS
Or see AIR HANDLER DUST CONTAMINATION - drywall dust in HVAC equipment
Or see ASBESTOS PHOTO GUIDE to MATERIALS
Or see ASBESTOS LIST of PRODUCTS
Or see CELOTEX DRYWALL ASBESTOS
Or see DRYWALL, FIBERBOARD, PLASTER INTERIORS - home
Or see DRYWALL FINISH LEVELS
Or see DRYWALL GREEN LOW TOXICITY
Or see DRYWALL MOLD TESTING
Or see WALL FINISHES INTERIOR - home
Also see notes on the widespread use of asbestos in plaster and plaster products

at PLASTER TYPES & METHODS in BUILDINGS
and

at PLASTER INGREDIENTS, MIX, COMPONENTS
Suggested citation for this web page
ASBESTOS in DRYWALL FAQs at InspectApedia.com - online encyclopedia of building & environmental inspection, testing, diagnosis, repair, & problem prevention advice.
Or use the SEARCH BOX found below to Ask a Question or Search InspectApedia
...
Frequently Asked Questions (FAQs)
Try the search box below or CONTACT US by email if you cannot find the answer you need at InspectApedia.
...
Ask a Question or Search InspectApedia
Use the "Click to Show or Hide FAQs" link just above to see recently-posted questions, comments, replies, try the search box just below, or if you prefer, post a question or comment in the Comments box below and we will respond promptly.
Search the InspectApedia website
Technical Reviewers & References
Click to Show or Hide Citations & References
...
Wikipedia provided background information about some topics discussed at this website provided this citation is also found in the same article along with a " retrieved on" date. Because Wikipedia and other website entries can be amended in real time, we cite the retrieval date of such citations and we do not assert that the information found there is always authoritative.
Books & Articles on Building & Environmental Inspection, Testing, Diagnosis, & Repair
Our recommended books about building & mechanical systems design, inspection, problem diagnosis, and repair, and about indoor environment and IAQ testing, diagnosis, and cleanup are at the InspectAPedia Bookstore. Also see our Book Reviews - InspectAPedia.
...