Stone & Stucco Stain Diagnosis
How to Identify, Diagnose, Clean & Prevent Algae, Fungus, Lichens, Moss or Red Rust Stains on Stone Surfaces, Tombstones, Graves, Roofs, Walls, Sidewalks, Sandstone & Other Building Surfaces
STAINS on STONE, STUCCO DIAGNOSE & CURE - CONTENTS: Algae, fungus, lichens, moss growth on various outdoor surfaces: problem diagnosis & cure - How to clean graves, stucco surfaces, stones, stone walls, sidewalks, tombstones, monuments, carvings, artifacts & artwork outside.
POST a QUESTION or READ FAQs on the cause, cure, & prevention of algae, fungus, moss or lichens stains & growth on exterior surfaces such as stone monuments, buildings, roofs, & other site features.
InspectAPedia tolerates no conflicts of interest. We have no relationship with advertisers, products, or services discussed at this website.
Algae, Moss, Lichens or other stains on stone & stucco surfaces:
Catalog of colors & types of stains or discoloration found on stone & stucco or othe routdoor masonry surfaces including monuments & tombstones: causes & cures.
How to diagnose, remove & prevent stains due to algae, fungal growth, or moss on stones, monuments, & on surfaces of building exteriors or roofs: this article series describes and provide photographs and advice on identifying, cleaning, and preventing algae, moss, lichens, or fungal growth that occurs on stone surfaces such as buildings, gravestones, sidewalks, stone walls, and in nature.
We include links to references useful in the identification of algae, moss, lichens, and mold. Our page top photograph algae growing on the stone wall at the entry to the dungeon of Goodrich Castle, Ross on Wye, Herefordshire, England U.K.
Green links show where you are. © Copyright 2017 InspectApedia.com, All Rights Reserved.
Appearance of Algae, Fungus, Lichens, or Moss on Stone, Stucco, Masonry Surfaces
Article Contents
STAINS on STONE, STUCCO DIAGNOSE & CURE



COLORS & TYPES of STAINS on STONE algae, lichens, moss, fungae, or other substances found on Stone Surfaces
CATALOG of SUBSTANCES that ALTER STONE, GLASS, STEEL that Alter Stone or Other Inorganic Materials - separate article
STONE SURFACE CLEANING & ORGANIC GROWTH PREVENTION (Algae, Fungus, Lichens, Moss) from Stone, Brick, or Concrete Surface

STAINS on SANDSTONE, DIAGNOSE & CURE - separate article
Colors & Types of Stains, algae, lichens, moss, fungae, or other substances found on Stone Surfaces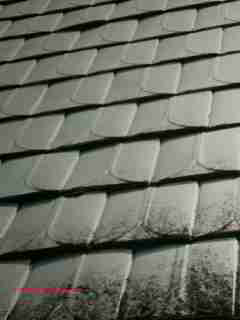 Once we include lichens (such as our photo at above left, from Portland Maine), the range of colored growths or stains on stone surfaces is quite large. But the most common stain colors are
Below we provide example photographs of different colors and sources of stain or contaminants on stone or masonry surfaces, followed by advice on cleaning and stain prevention.
Black Stains on Stone, Stucco, or other Masonry Surfaces due to Algae, Fungus, or Dirt, Soot, Debris: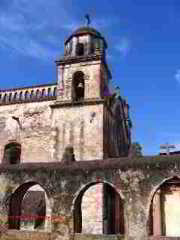 The presence of algae or fungus (mold) on a stone surface most often appears as a function of both weather exposure and the location of the surface in a shaded spot where you may want to be alert for development of moss as well.
Our photo (left) shows black staining, probably fungal in origin, on historic structures in Patzcuaro, Mexico. The level of damage to a stone surface from black algae or any colored fungus is likely to be less than from moss and less than that caused by lichens.
But on stone or masonry building surfaces or on works of art or artifacts, Mandrioli et als. point out, and as we list in their Catalog of Biological Substances that Alter Stone or Other Inorganic Materials, there can be serious aesthetic and conservation issues.
Black Staining & Stone Damage from Cyanobacteria - Gloeocapsa sp. and fungi
Black stains on stone are quite often caused by a cyanobacteria (see Catalog of Substances that Alter Stone, Glass, Steel) Gloeocapsa sp. that not only stain the stone black, but also increase water absorption by penetrating veins in the stone (or marble, for example) leading to honeycomb weathering damage to the stonework.
Wet stone exposed to either freeze-thaw cycles or heating by bright sun can be spalled or cracked by these forces. For an example that received media attention, the New York Times reported ("Microbes Eating Away at Pieces of History", 24 June 2008) extensive damage to Angkor Wat, a twelfth century Hindu temple in Cambodia. Sixty to seventy percent of the Angkor Wat temple is black and deteriorating.
Significantly for building diagnosticians, the Times article reported that originally people believed that the black on this stone was due to "weathering". The Times continued that only recently have experts begun to realize the important role of both bacteria and fungi in the deterioration of cultural sites around the world. The article also noted that air pollution can increase the effects of biodeterioration.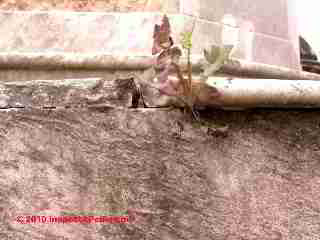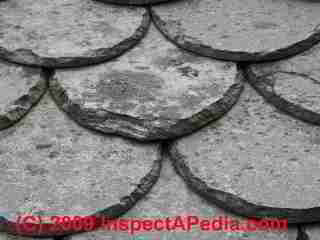 Our photo (above left) shows black staining on the stone surface of a mausoleum in Buenos Aires. Without closer examination we could not be sure if this was dirt and debris from city and traffic air, a dark fungus, or algae.
Our second photo of black growth on a stone roof (above right) was taken in Molde, Norway. Also
see SLATE ROOF INSPECTION & REPAIR.
Algae and sometimes mold often appear on organic and even inorganic surfaces of buildings and in nature such as on asphalt roof shingles shown
at ALGAE STAINS on ROOFS. It is possible that on these metal roof shingles (Justin Morrill Smith historic home in Strafford VT) mold or algae is hosted by a painted coating on the roof.
Question:
Thought this photo of a house we are considering would be a nice addition to your library. Is this algae from excessive gutter runoff? - Anonymous by private email 2016/08/03
- Photograph temporarily OFF pending reader approval.
Reply:
Thanks for the photo, .... It doesn't show enough information for a reliable guess, but the dark pattern I see on the left edge of what looks like a stone wall or a stone veneer wall could be from roof drainage or gutter spillage; wetting the area can indeed encourage black staining that is often dominated by algae or the cyanobacteria we discuss here at STAINS on STONE, STUCCO DIAGNOSE & CURE.
Black Algae Stains on Stucco Wall Surfaces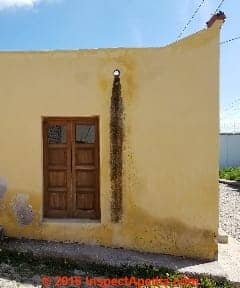 Above: black algae stains mark the painted stucco wall of this home in Pozos, in Guanajuato, Mexico. Water from the roof drain is the most-likely cause of these stains.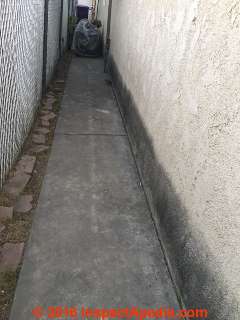 \Above: black stains on the stucco wall of this Long Beach California home in the U.S. Notice the drip line in the center of the sidewalk; I'd bet that there is a clogged or overflowing gutter at a roof eave above this location.
The InspectApedia.com reader who offered this photo commented:
This started about two weeks ago and I noticed today. I live in long beach ,ca and this is the right side of house which gets no sun. This side is lined by trees from my neighbor's house . I bought the house in May 2016 and this wasn't there. I also recently started running the Hvac system for the house.
I hope it is just mold or algae and not something caused inside walls. The water heater ,kitchen and master bath are on this side wall too but it's so uniformed in pattern. - Anonymous by private email 2016/07/12
Comment from moderator:
Looks to me as if there is a roof edge that drains into this area - see the dripline marks on the concrete - and that rain-splash is soaking the exterior wall near the ground. That wetness combined with shade is probably inviting algae or possibly mold or both to grow on the surface.
We often are convinced that some building condition occurred immediately before we noticed it - sometimes that's so, but not always. Sometimes a building condition such as a stain has actually been present for longer than we realized. It was less severe, or it had simply not been called to our attention.
Reader reply:
Looks to me as if there is a roof edge that drains into this area - see the dripline marks on the concrete - and that rain-splash is soaking or has previously-soaked the exterior wall near the ground. That wetness combined with shade is probably inviting algae or possibly mold or both to grow on the surface.
If I didn't see that drip line along the sidewalk I'd still think rain-splash wetting of the wall, though any water source that wet the wall uniformly might be expected, such as use of a sprinkler hose in some situations.
Moderator reply: you'll want to get those gutters working.
You'll want to get those gutters working.
Green Stains on Stone Surfaces due to Algae or Moss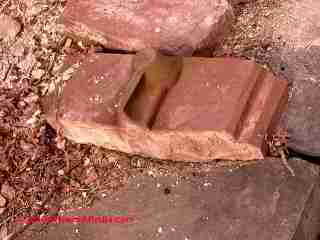 Green stains due to algae: green stains also appear on buildings including on shingles, siding, and even on masonry walls, sidewalks, planters, and retaining walls: stone, concrete block, and concrete.
Our photo (left) shows green algae on a fallen decorative brownstone artifact at the Mills Mansion, in Stattsburgh, New York.
If you see flat green stain on a building exterior and that is not producing any plant-like raised growth it is likely to be an algae. Our photo (below-left) shows green algae on concrete at a sidewalk and basement window grate surround.
Algae under the microscope: Our second photo (below right) shows what algae growth looks like under the microscope.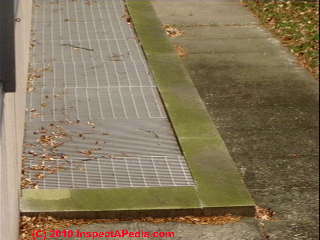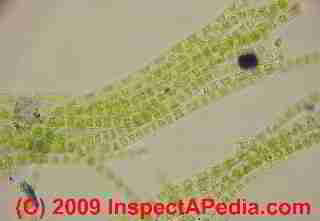 Watch out: on walks and decks algae makes for a dangerously slippery surface when it is wet. Details are
at SLIPPERY STAIRS, WALKS.
More photos of algae, lichens, and moss, including both on building or stone surfaces and under the microscope are
at ALGAE, FUNGUS, LICHENS, MOSS.
Green stains due to moss: unlike the algae staining above, thick green growth on a stone or masonry surface is more likely to be moss such as the mossy concrete entry platform at the New York home shown at below left. The moss on this surface holds water, is a slip, trip, or fall safety hazard, and depending on the hardness of the concrete, it may also lead to spalling or frost damage to the concrete itself.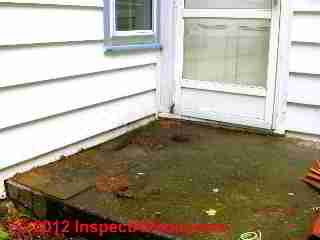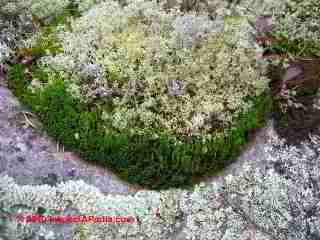 Reindeer moss: Our second moss and lichens photo (above right, Quetico boundary canoe area, Canada) demonstrates that moss and lichens can coexist happily on the same surface, and even intermixed on a surface where we show two kinds of moss.
In our photo, the taller pale growth among the green moss is itself "Reindeer Moss, Caribou Moss" or in other references "Antler Moss".
Our photograph above shows Cladonia rangeferina or perhaps Cladonia sp. along with both moss and other lichens on the same stone.
Reindeer moss is itself actually a lichen, and is an important food source for reindeer and caribou). Reindeer moss is quite fragile and slow growing, found in both hot and cold climates and in alpine tundra - don't trample it in the wild.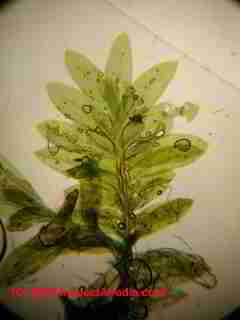 Moss under the microscope. As our photo (at left) shows, it's easy to see the plant-like structure of moss fragments, as our photograph (left) demonstrates. This moss sample was collected from a basement wall: we suspect that the damp conditions that produced this moss growth on the building wall also increased the risk of a mold problem in the same structure.
But you shouldn't need to use a microscope to identify moss. For a species/genera identification guide to mosses we include some moss information resources below.
What does Lichens look like on Stone Surfaces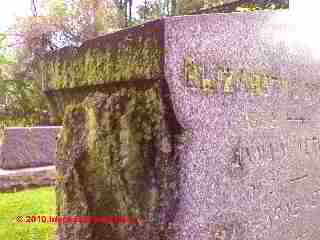 See LICHENS on STONE SURFACES for our complete article on this topic. Excerpts follow.
Also see Lichens on Roofs for a discussion of lichen damage to shingles and how to prevent lichens growth on roofs.
Lichens, one of the most hardy growth organisms found in nature, can grow in harsh conditions. Moss and lichens are both more than a cosmetic issue on most materials.
By holding moisture against the stone or other material surface lichens but more so moss speed the wear of the surface in freezing climates by increasing frost damage to the surface and by action of the organism's "roots" that penetrate the material surface.
Our photo (left) shows green lichens growth on a gravestone near Vassar College, in Poughkeepsie, NY. Notice that the lichens appears first on the more roughened stone surfaces inside the carved gravestone lettering, and on the rough-cut north face of the stone.
In addition to stone surfaces and mineral-covered roof surfaces, lichens also grows just fine on clay tile roofing and on wood (as those photo links show).
Lichens on Roofs demonstrate the mechanical damage that can be caused by lichens on surfaces.
See LICHENS on ROOFS for details about the causes, effects, and prevention of lichens growth on roofing surfaces. Lichens is often found growing on roof shingles, especially asphalt and wood shingles as we show here where we demonstrate the damage to the surface when lichens is removed. Our photos (below) illustrate how serious lichens damage can be to a mineral surface.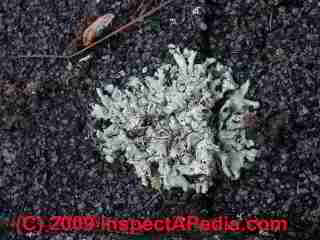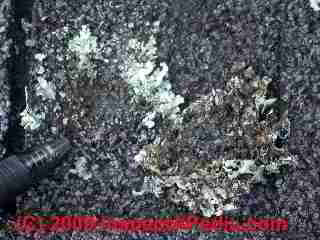 Does Lichens Always Need to be Cleaned Off of Stone Surfaces?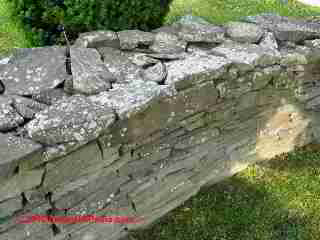 No, of course not. The lichens growing on this stone wall in Poughkeepsie, NY (constructed by and found at Adams Fairacre Farms) is not going to do any harm, and in fact adds to the attractiveness of the wall.
Red or Other Color Stains on Stone Surfaces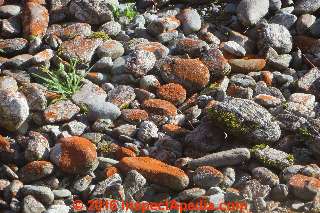 Above: red lichens (and also some green moss) on decorative stone around a building on South Island in New Zealand. [Click to enlarge any image].
Red stains on stone or masonry surfaces may be due to lichens, or on occasion bleed-down from rusting iron as we demonstrate just below.
Red stains on the surface of and as much as 1.5mm into Carrara and Condoglia Marble used in Italian monuments (the Certosa of Pavia facade, the Orvieto cathedral, the fountain statues of Villa Litta near Milan) have been reported by E. Zanardini et. als in Art, Biology, and Conservation: Biodeterioration in Works of Art, Robert J. Koestler et als. Eds., Metropolitan Museum of Art, 2003, ISBN 1-58839-107-8.
Apparently there is an association between a lead source, lead found in and on these works and lead-resistant microorganisms. The authors investigated this phenomenon and concluded that although red-pigmented microorganisms were present in the stains

, "... their presence does not appear to be related either to the red coloration or to the presence of lead;" The conclusion was that the red stains on the Italian marble studied were due to the presence of lead.
Above: red-yellow-brown lichens on rock along the seacoast at Portland, Maine.
Question: what about red stains on buildings from Serratia marcescens
2017/04/11 Kai said:
I'm surprised you didn't mention Kai said:
I'm surprised you didn't mention Serratia marcescens.

Reply: Serratia marcescens is an important human pathgen but not something that likely to be found as large area red stains on building surfaces
Thanks for the suggestion, Kai.
Serratia marcescens is an enterobacteria and is a human pathogen and is an important cause of nosocomial infections. On host surfaces such as bread it can appear bright red. Wikipedia's entry on this bacteria includes this commentary:
It is commonly found in the respiratory and urinary tracts of hospitalized adults and in the gastrointestinal system of children.
Due to its abundant presence in the environment, and its preference for damp conditions, S. marcescens is commonly found growing in bathrooms (especially on tile grout, shower corners, toilet water line, and basin), where it manifests as a pink, pink-orange, or orange discoloration and slimy film feeding off phosphorus-containing materials or fatty substances such as soap and shampoo residue.
Once established, complete eradication of the organism is often difficult, but can be accomplished by application of a bleach-based disinfectant. Rinsing and drying surfaces after use can also prevent the establishment of the bacterium by removing its food source and making the environment less hospitable.
Although small (in total area) colonies of serratia marcescens might appear on some indoor surfaces as described, e.g. in bath tile grout, the total area is likely to be trivial and can be addressed by cleaning and disinfecting.
Serratia marcescens has not been reported (by scholarly research) as a common or widespread stain on stone surfaces of buildings.
Hejazi, A., H. M. Aucken, and F. R. Falkiner. "Epidemiology and susceptibility of Serratia marcescens in a large general hospital over an 8-year period." Journal of Hospital Infection 45, no. 1 (2000): 42-46.
Hejazi, A., and F. R. Falkiner. "Serratia marcescens." Journal of medical microbiology 46, no. 11 (1997): 903-912.

Shanks, Robert MQ, Nicholas A. Stella, Eric J. Kalivoda, Megan R. Doe, Dawn M. O'Dee, Kira L. Lathrop, Feng Li Guo, and Gerard J. Nau. "A Serratia marcescens OxyR homolog mediates surface attachment and biofilm formation." Journal of bacteriology 189, no. 20 (2007): 7262-7272.



Brown or Reddish-Brown Rust Stains on Stone, Concrete, Brick, Masonry Surfaces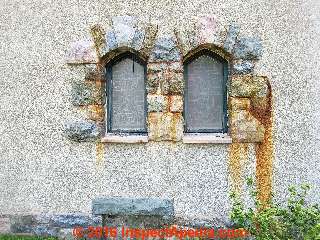 Brown stains on stone, concrete, or brick are often caused by bleed-out from rusting components. But on occasion we find orange rust stains on both stones and on building surfaces around included stone components that originate at iron inclusions in the stone itself. That seems to be the case in our photo of red rust stains appearing on both stone components and on nearby stucco exterior walls on the Grace Church in Millbrook New York (above, and in a closer-look just below).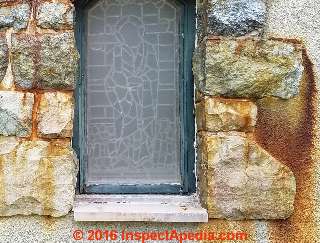 Rust colored stains often appear on masonry structures due to water penetration into building surfaces where it finds and rusts steel reinforcement mesh or re-bar.
While it is possible to clean these stains from a building surface, if the stain source remains, the stain will recur.
You may be able to retard the reappearance of these rust stains emanating from iron inclusions in the stone itself by periodic use of a clear sealant but I don't recommend that step without testing the approach on an unobtrusive building surface first.
Our photo of the concrete tower in Buenos Aires (below left) shows rust stains on concrete at the catwalk brackets (click to enlarge).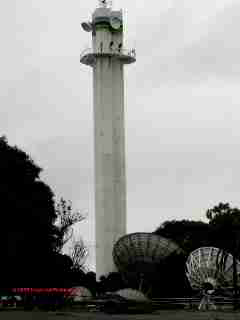 In our rust-on-stone photo (below) the deep brown stains in the bottom center of this photo (79th St. Boat Basin, New York City) are probably caused by the combination of salt from the roadway above, water leaks into and through the structure, and steel reinforcing rod or wire.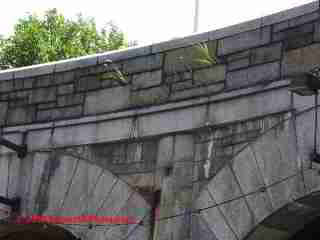 Biological Substances that Alter Stone or Other Inorganic Materials
Please see CATALOG of SUBSTANCES that ALTER STONE, GLASS, STEEL where we provide an extensive table of biodeterioration agents that damage stone, glass or steel,
excerpted from Cultural Heritage and Aerobiology, Methods and Measurement Techniques for Biodeterioration Monitoring, Paolo Mandrioli et als., expanded
with three additional table lines for Actinobacteria and Gram-Bacteria listed in Art, Biology, and Conservation: Biodeterioration in Works of Art, Robert J. Koestler et als. Eds., Metropolitan Museum of Art, 2003, ISBN 1-58839-107-8, and finally, with minor additional editing and commentary by Daniel Friedman.
For conservators, the latter text, (Art, Biology ...) includes important studies on treatment and prevention of artifact deterioration, including studies of the use of biocides, anoxic eradication of fungi, and the use of other biocides or preparations for use in defense of cultural artifacts against microbial and environmental agents.
Methods for Cleaning & Preventing Future Organic Growth (Algae, Fungus, Lichens, Moss) from Stone, Brick, or Concrete Surfaces
Please see our complete article on this topic at STONE SURFACE CLEANING METHODS.
Especially if you are restoring artifacts, art works, tombstones, or graves, avoid any aggressive cleaning methods that might damage the roof surface.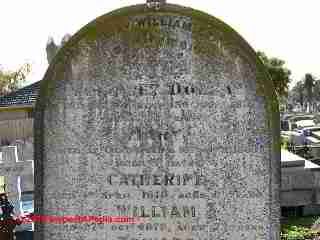 .
Cause & Cure for Black Stains on Re-Constituted Sandstone & Building Exterior Masonry Surfaces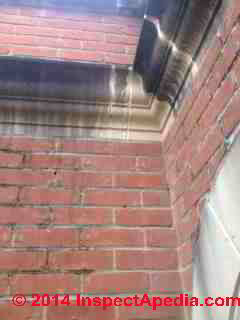 We moved this information to a new article now found at STAINS on SANDSTONE, DIAGNOSE & CURE
...
Continue reading at STONE SURFACE CLEANING METHODS or select a topic from closely-related articles below, or see our complete INDEX to RELATED ARTICLES below.
Or see VINES & SHRUBS on BUILDING WALLS, CHIMNEYS
Or see these
Stone & Masonry Stains & Cleaning Articles
Suggested citation for this web page
STAINS on STONE, STUCCO DIAGNOSE & CURE at InspectApedia.com - online encyclopedia of building & environmental inspection, testing, diagnosis, repair, & problem prevention advice.
Or use the SEARCH BOX found below to Ask a Question or Search InspectApedia
...
Frequently Asked Questions (FAQs)
Try the search box below or CONTACT US by email if you cannot find the answer you need at InspectApedia.
Comment:
(Oct 9, 2011) جوري اوسي said:
this is beautiful a pohto
Question:
(May 5, 2012) Evelyn Neber said:
Question: Thick black patches that looked like moss, covered the concrete walls and exteriors of the basement access, outside my ground floor apartment. Last spring, after a HUD inspection of our complex, the basement was cleaned up:they even had some outside workers in white covered suits come and they power -sprayed and cleaned the whole cellar and the outside. The black moldy mossy patches(some were a couple inches in diameter) are gone. But my almost new through-wall air conditioner which was right up the cellar stairwell has had surges of but black goopy things flying through it onto my carpet and dining/living room. I also always have black mold spots all over the blades inside the a/c which I try to clean with q-tips but they always come back. I've never experienced anything like this in my life
. Was this black mold ? The superintendent will not tell me. Do I have any rights? Are they responsible to clean my air conditioner? I live in HUD housing. I am disabled, have what is called probable sarchoidosis and suffer from have asthma and allergy attacks. Can you direct me to where I could possibly go to find out if I have any rights in this situation. Thank you.
Reply:
(June 5, 2012) Angela T. said:
@Evelyn Neber:
It's difficult to determine whether or not your particular situation is harmful black mold or algae. Given the black patches were on the building's exterior, my opinion is that it's algae stains and fungal growth. Black mold is typically found on the building's interior (walls, basement structural joists) where moisture and humidity levels are consistently high. The white coveralls you saw were most likely used to protect the workers from the cleaning chemicals, usually good ol' bleach, from damaging their clothers or irratating their skin.
Your through-wall air conditioner may have been subjected to the high-pressure water washing and algae run-off, hence the surges and intake of algae. I'm surprised the superintendent or contractors didn't advise you to turn off the a/c and cover it while they performed their work, so that the mechanisms and filters would be protected. With this said, tenants in HUD housing have certain rights that vary from state to state. For instance, California has the Toxic Mold Protection Act passed in 2001 that requires landlords to disclose mold discoveries to existing or prospective tenants and the remediation methods taken. Your best action would be to contact your local HUD agency to find out your rights relevant to the state you live in.
Moderator said:
Thanks Angela T., your comments are spot-on.
Question: how do I get rid of algae on my river rocks and rose beds?
(July 13, 2012) Theresa Cremona terric1011@gma said:
I have algae coming from my air conditioner in the corner of my concrete home in Florida.
It is green and staining my river rocks in the beds. I have rose plants there.
How do I get rid of the algae.
Reply:
Theresa the article above describes how to clean off algae, but to stop the problem you will need to find and fix the water source - in this case rerouting the condensate drain to a location that doesn't bother your plantings.
Question: white lichens on living roof fireplace stone wall
(Mar 4, 2014) Kristine Creery said:
We recently purchased a home that has a living room fireplace surrounded by a natural stone wall. A white lichen is growing in some spots, ranging from dime size to fifty cent piece size. We have cleaned the stone and are trying to remove the spots (by scraping with a putty knife - very gently so as not to damage stone). What is the best way to remove the spots and how do we keep them from growing back? We want to enhance and seal the stone soon. Thanks so much!
Reply:
Hi Kristine.
I would like to see some sharp photos including closeups. It would be odd to find lichens growing indoors in a home at normal humidity range. Perhaps it's something else like efflorescence?
Question: pink stones on siding when it rains
(July 2, 2015) Ian said:
The outside North facing wall of our house show pink staining when it rains but disappears when dry I am told that this is a fungus. The walls are white Arctic finish
How do I treat this
Thanks
Reply:
Ian:
You're asking this question on a stone stain diagnosis page. Are your house walls stone or some other material? The solution may depend in part on how the walls are built.
There are fungi and also algae blooms that can stain walls pink, but I'm surprised that the stains are only visible when wet. PResuming the walls are painted you might try adding a fungicide to your next paint job.
Question: white crust on our stone house
(Nov 30, 2015) Anonymous said:
Seeba Perincheril
We see a white crust like stuff on our exterior stone work of our house. I think the stone is fake. Our house is South facing and gets lots of sun to that area. What do you think it is and how can we clean that? Thanks
Reply:
Seeba, please search InspectApedia for EFFLORESENCE to read about what I think you may be seeing.
Use the page top or bottom CONTACT link to send me some photos for further comment.
Question: bright green mold on flagstones
(Mar 20, 2016) Jan Sutherberry said:
My flagstones have only been down for two and a half years in my back garden. Only in the middle area of the garden has bright green mould. Could you tell me what it could be?
Reply:
Jan
Outoors mold and algae will grow freely, as will moss, on hospitable surfaces, moreso in damp, wet, or shaded areas.

Question:
x
Reply:
x
Question:
x
Reply:
x
...
Ask a Question or Search InspectApedia
Use the "Click to Show or Hide FAQs" link just above to see recently-posted questions, comments, replies, try the search box just below, or if you prefer, post a question or comment in the Comments box below and we will respond promptly.
Search the InspectApedia website
Technical Reviewers & References
Click to Show or Hide Citations & References
[1] Graphic Guide Ontario Mosses (some of which appear widely dispersed by climate and geographic area, not just in Ontario) which offers a graphic guide to mosses. worldofmosses.com/ggom/index.html
[2] Also see the sources listed at worldofmosses.com/ggom/ggomBibliography.html
[3] Also see the Journal Folia Geobotanica, Springer, Netherlands ISSN1211-9520 (Print) 1874-9348 (Online) IssueVolume 11, Number 2 / June, 1976 DOI10.1007/BF02854759 Pages217-22
[4] The Ecology of Algae, F.E. Round, Cambridge University Press, 1984 ISBN-10: 0521269067 ISBN-13: 978-0521269063 (Available at Amazon.com)
After an introduction outlining the chemical and physical characteristics of the environment, the book goes on to look at the actual habitats in which algae occur. The communities of the individual habitats such as open water, sediments, rocky shores, coral reefs, hot springs, sea ice, soil, etc., are then discussed with special phenomena highlighted, for example rhythmic activity, nitrogen fixation and buoyancy. There are also chapters on seasonal cycles of algal growth, energy flow, geographical dispersion, palaeo-ecology and contribution to sediments. The importance of algae in symbiotic relationships and their considerable significance to animal grazers in aquatic food chains are also discussed. The final chapter deals with the relationships of algae to eutrophication and pollution of water. This is an important aspect, which can only be understood through an appreciation of algal ecology.
[5] Lichens of North America, Irwin M. Brodo, Yale University Press, 2001, ISBN-10: 0300082495, # ISBN-13: 978-0300082494 (Available at Amazon.com)
Quoting from Library Journal:
Lichens are a combination of a fungus and an alga but have a unique structure and appearance quite different from either. Existing worldwide and growing on a variety of surfaces, including rocks, soil, and trees, they may appear leafy, shrubby, mossy, crusty, or jellylike and are seen in a wide range of colors, from brilliant oranges, yellows, and reds to dull grays and browns. This huge new book, written by a world authority on lichens and emeritus research scientist at the Canadian Museum of Nature, Ottawa, provides information on about 1500 of the roughly 3600 recognized North American lichens. Part 1 introduces lichens in 14 clearly written chapters that discuss their biology, ecology, geography, environmental roles, and collection. Part 2, the heart of the book, is a guide that offers identification keys to groups, genera, and species and their descriptions, with accompanying photographs and North American distribution maps. The more than 900 truly beautiful, full-color photos were taken by the Sharnoffs, nature photographers whose work has been widely published in National Geographic, Smithsonian, and elsewhere. Of value to professionals and amateurs alike, this book is certain to be a classic reference for decades to come. Highly recommended for academic and research libraries and for public libraries where interest warrants; libraries needing only a brief yet informative introduction to lichens should consider William Purvis's inexpensive Lichens (Smithsonian Institution, 2000). William H. Wiese, Iowa State Univ. Lib., Ames
[6] Cultural Heritage and Aerobiology, Methods and Measurement Techniques for Biodeterioration Monitoring, Paolo Mandrioli, Guilia Caneva, and Cristina Sabbioni, Eds., Kluwer Academic Publishers, 2003 ISBN 1-4020-1622-0
See our book review of this reference.
The conservation of art objects relies on expert inspection, testing, and diagnosis of environmental contaminants and factors that affect the deterioration of artworks, such as mold, moisture, temperature, acid rain, and both indoor and outdoor air quality components. This text reviews these important art conservation concerns and describes methods for the inspection, testing, and monitoring of environmental conditions wherever artworks and other cultural artifacts are located.
[7] "Assessing Cleaning and Water-Repellent Treatments for Historic Masonry buildings", Robert C. Mack, FAIA, Anne Grimmer U.S. National Park Service, web search 07/24/2010, original source: http://www.nps.gov/hps/tps/briefs/brief01.htm
Quoting from the document introduction:
The purpose of this Brief is to provide information on the variety of cleaning methods and materials that are available for use on the exterior of historic masonry buildings, and to provide guidance in selecting the most appropriate method or combination of methods. The difference between water-repellent coatings and waterproof coatings is explained, and the purpose of each, the suitability of their application to historic masonry buildings, and the possible consequences of their inappropriate use are discussed. The Brief is intended to help develop sensitivity to the qualities of historic masonry that makes it so special, and to assist historic building owners and property managers in working cooperatively with architects, architectural conservators, and contractors. Although specifically intended for historic buildings, the information is applicable to all masonry buildings. This publication updates and expands Preservation Briefs 1: The Cleaning and Waterproof Coating of Masonry buildings. The Brief is not meant to be a cleaning manual or a guide for preparing specifications. Rather, it provides general information to raise awareness of the many factors involved in selecting cleaning and water-repellent treatments for historic masonry buildings.
[8] Thanks to Patrick Walsh for discussing cleaning methods for gravestones & tombs May 2010
[9] Shingle Shield™ are zinc strips that are inserted under the shingle tabs of individual shingles to reduce moss, lichens, and algae growth on asphalt roofing - see shingleshield.com
[10] StainhandleR are zinc strips that are inserted under the shingle tabs of individual shingles to reduce moss, lichens, and algae growth on asphalt roofing- see stainhandler.com
[11] Zinc-Shield® - zincshield.com and Z-stop™ zinc roofing strips - z-stop.com, are roll-out zinc strips intended for installation near the ridge of a roof to reduce moss, lichens, and algae growth on roofs
[12] 04/09: thanks to William M. Norman, P.E., S.E., Keeler-Webb Associates, 486 Gradle Drive, Carmel, IN 46032 for opening discussion regarding the legitimacy of extractive bleeding as a term to apply to asphalt roofing material. Mr. Norman suggests that many (not all) black stains on asphalt roofing may be due to algal growth. We will report progress in this discussion as updates to this web article.
[13] How to Recognize & Control Sooty Molds, USDA publication on the recognition and control of black sooty molds, including on buildings. This publication is also available in printed form from the U.S. Government Printing Office, 1992 657-152 HT-69 1992. The original article was authored by Kenneth K. Kessler, Jr., Principal Plant Pathologist, U.S. Forest Service, in the Department of Agriculture of the United States. Copies are also available from North Central Distribution Center, Forest Products Laboratory, One Gifford Pinchot Dr., Madison WI 53705-2398.
[14] "Microbes Eating Away at Pieces of History", Vina Venkataraman, The New York Times, 27 June 2008 p. F3.
[15] Allsopp D., Seal K. J. (1986) Biodeterioration of refined and processed materials. Introduction to biodeterioration. (Edward Arnold, London, United Kingdom), pp 51–53.
[16] Bock E., Sand W., Meincke M., Wolters B., Ahlers B., Meyer C., Sameluck F. (1988) Biologically induced corrosion of natural stones—strong contamination of monuments with nitrifying organisms. in Biodeterioration, eds Houghton D. R., Smith R. N., Eggins H. O. W. (Elsevier Applied Science, New York, N.Y.), 7:436–440.
[17] Bock E., Sand W. (1993) The microbiology of masonry biodeterioration. J. Appl. Bacteriol. 74:503–514.
[18] Griffin P. S., Indictor N., Koestler R. J. (1991) The biodeterioration of stone: a review of deterioration mechanisms, conservation case histories, and treatment. Int. Biodeterior. 28:187–207.
[19] Grilli Caiola M., Forni C., Albertano P. (1987) Characterization of the algal flora growing on ancient Roman frescoes. Phycologia 26:387–390.
[20] Ortega-Calvo J. J., Hernandez-Marine M., Saiz-Jimenez C. (1993) Cyanobacteria and algae on historic buildings and monuments. in Recent advances in biodeterioration and biodegradation, eds Garg K. L., Garg N., Mukerji K. G. (Naya Prokash, Calcutta, India), I:173–203.
Books & Articles on Building & Environmental Inspection, Testing, Diagnosis, & Repair
Our recommended books about building & mechanical systems design, inspection, problem diagnosis, and repair, and about indoor environment and IAQ testing, diagnosis, and cleanup are at the InspectAPedia Bookstore. Also see our Book Reviews - InspectAPedia.
Paint and Surface Coatings, Theory and Practice [purchase at Amazon.com], R. Lambourne & T.A. Strivens, Ed., Woodhead Publishing Ltd., William Andrew Publishing, 1999 ISBN 1-85573-348 X & 1-884207-73-1 [This is perhaps the leading reference on modern paints and coatings, but is a difficult text to obtain, and is a bit short on field investigation methods - DF]
Analysis of Modern Paints, Thomas J.S. Learner, Research in Conservation, 2004 ISBN 0-89236-779-2 [Chemistry of modern paints, overview of analytical methods, pyrolysis-gas chromatography signatures of basic modern paints and their constituents, Fourier transform infrared spectroscopy for paint analysis, direct temperature-resolved mass spectrometry, and analysis in practice - technical reference useful for forensic paint science, focused on art works -DF]
Seeing Through Paintings, Physical Examination in Art Historical Studies, Andrea Kirsh, Rustin S. Levenson, Materials in Fine Arts, 2000 ISBN 99-051835 [ forensic science, technical reference, focused on art works - DF]
Sealants, Durability of Building Sealants (RILEM Proceedings), J.C. Beech, A.T. Wolf, Spon Press; illustrated edition (1995), ISBN-10: 0419210709, ISBN-13: 978-0419210702
This book presents the papers given at the RILEM Seminar held at the Building Research Establishment, Garston, UK in October 1994. The book provides an opportunity for researchers to review up-to-date progress towards the achievement of the objectives of the standardisation of laboratory techniques of sealants in the variety of service conditions to which they are exposed.
Soiling and Cleaning of Building Facades (RILEM Report), L.G.W. Verhoef (Editor), Routledge; 1 edition (November 3, 1988), ISBN-10: 0412306700, USBN-13: 978-0412306709
The report of a comprehensive investigation by RILEM which examines all aspects of the cleaning of facades, subject to soiling by both biological and non-biological agencies. The contributors are international authorities working in this field giving essential advice to all those who need to know how to approach the problems connected with the soiling and cleaning of building facades.
Staining, Prevention of Premature Staining in New buildings, Phil Parnham, Taylor & Francis; 1996, ISBN-10: 0419171304, ISBN-13: 978-0419171300
The appearance of ugly staining early in a buildings life, ruins an otherwise pleasing appearance, tarnishes the image of the owners and gives rise to costly refurbishment works. In this book Phil Parnham raises a number of questions that should be considered whenever a new building is being designed or built. These are: * why has staining become so prominent; * what causes premature staining; which parts of new buildings are likely to be affected; * how can it be avoided? By using a number of highly illustrated case studies, the author answers these questions and ends by suggesting measures that should be taken by all design and construction professionals to prevent premature staining.
Paint Handbook: testing, selection, application, troubleshooting, surface preparation, etc., Guy E. Weismantel, Ed., McGraw Hill Book Company, 1981, ISBN-10: 0070690618, ISBN-13: 978-0070690615, [Excellent but a bit obsolete paint theory and practice, also a bit light on field investigation methods, out of print, available used-DF]
How to select and apply the right paint or coating for any surface. The first major reference to help you choose the correct paint or other finish to do the job best on a particular surface exposed to a particular environment. Experts in the field give full advice on testing surface preparation, application, corrosion prevention, and troubleshooting. The handbook covers wood, metal, composites, and masonry, as well as marine applications and roof coatings. A ``must'' working tool for contractors, architects, engineers, specification writers, and paint dealers.
Paint and Surface Coatings, Theory and Practice, R. Lambourne & T.A. Strivens, Ed., Woodhead Publishing Ltd., William Andrew Publishing, 1999 ISBN 1-85573-348 X & 1-884207-73-1 [This is perhaps the leading reference on modern paints and coatings, but is a difficult text to obtain, and is a bit short on field investigation methods - DF]
Provides a comprehensive reference source for all those in the paint industry, paint manufacturers and raw materials suppliers, undergraduate and postgraduate students, and industrial paint users. R. Lambourne was in the Research Department at ICI Paints Division and the Industrial Colloid Advisory Group, Birstol University, UK.
Art, Biology, and Conservation: Biodeterioration in Works of Art, Robert J. Koestler et als. Eds., Metropolitan Museum of Art, 2003, ISBN 1-58839-107-8
Building Pathology, Deterioration, Diagnostics, and Intervention, Samuel Y. Harris, P.E., AIA, Esq., ISBN 0-471-33172-4, John Wiley & Sons, 2001 [General building science-DF - ** Particularly useful text **
Understanding Ventilation, John Bower, The Healthy House Institute, ISBN 0-9637156-5-8, 1995 [General building science-DF - ** Particularly useful text. Mr. Bower has retired from the field but his book continues to be important]
Dampness in buildings, Diagnosis, Treatment, Instruments, T.A. Oxley & E.G. Gobert, ISBN 0-408-01463-6, Butterworths, 1983-1987 [General building science-DF]
"Moisture Control in buildings: Putting Building Science in Green Building," Alex Wilson, Environmental Building News, Vol. 12. No. 5. [Good tutorial, "Moisture 101" outlining the physics of moisture movement in buildings and a good but incomplete list of general suggestions for moisture control - inadequate attention given to exterior conditions such as roof and surface drainage defects which are among the most-common sources of building moisture and water entry.--DJF]
...