How to Set or Adjust the Air Pressure in Bladder Type Water Storage & Pressure Tanks

InspectAPedia tolerates no conflicts of interest. We have no relationship with advertisers, products, or services discussed at this website.
How to set the air pressure in a water tank using an internal bladder: this article describes how to determine the proper air pressure setting in a bladder-type well tank, when, and how to actually change the air pressure in the water tank. We explain how to determine the proper air charge for water pressure tank and how to adjust the actual tank air pressure to that number. We detail how to fine tune the water pressure tank air charge to match the pump pressure control switch settings.
Green links show where you are. © Copyright 2014 InspectApedia.com, All Rights Reserved.
How to Select the Proper Air Pressure Charge for a Bladder-Type Well Tank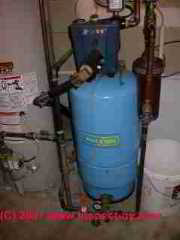 Readers of this document should also see WATER PUMP REPAIR GUIDE an specific case which offers an example of diagnosis of loss of water pressure, loss of water, and analyzes the actual repair cost. The page top photo shows the author testing the air pressure in a Well-X-Trol bladder type well tank.
[Click to enlarge any image]
According to Well-X-Trol, bladder type well tank air precharge: typical factory set air pressure on a bladder-type residential well water tank is 18 psi. Some models may come with different pressure settings however. WELL-X-TROL™ water pressure tanks are shipped from the factory with a standard precharge of
18 psig for models WX-101 and WX-102
30 psig for models WX-103 - WX-203
38 psig for models WX-205 through WX-350.
Before discussing doing anything to a bladder-type water pressure tank, read this safety warning from WELL-X-TROL, a leading well tank manufacturer:
DANGER! [Water Pressure Tank] EXPLOSION HAZARD
When the Well-X-Trol has been in service and a change to a higher pre-charge pressure is necessary due to a required change in the pressure switch setting, failure to follow instructions below can cause a rupture or explosion, possibly causing serious or fatal personal injury, and/or property damage.
Do not adjust or add pressure if there has been a loss of air.
Do not adjust the pre-charge pressure if there is visible exterior corrosion.
Do not adjust the pre-charge pressure if there has been a reduction of the pump cycle time or the pre-charge pressure compared to its initial setting. This is because reduction in pump cycle time can result from loss of tank air pressure which in turn can mean there may be internal corrosion and any repressurization or additional pressure could result in rupture or explosion.
How to Read Water Tank Pressure or any Pressure Gauge Accurately
If you are fine-tuning water tank bladder or air pressure be sure that you are using an accurate pressure gauge and that you know how to obtain an accurate pressure reading. See WATER PRESSURE GAUGE ACCURACY for details.
Well Tank Air Pressure at Time of Tank Installation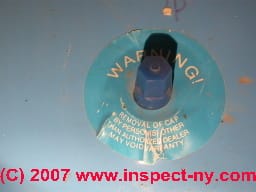 Set the well tank air pressure to 2 psi below the well pump control switch cut-in pressure.
We detail this procedure just below.
Remember to use your separate air pressure (tire) gauge to check the actual water tank pressure when your well pump turns on and off - that's because the dial gauge installed on your water tank may be inaccurate.
Well Tank Air Pressure Adjustment during Water System Maintenance or Repair
If you need to tune your bladder-type water tank to work exactly properly with your pump pressure control switch, or if you know that someone has already modified the pressure in your water tank and you want to restore it to factory specifications, a reasonable procedure is the following recommended by the manufacturer:
Remove all water from the water tank. This means turn off the water pump, open a nearby plumbing fixture, run water until the water stops entirely - your water tank should be empty or close to empty.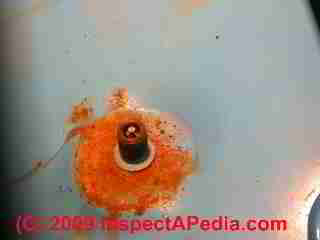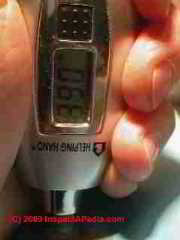 Check the air pressure in the water tank by using an accurate air pressure gauge (such as a dial type or digital tire pressure gauge) to measure the air pressure at the schrader valve on the water tank. The tank pressure should be within 10% of the original factory water tank pressure setting. Our photo (above left) shows the water tank air inlet valve on the top of our Well-X-Trol well tank. We removed the cap and label for the photo.

Our photo at above right shows our digital air pressure gauge measuring the air pressure in the water tank. The reading of 39 psi tells us that the dial pressure gauge that we illustrated at How to Read Water Tank Air Pressure Accurately (and located on this same water system) agrees with our pressure gauge within 1/2 psi.

Because water tank pressure controls normally use a pressure difference of 20 psi between the cut-in pressure and cut-off pressure at the water tank, a gauge error of one or two psi is not a concern. Thanks to Jeff Garmel for suggesting text clarification in this discussion of water pressure tank diagnosis.
Set the air pressure in the empty water tank to 2 psi below the well pump pressure switch cut-in pressure. Bleed air pressure out of the water tank, or add air pressure into the water tank, until the tank pressure. For example, if your well pump pressure control switch is set to "cut in" (start pumping water from the well) at 30 psi, then set the pressure tank to (30 - 2) = 28 psi.
Replace the air cap on the tank air pressure valve and be sure that any warning labels that you took off during cap removal are back in place.
How to Fine Tune the Pump Pressure Control Switch to the Water Tank
Well-X-Trol offers excellent advice on adjusting the water pressure control switch which we paraphrase, edit, and expand below:
Because well pump pressure control switches are not precise, "lab grade" instruments, the actual pressures at which a pump control switch turn the pump on or off will sometimes be above or below the stated pressure setting on the package of the control switch or above or below the pressure range shown on the switch itself (if your switch has such markings, most do not).
A difference between the marked pressure settings on a control switch and its actual performance can cause a
delay between the time that a water pressure tank becomes completely empty and the time that the pump turns on. Usually this delay is brief, though some readers have reported that their pump simply did not turn on at all under these conditions.
We want to adjust the water pump pressure switch to be"tuned to the Well-X-Trol (or other brand) bladder-type water tank air pressure that was set at the factory (or is presently the actual pressure in the tank). Here is the procedure:
Close off all plumbing fixtures that are using water in the building.
Turn on the water pump and let the system run until the water pump cuts off.
Open one or more plumbing fixtures to drain the water pressure tank; during this draining, watch and listen to the water tank and pump.
If there is a momentary pause in the water flow from the time the well water pressure tank is emptied and the time that the water pump starts, adjust pump cut-in setting clockwise slightly to increase the pump cut-in (turn on) setting. If your water pump is in your well rather than on or next to your water tank, you can't hear the pump run. But you can listen for the "click" of the pump switch cutting in or out. For more photos and description of exactly which nut or screw to turn to adjust the well pump switch cut-in, see WATER PUMP PRESSURE CONTROL ADJUSTMENT.
Close the plumbing fixtures and let the water pump continue to fill the water tank until the water pump cuts off.
Check time it took to fill the water tank.
Open the same plumbing fixtures again, follow the steps above, this time to see if pause in water delivery has been is eliminated. If not, continue adjusting pressure switch.
Frequently-Asked Questions (FAQs) on internal-bladder water pressure tanks & draw-down water volume, pressure switch adjustment, and proper air pre-charge pressure
Question: what is the relationship of water tank rated size to actual water draw-down volume?
How much water should be in the water pressure tank intenral bladder? The water tanks are rated as 85 gallons. When the system cut-out water pressure is reached there is only about 5gal in tanks? - Stephen
Reply: Table of Water Tank Draw-Down vs Rated Size
Modern internal bladder type water pressure tanks give an "equivalent draw down" cycle to the actual "gallons" number on the equipment, but the actual physical volume of water may be significantly less.
5 Gallons does not sound reasonable. Typically on an "85 gallon" sized water tank, the actual water draw-down volume will be about 25 gallons. Below we include a table of rough estimates of actual water draw down volumes for different internal bladder water pressure tanks.
Table of Typical Water Tank Draw-Down vs Rated Size

| | |
| --- | --- |
| Water Tank Rated-Size (approximate gallons) | Actual Volume of Water Draw Down (approximate gallons) |
| 20 | 6 |
| 30 | 9 |
| 50 | 14 |
| 85 | 25 |
| 120 | 36 |
Notes to the water tank draw-down volume table above:
The "actual draw down" is the physical volume of water that is drawn from the water pressure tank before we expect the pressure drop in the water supply system to reach the well pump cut-in pressure.
The exact water tank size and expected draw-down water volume will vary by manufacturer and tank model, so our data above is only approximate.
The significance of the "draw-down" volume of water is that it determines the frequency with which the water pump has to cycle on and off which in turn affects equipment life.
Detailed Chart of Water Pressure Tank Sizing, Tank Volume, Water Drawdown Gallons
Well-Rite Tank Model
Total Tank Volume
Equivalent
Bladderless
Tank Size
Drawdown Water Volume

20/40 psi

30/50 psi

40/60 psi

Gals
Liters
Gallons
Gals
Liters
Gals
Liters
Gals
Liters
WR45
14
60
30 Gal
5.2
19.68
4.3
16.28
3.8
14.38
WR60
20
80
43 Gal
7.4
28
6.2
23.47
5.4
20.41
WR80
26
100
82 Gal
9.6
36.34
8.1
30.66
7
26.5
WR100
32
120
82 Gal
11.8
44.66
9.9
37.47
8.6
32.55
WR120
33
130
82 Gal
12.3
46.56
10.3
38.99
9
34.06
WR140
44
170
120 Gal
16.3
61.7
13.6
51.48
11.9
45.04
WR200
62
240
220 Gal
22.9
86.68
19.2
72.67
16.7
63.21
WR240
81
310
220 Gal
30
113.55
25.1
95
21.9
82.89
WR260
85
325
220 Gal
31.5
119.23
26.4
99.92
23
87.05
WR360
119
450
450 Gal
43.6
165.03
36.8
139.29
32.1
121.5
Notes to the Wel-Rite Water Tank Sizing Chart
Data based on a Well-Rite® water pressure tank [1]
When choosing an internal-bladder type water pressure tank, take note of the operating pressure range of your well pump equipment. You will see in the table above that the higher you set the water pressure cut-in and cut-out, the smaller will be the draw-down volume provided by a particular water pressure tank.
More Reading
Green link shows where you are in this article series.
Frequently Asked Questions (FAQs) about setting the air pressure level in water pressure tanks
Question: short cycling well problems fixed by reading this article - thanks
Problem: Pump cycling every few minutes for months....Your question and answers solved my blatter type pressure tank cycling problem. I drained the tank and added air to 28 psi (was below 20 psi). I filled/pressurized tank and adjusted limits to 30 (low) and 50 (high). And WOW, now it takes 5 toilet flushings before pump kicks on. I tested the pressure tank psi after pump clicked off and my guage read 53 psi. So my problem was low air in the pressure tank and limits out of adjustment. Thanks for your instructions that anyone can follow and it saved me lots of money for a plumber. - Bob 8/21/11
Reply:
Bob: Thanks for the nice note; we work hard to make our information useful and unbiased; I'm thrilled it worked for you; we continue to welcome questions or suggestions for our content as together we're smarter than working alone.
Question: water pump is short cycling - I have no idea where to start
Ok so I have a few problems here. First off my pump is short cycling drastically as in I flush my toilet and within 3-4 seconds I hear the pump kick on. Second, when it kicks on it only stays on for a few seconds before turning off then it only stays off for a couple more seconds before turning back on.
And recently about once a day or once every couple days the pump wont come on at all and I have to go down and tap the pressure control switch housing for it to come on. By the time I realize that, we have pretty much lost all pressure in the house due to normal use. I haven't quite nailed down any tying reasons or times when this happens like my wife doing laundry or something along those lines.
When the pump is working we have plenty of pressure, almost too much (water sprays out hard and makes a mess when doin dishes lol). I have looked through this site and have found a bunch of useful information but am overwhelmed and don't have a clue where to start. Any guidance in this matter would be greatly appreciated. - Mark 9/23/11
Reply:
Mark:

you are describing a classic well pump short cycling problem. Eventually that condition can actually damage the well pump, resulting in less water pressure and flow than previously. You should be able to obtain satisfactory water pressure with the factory settings of your pressure control switch, typically 20/40 or 30/50 cut-in/cut-out.

I suspect that the reason you sometimes lose all water pressure under these conditions is that the rapid on-off cycling of the water pump is contributing to an overheating pump motor. Many electric motors include an internal thermal overload switch. When the motor is too hot, the switch turns off the motor. Later when the motor cools down on its own, the thermal reset switch resets and the pump will run again.

The rapid on-off short cycling well pump may also have led to burning on the contacts of the pressure control switch. That's why sometimes you have to tap the switch to get the pump to run. There could be other pressure control switch problems such as clogging of its pressure sensor due to debirs in the water line.

Causes of pump short cycling are at WATER PUMP SHORT CYCLING

Procedures for replacing lost air in the water pressure tank (a common cause of short cycling pumps) are at WATER TANK AIR, HOW TO ADD

Procedures for adjusting or repairing a bad water pressure control switch are at WATER PUMP PRESSURE CONTROL SWITCH
Live links to those artilces are in the Related Links section near the top of this page.
Question: replaced pressure control switch - do I need to change the tank pre-charge pressure?
I have a 20 gal wellxtrol with a 30-50 psi squareD pumptrol switch with pressure reading that are unusual. The pressure switch needed replacing because contacts were sticking. I put in a new pressure gauge and measured before I replaced the switch: tank pressure 18 psi, cut in 42 psi, cut out 67 psi. The system seems to work fine. It's 25 years old. I replaced the switch with the same, and adjusted it to 38 psi cutin, 64 psi cut out. Do I need to increase the tank pressure to 36 psi? Should I be using a 30-50 psi switch when running 38-64 psi cutin-cutout? - D Harry 10/28/11
Reply:
D Hurry:

First, if your present pressure control switch is handling your (somewhat high) setting of 38/64 psi cut-in/cut-out you don't need to change the switch.

In the article above we list the factory air pre-charge settings for models of Well-x-Trol water pressure tanks.

Please read the WARNINGS about messing with tank air pre-charge in the article above. Then you can set your pre-charge pressure (with all water drained out of the tank) to 2 psi below the cut-in pressure on your pressure switch, or as you suggested, for a 38 psi cut-in, you'd set the air charge to 36 psi.

That 4 psi difference, however, is not very significant. Leaving the tank at factory pressure and setting the pressure control switch to a higher cut-in/cut-out pressure means that the volume of water you can draw from the tank before the pump turns on is a bit reduced.
Question: water dripping from water pressure tank gauge
i need to know what the ptoblem might be if there is water dripping from the water gauge where the floast is on the water tank - Robin 11/27/11
Reply:
Robin it sounds as if your gauge mount is leaking or the gauge itself has failed internally and is leaking from the gauge assembly. It should be possible to purchase a new part and using pipe dope, teflon tape, or teflon pipe sealant, replace the part and seal the leak. You'll need to turn off the pump, drain pressure from the system (you don't need to fully drain the system) to install the new part.
Question: how long for water pressure to return after bleeding the pressure tank?
how long should it take to have well water pressure back after bleeding and reseting? - Matt 12/30/11
Reply: one pump "on" cycle
Matt:

For a typical residential water pressure tank, after restoring a lost air charge in the water tank bladder or making a tank pressure adjustment, the well water pressure should return within less than a minute after the well pump has begun to run. If no water is running in the building but the pump has turned on and is re-filling and re-pressurizing the water pressure tank, the total pump run time will typically be 1-4 minutes from pump turn-on until the pressure in the tank reaches the cut-off level, depending on tank size and water system delivery rate.
Question: do I need to verify the factory-set air pressure in my water pressure tank - will that fix bad house water pressure?
I have a Well-X Trol (size to be verified tonight)pressure tank.
If water is being utilized at one fixture, pressure seems to be non-existant at any others.
My pump cuts-in/out at 30# & 50# on the nose, with no aparent short cycling.
After reading this (incredibly informative) page, can anyone verify my assumption that I need to verify my factory set pressure? (disable pump, drain, check pressure, add if needed) - Scott J 1/9/2012
Reply: no, no.
Scott J,

We need to distinguish between water pressure and flow rate or quantity.

Static water pressure when no water is running shows us the system maximum water pressure possible after the pump has cut off at the "cut out" pressure set by the pressure control switch.

Active water "pressure" and flow rate: if you have normal water pressure in the system at one fixture but inadequate or very little pressure as soon as a second fixture is turned on, that suggests that there is a water delivery problem - often traced to clogged piping or a control valve that is partly closed somewhere.

The pressure in your water pressure tank determines the length of the draw down cycle - how long water can run before the pump has to turn on. It is the pressure control switch and pump and well capacity that determine the system functioning water pressure and flow rate.

So from your complaint, I may be mistaken but I don't quite see how changing the pre-charge pressure in your water tank would help. I'd leave it alone. Instead, see

WATER PRESSURE & FLOW MEASUREMENT - for how to measure what your system is doing
and see

WATER PRESSURE LOSS DIAGNOSIS & REPAIR (article links listed at Related Topics ) to further diagnose the trouble.
Question: short cycling pump troubles
I need assistance with my short cycling problem. Woke up one morning to no water. Removed the cover from pressure switch and the contacts touched, pump started running , but only a few seconds, contacts separated again. I held them shut manually and the pump ran as long as the contacts were shut, but when I released it they opened again. Bought a new switch, installed it and now all it does is on and off, on and off the entire time that water is running. But I noticed that the pressure guage stays at 40 all the time, never moves.
So I checked the air in the tank with a tire guage , and it read 30 psi. I did not drain it yet to check it. I am waiting on an answer from you before I do that. If I tap on the tank, it sounds hollow at the top 1/3 of it, and the bottom sounds solid. So I don't know what the cut in /cut out is set at, because the guage does not move at all. I don't know where to start at to try to diagnose this. I can't call a plumber because I am disabled and can't afford it, so I have been getting alot of knowledge from your site. PLEASE HELP ME, I have to get this repaired asap, I have 2 children living here, 2 year old and an 11 month old. I am mechanically inclined, just need to get an idea where to start. Any ideas for me?
Thank you so much,
Lisa - 3/19/12
Reply:
Lisa, over at WATER PUMP SHORT CYCLING you can read how to diagnose and fix the trouble.
Question: shared well, lost power, but water doesn't make it up to my house
Hello I have a well shared with a neighbor my well is located down at the bottom of my property I lost power lines wrecked by downed trees underground now power provided by neighbor moved pressure tank and pressure switch to well site as needed for power 85 gallon tank replaced 30/50 with 40/60 switch neighbor gets plenty of water now does not make it up hill get air and that's all will reset tank pressure to 38 any other suggestions has to climb hill 400 ft plus to my house? - Lloyd 4/5/12
Reply:
Moving the tank and switch downhill to the neighbor probably means that the output pressure of that equpment isn't enough to push water uphill to your house.
Lee Dilkie said:
Lloyd,

Probably too late to help, I'm sure your issue is sorted now but it is an interesting question to answer.

You have a big issue with trying to pump water to two separate locations, with one 400' above the other.

Firstly, it takes ~15psi to pump water up 33', so your 400' rise would require ~180psi of pressure at the well head just to get the water to the house at the top, add 20psi so water actually flows and you are taking 200psi at the well head. Which isn't so good for your neighbour down at the well head elevation, 200psi will blow out all his plumbing fixtures unless you install a pressure reducing valve.

Also, the line from the well head to your house will need check valves installed every X feet of rise to ensure the line's max pressure rating isn't exceeded.

If your house is 400' away but not 400' "up", then you can use the above equation to calculate the pressure required at the well head.

Most pressure switches I've used allow you to adjust the "turn-on" setting (turn-off is usually fixed at 20psi below turn-off). Just take off the cover and turn the screw down to increase the spring pressure. Don't know how high they go, never tried.

Another option is to install a separate jet pump to push the water up to your house, then your neighbour won't see the extra pressure (install a check valve below the jet pump).

But I am confused, you didn't say how this "shared" well was configured in the first place? Do you have separate lines into the well? Is your pump submisrable (can't see that) or a two pipe jet pump (doesn't make much sense to me either).

oh, i see, just re-read your post... you moved your pressure tank and switch downhill.

-lee
Question: pump doesn't shut off, now no water pressure
First I noticed water pump was not shutting off, went to check pump it was hot so Shut off pwere to pump, shut off till pump cooled turned back on , no water pressure and pump would not shut off, cleaned points , did not do any good, I get water when turned on not much about 22psi.. should be at about 40psi for my well, please help.. - Ruby Berarducci 4/28/12
Reply:
When a pump runs continuously and there is no water pressure you may have any of several possible causes such has an exhausted well, well piping leak, or damaged pump.
See WATER PRESSURE PROBLEM DIAGNOSIS TABLE
Question:40-60 pressure switch with bladder air tanks.
Can i use a 40-60 pressure switch with bladder air tanks. Your tanks are rated at 50 PSI max. Is this bladder pressure of water pressure. Thank you - Tom Renzo 4/28/12
Reply:
Yes but you have to set the pressure cut-out down to 50 psi. Drop the cut-in to 30 psi and you'll be OK.
Question: how do I get 100 psi of water pressure in my home?
How can get a bladder tank constantly produce 100psi pressure? - Pete 5/5/12
Reply: you don't
Pete, you can't. A home residential water supply system is not intended to operate in that pressure range and would be unsafe.
Question: pump runs continuosly when our sprinkler system is on
I have a WX-250 that comes shipped with 30psi, I have filled it to 38, the switch is a 40/60 should the pump continually run when sprinkler systems are going? - Susan 6/2/12
Reply:
Susan if the water draw rate from your sprinkler in gpm exceeds what the pump and/or well can deliver, the pump may run continuously. Check first that there is no hidden leak in your sprinker system piping.
Question: well pump relay clicking clicking clicking
i have a flotec fp4012 water pump which i wated to install and did but it filled the tank and had water in the house but after it fill it would try to fill more would click so i shut it off and put the old pump back in any help or idea would be great thanks jim - James Duham3el 6/2/12
Reply:
It sounds like a bad pressure switch or clogged sensor port on the switch body
Question: gauge always says there is 50 psi, pump keeps turning on and off
My pressure gauge always says there is 50 psi in the tank, no matter what. But the well pump is short cycling.
Reply:
Lisa, first, you have a bad pressure gauge. Second, you have a bad pressure tank. Turn the power to the well off, drain all water from the tank, and then check the air in the bladder. It should be 2 psi below the cut-in pressure of the pressure switch (38 psi for a 40/60 switch). If it is very low, and I'm sure it will be, you can add air to it to try and get by for a while but you are only delaying the inevitable. The low air in the bladder is taking away from your draw down, or the amount of water you can draw before your pump cycles back on.
Replace your pressure tank and your gauge so you can see what your water pressure is in the future. Also, a pump that constantly cycles on and off when youre running water will not last. This is the whole point behind having a pressure tank rather than just letting the pump send water to your faucets directly each time you open one. Hope this helps if you haven't already figured this all out.
Question: can the water pressure tank be adjusted to get water to my upstairs bathroom?
i have a water pressure issue with my upstairs bathroom. can the pressure tank be adjusted to fix this problem - Alysa 11/11/12
Reply: no, the problem is elsewhere
No Alisa,

The water tank smooths the delivery water pressure but does not increase nor decrease it.
Question: short cycling pump, drained tank, air at zero, charged to 28, tank refilled, no more short cycling but bad water pressure remains
my pump was short cycling so I drained the pressure tank down. checked the air pressure and it was 0 . I charged it to 28 and refilled the tank with water. I solved the short cycling but now have very little pressure at the faucets. ? - Jason 11/23/12
Reply:
Jason

Take a look at the cut-off pressure: typically it's set to 40 or 50 psi. If your cutoff pressure is in that range and the "pressure" (really flow rate) at your faucets is poor, it sounds like a valve, faucet strainer, water filter, or pipe clog problem.
Question: weak water pressure
I Justed replaced my pump and tank and the pressure in the house is still weak? - Brian 2/3/12
Reply:
Brian at WATER PRESSURE DIAGNOSIS for WELLS you can read how to diagnose and fix the trouble.
Question: reset Amtrol tank to 39 psi, pump shuts off at 41
Hi- just repressurised my amtrol water tank to 39 psi (water pump shut off at 41 psi). However, the schraeder valve at the top of the tank reads 39 psi but the pressure gauge at the bottom on the actual water line reads 31 psi. why the big discrepancy? and we're still having some problems with our water pressure on the second floor (new system- only three years old). - Paul 2/5/12
Reply:
Paul this is not lab grade equipment; the gauges won't agree precisely but you can be darn sure that the pressure is the same at both points if measured at the same time. Sometimes a gauge gets sticky and stops reading accurately due to debris clogging.
Question: water pressure is very low right before the pump kicks in
Right before my well pump is about to kick in (40 psi) if I have two items running (say shower and laundry) the water pressure is very low to the fixture further away from the tank. Example, someone is taking a shower on the second floor and I start laundry on the first floor. The water pressure to the shower will drop to a trickle but the laundry is ok. This only happens right before the pump is about to kick in. It seems like the pump cannot recharge the tank quick enough. If I do this while the tank is at 60 psi, it is ok. This tank was replaced a few years ago with the same size that was originally there and with the exception of this one issue, it seems to be fine. - Maxx 3/7/2013
Reply: flow vs pressure clarification
Maxx,
almost everybody mixes up these points because the normal way we talk is about "water pressure" when what we really are talking about is water flow rate. Check for a pressure control switch not responding to a fall in water pressure - e.g. due to debris clogging at the switch.
Water pressure is measured as a static number when no water is flowing - say 40 psi or 50 psi in the whole system - when the pump has cut off (or is about to cut on at some lowe rpressure).
Water flow rate measured in gallons per minute is what we experience as "water pressure" in the shower - I guess because at a faster flow rate we get pressed-on harder by the water as it strikes us.
When we have poor "pressure" (water flow rate) at a fixture the problem is usually because of clogged pipes. You can be sure this is true if the pump is capable of reaching say 40 or 50 psi of cut-off pressure. A second cause of poor water flow rate may be a very slow water delivery rate from the well - maybe because of a well flow rate restriction. I figure if it were really the pump itself then the pump wouldn't reach cutoff pressure even if the well had plenty of water in it. Other problems like a leak in well piping also foul up delivered water pressure.
Take a look at
Question: what is causing abnormally high air pressure in our water pressure tank?
Hope you can help me. I have a 16 y/o WELL-X-TROL WX 250 water well tank in my basement.
I just had a plumber come over and change out the pressure switch 40/60 The plumber drained the system , checked the air pressure in the tank which he found to be at 60psi. He then lowered it to about 34 psi (tank empty), changed the switch made sure everything was ok and when he left it was.
A day or two later my well started short cycling and the gauge would jump low then high to cut off at 60psi I kept an eye on it and called back the plumber to have him check it again. He rechecked and told my husband he raised the pressure inside the tank but on the ticket that was turned in, it was lowered.
It was okay for a day and started short cycling again. I then took out the water filter and found it to be clogged with sludge
I guess from the plumber draining the tank. I then cleaned it out and put it back in and tank was okay for a short while, the started short cycling again .
( UNIT SHORT CYCLES AS SOON AS I TURN WATER ON)
Today, 3/14/2013. 2 plumbers came back and told me my tank needs to be replaced but they drained it and found that the pressure in the tank was up at 60psi Again. What does this mean?. Now that they have left, the water ,pressure switch and tank seem to be okay. What do you think could be wrong ?
They want to put a new Well Mate tank in. What is the difference and first of all, AND DO I REALLY NEED ONE NOW THAT MY TANK SEEMS TO BE OKAY? THEY TOLD ME THAT THE GAUGE SHOULD READ AT 30 PSI ON AN EMPTY TANK. MINE WAS READING ZERO. IS THIS NORMAL???
...
My problem is that more air gets into the tank on it's own. I have drained tank, checked pressure and with each draining, the pressure at empty rises Is there a leak in the bladder which would allow air to come in after I have drained and reduced air pressure in the tank? Thank you.
- K.F. Kerhnonksen, NY 3/16/2013
Reply: difference beween high water pressure at a water tank and high air pressure in the tank
K.F.
"air is entering the tank on its own" ? Not really. Air comes from somewhere, for a reason that needs to be addressed. But I agree that you're on to something and that a proper diagnosis and repair of the problem have not been done.

If a water tank bladder has burst and thus leaks, nothing keeps water and air separated. Air in the tank might enter the water supply, but especially on an internal-bladder type water tank where there is no air volume control used to keep putting air into the system, there is not NORMALLY any source of additional air entering the system. The tank becomes waterlogged and the pump short cycles.
However there can be other sources of air entering the system that are not normal, including:
an old snifter valve in the well or on the well piping that should have been removed when the new bladder type tank was installed
well water running low, pump picking up air
leak in well piping lets water out and air in depending on when in pump cycle
"Air pressure" in the water pressure tank at 60 psi is VERY HIGH, ABNORMAL, and should have raised a question (if it was really air pressure) of how it got there. Just bleeding out air doesn't fix anything if the cause is not found and fixed.
Now above I explain how we might get excess air entering the water supply system. Details about that problem are at AIR DISCHARGE at FAUCETS, FIXTURES.
But I suspect your system is not accurately described, and that our answer lies in your observation that the pump was short cycling.
If the well pump is short cycling the most common cause is a waterlogged pressure tank - that is a tank without enough air or with no air at all inside the tank. The pump turns on, there is no air to compress, the pump therefore almost immediately reaches cut-off pressure and cuts off. Water is flowing, pressure drops in moments, pump cuts back on.
So you are describing a waterlogged pressure tank. Details about diagnosis and repair are at WATER PUMP SHORT CYCLING.

In sum, I think it would be unusual (but not impossible) to have excessive air in the water system AND well pump short cycling. I imagine that might come up if you had an unusually signficant high volume and rate of air entering the system - say from an old air volume makeup device that should not be there, or a leak in well piping.
Keep us posted, what we learn will help others.
Question: abnormally high pressures in the water tank forced us to shut off the system - cause?
I replaced a 36 Gal Water tank in my home yesterday. Upon turning on the water and electricity to the pump, which was pre-pressurized at 25psi the pressure in the tank kept rising until I shut it off at around 70psi. Each time I turned the water and electricity on the pressure would continually rise until a point where I would shut the power to the pump off completely to avoid over pressurizing the tank. Do you have any idea on what could be the problem? Thanks! - B.E. 7/23/13
Reply:
A competent onsite inspection by an expert usually finds additional clues that would permit a more accurate, complete, and authoritative answer than we can give by email alone. You will find additional depth and detail in articles at our website. That said I offer these comments:
Watch out: First, you were wise to SHUT OFF the pump - as overpressurizing the system is dangerous, risking a burst tank or piping. It is evident that the pump is working and water is entering the pressure tank, as its pressure climbs.
Second, I suspect that either a pressure is not connected, not working, or the pressure control switch may be mis-wired or defective. If you replaced some system parts but left an old pressure control switch it's possible that its sensor port is debris clogged. If so I'd replace the switch and its mounting or pressure sensing tube.
Question: pressure in the empty water pressure tank keeps rising on its own
(Jan 21, 2014) Anonymous said:
I have a 30 year old wx202 and I have also seen my empty tank pressure rising. I am surprised that so many professionals seem unable to explain this. As I did not have air coming out of the faucets,the problem could not be excess air. I could feel that the tank still had water in it after the drain valve stopped flowing. Cracks in the diaphragm allowing water to pass above the diaphragm fully explain the problem.
On draining, the cracks close up like a check valve preventing escape of the trapped water. In order to reduce stress on the pump during the 2-3 weeks until a new well-extrol #WX255 81 gallon tank arrives, I drilled through the welded fitting on top and tapped it for a 1/8 in pipe plug. Lacking a 1/4 in bit long enough, I hammered a 3 ft long 3/16 rod through the hole. I could feel it going through the diaphragm. I repeated this 6 times at different angles. Water flowed out of the tank for 20 min and the tank finally felt empty.
After precharging to 34 psi the 37/57 system worked properly for the first time in months except for multiple tiny leaks caused by this trapped water rusting its way through the steel near the diaphragm stop plate about 6 inches from the top of the tank. "JB Weld" has worked well on the worst leaks and it cures in a couple of hours with a heat lamp, allowing system restoration before others in the house wake up in the morning.
I plan to reduce the precharge pressure of the new tank to provide "supplemental drawdown". This will provide water during an unexpected loss of power or after the generator is shut down during a power failure. I will reduce the differential and increase the setting to 45/55 if the switch can handle it. The manufacture's sales rep of the tank agrees with this use as long as I stay in the 30/60 window for a 30 psi precharg with this tank. He did warn of reduced tank life if I stretch the diaphragm against the stop plate very often. All of the 22 in dia tanks have the same diaphragm and store the same 34 gallons of water, but have different air above
Question: water pressure lost when water tank froze
(Jan 29, 2014) Stephen Linturn said:
we have a 2 year old bladder tank in the garage, about 250 feet from the house, during below zero temps we lost water pressure. Heated up the tank and it came back on, now the pressure is 90 on the tank, it has stayed there for hours and not moved. We are not sure if the pressure gauge is working. How can we tell? I released pressure in the valve. It is not making any noise of any sort. The pump is under ground, our well is about 300 feet down. Is this anything I should be concerned about? Can I sleep well? Thanks Stephen
Reply:
Stephen,
90 PSI is too high - and I'd worry about blowing the tank - which could injure a bystander.
But the pressure in the tank may or may not really be 90.
The gauge may be jammed.
Or the tank may be freezing and pushing up pressure at the gauge.
I would turn off the pump,
Open the tank drain
and if no water comes out, the tank is frozen or the bladder is jammed.
I would not work alone, and I'd be careful to be protected should the tank burst.
Chances are it's the gauge, but geez, writing a post online for an unseen system - it's best to be very careful.
AND
Was the pump off when you saw that 90 psi? If not I'd immediately shut the pump off.
Question: no water seems to enter the bladder pressure tank
(Feb 7, 2014) chris hampton said:
my nearly new bladder pressure tank has no water in it.what could be wrong?also when continously running pump is turned off,water runs from house piping back into well.
Reply:
Chris,
No water entering an internal bladder type pressure tank, assuming the pump and tank are working, usually means that the bladder has collapsed and stuck to itself, blocking the water input
But when the pump runs continuously and when water runs back into the well when the pump is turned off
that sounds like a bad foot valve or bad check valve combined with loss of prime in the pump. If your pump is an above ground pump that's more likely the problem.
Question:
AUTHOR:D Adam (no email)
COMMENT:Hi guys,
I have a 18Lt pressuretank and SquareD switch. On installatin it was all set to factory -switch 30psi -50psi and tank at 28psi. Not being happy with the low pressure at 30 I decided to turn the large nut clockwise until I got high pressure at 60. Since doing this i notice the draw down has been reduced and causing the pump to cycle even with a half toilet flush... It used to last atleast 2 flushes before.
My question is, would this be because I didnt add pressure to the tank bladder? Should I do as above and add pressure to 38psi (cut in 40) and will this fix the problem?
Cheers from Australia!
D Adam
Reply:
Adam, in the More Reading links above I've added a link to our article series titled
WATER PUMP PRESSURE CONTROL ADJUSTMENT
there you will see the explanation of the large and small adjustment nuts in that control, and you'll see additional detailed articles about adjusting the two nuts individually and together; I suspect your switch needs corrective adjustments.
Reader follow-up:
I think you may have misunderstood my questions. Setting the adjustment nuts is fine as I've read nearly all the articles including the one you mentioned :)
What I'm trying to figure out is ...
1. Now I have my switch set to 40-60psi do I need to add air to my pressure tank to make it 38psi?
2. And is this why the draw down is less (because I increased switch cut in to 40 but didn't adjust the bladder/tank pressure?)
Reply:
Yes D. Adam; you want the starting pressure in the bladder tank to be about 2 psi below the cut-in pressure. Details are in an article titled WATER TANK BLADDER PRESSURE ADJUSTMENT - found by searching InspectApedia
When you change from 30/50 to 40/60 you still have the same 20 psi difference between cut in and cut out; Shifting to a 10 psi higher operating range but keeping the same delta or variable (20 psi) means that the higher pressure will push water out of the tank faster than before, reducing the *perceived* drawdown even more than the actual measured volume of drawdown.
In a table in the article above using a similar tank size, the pressure range change you make drops the drawdown volume from 6.2 to 5.4 g
But yes do set the tank air pressure as discussed in the article I cited, or generally at 2 psi below the cut-in pressure. That will give the maximum available volume and thus drawdown.
Reader follow-up:
Thanks Dan!
That basically answered my question. I'll adjust the pre charge over the weekend and see how it goes...hopefully no dramas (can't see a relief valve anywhere-only the fill in schrader, fingers crossed it don't blow up)
Cheers, D. Adam
Reply:
Great D. Sorry to be obtuse but often when communicating just by text it can be a challenge to get a clear idea of what's going on from the questioner's side.
As long as you stay well below the tank rated burst pressure you're safe. Certainly an air loading causing pre-pressurizing of a water tank at a pressure that is below the tank's operating range and below the cut-out pressure should be safe.
With smaller vessels, like a bicycle tire, it is easier to blow the thing up when hooking to a high pressure air source. But I did learn of a case in which a plumber was working leaning over a pressure tank connected to a submersible well pump - the pump was running ( and is capable of high pressure) - and blew the tank. He was working alone, was cut by the damaged tank, and died. Rare, but possible.
The common place to add a relief valve is on the tank tee at the bottom of the pressure tank.
Question: replace tank with pinhole leak?
(Feb 19, 2014) Anonymous said:
The elbow pipe to a "Challenger series Diaphragm well tank" has a pin hole leak so I need to replace it. Do I need to make pressure adjustments either prior to or after replacing the pipe?
Thanks in advance for any advice you may give.
Reply:
You can patch a pinhole leak using a special short lag screw and rubber or neoprene washer - assuming this is a bladderless pressure tank; but beware that as tanks corrode from inside out the tank may be more rusted and closer to end of life than you think.
Question: pump kicks on every 3-4 minutes when water isn't running
(Feb 23, 2014) Scott said:
Hi, I have had a problem with my pump kicking on about every 3 to 4 minutes when the water isn't running. I checked all my pipes in my house and in the crawl space and can't find any leaks or anything. I went down in the crawl space and checked the water pressure tank and there is no visible leaks and didn't hear any air leaking either. I don't know whether or not this tank has a bladder or not and not sure as what to do next. Any help would be outstanding. Thanks
Reply:
Scott, in the page top section titled "Click to Show Hide Related Topics"
find and click on
WATER PUMP INTERMITTENT CYCLING
for the diagnosis of the problem you describe.
Question: what is the effect of increasing the air pre-charge pressure in the water pressure tank?
(Apr 8, 2014) reese said:
basically, what happens if we increase the precharge pressure of water tank? will the water pressure increase also? just a newbie here. thanks
Reply:
Reese, you are asking an important question as I know it's easy to be confused about this pressure and tank business.
Overall the pressure of water delivered at a plumbing fixture will never be higher than the pressure that can be produced by the water pump itself. The system pressure will vary while you are running water, between the pump pressure control switch cut-in and cut-out pressures, say 20-40 or 30-50 psi.
The pressure tank, containing air and water, is acting as a sort of spring to smooth the flow of delivery of water. If we didn't have that spring, then when the pump turned on it would quickly reach the cut-off pressure - in seconds - and cut off, then pressure would fall to the cut-in pressure - in seconds - and the pump would turn on. That rapid short-cycling of the pump will kill it as well as drive you crazy seeing water squirting at the faucet.
The pressure in the water pressure tank should be set to about 2 psi below the "cut-in" pressure of the water pump.
If you made the big mistake of setting the pre-charge pressure in the water tank to ABOVE the cut-in pressure of the switch, the effects is you are reducing the available water volume in the tank, tending towards a short-cycling system. Why? because at the higher pre-charge pressure the volume of the tank's air charge is increased when water has been pushed out of the tank.
If we take this to an extreme and fill the water pressure tank with air, in a bladderless tank no water will enter the tank and in fact air will be pushed out and into the building piping. In an internal bladder type tank, filling the tank with air, if it doesn't burst the bladder, eliminates any available volume in the tank for water - the pump will still turn on and off based on building water piping pressure and it will short cycle like mad.
If this is still unclear, ask me again.
Reader follow-up:
(Apr 9, 2014) reese said:
thank you for your important reply. in this case, how will i increase the water pressure to satisfy required pressure to supply 3 fixtures at the same time (shower, water closet, lavatory)in case we used them at the same time considering that this 3 fixtures are also existing in other rooms? our local water service is a bit weak. we have decided to buy a water storage tank with a capacity of 2000 liters, a 2hp jet pump with complete attachments (gauge, pressure switch, check valve), and a bladder type pressure tank (tank volume 33gal).pipe size is 1 inch in diameter from storage tank to pump to pressure tank. but after the pressure tank, the pipe size is only half inch in diameter all the way up to our rooms. i compared the pressure of our local water utility and pressure from the pressure tank (without connecting yet to the building pipes), based on the squirt, water from the pressure tank squirts farther than the local water but when connected to the building they produce the same result (same water pressure output)its like that the pressure tank is useless.
hope you can help me solve my problem. again thank you very much.
Reply:
Reese,
Typically people improve water pressure by one or a combination of measures. First we need to accurately diagnose the cause of poor water pressure - so that we can then choose the right repair.
Therefore, start at
WATER PRESSURE PROBLEM DIAGNOSIS TABLE in the "More Reading" links above.
Question: when the pressure tank is installed and filled for the first time where does the already in the tank air go?
(May 5, 2014) Dan said:
When installing a replacement tank, when the empty tank is filled for the first time where does the air in the area being filled with water go? Does it compress or is there some kind of valve that allows the air to escape and be replaced with water?
Reply:
Dan thanks for the question.
The air doesn't go anywhere - that is, it's not supposed to escape or go away. Rather, it is being compressed. It's that compressed air that pushes water back out of the tank when you open a faucet, and it's that "spring" like feature of squashed air that pushes back that keeps your well pump from otherwise cycling on and off too rapidly.
Question: Can I keep using a water pressuretank after the bladder is busted?
(May 22, 2014) donbates38 said:
can i still use my tank if the bladder is not working by just puting air in tank
Reply:
Don
You'd think so but that won't work well nor long. The tank is not designed to have water outside its bladder - expect corrosion & leaks; and often the bladder fragments prevent water from properly entering or leaving the tank.
Question: New pressure tank, trouble getting pump to turn off
(June 15, 2014) dave ross said:
put a new pressure tank in--simer pre-set at 38#-----put a new pressure switch on pump--pre-set at 30-50#---I dropped the pressure in the tank (very carefully measured) to 28#----now having devil of time with pump even cutting in/off---have not made adjustment to switch yet-- must start pump manually --- question-- read that on this site to let pump run until it shuts off observing pressure at which this happens-- will this burst the bladder with 28# still in tank?????
thanks
dave ross
(June 18, 2014) Pete said:
I have a fairly new Well - X - Troll system that pulls water from the lake to feed my irrigation system.The pressure switch is a 20- 40 PSI switch. The pressure gets to 40 PSI fine and stops. However, almost as quickly as the irrigation system starts, the pump kicks in. It goes down to about 30 lbs. pressure and stays there. Consequently the pump never stops and then eventually kicks the 15 amp breaker off. It's a 1 horse motor. Any idea on the problem? Need a bigger motor - new pressure switch so it drops to 20 lbs before it kicks in - create more zones in the irrigation system so it doesn't draw so much water at any one time - 20 amp breaker????
(June 21, 2014) Rich said:
My tank keeps kicking on and off. In addition to this the it is making a loud thumping sound and water is squirting out of a ball valve... The pressure reading is sitting at a constant 40psi (supposed to be 60/40). And i have a Amtrol Champion series tank. Any ideas?
Reply:
Dave
A good diagnostic is at
inspectapedia.com/plumbing/Pump_Runs_On.htm
Pete I suspect two conditions:
The water flow rate of the irrigation system exceeds the pump capacity ( or,a pickup screen is partly clogged), so the pump runs continuously at its maximum output which never gets ahead of the use rate, so it never shuts off until you turn off the water.
And there may be a problem with the pump itself, or low voltage, or voltage drop along a very long wire, that can also overheat the motor.
You could try running irrigation at a slower flow rate or in fewer zones at any time.
Rich: You want to see WATER PUMP SHORT CYCLING
...
Ask a Question or Search InspectApedia
Questions & answers or comments about setting the air precharge pressure in internal-bladder type water pressure tanks
Use the "Click to Show or Hide FAQs" link just above to see recently-posted questions, comments, replies, try the search box just below, or if you prefer, post a question or comment in the Comments box below and we will respond promptly.
Search the InspectApedia website
Technical Reviewers & References
Click to Show or Hide Citations & References
Thanks to Jeremy Houser who suggested that we needed to clarify the difference between bladder type and non-bladder type water tanks when discussing air charging and diagnosis of water tank repairs.
Thanks to Jeff Garmel for discussing clarifications on water pressure tank testing and diagnosis, 8/24/2009.
Amtrol Extrol™ pressure control tanks, which they call well tanks, are described at the company's website at www.amtrol.com/extrol.htm and installation and operating instructions for these well tanks can be found at www.amtrol.com/pdf/9015A290revcWXT.pdf
Well-X-Trol: Amtrol Extrol™ pressure control tanks used on hydronic heating and other systems such as models 35LBC, 50 LBC, 85 LBC, and 100LBC to 600 LBC also use a bottom bladder containing air - see amtrol.com/pdf/LBCSeriesEXTROL9017-095.pdf for details.
Mark Cramer Inspection Services Mark Cramer, Tampa Florida, Mr. Cramer is a past president of ASHI, the American Society of Home Inspectors and is a Florida home inspector and home inspection educator. Mr. Cramer serves on the ASHI Home Inspection Standards. Contact Mark Cramer at: 727-595-4211 mark@BestTampaInspector.com
John Cranor is an ASHI member and a home inspector (The House Whisperer) is located in Glen Allen, VA 23060. He is also a contributor to InspectApedia.com in several technical areas such as plumbing and appliances (dryer vents). Contact Mr. Cranor at 804-747-7747 or by Email: johncranor@verizon.net
Carson, Dunlop & Associates Ltd., 120 Carlton Street Suite 407, Toronto ON M5A 4K2. (416) 964-9415 1-800-268-7070 info@carsondunlop.com. The firm provides professional home inspection services & home inspection education & publications. Alan Carson is a past president of ASHI, the American Society of Home Inspectors. Thanks to Alan Carson and Bob Dunlop, for permission for InspectAPedia to use text excerpts from The Home Reference Book & illustrations from The Illustrated Home. Carson Dunlop Associates' provides:

Commercial Building Inspection Courses - protocol ASTM Standard E 2018-08 for Property Condition Assessments
Home Inspection Education Courses including home study & live classes at eleven colleges & universities.
Home Inspection Education Home Study Courses - ASHI@Home Training 10-course program.
Special Offer: Carson Dunlop Associates offers InspectAPedia readers in the U.S.A. a 5% discount on these courses: Enter INSPECTAHITP in the order payment page "Promo/Redemption" space. InspectAPedia.com editor Daniel Friedman is a contributing author.
The Home Reference Book, a reference & inspection report product for building owners & inspectors.
Special Offer: For a 10% discount on any number of copies of the Home Reference Book purchased as a single order. Enter INSPECTAHRB in the order payment page "Promo/Redemption" space. InspectAPedia.com editor Daniel Friedman is a contributing author.
The Home Reference eBook, an electronic version for PCs, the iPad, iPhone, & Android smart phones.
Special Offer: For a 5% discount on any number of copies of the Home Reference eBook purchased as a single order. Enter inspectaehrb in the order payment page "Promo/Redemption" space.
The Illustrated Home illustrates construction details and building components, a reference for owners & inspectors.
Special Offer: For a 5% discount on any number of copies of the Illustrated Home purchased as a single order Enter INSPECTAILL in the order payment page "Promo/Redemption" space.
The Horizon Software System manages business operations,scheduling, & inspection report writing using Carson Dunlop's knowledge base & color images. The Horizon system runs on always-available cloud-based software for office computers, laptops, tablets, iPad, Android, & other smartphones.

Wessels Company bladder replacement store was found at westank.com/bladder-tank-store.php on 5/22/2009. Wes sell refers to "shock and surge tanks" as ASME replaceable bladder type and pre-charged hydropneumatic tanks used for commercial, industrial, and well water systems.

Thanks to reader Howard Jackson for technical editing of proper pressure settings for the Well X Trol WX-103 - WX-203 tank bladder pressures - June 2010
[1] Well-Rite water tanks. Well-Rite water tanks are produced by Flexcon Industries, 300 Pond Street Randolph, MA 02368 Tel: 781.986.2424, based on manufacturer data provided on the shipping carton for a 44 Gallon / 170 Liter internal bladder water pressure tank during installation in Northern Minnesota, September 2011.
Rasmussen Well Drilling, Inc., 1793 Hwy 61, Two Harbors MN. Jeremy Rasmussen provides third generation well drilling and plumbing services on the North Shore of Lake Superior. Photos by DJF. Tel 218-834-3387. Email: rasmussenwell@frontier.com
Quoting: We serve the north Shore – Lake, Cook, St. Louis, Carlton and Pine counties, including Duluth, Grand Marais, Clouqet, Carlton, Finland, Isabella, Silver Bay, Grand Portage, Saginaw, and everywhere in Northeastern Minnesota.
Crystal Clear Supply provides portable ceramic water filter purifiers and portable reverse osmosis water treatment equipment - see http://www.crystalclearsupply.com/category_s/7.htm
Handbook of Disinfectants and Antiseptics, Joseph M. Ascenzi (Editor), CRC, 1995, ISBN-10: 0824795245 ISBN-13: 978-0824795245 "The evaluation of chemical germicides predates the golden age of microbiology..." -
This well-focused, up-to-date reference details the current medical uses of antiseptics and disinfectants -- particularly in the control of hospital-acquired infections -- presenting methods for evaluating products to obtain regulatory approval and examining chemical, physical, and microbiological properties as well as the toxicology of the most widely used commercial chemicals.
Potable Aqua® emergency drinking water germicidal tablets are produced by the Wisconsin Pharmacal Co., Jackson WI 53037. 800-558-6614 pharmacalway.com
Principles and Practice of Disinfection, Preservation and Sterilization (Hardcover)
by A. D. Russell (Editor), W. B. Hugo (Editor), G. A. J. Ayliffe (Editor), Blackwell Science, 2004. ISBN-10: 1405101997, ISBN-13: 978-1405101998.
"This superb book is the best of its kind available and one that will undoubtedly be useful, if not essential, to workers in a variety of industries. Thirty-one distinguished specialists deal comprehensively with the subject matter indicated by the title ... The book is produced with care, is very readable with useful selected references at the end of each chapter and an excellent index. It is an essential source book for everyone interested in this field. For pharmacy undergraduates, it will complement the excellent text on pharmaceutical microbiology by two of the present editors."
The Pharmaceutical Journal: "This is an excellent book. It deals comprehensively and authoritatively with its subject with contributions from 31 distinguished specialists. There is a great deal to interest all those involved in hospital infection ... This book is exceptionally well laid out. There are well chosen references for each chapter and an excellent index. It is highly recommended." The Journal of Hospital Infection.: "The editors and authors must be congratulated for this excellent treatise on nonantibiotic antimicrobial measures in hospitals and industry ... The publication is highly recommended to hospital and research personnel, especially to clinical microbiologists, infection-control and environmental-safety specialists, pharmacists, and dieticians."
New England Journal of Medicine: City Hospital, Birmingham, UK. Covers the many methods of the elimination or prevention of microbial growth. Provides an historical overview, descriptions of the types of antimicrobial agents, factors affecting efficacy, evaluation methods, and types of resistance. Features sterilization methods, and more. Previous edition: c1999. DNLM: Sterilization--methods.
U.S. Army Field Manual 21-10, Field Hygiene and Sanitation, 1988, web search 07/02/2010, original source: http://www.enlisted.info/field-manuals/fm-21-10-field-hygiene-and-sanitation.shtml
The purpose of this manual is to assist individual soldiers, unit commanders, leaders and field sanitation teams in preventing disease and environmental injuries. The manual provides information on preventive medicine measures (PMM) to the individual soldier as well as essential information for the unit commander, unit leaders, and the unit field sanitation team on applying unit level PMM.
When Technology Fails, Matthew Stein, Chelsea Green Publisher, 2008,493 pages. ISBN-10: 1933392452 ISBN-13: 978-1933392455, "... how to find and sterilize water in the face of utility failure, as well as practical information for dealing with water-quality issues even when the public tap water is still flowing". Mr. Stein's website is www.whentechfails.com/
...
Books & Articles on Building & Environmental Inspection, Testing, Diagnosis, & Repair
The Home Reference Book - the Encyclopedia of Homes, Carson Dunlop & Associates, Toronto, Ontario, 25th Ed., 2012, is a bound volume of more than 450 illustrated pages that assist home inspectors and home owners in the inspection and detection of problems on buildings. The text is intended as a reference guide to help building owners operate and maintain their home effectively. Field inspection worksheets are included at the back of the volume. Special Offer: For a 10% discount on any number of copies of the Home Reference Book purchased as a single order. Enter INSPECTAHRB in the order payment page "Promo/Redemption" space. InspectAPedia.com editor Daniel Friedman is a contributing author.

Or choose the The Home Reference eBook for PCs, Macs, Kindle, iPad, iPhone, or Android Smart Phones. Special Offer: For a 5% discount on any number of copies of the Home Reference eBook purchased as a single order. Enter INSPECTAEHRB in the order payment page "Promo/Redemption" space.