Water Tank Bladder Diagnosis & Repair
How to replace a burst or stuck water pressure tank internal bladder
WATER TANK BLADDER REPLACEMENT - CONTENTS: How to repair or replace a water tank with a burst internal bladder. How to diagnose and repair water system problems when an internal bladder water tank is installed. What is the difference between a bladder type water tank and a glass lined no-bladder water tank? Broken, burst, busted or leaky water tank bladders
POST a QUESTION or READ FAQs about well water pressure tank internal bladder troubleshooting & repair
InspectAPedia tolerates no conflicts of interest. We have no relationship with advertisers, products, or services discussed at this website.
Water pressure tank bladder repairs:
This article describes the repair or replacement of internal bladder type water pressure tanks.
We explain how a burst or stuck water pressure tank bladder causes water pump and supply troubles and we describe how to fix the problem.
Green links show where you are. © Copyright 2017 InspectApedia.com, All Rights Reserved.
How do We Repair a Water Tank with a Burst Internal Bladder?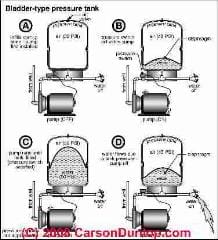 Diagnosis of a burst water tank bladder: as we outlined
at WATER TANK BLADDERS & CAPTIVE AIR, if you remove the cap from the air valve on the top of your water tank and depress the pin in the center of the valve, normally air will hiss out.
Don't hold this valve pin down or you'll lose the air charge. But if water comes squirting out of this air valve, the captive-air bladder type water tank has burst or become torn or leaky, and repair is needed.
The illustration at left is courtesy of Carson Dunlop Associates.
[Click to enlarge any image]
A second symptom of burst water tank bladder: if air is found squirting out of plumbing fixtures it's possible that the cause is a burst bladder in the water tank; the tank's air charge is being forced out into the building plumbing system.
A third symptom of burst water tank bladder: if the water tank is full or nearly so and you are unable to drain water out of the tank, a burst bladder may be blocking the tank at its bottom. A burst water tank bladder can collapse at the water tank bottom, preventing water from leaving the tank. The result is no water pressure in the building and perhaps an inability to drain water from the water tank itself.
At WellMate DIAGNOSIS we provide separate water tank diagnosis and repair advice for captive-air water tanks in which the air is in the bladder and the water is outside the bladder in the water tank.
Repair of a leaky or burst water tank bladder: some people recommend treating the water tank as if it were an older bladderless type of water pressure tank such as the tanks we discuss
at STEEL WATER TANKS.
It is unlikely that this will be a satisfactory repair (as you'll see in Kortebein's explanation below). Usually when a captive air water tank bladder ruptures and water enters the rest of the steel tank, the bladder collapses; it often becomes impossible for the water pump to push much water into the water tank, and even if it does, the collapsing bladder will stick to and seal itself so that the water draw-down quantity before the pump needs to run again will be very small.
Fixing or getting rid of a waterlogged collapsed-bladder water tank: as we mentioned above, it's also possible that the torn bladder will stick to the water outlet opening, blocking water from leaving the water tank. The result will be short cycling of the water pump. We discuss water pump short cycling
at WATER TANK REPAIRS. In any case the drawdown volume will be reduced and it's likely that this misused water tank will rust through soon.
Reader Bill Kortebein described how he identified and repaired this problem.
My pump was short cycling like crazy. So I drained the tank, measured the air pressure; it was zero, so I pumped it up to a couple PSI below the cut-in point. Short cycling improved a little…
But in a matter of a couple weeks or so, short cycling was just as terrible again. So I drained the tank again (this time the pipes were disconnected at the bottom of the tank – so I ought to be able to get all the water out, right?). I measured the air pressure: it was back to zero again. Pumped the tank back up again (which forced some more water out). Then tried rocking the tank, and the thing was still practically full, it was almost immovable.
No water ever squirted out the air pressure valve, but…
With the pipes open to the air at the bottom of the tank,
and the pressure pumped up (38 PSI)
I was only able to get a small percentage of the water out of the tank.
The only conclusion I could come to was that the bladder was burst, and that it was lying in a bunch at the bottom and somehow plugging the outlet. [We agree that this is the most probable explanation, though on occasion we've found a water tank outlet blocked by other debris.- DF]
In any case, I replaced the pressure tank (and also installed a cycle-stop valve), and now the pump hardly ever turns on at all, compared to the way it was before.
Since the old tank was practically immovable, someone suggested I drill a hole in the side to let the water out. Pretty good idea, except not with the pressure pumped up to 38 PSI. Once I punctured through, it shot out like to drill a hole in me or anything else in its way, geysered all over the electrical stuff (and tripped the GFCI -- good thing there was one there), and kept me occupied containing this water knife for a good 15 minutes or more).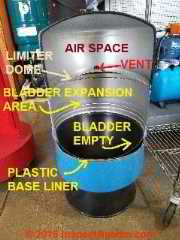 You need to replace the water tank bladder or as most plumbers recommend, replace the entire water tank assembly. If you are going to drill a hole to drain a blocked water pressure tank, we suggest disconnecting the tank entirely from its fittings and using a hand truck to get the heavy tank outdoors before drilling into it.
The illustration we show at left is discussed in detail at WATER TANK BLADDER CONSTRUCTION.
Water tank bladder replacement: on some water pressure tanks, the water tank can be disassembled and the bladder replaced. You might want to ask your plumber to try this repair before replacing the entire water tank assembly.
Water tank bladder replacement will involve draining water from the system and removing the water tank pretty much as if the whole tank were to be replaced.
Suppliers such as Wessels offer replacement bladders for some models of expansion tanks and hydropneumatic tanks. In general, if you're going to hire a plumber to do this job, we recommend replacing the whole tank.
Water tank bladder air pressure adjustment: Be sure to review WATER TANK BLADDER PRESSURE ADJUSTMENT [link just below] if you are adjusting, tuning, or replacing the air pressure in your bladder-type well tank.
For details of the arrangement of the parts inside of a water tank that uses an internal bladder, see WATER TANK BLADDER CONSTRUCTION
Duracel DP-42 Fiberglass Water Pressure Tank Repair or Replace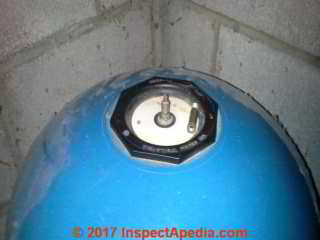 Question: replace a Duracel DP-42 well tank bladder?
Can the bladder in my Duracel DP-42 be replaced from the top. - Anonymous by private email 2017/03/30
Reply: possible sources of repair parts or bladders for the Duracel well tank
Previously probably yes but now unfortunately most-likely no.
The Duracel DP-42 is a blue fiberglass water pressure tank that uses an internal bladder. These tanks were sold (we think) roughly from 1960 to 1990 in North America and are no longer marketed. So obtaining an exact water tank bladder replacement may be difficult.
Usually a replacement water pressure tank bladder is custom-sized and shaped to fit in and seal into a specific water tank design.
Still you might want to give a call to a couple of the water pressure tank providers listed below. Most likley you'll need to replace the tank.
Duracel water tanks or well tanks were produced (we think) by Structural Fibers, a producer of fiberglass and plastic tanks, Structural Fibers, Industrial Parkway, Chardon, Ohio 44024. Tel: (440) 729-1951.
The company appears to be a division of Essef Corporation, 220 Park Drive Chardon, Ohio 44024 U.S.A, Tel: (216) 286-2200 or (440) 286-4116. Essef was incorporated in 1954 as Structural Fibers, Inc., an Ohio-based company. - "Essef Corporation History"
Replacement Water Tank Bladder or Well Tank Bladder Sources & Procedures & Patents
The Yavorsky water tank patent citation and the Essef Corporation History cited in the list of replacement tank bladder sources are included to give a bit of history of the Duracel water pressure tank.
AAtanks distributes replacement tank bladders for all AA Tanks, 24356 Sherwood, Center Line, MI 48015 USA, also for Wessels-designed ASME as well as non-ASME tanks as well as for other types of tanks using an internal rubber bladder.
Tel: 586-427-7700, Website: http://www.aatanks.com/products/replacement-bladders.html
"Essef Corporation History", Funding Universe, retrieved 2017/04/04, original source: http://www.fundinguniverse.com/company-histories/essef-corporation-history/
HOT WATER EXPANSION TANKS - expansion tanks on potable hot water heaters, cylinders, calorifiers, installation, troubleshooting, manuals
Sears sells replacement bladders for some water pressure tanks, Website: http://www.sears.com
WESSELS FXA TANK BLADDER REPLACEMENT DETAILS [PDF], Wessels Company, 101 Tank Street, Greenwood, IN 46143 USA, Tel: 317 888-9800, Email: technical_support@westank.com Website: http://westank.com/, retrieved 2017/04/04, original source: http://westank.com/wp-content/docs/technical/i&o-fxa-bladder.pdf
Yavorsky, William M. "Pressure vessel with a bladder." U.S. Patent 4,817,830, issued April 4, 1989. Patent Abstract:

An improved thin-walled pressure vessel having a bladder is provided. This vessel includes a shell having an opening and a spout disposed around the opening. An improved cap normally closes this opening, secures the bladder to the shell of the vessel, and provides communication between the outside of the vessel and the inside of the bladder. The cap member comprises a main body member having an opening which receives a valve member.

This valve member extends out through one end of the cap member. It also extends through the opposite end of the cap and into the bladder through an opening in the bladder. The valve member engages a portion of the bladder around the opening and clamps this portion against the main body member to secure the bladder to the cap member. As the pressure in the bladder increases, it forces the valve member further against the walls of the opening in the main body member, increasing the clamping force to firmly secure the bladder to the cap member.

[3] It s the Revolutionary New Duracel, by Structural Fibers, Structural Fibers: Industrial Parkway, Chardon, Ohio 44024.
Washington State DOH, TROUBLESHOOTING BLADDER PRESSURE TANKS, [PDF], DOH 331-342, retrieved 2017/11/02, original source: https://www.doh.wa.gov/portals/1/Documents/pubs/331-342.pdf
See more at REFERENCES at the end of this article
...
Continue reading at WATER TANK BLADDER PRESSURE ADJUSTMENT or select a topic from closely-related articles below, or see our complete INDEX to RELATED ARTICLES below.
Or see WATER TANK BLADDERS & CAPTIVE AIR
Or see WATER TANK DIAGNOSIS & REPAIR - home
Suggested citation for this web page
WATER TANK BLADDER REPLACEMENT at InspectApedia.com - online encyclopedia of building & environmental inspection, testing, diagnosis, repair, & problem prevention advice.
Or use the SEARCH BOX found below to Ask a Question or Search InspectApedia
...
Frequently Asked Questions (FAQs)
Try the search box below or CONTACT US by email if you cannot find the answer you need at InspectApedia.
Comments:
(Sept 4, 2011) Dale Gigwh said:
Thank you so much,this site very very helpfull in finding my well water problem. I had to replace tank,but thanks to you i knew what to test befor doing so. Thanks Again so much Dale in Ohio
(Oct 30, 2012) roy said:
replaced the bladders in my 2 craftsman tanks with craftsman bladders, $180. First one failed at 3 months, 2nd one leaks. bought xtrols to install. problem solved.
Question:
(July 21, 2012) willie mcknight said:
can i fix a crack at the bottom of a bladder tank
(Feb 16, 2015) Tom said:
how do I install the rubber bladder into the pressure tank?
Reply:
Tom some water tanks have a removable tank panel, typically on the tank bottom, to allow opening and replacing a bladder. You should start by noting the brand and model of your particular water pressure tank, grabbing a copy of its instructions, and tanking a look: that document will tell us if the tank has a replaceable internal bladder.
Question:
(Aug 12, 2012) Fred said:
I am getting hot water from my cold tap and suspect the water tank. It was short cycling and making suction noises earlier.
Reply:
Fred, if you are also getting cold from the hot tap then the piping is reversed.
We also might see a brief surge of warm at a cold tap if the water heater is piped backwards or if the dip tube has corroded away, as then hot water may rise up the cold piping by convection.
In any case this is not a water pressure tank problem nor is it related to the water tank bladder.
Question: can we replace the water tank bladder ourselves
(June 20, 2015) Trella Laughlin said:
The man from the water drilling company used this expression; but, his solution is very $$$$$.
Can we do it ourselv es?
Thanks.
Reply:
I don't know, Trella; can you handle plumbing piping disconnections and re-connections, soldering if needed?
I'd start by finding out which repair you need: tank bladder replacement or complete water tank replacement if your tank does not have a replaceable bladder.
Question: water shoots out of the air valve
(Dec 15, 2015) kevin Batts said:
Why does water shoot out from the air vale when I release the pressure
Reply: waterlogged pressure tank or burst internal bladder or both
Kevin:
It depends. If the valve is at the top of the tank and your tank uses an internal bladder, most models store water IN the bladder and air outside the bladder but inside the upper tank area. If you have one of those tanks and water can be released at the air valve, the bladder has probably burst and the tank is waterlogged
Question: is an air leak on a pressure tank repairable?
July 2, 2016) Crystal said:
Can you fix a well bladder that only has a hole on the outside of tank but still holds pressure...its not the rubber bladder
Reply:
You are trying to fix a leak in the portion of a tank that holds air pressure. You can try an epoxy repair or a screw and washer repair - perhaps deferring tank replacement for a time. Often tanks rust from the inside out, so the pinhole you see may presage thinning and damage to a larger area.

Question: replace water tank or repair tank bladder
(July 7, 2016) Anonymous said:
If the bladder tank has a defective diaphragm, will the repair only for the replacement of the diaphragm or buy a new bladder tank? thanks folks!
Reply:
Yes. Some tanks have a replaceable diaphragm while others don't.

...
Ask a Question or Search InspectApedia
Use the "Click to Show or Hide FAQs" link just above to see recently-posted questions, comments, replies, try the search box just below, or if you prefer, post a question or comment in the Comments box below and we will respond promptly.
Search the InspectApedia website
Technical Reviewers & References
Click to Show or Hide Citations & References
[1] Amtrol Extrol™ pressure control tanks used on hydronic heating and other systems such as models 35LBC, 50 LBC, 85 LBC, and 100LBC to 600 LBC also use a bottom bladder containing air - see amtrol.com/pdf/LBCSeriesEXTROL9017-095.pdf for details.
[2] WellMate™ Pentair Water, Installation Instructions, Pentair Water Treatment Chardon, 220 Park Dr., Chardon OH 44024, Tel: 440-286-4116 retrievied 4/5/2013, copy on file as WellMate_residential-captiveair-tank-install-manual.pdf
[2] WellMate™ Pentair Water "Air Cell Replacement Instruction Sheet", op.cit., retrieved 4/6/2013 copy on file as Well_Mate_Tank_Bladder_Replacement.pdf
Mark Cramer Inspection Services Mark Cramer, Tampa Florida, Mr. Cramer is a past president of ASHI, the American Society of Home Inspectors and is a Florida home inspector and home inspection educator. Mr. Cramer serves on the ASHI Home Inspection Standards. Contact Mark Cramer at: 727-595-4211 mark@BestTampaInspector.com
John Cranor is an ASHI member and a home inspector (The House Whisperer) is located in Glen Allen, VA 23060. He is also a contributor to InspectApedia.com in several technical areas such as plumbing and appliances (dryer vents). Contact Mr. Cranor at 804-747-7747 or by Email: johncranor@verizon.net
Cycle Stop Valves, Inc. is a manufacturer of water pressure regulating devices that the company explains can extend the life of a water pump. The company, located in Lubbock, TX, can be contacted at info@cyclestopvalves.com or at 800-652-0207.
"Cycle Stop Valves, Inc. manufactures constant pressure pump control valves and the Cycle Sensor pump monitors. Our shop is located in Lubbock, TX. We started this venture in the back of our pump and drilling business in 1993. As with many new products, necessity is the mother of invention. Our frustration with variable speed drives is what led us to a simpler, more dependable, less expensive solution using valves. We installed our last VFD in 1992."
Thanks to Bill Kortebein for discussing dealing with a water-logged collapsed bladder water pressure tank 07/24/2010
Wessels Company bladder replacement store was found at westank.com/bladder-tank-store.php on 5/22/2009. Wes sell refers to "shock and surge tanks" as ASME replaceable bladder type and pre-charged hydropneumatic tanks used for commercial, industrial, and well water systems.
Water Supply & Drain Piping, Wells, Pumps, Water Supply Equipment
Access Water Energy, PO Box 2061, Moorabbin, VIC 3189, Australia, Tel: 1300 797 758, email: sales@accesswater.com.au Moorabbin Office: Kingston Trade Centre, 100 Cochranes Rd, Moorabbin, VIC 3189
Australian supplier of: Greywater systems, Solar power to grid packages, Edwards solar systems, Vulcan compact solar systems, water & solar system pumps & controls, and a wide rage of above ground & under ground water storage tanks: concrete, steel, plastic, modular, and bladder storage tanks.
Smart Tank, Installation Instructions [ copy on file as /water/Smart_Tank_Flexcon.pdf ] - , Flexcon Industries, 300 Pond St., Randolph MA 02368, www.flexconind.com, Tel: 800-527-0030 - web search 07/24/2010, original source: http://www.flexconind.com/pdf/st_install.pdf
Typical Shallow Well One Line Jet Pump Installation [ copy on file as /water/Jet_Pump_Grove_Elect_Jet_Pumps.pdf ] - , Grove Electric, G&G Electric & Plumbing, 1900 NE 78th St., Suite 101, Vancouver WA 98665 www.grovelectric.com - web search -7/15/2010 original source: http://www.groverelectric.com/howto/38_Typical%20Jet%20Pump%20Installation.pdf
Typical Deep Well Two Line Jet Pump Installation [ copy on file as /water/Jet_Pump_Grove_Elect.pdf ] - , Grove Electric, G&G Electric & Plumbing, 1900 NE 78th St., Suite 101, Vancouver WA 98665 www.grovelectric.com - web search -7/15/2010 original source: http://www.groverelectric.com/howto/38_Typical%20Jet%20Pump%20Installation.pdf
Water Fact Sheet #3, Using Low-Yielding Wells [ copy on file as /water/Low_Yield_Wells_Penn_State.pdf ] - , Penn State College of Agricultural Sciences, Cooperative Extension, School of Forest Resources, web search 07/24/2010, original source: http://pubs.cas.psu.edu/FreePubs/pdfs/XH0002.pdf
Crystal Clear Supply provides portable ceramic water filter purifiers and portable reverse osmosis water treatment equipment - see http://www.crystalclearsupply.com/category_s/7.htm
Handbook of Disinfectants and Antiseptics, Joseph M. Ascenzi (Editor), CRC, 1995, ISBN-10: 0824795245 ISBN-13: 978-0824795245 "The evaluation of chemical germicides predates the golden age of microbiology..." -
This well-focused, up-to-date reference details the current medical uses of antiseptics and disinfectants -- particularly in the control of hospital-acquired infections -- presenting methods for evaluating products to obtain regulatory approval and examining chemical, physical, and microbiological properties as well as the toxicology of the most widely used commercial chemicals.
Potable Aqua® emergency drinking water germicidal tablets are produced by the Wisconsin Pharmacal Co., Jackson WI 53037. 800-558-6614 pharmacalway.com
Principles and Practice of Disinfection, Preservation and Sterilization (Hardcover)
by A. D. Russell (Editor), W. B. Hugo (Editor), G. A. J. Ayliffe (Editor), Blackwell Science, 2004. ISBN-10: 1405101997, ISBN-13: 978-1405101998.
"This superb book is the best of its kind available and one that will undoubtedly be useful, if not essential, to workers in a variety of industries. Thirty-one distinguished specialists deal comprehensively with the subject matter indicated by the title ... The book is produced with care, is very readable with useful selected references at the end of each chapter and an excellent index. It is an essential source book for everyone interested in this field. For pharmacy undergraduates, it will complement the excellent text on pharmaceutical microbiology by two of the present editors."
The Pharmaceutical Journal: "This is an excellent book. It deals comprehensively and authoritatively with its subject with contributions from 31 distinguished specialists. There is a great deal to interest all those involved in hospital infection ... This book is exceptionally well laid out. There are well chosen references for each chapter and an excellent index. It is highly recommended." The Journal of Hospital Infection.: "The editors and authors must be congratulated for this excellent treatise on nonantibiotic antimicrobial measures in hospitals and industry ... The publication is highly recommended to hospital and research personnel, especially to clinical microbiologists, infection-control and environmental-safety specialists, pharmacists, and dieticians."
New England Journal of Medicine: City Hospital, Birmingham, UK. Covers the many methods of the elimination or prevention of microbial growth. Provides an historical overview, descriptions of the types of antimicrobial agents, factors affecting efficacy, evaluation methods, and types of resistance. Features sterilization methods, and more. Previous edition: c1999. DNLM: Sterilization--methods.
U.S. Army Field Manual 21-10, Field Hygiene and Sanitation, 1988, web search 07/02/2010, original source: http://www.enlisted.info/field-manuals/fm-21-10-field-hygiene-and-sanitation.shtml
The purpose of this manual is to assist individual soldiers, unit commanders, leaders and field sanitation teams in preventing disease and environmental injuries. The manual provides information on preventive medicine measures (PMM) to the individual soldier as well as essential information for the unit commander, unit leaders, and the unit field sanitation team on applying unit level PMM.
When Technology Fails, Matthew Stein, Chelsea Green Publisher, 2008,493 pages. ISBN-10: 1933392452 ISBN-13: 978-1933392455, "... how to find and sterilize water in the face of utility failure, as well as practical information for dealing with water-quality issues even when the public tap water is still flowing". Mr. Stein's website is www.whentechfails.com/
...
Books & Articles on Building & Environmental Inspection, Testing, Diagnosis, & Repair
Our recommended books about building & mechanical systems design, inspection, problem diagnosis, and repair, and about indoor environment and IAQ testing, diagnosis, and cleanup are at the InspectAPedia Bookstore. Also see our Book Reviews - InspectAPedia.
...