UV Light Systems for Water Treatment of Contaminated Drinking Water
InspectAPedia tolerates no conflicts of interest. We have no relationship with advertisers, products, or services discussed at this website.
UV Water Purification Systems guide:
Here we explain procedures & reasons for using permanently-installed UV light (ultra violet light) treatment systems to address bacterial contamination in drinking water or well water - one of the options for correcting unsanitary or unsatisfactory drinking water.
We discuss the following: How does an ultra violet light fixture correct bacterial contamination in well water? How do UV lights work? Details of proper UV light installation and maintenance for well water treatment. Water treatment methods for contamination, bacteria, lead, minerals, etc. Water treatment choices for odors, smells, sediment, cloudiness. Choices of types of water treatment equipment.
This series of articles explains many common water contamination tests for bacteria and other contaminants in water samples.
In these articles we describe what to do about contaminated water, listing common corrective measures when water test results are unsatisfactory. We include water testing and water correction measures warnings for home owners and especially for home buyers when certain conditions are encountered, with advice about what to do when these circumstances are encountered.
We also provide a MASTER INDEX to this topic, or you can try the page top or bottom SEARCH BOX as a quick way to find information you need.
UV - Ultraviolet light as a Water Purifier - Installation, Inspection & Maintenance Guidelines for UV Water Treatment Systems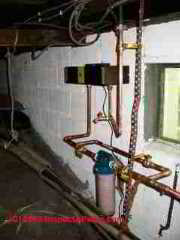 UV water treatment systems used to disinfect drinking water combine the following components:
Water disinfection chamber (a quartz tube or quartz sleeve that contains an ultraviolet light and keeps the bulb physically separated from the water),
Quartz UV light bulb that kills bacteria in water as water passes past the light source
Electrical and plumbing connections that provide electrical power to the bulb, allow water to pass through the unit, and include shutoff and drain valves for the equipment. The shutoff valves make unit cleaning and maintenance easier.
Optional controls to sound an alarm or stop water flow if the UV system stops working
For the UV treatment system illustrated in most of the photographs in this article, at a U.S. property in New York we installed a Siemens Ultraviolet Water Disinfection System (formerly produced under the name Sunlight systems) shown in the photograph at above/left.
The UV disinfection system is installed either in a kitchen or point of use, or when protecting a whole building it is installed where water leaves the well pump and pressure tank and enters the building, so that water flowing through the disinfection system is exposed to a UV lamp to carry out the water disinfection process.
The "UV" light can indeed kill bacteria in water, provided that the flow rate of water through the device is not too fast (needs exposure time) and provided that the water is not too obstructed with sediment and provided that the light source is cleaned - the bulb needs to be changed periodically.
Steps in a Proper UV Disinfection System Installation
Our photograph (below) of UV disinfection system equipment and the water softener and filters required for effective UV treatment are from a water treatment system installed by Norberg Godinez in 2017 at a property in San Miguel de Allende, Guanajuato, Mexico.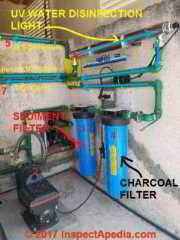 For an effective water treatment system in an area where water is hard (high in minerals), to protect piping and water heating equipment as well as the UV disinfection system, city water is passed through the following sequence:
[Click to enlarge any image]
1. Water from the rooftop water storage tank passes through
2. A Grundfos® SCALA2 water pressure booster pump to lift water up and through water treatment equipment as well as to provide improved building water pressure, through
3.A sediment filter (to prevent debris-blocking of the water softener and later of the UV disinfection light)
4.A charcoal filter (to remove colors, odors in water and for added filtration) then through
5. A water softener (not shown) to remove minerals, principally calcium and magnesium, then
6. Through the Aqua Plus™ UV disinfection light (size chosen for a whole-house treastment system) and finally
7. To the building plumbing fixtures including both cold water and hot water provided through a tankless water heater that is also protected from scale blockage by this system.
Requirements for Effective UV Water Disinfection

How do we know the UV light is properly installed and effective in treating drinking water?
If you are relying on a UV light to treat bacterial contamination in drinking water these considerations apply:
Proper UV light selection for water treatment: The UV light must have been properly selected to handle the volume and flow rate of the water supply where it is installed. If ultra violet light is not of sufficient capacity to treat water flowing past its bulb it will not be effective.

This AquaPlus UV light intensity [sic] is listed as 254 nm (I'd call that wavelength). According to the manufacturer, to function effectively this UV light should receive water within the parameters listed below. This explains why water filtration, treatment for hardness, and protection of the water source (storage tank) from excessive heat from direct sun exposure:



Turbiedad - Turbidity < 5 UTN
Color 0.0 UPC
Dureza total - Total Hardness <100 mg/L
Hierro - Iron < 0.3 mg/L
Maganeso - Magnesium < 0.15 mg/L
Sulfatos - Sulfates <400 mg/L
Temperatura del agua - Water temperature 5-25°C or 41°F-77°F

The water flow rate must be within the UV light specifications - the manufacturer of the UV light for water treatment will specify the maximum permitted water flow rate through the light fixture. If water flow rate exceeds that number (7 gpm, for example), the light might not be fully effective in killing all bacteria in the water. (This risk is higher if the starting bacteria count was high.)

The AquaPlus UV light shown above, produced by Industrias Mass S.A. de C.V. in Mexico (www.indmass.com.mx / indmass@indmass.com.mx) is a stainless-steel system sold in models 4 to 24 and capable of water flow rates from 15 Lpm (4 gpm) to 91 Lpm (24 gpm).



Watch out

: Shown above is a label providing the serial number for the UV water disinfection light in the UV light installation photograph with all of those arrows and notes. For our installation, the contractor selected an AquaPlus model 12SS which can handle a flow rate of 45 lpm (11 gpm). If the water flow rate through the building piping system exceeds this rate then the UV treatment will be ineffective.

Typically at 20-40 psi a residential plumbing system will deliver 2-6 gpm at an unrestricted bath shower and about 3 gpm where a flow restrictor is installed. We find 2-4 gpm at a typical kitchen sink faucet. WATER FLOW RATE CALCULATE or MEASURE

A UV light kit will often include a flow control device (or one is purchased at a local plumbing supplier) that is installed at the inlet side of the fixture - a small disc that is inserted into the plumbing connection on the light fixture.
The UV light water treatment system must be properly installed - at the right location in the water system. Normally the UV light is installed after the necessary filters and water softener (if the water hardness exceeds the permitted level).

Below you can see the electrical power connections for the UV light. We took a bit of extra care to tie the low-voltage power supply for the light to a nearby water pipe (yellow arrow).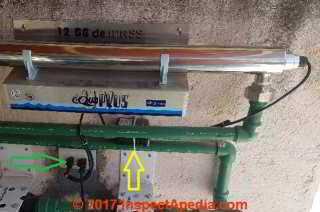 Turn on electrical power to the UV light disinfection system
Thoroughly flush out bleach from the system before using the water supply. Run water at least until there is no bleach odor at any faucet.
SAFETY WARNING: Failure to flush out all disinfecting bleach from building water piping is dangerous - drinking bleach is poisonous and can be fatal; leaving even a small amount of bleach in the building piping can result in accidental bleaching of the next laundry load, and it could accidentally subvert a follow-up bacteria test.
See CHEATING ON WATER TESTS.
Maintenance Instructions for UV Light Water Disinfection Systems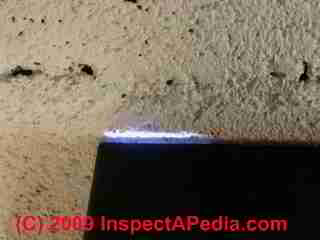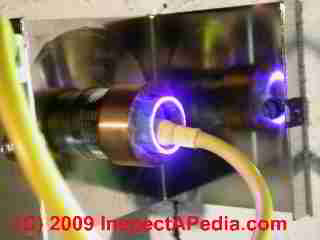 How to tell if the UV light is on: even with the cover installed, on some UV disinfection systems you may see a small amount of purple or violet light shining on a nearby wall or leaking out of the cover (photo above-left). Removing the cover on a UV unit will show the light more easily.

UV Bulb light: As we show in our photo at above-left with the UV disinfection system cover in place, look for visible UV light from the UV bulb itself. It may be necessary to loosen or remove the cover to see light from the bulb (photo above-right) but be sure to see our safety warning just below - do not look directly at the bulb and do not pull the UV bulb out of its quartz tube when power is on to the unit.
UV Shutoff valve: If an automatic UV disinfection system shutoff solenoid valve is installed, review our description of that device at Automatic shutoff valve above.
UV Indicator light: Some UV disinfection systems include a status indicator lamp or bulb: a green LED indicates that the UV lamp is on and the UV disinfection system is operating.
UV Audible alarm: Some UV disinfection systems include an audible alarm that sounds if the unit stops working (and provided that there has not been a power failure)
UV Monitoring: UV disinfection systems that include an indicator light or alarm also include circuitry that monitors the effectiveness of the bulb disinfection system. The monitor is watching the bulb output, not water purity.
Above: we illustrate removing the black plastic cap to give access to the AquaPlus UV light bulb chamber. This inspection port permits confirmation that the UV bulb is "lit" or working, though it may not indicate whether or not the bulb or chamber needs to be cleaned of sediment.
With the extensive protection of filters and water softening equipment described above we don't inspect this UV light, in San Miguel de Allende, to require frequent cleaning. The inspection for lit UV bulb can be most-safely done using a cellphone camera that gives a good view without direct exposure of the inspector's eye to a strong UV light.
Watch out: Avoid exposure to the UV light when the system is on. UV light may be difficult or impossible to see when the UV disinfection system is operating - by design.

Exposure to UV light is harmful to skin and eyes. If a cover has been removed from a UV disinfection system that is operating, do not look directly into the light. Unplug the unit before installing or removing the UV lamp.
How to tell if the UV disinfection system is working effectively: periodic water testing for bacteria is recommended when relying on a UV light to handle bacteria in the water supply.

OPINION: It is uncertain how one knows that a UV light water sterilizer system is working without periodic testing and when necessary, UV bulb replacement. Furthermore, UV light treatment systems do not remove other contaminants (if any are present in the water supply, such as chemical contaminants, odors, or other problems that may be present.
Periodic changeout of the whole house water filter cartridge will be necessary, depending on the level of sediment and debris in the water supply. If your filter becomes visibly dirty, if the building water pressure drops, or if the water pump begins rapid short-cycling on and off, a clogged water filter could be the cause.

See WATER FILTERS, HOME USE for details.
Periodic changeout of the UV light bulb: the manufacturer recommends that the bulb be changed annually and that the quartz sleeve is cleaned regularly. Some UV light disinfection systems include a quartz tube cleaning system that permits the owner to clean the quartz sleeve without having to disassemble the disinfection chamber.

Otherwise, if the quartz sleeve becomes soiled with sediment you will need to turn off power to the unit, remove the cover, carefully remove and set aside the UV quartz bulb, shut off water to the disinfection unit, drain the unit, and remove the quartz sleeve for cleaning.

Watch out: Be careful not to drop the quartz sleeve - it breaks easily. If you do break the UV light disinfection system quartz sleeve, don't panic: order a new sleeve from the manufacturer. The disinfection system model and serial number are on the unit, or on its cover.

UV Disinfectant Light Bulb Life Expectancy: Industrias MASS who produces the AquaPlus UV disinfection light described in this article says that the anticipated life of the bulb is 8000 hours of continuous use. That's 333 days of bulb life.

The company recommends that the bulb be replaced every 9 months in order to assure the effectiveness of the ultraviolet radiation.
What Contaminants are Removed by a UV Light Water Treatment System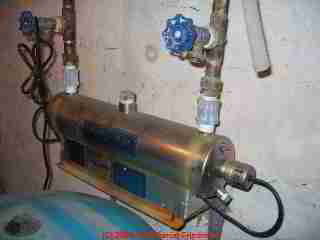 Nothing is removed from the drinking water, but if the system is working properly, the UV light will kill bacteria in the water supply. The dead bacteria, along with other water contaminants (if there are other contaminants in the drinking water) are not removed by the light.
OPINION: Property sellers often install this quick and least-expensive "solution" in the course of a real estate transaction in order to meet the minimum requirements of a buyer's lender to provide "potable water."
Since the lending bank usually requires only a bacteria test as a measure of water potability, the new owner/residents may not know whether or not there are chemical or other contaminants in the water supply. When a UV light has been installed on a water supply, our recommendations for further diagnostic testing are outlined just below.
Look For the Source of Bacterial Contamination in a Well
Since one of the most common ways that bacteria enters a well is through a defect at the pitless adapter (joining the water pipe to the well casing) or at a buried well cap that is leaky or open. In such cases the presence of bacteria in water is really an indicator of ground water leakage into the well.
Surprisingly we have found significant non-coliform bacteria levels in well water traced to
Spiders living in the top of a well casing: the spiders eat insects, dropping flies or other insects into the well casing, a possible source of un-wanted bacteria.
Dead animals in the well? On occasion a mouse or other small rodent falls into a well casing, causing temporary contamination.
Well contamination sources such as these are easily corrected by sterilizing the well and its casing interior.
See WELL CHLORINATION & SHOCKING.
Should You Test for Other Contaminants in Well Water?
If ground water or surface runoff have been leaking into a well, this means that anything that is on the ground or in the soil around the well is likely to be entering the water supply. So treating for bacteria may be failing to address other contaminants. Further testing for other contaminants would be appropriate if a well fails a bacteria test.
In particular, if the well is located at a property where chemicals are likely to have been applied nearby, such as near an orchard, farm property, animal barns or pens, or where pesticides have been in use, or close to a gas station, or where other contaminants are known to have been in local ground water, tests for those specific contaminants are a good idea.
If a property is in a residential neighborhood that has not included farms, orchards, barns, gas stations, or nearby industrial processes, the chance of finding these other contaminants in a well is certainly much less.
See WATER TESTING ADVICE for an outline of when to test for what contaminants in well water.
See WATER TESTS for CONTAMINANTS for a list of articles on water contaminants and water tests.
Advice for Testing Water Systems after UV Light Installation
Often conditions cause for follow-up water testing after a UV water treatment light has been installed. For example a property owner may discover bacterial contamination in the water supply when a home is being sold. If the initial water test shows that the starting bacteria count is low - just a few CFU's/L, and if there is no reason to have concerns for other water contaminants, testing for bacteria again after the UV light has been installed is proper procedure, and should produce acceptable results.
Here are some post-UV-light installation water testing considerations:
If the water flow rate through the UV treatment device is higher than the device manufacturer specifies, then that condition can also interfere with and reduce the effectiveness of the UV light in killing bacteria in the incoming water.
If the installer did not install a whole house filter upstream (before) the UV light, if there is debris and sediment in the water, that material can obscure the UV bulb and interfere with its effectiveness.
What if the UV Light is Installed Without a Water Filter?
A reader recently asked for advice for a case in which the UV installer forgot to install the water filter. The water filter was to be re-installed the next day, but the homeowner had already observed a lot of debris coming out of faucets in the building after the new UV light was installed.
That high level of debris may have been due to disturbances of piping and water tank during the plumbing work, or the incoming water supply might simply be high in debris and sediment.
Actually, flushing out the plumbing system before re-installing the cartridge in the water filter is not a bad idea because often during plumbing work lots of extra debris is stirred up or even introduced into the system. But the filter needs to be in place to protect the UV light from becoming obstructed.
We advised the following for this case:
If the person taking the sample fully flushes the system and piping before collecting the water test sample it is likely to "pass" with acceptable results (in most U.S. communities that's a count of less than 1 CFU/L or in a "presence/absence" test, with a result of "absent").
When we recently installed a UV light water treatment system, preceded by a whole house filter (which is important for UV effectiveness as it keeps debris off of the bulb), we also sterilized all of the house piping using the well shock procedure at WELL CHLORINATION & SHOCKING.
The reasoning is that having been running a building plumbing system with bacteria in the water supply, there might be pockets of bacteria in debris trapped in the system.
In the particular case under discussion, the water test for a home buyer was planned for the day after the water filter was to be installed. Thus the home owner would not have time to go through the well shocking procedure in time for the water test.
Therefore the homeowner needs to either
delay the test for at least a week or better two (thus making the later test most reliable and avoiding any charges of tampering after the well shock), perform the well shock procedure, and flush out and wait period (4 days minimum, longer is more reliable), then perform the water test.
OR
perform the water test on schedule with a thorough flush-out of the building water supply piping at the test point first. As the starting bacteria level was in this case reported to be low, in this case it's likely the test will produce acceptable results.
If it does not, then go through the well shock procedure as described and things will either be just fine, or the UV system is not properly installed or not properly working.
Limitations of UV Disinfection Systems for Drinking Water
Watch out: Factors that affect the effectiveness and operating time of any UV light used to treat water in an effort to make it potable, or at least improve its potability include at least the following:
What contaminants are present in the water. UV treatment does not address chemical contaminants, nor do some water filters.
The water temperature. (The SteriPen includes a temperature sensor)
The water clarity - the level of particles in the water and particle size have important effects on the UV disinfection process.

Qualls (1983), in a study discussing the advantages of UV light as an alternative to chlorination, point out that filtration is often necessary to reduce the level of suspended particles in water for UV treatment to be effective. Abstract excerpts:

It is well known that aggregation of bacteria and viruses provides some degree of protection from halogen and ozone disinfection. Adsorption of microbes to inorganic surfaces such as clay provides little protection. However, organic particles can protect organisms from disinfectants and can become a major limiting factor in disinfection. Particulate materials also effect [sic] UV disinfection.

Clays do little to inhibit UV disinfection because they tend to scatter UV light rather than absorb it. Oilver and Cosgrove attributed the difference between microbial survival in irradiated raw wastewater and secondary effluent to differences in particle sizes.

They believed that bacteria inside aggregates of particulate matter were at least partially protected from UV light. They found that a sample dispersed by ultrasonication was more sensitive to UV disinfection.
Giardia cysts: Not all water disinfection experts agree that UV light will reliably and effectively kill cysts. In particular, Giardia cysts may not be adequately killed by UV light disinfection systems, as we discuss in more detail at UV vs GIARDIA LIMITATIONS
Using UV light in a wide range of applications including the control of bacteria, mold, and algae or moss growth is also discussed at UV LIGHT BLACK LIGHT USES
...
Continue reading at WATER TREATMENT EQUIPMENT DISINFECTION or select a topic from closely-related articles below, or see our complete INDEX to RELATED ARTICLES below.
Or see UV WATER DISINFECTION, PORTABLE for emergency or camping use
Or see DISINFECTION SYSTEMS, SEPTIC EFFLUENT where UV is also used
Or see WATER TREATMENT EQUIPMENT CHOICES - home
Suggested citation for this web page
UV ULTRAVIOLET LIGHT WATER TREATMENT at InspectApedia.com - online encyclopedia of building & environmental inspection, testing, diagnosis, repair, & problem prevention advice.
Or use the SEARCH BOX found below to Ask a Question or Search InspectApedia
...
Ask a Question or Search InspectApedia
Questions & answers or comments about choosing, installing, & maintaining or repairing UV light water treatment systems or "water purifiers"
Try the search box just below, or if you prefer, post a question or comment in the Comments box below and we will respond promptly.
Search the InspectApedia website
Technical Reviewers & References
Click to Show or Hide Citations & References
Aqua Pure is a 3M Company. CUNO Incorporated, 400 Research Pkwy, Meridien CT 06540 800-222-7880 or www.aquapure.com / www.cuno.com
Siemens Ultraviolet Water Disinfection System, Sunburst - SBH series, 80 Commerce Drive, Allendale NJ 07401, 201-760-0364 or Siemens Headquarters, Water Technologies Group, 1901 West Garden Road, Vineland, NJ 08360
Thanks to an anonymous reader for discussing water testing procedures following a UV light installation - 11 Sept 2009
Hoff, John C., and Elmer W. Akin. "Microbial resistance to disinfectants: mechanisms and significance." Environmental Health Perspectives 69 (1986): 7.
Qualls, Robert G., Michael P. Flynn, and J. Donald Johnson. "The role of suspended particles in ultraviolet disinfection." Journal (Water Pollution Control Federation) (1983): 1280-1285.
Water Supply & Drain Piping, Wells, Pumps, Water Supply Equipment
Access Water Energy, PO Box 2061, Moorabbin, VIC 3189, Australia, Tel: 1300 797 758, email: sales@accesswater.com.au Moorabbin Office: Kingston Trade Centre, 100 Cochranes Rd, Moorabbin, VIC 3189
Australian supplier of: Greywater systems, Solar power to grid packages, Edwards solar systems, Vulcan compact solar systems, water & solar system pumps & controls, and a wide rage of above ground & under ground water storage tanks: concrete, steel, plastic, modular, and bladder storage tanks.
Smart Tank, Installation Instructions [ copy on file as /water/Smart_Tank_Flexcon.pdf ] - , Flexcon Industries, 300 Pond St., Randolph MA 02368, www.flexconind.com, Tel: 800-527-0030 - web search 07/24/2010, original source: http://www.flexconind.com/pdf/st_install.pdf
Typical Shallow Well One Line Jet Pump Installation [ copy on file as /water/Jet_Pump_Grove_Elect_Jet_Pumps.pdf ] - , Grove Electric, G&G Electric & Plumbing, 1900 NE 78th St., Suite 101, Vancouver WA 98665 www.grovelectric.com - web search -7/15/2010 original source: http://www.groverelectric.com/howto/38_Typical%20Jet%20Pump%20Installation.pdf
Typical Deep Well Two Line Jet Pump Installation [ copy on file as /water/Jet_Pump_Grove_Elect.pdf ] - , Grove Electric, G&G Electric & Plumbing, 1900 NE 78th St., Suite 101, Vancouver WA 98665 www.grovelectric.com - web search -7/15/2010 original source: http://www.groverelectric.com/howto/38_Typical%20Jet%20Pump%20Installation.pdf
Water Fact Sheet #3, Using Low-Yielding Wells [ copy on file as /water/Low_Yield_Wells_Penn_State.pdf ] - , Penn State College of Agricultural Sciences, Cooperative Extension, School of Forest Resources, web search 07/24/2010, original source: http://pubs.cas.psu.edu/FreePubs/pdfs/XH0002.pdf
Crystal Clear Supply provides portable ceramic water filter purifiers and portable reverse osmosis water treatment equipment - see http://www.crystalclearsupply.com/category_s/7.htm
Handbook of Disinfectants and Antiseptics, Joseph M. Ascenzi (Editor), CRC, 1995, ISBN-10: 0824795245 ISBN-13: 978-0824795245 "The evaluation of chemical germicides predates the golden age of microbiology..." -
This well-focused, up-to-date reference details the current medical uses of antiseptics and disinfectants -- particularly in the control of hospital-acquired infections -- presenting methods for evaluating products to obtain regulatory approval and examining chemical, physical, and microbiological properties as well as the toxicology of the most widely used commercial chemicals.
Potable Aqua® emergency drinking water germicidal tablets are produced by the Wisconsin Pharmacal Co., Jackson WI 53037. 800-558-6614 pharmacalway.com
Principles and Practice of Disinfection, Preservation and Sterilization (Hardcover)
by A. D. Russell (Editor), W. B. Hugo (Editor), G. A. J. Ayliffe (Editor), Blackwell Science, 2004. ISBN-10: 1405101997, ISBN-13: 978-1405101998.
U.S. Army Field Manual 21-10, Field Hygiene and Sanitation, 1988, web search 07/02/2010, original source: http://www.enlisted.info/field-manuals/fm-21-10-field-hygiene-and-sanitation.shtml
The purpose of this manual is to assist individual soldiers, unit commanders, leaders and field sanitation teams in preventing disease and environmental injuries. The manual provides information on preventive medicine measures (PMM) to the individual soldier as well as essential information for the unit commander, unit leaders, and the unit field sanitation team on applying unit level PMM.
When Technology Fails, Matthew Stein, Chelsea Green Publisher, 2008,493 pages. ISBN-10: 1933392452 ISBN-13: 978-1933392455, "... how to find and sterilize water in the face of utility failure, as well as practical information for dealing with water-quality issues even when the public tap water is still flowing". Mr. Stein's website is www.whentechfails.com/
...
Books & Articles on Building & Environmental Inspection, Testing, Diagnosis, & Repair
Our recommended books about building & mechanical systems design, inspection, problem diagnosis, and repair, and about indoor environment and IAQ testing, diagnosis, and cleanup are at the InspectAPedia Bookstore. Also see our Book Reviews - InspectAPedia.
...