Drinking Water San Miguel de Allende
Water contaminants, sources, treatments & Water Quantity Limitations
InspectAPedia tolerates no conflicts of interest. We have no relationship with advertisers, products, or services discussed at this website.
This article provides information & research describing the quantity and quality of drinking water in and around San Miguel de Allende in Guanajuato, Mexico.
Notice: this document is in DRAFT form for REVIEW purposes and will require corrections and additions as it is reviewed by water quality experts. Please use the page top or bottom CONTACT link to offer suggestions, research, or additional content.
This article series explains limitations on both water quantity and water quality available and describes conditions impacting the future quantity and quality of water available in the area of San Miguel de Allende, a city in central Mexico in the state of Guanajuato. The combination of climate change, population increase, and increased water usage for agricultural or industrial uses imposes limitations that face state and local governments as well as private citizens.
This article series also explains the limitations of relying only on disinfection (chlorine or other disinfectants) to make drinking water safe and potable if / when inorganic contaminants such as arsenic, fluorides, or lead are present in water supplies of any community.
Our page top photo shows potable water being delivered by a pipa (water delivery truck) to a storage cistern in San Miguel de Allende, Guanajuato, Mexico. Many residents in Guanajuato rely on purchase of bottled water from Ciel or other purified water suppliers in the area.
Green links show where you are. © Copyright 2017 InspectApedia.com, All Rights Reserved.
Drinking Water Quality in San Miguel de Allende, Mexico, Research, Monitoring, Test Results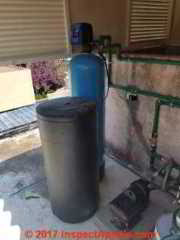 Our photographs above and below show the installation of rooftop water treatment equipment on a home in San Miguel de Allende in Guanajuato, Mexico.
In a proper design the sequence of water treatment equipment is important. In the water treatment system shown here, water passes from the municipal supply piping up to a rooftop water storage tank and from the tank through a pressure booster pump, through a water softener, then through water filtration equipment, and then through a UV light disinfection system.
[Click to enlarge any image] The preparation of this Fleck water softener for use by filling the blue poly glass resin tank is described at SOFTENER RESIN REPLACEMENT.
As we mention below, one or more point of use reverse osmosis treatment systems may be used to remove inorganic contaminants not handled by the rooftop water treatment equipment.
The first photo shows a high capacity water softener (blue resin tank) along with its black brine tank (salt tank).
Water softeners are used to remove high levels of minerals, principally calcium and magnesium from the water supply, thus avoiding excessive scale formation (sarro) that blocks piping and clogs tankless water heaters as well as leaving hard-to-clean white deposits on plumbing fixtures. We illustrate the installation of this water softener at SOFTENER RESIN REPLACEMENT.
WATER SOFTENERS & CONDITIONERS - provides a complete guide to water softening equipment installation, use, maintenance.
Our second photo, given below, illustrates a typical pair of whole house water filters (those vertical blue cylinders).
Water passes first through a sediment filter and second through an activated charcoal filter.
More about these sediment and activated charcoal filters is at WATER FILTERS, HOME USE.
Above the two water filters in our second photograph you'll spot a horizontal stainless steel tube that contains a water disinfection system, a UV light.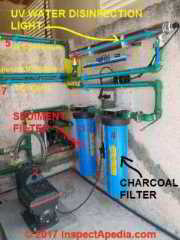 For a UV lamp to work it is essential that it is protected from clogging by sediment or mineral scale.
For this reason, the UV light is (almost) the last step in this series of water treatment equipment for the building.
At UV ULTRAVIOLET LIGHT WATER TREATMENT we explain that UV light disinfection systems can kill bacteria but not in all forms: certain cysts are very resistant to UV disinfection.
Out of the UV lamp water passes into the building for use at various plumbing fixtures.
Do not try following the green water supply piping in these photos as it will give you a headache. On the pipes for an installation like this one we mark directional arrows to help future users understand how the system is working.
In both photographs you'll notice a black Grundfoss SCALA2 pressure booster pump necessary to send water from the rooftop water storage tank through this water treatment equipment and onwards into the building they serve.
More about methods for boosting water pressure and the Grundfoss SCALA2 variable speed pump are at WATER PRESSURE BOOSTER PUMP.
When all of this water treatment was installed and working in the building one of the installing plumbers commented
"Well now you can drink this water with no worries."
Really? Not necessarily.
Depending on where a building is located in the city, and depending on which of San Miguel de Allende's twenty water wells is supplying it, how the municipal water supply may be mixed from these source wells at different times of the year, how heavy might be the current water usage in the city, and seasonal as well as long term lowering of the water table, even a municipal water supply is at risk of encountering non-biological contaminants such as arsenic, mercury, or fluorides that would require additional steps to remove them from the water supply.
In addition to the equipment outlined above, one or more point of use (POU) reverse osmosis systems (RO) may be installed, such as at a kitchen sink, to remove inorganic contaminants that might sometimes be present in a water supply such as arsenic or fluorides. The RO system is not shown here.
Details about reverse osmosis water treatment equipment are at REVERSE OSMOSIS WATER TREATMENT.
Below we provide research and information sources that address water quality and potability questions for the greater area of San Miguel de Allende.
Watch out: most point of use water filters such as carbon filters and other "magic bullet" "water purifier filters" sold for use at a water tap or sold as pitchers that include a water filter are ineffective, unreliable, and may be downright dangerous for users as water contaminants vary over time even in a municipal water supply. Yet we see such products widely used both in private homes and in some restaurants and other public facilities.
Even ceramic water filters, generally a broadly-effective water filter and one of our favorites, are limited in their ability to remove inorganic water contaminants.
Special thanks to Dylan Terrell, Executive Director of Caminos de Agua, for providing some of the technical resources given here.
Research & Water Quality Information Sources, San Miguel de Allende & Other Areas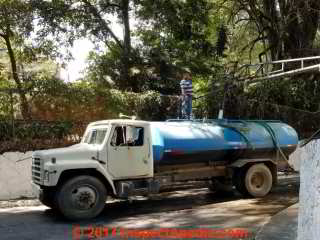 Water quality in Mexico is monitored by CONAGUA and is further monitored by the Secretary of Health. In addition local water quality monitoring is performed by the local water department providing water to the muncipality, such as SAPASMA. The reports of that monitoring are not easily obtained by the public, and many water supplies, both public and private, have to cope with contaminant levels that vary by season, usage, and geography.
Water quantity and quality vary widely across Mexico, geographically, seasonally, and as a feature of increasing water usage, as it does in most other countries.
The Manantial Yerba Buena, in Uruapan, Mexico, provides voluminous potable water that here is shown being loaded into a pipa.
Caminos de Agua, WATER QUALITY MONITORING [Web page], searchable map showing wells (pozos) in the greater area of San Miguel de Allende, Guanajuato,Mexico, retrieved 2017/04/21, original source: http://caminosdeagua.org/water-quality-monitoring/
Excerpt:

The searchable maps ... highlight the fluoride and arsenic levels throughout the region. Both Mexican and World Health Organization (WHO) maximum allowable concentrations (MAC) for fluoride are 1.5 mg/L. The Mexican MAC for arsenic is 25 µg/L (or 0.025 mg/L), and the WHO limit for arsenic is 10 µg/L.
CAMINOS de AGUA, [Website], Caminos de Agua, Dylan Terrell, Executive Director, Allende #5 Colonia Insurgents, San Miguel de Allende, Gto, México, & USA Chicago Office, 11 S. Green St. Unit 1508, Chicago, IL 60607-1033, USA, Email: info@caminosdeagua.org T: +52-415-154-8091,

This association provides & assists in projects providing sustainable drinking water supplies including rainwater harvesting systems, ceramic water filters, biochar water treatment and other water supply, treatment and potability projects.
MAPS of Water Risk in the Independence Watershed around San Miguel de Allende, Guanajuato, Mexico, prepared and hostd at the Caminos de Agua website - see http://caminosdeagua.org/water-quality-monitoring[Web page]

Clicking on any dot on this map will yield recent water test results. For example clicking on San Jose de Gracia in the San Miguel de Allende area will show testing on 2 Feb 2016 by Caminos de Agua, as we illustrate with the page snapshot shown here.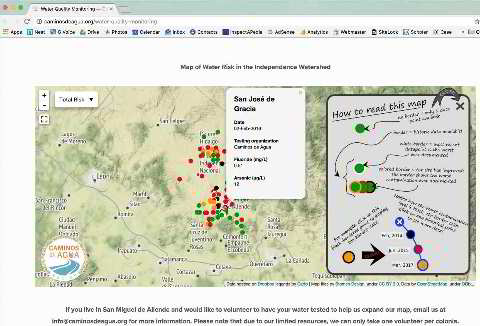 [Click to enlarge any image]
Chacon-Torres, A., L. G. Ross, M. C. M. Beveridge, and A. I. Watson. "The application of SPOT multispectral imagery for the assessment of water quality in Lake Patzcuaro, Mexico." International Journal of Remote Sensing 13, no. 4 (1992): 587-603.
CONAGUA, Avenida Insurgentes Sur 2416, Copilco El Bajo, Ciudad de México. C.P. 04340 Teléfono: 51744000 Atención a la ciudadanía: 018002662482 Comisión Nacional del Agua Website: http://www.gob.mx/conagua Email: gobmx@funcionpublica.gob.mx
Gallegos, E., A. Warren, E. Robles, E. Campoy, A. Calderon, Ma G. Sainz, Pa Bonilla, and O. Escolero. "The effects of wastewater irrigation on groundwater quality in Mexico." Water Science and Technology 40, no. 2 (1999): 45-52.
Garcia y Garcia, Enrique, El Agua en san Miguel de Allende, ayer, hoy y manana, D.R. © PFT S.C., Camino al Ojo de Agua 15, Barrio Ojo de Agua, 37700 San Miguel de Allende, Gto, ptfsc@prodigy.net.mx (2006) ISBN 968-9193
Gutierrez, Melida, and Patricia Borrego. "Water quality assessment of the rio Conchos, Chihuahua, Mexico." Environment International 25, no. 5 (1999): 573-583.
Hernández-Romero, A. Héctor, Cristian Tovilla-Hernández, Edi A. Malo, and Ricardo Bello-Mendoza. "Water quality and presence of pesticides in a tropical coastal wetland in southern Mexico." Marine Pollution Bulletin 48, no. 11 (2004): 1130-1141.
Juárez-Figueroa, Luis Alfredo, Jesús Silva-Sánchez, Felipe Javier Uribe-Salas, and Enrique Cifuentes-García. "Microbiological indicators of water quality in the Xochimilco canals, Mexico City." salud pública de méxico 45, no. 5 (2003): 389-395.
Murdoch, Peter S., Jill S. Baron, and Timothy L. Miller. "Potential Effects Of Climate Change On Surface‐water Quality In North America" JAWRA Journal of the American Water Resources Association 36, no. 2 (2000): 347-366.
Razo, Israel, Leticia Carrizales, Javier Castro, Fernando Díaz-Barriga, and Marcos Monroy. "Arsenic and heavy metal pollution of soil, water and sediments in a semi-arid climate mining area in Mexico." Water, Air, & Soil Pollution 152, no. 1 (2004): 129-152.
"Reporte de Resultados de Calidad del Agua de Pozos de la Zona Urbana del 2013 realizados por un laboratorio acreditado ente la EMA (Entidad Meicana de Acreditacio)," SAPASMA Water Quality Report, San Miguel de Allende, on request of CONAGUA, public data from (2013) [PDF]
Torres, Arturo Chacón. "Lake Patzcuaro, Mexico: watershed and water quality deterioration in a tropical high-altitude Latin American lake." Lake and Reservoir Management 8, no. 1 (1993): 37-47.
WATER QUALITY MONITORING DATASET [EXCERPTS] by Caminos de Agua[PDF] this data is EXCERPTED from the original Excel spreadsheet: in order to produce a printable, legible document we deleted some less-critical (to consumers) data columns in the original spreadsheet provided by Caminos de Agua and titled: Water Quality Monitoring Dataset by Caminos de Agua. The full dataset, cited next as an EXCEL spreadhseet is available at the Caminos de Agua website cited above and licensed under the Creative Commons Atribution 4.0 International License (C) 2017.
Water Quality Monitoring Dataset by Caminos de Agua[Excel Spreadsheet], harder to read, described above.
Watch out: as this is an active Excel spreadsheet viewers should take care not to accidentially modify or corrupt their copy.
WELL WATER QUALITY IN SAN MIGUEL DE ALLENDE, Phase I: Results and Conclusions [PDF], Direccion de Medio Ambiente y Ecologia, Municipio de San Miguel de Allende, prepared by Ecosystems Sciences Foundation (2006) Ecosystem Sciences Foundation 280 N 8th St., Ste. 208, Boise, Idaho 83702 ecosystemsciences.com
Abstract:

Community wells in rural areas of the San Miguel de Allende Municipality were tested between September 2005 and February 2006 to determine contamination from arsenic, fluoride, and coliform bacteria. Other water quality parameters such as pH, hardness, and alkalinity were also tested.

Of the 101 water samples analyzed, 20 exceeded the Mexican government drinking water standard permissible limits for fluoride levels and 69 tested positive for coliform; no fecal coliform was detected. The arsenic levels at all sites sampled were below the Mexican government drinking water standards and do not pose a health risk.

More than 100,000 people reside in the rural areas where testing was conducted and they all depend upon groundwater for their drinking water. As the groundwater supply in this region diminishes due to overuse, the contaminant concentrations increase, putting users at greater risk of suffering health effects. Adverse health effects as a result of exposure to excessive fluoride concentrations and coliform bacteria are well documented.

This study employed water quality testing and GIS analysis to identify rural communities at greatest risk of exposure to contaminants so that treatment strategies can be prioritized and implemented to reduce that risk. Treatment options include providing education and training in identifying contamination sources (for coliform), providing trucked water, and implementing rain water harvesting systems in areas with the highest fluoride concentrations. These strategies will be employed during subsequent phases of the project.
Water Quality & Water Quantity Research: San Miguel de Allende, Guanajuato, Mexico
As we discuss separately at WATER DISINFECTION LIMITATIONS, there is growing evidence that drinking water disinfection alone can be ineffective in adequately removing drinking water contaminants, both because of procedural errors and possibly because of persistent contaminant sources or contaminants that are partly-encapsulated inside water piping or containers, requiring extra contact time or additional cleaning and disinfection methods to assure a stable sanitary drinking water supply.
Examples of Water Disinfection Limitations
Watch out: as we report throughout this article series, different disinfection methods vary in their effectiveness in combating different types of water contaminants. If you rely on a single disinfection method, for example chlorine disinfection, your water supply could still be contaminated by cryptosporidium, or if chemical contaminants are present, those, too, might remain.
Municipal water supplies are generally safe as their water treatment efficacy is monitored regularly as required by federal regulations. But private water supplies may be at risk.
Consulting with your local health department and local water testing laboratories can provide locally-accurate advice on what water tests are most important to perform in order to understand what water treatment may be necessary for your home or building.
...
Continue reading at WATER DISINFECTION LIMITATIONS or select a topic from closely-related articles below, or see our complete INDEX to RELATED ARTICLES below.
Or see ARSENIC in WATER
Or see CERAMIC FILTERS for WATER DISINFECTION
Or see CISTERNS
Or see REVERSE OSMOSIS WATER TREATMENT - capable of removing arsenic, fluorides, lead, other contaminants, but also consuming water in the process
Or see WATER FILTERS, HOME USE
Or see WATER PUMP PRESSURE SENSITIVE
Or see WATER QUALITY TESTS, CONTAMINANTS, TREATMENT - home
Or see WATER QUANTITY TEST: WELL FLOW TEST
Or see WATER SOFTENERS & CONDITIONERS for treatment of water high in mineral content
Or see WATER TREATMENT EQUIPMENT CHOICES
Or see WELL CHLORINATION & DISINFECTION
Suggested citation for this web page
WATER QUALITY & QUANTITY San Miguel de Allende at InspectApedia.com - online encyclopedia of building & environmental inspection, testing, diagnosis, repair, & problem prevention advice.
Or use the SEARCH BOX found below to Ask a Question or Search InspectApedia
...
Frequently Asked Questions (FAQs)
Try the search box below or CONTACT US by email if you cannot find the answer you need at InspectApedia.
...
Ask a Question or Search InspectApedia
Use the "Click to Show or Hide FAQs" link just above to see recently-posted questions, comments, replies, try the search box just below, or if you prefer, post a question or comment in the Comments box below and we will respond promptly.
Search the InspectApedia website
Technical Reviewers & References
Click to Show or Hide Citations & References
Arnold, Benjamin F., and John M. Colford Jr. "Treating water with chlorine at point-of-use to improve water quality and reduce child diarrhea in developing countries: a systematic review and meta-analysis." American journal of tropical medicine and hygiene 76, no. 2 (2007): 354-364.
Lazarova, V., Ph Savoye, M. L. Janex, E. R. Blatchley III, and M. Pommepuy. "Advanced wastewater disinfection technologies: state of the art and perspectives." Water Science and Technology 40, no. 4 (1999): 203-213.
LeChevallier, Mark W., T. M. Evans, and Ramon J. Seidler. "Effect of turbidity on chlorination efficiency and bacterial persistence in drinking water." Applied and environmental microbiology 42, no. 1 (1981): 159-167.
Payment, Pierre. "Poor efficacy of residual chlorine disinfectant in drinking water to inactivate waterborne pathogens in distribution systems." Canadian journal of Microbiology 45, no. 8 (1999): 709-715. Abstract:
To evaluate the inactivating power of residual chlorine in a distribution system, test microorganisms (Escherichia coli, Clostridium perfringens, bacteriophage phi-X 170, and poliovirus type 1) were added to drinking water samples obtained from two water treatment plants and their distribution system. Except for Escherichia coli, microorganisms remained relatively unaffected in water from the distribution systems tested. When sewage was added to the water samples, indigenous thermotolerant coliforms were inactivated only when water was obtained from sites very close to the treatment plant and containing a high residual chlorine concentration. Clostridium perfringens was barely inactivated, suggesting that the most resistant pathogens such as Giardia lamblia, Cryptosporidium parvum, and human enteric viruses would not be inactivated. Our results suggest that the maintenance of a free residual concentration in a distribution system does not provide a significant inactivation of pathogens, could even mask events of contamination of the distribution, and thus would provide only a false sense of safety with little active protection of public health. Recent epidemiological studies that have suggested a significant waterborne level of endemic gastrointestinal illness could then be explained by undetected intrusions in the distribution system, intrusions resulting in the infection of a small number of individuals without eliciting an outbreak situation.Key words: drinking water, chlorine, disinfection, pathogens, distribution system.
Richardson, Susan D. "Disinfection by-products and other emerging contaminants in drinking water." TrAC Trends in Analytical Chemistry 22, no. 10 (2003): 666-684.
Schoenen, D. "Role of disinfection in suppressing the spread of pathogens with drinking water: possibilities and limitations." Water research 36, no. 15 (2002): 3874-3888.
Shin, Gwy-Am, and Mark D. Sobsey. "Inactivation of norovirus by chlorine disinfection of water." Water research 42, no. 17 (2008): 4562-4568.
Sobsey, Mark D., Sanitation Water, and World Health Organization. "Managing water in the home: accelerated health gains from improved water supply/prepared by Mark D. Sobsey." (2002).
Xu, Xiaoming, Philip S. Stewart, and Xiao Chen. "Transport limitation of chlorine disinfection of Pseudomonas aeruginosa entrapped in alginate beads." Biotechnology and bioengineering 49, no. 1 (1996): 93-100.
Peter Andrey Smith, "A Quest for Even Safer Drinking Water", The New York Times, 27 August 2013, p. D3
Mark Cramer Inspection Services Mark Cramer, Tampa Florida, Mr. Cramer is a past president of ASHI, the American Society of Home Inspectors and is a Florida home inspector and home inspection educator. (727) 595-4211 mark@BestTampaInspector.com 11/06
Hankey and Brown home inspectors, Eden Prairie, MN, technical review by Roger Hankey, prior chairman, Standards Committee, American Society of Home Inspectors - ASHI. 952 829-0044 - hankeyandbrown.com 11/06
Dr. Omar Amin, of the Tempe AZ Parasitology Center, corresponded with one of our readers asking about peroxide: "You can use hydrogen peroxide if you want to but we do not have a track record of percentage dilution". Dr. Amin has done research for the US military and for the CDC.
Potable Aqua® emergency drinking water germicidal tablets are produced by the Wisconsin Pharmacal Co., Jackson WI 53037. 800-558-6614 pharmacalway.com
Aquamira™ chlorine dioxide water purification kits - see www.aquamira.com/
"Aquamira Water Treatment Drops were introduced to the Outdoor market in 1999 and have been a favorite of top outdoor guides and instructors ever since. Whether you are camping, traveling in a foreign country or faced with a disaster, our goal is to provide you with safe, pure and good tasting drinking water. Our complete line of water treatment products include leading edge purification and filtration technologies developed and tested in the lab and proven in the field. We offer systems and products that will provide water for a single individual or a village and almost anything in between."

Katadyn™, a Swiss corporation provides water filters, desalinization equipment, and their Micropur chlorine dioxide water purification - see www.katadyn.com/usen/
"Katadyn offers a wide variety of water filtration and purification products suitable for any need. This allows outdoor enthusiasts and travelers to take along products for making their own drinking water when preparing their trips."
Arlene Puentes, a licensed home inspector, educator, and building failures researcher in Kingston, NY. 11/29/06
Wilderness Medical Society has advice about boiling water for consumption
Princeton University - www.princeton.edu
"Bacteria in Drinking Water" - "Chlorine," Karen Mancl, water quality specialist, Agricultural Engineering, Ohio State University Extension. Mancl explains factors affecting the effectiveness of chlorine in water as a means to destroy bacteria and other microorganisms. OSU reports as follows:

Chlorine kills bacteria, including disease-causing organisms and the nuisance organism, iron bacteria. However, low levels of chlorine, normally used to disinfect water, are not an effective treatment for giardia cysts. A chlorine level of over 10 mg/1 must be maintained for at least 30 minutes to kill giardia cysts. -- http://ohioline.osu.edu/b795/index.html is the front page of this bulletin.

Crystal Clear Supply provides portable ceramic water filter purifiers and portable reverse osmosis water treatment equipment - see http://www.crystalclearsupply.com/category_s/7.htm
"Do Iodine Water Purification Tablets Provide an Effective Barrier against Cryptosporidium parvum?", Starke, Jeffrey A., Bowman, Dwight D., Labare, Michael, Fogarty, Elizabeth A., and others, Military Medicine, 25 October 2001 [possibly a later version of this article appeared in 2005 -DF] http://www.amsus.org/military medicine/milmed.htm
"Drinking Water Safety in Emergencies", University of Minnesota extension, extension.umn.edu/info-u/nutrition/BJ646.html
FDA Warning about drinking hydrogen peroxide: www.truthorfiction.com/rumors/h/hydrogen-peroxide.htm This article cites a 2003 entry in Journal of Food and Science on using Hy.Perox to sterilize vegetables, referring to E.coli - NOT to Giardia.
www.epa.gov/ogwdw/mdbp/pdf/alter/chapt_2.pdf provides an article on use of disinfectants for water treatment
This patent application for UV light sterilization www.patentstorm.us/patents/6565803.html Lists good references on water purification for Giardia et als
Giardia exposure limits for drinking water: see www.mass.gov/dep/water/drinking/standards/giardia.htm is the current regulatory exposure limit (your minimum target for sterilization)
U.S. Army Field Manual 21-10, Field Hygiene and Sanitation, 1988, web search 07/02/2010, original source: http://www.enlisted.info/field-manuals/fm-21-10-field-hygiene-and-sanitation.shtml
The purpose of this manual is to assist individual soldiers, unit commanders, leaders and field sanitation teams in preventing disease and environmental injuries. The manual provides information on preventive medicine measures (PMM) to the individual soldier as well as essential information for the unit commander, unit leaders, and the unit field sanitation team on applying unit level PMM.
Wikipedia on history of use of hydrogen peroxide: Information on Hydrogen peroxide as a sterilant is in Wikipedia at en.wikipedia.org/wiki/Sterilization_(microbiology) HO2 has been used for a long time, including by vaporization for sterilizing freeze dryers.
"Bacteria in Drinking Water" - "Chlorine," Karen Mancl, water quality specialist, Agricultural Engineering, Ohio State University Extension. Mancl explains factors affecting the effectiveness of chlorine in water as a means to destroy bacteria and other microorganisms. OSU reports as follows:

Chlorine kills bacteria, including disease-causing organisms and the nuisance organism, iron bacteria. However, low levels of chlorine, normally used to disinfect water, are not an effective treatment for giardia cysts. A chlorine level of over 10 mg/1 must be maintained for at least 30 minutes to kill giardia cysts. -- http://ohioline.osu.edu/b795/index.html is the front page of this bulletin.

CHLORINE IN DRINKING WATER - Does Chlorine in Drinking Water Harm the Septic Tank? - Septic Tank Cleaning Advice
Ohio State University article on the concentration of chlorine necessary to act as an effective disinfectant, and the effects of the water's pH and temperature: See http://ohioline.osu.edu/b795/b795_7.html for details.
Extreme Lead Poisoning Symptoms Suggested by Feb 2006 NY Times Article on Kosovo Roma Camps
WELL CHLORINATION & SHOCKING - Procedure for Shocking a Well to (temporarily or maybe longer) "Correct" Bacterial Contamination
Crystal Clear Supply provides portable ceramic water filter purifiers and portable reverse osmosis water treatment equipment - see http://www.crystalclearsupply.com/category_s/7.htm
Books & Articles on Building & Environmental Inspection, Testing, Diagnosis, & Repair
Our recommended books about building & mechanical systems design, inspection, problem diagnosis, and repair, and about indoor environment and IAQ testing, diagnosis, and cleanup are at the InspectAPedia Bookstore. Also see our Book Reviews - InspectAPedia.
...