Septic Grinder & Sewage Ejector Pumps

Types, installation, troubleshooting
InspectAPedia tolerates no conflicts of interest. We have no relationship with advertisers, products, or services discussed at this website.
Sewage grinder pumps / sewage ejector pumps:
This article explains the differences between and gives installation and maintenance advice for Sump Pumps, Sewage Ejector Pumps, Septic Grinder Pumps, Sewage Pumping Stations, & Septic Pump Alarms.
We discuss sewage grinder pump types, sizes, voltages, horsepower, installation and maintenance.
We also give piping size recommendations for sewage pumps and effluent pumps based on the ejector pump rate in gpm. And we include a list of manufacturers of sewage pumps, septic pumps, effluent pumps, and grinder pumps.
An Environment One Corporation grinder pump schematic sketch is shown at the top of this article.
We also provide a MASTER INDEX to this topic, or you can try the page top or bottom SEARCH BOX as a quick way to find information you need.
What is a Sewage Ejector Pump? Where are they used? How to maintain or troubleshoot a sewage grinder pump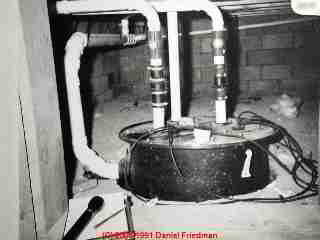 How to buy, install, inspect, & maintain Septic tank pumps, septic grinder pumps, septic effluent pumps
What is a Sewage Ejector? Sewage ejector pumps & What's the difference between an effluent pump, sewage ejector pump, and grinder pump? Recommended pipe diameters for sewage pump installations.
[Click to enlarge any image]
Article Contents
Advice is given for septic tank effluent or sewage pump selection, installation, maintenance, inspection, and use.
Septic pumps used for pumping air in aeration systems and septic pumps used to move effluent in a drip dispersion system are discussed under the appropriate septic system type which are outlined at SEPTIC SYSTEM DESIGN ALTERNATIVES.
What is a Sewage Grinder Pump or Sewage Ejector Pump?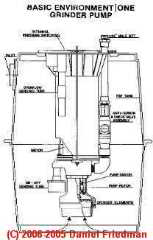 [Click to enlarge any image]
Shown above is an older model packaged sewage ejector pump provided by Environment One Corporation.
A typical sump pump, effluent pump, or light-duty sewage pump has a life expectancy of about seven years but may last considerably less or considerably more depending on whether or not the installation was performed properly, whether maintenance is performed, and whether the proper pump type was chosen for the application at hand.
Don't confuse a sewage effluent pump or sewage grinder pump with a sewage effluent pump.
The general name for sewage pumps capable of handling normal toilet-flushable waste (feces and toilet paper) is sewage grinder pumps: they are intended to grind and move black water or sewage. A sewage grinder pump is synonymous with a septic grinder pump.
If the pump is intended only to move clarified wasttewater effluent, say from a septic tank to a drain field the proper term to use is sewage effluent pumps.
A detailed guide to types of sewage pumps, grinder pumps, de-watering and effluent pumps, pump manufacturers, and where to buy sewage pumps is
at SEWAGE PUMP BUYERS GUIDE
Even if a building is nearly at the same level as its septic tank or sewer line, if the geography of the site prevents sewage from flowing fast enough on its own (two-feet per second) then a sewage grinder or sewage ejector pump is needed.
A typical application of a sewage ejector pump is in a home where a basement bathroom is located lower than the height of the sewer line which leaves the home. The sewage ejector pump lifts waste from the basement bathroom up to the sewer line where it flows out to a septic tank or community sewer.
A sewage or septic grinder pump, (there is more than one grinding method) reduces sewage to a finely ground slurry of waste and water which can then be pumped or forced to its destination. In the sewage grinder pump photo shown at above left, the number of wires and pipes at the tank tells us that this is a duplexed or two-pump system with two grinder pumps, two drains, and a tank alarm as well (the center wires).
See SEPTIC PUMP ALARM SYSTEMS.
If your building's drain system is at a level below a municipal sewer line, or if your septic drainfield or tank and fields are uphill from the building, you need a sewage grinder pump and a forced-main sewer system.
If your home is connected to a community sewer line which itself uses a pumping station to move wastewater and sewage from the community sewer to a public sewage main, see our discussion of commercial-type sewage grinder and pumping systems found at at SEPTIC PUMPING STATIONS.
Septic & Sewage Pump Manufacturers class their pumps into these categories
Grinder pumps, such as Zoeller's 810/815 Turnkey Grinder Systems, 800-series Grinder Pumps, Cold-Climate grinder pumps, Simplex prepackaged grinder pump systems, and Simplex and Duplex (two pumps) grinder systems including four outdoor use.
Utility, pedestal, & gas engine pumps. These are portable gas-engine powered pumps used typically in construction, service, or emergencies
Sewage & Dewatering pumps, such as certain Aqua-Mate Models and Waste-Mate models, and Sewage-Waste 600-series pumps
Sump, Effluent, Dewatering pumps, such as Water Ridd'r , Mighty-Mate, Aqua-Mate, Flow-Mate, and High Head Flow-Mate pumps - of certain models - be sure to read the manufacturer's intended use for a pump model before purchasing it
What Does a Sewage Ejector Pump Look Like?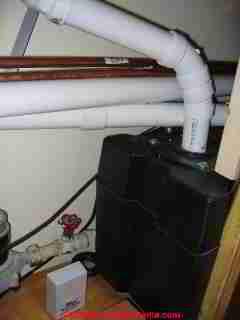 The photo at above left is a small pre-packaged wastewater ejector pump suitable for serving a sink or clothes washer; it's not a grinder pump. In the left hand photo at lower left in the picture you'll see a small white plastic water alarm that the office manager left on the floor in this area in order to detect a plumbing supply or drain leak.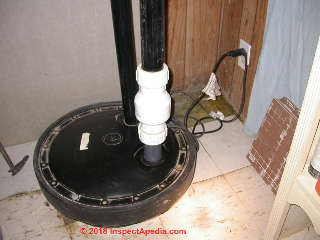 The sewage ejector pump photograph above shows a typical plug-in sewage ejector pump used in a home basement.
Frankly, a consumer unfamiliar with these products may have trouble telling the difference by a simple exterior inspection - it's reliable to observe the product name and number and then inquire of the manufacturer about the pump's intended application and its installation requirements.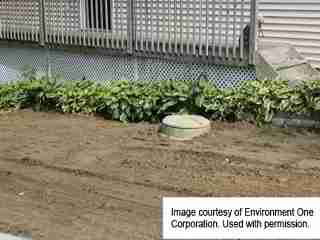 But in the cases above, the overall size, location, and nearby plumbing fixtures defined the probable application of each pump even for a novice inspector and where view of the septic pump was limited.
In their most common usage, packaged septic pump systems are sold in a plastic "can" which contains the grinder pump, a float control to turn the pump on and off, and watertight fittings that permit connection of the system to the building electrical system (to supply power to the pump) and to the building drain waste vent system.
The pump manufacturer will provide a table of pumping capacity needed to overcome specific head or lift requirements and length or pipe run from the pumping station to its destination.
An Environment One Corporation grinder pump outdoor installation is shown at left while a sewage grinder pump schematic sketch is shown at page top.
Separately at SEPTIC PUMP ALARM SYSTEMS we illustrate an outdoor-mounted sewage pump alarm system provided by the same manufacturer.
Sewage Ejector Pump / Grinder Pump Maintenance
Not much maintenance is required for sewage grinder pumps other than clearing a blockage if you ignore our "Don't Flush" list given below. While at least some ejector pump models can tolerate being run "dry" for some time without damage, the manufacturer(s) recommend adjusting the pump float so that the liquid level in the receiving chamber never drops below the body of the pump motor.
If your sewage pump alarm is sounding stop using water, stop flushing toilets, turn off the washing machine, dishwasher, etc. right away to reduce the chances of a sewage backup. Details about responding to a sewage pump or ejector pump alarm are
at SEPTIC PUMP ALARM SYSTEMS
If your sewage grinder pump or sump pump is not turning on and off correctly, check the holding tank for clogging debris and check the operation of the sewage pump float control switch. Rising wastewater should lift the float that in turn operates a switch that turns on the pump. If the float is stuck by debris, obstructions or anything in the pumping chamber the sewage grinder pump cannot turn on and off as it should.
See details in these articles and in the Q&A sections of each:
of SEWAGE PUMP DAMAGE & REPAIR
and
at SEPTIC PUMP INSTALLATION
Sewage Grinder Pump or Septic Ejector Pump Preventive Maintenance, Clog, Damage & Odor Prevention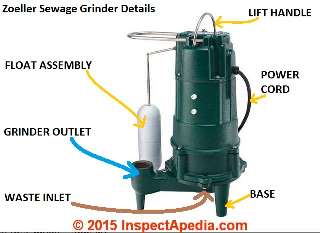 [Click to enlarge any image] Above, main parts of a sewage grinder pump, adapted from Zoeller's Shark series 803-805-807.
Watch out: when removing a grinder pump of sewage ejector pump from its station, do not lift the pump by its electrical wiring. Doing so risks damaging the wiring and voiding the pump warranty. Lift the pump by the steel handle or attachment intended for that purpose.
As the sewage grinder pump motor is oil filled, no lubrication or other maintenance is required, and generally will give very reliable service and can be expected to operate for years on normal sewage pumping without failing. However as with any mechanical piece of equipment a preventive maintenance program is recommended and suggested to include the following checks:
Inspect sewage grinder pump motor chamber for oil level and contamination and repair
Inspect the pump impeller and body for excessive build-up or clogging and repair
Inspect the pump motor and bearings and replace as required
Inspect the grinder pump motor seal for wear or leakage and repair as required ... [see reference [1]]
Inspect the sewage grinder pump breather vent (found only on some older outdoor sewage grinder pump models) located on the grinder pump tank side upper edge near the cover: keep this vent open or free of debris or clogs
Outdoor sewage grinder pump installations should be protected from surface runoff water to avoid flooding the tank or sending soil and debris into it.
Safety tip: keep fences, plantings, fish ponds or other outdoor features at least two meters away from the sewage grinder pump station to reduce the chances of hitting a buried electrical wire or sending clogging roots into the system. Record the location, depth, and routing of electrical wiring to be sure that future outdoor work does not encounter or damage the system.
Things to Keep Out of the Sewage Grinder Pump System to Avoid Clogs or Damage
Watch out: even a sewage grinder pump is not immune from becoming blocked or damaged by mineral debris, septic tank or holding tank debris, or solids that people may flush down a drain such as condoms, wipes, even cotton swabs or perhaps dental floss. We elaborate these trouble sources
at SEWAGE PUMP DAMAGE & REPAIR. Quoting Weinman [1]
The following examples of things to keep out of a sewage grinder pump system are excerpted from that article.
Ashes such as from a fireplace
Baby wipes
Cat litter
Chemicals & Drain Cleaners: some of these can corrode sewage grinder pump parts causing costly damage
Cooking oil, fat, grease, lard
Cigarettes, cigarette butts, filters
Condoms
Cotton swabs or wipes
Dental floss
Diapers
Explosive or combustible liquids or materials
Glass fragments or debris
Gravel or stones such as from an aquarium
Hair
Metal fragments or scraps
Plastic toys, scraps, fragments, plastic-stemmed Q-tips
Q-tips of any sort
Rubber gloves
Sanitary napkins, tampons
A more complete list of things that should not be flushed down drains or into septic systems is organized at TOILETS, DON'T FLUSH LIST - home.
Sewage grinder pump leaks & odor complaints
This topic is now in a separate article found at SEWAGE PUMP ODORS
Sewage Ejector Pump Piping Recommendations
Most of the sewage ejector pump installations we've inspected in residential properties use 2-inch waste piping to connect the pump outlet to the building sewer line. However the pipe diameter selection is guided by the anticipated flow rate - a figure that you can find in your ejector pump's installation and operations manual. Below we quote from Hyromatic [3].
Table of Sewage Pump Pipe Sizes & Flow Rates
Pipe Diameter in Inches
Ejector Pump Flow Rate in GPM

1 1/2"

12

2"

21

2 1/2"

30

3"

48
Technical review by industry experts has been performed and is ongoing - reviewers welcomed and are listed at "References." This article is part of our series: SEPTIC SYSTEM INSPECTION & MAINTENANCE COURSE an online book on septic systems. Sketches are from the Environment One Low Pressure Sewer Systems Grinder Pump catalog.
Sewage Grinder Pump Drain Venting
Depending on the lift height and other site conditions there are two sorts of vents one may find on any lift, grinder, or ejector pump or sump pump:
a small drain hole specified by the manufacturer drains back wastewater from the vertical drain line, below the check valve, into the sump or pumping pit or chamber
a separate vent may vent the sewage ejector piping to the open air outdoors
Model plumbing codes define a sump vent:
A vent from pneumatic sewage ejectors, or similar equipment, that terminates separately to the open air. - UPC 2006
Sewage Grinder or Ejector Pumps & Electrical Power Outages
The following is excerpted from the Groton Connecticut USA Grinder Pump FAQs published by the Groton Department of Public Works:
Your grinder pump is powered by electricity and will not function during a power outage. In order to prevent waste from backing up into the lowest sink, tub, or toilet in your home, severely limit the interior use of water until power is restored.
This means do not shower or wash dishes and limit flushing the toilet. Remember: "If it's brown flush it down, if it's yellow let it mellow". - retrieved 16 Aug 2015, original source: "Grinder Pump Frequently Asked Questions", Groton Public Works, http://www.groton-ct.gov/depts/pubwks/docs/Grinder%20Pump%20Website%20info%20the%20hurricane.pdf
Sewage Wastewater Pump Intermittent Cycling
Reader Question: what may be causing the sewage pump to run "for no reason" ?

I ... hope you may be able to help me. I have a residential lift pump station in my home. It has been installed for about 25 years downstairs in my home and services the downstairs bathroom with a sink, shower and toilet and a bar sink, with little if any problems. There is very little use on this system as we have all of our appliances and upstairs bathrooms going directly to our municipal sewer system.

My problem is that the lift station pump motor cuts in about every 4 hours even when there has been no waste water going into the tank from the devices that it serves. It goes through it's normal pumping action for about 15 to 20 seconds and stops and this repeats almost every 4 hours.
Don't know what is causing this as we have been very careful not to put anything in it that could clog the system since we had it installed. This happened about a year ago in July, went back to normal operation over the fall, winter and spring and now it is happening again in August.
Can you suggest what may be causing this intermittent problem. I purchased a new pump last year so I would have a back up but prefer not to have to install it unless absolutely necessary. Could it be that the baffle on the main sewer line going from my house may be clogging occasionally and staying open and causing water to come back into the lift station downstairs and causing the pump to cut in?

Thank you very much for your earliest reply and any assistance that you may be able to give. Regards, [Anonymous] by private email 2016/08/17
Reply: Tips on how to Diagnose & Fix a Sewage Ejector Pump that Cycles Intermittently
You probably are using a sewage grinder pump for which we offer diagnosis and repair help online in this article serise beginning with SEWAGE EJECTOR / GRINDER PUMPS - though this problem can occur on sewage effluent pumps too. ( SEPTIC SYSTEM PUMPS )
You're astute to suggest the possibility of sewage backflow into your pumping station, perhaps at a slow-enough rate that it takes a rather regular number of hours before the sewage pump has to cycle on again.
I suggest taking a look in the pumping chamber at the end of a pump-on cycle. Make note of the remaining wastewater level at the end of the pump cycle.
If you see the wastewater rise in the pumping chamber then we need to decide where it's coming from.
Look for an immediate backflow into the chamber from the pump's ejector drain line: that would indicate a bad check valve that's allowing wastewater to fall back into the pit, causing more frequent cycling than needed and shortening pump life.
You may be able to see the building wastewater pipe that enters the pumping chamber from the building fixtures. If that line is not flowing then look for more slowly-rising wastewater backflowing from the exit drain line. Check the wastewater level in the pumping chamber every hour.
If there is doubt about whether wastewater is entering the pumping chamber from running plumbing fixtures in the building versus from backflow in the sewage exit line, then try turning off all water into the building, then flush toilets (so we don't get confused by slow toilet tank drainage into the waste piping).
For the case you are describing you may also see no drainback into the pumping chamber from the exiting wastewater line at all.
In that instance I suspect that water is entering the pumping chamber from
Running plumbing fixtures in your building, such as a toilet that's running but perhaps slowly enough that you haven't noticed it. See TOILET RUNS CONTINUOUSLYas sometimes people miss this condition.
Leave supply water off while you watch again for water rising in the pumping chamber. If no toilet tanks hold water that might be draining and water supply to all building fixtures is off and you see wastewater rising in the pumping chamber there are two obvious possibilities:
We (and you) suggested above a backflowing sewer line or a bad checkvalve in that line (including right at the sewage pump).
Also see SEWER BACKUP PREVENTION where we discuss backflow and check valves on waste piping.
A second possibility is groundwater entering the pumping chamber if it has become open to soil under the building. To evaluate this possibility you'll probably have to empty the chamber completely and inspect it for damage, holes, cuts, or for entering water from around the chamber's exterior. Keep in mind that depending on how the exiting waste piping is routed, a leaky exiting waste line could itself leak and seep back into the pumping chamber.
E.g. I have found a "wet basement" whose "water" entry was by no coincidence, entering the foundation wall just below the exit point of the main sewer line. Outside the building the line was broken and leaking back into the building.
Other clues that make a waste pump cycle intermittently could be traced to the same conditions that cause a private well pump to cycle intermittently on the supply side of the plumbing system, so you might also want to check the diagnostic suggestions at WATER PUMP INTERMITTENT CYCLING
...
Continue reading at SEWAGE EJECTOR / GRINDER PUMP FAQs or select a topic from closely-related articles below, or see our complete INDEX to RELATED ARTICLES below.
Or see FREE-STANDING GRINDER PUMPS
Or see SEWAGE PUMP DAMAGE & REPAIR
Septic Pump / Sewage Grinder Pump Articles
Suggested citation for this web page
SEWAGE EJECTOR / GRINDER PUMPS at InspectApedia.com - online encyclopedia of building & environmental inspection, testing, diagnosis, repair, & problem prevention advice.
Or use the SEARCH BOX found below to Ask a Question or Search InspectApedia
...
Ask a Question or Search InspectApedia
Try the search box just below, or if you prefer, post a question or comment in the Comments box below and we will respond promptly.
Search the InspectApedia website
Technical Reviewers & References
Click to Show or Hide Citations & References
Zoeller Pump Company, "Installation & Service Instructions, 803/805/807 Grinder Pumps", [PDF] Zoeller Pump Co., P.O. BOX 16347 • Louisville, KY 40256-0347, Website: Zoeller.com Retrieved 2016/04/05, original source: http://www.zoellerpumps.com/en-na/product/1242-#documents
Zoeller Pump Company, "Installation Instructions, Recommended Models, Effluent/Sump/DeWatering & Sewage[pumps]", [PDF] Zoeller Pump Co., P.O. BOX 16347 • Louisville, KY 40256-0347, Website: Zoeller.com Retrieved 2016/04/05, original source: http://www.deanbennett.com/53-install-inst.pdf
New York State Department of Health, "Appendix 75-A Wastewater Treatment Standards - Individual Household Systems", [PDF] New York State Department of Health, 3 February 2010, retrieved 3/1/2010, original source: https://www.health.ny.gov/regulations/nycrr/title_10/part_75/appendix_75-a.htm
[1] Weinman Installation and Operation Manual, Submersible Sewage Ejector Pump, Crane Pumps and Systems, 420 Third Street, Piqua, Ohio 45356 Phone: (937) 778-8947 and Crane Pumps and Systems, 83 West Drive, Bramton, Ontario, Canada L6T 2J6, Phone: (905) 457-6223 Fax: (937) 773-7157 Fax: (905) 457-2650 www.cranepumps.com. See Weinman submersible sewage ejector pump installation and service manual for an example instructions for the Weinman Series WE and 3WE sewage ejector pumps ranging from .5 to 1 hp. Web search 8/9/11, original source: http://www.cranepumps.com/downloadables/CATALOGS_OIPMs/
Manuals%20&%20Instruction%20sheets/108038.pdf
[2] Grundfos Sewage Ejector Pump Package Installation and Operating Instructions, Grundfos Pumps Corporation, 2555 Clovis Ave., Clovis CA 93612, Tel: 800-333-1366, web search 8/9/11,original source
http://www.us.grundfos.com/web/download.nsf/Pages/
7C03990D6E09EC6C882565220069C131/$File/Seeje-io.pdf
[3] Submersible Sewage Ejector Pump Installation, Operation, & Parts Manual, by Hydromatic Pentair Water, 740 East 9th Street, Ashland, OH 44805, Phone: 1-888-957-8677, Web Site: http://www.hydromatic.com
[4] Environment One Corporation, 2773 Balltown Road, Niskayuna, NY 12309, Tel 518-346-6161,l website: www.eone.com/sewers
E/One Extreme Series grinder pump stations for indoor and outdoor installations, residential and light commercial applications.
[5] Pennsylvania State Fact Sheets relating to domestic wastewater treatment systems include

Pennsylvania State Wastewater Treatment Fact Sheet SW-161, Septic System Failure: Diagnosis and Treatment
Pennsylvania State Wastewater Treatment Fact Sheet SW-162, The Soil Media and the Percolation Test
Pennsylvania State Wastewater Treatment Fact Sheet SW-l64, Mound Systems for Wastewater Treatment
Pennsylvania State Wastewater Treatment Fact Sheet SW-165, Septic Tank-Soil Absorption Systems
Document Sources used for this web page include but are not limited to: Agricultural Fact Sheet #SW-161 "Septic Tank Pumping," by Paul D. Robillard and Kelli S. Martin. Penn State College of Agriculture - Cooperative Extension, edited and annotated by Dan Friedman (Thanks: to Bob Mackey for proofreading the original source material.)

"Grinder Pump Frequently Asked Questions", Groton Public Works, 134 Groton Long Point Road Groton, CT 06340 (860) 448-4083, retrieved 16 Aug 2015, original source: http://www.groton-ct.gov/depts/pubwks/docs/Grinder%20Pump%20Website%20info%20the%20hurricane.pdf
...
Wikipedia provided background information about some topics discussed at this website provided this citation is also found in the same article along with a " retrieved on" date. NOTE: because Wikipedia entries are fluid and can be amended in real time, we cite the retrieval date of Wikipedia citations and we do not assert that the information found there is necessarily authoritative.
Books & Articles on Building & Environmental Inspection, Testing, Diagnosis, & Repair
Advanced Onsite Wastewater Systems Technologies, Anish R. Jantrania, Mark A. Gross. Anish Jantrania, Ph.D., P.E., M.B.A., is a Consulting Engineer, in Mechanicsville VA, 804-550-0389 (2006). Outstanding technical reference especially on alternative septic system design alternatives. Written for designers and engineers, this book is not at all easy going for homeowners but is a text I recommend for professionals--DF.
Builder's Guide to Wells and Septic Systems, Woodson, R. Dodge: $ 24.95; MCGRAW HILL B; TP; Quoting from Amazon's description: For the homebuilder, one mistake in estimating or installing wells and septic systems can cost thousands of dollars. This comprehensive guide filled with case studies can prevent that. Master plumber R. Dodge Woodson packs this reader-friendly guide with guidance and information, including details on new techniques and materials that can economize and expedite jobs and advice on how to avoid mistakes in both estimating and construction. Chapters cover virtually every aspect of wells and septic systems, including on-site evaluations; site limitations; bidding; soil studies, septic designs, and code-related issues; drilled and dug wells, gravel and pipe, chamber-type, and gravity septic systems; pump stations; common problems with well installation; and remedies for poor septic situations. Woodson also discusses ways to increase profits by avoiding cost overruns.
Country Plumbing: Living with a Septic System, Hartigan, Gerry: $ 9.95; ALAN C HOOD & TP; Quoting an Amazon reviewer's comment, with which we agree--DF:This book is informative as far as it goes and might be most useful for someone with an older system. But it was written in the early 1980s. A lot has changed since then. In particular, the book doesn't cover any of the newer systems that are used more and more nowadays in some parts of the country -- sand mounds, aeration systems, lagoons, etc.
Design Manuals for Septic Systems
US EPA Onsite Wastewater Treatment Systems Manual [online copy, free] Top Reference: US EPA's Design Manual for Onsite Wastewater Treatment and Disposal, 1980, available from the US EPA, the US GPO Superintendent of Documents (Pueblo CO), and from the National Small Flows Clearinghouse. Original source http://www.epa.gov/ORD/NRMRL/Pubs/625R00008/625R00008.htm Onsite wastewater treatment and disposal systems, Richard J Otis, published by the US EPA. Although it's more than 20 years old, this book remains a useful reference for septic system designers. U.S. Environmental Protection Agency, Office of Water Program Operations; Office of Research and Development, Municipal Environmental Research Laboratory; (1980)
Eco John® Innovative Toilet Solutions, Global Inventive Industries, Fountain Valley CA, PDF, product brochure
"International Private Sewage Disposal Code," 1995, BOCA-708-799-2300, ICBO-310-699-0541, SBCCI 205-591-1853, available from those code associations.
"Manual of Policy, Procedures, and Guidelines for Onsite Sewage Systems," Ontario Reg. 374/81, Part VII of the Environmental Protection Act (Canada), ISBN 0-7743-7303-2, Ministry of the Environment,135 St. Clair Ave. West, Toronto Ontario M4V 1P5 Canada $24. CDN.
Manual of Septic Tank Practice, US Public Health Service's 1959.
Onsite Wastewater Disposal Books
Onsite Wastewater Disposal, R. J. Perkins; Quoting from Amazon: This practical book, co-published with the National Environmental Health Association, describes the step-by-step procedures needed to avoid common pitfalls in septic system technology. Valuable in matching the septic system to the site-specific conditions, this useful book will help you install a reliable system in both suitable and difficult environments. Septic tank installers, planners, state and local regulators, civil and sanitary engineers, consulting engineers, architects, homeowners, academics, and land developers will find this publication valuable.
Onsite Wastewater Treatment Systems, Bennette D. Burks, Mary Margaret Minnis, Hogarth House 1994 - one of the best septic system books around, suffering a bit from small fonts and a weak index. While it contains some material more technical than needed by homeowners, Burks/Minnis book on onsite wastewater treatment systems a very useful reference for both property owners and septic system designers.
Septic Tank/Soil-Absorption Systems: How to Operate & Maintain [ copy on file as /septic/Septic_Operation_USDA.pdf ] - , Equipment Tips, U.S. Department of Agriculture, 8271 1302, 7100 Engineering, 2300 Recreation, September 1982, web search 08/28/2010, original source: http://www.fs.fed.us/t-d/pubs/pdfimage/82711302.pdf
SEPTIC SOIL & PERC TESTS soil perc testing guide and instructions
Percolation Testing Manual, CNMI Division of Environmental Quality, PO Box 501304, Saipan, MP 96950
Planting Over Septic System Component", Daniel Friedman (author/editor, InspectAPedia.com), The Innovator, Winter/Spring 2008, BCOSSA, British Columbia OnSite Sewage Association, 201-3542 Blansard St., Victoria BC V8X 1W3 Canada
Save the Septic System - Do Not Flush These Items Down the Toilet, Daniel Friedman, InspectAPedia.com - PDF document, printable
Septic System Owner's Manual, Lloyd Kahn, Blair Allen, Julie Jones, Shelter Publications, 2000 $14.95 U.S. - easy to understand, well illustrated, one of the best practical references around on septic design basics including some advanced systems; a little short on safety and maintenance. Both new and used (low priced copies are available, and we think the authors are working on an updated edition--DF. Quoting from one of several Amazon reviews: The basics of septic systems, from underground systems and failures to what the owner can do to promote and maintain a healthy system, is revealed in an excellent guide essential for any who reside on a septic system. Rural residents receive a primer on not only the basics; but how to conduct period inspections and what to do when things go wrong. History also figures into the fine coverage.
Test Pit Preparation for Onsite Sewage Evaluations, State of Oregon Department of Environmental Quality, Portland OR, 800 452-4011. PDF document. We recommend this excellent document that offers detail about soil perc tests, deep hole tests, safety, and septic design. Readers should also see SEPTIC SOIL & PERC TESTS and for testing an existing septic system, also see Dye Tests
Grass is Always Greener Over the Septic Tank, Bombeck, Erma: $ 5.99; FAWCETT; MM; This septic system classic whose title helps avoid intimidating readers new to septic systems, is available new or used at very low prices. It's more entertainment than a serious "how to" book on septic systems design, maintenance, or repair. Not recommended -- DF.
US EPA Onsite Wastewater Treatment Systems Manual Top Reference: US EPA's Design Manual for Onsite Wastewater Treatment and Disposal, 1980, available from the US EPA, the US GPO Superintendent of Documents (Pueblo CO), and from the National Small Flows Clearinghouse. Original source http://www.epa.gov/ORD/NRMRL/Pubs/625R00008/625R00008.htm
Water Wells and Septic Systems Handbook, R. Dodge Woodson. This book is in the upper price range, but is worth the cost for serious septic installers and designers. Quoting Amazon: Each year, thousands upon thousands of Americans install water wells and septic systems on their properties. But with a maze of codes governing their use along with a host of design requirements that ensure their functionality where can someone turn for comprehensive, one-stop guidance? Enter the Water Wells and Septic Systems Handbook from McGraw-Hill.
Written in language any property owner can understand yet detailed enough for professionals and technical students this easy-to-use volume delivers the latest techniques and code requirements for designing, building, rehabilitating, and maintaining private water wells and septic systems. Bolstered by a wealth of informative charts, tables, and illustrations, this book delivers:
* Current construction, maintenance, and repair methods
* New International Private Sewage Disposal Code
* Up-to-date standards from the American Water Works Association

Wells and Septic Systems, Alth, Max and Charlet, Rev. by S. Blackwell Duncan, $ 18.95; Tab Books 1992. We have found this text very useful for conventional well and septic systems design and maintenance --DF. Quoting an Amazon description:Here's all the information you need to build a well or septic system yourself - and save a lot of time, money, and frustration. S. Blackwell Duncan has thoroughly revised and updated this second edition of Wells and Septic Systems to conform to current codes and requirements. He also has expanded this national bestseller to include new material on well and septic installation, water storage and distribution, water treatment, ecological considerations, and septic systems for problem building sites.
The NSFC Products List has an excellent list of design manuals/modules available from their website or by telephone 800-624-8301
...