InspectAPedia tolerates no conflicts of interest. We have no relationship with advertisers, products, or services discussed at this website.
Sewage grinder pumps / sewage ejector pumps:
This article explains the differences between and gives installation and maintenance advice for Sump Pumps, Sewage Ejector Pumps, Septic Grinder Pumps, Sewage Pumping Stations, & Septic Pump Alarms. We discuss sewage grinder pump types, sizes, voltages, horsepower, installation and maintenance.
We also give piping size recommendations for sewage pumps and effluent pumps based on the ejector pump rate in gpm. And we include a list of manufacturers of sewage pumps, septic pumps, effluent pumps, and grinder pumps.
An Environment One Corporation grinder pump schematic sketch is shown at the top of this article.
Green links show where you are. © Copyright 2015 InspectApedia.com, All Rights Reserved.
What is a Sewage Ejector Pump? Where are they used?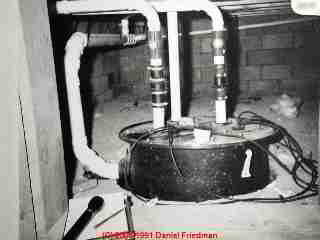 How to buy, install, inspect, & maintain Septic tank pumps, septic grinder pumps, septic effluent pumps
What is a Sewage Ejector? Sewage ejector pumps & What's the difference between an effluent pump, sewage ejector pump, and grinder pump? Recommended pipe diameters for sewage pump installations.
[Click to enlarge any image]
Advice is given for septic tank effluent or sewage pump selection, installation, maintenance, inspection, and use.
Septic pumps used for pumping air in aeration systems and septic pumps used to move effluent in a drip dispersion system are discussed under the appropriate septic system type which are outlined at SEPTIC SYSTEM DESIGN ALTERNATIVES.
Sewage ejector pumps, or sewage grinder pumps, are designed to pump residential or household sewage or blackwater to a destination such as an elevated septic tank or to a city sewer (for homes whose lower baths are at a depth below the level of their sewer line).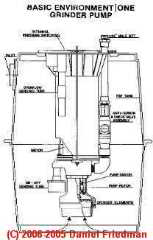 Even if a building is nearly at the same level as its septic tank or sewer line, if the geography of the site prevents sewage from flowing fast enough on its own (two-feet per second) then a sewage grinder or sewage ejector pump is needed.
Shown at left is an older model packaged sewage ejector pump provided by Environment One Corporation.
A typical application of a sewage ejector pump is in a home where a basement bathroom is located lower than the height of the sewer line which leaves the home. The sewage ejector pump lifts waste from the basement bathroom up to the sewer line where it flows out to a septic tank or community sewer.
A sewage or septic grinder pump, (there is more than one grinding method) reduces sewage to a finely ground slurry of waste and water which can then be pumped or forced to its destination. In the sewage grinder pump photo shown at above left, the number of wires and pipes at the tank tells us that this is a duplexed or two-pump system with two grinder pumps, two drains, and a tank alarm as well (the center wires).
If your building's drain system is at a level below a municipal sewer line, or if your septic drainfield or tank and fields are uphill from the building, you need a sewage grinder pump and a forced-main sewer system.
If your home is connected to a community sewer line which itself uses a pumping station to move wastewater and sewage from the community sewer to a public sewage main, see our discussion of commercial-type sewage grinder and pumping systems found at at SEPTIC PUMPING STATIONS.
What Does a Sewage Ejector Pump Look Like?
The photo at above left is a small pre-packaged wastewater ejector pump suitable for serving a sink or clothes washer; it's not a grinder pump. In the left hand photo at lower left in the picture you'll see a small white plastic water alarm that the office manager left on the floor in this area in order to detect a plumbing supply or drain leak.
The sewage ejector pump photograph at above right shows a typical plug-in sewage ejector pump used in a home basement.
Frankly, a consumer unfamiliar with these products may have trouble telling the difference by a simple exterior inspection - it's reliable to observe the product name and number and then inquire of the manufacturer about the pump's intended application and its installation requirements.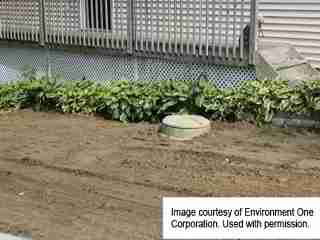 But in the cases above, the overall size, location, and nearby plumbing fixtures defined the probable application of each pump even for a novice inspector and where view of the septic pump was limited.
In their most common usage, packaged septic pump systems are sold in a plastic "can" which contains the grinder pump, a float control to turn the pump on and off, and watertight fittings that permit connection of the system to the building electrical system (to supply power to the pump) and to the building drain waste vent system.
The pump manufacturer will provide a table of pumping capacity needed to overcome specific head or lift requirements and length or pipe run from the pumping station to its destination.
An Environment One Corporation grinder pump outdoor installation is shown at left while a sewage grinder pump schematic sketch is shown at page top.
Separately at SEPTIC PUMP ALARM SYSTEMS we illustrate an outdoor-mounted sewage pump alarm system provided by the same manufacturer.
Sewage Ejector Pump Maintenance
Not much maintenance is required for these pumps other than clearing a blockage if you ignore our "Don't Flush" list given below. While at least some ejector pump models can tolerate being run "dry" for some time without damage, the manufacturer(s) recommend adjusting the pump float so that the liquid level in the receiving chamber never drops below the body of the pump motor.
If your sewage grinder pump or sump pump is not turning on and off correctly, check the holding tank for clogging debris and check the operation of the sewage pump float control switch - see details at the Q&A section
of Sewage Pump Clog Damage
and
at Septic Pump Installation Guide.
Watch out: even a sewage grinder pump is not immune from becoming blocked or damaged by mineral debris, septic tank or holding tank debris, or solids that people may flush down a drain such as condoms, wipes, even cotton swabs or perhaps dental floss. We elaborate these trouble sources
at SEWAGE PUMP CLOG DAMAGE. Quoting Weinman [1]
Sewage Ejector Pump Piping Recommendations
Most of the sewage ejector pump installations we've inspected in residential properties use 2-inch waste piping to connect the pump outlet to the building sewer line. However the pipe diameter selection is guided by the anticipated flow rate - a figure that you can find in your ejector pump's installation and operations manual. Below we quote from Hyromatic [3].
Table of Sewage Pump Pipe Sizes & Flow Rates
Pipe Diameter in Inches
Ejector Pump Flow Rate in GPM

1 1/2"

12

2"

21

2 1/2"

30

3"

48
Ejector Pump Preventive Maintenance
As the motor is oil filled, no lubrication or other maintenance is required, and generally will give very reliable service and can be expected to operate for years on normal sewage pumping without failing. However as with any mechanical piece of equipment a preventive maintenance program is recommended and suggested to include the following checks:

1) Inspect motor chamber for oil level and contamination and repair ...

2) Inspect impeller and body for excessive build-up or clogging and repair ...

3) Inspect motor and bearings and replace as required ...

4) Inspect seal for wear or leakage and repair as required ... [see reference [1]]
Watch out: when removing a grinder pump of sewage ejector pump from its station, do not lift the pump by its electrical wiring. Doing so risks damaging the wiring and voiding the pump warranty. Lift the pump by the steel handle or attachment intended for that purpose.

Septic & Sewage Pump Manufacturers class their pumps into these categories
Grinder pumps, such as Zoeller's 810/815 Turnkey Grinder Systems, 800-series Grinder Pumps, Cold-Climate grinder pumps, Simplex prepackaged grinder pump systems, and Simplex and Duplex (two pumps) grinder systems including four outdoor use.
Utility, pedestal, & gas engine pumps. These are portable gas-engine powered pumps used typically in construction, service, or emergencies
Sewage & Dewatering pumps, such as certain Aqua-Mate Models and Waste-Mate models, and Sewage-Waste 600-series pumps
Sump, Effluent, Dewatering pumps, such as Water Ridd'r , Mighty-Mate, Aqua-Mate, Flow-Mate, and High Head Flow-Mate pumps - of certain models - be sure to read the manufacturer's intended use for a pump model before purchasing it
Technical review by industry experts has been performed and is ongoing - reviewers welcomed and are listed at "References." This article is part of our series: SEPTIC SYSTEM INSPECTION & MAINTENANCE COURSE an online book on septic systems. Sketches are from the Environment One Low Pressure Sewer Systems Grinder Pump catalog.
Septic Pump Articles
Continue reading at FREE-STANDING GRINDER PUMPS or select a topic from the More Reading links shown below.
Suggested citation for this web page
SEWAGE EJECTOR / GRINDER PUMPS at InspectApedia.com - online encyclopedia of building & environmental inspection, testing, diagnosis, repair, & problem prevention advice.
More Reading
Green link shows where you are in this article series.
OR use the Search Box found below at Ask a Question or Search InspectApedia
...
Frequently Asked Questions (FAQs)
Question: Options for battery backup for a sewage grinder pump
For a grinding pump (zoeller 1/2hp)... What options for a battery backup? Computer UPS maybe?? Something more serious? - Rob 8/30/11
Reply:
Nice question, Rob. I'd look at the data for the Zoeller pump model (data from your installation manual should be enough as the pump itself would need to be pulled to look at its data tags). I am not sure that a typical home computer UPS will have enough ampacity at 120V to handle the pump operation but it might. If not, take a look at battery-operated backups for basement sump pumps.
Or even a second, auxiliary 12-V pump itself, added into the same pumping station (if there's room for both pump and floats). A second pump (common installation practice) has its float control set to turn on the pump at a higher level than the main pump, so it will operate automagically if/when the main pump stops working for any reason.
Question: Clunking noise coming from the grinder pump when it shuts off
I have lived through a few sump/grinders in the past 6years. HUGE pet peeve is the giant clunk the check valve makes when the grinder shuts off. I have a new house and the plumbers installed a ejector system and everything and looks good. The main drain outlet pipe is secured to the concrete foundation wall with foam padding between the pipe an the "U" bracket. near the top (12" from the ceiling joist) is the check valve. We are still getting a very large "Clunk" when the grinder stops that shakes main floor.
Do you have any suggested best practices when installing this setup to reduce noise in the overall ejection process?
thnx - Matt 12/27/11
Reply:
Matt there should be no clunking when your sewage pump turns on and off. It sounds as if the pump is not secured, or as if a mount has broken or come loose.
Question: Chirping sound coming from sewage ejector pump
I woke up today to a chirping sound coming from my sewage ejector pump.....it seems evenly spaced (about every thirty seconds), not very loud, but annoying....the pump is only one and a half years old.....the pump is near my bedroom and interfering with my sleep ......please help me figure out what that noise is. - Barbara
Reply:
Barbara, a chirping sewage ejector pump - sound as if either the pump motor was unable to start and run or there was a problem with a float control - perhaps setting off an alarm? I'd track the sound directly to the source. Does your system include an alarm?
Question: Sewage pump runs all the time - when should the grinder pump cycle on and off?
Are these pumps supposed to run all the time or just when water is being used? - Charlene 5/1/12
Reply:
Charlene, most grinder pumps do not run every time the water is being used but rather are turned on and off by a float control inside the receiving tank. If your pump is running constantly the float switch needs repair or replacement.
Question: is it possible to repair a leaky sewage grinder pump holding tank?
I have a crack in the bottom of my grinder pump holding tank which is allowing some dirt and debris into the tank. Other than complete removal and replacement of the tank from my concrete basement floor, do I have any other options to seal or repair this crack/leak? - R.H. 1/14/13
Reply:
It may be possible to empty the sewage grinder pump tank, clean and dry it, and repair the crack using an epoxy crack repair product or for plastic tanks, using a fiberglass patch - depending on tank material, but
Watch out: leaning over any septic tank or cesspool, even a small grinder pump tank that has contained sewage can result in death by asphyxiation; also if there are sparks or a nearby flame, the result can be a methane gas explosion;
Don't work alone, never enter a tank without special training and protective gear/apparatus, &c. - stay safe .
Question: loud noise traced to old pump in basement. I disconnected it and now have septic problems.
(June 17, 2014) Gregory King said:
I bought a home built around 200 yrs ago. im a plumber an have a problem. i had owned my home a few yrs an in the bacement i heard a loud noise. when i went down i found an old pump running. i had thought it had been out of use for some time by the looks of it. i disconnected it.Im having problems now with septic in home. is the any way this pump has anything to do with the septic or field ?
Reply:
Gregory,
Some septic systems use pumps for various applications including the grinder pumps discussed above on this page.
If the pump you found has to do with septic you should see it connected to the building DWV system.
I'd need a more complete description or some photos to offer more - you can send photos to us at our CONTACT link found at page bottom.
Question: Zoeller grinder pump
(June 26, 2014) Jason said:
Hello. Had a Zoeller grinder pump replaced at my house. 2 story house. The pump services the below grade level and it looks like they original builder dropped a far kitchen drain in their as well. The old pump was audible throughout the house and to some extent when the check valve close. The plumber said the old check valve was horizontal and he changed that to a vertical configuration. Well....now it's loud as all get out when the valve closes. Plumber says horizontal check valve is not ideal is more easily blocked open. Is there way to slow the closure of the check valve so there is not so much hydrostatic shock. Now, it reverberates throughout most of the house. I'm worried that is causing way more stress than before.
Reply:
Jason
Thanks for the question, sorry I don't have a good answer. You may be describing a water hammer problem - usually occurring on water supply piping not drains.
I'd give Zoeller a call to ask their opinion about the cause before just treating the symptom.
Keep us posted as what you learn will assist others.
Question: sewage grinder pump odor problems
(Aug 25, 2014) karen said:
We are having a problem with odor with our grinder pump in the basement. Is there something that you can flush down the toilet to help with this.
Reply:
I think I'd look first for a leak, bad venting, a failed check valve etc. If you have not always had odor complaints it makes sense to find and fix what's wrong rather than to just try to deodorize it - a temp fix.
Question: sewer ejector pump with external vault & check valves - lift station: frequent pump cycling
(Sept 19, 2014) Eric LaShore said:
I am considering installing a external vault with a dual check valve to the sewer line with an ejector pump or a lift station with two ejector/grinder pumps (disconnecting my home from the sewer) and I'm attempting to weigh the pro's and cons. I assume the lift station will be more protection against sewer back up but the dual check valve should provide pretty solid protection as well.
I'm interested in determine the avg power consumption of a grinder/ejection pump to determine the increased power consumption destined for my energy bill when installing a lift station. I'm not quite sure how to address the question when dealing with AC power.
(Sept 30, 2014) Jessie said:
Hi! We have a bi-level home (10 years old) at the bottom of a hill from a neighborhood with a grinder/waste ejector pump that pumps ALL exiting waste/water from our house to the main sewer line up the hill from us. The pump/basin is located outside. It was replaced this summer when it stopped working (10 year old house curse), and ever since, the new pump (a Zoeller model) has been running super frequently, like every 5-10 minutes, when no water is exiting the house.
We took it off and watched, and it appears that some ground water is coming into the pump from what appears to be small holes along the side of the basin, that look like they're supposed to be there. The water will flow in from the ground/outside of the tank, trigger the float, and it will kick on, pump it out, and turn off. the water continues to seep in at a near constant stream - even though we haven't had much rain lately (although we are at the bottom of a hill and our yard does stay wet much longer than most, and our backyard where the pump is is pretty shaded).
The guys that put in the replacement pump this summer came and looked at it and seemed dumbfounded, saying "maybe you should get a backhoe and see where the water is coming from." We were dumbfounded. My husband turned the pump off at the breaker and watched it. After the water seeped in to just a bit above the holes, it stopped. The water level didn't continue to rise. His theory is that the float needs to be adjusted up a few inches, and that the tank SHOULD be letting in some groundwater, that it is normal and should hold water level to the groundwatever level. Does this sound correct?
The owner of the plumbing company (the dad of the kid who recommended a backhoe!!) is coming to check it out tomorrow, and we're hoping he agrees that we just need to adjust the float up a bit. I'm sure it's not good for the new pump to be running almost non-stop - AND we saw a $40 jump in our energy bill this month.
Do you have any thoughts on the matter?
Reply:
(Oct 14, 2014) gord said:
should you run large amounts of water through the grinder pump when not in use for six months . We pump up hill 150 ft. should we clear the line of slurrey
Question:
(Oct 17, 2014) Kimmie said:
We live in a city and our house has a pump in the basement. After reading this, I realized it must be a sewage ejector pump. We've tried not to use the basement toilet because I am afraid that solid waste will stay in the tank for a long time before being pumped into the sewage line and that's not very pleasant. Does waste get pumped out right away or it sits there until there's enough to trigger the pump? Thanks.
Reply:
x
Question: grinder pump cycvles on and off
(Mar 3, 2015) GARCIA said:
the alarm on the grinder pump is going on and off. When I try to reset as per the instructions, nothing happens. The level of the water/sludge does not appear to be abnormal. What is going on? We live on a bi/level home. We bought the home 1.5 years ago and this was supposed to be an additional system. Can you explain the possibilities? Thank you
Reply:
I would look for a failed check valve that allows sewage backflow into the pump or a failed pump control switch, relay, or float.
Question: grinder pump makes humming noise
(Apr 4, 2015) Sheldon said:
Our grinder pump makes a humming noise after it got done pumping, so I unplugged it.
It pumped fine and then I could hear a humming noise, I unplugged it and it stopped and plugged it back in to see if maybe it was just stuck or could reset itself, but it still
hums. I don't want to flush try and start the pump in case it doesn't work. Any ideas?
Reply:
Perhaps the pump shutoff switch is not working and the pump is running dry - which would not be good for it.
Question:
(Apr 26, 2015) steven buonomo said:
What is a good price to funish and install a 2hp ejector/grinder pump ?
Reply:
Steven there is such a wide range of installations that I can't guess at what the labor portion of your job might be. Sewage ejector pumps range from around $300. to $1000. for residential systems.
Question: sewage pump keeps short-cycling on and off
(May 1, 2015) Suzanne said:
Our home sanitary system was installed 45 years ago with a grinder pump to send sewage 450 feet uphill to join our larger sewer line to the septic tank and field. The 4 inch plastic pipe leading to the larger sewer line was replaced with a 6 inch pipe with two clean out places. Now the grinder pump is turning on and off every fifteen seconds even when no water is being used in the house. Will the grinder pump for a 4 inch pipe be able to handle the job for a 6 inch pipe?
Reply:
A short-cycling grinder pump needs to be repaired before it burns out. You may have a switch problem, float problem, a failed check valve (likely) or water is left on and running into the system from a fixture somewhere.
22 May 2015 Serge Duval said:
I can see why problems with a sewer pump would be problematic. This gives a good explanation of what a sewage pump is used for. I also really appreciate the actual photos of sewage pumps. I'm going to keep this article in case I ever end up needing to do repairs on mine. Thanks for the information!

...
Ask a Question or Search InspectApedia
Use the "Click to Show or Hide FAQs" link just above to see recently-posted questions, comments, replies, try the search box just below, or if you prefer, post a question or comment in the Comments box below and we will respond promptly.
Search the InspectApedia website
Technical Reviewers & References
Publisher's Google+ Page by Daniel Friedman
Click to Show or Hide Citations & References
New York State Department of Health, "Appendix 75-A Wastewater Treatment Standards - Individual Household Systems", [PDF] New York State Department of Health, 3 February 2010, retrieved 3/1/2010, original source: https://www.health.ny.gov/regulations/nycrr/title_10/part_75/appendix_75-a.htm
[1] Weinman Installation and Operation Manual, Submersible Sewage Ejector Pump, Crane Pumps and Systems, 420 Third Street, Piqua, Ohio 45356 Phone: (937) 778-8947 and Crane Pumps and Systems, 83 West Drive, Bramton, Ontario, Canada L6T 2J6, Phone: (905) 457-6223 Fax: (937) 773-7157 Fax: (905) 457-2650 www.cranepumps.com. See Weinman submersible sewage ejector pump installation and service manual for an example instructions for the Weinman Series WE and 3WE sewage ejector pumps ranging from .5 to 1 hp. Web search 8/9/11, original source: http://www.cranepumps.com/downloadables/CATALOGS_OIPMs/
Manuals%20&%20Instruction%20sheets/108038.pdf
[2] Grundfos Sewage Ejector Pump Package Installation and Operating Instructions, Grundfos Pumps Corporation, 2555 Clovis Ave., Clovis CA 93612, Tel: 800-333-1366, web search 8/9/11,original source
http://www.us.grundfos.com/web/download.nsf/Pages/
7C03990D6E09EC6C882565220069C131/$File/Seeje-io.pdf
[3] Submersible Sewage Ejector Pump Installation, Operation, & Parts Manual, by Hydromatic Pentair Water, 740 East 9th Street, Ashland, OH 44805, Phone: 1-888-957-8677, Web Site: http://www.hydromatic.com
[4] Environment One Corporation, 2773 Balltown Road, Niskayuna, NY 12309, Tel 518-346-6161,l website: www.eone.com/sewers
E/One Extreme Series grinder pump stations for indoor and outdoor installations, residential and light commercial applications.
[5] Pennsylvania State Fact Sheets relating to domestic wastewater treatment systems include

Pennsylvania State Wastewater Treatment Fact Sheet SW-161, Septic System Failure: Diagnosis and Treatment
Pennsylvania State Wastewater Treatment Fact Sheet SW-162, The Soil Media and the Percolation Test
Pennsylvania State Wastewater Treatment Fact Sheet SW-l64, Mound Systems for Wastewater Treatment
Pennsylvania State Wastewater Treatment Fact Sheet SW-165, Septic Tank-Soil Absorption Systems
Document Sources used for this web page include but are not limited to: Agricultural Fact Sheet #SW-161 "Septic Tank Pumping," by Paul D. Robillard and Kelli S. Martin. Penn State College of Agriculture - Cooperative Extension, edited and annotated by Dan Friedman (Thanks: to Bob Mackey for proofreading the original source material.)

...
Carson, Dunlop & Associates Ltd., 120 Carlton Street Suite 407, Toronto ON M5A 4K2. (416) 964-9415 1-800-268-7070 info@carsondunlop.com. The firm provides professional home inspection services & home inspection education & publications. Alan Carson is a past president of ASHI, the American Society of Home Inspectors. Thanks to Alan Carson and Bob Dunlop, for permission for InspectAPedia to use text excerpts from The Home Reference Book & illustrations from The Illustrated Home. Carson Dunlop Associates' provides:

Commercial Building Inspection Courses - protocol ASTM Standard E 2018-08 for Property Condition Assessments
Home Inspection Education Courses including home study & live classes at eleven colleges & universities.
Home Inspection Education Home Study Courses - ASHI@Home Training 10-course program.
Special Offer: Carson Dunlop Associates offers InspectAPedia readers in the U.S.A. a 5% discount on these courses: Enter INSPECTAHITP in the order payment page "Promo/Redemption" space. InspectAPedia.com editor Daniel Friedman is a contributing author.
The Home Reference Book, a reference & inspection report product for building owners & inspectors.
Special Offer: For a 10% discount on any number of copies of the Home Reference Book purchased as a single order. Enter INSPECTAHRB in the order payment page "Promo/Redemption" space. InspectAPedia.com editor Daniel Friedman is a contributing author.
The Home Reference eBook, an electronic version for PCs, the iPad, iPhone, & Android smart phones.
Special Offer: For a 5% discount on any number of copies of the Home Reference eBook purchased as a single order. Enter inspectaehrb in the order payment page "Promo/Redemption" space.
The Illustrated Home illustrates construction details and building components, a reference for owners & inspectors.
Special Offer: For a 5% discount on any number of copies of the Illustrated Home purchased as a single order Enter INSPECTAILL in the order payment page "Promo/Redemption" space.
The Horizon Software System manages business operations,scheduling, & inspection report writing using Carson Dunlop's knowledge base & color images. The Horizon system runs on always-available cloud-based software for office computers, laptops, tablets, iPad, Android, & other smartphones

Wikipedia provided background information about some topics discussed at this website provided this citation is also found in the same article along with a " retrieved on" date. NOTE: because Wikipedia entries are fluid and can be amended in real time, we cite the retrieval date of Wikipedia citations and we do not assert that the information found there is necessarily authoritative.
Books & Articles on Building & Environmental Inspection, Testing, Diagnosis, & Repair
The Home Reference Book - the Encyclopedia of Homes, Carson Dunlop & Associates, Toronto, Ontario, 25th Ed., 2012, is a bound volume of more than 450 illustrated pages that assist home inspectors and home owners in the inspection and detection of problems on buildings. The text is intended as a reference guide to help building owners operate and maintain their home effectively. Field inspection worksheets are included at the back of the volume. Special Offer: For a 10% discount on any number of copies of the Home Reference Book purchased as a single order. Enter INSPECTAHRB in the order payment page "Promo/Redemption" space. InspectAPedia.com editor Daniel Friedman is a contributing author.

Or choose the The Home Reference eBook for PCs, Macs, Kindle, iPad, iPhone, or Android Smart Phones. Special Offer: For a 5% discount on any number of copies of the Home Reference eBook purchased as a single order. Enter INSPECTAEHRB in the order payment page "Promo/Redemption" space.
Advanced Onsite Wastewater Systems Technologies, Anish R. Jantrania, Mark A. Gross. Anish Jantrania, Ph.D., P.E., M.B.A., is a Consulting Engineer, in Mechanicsville VA, 804-550-0389 (2006). Outstanding technical reference especially on alternative septic system design alternatives. Written for designers and engineers, this book is not at all easy going for homeowners but is a text I recommend for professionals--DF.
Builder's Guide to Wells and Septic Systems, Woodson, R. Dodge: $ 24.95; MCGRAW HILL B; TP; Quoting from Amazon's description: For the homebuilder, one mistake in estimating or installing wells and septic systems can cost thousands of dollars. This comprehensive guide filled with case studies can prevent that. Master plumber R. Dodge Woodson packs this reader-friendly guide with guidance and information, including details on new techniques and materials that can economize and expedite jobs and advice on how to avoid mistakes in both estimating and construction. Chapters cover virtually every aspect of wells and septic systems, including on-site evaluations; site limitations; bidding; soil studies, septic designs, and code-related issues; drilled and dug wells, gravel and pipe, chamber-type, and gravity septic systems; pump stations; common problems with well installation; and remedies for poor septic situations. Woodson also discusses ways to increase profits by avoiding cost overruns.
Country Plumbing: Living with a Septic System, Hartigan, Gerry: $ 9.95; ALAN C HOOD & TP; Quoting an Amazon reviewer's comment, with which we agree--DF:This book is informative as far as it goes and might be most useful for someone with an older system. But it was written in the early 1980s. A lot has changed since then. In particular, the book doesn't cover any of the newer systems that are used more and more nowadays in some parts of the country -- sand mounds, aeration systems, lagoons, etc.
Design Manuals for Septic Systems
US EPA Onsite Wastewater Treatment Systems Manual [online copy, free] Top Reference: US EPA's Design Manual for Onsite Wastewater Treatment and Disposal, 1980, available from the US EPA, the US GPO Superintendent of Documents (Pueblo CO), and from the National Small Flows Clearinghouse. Original source http://www.epa.gov/ORD/NRMRL/Pubs/625R00008/625R00008.htm Onsite wastewater treatment and disposal systems, Richard J Otis, published by the US EPA. Although it's more than 20 years old, this book remains a useful reference for septic system designers. U.S. Environmental Protection Agency, Office of Water Program Operations; Office of Research and Development, Municipal Environmental Research Laboratory; (1980)
Eco John® Innovative Toilet Solutions, Global Inventive Industries, Fountain Valley CA, PDF, product brochure
"International Private Sewage Disposal Code," 1995, BOCA-708-799-2300, ICBO-310-699-0541, SBCCI 205-591-1853, available from those code associations.
"Manual of Policy, Procedures, and Guidelines for Onsite Sewage Systems," Ontario Reg. 374/81, Part VII of the Environmental Protection Act (Canada), ISBN 0-7743-7303-2, Ministry of the Environment,135 St. Clair Ave. West, Toronto Ontario M4V 1P5 Canada $24. CDN.
Manual of Septic Tank Practice, US Public Health Service's 1959.

Onsite Wastewater Disposal Books
Onsite Wastewater Disposal, R. J. Perkins; Quoting from Amazon: This practical book, co-published with the National Environmental Health Association, describes the step-by-step procedures needed to avoid common pitfalls in septic system technology. Valuable in matching the septic system to the site-specific conditions, this useful book will help you install a reliable system in both suitable and difficult environments. Septic tank installers, planners, state and local regulators, civil and sanitary engineers, consulting engineers, architects, homeowners, academics, and land developers will find this publication valuable.
Onsite Wastewater Treatment Systems, Bennette D. Burks, Mary Margaret Minnis, Hogarth House 1994 - one of the best septic system books around, suffering a bit from small fonts and a weak index. While it contains some material more technical than needed by homeowners, Burks/Minnis book on onsite wastewater treatment systems a very useful reference for both property owners and septic system designers.
Septic Tank/Soil-Absorption Systems: How to Operate & Maintain [ copy on file as /septic/Septic_Operation_USDA.pdf ] - , Equipment Tips, U.S. Department of Agriculture, 8271 1302, 7100 Engineering, 2300 Recreation, September 1982, web search 08/28/2010, original source: http://www.fs.fed.us/t-d/pubs/pdfimage/82711302.pdf
Soil Percolation Tests soil perc testing guide and instructions
Percolation Testing Manual, CNMI Division of Environmental Quality, PO Box 501304, Saipan, MP 96950
Planting Over Septic System Component", Daniel Friedman (author/editor, InspectAPedia.com), The Innovator, Winter/Spring 2008, BCOSSA, British Columbia OnSite Sewage Association, 201-3542 Blansard St., Victoria BC V8X 1W3 Canada
Save the Septic System - Do Not Flush These Items Down the Toilet, Daniel Friedman, InspectAPedia.com - PDF document, printable
Septic System Owner's Manual, Lloyd Kahn, Blair Allen, Julie Jones, Shelter Publications, 2000 $14.95 U.S. - easy to understand, well illustrated, one of the best practical references around on septic design basics including some advanced systems; a little short on safety and maintenance. Both new and used (low priced copies are available, and we think the authors are working on an updated edition--DF. Quoting from one of several Amazon reviews: The basics of septic systems, from underground systems and failures to what the owner can do to promote and maintain a healthy system, is revealed in an excellent guide essential for any who reside on a septic system. Rural residents receive a primer on not only the basics; but how to conduct period inspections and what to do when things go wrong. History also figures into the fine coverage.
Test Pit Preparation for Onsite Sewage Evaluations, State of Oregon Department of Environmental Quality, Portland OR, 800 452-4011. PDF document. We recommend this excellent document that offers detail about soil perc tests, deep hole tests, safety, and septic design. Readers should also see Soil Percolation Tests and for testing an existing septic system, also see Dye Tests
Grass is Always Greener Over the Septic Tank, Bombeck, Erma: $ 5.99; FAWCETT; MM; This septic system classic whose title helps avoid intimidating readers new to septic systems, is available new or used at very low prices. It's more entertainment than a serious "how to" book on septic systems design, maintenance, or repair. Not recommended -- DF.

US EPA Onsite Wastewater Treatment Systems Manual Top Reference: US EPA's Design Manual for Onsite Wastewater Treatment and Disposal, 1980, available from the US EPA, the US GPO Superintendent of Documents (Pueblo CO), and from the National Small Flows Clearinghouse. Original source http://www.epa.gov/ORD/NRMRL/Pubs/625R00008/625R00008.htm
Water Wells and Septic Systems Handbook, R. Dodge Woodson. This book is in the upper price range, but is worth the cost for serious septic installers and designers. Quoting Amazon: Each year, thousands upon thousands of Americans install water wells and septic systems on their properties. But with a maze of codes governing their use along with a host of design requirements that ensure their functionality where can someone turn for comprehensive, one-stop guidance? Enter the Water Wells and Septic Systems Handbook from McGraw-Hill.
Written in language any property owner can understand yet detailed enough for professionals and technical students this easy-to-use volume delivers the latest techniques and code requirements for designing, building, rehabilitating, and maintaining private water wells and septic systems. Bolstered by a wealth of informative charts, tables, and illustrations, this book delivers:
* Current construction, maintenance, and repair methods
* New International Private Sewage Disposal Code
* Up-to-date standards from the American Water Works Association

Wells and Septic Systems, Alth, Max and Charlet, Rev. by S. Blackwell Duncan, $ 18.95; Tab Books 1992. We have found this text very useful for conventional well and septic systems design and maintenance --DF. Quoting an Amazon description:Here's all the information you need to build a well or septic system yourself - and save a lot of time, money, and frustration. S. Blackwell Duncan has thoroughly revised and updated this second edition of Wells and Septic Systems to conform to current codes and requirements. He also has expanded this national bestseller to include new material on well and septic installation, water storage and distribution, water treatment, ecological considerations, and septic systems for problem building sites.

The NSFC Products List has an excellent list of design manuals/modules available from their website or by telephone 800-624-8301
...