Toilet Repair Guide:
How to Diagnose & Repair Toilets
InspectAPedia tolerates no conflicts of interest. We have no relationship with advertisers, products, or services discussed at this website.
Toilet Repair Guide:
How to diagnose and fix a toilet: this article series discusses the cause, diagnosis, and repair of toilet problems (water closet problems) such as a toilet that does not flush well, clogged toilets, slow-filling toilets, running toilets, loose wobbly toilets, and odors at leaky toilets. Here we explain how to diagnose and repair problems with toilets, leaks, flushes, odors, noises, running and wasted water.
Found here: How to diagnose & fix a slow-flushing toilet or a clogged toi8let drain. How to diagnose and fix a clogged toilet drain - How to fix a toilet that is overflowing when flushed - in an emergency.
How to diagnose and correct drain noises occurring when the toilet flushes & how to repair problems causing plumbing drain sounds. Slow toilet tank fill problems. Toilets that keep running - fill valve does not shut off the toilet tank fill valve? Toilet flush valve or flapper valve problems.
Toilet tank fill valves and water sanitation. Sewer gas odors in buildings traced to loose or leaky toilet drains.
Our page top photo shows ugly staining in a toilet bowl - strong evidence that this toilet has been running, wasting water, possibly flooding the septic system, and sometimes giving bad flush performance as well.
We also provide a MASTER INDEX to this topic, or you can try the page top or bottom SEARCH BOX as a quick way to find information you need.
List of Toilet Fill, Flush, Drain, Odor, Noise, Problems & Solutions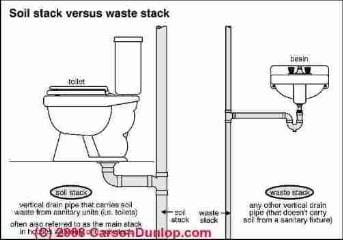 If your toilet is overflowing or about-to see TOILET OVERFLOW EMERGENCY
All modern toilets receive human waste, urine, feces, and are intended to dispose of that matter in a sanitary fashion.
By the late 1800's the development of the modern flush-toilet, replacing chamber pots and outhouses, toilets have relied on a dose of water to flush waste out of the toilet bowl into sewage piping or into a private septic system for wastewater treatment and disposal.
Some sources refer to a toilet as a water closet. Thomas Crapper & Co. (London) called their scary-looking toilet contraption an "Elastic Valve Closet".
Early flush toilets like this 1890 model used a high wall-mounted reservoir tank, typically wooden, to provide adequate pressure and flow rate to clean and empty the toilet bowl.
Contemporary toilets use a tank attached to the toilet bowl itself, relying on improved flush valve controls to provide the water flow rate into the bowl to empty it and clean the bowl sides.
We discuss onsite waste disposal systems - septic tanks, drainfields, separately at SEPTIC SYSTEM INSPECT DIAGNOSE REPAIR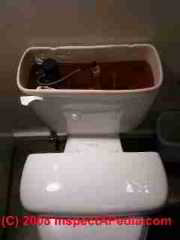 Before launching into our series of articles on diagnosing and repairing toilet problems such as clogged toilets, toilets that don't flush properly, running or leaky or noisy toilets, toilet odors, and loose toilets, take a look at the simple connection between a typical reservoir-tank toilet and the soil stack (waste piping) in the Carson Dunlop Associates sketch (above left).
At page top or left please see our list of toilet trouble diagnosis and repair articles.
You will see that some toilet problems are fixed easily and right at the toilet by a simple adjustment, while others may not be the toilet's fault at all, and may need more thoughtful diagnosis and repair.
Taking off the toilet tank top: Some of these simple toilet diagnosis steps require that you look into the toilet flush tank on the back of the toilet.
Just lift the top off of the toilet tank and set it carefully aside on the floor where you won't break it or trip over it.
If you leave the tank top on the toilet seat (as we did for this photo) you're asking for trouble, and also, it's a bit in the way.

Our sketch below shows the parts you'll see inside the toilet tank. You may want to refer back to this drawing while reading the details of each class if individual toilet problems listed above and how they are detected, diagnosed, and repaired.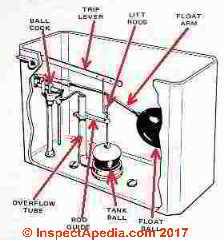 Tank reservoir toilets like the toilet in the sketch at left and in our photo just below, have been in wide use in North America since the 1940's.
While there have been improvements in toilet tank fill valves, flush valves, floats, and water savings, the design has remained about the same.
A flush lever moves an arm to lift a flapper valve or tank ball to permit water to rush into the toilet bowl below, washing away waste into the sewer pipe.
At the end of the flush cycle, a float arm, or a float moving on a vertical stalk (newer valves) drops to open a valve permitting the toilet tank to refill with water.
When the toilet tank water level reaches the proper level, the float closes the toilet tank fill valve.
Toilet Won't Flush at All - Tank Water, Disconnected Flush Controls?
If the toilet won't flush at all, what happened when you pushed the flush lever ?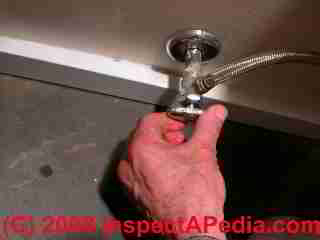 Nothing happened when we tried to flush the toilet:

See if there was water in the toilet tank - if not water has been turned off or water pressure is lost, or a valve supplying water to the toilet has been closed.
See if the flush lever is connected to the toilet tank flapper valve in the bottom center of the tank. In a proper setup, pushing the toilet flush lever down or to one side will move an arm inside the toilet tank.

At the end of the arm is a chain, string, plastic strip, or wire that goes descends in the toilet tank to a connection at one edge of the tank flush valve or flapper valve.

Moving the toilet flush lever should pull up the flapper valve to let water rush out of the toilet tank into the bowl below to flush the toilet. Make sure these connections are in place and that the toilet flapper is lifted when you push the toilet flush lever. Reconnect the chain or plastic strip if necessary.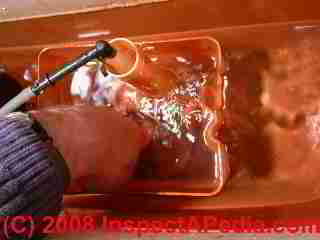 The toilet tank flapper opened, water ran into the toilet bowl below, but the bowl didn't drain.

The toilet drain is probably blocked.
See CLOGGED DRAIN DIAGNOSIS & REPAIR

and BLOCKED DRAIN REPAIR METHODS

If the toilet is about to overflow you can stop it before waste and water run onto the floor, using the procedure - obviously you'll want to have looked at that procedure in advance.

Basically, just reach into the toilet tank and push the flapper valve shut so you stop sending water into the toilet bowl. But to be prepared, read the details at TOILET OVERFLOW EMERGENCY.


Toilet Flushes Slowly or Backs Up - Clogged Toilet or Sewer Drain?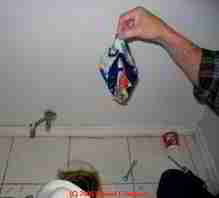 Is the sewer line or soil stack clogged? Our grandson Chase Patrick Gilligan, learning toilet training, flushed his peed-in underpants down the toilet.
We have also found child's toys, and once, a dog's bone clogging the waste line just below the toilet.
If other building drains are working fine, but one toilet is flushing poorly, it is possible that there is a local blockage close to the toilet itself.
Brian found this drain clog by asking Chase what happened to the missing underpants.
He then removed the toilet from the floor [image], and by luck, the underpants were able to be easily retrieved - unblocking the clogged toilet drain before a backup and toilet overflow catastrophe had occurred.
See TOILET CLOGGED to diagnose and fix a blocked or clogged toilet
See TOILET FLUSHES POORLY to diagnose and fix slow-flushing toilets caused by inadequate water volume in the toilet bowl or in the toilet tank or cistern, or caused by a partly-blocked drain, defective vent.
For toilets (and urinals) that are operated by building water pressure alone and without a reservoir tank, see FLUSHOMETER VALVES for TOILETS URINALS.
Stains in Toilets

Question: pink or black algae in toilet bowl
My toilet bowls develop a pink and / or black algae (?) after only a week of non-use (or use, for that matter). Is there something I can safely add to the tank water (I have a septic system) to prevent this? Why does it happen? - Anon 6/7/12
Reply:
Anon, indeed I occasionally find both mold growth and algal growth in toilet bowls, usually when a toilet has been left un-used for a time (not flushed often enough to wash contaminants down the drain).
Try cleaning the toilet bowl thorougly with any toilet cleaning product. While you're at it, if your water is supplied from a private well or cistern, you might have your drinking water tested for contaminants as well.
Also check to be sure that the toilet is not running constantly like the one shown in our photo just above.
Question: Disaster zone toilet guide - emergency toilet flushing procedure & alternatives - can I use lake water to flush toilets?
Post hurricane sandy question:
Can I use lake water to flush my toilets. We still have no power, heat or water in Stamford, Connecticut - S.D., Stamford CT 11/5/2012
Reply: Suggestions for emergency flush procedures for conventional toilets when heat, electricity, or water are not available
Here are some suggestions for & warnings about using lake water or other reasonably-clean water from other sources to flush toilets in an emergency. Details about various options for flushing toilets in a disaster zone or ways to come up with emergency toilets are
at DISASTER ZONE TOILET GUIDE

In short, yes. Rather than living with un-flushed toilets, you can use lake water, snow melt, rainwater collected at a downspout, etc. to flush conventional water type toilets (or urinals or bidets) in a building connected to a public sewer or private septic system.

Watch out: but be warned: if your septic system is itself flooded, tank and drainfields, then there is some risk of a sewage backupinto your building when you try flushing a toilet. If you are pretty sure your septic tank and fields are at least not under water, or that the public sewer is no longer under water and flooded, you can test the private or public sewer system to see if you can begin flushing toilets:
Select water that is free of debris and is clean as you can (it does not have to be sanitary, clear lake water would be fine) - don't use water loaded with weeds or other trash to flush a toilet as you risk clogging the drain system.
Test a lowest-floor sink or tub drainage first: try pouring a few gallons of clean lake water (no weeds etc) down a bath tub drain or sink drain on your lowest floor. If that drain doesn't back up and no water comes up in nearby drains (floor drains, sink, shower, tub), then
Test a toilet on the lowest floor next: try flushing the lowest toilet in the building - you can fill the toilet tank to the fill line and then flush, or (messier) you can try pouring some water directly into the toilet bowl until it begins to flush. We chose a toilet on lowest floor to avoid the unpleasant surprise of flushing an upper floor toilet only to see the sewage boil up out of a lower floor toilet in the building.
Watch out: if you flush via the toilet tank and flush valve and the toilet starts to back up or overflow, quickly
Take off the toilet tank lid and carefully (not to break it) place it aside
Manually push closed the toilet flush valve in the center bottom of the toilet tank to stop the flush
See TOILET OVERFLOW EMERGENCY for illustrated details of this emergency procedure to stop an overflowing toilet
Other emergency toilet options for use when your home or building have no power, water, etc. include some simple and easy expedient methods for holding feces, toilet paper, and if necessary, urine such as using a plastic bag lined bucket or just using a plastic bag alone.
...
Continue reading at TOILET CLOGGED or select a topic from closely-related articles below, or see our complete INDEX to RELATED ARTICLES below.
Or see these
Toilet Repair Articles
Suggested citation for this web page
TOILET REPAIR GUIDE at InspectApedia.com - online encyclopedia of building & environmental inspection, testing, diagnosis, repair, & problem prevention advice.
Or use the SEARCH BOX found below to Ask a Question or Search InspectApedia
...
Ask a Question or Search InspectApedia
Try the search box just below, or if you prefer, post a question or comment in the Comments box below and we will respond promptly.
Search the InspectApedia website
Technical Reviewers & References
Click to Show or Hide Citations & References
Thanks to reader J.D. for discussing troubles getting a toilet to flush properly. The supposition that the toilet flushing problem was due to a defective toilet bowl, versus due to improper fill and flush control setup, was tested ad nauseam by this homeowner, her son, plumbers, and plumbing suppliers. 05/29/2010
"Water Saving Tips: For Residential Water Use, Indoors and Out", Alliance for Water Efficiency, 300 W Adams Street, Suite 601 Chicago, Illinois 60606, Tel: 773-360-5100, 866-730-A4WE, Email: jeffrey@a4we.org, web search 12/14/11, original source: plumbingefficiencyresearchcoalition.org/
Composting Toilet System Book: A Practical Guide to Choosing, Planning and Maintaining Composting Toilet Systems, David Del Porto, Carol Steinfeld. Quoting an Amazon review: Del Porto's book is the definitive composting toilet book at this time. There is nothing even close. His book covers all aspects of composting toilet systems and touches on graywater issues as well. He treats the composting toilet as part of the home system. If a person is seriously interested in installing/having a composting toilet, this book can save him/her all of the mistakes people usually make. He even (carefully) explodes some of the advertising myths that the purveyors of composting toilets would have us believe. The book covers ready-made systems as well as home built systems. As trite as this sounds, the book truly is a must for someone considering installing composting toilet.
The Humanure Handbook: A Guide to Composting Human Manure, 3rd Ed., Joseph C. Jenkins. Quoting part of an Amazon review: The Humanure Handbook provides a wealth of thoroughly researched, hands-on experience and scientific data that demonstrates that after a natural process called "thermophilic" bacterial digestion, which occurs in a compost bin and where all pathogens are killed, excreta is then converted to a valuable nutrient for agriculture and thereby completing a full-circle life cycle. Most importantly, effluent can then be kept out of our drinking water and not treated or referred to as an undesirable "waste product".
The information is conveyed in a humorous, folksy, down-to-earth easy to understand style along with drawings, charts, tables, photos and a wealth of resource info for further research. Jenkins' website has a forum for sharing more info, experiences and to answer any and all questions in the process of humanuring and constructed wetland gray water treatment.
Thermal composting of fecal matter as treatment and possible disinfection method--laboratory-scale and pilot-scale studies, B. Vinneras, A. Bjorklund, H. Jonsson. Quoting Amazon review: When using toilets where the urine and faeces are collected separately for reuse as nutrients in agriculture, the collected matter should be disinfected. One way to do this is by thermal composting. Composting of different material mixes was investigated in a laboratory-scale experiment. This showed that the best mixture for dry thermal composting was a mix of faeces, food waste and amendment. The urine was collected separately by use of urine-diverting toilets. A new method was developed to mathematically evaluate and estimate the safety margins of pathogen inactivation during thermal composting. The method is based upon a mathematical calculation of the number of times total inactivation (at least 12log"1"0 reduction) of the organisms is achieved. In a pilot-scale experiment, the disinfection of a faeces/food waste mix was performed with a calculated safety margin of more than 37 times the total die-off of Enteroviruses and some 550 times that of Ascaris. Thus, well functioning composting seems to be effective for disinfection of faecal matter. To get a high temperature in all of the material, the reactor has to have sufficient insulation. A major disadvantage is the initial need for handling the raw un-disinfected material. The degradation of the organic matter in the compost was almost 75%, resulting in a small final volume that could safely be recycled.
Experiences with a composting toilet article from: Countryside & Small Stock Journal, available as HTML download. Quoting Amazon review: This digital document is an article from Countryside &amp Small Stock Journal, published by Countryside Publications Ltd. on May 1, 1994. The length of the article is 1516 words. The page length shown above is based on a typical 300-word page. The article is delivered in HTML format and is available in your Amazon.com Digital Locker immediately after purchase. You can view it with any web browser.
From the supplier: A composting toilet is a good alternative to propane burning toilets, but it also has many problems. The worst part is emptying the waste and compost every 4-6 weeks. Other problems are the fan that must be kept running constantly and bug infestation.
Decentralized Systems Technology Fact Sheet: Septic Tank - Soil Absorption Systems, U.S. EPA, PDF Document provides basic information about septic tanks and drainfields.
US EPA Onsite Wastewater Treatment Systems Manual [online copy, free] Top Reference: US EPA's Design Manual for Onsite Wastewater Treatment and Disposal, 1980, available from the US EPA, the US GPO Superintendent of Documents (Pueblo CO), and from the National Small Flows Clearinghouse. Original source http://www.epa.gov/ORD/NRMRL/Pubs/625R00008/625R00008.htm Onsite wastewater treatment and disposal systems, Richard J Otis, published by the US EPA. Although it's more than 20 years old, this book remains a useful reference for septic system designers. U.S. Environmental Protection Agency, Office of Water Program Operations; Office of Research and Development, Municipal Environmental Research Laboratory; (1980)
Eco John® Innovative Toilet Solutions, Global Inventive Industries, Fountain Valley CA, PDF, product brochure
"International Private Sewage Disposal Code," 1995, BOCA-708-799-2300, ICBO-310-699-0541, SBCCI 205-591-1853, available from those code associations.
"Manual of Policy, Procedures, and Guidelines for Onsite Sewage Systems," Ontario Reg. 374/81, Part VII of the Environmental Protection Act (Canada), ISBN 0-7743-7303-2, Ministry of the Environment,135 St. Clair Ave. West, Toronto Ontario M4V 1P5 Canada $24. CDN.
Manual of Septic Tank Practice, US Public Health Service's 1959.
...
Books & Articles on Building & Environmental Inspection, Testing, Diagnosis, & Repair
Our recommended books about building & mechanical systems design, inspection, problem diagnosis, and repair, and about indoor environment and IAQ testing, diagnosis, and cleanup are at the InspectAPedia Bookstore. Also see our Book Reviews - InspectAPedia.
...