Adjustment of Gas Regulators
Gas regulator adjustment steps & pressures
InspectAPedia tolerates no conflicts of interest. We have no relationship with advertisers, products, or services discussed at this website.
Gas pressure regulator adjustment:
This article describes typical adjustment procedures for LP or Natural Gas Pressure Regulators used on building gas supplies (LP or natural gas) and/or at appliances such as gas fired furnaces, boilers, water heaters, and stove.
This article series discusses the installation, inspection, & setting of LP & natural gas regulating devices, regulators at gas meters, regulators at LP gas tanks, regulators at gas appliances.
Page top photo: a single city gas service flowing through a first stage regulator (red arrow) and two gas meters at a city in central Mexico.
We also provide a MASTER INDEX to this topic, or you can try the page top or bottom SEARCH BOX as a quick way to find information you need.
Gas Regulator Adjustment Procedure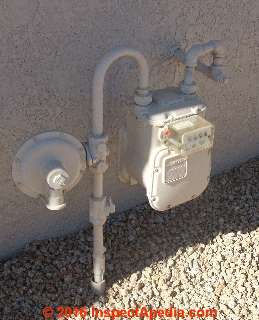 Watch out: improper installation and even improper inspection and testing methods involving natural or "LP" gas can involve dangerous conditions and risk fire or explosion.
If you smell gas you should leave the building immediately and should do so without doing anything that could create a spark such as operating a light switch or telephone.
From a safe location, call your gas company's emergency line and/or your fire department.
The gas regulator photograph shown at the top of this page and the regulator shown at left are examples of a first stage or primary gas pressure & flow regulator installed at both LP and piped-in natural gas installations world-wide.
The pressure and flow of gas through this regulator can be adjusted if the factory-settings are not adequate.
[Click to enlarge any image]
Reader Question: do I shut off the gas supply before opening up and adjusting a gas regulator?
2016/03/18 Angela said:
Light commercial application: After pulling the cap to a 2" gas regulator , what would cause the screw, retaining disc, and spring to pop out of a gas regulator from just touching the adjustment screw (not even beginning to adjust it)? Would this indicate improper or unsafe gas pressure?
Also is it standard practice to shut off the gas supply before opening up and adjusting a gas regulator? Or is it standard practice to adjust it without doing so?
Reply:
I'm not sure, Angela; I've had similar problems on other plumbing components when a component stem, like a valve stem, was broken. But without question, if parts blow out of a gas regulator the situation is dangerous. It is possible that the regulator assembly is damaged and needs replacement.
I would be nervous about leaving such a device in service without help from an expert, on-site.
Typically on a gas regulator there are separate safety devices that will respond to over-pressure. We skipped you-tube DIY videos and other sources that looked risky or amateurish and went to the gas companies and the gas regulator manufacturers to see what they suggest.
Below we have adapted Lincoln Energy's gas regulator start-up and adjustment procedure for an Itron gas regulator along with additional details from Dormont, a major manufacturer of gas regulators.
Watch out: The outlet pressures of the adjustable regulators can be changed by removing the stem cap and adjusting the screw found inside. Turning the screw counter clockwise reduces the outlet pressure, and turning it clockwise increases the outlet pressure.
Warning: Adjusting the outlet pressure should only be done while monitoring the pressure with a manometer or other type of pressure gauge. Warning: Replace the stem cap when the adjustment is complete. - Dormont Manufacturing Co., document cited below.
Watch Out: the text below are excerpts only; the full instructions include other steps and other safety warnings - most jurisdictions require work be performed by a qualified, licensed professional: making a mistake can cause fire, explosion, death.
Start-up Procedure for a B-series Gas Regulator (all models)
To start-up the B-series regulator
Mount a pressure gauge downstream of the regulator to monitor the downstream pressure.
With the downstream pressure valve closed, slowly open the inlet valve. The outlet pressure should rise to slightly more than the set-point.
Note: For B31 RAS models, remove the seal cap and pull up on the spring housing stem to reset the shut-off valve.
Release the stem.
This procedure allows gas to flow through the regulator.
Downstream [gas] pressure should rise to the regulator's set-point.
Verify there are no leaks and all connections are tight.

The regulator was pre-set at the factory to match order specifications. If necessary, adjust the outlet pressure by removing the seal cap on the top of the spring housing and rotating the adjustment screw inside the spring housing.

Note: Adjusting the outlet gas pressure requires:

Models 842, B57, B58, B31, B34S, B35, B56, and B36: large flat-head screwdriver
Models 834 and 838: 9116" socket and ratchet
Model RB4000: adjustment wrench (Itron part number 799056)
With a small amount of gas flowing through the regulator:

Rotate the gas pressure regulator adjustment screw clockwise to raise the outlet pressure.


Rotate the adjustment screw counter-clockwise to lower the outlet pressure.
Note: It is recommended to monitor downstream pressure with a properly calibrated gauge per the chart below:
Downstream Pressure Monitoring for a B-series Gas Regulator1

Gas Metering Pressure
Range of Gas Pressure Gauge
Increments of Gas Pressure Gauge
6 inches water column (WC)
0-12" WC or 0-30" WC
0.1" or 1" WC
14 inches water column
0-30" WC
1" WC
55 inches water column = 2.0 psi
0-100" WC
2" WC
10 psi
0-15 # (psi) or 0-30 # (psi)
0.1 psi or 0.2 psi

Notes:

1. Adapted from Lincoln Energy, 11919 W. I-70 Frontage Rd. North Unit #109 Wheat Ridge, Colorado 80033 USA. Tel: 303-697-6701. Details retrieved 2016/03/18, original source: www.lincenergysystems.com/linc-energy-blog/entry/how-to-install-a-natural-gas-pressure-regulator#.VuxQ_xIrIxg

Watch out:This data is for Itron gas regulators. Other gas pressures and adjustment procedures will be appropriate for other regulator types & applications.

Linc Energy Systems is a stocking distributor for Itron and services the following areas:

Colorado (CO), including: Boulder, Colorado Springs, Cortez, Denver, Durango, Grand Junction, Greeley, Pueblo, Rangely, Rifle, San Juan Basin, Steamboat Springs and Sterling Idaho (ID), including Boise, Idaho Falls, Mountain Home, Pocatello and Twin Falls Montana (MT), including: Billings, Bozeman, Kalispell, Missoula Western Nebraska (NE) Western North Dakota, including Bismark Western South Dakota, including Rapid City Utah (UT), including Centerville, Murray, Ogden, Provo, St. George, Salt Lake City, Vernal Wyoming (WY), including: Big Piney, Casper, Cheyenne, Cody Evanston, Evansville, Gillette, La Barge, Laramie, Rawlings, Rock Springs and Sheridan. More information is available on Itron's regulators at the contact information we give just below.

2. Itron Inc. Gas Regulator Company, 2111 North Molter Road, Liberty Lake, WA 99019-9469 USA Tel:: (509) 924-9900 Website: https://www.itron.com

3. "Dormont Gas Appliance & Line Pressure Regulators" [PDF], Dormont Gas Regulator Company, 6015 Enterprise Drive, Export, PA 15632 USA, Tel: (724) 733-4800 / 1-800-DORMONT (367-6668) Website: www.dormont.com

This document includes a Gas Flow Capacities Table that tabulates gas regulator operating inlet pressure (between 1/2 psi and 2 psi for the Dormont regulators discussed) and outlet gas pressure in inches of water column for various total input BTUs/hour requirements for all of the gas appliances being served through an single primary regulator.

Excerpts from the Dormont Gas Regulator product specifications document above:


Dormont Manufacturing, the inventor and world's largest manufacturer of stainless steel gas connectors, introduces an expanded line of 2 psig regulators for Natural and Liquified Propane Gases. Our CSA design certified R325 and R625 Series pressure regulators are manufactured as gas appliance regulators, and as line pressure regulators.

Both series supply precise regulating control from full-flow, down to tiny pilot flows. In the absence of flow, these regulators guarantee excellent control of the outlet pressure. The R325 and R625 Series regulators meet standard requirements for use on residential, commercial, and industrial applications.

Regulators are factory pre-set at 8'' w.c. for natural gas and 11'' w.c. for propane.

4. ANSI Z21.80, CGA 6.22, Gas Line Pressure Regulators, available at webstore.ansi.org
Abstract:
Details test and examination criteria for line pressure regulators, either individual or in combination with over pressure protection devices intended for application in natural gas piping systems between the service regulator and the gas appliance(s).

This standard applies to regulators rated at 2, 5, or 10 psi (13.8, 34.5, or 68.9 kPa) with maximum outlet pressure of ╜or 2 psi (3.5 or 13.8 kPa), depending on the intended application.

5. ANSI Z21.18-2007/CSA 6.3-2007 (2012) - Gas Appliance Pressure Regulators, available at webstore.ansi.org
Abstract:
This publication represents a basic standard for safe operation, substantial and durable construction, and acceptable performance of gas appliance pressure regulators. It is the result of years of experience in the manufacture, testing, installation, maintenance, inspection and research on gas appliance pressure regulators designed for utilization of gas.

There are risks of injury to persons inherent in appliances that, if completely eliminated, would defeat the utility of the appliance. The provisions in this standard are intended to help reduce such risks while retaining the normal operation of the appliance.
Replace the seal cap and check for leaks after the desired outlet pressure is achieved.
The gas regulator is ready for operation.

Gas Regulator Operating Details
Below we illustrate and discuss the typical components of a gas regulator, adapting a schematic from Dormont Gas Regulator Company, cited above.
This illustration and text explain why adjusting a screw in the gas regulator top will change the flow rate and pressure of gas delivered to the building by the regulator.
Gas from the supply (natural gas pipe or LP gas tank) enters the regulator at the inlet end (A). When no appliance in the building is using gas and thus no gas is flowing in the building, gas pressure passing through the valve seat builds up gas pressure in the regulator body (the light yellow area in the center of the valve).
The gas inside the regulator body presses upwards on the regulator diaphragm (B) that in turn presses against the regulator spring (C).
As the diaphragm rod and assembly moves up, the hinged balancing spindle assembly (D and E) closes the valve seat. In effect this means that when no gas flow is demanded inside the building, the regulator "shuts off" gas flow at the valve seat in the inlet port.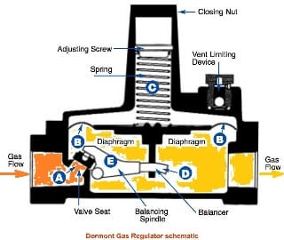 When local appliance-regulator at a gas appliance in the building opens to begin to consume gas, gas inside the regulator flows outwards at the right end of the regulator (yellow arrow in the right of the illustration above).
This flow out of the regulator causes gas pressure in the regulator to drop, thus reducing gas pressure against the rubber diaphragm and spring, allowing the spring to push the diaphragm downwards, opening the gas valve at the valve seat on the gas inlet end of the regulator. The open valve thus allows more gas from the supply source to enter the regulator.
Spring pressure at the Dormont regulators illustrrated here are pre-set at the factory to 8" WC for natural gas and 11" WC for propane gas.
Adjusting the spring on the regulator is adjusting the gas regulator's outlet gas pressure. When the spring can push the diaphragm down it opens the gas regulator allowing gas to flow. Therefore if we increase the spring pressure we are allowing more gas to flow (higher pressure and flow rate).
For the Dormont gas regulator type shown, turning the regulator adjustment screw counter-clockwise reduces the outlet gas pressure while turning the adjustment screw clockwise increases the outlet pressure. (That's because turning the screw clockwise also increases the spring pressure against the diaphram.)
Gas Regulator Vent Limiting Device
Gas regulators include a vent limiting device that controls the rate of escape of gas from the regulator in the event that the diaphragm in the regulator should rupture or tear.
You can see the vent limiting device on Dormont's gas regulator at the upper right side of the regulator in the illustration above. Here is how Dormont explains the vent limiter on their regulator:
In the event of a diaphragm rupture, the vent limiting device limits the escapement of gas within the ANSI standards level, thus eliminating the need to run vent piping to an outside area.
If a vent pipe to the outside is desired, the vent limiter may be removed and a vent pipe with proper pipe threads can be substituted.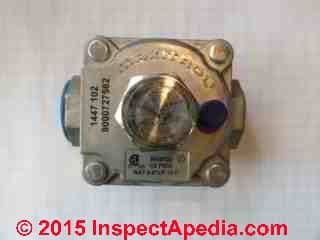 Warning: Do not operate the regulator without either a vent limiter or a vent pipe to the outside. A vent limiting device is standard with all Dormont R325 and R625 Series regulators. - Dormont, op. cit.
Typical LP Gas, Propane Gas, or Natural Gas Pressures in Residential Systems
LP Gas or Propane Pressures:
10-200 psi in the LP gas storage tank
0.4 psi at typical residential appliances
Natural Gas pressures:
Natural gas in the natural gas service line in the street will be found at pressures from 60 psi down to as low as 0.25 psi.
At individual natural gas appliances the gas pressure will be regulated to about 0.25 psi [1]
Details about the different pressures found or set for LP gas, propane, and natural gas including before and after different gas pressure regulators are
at GAS PRESSURES LP vs NATURAL GAS
...
Continue reading at GAS REGULATORS for APPLIANCES - How to find & report defects found in LP or natural gas regulators or controls. Gas regulator inspection, diagnosis, and repair guide, or select a topic from closely-related articles below, or see our complete INDEX to RELATED ARTICLES below.
Also see GAS COOKTOP MANUALSGAS COOKTOP MANUALS
Or see this
Article Series Contents
Suggested citation for this web page
GAS REGULATOR ADJUSTMENT PROCEDURE at InspectApedia.com - online encyclopedia of building & environmental inspection, testing, diagnosis, repair, & problem prevention advice.
Or use the SEARCH BOX found below to Ask a Question or Search InspectApedia
...
Ask a Question or Search InspectApedia
Questions & answers or comments about inspecting, diagnosing, repairing, or replacing LP gas regulators and Natural Gas regulators found on heating appliances
Try the search box just below, or if you prefer, post a question or comment in the Comments box below and we will respond promptly.
Search the InspectApedia website
Technical Reviewers & References
Click to Show or Hide Citations & References
National Fuel Gas Code, ANSI Z223.1-yyyy - American Gas Association / National Fire Protection Association
LP-Gas Serviceman's Handbook,Fisher-Rosemount, Fisher Controls
National Fire Protection Association (NFPA) Pamphlets No. 54 and 58.
Specifications for Gas Installations, Central Hudson Gas and Electric Corporation
"Gaslight", Gary Quilliam, The Old House Journal, March/April 1989 article describes fixtures, modern fixtures, and sources of supply.
Residential Gas Hot Water Heater Pocket Partner - Testing and Trouble Shooting, 19. State Corp., Ashland City, TN 37015
Books & Articles on Building & Environmental Inspection, Testing, Diagnosis, & Repair
Our recommended books about building & mechanical systems design, inspection, problem diagnosis, and repair, and about indoor environment and IAQ testing, diagnosis, and cleanup are at the InspectAPedia Bookstore. Also see our Book Reviews - InspectAPedia.
Carbon Monoxide Gas Toxicity, exposure limits, poisoning symptoms, and inspecting buildings for CO hazards
HOT WATER HEATERS - a detailed guide to all types of hot water sources, problems, inspection, repair
SEWER GAS ODORS in COLD / WET WEATHER - Septic Odors or Sewage Odor Diagnosis & Repair Guide for diagnosing and eliminating cold weather sewer gas odors
Water Pressure Loss - Diagnosis how to determine why water pressure has been lost or why there is no water at all in a building
...