Building Odor Diagnosis & Cure
InspectAPedia tolerates no conflicts of interest. We have no relationship with advertisers, products, or services discussed at this website.
How to find & get rid of smells & odors in buildings:
Find & Remove Odors Gases & Smells in or around Buildings. These articles explain how to diagnose, test, identify, and cure or remove a wide range of obnoxious or even toxic odors in buildings, in building air, in building materials, or in the building water supply.
In alphabetical order we discuss odors from a variety of sources including animals including pets, dogs, cats, or unwanted animals or dead animals, formaldehyde odors in buildings from building products or furnishings, plumbing drains, plastic or vinyl odors from building products, flue gases, indoor mold odors, oil tanks or oil spills, pesticides, septic odors, sewer gases, and even abandoned chemicals at properties.
Our page top photo shows our local skunk rummaging on a nearby golf course. This is about as close as you want to be, especially if you see a skunk meandfering in daylight. This skunk was found dead two days after this photo was taken, most likely due to rabies. .
We also provide a MASTER INDEX to this topic, or you can try the page top or bottom SEARCH BOX as a quick way to find information you need.
Building Odor Guide: How to Find the Source of Odors, Smells, or Gases in Buildings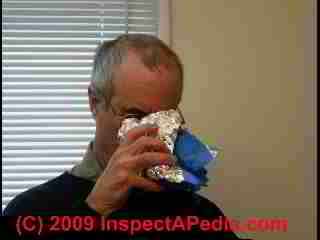 At left the author demonstrates a smell-patch test that can be used to track down odors to their source in buildings.
This article gives links to key steps in diagnosing and removing building smells and odors.
To find what you need quickly, if you don't want to scroll through this index you are welcome to use the page top or bottom SEARCH BOX to search InspectApedia for specific articles and information.
[Click to enlarge any image]
Odor Diagnosis Strategies:
You can start tracking down the cause or source of an odor in one or more of several ways:




Checklist of Places to Look & Things to Do to Track Down an Odor to it Source
Here are some possible sources of an odor or smell in building air, water, mechanical systems, heating, cooling, or other locations.
ADHESIVES or GLUES & SEALANTS used in buildings: many adhesives use a solvent that can produce very strong odors, especially when the adhesive is recently applied. We suspect that adhesives used over wide areas are more likely to be noticeable in buildings, such as carpet or flooring adhesives.

Also see GLUES ADHESIVES, EXTERIOR CONSTRUCTION.


Air conditioning & heat pump system odors & smells: air conditioning refrigerant gases are generally inert and odorless. If you smell burning such as from overheating electrical components you should turn off the equipment immediately.

Fujitsu has pointed out that at least in some cases, odors perceived as coming out of the split system air handler of a wall-mounted A/C or heat pump system may simply be existing room odors moving through the unit (such as from tobacco smoke, fireplaces, cooking, animals).[13]
See

Odor Traced to HVAC Condensate Pump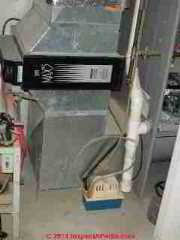 [We] had a very bad smell in basement some days worse than others changed seal on toilet at the top basement steps re caulked the lead seals on the two cast iron stacks.

The days we washed clothes [the smell] seemed worse so we washed one day and didn't dry until the next day. When we ran the dryer the smell really was bad.
So I got on the floor started smelling every thing I could find. I finally got by furnace and got close condensate pump [on the floor next to] the air handler [heating and air conditioning equipment]. And there it was [the source of the horrible odor].
I had installed [the condensate pump] about five years ago and I had never cleaned it. What a mistake. I [removed and thoroughly cleaned the condensate pump] AND NO MORE SMELLS! - Gene Lovasz
Comment: Odors coming from dirty condensate pump reservoir
Thanks Gene for pointing out that a dirty condensate pump can be a source of unexpected odors and smells.
I suppose that on an HVAC system whose condensate pump runs only seasonally, water left in the pump body may support both algae and bacterial growth that could smell horrible. Cleaning the pump with household cleaner or even a dilute bleach solution was a smart step. I'd take a look at the condensate pump tubing as well; sometimes crud can collect in a low spot in the plastic drain tubing that ultimately blocks drainage.
Air movement in buildings by natural convection as well as air transported by mechanical ventilation systems can move odors from a remote source into an areas where people complain. Remember to attend to these air movement pathways such as stairwells, elevator shafts, duct systems, and natural convection when looking for the source of a building odor complaint.
See AIR MOVEMENT in BUILDINGS


ANIMAL SMELLS or urine odors may be due to current or prior pets in a building, pet urine or fecal waste, cat boxes, animal hair, dog dander, cat dander (are allergens and are indicators of the level of prior pet activity), dust tracked in by dogs. But animal odors in buildings can also occur when an animal such as a mouse or rat has died in a building cavity.

A dead animal smell has been described by our clients with a wide variety of terms ranging from a vague noxious stink that seemed to vary with humidity to a sweet sickly smell.

Dead animals or even insect nests in building plumbing, especially building vents, can also produce unexpected sewer odors -
see SEPTIC SYSTEM ODORS links discussed below.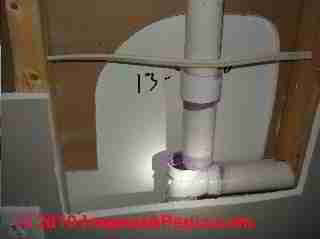 Bathroom odors & smells, other than normal ones produced by humans, most often involve sewer or septic gas complaints that are traced to plumbing system problems. Examples of plumbing problems that you should investigate in tracking down a bathroom odor are

A loose toilet - sewer gases, even sewage leaks around the toilet base, or even at a toilet that seems securely mounted, an improperly installed wax-ring seal can permit odor leaks into the room; in this case the odor is usually apparent only at one bathroom, though if the same worker installed all toilets, the same defect could be present in multiple baths.

See LOOSE TOILET REPAIRS

or
see TOILET REPAIR GUIDE


Plumbing vent system defects - missing, incomplete, or clogged plumbing vents can result in siphonage loss of the water in fixture traps. In turn an open or "dry" sink, tub, or shower trap can permit sewer gases to back-vent into the building.

The extent of sewer gas odor backdrafting up through drains may vary further by site conditions, plumbing system use, other sewer or septic system failures, blockages, leaks, and even by wind and snow conditions. Drain odors may also be traced to cracked or leaky drain piping itself.

See these articles for help tracking down and fixing odors and smells traced to bathrooms other plumbing fixtures:

BOAT & CAR SMELLS & ODORS discusses the cause and removal of common smells that are found in cars and similar vehicles.


CAR SMELL - Mold DEODORIZING discusses in detail the problem of finding and removing a moldy, musty, or mildew smell from cars, trucks, campers, and boats.


CARBON DIOXIDE Gas Toxicity hazard level, poisoning symptoms, & testing - you won't smell CO2 (carbon dioxide) in a building, but if combustion gases from a heating or hot water system or possibly a wood stove or coal stove are not being safely vented to outdoors you may smell other telltale products of combustion.


CARBON MONOXIDE Gas Toxicity hazard levels, poisoning symptoms, & testing - you won't smell CO (carbon monoxide) in a building, but if combustion gases from a heating or hot water system or possibly a wood stove or coal stove are not being safely vented to outdoors you may smell other telltale products of combustion. Be certain that you have working CO detectors as well as smoke detectors in your building.


CARPETING ODORS: diagnose & cure carpet smells due to mold, mildew, pet urine, and CARPET STAINS, THERMAL TRACKING and also see CARPET TESTING ADVICE


CARPET PADDING ASBESTOS, MOLD, ODORS - odors in carpeting or carpet cushions and padding may be from mold or other sources.
Also
see CARPET MOLD / ODOR TESTS
and
see CARPETING & INDOOR AIR QUALITY for a discussion of chemical like odors associated with certain carpets or carpet pads.


CHEMICAL ODOR SOURCES describes common sources of chemical odors or smells in buildings and suggests a simple checklist type procedure for tracking down these odor sources.
Chimney Odors: see the Creosote Deposits link just below.
and
see OIL BURNER NOISE SMOKE ODORS


CONCRETE DUST & ODORS - concrete dust or wet, stained, or contaminated concrete floors, walls, walks & drives can be odor sources that need to be cleaned & sealed.


CREOSOTE DEPOSITS, FIRE HAZARD - creosote odors may be caused by moisture in a creosote-lined chimney.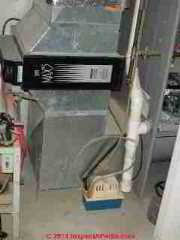 CONDENSATE PUMP RESERVOIRS [photo at left] - can be a source of smells and odors and may need to be disassembled and cleaned seasonally. This is especially true for condensate pumps that are used only seasonally.


CHINESE DRYWALL HAZARDS discusses Chinese drywall odors, sulphur smells, and corrosive outgassing hazards in buildings.

Major costs to remove this product, repair or replace electrical wiring, plumbing, and HVAC components may be involved, and there may be immediate safety hazards due to damaged smoke detectors or carbon monoxide detectors in buildings where Chinese drywall outgassing has caused damage.


DEHUMIDIFIERS and also portable or permanently installed humidifiers can both be a source of bacterial and algal growth, even fungal growth that can result in indoor odors and possible health concerns.

Periodic cleaning and possibly use of special products intended to prevent algae, bacteria or mold from growing in a dehumidifier or humidifier can avoid this problem.

Also see HUMIDITY CONTROL TO PREVENT MOLD and see CRAWL SPACE DRYOUT - home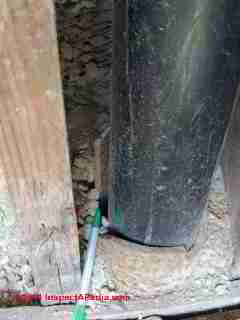 DRAIN WASTE VENT PIPING ODORS: Plumbing Drain Noises - Diagnosis & Repair guide. This article discusses the cause, diagnosis, and cure of plumbing drain noises. A drain noise can also be a clue to plumbing drain odor sources.

That "blub blub" or "glug glug" noise you hear from a building drain might mean that there is a problem with the drain system itself, such as a partial drain blockage, a drain venting problem, a drain odor problem, or even a failing septic system. This article explains the causes and cures for plumbing drain noises, and we refer to key companion articles that assist in that diagnosis.

Our photo (left) shows a hidden sewer gas leak found in a building wall: a new plastic vent line was just jammed into an older broken cast iron vent pipe. Our pen points to the source of sewer gas odors in this area.


DUCT & AIR HANDLER ODORS provides help in tracking down and curing odors that either originate in HVAC duct systems & air handlers, or are being picked up and transported by them


Electrical or burning electric odors & smells: buring insulation, wiring, switches, appliances. For example:

Reader Question: Burning or Electrical Heater Odors: tracking down a burning smell when the air conditioning is on

For the past 3-4 months, some of our employees are complaining about a burning smell ( like the smell when you turn on the heater after a very long time) in the building when the air conditioning is on. I had a couple of HVAC companies come and check out our system but they couldn't find anything wrong. Any ideas? - Fieldpiece 9/12/11

Reply:

Field:

Watch out: If you believe people are really smelling something burning, it could be unsafe and certainly justifies a more expert onsite inspection. Some simple tests like turning off suspect equipment might help too.


FIRE & SMOKE ODORS from building fires, cigarette or cigar smoke, heating system malfunctions, from wood stoves etc. require special expertise for effective remediation. This article describes the procedures used to remove fire & smoke odors from buildings, building contents, vehicles etc. This article also warns about ineffective and even harmful (but popular) methods that try to deodorize smoke or fire smells and don't work or worse, cause further damage.


FLOOR DRAIN / TRAP ODORS - how to diagnose and cure odors from floor drains and under-floor drain piping


FORMALDEHYDE ODORS and outgassing from UFFI, urea formaldehyde foam insulation, odor diagnosis and cure are discussed further within our articles on ozone and ozone generators.

Formaldehyde: US EPA. UFFI (Urea Formaldehyde Foam Insulation) was previously considered a hazard (formaldehyde outgassing). Original source: epa.gov/iedweb00/formalde.html. Subsequent research virtually closed concern regarding this material; however formaldehyde appears to remain a health concern for sensitive individuals. Original source carsondunlop.com/OBS/pdf/uffi.pdf .

GAS ODORS: A Toxic Gas Testing Sampling Plan for Residential Indoor Air Investigations. This document outlines gas toxicity levels and gas testing procedures we use in field IAQ and environmental health investigations for a range of indoor gases which may be produced by building product outgassing, mold and MVOCs, mechanical systems, fire damage, or contamination from nearby industrial, beauty parlor, dry cleaning, or other activities which often produce noxious or toxic odors and gases.


GAS EXPOSURE HAZARD LEVELS: for Toxic Gas Exposure to Ammonia, Arsine, Arsenic, Bromine, Carbon Dioxide, Carbon Monoxide, Hydride, Ozone - allowable exposure levels and hazard levels


GAS MEASUREMENT TOOLS recommendations for selection and use of gas detection equipment and descriptions of how gas testing equipment is used


GAS TESTING methods of screening for various odors, gases, and chemicals in the indoor environment


GLUES ADHESIVES, EXTERIOR CONSTRUCTION - may be sources of odors in buildings, especially during and shortly after new construction or remodeling, countertop resurfacing, floor tile installation, etc.


HAZARDOUS MATERIAL WASTE DUMP SITE MAPS from ATSDR - U.S. CDC Gather - "Geographic Analysis Tool for Health and Environmental Research" online public access to data pertinent to public health


Heating System Odors: odors of combustion gases or heating oil or natural or LP gas can all be indicators of serious safety hazards as well as malfunctioning building heating or water heating equipment.

Diagnostic suggestions to track down and fix heating system odors are now found
at ODORS from HVAC SYSTEMS


Illness or medical problems can also cause the perception of odors that may not have a physical source in a building.
Example:


Question: My home has a smell of burnt toast - odor complaint traced to Dysomia

Apr 30, 2016) Amber said:

My home has a smell of burnt toast almost all the time. I've cleaned the toaster and the oven. I've opened All of the Windows for days on end and kept the ac/ furnace off for a few weeks. Smell always returns within 20 mins of closing the Windows. Smell is only on main floor and second floor of home, not at all in the finished basement.

Upstairs closets that are kept closed don't smell unless they are left open. Smell seems to come from the main floor and can be so strong sometimes that it wakes me up in the middle of the night and then can sometimes disappear for a few weeks. This has.been going on for a year and is year round. Would love your thoughts on what I should investigate next.

This question was posted originally at ODOR DIAGNOSIS CHECKLIST, PROCEDURE

Reply: dysomia and dysgeusia and odor perception

Amber,

I'm sorry but I have no idea what building materials smell like burnt toast. Search InspectApedia.com for SMELL TEST KIT to see an easy way to try to check which surfaces might be emitting the smell.

(May 17, 2016) Amber said:
Discovered that the smell is not real but the result of dysosmia, an ailment that I incurred after a sinus surgery. Thank your for your help though.

Mod said: thanks for the followup - it will assist other readers who may want to see:

Berman, J. L. (1985). Dysomia, dysgeusia, and diltiazem. Annals of internal medicine, 102(5), 717-717.
Billings, Paul R. "Hypercoagulability, Hyperlipidemia, and Serum Antiproteases." Annals of internal medicine 102, no. 5 (1985): 724-724.
Dwivedi, Shridhar, and Ramesh Aggarwal. "Modified shoe for adjusting hard stuffy and smelly sole: An uncommon accompaniment of hypothyroidism." Journal of mid-life health 3, no. 1 (2012).
Authors note that Dysomia and hyposmia are also uncommon symptoms of hypothyroidism.
Levenson, James L., and Kristine Kennedy. "Dysomia, dysgeusia, and nifedipine." Annals of internal medicine 102, no. 1 (1985): 135-136.
Note: Levinson and Kennedy report a case of dysomia and dysgeusia associated with nifedipine therapy and are widely cited by other researchers.
Armstrong, Carl W., And Scott F. Wetterhall. "Epstein-Barr virus and unexplained illness." Annals of Internal Medicine 102, no. 5 (1985): 722-723.
Note: These authors report on the case of a patient who developed dysgeusia and dysomia while taking diltiazem with subsequent slow spontaneous resolution.



Insulation Odors: may be caused by contamination of the insulation by rodents or other animals (urine, feces, nesting materials), or mold -
see INSULATION MOLD CONTAMINATION TEST.

Some cellulose insulation may emit an odd odor if the cellulose manufacturer used an ammonium sulfate/borate mix. Details are
at CELLULOSE INSULATION ODORS, SMELL


MOLD ODORS and MOLDY MUSTY SMELLS: Here are articles on diagnosing moldy or musty building odors


MOTHBALL ODORS - what are the potential health hazards of exposure to the chemicals in or odors from mothballs? How best to get rid of bothersome mothball odors or smells in buildings, furnishings, clothing.


ODOR DIAGNOSIS LOG SHEET [PDF] or use this Odor Log Spreadsheet [XLS] to record your observations for further analysis.

Also see ODOR DIAGNOSIS CHECKLIST, PROCEDURE


OIL ODOR SOURCES lists common sources of oil smells both inside buildings and outside anywhere on a building site or even at remote properties.
Examples include LEAKY OIL TANK PIPING at the oil storage tank filler or vent piping or leaks in the oil piping line

and fittings (OIL TANK PIPING & PIPING DEFECTS),

or leaks at the heating oil filter canister
(OIL FILTERS on HEATING EQUIPMENT) can be diagnosed and repaired.

Other oil smell sources may be from a leaky oil tank
OIL TANK LEAKS, from oil spills during oil delivery, or from a nearby oil pipeline leak or even from a nearby diesel fuel station or diesel fueled equipment.



Watch out

: leaks in heating oil appliance piping or filters can be much more serious than just a drip spot on the floor. An air leak into the oil piping system results in improper oil burner operation, soot clogging, and even a loud bang at oil burner start-up or worse, a dangerous puffback.

Details are at OIL LINE LEAKS - Oil Line leaks found.


OIL TANK LEAKS & SMELLS are discussed at our website on handling above ground or buried heating oil storage tanks. These online articles answer most questions about above ground or buried oil storage tanks. Extensive free un-biased oil storage tank inspection and testing advice for property buyers and owners.

This document lets you know what to ask about oil storage tanks, what oil tank leak tests to order, how to interpret oil tank testing results, what to do if there is a buried fuel or petroleum storage tank at a property, what to do if there is or was a leaky oil storage tank or petroleum storage tank, and how to reduce the chances of an oil leak or oil spill in the future.

We include detailed information about underground (buried) oil storage tanks (USTs), aboveground oil storage tanks (ASTs), above ground fuel storage tanks, reporting and cleaning up oil tank leaks, and choosing among oil tank leak testing methods.

We discuss how to find buried oil tanks, how to remove or abandon oil tanks and how to recognize evidence that there was a previous oil tank at a property even if the oil tank may have been removed (or perhaps left buried in place). We discuss what to do if an oil tank has already been removed or abandoned. We provide links to every U.S. state regulatory agency concerned with oil and other storage tanks and to regulatory agencies in Canada and other countries.

Environmental damage from oil leaks, oil spill cleanup, are also discussed. We discuss oil spill cleanup, oil spill and odor remediation, and bioremediation, for fuel oil or heating oil. LP Gas tanks are also addressed. Home heating oil tank leak and environmental contamination risks are important concerns for building owners and home buyers as major cleanup and tank replacement costs can be involved.


OXYGEN - O2 hazards and toxicity levels


OZONE ODORS & OZONE DEODORIZERS: The Use of Ozone Generators Indoors for Control of Odors and Mold Removal in Buildings: A Summary of Hazards and False Claims.
Ozone is widely promoted by ozone generating equipment companies and cleaning services for use in indoor building environments to deodorize, disinfect, "kill" mold, and for "general health".

Ozone generators are also promoted for use to reduce the level of airborne particles, pollen, animal dander, and allergens, ostensibly to improve indoor air quality for asthmatics and people with allergies. While there are some important uses of ozone (such as for medical disinfection under controlled conditions), in general this is an idea which ranges from bad to dangerous in the home.

This article explains the effects of using ozone in buildings for these purposes and warns consumers about misapplication of and health risks from ozone in buildings. Because at least some of these claims are based on marketing desire, not good science, and because ozone exposure can be both dangerous and ineffective indoors, we have collected some information and references on this topic.


OZONE GENERATORS: The Hazards of Ozone & Ozone Gas Generators. This article gives an overview of the hazards associated with use of ozone indoors as a "mold remedy" or as an "air purifier". Ozone is widely promoted by ozone generating equipment companies and cleaning services for use in indoor building environments to deodorize, disinfect, "kill" mold, and for "general health".


OZONE TOXICITY & OZONE GAS EXPOSURE HAZARDS This article discusses Ozone Toxicity in Buildings - A Summary of Hazards of Indoor Ozone, Ozone Generators, and Use of Ozone for Mold Remediation.

While there are some important uses of ozone (such as for medical disinfection under controlled conditions), in general this is an idea which ranges from bad to dangerous in the home.

This article explains the effects of using ozone in buildings for these purposes and warns consumers about misapplication of and health risks from ozone in buildings. Because at least some of these claims are based on marketing desire, not good science, and because ozone exposure can be both dangerous and ineffective indoors, we have collected some information and references on this topic.
OZONE GAS EXPOSURE EFFECTS Description


PAINT FAILURES & ODORS: How to Diagnose, Correct, & Prevent Paint Failure on Buildings. Paint odors: solvents and other chemicals in building paints or coatings are often a source of odor or paint smell complaints, even where low-VOC paints are in use.

Odors from paints and low-VOC or zero-VOC paints are also discussed
at ODOR DIAGNOSIS CHECKLIST, PROCEDURE.

Also see VOCs VOLATILE ORGANIC COMPOUNDS.


PESTICIDE ODORS: can be more than annoying. Odors from pesticides or other chemicals applied in or around a building may be harmful, even fatal to building occupants.

As we discuss at ENDOCRINE DISRUPTERS at BUILDINGS even extremely low concentrations, as little as a single molecule of some substances can have very serious health effects depending on exposure conditions and who is being exposed.



Watch out

: Be sure that the person selecting and applying pesticdes in or around your building is a properly trained, experienced, and licensed pest control operator.

See PESTICIDE EXPOSURE HAZARDS

See PESTICIDE ODORS [US EPA Web Page] U.S. EPA advice on pesticides and possible pesticide contamination.


Pet Odors: from dogs, cats, or other pets, source identification, testing, removal, are discussed in detail
at ANIMAL or URINE ODOR SOURCE DETECTION, with special focus on cat odors and allergens beginning

at CAT DANDER: how to inspect and test a building for past or current presence of cats, cat hair, cat dander, and cat allergens" .

Also see PET ALLERGENS.

And see FIBER & HAIR IDENTIFICATION


PLASTIC ODORS: Plastic Odors, including Siding Odors - This discussion also pertains to other vinyl or plastic materials used in buildings such as diagnosing odors from plastic trim, plastic or vinyl windows, window screens, doors, or similar materials. This article includes a plastic odor diagnosis checklist and it lists common sources of plastic-like smells in buildings.

Also see VINYL CHLORIDE HEALTH INFO
also
see PLASTIC or VINYL ODOR EXPOSURE


PLUMBING SYSTEM ODORS: problems with open sewer lines, plumbing vent systems, plumbing fixtures, plumbing drain traps, and septic systems can produce troublesome indoor or outdoor sewage smells that are sometimes dangerous or unhealthy.

Here is our guide to tracking down and curing building odors due to plumbing drain, waste, vent, fixture, or septic systems:ODORS, SEPTIC or SEWER


RADON GAS U.S. EPA Radon level maps


Sampling for gases in air such as VOC's, MVOC's, toxic chemicals, and combustion products.
Unfortunately no single test or tool can detect all possible building contaminants. We use methods and equipment which can test for common contaminants.

MVOC Testing Standard: As of 3 March 2009 the ASTM Committee E50 on Environmental Assessment, Risk Management and Corrective Action released ASTM E2600-08 Standard Practice for Assessment of Vapor Intrusion into Structures on Property Involved in Real Estate Transactions.

If the identity of a specific contaminant is known in advance we can also test for a very large number of specific contaminant gases in buildings.

We use gas sampling equipment provided by the two most reliable companies in the world, Draeger-Safety's detector-tubes and Drager accuro™ bellows pump, the Gastec™ cylinder pump and detector-tube system produced by Gastec or Sensidyne, and we also use Sensidyne's Gilian air pump. For broad screening for combustibles and a number of other toxic gases and for leak tracing we also use Amprobe's TIF 8850 and TIF 8800.

All of these gas testing instruments, their applications, and their sensitivities (minimum detectable limits) for specific gases are described in our GAS SAMPLING PLAN online document.


SEPTIC or SEWAGE ODORS:Diagnosing and Curing Sewer Gas Smells and Septic Tank Odors. This series of detailed diagnostic procedure articles describes how to diagnose, find, and cure odors in buildings including septic or sewage or sewer gas smells or "gas odors" in buildings with a focus on homes with a private onsite septic tank but including tips for owners whose home is connected to a sewer system as well.

Sewer gases are more than an obnoxious odor.



Watch out:

Because sewer gas contains methane gas (CH4) there is a risk of an explosion hazard or even fatal asphyxiation.

Sewer gases also probably contain hydrogen sulfide gas (H2S)

In addition some writers opine that there are possible health hazards from sewer gas exposure, such as a bacterial infection of the sinuses (which can occur due to any sinus irritation).


SEPTIC or SEWER ODORS in Wet or Cold Weather: Diagnosis and Repair Guide. This article discusses the diagnosis and correction of sewer gas or septic odors with focus on diagnosing odor sources and causes in cold weather. Some of the diagnostic steps pertain to all seasons.


SEWER GAS ODORS from DRAINS: Diagnosing Clogged Drains & Septic System Backups: Is it a blocked drain or the septic system? - A First Step for Homeowners.

This website explains how to investigate slow or blocked drains and septic system backups to distinguish between a probable septic system failure versus a probable blocked building drain. When a building drain is clogged or slow, or when there is a septic system backup, it's important to determine where the problem lies, since the repair steps can be quite different and costs can vary widely.


SIDING ODORS:Plastic smells & Vinyl Siding Failures, Diagnosis, Repair, Proper Installation: Siding, window, screen, & other "plastic" odors: We've investigated a number of reports of strange odors in residential buildings that were ultimately traced to vinyl or plastic which was outgassing. we have observed this phenomenon with vinyl siding, plastic or vinyl window or door screens, and plastic or vinyl windows.

A key diagnostic step was the observation that the odors were strongest when the material under investigation was exposed to sunlight or other sources of heat. [This article is under development, September 2007, and we welcome content suggestions or questions].\


SMELL PATCH TEST to FIND ODOR SOURCE - a simple procedure using paper towels and aluminum foil can help track down a building odor to a specific surface indoors.


SMOKE ODOR REMOVAL - Smoke & Fire or Burned Food Odors in Buildings - clean, seal, track down remaining odor sources & clean, seal, or remove the remaining smell source


SULPHUR ODORS & GASES: We provide a detailed list of sewer and sulphur gas odor sources at Sources of Sulphur Odors in Buildings.

Also see CHINESE DRYWALL HAZARDS.


HOME BUYER'S GUIDE to SEPTIC SYSTEMS - Buying a Home With a Septic Tank. This article discusses septic tank care and maintenance and addresses some causes and cures of septic odors indoors or outside.
Urine odors & smells from animals, humans, other sources are discussed at
VINYL CHLORIDE HEALTH INFO - article series on dioxin and HCL hazards associated with vinyl building products: vinyl siding, trim, windows
WATER ODORS: How to Identify Odors in Drinking Water. This article discusses how to identify, diagnose, and cure common odors that may be present in drinking water. We also discuss which of these odors may warn of unsanitary conditions. Common odors in water include sulphur or "rotten egg" smell (hydrogen sulfide) and chlorine (from a chlorination disinfectant system). Methane can show up in the water supply from natural sources in some areas.



Watch out

: several water contaminants such as iron and magnesium can feed bacteria in the water system that produce orange or black slime and odors that may smell like fuel oil, heating oil, sewage, or even cucumbers.
See WATER STAINING CONTAMINANTS where we discuss the relationship between these stain sources and odors in the water supply.


WELL WATER CONTAMINANT SOURCES - Sources of Well Water Contamination, from an US EPA Guide to Water Quality
...
Continue reading at ODOR DIAGNOSIS SIX STEPS or select a topic from closely-related articles below, or see our complete INDEX to RELATED ARTICLES below.
Or see ODOR DIAGNOSIS FAQs
Suggested citation for this web page
ODORS GASES SMELLS, DIAGNOSIS & CURE at InspectApedia.com - online encyclopedia of building & environmental inspection, testing, diagnosis, repair, & problem prevention advice.
Or use the SEARCH BOX found below to Ask a Question or Search InspectApedia
...
Ask a Question or Search InspectApedia
Try the search box just below, or if you prefer, post a question or comment in the Comments box below and we will respond promptly.
Search the InspectApedia website
Technical Reviewers & References
Click to Show or Hide Citations & References
[1] ASTM E2600 - 08 Standard Practice for Assessment of Vapor Intrusion into Structures on Property Involved in Real Estate Transactions is available from the ASTM at astm.org/Standards/E2600.htm .

"This practice is intended for use on a voluntary basis by parties who wish to conduct a

VIA

on a parcel of

real estate

, or more specifically conduct a screening evaluation to determine whether or not there is potential for a

VIC

, and if so, identify alternatives for further investigation."

The standard goes on to emphasize the uncertainty in testing any site for gases and vapor intrusion.


[2] EMS Testing Laboratories (a nationwide chain in the U.S.) - see http://www.emsl.com


[3] Chinese Drywall information hosted by the US Consumer Product Safety Commission, and supported by the US CDC (Centers for Disease Control), the U.S. EPA (Environmental Protection Agency), and HUD, the U.S. Department of Housing and Urban Development - http://www.cpsc.gov/info/drywall/index.html


[4] Chinese Drywall information from the Florida state department of Environmental Protection -
http://www.doh.state.fl.us/environment/community/indoor-air/casedefinition.html#presence


[5] Executive Summary, Chinese Drywall Hazards, published by the US Consumer Product Safety Commission, and supported by the US CDC (Centers for Disease Control), the U.S. EPA (Environmental Protection Agency), and HUD, the U.S. Department of Housing and Urban Development - original source: http://www.cpsc.gov/info/drywall/execsum0410.pdf


[6] Brett C. Singer, Beverly K. Coleman, Hugo Destaillats, Alfred T. Hodgson, Melissa M. Lunden, Charles J. Weschler, William W Nazaroff, "Indoor secondary pollutants from cleaning product and air freshener use in the presence of ozone", Atmospheric Environment, Volume 40, Issue 35, November 2006, Pages 6696–6710
Abstract This study investigated the formation of secondary pollutants resulting from household product use in the presence of ozone. Experiments were conducted in a 50-m3 chamber simulating a residential room. The chamber was operated at conditions relevant to US residences in polluted areas during warm-weather seasons: an air exchange rate of 1.0 h−1 and an inlet ozone concentration of approximately 120 ppb, when included. Three products were used in separate experiments. An orange oil-based degreaser and a pine oil-based general-purpose cleaner were used for surface cleaning applications. A plug-in scented-oil airfreshener (AFR) was operated for several days. Cleaning products were applied realistically with quantities scaled to simulate residential use rates. Concentrations of organic gases and secondary organic aerosol from the terpene-containing consumer products were measured with and without ozone introduction. In the absence of reactive chemicals, the chamber ozone level was approximately 60 ppb. Ozone was substantially consumed following cleaning product use, mainly by homogeneous reaction. For the AFR, ozone consumption was weaker and heterogeneous reaction with sorbed AFR-constituent VOCs was of similar magnitude to homogeneous reaction with continuously emitted constituents. Formaldehyde generation resulted from product use with ozone present, increasing indoor levels by the order of 10 ppb. Cleaning product use in the presence of ozone generated substantial fine particle concentrations (more than 100 μg m−3) in some experiments. Ozone consumption and elevated hydroxyl radical concentrations persisted for 10–12 h following brief cleaning events, indicating that secondary pollutant production can persist for extended periods.
Keywords Air quality; Formaldehyde; Indoor air chemistry; Secondary organic aerosol; Terpenes


[7] Xiaoyu Liu,*† Mark Mason, Kenneth Krebs, and Leslie Sparks, "Full-Scale Chamber Investigation and Simulation of Air Freshener Emissions in the Presence of Ozone:, Environ. Sci. Technol., 2004, 38 (10), pp 2802–2812 DOI: 10.1021/es030544b Publication Date (Web): April 9, 2004,
Abstract: Volatile organic compound (VOC) emissions from one electrical plug-in type of pine-scented air freshener and their reactions with O3 were investigated in the U.S. Environmental Protection Agency indoor air research large chamber facility. Ozone was generated from a device marketed as an ozone generator air cleaner. Ozone and oxides of nitrogen concentrations and chamber conditions such as temperature, relative humidity, pressure, and air exchange rate were controlled and/or monitored. VOC emissions and some of the reaction products were identified and quantified. Source emission models were developed to predict the time/concentration profiles of the major VOCs (limonene, α-pinene, β-pinene, 3-carene, camphene, benzyl propionate, benzyl alcohol, bornyl acetate, isobornyl acetate, and benzaldehyde) emitted by the air freshener. Gas-phase reactions of VOCs from the air freshener with O3 were simulated by a photochemical kinetics simulation system using VOC reaction mechanisms and rate constants adopted from the literature. The concentration−time predictions were in good agreement with the data for O3 and VOCs emitted from the air freshener and with some of the primary reaction products. Systematic differences between the predictions and the experimental results were found for some species. Poor understanding of secondary reactions and heterogeneous chemistry in the chamber is the likely cause of these differences. The method has the potential to provide data to predict the impact of O3/VOC interactions on indoor air quality.


[8] RI Vanhegan, R.G. Mitchell, "Pseudomonas Infection Associated with Contamination of Wick-Type Air Freshener", British Medical Journal, 20 Sept. 1975, pp. 685 [copy on file as Air_Fresh_Study_BMJ75.pdf]
Though unproved, the bottles may have been directly implicated in cross-infection and they should not be used in intensive care units and similar places. The practice of topping-up existing bottles from a stock solution should be discouraged since the resulting weakened mixture may eventually support the growth of organisms. Since an increase in the formaldehyde concentration proved irritant we recommend the use of safe non-volatile disinfectants. The possibility that organisms may develop resistance to formaldehyde solutions was not further investigated.


[9] Salthammer, T. (ed) (2007) Subject Index, in Organic Indoor Air Pollutants: Occurrence - Measurement - Evaluation, Wiley-VCH Verlag GmbH, Weinheim, Germany. doi: 10.1002/9783527613663.indsub


[10] Mihalis Lazaridis (Editor), Ian Colbeck (Editor), Human Exposure to Pollutants via Dermal Absorption and Inhalation (Environmental Pollution), Springer; 1st Edition. edition (April 1, 2010), ISBN-10: 9048186625 ISBN-13: 978-9048186624
Quoting: The human body is exposed to pollution on a daily basis via dermal exposure and inhalation. This book reviews the information necessary to address the steps in exposure assessment relevant to air pollution. The aim is to identify available information including data sources and models, and show that an integrated multi-route exposure model can be built, validated and used as part of an air quality management process. Many epidemiological studies have focused on inhalation exposure. Whilst this is appropriate for many substances, failure to consider the importance of exposure and uptake of material deposited on the skin may lead to an over/underestimation of the risk. Hence dermal exposure is also considered. Drinking water contamination by disinfection by-products is also discussed. Written by leading experts in the field, this book provides a comprehensive review of ambient particulate matter and will be of interest to graduate students, researchers and policymakers involved in air quality management, environmental health and related disciplines, as well as environmental consultants and ventilation engineers.


[11] Fifth Kingdom, Bryce Kendrick, ISBN13: 9781585100224, is available from the InspectAPedia online bookstore - we recommend the CD-ROM version of this book. This 3rd/edition is a compact but comprehensive encyclopedia of all things mycological. Every aspect of the fungi, from aflatoxin to zppspores, with an accessible blend of verve and wit. The 24 chapters are filled with up-to-date information of classification, yeast, lichens, spore dispersal, allergies, ecology, genetics, plant pathology, predatory fungi, biological control, mutualistic symbioses with animals and plants, fungi as food, food spoilage and mycotoxins.


[12] Fungi, Identifying Filamentous, A Clinical Laboratory Handbook, Guy St-Germain, Richard Summerbell, Star Publishing, 1996, ISBN 0-89863-177-7 (English) (buy at Amazon)


[13] Troubleshooting Split System A/C or Heat Pump Noises, Fujitsu General America, Inc., 353 Route 46 West, Fairfield, NJ 07004, Tel: (888) 888-3424, Tel-Service hotline: (866) 952-8324, Email: hvac@fujitsugeneral.com, Email service: servicehvac@fujitsugeneral.com , retrieved 8/30/12, original source: http://www.fujitsugeneral.com/troubleshooting.htm [copy on file as Troubleshooting Fujitsu Ductless Mini-Splits.pdf]


[14] Thomas M. Riddick, "Controlling Taste, Odor and Color With Free Residual Chlorination", Journal (American Water Works Association) Vol. 43, No. 7 (JULY 1951), pp. 545-552, American Water Works Association, Article Stable URL: http://www.jstor.org/stable/41236445


[15] Douglas M. Baker, M.D., "Holiday Hazards", Pediatric Emergency Care, Vol. 1 No. 4, December 1985 Lippincott-Raven, retrieved 9/22/12
Abstract: Presented is a selective review of the toxicities of various plants, decorations, and miscellaneous items popularly used during the holiday season. Particularly hazardous agents include mistletoe, holly, bubble lights, fireplace flame colors, alkaline batteries, and mothballs. Specific questions regarding management of exposure to these items should be referred to regional poison control centers. Avoidance is the most effective treatment. ... [regarding mothballs, ... decontamination is advised for ingestions of greater than one half of a naphthalene mothball and more than two to three paradichlorobenzene mothballs ...]


[16] Charles M. McGinley, P.E., Michael A. McGinley, MHS, Donna L. McGinley, " "Odor Basics", Understanding and Using Odor Testing", paper presentation, The 22nd Annual Hawaii Water Environment Association Conference.,
Honolulu, Hawaii: 6-7 June 2000, St. Croix Sensory Inc. / McGinley Associates, P.A. 13701 - 30th Street Circle North Stillwater, MN 55082 U.S.A. 800-879-9231 stcroix@fivesenses.com, retrieved 9/22/12, original source http://www.fivesenses.com/Documents/Library/33%20 %20Odor%20Basics.pdf, [copy on file as Odor_Basics.pdf]


[17] Jon H. Ruth, "Odor Thresholds and Irritation Levels of Several Chemical Substances: A Review", American Industrial Hygiene Association Journal Volume 47, Issue 3, 1986, retrievedf 9/22/12, Abstract: A collation of odor threshold data for approximately 450 chemical substances is presented. The range of odor thresholds reported in the literature is shown along with any reported threshold of irritation to humans. These data can assist the industrial hygienist in determining when an "odor" may be in excess of the Threshold Limit Value®, when an organic vapor respirator is not acceptable due to the lack of an odor warning at the end of a cartridge life, and where odors may not indicate a hazard due to extremely low odor thresholds which may be well below the respective TLVs.


[18] Edward Avila DO, Paul Schraeder MD, Ajit Belliappa MD, Scott Faro MD, "Pica With Paradichlorobenzene Mothball Ingestion Associated With Toxic Leukoencephalopathy", Journal of Neuroimaging Volume 16, Issue 1, pages 78–81, January 2006, retrieved 9/22/12,
Abstract: This is a case report of central nervous system toxicity associated with paradichlorobenzene (PDCB) ingestion. The patient had ingested mothballs composed of 99.99% PDCB for a period of 7 months. She was admitted for depression and had no neurologic symptoms. Later she developed an acute cerebellar syndrome followed by stupor and coma. An extensive workup was negative except for decreasing levels of PDCB in her serum. Imaging revealed a diffuse leukoencephalopathy. Her clinical picture was attributed to PDCB toxicity.


[19] Stone, David L. (David Louis), Stock, T. (Tim), "Mothballs: proper use and alternative controls for clothes moths", PNW 606-E, May 2008, Oregon State University. Extension Service Washington State University. Extension University of Idaho. Extension, May, 2008, retrieved 9/22/12, original source: http://scholarsarchive.library.oregonstate.edu/ xmlui/bitstream/handle/1957/20800/pnw606-e.pdf?sequence=1, citation: http://hdl.handle.net/1957/20800, Abstract: In some homes, clothes moths can damage garments and other belongings. There are two common species of clothes moths in the Pacific Northwest: the webbing clothes moth (Tineola bisselliella) and the casemaking clothes moth (Tinea pellionella). The larvae, or immature form, of the moths are responsible for the damage done to personal belongings. [copy on file as Mothballs_Guide_PNW.pdf]
Citing the following 2 sources on mothball chemistry, use, hazards:


[20] Black, Judy. Fabric and Museum Pests. In Mallis Handbook of Pest Control, 9th edition, S.A. Hedges and D. Moreland, eds. GIE Media, Cleveland, OH, 2004, pp. 581 –623.


[21 U.S. Department of Health and Human Services. Illness Associated with Exposure to Naphthalene in Mothballs—Indiana. Morbidity and Mortality Weekly Report, 1983, Vol. 32: 34–5.


...
Books & Articles on Building & Environmental Inspection, Testing, Diagnosis, & Repair
Our recommended books about building & mechanical systems design, inspection, problem diagnosis, and repair, and about indoor environment and IAQ testing, diagnosis, and cleanup are at the InspectAPedia Bookstore. Also see our Book Reviews - InspectAPedia.
Kansas State University, department of plant pathology, extension plant pathology web page on wheat rust fungus: see http://www.oznet.ksu.edu/path-ext/factSheets/Wheat/Wheat%20Leaf%20Rust.asp


"A Brief Guide to Mold, Moisture, and Your Home", U.S. Environmental Protection Agency US EPA - includes basic advice for building owners, occupants, and mold cleanup operations. See http://www.epa.gov/mold/moldguide.htm


US EPA - Mold Remediation in Schools and Commercial Building [ copy on file as /sickhouse/EPA_Mold_Remediation_in_Schools.pdf ] - US EPA


"A Brief Guide to Mold, Moisture, and Your Home", U.S. Environmental Protection Agency US EPA - includes basic advice for building owners, occupants, and mold cleanup operations. See http://www.epa.gov/mold/moldguide.htm


"Disease Prevention in Home Vegetable Gardens," Patricia Donald, Department of Plant Microbiology and Pathology, Lewis Jett
Department of Horticulture, University of Missouri Extension - extension.missouri.edu/publications/DisplayPub.aspx?P=G6202


US EPA: Mold Remediation in Schools and Commercial Building [ copy on file as /sickhouse/EPA_Mold_Remediation_in_Schools.pdf ] - US EPA


...