Sources of chemical smells or odors in or near buildings
InspectAPedia tolerates no conflicts of interest. We have no relationship with advertisers, products, or services discussed at this website.
Chemical odors in or near residential buildings: this article describes clues, focused on common sources of building chemical smells or chemical-like odors, that any home owner, home inspector, or other investigator can follow in seeking to pinpoint the source of an annoying or obnoxious odor in buildings.
Green links show where you are. © Copyright 2017 InspectApedia.com, All Rights Reserved.
Checklist for Diagnosing the Cause of Chemical Smells in buildings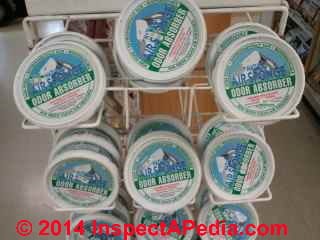 Often people's perception of odors varies with time and exposure or with a number of other site factors that make it hard to track down just where a smell is coming from.
But if we think carefully about when, and under what conditions we notice odors, often that information is instrumental in tracking down an odor to its source and thus in helping us decide if an odor refers to a potentially dangerous or unhealthy condition.
Photo at left: Air Sponge™ is an odor absorber product for sale at a building supply store and described by the manufacturer as effective in areas up to 300 sq. ft.
In our opinion no odor absorbing product can handle a troublesome building odor problem in a building if the odor source is not found and removed. Using dust removal as an analogy, imagine waving a vacuum cleaner wand in the air in your kitchen in hopes that the dust bunnies under the living room couch will somehow be removed.
A principal ingredient in many such odor-absorbing products is sodium bicarbonate - (baking soda) - a hygroscopic material that readily absorbs moisture from the air and that may absorb some odor molecules as well [22]. But because an odor reservoir, like a mold or dust reservoir in a building, can produce effectively a continuous source of smell, the most effective way to remove a building odor is to find and correct its source.
This building chemical odor source list is in simple alphabetic order, not in order of probable cause, importance, or health risk, all of which can vary widely.
Acetone or similar chemical smells in well water - see ACETONE in WELL WATER below in this article
Building Chemical Odors & Common Indoor Air Pollutants - some indoor air pollutants may include an odor described as "chemical" -
see AIR POLLUTANTS, COMMON INDOOR
Building Chemical Odors & Animals: on occasion we have received reports of a "chemical odor" complaint in a building that is ultimately traced to an animal, usually a dead one trapped in a wall, ceiling, or crawl space. See ANIMAL or URINE ODOR SOURCE DETECTION.
Also possibly helpful will
be URINE ODOR SOURCE DETECTION.
Building Chemical Odors & Appliances: does the odor appear only when certain appliances are running: cook stove, air conditioner, heater, aquarium pump, fans, clothes dryers, clothes washers, dishwashers, or electrical devices such as TV's? Some appliances may be overheating, heating plastic components, or may be experiencing an electrical problem that is actually burning electrical components or plastic wire coverings.
Building Chemical Odors & Building Structure: does the odor relate to presence of a nearby air movement pathway such as a building stairwell, elevator shaft, or heating and cooling duct system? For example, we have traced odors in an upper floor of an office building to smells transported through a nearby elevator shaft, by a stairwell, and across an extraordinarily long suspended ceiling cavity from a distant beauty parlor.
Building Chemical Odors & Carpeting or carpet padding: some building chemical odor complaints are traced to (usually new) carpeting, particularly wall-to-wall carpet products, and to carpet padding, particularly foam or rubber carpet padding and underlayment products.
See CARPETING & INDOOR AIR QUALITY
and
also CARPET PADDING ASBESTOS, MOLD, ODORS
Building Chemical Odors & Chemicals Used in or around the building: what chemicals have been applied or used in or around the building that may produce constant or episodic (depending on temperature, humidity, sunlight, wind direction, operation of HVAC equipment etc) odors in or near the building. Examples of some odor sources that at least some readers describe as "chemical" in nature form a very long list, of which some common items mentioned include:

Building activities: while our checklists focus principally on residential or office space odor complaints, chemical odors may be transported through a building from more distant activities such as the beauty parlor we mentioned above.
Cleaners & cleaning chemicals or solvents
Gas leaks, LP or natural gas odors -
see GAS DETECTION INSTRUMENTS
Electrical system failures: burning wire insulation or over-heated electrical components, e.g. backup electric heat failure in a heat pump system or aluminum electrical wire overheating -
see ALUMINUM WIRING HAZARDS & REPAIRS
Heating oil fuel spills
See OIL HEAT ODORS & NOISES
and
See OIL TANK LEAK & ODOR CAUSES
Medications, drugs, spilled liquids
Mold odors - MVOCs may be present even if mold is not visible - a musty "chemical" smell
See MVOCs & MOLDY MUSTY ODORS
Oxidized plastics and other materials from improperly-used ozone generators in buildings, vehicles, other enclosed spaces
Ozone - from incorrectly-used ozone generators in buildings b
See OZONE HAZARDS
Paints recently applied inside or outside the building
See PAINTS & COATINGS ODORS
and also
See VOCs VOLATILE ORGANIC COMPOUNDS
Pesticides applied near or inside the structure
See PESTICIDE EXPOSURE HAZARDS
Scented candles and other building odorants or "deodorants" generally produce what I describe as a sweet or perfumed smell but some occupants may use the term "chemical" odor for these as well.
See STAINS CANDLES FIREPLACE WOODSTOVE
Sewer gas leaks
See METHANE GAS SOURCES
and
See SEWER GAS ODORS

Building Chemical Odors & Chimneys: chimney creosote, particularly from wood-burning appliances can be a source of "chemical" odors in buildings.

Watch out: chimney creosote build-up is a serious building fire hazard.
See CREOSOTE FIRE HAZARDS
Building Chemical Odors & Drywall:
See CHINESE DRYWALL HAZARDS outgassing can produce a sulfurous or chemical smell
Building Chemical Odors & Fans: while exhaust fans are often used to move odors out of a building, a little thinking and investigating may be in order: does the exhaust fan or whole house fan or attic roof vent fan cause odors, dust, or even mold to move upwards through the building? (Be careful that your whole house fan or other exhaust fans do not overpower and cause improper operation of your radon mitigation system if you have one installed).


Building Chemical Odor history: when was the odor first noticed? What date? For how long has it been observed? Who first observed it? Does the first occurrence of a smell relate to an event, change, or modification in the building? If so, what exactly?
Building Chemical Odor location: does the odor appear throughout a building or only on certain floors, in certain rooms, or at certain walls?

What is different about the room where an odor appears:

What side of the building is the room on? What conditions are different there such as sun exposure, wind exposure, nearby trees, prevalent wind direction, outdoor possible odor sources?
What side of the room, what wall, has the strongest odor: is it an exterior or interior wall?
What materials are unique to the odor-source room, such as carpets, carpet padding, drapes, window shades, kind and type and age of windows, screens, heat, air conditioning, pet occupancy, people occupancy, laundry storage, proximity to baths, kitchens, laundry, openings between floors?

What is different about the floor or level in a building where odors occur? Proximity to basements, attics, leaks, rodents, pests, animals, heating equipment, pesticide treatments

On request we can describe a procedure that assists in pinpointing odor sources to a particular surface or piece of furniture or carpeting, using aluminum foil, paper towels, and simple masking tape.
Further odor source tracking suggestions are at
BUILDING ODOR SOURCE Q&Ain this article (below)
and

See ODOR DIAGNOSIS CHECKLIST, PROCEDURE that provides a checklist of places to look and things to do to track down the source of an odor or smell in building air, water, mechanical systems, heating, cooling, or other locations.

ODORS GASES SMELLS, DIAGNOSIS & CURE offers a collection of articles that describe steps to track down an odor to its source and to correct the problem

SMELL PATCH TEST to Track Down Odors helps track down odors by testing the surfaces of possible odor sources such as carpets, walls, furniture


Building Chemical Odors & Mold: Some building occupants describe mold smells as chemical. Separately a building mold contamination cleanup project can lead to horrible chemical smells if inappropriate use of ozone generators is involved (oxidized building materials) or if bleach or other chemicals are misapplied.
See MVOCs & MOLDY MUSTY ODORS

Separately again, in a series of articles on flooded vehicle detection and curing car, boat, RV or other vehicle mold smells we discuss odors that appear in cars, including antifreeze leaks.
See CAR SMELL - Mold DEODORIZING
Building Chemical Odors & Neighbors: does the odor correlate with activities by building occupants or building neighbors? What about trash burning, level of septic system usage, use of woodstoves, coal stoves, home improvements, building projects.
Building Chemical Odors & Occupants: does the odor occur when the building is occupied by large number of people, visitors, or specific individuals who may have brought something new into the building?
Building Chemical Odors & Plastic or Vinyl building materials: in addition to paints and electrical products involving plastics, quite a few building smell complaints described as a chemical-plastic odor have been traced to vinyl siding, vinyl windows, plastic window screens, and even plastic interior or exterior trim, even plastic window shades. See VINYL SIDING or WINDOW PLASTIC ODORS
Building Chemical Odor Perceivers: who notices the smells? Is the odor perceived only by certain occupants? Is the odor more noticeable to building occupants or to occasional visitors.

People's sensitivity to many odors tends to diminish over longer exposure times as the odor-sensing neurons and brain response become desensitized.

Such individuals may notice an odor only upon entry to a building and not after being indoors for a time; people can also become desensitized to an odor such that even after leaving and returning to the building they do not notice the odor as much as is noticed by visitors. This seems especially true with animal and pet odors for people who live with pets.
Building Chemical Odors & Plastic smells:
See VINYL SIDING or WINDOW PLASTIC ODORS
Building Chemical Odor Strength: is the odor perceived as strong or mild?
Building Chemical Odors & Time of Occurrence: does the odor appear all of the time or only at certain times. For odors that come and go, does the time of the odor correlate with:

Time of day, sunlight, operation of heating or cooling equipment
Time of year, season, foliage, outdoor or indoor activities
Heating or cooling season: does the odor appear when the heating system comes on? Check immediately to assure that there are no carbon monoxide hazards or flue gas hazards. While carbon monoxide itself (CO) is odorless and colorless, more often CO is mixed with the exhaust gases of heating appliances burning heating oil, gas, or other fuels that produce other fuel-related odors.
See CARBON MONOXIDE - CO [which is odorless but may be mixed with heating system fuel gases that can be smelled]
Cooking activities may be an odor source



Building Chemical Odors & local Temperature or Sun Exposure: does the odor appear or disappear in relation to changes in building temperature?

Sunlight striking plastic window screens may make a distinctive odor only on the sunlit side of the building
Plumbing system drains or vent systems may release odors when a private septic system is under heavy use or in certain weather conditions -
see SEWER GAS ODORS in COLD / WET WEATHER

Building Chemical Odors & water: while there are a number of common contaminants that produce odors in the building water supply, we don't usually ascribe a general building smell or odor to its water or water source since normally water is not running constantly indoors.

But buildings with pools, fountains, or where there are odor complaints that track to the operation of showers or sinks,
see CHEMICAL CONTAMINANTS in WATER
and
See CHLORINE IN DRINKING WATER
and
See WATER ODORS, CAUSE CURE
Building Chemical Odors & weather conditions: does the odor correlate with weather conditions such as humidity, temperature, rain, snow, wind?
Keep a Building Chemical Odor or Chemical Smell Diagnostic Log: Use any of the files listed below to record various data that can help figure out the source of a mystery odor or smell - we recommend the first Odor Checklist Form listed below as it is the most detailed version.

ODOR EVENT LOG & CHECKLIST FORM printer-friendly PDF file to record odor observations such as time of day, weather, temperature, sunlight, & possible sources as an aid in finding the actual source of odors & smells in or around buildings


ODOR LOG EXCEL Spreadsheet to record your observations for further analysis for those who prefer to work with spreadsheets to enter odor observation data


ODOR LOG abbreviated form "short list" printer-friendly PDF file lists observations that can help track down an odor source.
Reader Question: Acetone Smells in Well Water
(Oct 17, 2014) KAREN VAN ESSA said:
For the first time in 10 years I can smell acetone intermittently in my cold water, which comes from a drilled well 130 feet deep. I have had the water tested for a broad range of chemicals at least twice before: levels were below all guidelines, except for sulphur and hardness, but the levels are tolerable and I have no water softener.
There has been no construction in my rural neighbourhood, the nearest house is 500 feet away, and the only industrial site is a car wreckers/body shop about 1/2 a mile away whose owner is semi-retired.The land has not been farmed for at least 25 years. What could be the source of this volatile? Could it be natural? (this is a mainly wooded area with small streams and ponds)
Reply:
Karen
Acetone would not be associated with a septic system failure or odor problem -
[ this question was originally posted at SEPTIC SYSTEM ODOR CURES]
I would begin with a lab test to identify what's actually in the water supply. Knowing that accurately will help pinpoint possible sources.
Acetone in well water research citations
Rezaee, Mohammad, Yaghoub Assadi, Mohammad-Reza Milani Hosseini, Elham Aghaee, Fardin Ahmadi, and Sana Berijani. "Determination of organic compounds in water using dispersive liquid–liquid microextraction." Journal of Chromatography A 1116, no. 1 (2006): 1-9.
Atwood, Jerry L., Leonard J. Barbour, Timothy J. Ness, Colin L. Raston, and Paul L. Raston. "A well-resolved ice-like (H2O) 8 cluster in an organic supramolecular complex." Journal of the American Chemical Society 123, no. 29 (2001): 7192-7193.
Kozani, Reyhaneh Rahnama, Yaghoub Assadi, Farzaneh Shemirani, Mohammad-Reza Milani Hosseini, and Mohammad Reza Jamali. "Part-per-trillion determination of chlorobenzenes in water using dispersive liquid–liquid microextraction combined gas chromatography–electron capture detection." Talanta 72, no. 2 (2007): 387-393.
the latter also discuss chlorobenzenes
Reader Question: Chemical odors, air fresheners, ozone, secondary air pollutant hazards: I can't pin down the source of a chemical odor in my house. Any suggestions?
I was just looking at your web site hoping to find some answers for my problem and didn't really see what I was looking for. I'm hoping you can make a suggestion or point me in the right direction.
I've been chasing an odor around my house for almost a year now and can't seem to pin it down. What it is or where it is coming from.
I've had a plumber come to my house, HVAC person, local gas company, city sewer people, and talked to a "mold" guy although I didn't have him come to my house. I bought my house new eight years ago and it's only 1100 sq. ft. and I don't find any evidence of water damage that would precipitate a mold situation.
The smell has a chemical nature to it that I think is now starting to cause some health concerns for me. Since I've pretty much weeded out all of the obvious things about all that is left is....my next door neighbor cooking drugs of some type. I've filed several reports with the local police department and done several other things as well. Law enforcement may or may not be investigating the situation. They don't really say anything one way or the other.
It seems to me that I need some way to determine exactly what the odor in my house is; but I don't know how to go about it. Everyone that I've spoken to can check for things like sewer gas or mold spores but trying to ferret out the ingredients that might be used for cooking drugs is a whole different ball game. Not really that easy as far as I can tell. I've seen some electronic equipment on-line that is for sampling for residue inside houses where drugs have been cooked but that's like a first-hand situation. My situation is more like a second-hand smoke deal.
Please let me know if you have any suggestions. I'm pretty desperate at this point. - R.E.
I have an office attached to my home which is outgassing from an unknown source. Possible culprits are formaldehyde from an air freshener concentrate spill or perhaps hard foam ceiling insulation. Any suggestions on how to identify the nature of the gas and what to do about it - Lawrence Jackson 3/28/12
Reply: Visual inspection of materials and building condition and a series of smell patch tests might help; secondary air pollutants from air fresheners & ozone generators
Lawrence:
Since tests to capture a gas and then identify it can be costly to arrange, it makes sense first to trace the odor to its source - often what you see there will be diagnostic. But I and experts agree that an indoor "air freshener" (such as the plug-in type) can in fact be a source of secondary pollutants, and we agree that some indoor air fresheners include a small amount of formaldehyde, typically 0.1%, to keep the air freshener from growing organisms.[8] Also
see Ozone Warnings - Use of Ozone as a "mold" remedy is ineffective and may be dangerous.
Too often an air freshener is not really removing anything from the air to make it more "fresh" - rather it is adding chemicals that cover up the original odor (leaving it in place) and/or chemicals that deaden your sense of smell so you just don't notice the original odor. These concerns for secondary air pollutants can be even more severe if people try using ozone generators in the same location. [6][7][8][9][10]
A competent onsite inspection by an expert usually finds additional clues that help accurately diagnose a problem and in this particular case s/he might quickly spot something known to be a common source of problem odors but that had remained unfamiliar to you and some of the others who've looked. With no specific information about your building, I can only suggest a general approach to tracking down the odor problem.
That said, here are some things to consider:
Separate probable emergencies from other odor problems
Of course some odors are widely recognized by many people and some of these (fuel gas odors, methane, sewer gases, even flue gases) can be indicators of very dangerous conditions that need prompt action.
Sophisticated tests to identify gases and chemicals in buildings
There are gas testing methods that can identify the chemical constituents of gases (or in other words odors) found in buildings and elsewhere using a combination of a vacuum canister to collect air samples and mass spectrometry and similar instruments. Industrial hygienists are equipped and familiar with these procedures, but I'd be careful: most of the hygienists in my association (AIHA) are industrial experts and only a smaller number are familiar with residential buildings and with the building science needed to understand and diagnose and cure odors in residential homes.
But for other smells in general I am reluctant to order gas and chemical tests to "identify" an odor for several reasons
An odor or smell may be the mix of a number of chemicals produced by a particular building product or condition. Identifying the specific chemical constituents of the gas often fails to point to the actual source in a building.
I have found inconsistent results from test labs and on occasion even large expensive labs have returned poorly-developed and unreliable results. It seemed to depend on luck of the draw about which technician and supervisor actually handled the work.
A chemical signature that identifies odor components might suggest a direction of investigation but equally frequently in my experience tests of air or gases in buildings are not sufficiently diagnostic. The results may confirm an odor while taking very limited or no steps at all towards identifying the odor source and no steps whatsoever in guiding the building owner into a plan of action.
These tests tend to be specific in target and expensive in use.
Suggestions for tracking down smells in residential buildings
I have had best results in tracking down and eliminating odor problems in buildings by using various measures to pinpoint the actual physical odor source. When the source is recognized we usually will know quickly just what the material is or just why the odor is occurring.
There are other helpful variables to consider that also help track down an odor source such as the correlation of odors to weather, wind, moisture, temperature, sunlight, sun exposure to different building areas, time of day, operation of various equipment etc.
For sources more far afield it's sometimes important to make sure that the odor is originating inside the building not elsewhere.
For odor complaints that are not observed by everyone in the building, because individual sensitivity to odors and chemicals can vary widely I don't assume that the "non-smellers" are correct (that there is no problem) but I have encountered cases in which a medical or even neurological condition was involved.
Help in tracking down an odor source based on building conditions:
See ODOR DIAGNOSIS CHECKLIST, PROCEDURE that provides a checklist of places to look and things to do to track down the source of an odor or smell in building air, water, mechanical systems, heating, cooling, or other locations.
Help in tracking down an odor source based on actual strength of the smell:
Above and in a series of articles found beginning at
ODORS GASES SMELLS, DIAGNOSIS & CURE we provider a collection of articles that describe steps to track down an odor to its source and to correct the problem,
and there we include a suggested
SMELL PATCH TEST to Track Down Odors that might help track down odors.
Use a combination of people with a good sense of smell and the smell test to see if you can identify where, when, and under what conditions the problem odors are strongest.
...
Continue reading at ODOR DIAGNOSIS CHECKLIST, PROCEDURE or select a topic from closely-related articles below, or see our complete INDEX to RELATED ARTICLES below.
Suggested citation for this web page
CHEMICAL ODOR SOURCES at InspectApedia.com - online encyclopedia of building & environmental inspection, testing, diagnosis, repair, & problem prevention advice.
Or use the SEARCH BOX found below to Ask a Question or Search InspectApedia
...
Frequently Asked Questions (FAQs)
Try the search box below or CONTACT US by email if you cannot find the answer you need at InspectApedia.
Question: How can we track down the source of a chemical smell in our condo?
I currently own and live in a condo and for several months now my wife and I have noticed a very strong smell in one of our bedrooms. The smell has been strong enough to make it impossible for us to be in that room without the window open and as the smell continued we finally reached out to have the air tested in the bedroom. We found (having tested 3 times) high level of various VOCs, most prevalently 1,4 dichlorobenzene.
Unfortunately, while we've established something is wrong, none of the air testing companies we used could figure out where it was coming from (not really their specialty). We'd hoped the building would get involved and spent months dealing with them but things have become more urgent as my wife is pregnant and due in 2 months.
We can't bring a newborn into this environment and so are looking for someone to help us find the source of the contamination (rather than just confirm that it exists). Is this something you can do? If so (or if not, if you don't mind) please get back to me ASAP. Between waiting too long and the frustration of dealing with various service providers and our own building we are really in a rush to have this resolved. - Anon. 5/31/12
Reply: Tools & Procedures for odor source identification
Although there are some (rather pricey) test methods that collect a volume of air or gas to send off for spectrographic analysis, even armed with that lab report we don't necessarily know the odor source without a more careful inspection or perhaps some surface testing of the building. In these articles on odor cause, source tracking, and remedy, you can start tracking down the cause or source of an odor in one or more of several ways described at Odor Diagnosis Strategies
Reader Question: chemical odors or "chemical solvent odors" lead to suspected bathtub or countertop coating / rejuvenation product: now how to get rid of the smell? - ultimately traced to apparent vinyl product outgassing
I have a heavy, persistent solvent odor in my home from Gel-Gloss (a polish) by TR Industries that has made it uninhabitable. I have tried everything I can find to eliminate it but nothing has helped. Can you advise if you have a solution?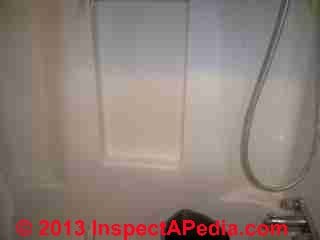 I am requesting your consideration for pro-bono services or assistance. We have just recently purchased a mobile home, with the intention of selling our now affected home and find ourselves supporting two homes, with the possibility of totally losing our equity in one due to the solvent odor.
We are both senior citizens and my husband is a veteran. Any consideration you can give us would be appreciated.
We are faced with a terrible problem of a heavy and persistent solvent odor in my home. I used Gel-Gloss brand (by TR Industries) of polish on my tub surround and some laminate counter tops while preparing our house for sale in early May. It is possible that the chemicals might not have mixed when shaken in the can. The odor is so bad, we can't even go in the house.
I have tried everything I can think of and have cleaned the polished areas countless times to no avail. I have used ammonia, vinegar, baking soda, industrial grease cutters, Bar-Tenders Friend (like Ajax), Dawn dishwashing liquid, 409, Krud Kutter, good old elbow grease and everything else I could get my hands on. Nothing has helped.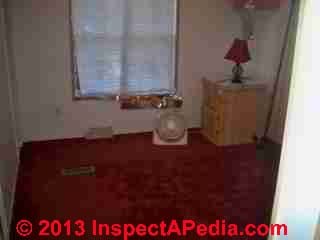 We shampooed the furniture and I put baking soda on the rugs. I have washed the walls, the tub surround and laminate countertops over and over. We have tried opening all the windows, turning on the fans and leaving the air conditioning off for a few days and it was worse.
And with the humidity so high here in Florida, the doors started to warp and we were afraid of mold and mildew developing. Then we tried the same with the a/c on and it was better because of the cool air but did not fix anything.
I have wood charcoal, charcoal briquettes and activated charcoal in the house, vanilla extract on cotton balls, vinegar in dishes, baking soda on the carpet and furniture, raw onions in dishes, all with and without the windows open. And the fans are going at all times. I have also tried some commercial odor removers that I found on the internet, such as Smell-eze pouches, and SCOE 10X spray. No luck.
Tomorrow, I am going to try burning a bunch of candles in the house for a few hours and see if that helps. We have run out of options and need to get a professional opinion and some guidance as to what we can do. I would appreciate your response as soon as possible as the house is uninhabitable at this time. In addition, I am concerned for our health from exposure to the vapors when we go in there. (We are living elsewhere right now).
I just found your site today and I am hoping you can lead us in the right direction and suggest a remedy or a professional to help us. Thank you so much in advance for your assistance. - P.O.D. 8/9/2013
Reply:
First you need to remove the prime odor source, the tub or the coating applied to it.
Second you need to air out the home.
After that we may suggest using the smell patch test procedure discussed at InspectAPedia to identify remaining odor reservoirs if necessary.
Watch out: Don't burn candles, scented or otherwise: you are just adding chemicals to the mix.. Adding a scent can sometimes "cover up" an unpleasant odor or can "turn off" your olfactory nerves, but it doesn't remove or correct the problem.

Reader Follow-Up
I don't think it is financially feasible for us to remove the tub. We would like to avoid that if at all possible. We have started to air out the house for a few hours at a time when the humidity is at its lowest on the drier days. Someone also suggested to us to put a coating of baking soda and water on the surfaces and let it dry to absorb the solvent. I tried doing that but used vinegar and baking soda on Saturday when we aired out the house. Is water better? That didn't seem to work but he said it may take a few times to absorb the chemicals. Do you think that will have any effect? I have not burned any candles and will not per your recommendation
One problem that has me concerned, is that I have developed a cough & some congestion in the past 2 weeks after doing this for 3 months and I am afraid to spend any time in the house now. I'm concerned that I might be doing damage to myself. I have not been using a mask but have been airing it out before going in each time. I will purchase a vapor mask to go forward if you think that will provide enough protection. If I have inhaled too much already, is there anything I can do to counteract that now? Should I go to a doctor now to be checked?
I see you recommend against ozone treatments. We do have fans going at all times, but I have looked into large blower fans to air it out. What is the best way to use one. Do we need to seal the house before use or can we just use one fan in and one fan out with two windows open? I would like to use the best approach.
This is a nightmare for me and I am really frightened. I might add that my husband has COPD and he is not able to assist much either.
Thank you so much, it is comforting to know I have someone who is knowledgeable to talk to about this.
Reply:
Since your earlier message posed that you risked losing the home and your equity in it, by comparison, removing the tub sounded inexpensive.
Alternatively to prove what's needed you could try to isolate that offending bathroom from the rest of the home;
"Absorbing chemicals" is nonsense. It does not work any more than you can vacuum dust from the living room by standing in the kitchen and waving a vacuum cleaner wand in the air. As long as there is an effectively-infinite source of odor molecules, ony by removing or sealing over the source will you stop the odor. All of the magic bullets, ozone machines, deodorants, cat litter, etc. are just that - magic bullets that will not be effective. And in some cases, chemical interactions between a supposed deodorant and the chemcial source can make matters worse.
For some paints and coatings, an obnoxious outgassing occurs primarily from highly volatile solvents that complete their outgassing after some hours or days; in that case ventilating the home (adding fans to improve air movement is fine) may be all that's needed.
But if a coating was improperly formulated, mixed, or applied, or if it reacted with the surface on which it was applied, that can form a much longer-lived odor source. For that case, one needs to remove the odor source, or in some cases one can find success by applying another layer of sealant, provided that the next layer itself does not produce a new odor problem and provided that it is chemically compatible with the underlying coating that is the original odor problem.
If you have the product name or container and from it can find the manufacturer's contact information (I'd like this information as well) then it would make perfect sense to contact them to ask for advice. Be sure to avoid pushing the manufacturer into defensive mode by sounding threatening or litigious or they are likely to shift from trying to be helpful to simply stonewalling.
Reader Follow-Up
(Sorry this is such a long message, but I wanted to give you the details. I will send you some pictures if you still want them, but it's late, and I will send them separately) Yes, you are correct about removing the tub being less expensive than the alternative and I might consider it if I knew for a fact that was the problem. But I am pretty sure now it's not the tub surround. I cannot smell it at all when I press my nose against it. Also, when the bathroom door is closed, the odor is heaviest in the rest of the house than the bathroom. Unfortunately, I had used it on my Formica countertops in the kitchen, bedroom and bathroom. So I am leaning towards the countertops being the problem. Perhaps they are more porous than the tub surround. This is, by the way, a single-wide mobile home in an RV park, about 400 sq ft. We continue to air it out when we can but the odor is still very heavy.
I am thinking now that I should get a new can of the Gel-Gloss per your suggestion and re-polish the countertops one room at a time(doing the bathroom first, which has the smallest countertop), making sure that they have enough time to cure before closing up the house again. Maybe that will soften and remove the old polish, and polish and reseal them, possibly sealing in any remaining odor. Do you think that's worth a try?
I have included some links below for Gel-Gloss specs on TR industries site as you requested and on Amazon with many rave reviews.
TR Industries website: https://store.gel-gloss.com/index.php?main_page=product_info&cPath=0&products_id=35
Amazon site with consumer reviews: http://www.amazon.com/gp/product/B000LNQ83O/ref=olp_product_details?ie=UTF8&me=&seller=#productDetails
I emailed TR Industries on June 8, and Tom Dolson called me to see if he could help. He was courteous and concerned but had no idea how to solve the problem. He suggested using Fantastik to wash everything down (which I did), and keep the fans going.
He said he would talk to the president of TRI to see if he had any suggestions and asked me to keep in touch and let him know how things were going.
I updated him on July 7 to let him know that the situation had gotten no better. I have not heard back from him. His email is tdolson@trindustries.com. The phone number for TR industries is 800-243-3272.
Below are my emails to TRIndustries and Tom Dolson: To: info@trindustries.com Sent: Saturday, June 08, 2013 10:27 PM Subject: Urgent! Need Your Help, Please!
HELP!!!! I am faced with a terrible problem of a heavy solvent odor in my home. I used your Gel-Gloss polish on my tub surround and some laminate counter tops when cleaning my house about 3 weeks ago. It is possible that the chemicals had separated because it was old and may not have been shaken hard enough. The odor is so bad, we still can't even go in the house. I have tried everything I can think of to remove it and have cleaned the polished areas countless times to no avail. I have used ammonia, vinegar, baking soda, industrial grease cutters, Bar-Tenders Friend (like Ajax), Dawn dishwashing liquid, 409, Krud Kutter, good old elbow grease and everything else I could get my hands on. Nothing has helped.
I am thinking it could be in the walls, furniture and carpet. We have tried opening all the windows, turning on the fans and leaving the air conditioning off for a few days and it was worse. Then we tried the same with the a/c on and it was better because of the cool air but did not fix anything. I have tried leaving wood charcoal in the house, vanilla extract on cotton balls, vinegar in dishes, baking soda on the carpet and furniture, all with and without the windows open. As of this moment, we now have all of the above remedies in the house (and I have added activated charcoal in dishes and added standing buckets of water) and have left two windows open. One to draw in fresh air and a fan in front of the other to blow out the odor, and left the a/c running. We are running out of options and need to get a professional opinion and some guidance as to what we can do. I would appreciate your response as soon as possible as the house is uninhabitable at this time. Thank you in advance for your assistance.
Second Reader Letter to TR Industries
I wanted to update you on the status of the solvent odor in my home. It has been over 2 months now, and I still have not gotten any closer to solving this dilemma. I did try the Fantastic spray and it did nothing. I have since ordered a product that made no promises but did say that their product could get rid of fuel odors, but it did nothing. I still have fans going in the house, the windows are closed, and the exhaust fans are on in the living room ceiling and the bathroom with the a/c set at 72.
Still nothing is working. I have read some opinions on the internet and they say that the only thing that will help is fresh air exchange, which would be great if this was October-March in Florida. But the summer heat and humidity makes this an impossible option.
The doors will swell and the humidity will doom my house to mildew and mold and the odor will destroy my house. It has already eaten into the lacquer on my metal floor vents. I have also read that if the house is closed up for a period of time the odor could stay for months to years, which scares me to no end. I don't know what to do next. I am at a total loss for a solution to this problem.
This is a hazardous situation and I need some professional guidance. Have you talked to your company president yet? Does he have any suggestions for me? I am in serious need of some professional assistance. Any help you can give me would be greatly appreciated.
Reader Follow-Up
Here is an update on what I have done in the past few days...
On Wednesday, I bought a new can of Gel-Gloss and repolished the formica tops in the bedroom only, with the windows open and fans going for about an hour or so. Unfortunately, I have to close the house up before I leave and I was worried about the lack of fresh air. Today I went back to check on the results and I'm not sure if it was worse, but it certainly was no better. So, we are no further into solving this. I did however put down some patches in each room and we will go back on Tuesday to check on them. I would have attached some photos of the house with the smell patches in place but I just realized I left my phone at the house so will send them as soon as I retrieve it...
I am afraid that the odor might have permeated the furnishings in the house. I had a comforter that I left on the bed for about a week and today I took it outside and smelled it and it is has a pretty heavy odor. We also took a cushion from one of the chairs and left it in the truck cab to see if the smell is in the truck tomorrow morning. I'll let you know.
Two new developments:
1. I was at the supermarket parking lot on Wednesday, and happened to spot a man from a remediation company for fire and water damage. I talked with him and asked him if he had any suggestions. He was the one who told me to put the cushion in the truck and check for the smell. He said if there was no smell then he would let me use one of their ozonators (air scrubber) for a few days free of charge to see if it helped. Also turns out he does work with my insurance agent, who is a friend of mine. I know you said that ozonators can cause more trouble, but I wonder if it might be worth a try at some point. His website is DryUNow.com,
2. Even more hopeful, I think... I had sent an email to a firm called Bio-World on Aug 9th, and got a response from a [...] who said they have a product called, BioWorld Odor Neutralizer, that has proven effective against fuel oils, etc. They use the neutralizer in a fogger to contact the molecules of the offending odor. They rent or sell the foggers. I am going to contact him and check this out further. I do have some concern about using a wet solution in the house, especially through the a/c system and vents. Would that do damage to the system?
Below is [...] email to me with links to his product, and contact information. They have some impressive examples of their work on their website. It sounds more promising than the ozonator and if it works might be fairly quick. If you could give me your opinion, I would really appreciate it. - P. 8/24/13
[Note to Reader from D.D., vendor of a deodorant product]
Sorry to hear about your lingering solvent odor issue. For this type of situation, we recommend using BioWorld Odor Neutralizer (BON), a unique concentrated liquid formulation that eliminates offensive odors at the source. BON has eliminated numerous odor problems for our customers including urine, skunk, fish, asphalt, chemical and paint odors.
To apply BON, we recommend using a handheld fogger such as the F8026 Triple Nozzle Fogger. This fogger has variable flow rate and droplet size options and emits a 20 foot fog of micron sized droplets. The small droplets are able to get into every nook and cranny where odors may still exist. The fogger can be operated as needed in any area where odors are still a problem. A dilute solution of BON (5 - 10%) would be used in the drum supply for the fogger to eliminate the odors. Here is a link to BON and fogger information: http://www.bioworldusa.com/industrial/odor-control http://www.bioworldusa.com/industrial/odor-control/foggers-and-equipment#F8026
We suggest that you purchase the following: F8026 Triple Nozzle Fogger = $355.00 O41326 1 liter Odor Neutralizer = $25.95 Subtotal = $380.95 plus shipping
This would give you enough product for several applications. We also have a 30 day rental option available for the Triple Nozzle Fogger (charge $250 and credit back $150 upon return – net cost of $100). This may be a better option for you.
At your request, we can obtain a shipping quote (need a physical address) and overall cost. We would provide you with the products along with simple instructions. Either fogger option (buy or rent) and BON are currently in stock and can be sent as soon as we receive payment confirmation. Attached is a credit card order form for your convenience. BioWorld Products Inc 559.651.2042 800.882.0225 www.bioworldusa.com
Reply to Reader from IAP
I agree absolutely that you are on the right track to first isolate the odor source.
Watch out: Spraying or fogging a home with an odor neutralizer, it seems to me, is likely to be effective only for certain classes of problems and probably not the best approach for odor complaints that include a persistent odor source, much less one that has not been identified and encapsulated or removed. Generally we want to find the source of the chemical, solvent, or other odor, and correct it at the source.
Perhaps I misunderstood your original email that I took to indicate that the re-coated bath tub the odor source issue.
In other cases we've tracked down the odor source by isolating rooms or areas from the rest of the building.
Also you might want to confirm your suspected source by using an odor patch test procedure - it's very easy.
See SMELL PATCH TEST to FIND ODOR SOURCE
Photos of the tub, kitchen counters, product labels would be helpful. And I'm so disappointed that apparently you've not had response that you found more helpful after your queries to the manufacturer. 8/19/13
Reader follow-up:
Finally, a little glimmer of hope.On August 23, I put some smell patch tests in the house on the Formica countertops, the tub surround and the bedroom carpet. Yesterday, we went back, removed the patches, took them outside and smelled them. The only one that I could detect a smell from was the bedroom carpet. I will recheck the countertops and tub surround just to make sure it was accurate. We did find that the odor had permeated the mattress and box spring, the bed linens, the bathroom linens, and the curtains... and probably all the upholstered furniture. We put the mattress and box spring outside in the lanai with the lanai windows open and a fan blowing on them. We'll see if the odor has left the mattresses when we go back in. The good news is the odor was erased from the linens after I put them through the washer and dryer. I have put new patches on the walls, the cabinet door, the wall paper and the sofa. We will check them in a day or two. We plan to shampoo the carpet and sofas. If you have any suggestions as to the best type of cleaner to use, it would be appreciated. Perhaps we are making some headway. I'm keeping my fingers crossed.
Reader follow-up: 10/09/2013:
As an update, we were finally able to begin leaving a few windows open in the house this week, with the cooler, less humid air. I still believe it is the carpet in the bedroom and my husband would prefer to try to air it out throughly before we commit to replacing it. So, air it we will. The next step will be to pull it up and put it outside to air out so we can see if that eliminates the odor. We can put it back down if it works, but we're hoping not to have to do any of that. The odor actually is not as heavy as it used to be but it is definitely there, especially when the house is closed up... at least for me.
But it dissipates much quicker when we open it up than it used to. I have had three other people come into the house and they all said that it just smells extra clean, like a brand new house smell. I don't see it that way, but I'm probably overly sensitive to it by now. I always get a red flush and irritation on my face from being in the house, that has simmered down, but it still happens. Question for you: Is it possible that it has permeated the a/c itself, or the material used in the duct work?
Strangely enough, one time when I sealed off the bedroom and closed the vents, there was no odor in the living area the next time I went in. Another time, I did the same thing and the whole house was invovled again. Doesn't make sense. Our HVAC guy checked out the a/c unit and said he couldn't smell it there or in the house. He was one of the ones that said it just smelled ultra clean.
But as long as it keeps building up when the house is closed up, I can't in good conscience sell it to anyone. So, nearly 6 months down the road, we are still dealing with this. I hope the cooler weather will prove to be advantageous for us. I will keep you informed. - P.O. 10/9/2013
Reply:
re: I still believe it is the carpet in the bedroom and my husband would prefer to try to air it out throughly before we commit to replacing it IF wall-to-wall carpeting has been soiled by flooding, or if carpet backing or padding were oxidized by ozone treatment, or if carpeting was moldy, the only effective fix is to remove it completely, clean the floor, and install new product. If the carpet were an area rug, I've had success having such rugs professionally cleaned and dried. re: Is it possible that it has permeated the a/c itself, or the material used in the duct work?
Yes odors and gases can penetrate HVAC ductwork if the ducts are made of fiberglass board or were fiberglass lined; I speculate that also very dirty ductwork is often a harbor or odors in the soil material itself. About who smells what, while it is very useful to bring in neutral parties as sniffers, perhaps eliminating stress or even individual illness from the equation, individuals' sense of and sensitivity to various odors varies significantly; for this reason I don't ignore an odor complaint by one person living in a building just because another doesn't detect it. About your own reaction, that's something about which to also check with your doctor.
My inexpert OPINION is that individuals can also become sensitized to particular contaminants, gases or particles, or chemicals such that they then react to very low levels. Sometimes that sensitivity diminishes or stops completely after a period of avoidance.
Question: How can we track down the source of a chemical smell in our condo?
I currently own and live in a condo and for several months now my wife and I have noticed a very strong smell in one of our bedrooms. The smell has been strong enough to make it impossible for us to be in that room without the window open and as the smell continued we finally reached out to have the air tested in the bedroom. We found (having tested 3 times) high level of various VOCs, most prevalently 1,4 dichlorobenzene.
Unfortunately, while we've established something is wrong, none of the air testing companies we used could figure out where it was coming from (not really their specialty). We'd hoped the building would get involved and spent months dealing with them but things have become more urgent as my wife is pregnant and due in 2 months.
We can't bring a newborn into this environment and so are looking for someone to help us find the source of the contamination (rather than just confirm that it exists). Is this something you can do? If so (or if not, if you don't mind) please get back to me ASAP. Between waiting too long and the frustration of dealing with various service providers and our own building we are really in a rush to have this resolved. - Anon. 5/31/12
Reply:
You may have already read that dichlorobenzene is often used in pesticides, mothballs (see Are mothballs an indoor air quality or health concern?) , disinfectants, and deodorants. If you are confident that your tests identifying this chemical were accurate AND that it is most likely the chief or only contaminant present, those uses may help suggest how to track down the actual odor source.
The fact that the odor is traced particularly to one bedroom will be helpful, but depending on what we think has happened in your home, I'd suggest being cautious in concluding that the risks are only in that area. For example, if the odor is due to use of a pesticide, it would more commonly have been applied in multiple areas.
Question: desperate for help tracking down chemical drug smells in apartment
I am desperate for your help. On your web page there is mention of neighbors cooking drugs in a section titled "question:chemical odors,air fresheners, ozone,secondary air pollutant hazards; i can't pin down the source of a chemical odor in my house." this is a big problem in the apartments where i live too.
However my sister who is disabled with m.S. Has severe reactions to these smells. She moved from here to a house in a "nice" place. To make it short - her neighbors are probably cooking a drug called spice and the odors are making her extremely ill. (racing heart, nausea, burning eyes etc). The big problem is few people are there in the middle of the night when it happens.
Her aide called me and said she can smell it.
The fire dept and police want her to prove it before they will do anything.
Her landlord thinks she is nuts.
I know her to be on target with all of the terrible drug smells from this place and we tried to get her out of it. If you have any advice or devices please contact me. I am afraid she will end up in the hospital and no one will help her at all. My e-mail is [redacted] i am home in the am and work in the aft. & evening. Thank you for putting this info online. I look forward to talking to someone soon.
Oh i also bought her detectors recommended by the fire dept(riddick- i think) and they go off at 22 which is high and still nothing can be done until we prove something. - M.B.
Reply:
Dear M.B.

I'd like to assist you as much as possible but unfortunately, other than giving well-organized advice on odor tracking procedures, I'm not confident that an email or telephone consult is the best approach to tracking down an odor source in a remote building. I find that in just about 100% of the cases I've investigated, an expert, on-site, will always find important evidence that a less experience person doesn't notice and thus doesn't think to report to a remote consultant by phone or email.
I'm doubtful that the "detectors" you purchase are suitable for detecting chemical odors or odor sources. Typically the detectors recommended by a fire department will be smoke detectors or carbon monoxide detectors. Both of those are devices that you and family members should have properly installed and working wherever you live, for fire and carbon monoxide hazard safety, but these devoces are not intended for nor useful for tracking down chemical contaminants.

If your wish is to try tracking down the odor problem yourselves these two articles should be helpful

Your other options include
- ask your local health department for help

- hire an expert - if so make sure (by asking) it's someone who actually has expertise and experience in odor diagnosis and cure, not a general-practitioner hygienist or home inspector who may lack that expertise. Something I'd avoid is paying someone to just stop by to perform a specific chemical, gas, or air test - it's too much like shooting in the dark and is at too much risk of giving a false negative result.
...
Ask a Question or Search InspectApedia
Use the "Click to Show or Hide FAQs" link just above to see recently-posted questions, comments, replies, try the search box just below, or if you prefer, post a question or comment in the Comments box below and we will respond promptly.
Search the InspectApedia website
Technical Reviewers & References
Publisher's Google+ Page by Daniel Friedman
Click to Show or Hide Citations & References
ASTM E2600 - 08 Standard Practice for Assessment of Vapor Intrusion into Structures on Property Involved in Real Estate Transactions is available from the ASTM at astm.org/Standards/E2600.htm

"This practice is intended for use on a voluntary basis by parties who wish to conduct a VIA on a parcel of

real estate

, or more specifically conduct a screening evaluation to determine whether or not there is potential for a VIC, and if so, identify alternatives for further investigation."

The standard goes on to emphasize the uncertainty in testing any site for gases and vapor intrusion.
[1] "Vinyl Chloride, Hazard Summary-Created in April 1992; Revised in January 2000," US EPA, available at epa.gov/ttn/uatw/hlthef/vinylchl.html
[2] Asthma Citation: Bornehag, CG, et al. "Allergic symptoms and asthma among children are associated with phthalates in dust from their homes: a nested casecontrol study," Environmental Health Perspectives. 15 July 2004
[3] HCL (hydrochloric acid) Toxicity Citation: OEHHA(CA Office of Environmental Health Assessment) Acute Toxicity Summary: Hydrogen Chloride March 1999
[4] American Conference of Governmental Industrial Hygienists (ACGIH).  1999 TLVs and BEIs.  Threshold Limit Values for Chemical Substances and Physical Agents, Biological Exposure Indices.  Cincinnati, OH.  1999.
[5] Executive Summary, Chinese Drywall Hazards, published by the US Consumer Product Safety Commission, and supported by the US CDC (Centers for Disease Control), the U.S. EPA (Environmental Protection Agency), and HUD, the U.S. Department of Housing and Urban Development - original source: http://www.cpsc.gov/info/drywall/execsum0410.pdf
[6] Brett C. Singer, Beverly K. Coleman, Hugo Distillates, Alfred T. Hodgson, Melissa M. Lunden, Charles J. Weschler, William W Nazaroff, "Indoor secondary pollutants from cleaning product and air freshener use in the presence of ozone", Atmospheric Environment, Volume 40, Issue 35, November 2006, Pages 6696–6710
Abstract This study investigated the formation of secondary pollutants resulting from household product use in the presence of ozone. Experiments were conducted in a 50-m3 chamber simulating a residential room. The chamber was operated at conditions relevant to US residences in polluted areas during warm-weather seasons: an air exchange rate of 1.0 h−1 and an inlet ozone concentration of approximately 120 ppb, when included. Three products were used in separate experiments. An orange oil-based degreaser and a pine oil-based general-purpose cleaner were used for surface cleaning applications. A plug-in scented-oil airfreshener (AFR) was operated for several days. Cleaning products were applied realistically with quantities scaled to simulate residential use rates. Concentrations of organic gases and secondary organic aerosol from the terpene-containing consumer products were measured with and without ozone introduction. In the absence of reactive chemicals, the chamber ozone level was approximately 60 ppb. Ozone was substantially consumed following cleaning product use, mainly by homogeneous reaction. For the AFR, ozone consumption was weaker and heterogeneous reaction with sorbed AFR-constituent VOCs was of similar magnitude to homogeneous reaction with continuously emitted constituents. Formaldehyde generation resulted from product use with ozone present, increasing indoor levels by the order of 10 ppb. Cleaning product use in the presence of ozone generated substantial fine particle concentrations (more than 100 μg m−3) in some experiments. Ozone consumption and elevated hydroxyl radical concentrations persisted for 10–12 h following brief cleaning events, indicating that secondary pollutant production can persist for extended periods.
Keywords Air quality; Formaldehyde; Indoor air chemistry; Secondary organic aerosol; Terpenes
[7] Xiaoyu Liu,*† Mark Mason, Kenneth Krebs, and Leslie Sparks, "Full-Scale Chamber Investigation and Simulation of Air Freshener Emissions in the Presence of Ozone:, Environ. Sci. Technol., 2004, 38 (10), pp 2802–2812 DOI: 10.1021/es030544b Publication Date (Web): April 9, 2004,
Abstract: Volatile organic compound (VOC) emissions from one electrical plug-in type of pine-scented air freshener and their reactions with O3 were investigated in the U.S. Environmental Protection Agency indoor air research large chamber facility. Ozone was generated from a device marketed as an ozone generator air cleaner. Ozone and oxides of nitrogen concentrations and chamber conditions such as temperature, relative humidity, pressure, and air exchange rate were controlled and/or monitored. VOC emissions and some of the reaction products were identified and quantified. Source emission models were developed to predict the time/concentration profiles of the major VOCs (limonene, α-pinene, β-pinene, 3-carene, camphene, benzyl propionate, benzyl alcohol, bornyl acetate, isobornyl acetate, and benzaldehyde) emitted by the air freshener. Gas-phase reactions of VOCs from the air freshener with O3 were simulated by a photochemical kinetics simulation system using VOC reaction mechanisms and rate constants adopted from the literature. The concentration−time predictions were in good agreement with the data for O3 and VOCs emitted from the air freshener and with some of the primary reaction products. Systematic differences between the predictions and the experimental results were found for some species. Poor understanding of secondary reactions and heterogeneous chemistry in the chamber is the likely cause of these differences. The method has the potential to provide data to predict the impact of O3/VOC interactions on indoor air quality.
[8] RI Vanhegan, R.G. Mitchell, "Pseudomonas Infection Associated with Contamination of Wick-Type Air Freshener", British Medical Journal, 20 Sept. 1975, pp. 685 [copy on file as Air_Fresh_Study_BMJ75.pdf]
Though unproved, the bottles may have been directly implicated in cross-infection and they should not be used in intensive care units and similar places. The practice of topping-up existing bottles from a stock solution should be discouraged since the resulting weakened mixture may eventually support the growth of organisms. Since an increase in the formaldehyde concentration proved irritant we recommend the use of safe non-volatile disinfectants. The possibility that organisms may develop resistance to formaldehyde solutions was not further investigated.
[9] Salthammer, T. (ed) (2007) Subject Index, in Organic Indoor Air Pollutants: Occurrence - Measurement - Evaluation, Wiley-VCH Verlag GmbH, Weinheim, Germany. doi: 10.1002/9783527613663.indsub
[10] Mihalis Lazaridis (Editor), Ian Colbeck (Editor), Human Exposure to Pollutants via Dermal Absorption and Inhalation (Environmental Pollution), Springer; 1st Edition. edition (April 1, 2010), ISBN-10: 9048186625 ISBN-13: 978-9048186624
Quoting: The human body is exposed to pollution on a daily basis via dermal exposure and inhalation. This book reviews the information necessary to address the steps in exposure assessment relevant to air pollution. The aim is to identify available information including data sources and models, and show that an integrated multi-route exposure model can be built, validated and used as part of an air quality management process. Many epidemiological studies have focused on inhalation exposure. Whilst this is appropriate for many substances, failure to consider the importance of exposure and uptake of material deposited on the skin may lead to an over/underestimation of the risk. Hence dermal exposure is also considered. Drinking water contamination by disinfection by-products is also discussed. Written by leading experts in the field, this book provides a comprehensive review of ambient particulate matter and will be of interest to graduate students, researchers and policymakers involved in air quality management, environmental health and related disciplines, as well as environmental consultants and ventilation engineers.
[11] Fifth Kingdom, Bryce Kendrick, ISBN13: 9781585100224, is available from the InspectAPedia online bookstore - we recommend the CD-ROM version of this book. This 3rd/edition is a compact but comprehensive encyclopedia of all things mycological. Every aspect of the fungi, from aflatoxin to zppspores, with an accessible blend of verve and wit. The 24 chapters are filled with up-to-date information of classification, yeast, lichens, spore dispersal, allergies, ecology, genetics, plant pathology, predatory fungi, biological control, mutualistic symbioses with animals and plants, fungi as food, food spoilage and mycotoxins.
[12] Fungi, Identifying Filamentous, A Clinical Laboratory Handbook, Guy St-Germain, Richard Summerbell, Star Publishing, 1996, ISBN 0-89863-177-7 (English) (buy at Amazon)
[13] Troubleshooting Split System A/C or Heat Pump Noises, Fujitsu General America, Inc., 353 Route 46 West, Fairfield, NJ 07004, Tel: (888) 888-3424, Tel-Service hotline: (866) 952-8324, Email: hvac@fujitsugeneral.com, Email service: servicehvac@fujitsugeneral.com , retrieved 8/30/12, original source: http://www.fujitsugeneral.com/troubleshooting.htm [copy on file as Troubleshooting Fujitsu Ductless Mini-Splits.pdf]
[14] Thomas M. Riddick, "Controlling Taste, Odor and Color With Free Residual Chlorination", Journal (American Water Works Association) Vol. 43, No. 7 (JULY 1951), pp. 545-552, American Water Works Association, Article Stable URL: http://www.jstor.org/stable/41236445
[15] Douglas M. Baker, M.D., "Holiday Hazards", Pediatric Emergency Care, Vol. 1 No. 4, December 1985 Lippincott-Raven, retrieved 9/22/12
Abstract: Presented is a selective review of the toxicities of various plants, decorations, and miscellaneous items popularly used during the holiday season. Particularly hazardous agents include mistletoe, holly, bubble lights, fireplace flame colors, alkaline batteries, and mothballs. Specific questions regarding management of exposure to these items should be referred to regional poison control centers. Avoidance is the most effective treatment. ... [regarding mothballs, ... decontamination is advised for ingestions of greater than one half of a naphthalene mothball and more than two to three paradichlorobenzene mothballs ...]
[16] Charles M. McGinley, P.E., Michael A. McGinley, MHS, Donna L. McGinley, " "Odor Basics", Understanding and Using Odor Testing", paper presentation, The 22nd Annual Hawaii Water Environment Association Conference.,
Honolulu, Hawaii: 6-7 June 2000, St. Croix Sensory Inc. / McGinley Associates, P.A. 13701 - 30th Street Circle North Stillwater, MN 55082 U.S.A. 800-879-9231 stcroix@fivesenses.com, retrieved 9/22/12, original source http://www.fivesenses.com/Documents/Library/33%20 %20Odor%20Basics.pdf, [copy on file as Odor_Basics.pdf]
[17] Jon H. Ruth, "Odor Thresholds and Irritation Levels of Several Chemical Substances: A Review", American Industrial Hygiene Association Journal Volume 47, Issue 3, 1986, retrievedf 9/22/12, Abstract: A collation of odor threshold data for approximately 450 chemical substances is presented. The range of odor thresholds reported in the literature is shown along with any reported threshold of irritation to humans. These data can assist the industrial hygienist in determining when an "odor" may be in excess of the Threshold Limit Value®, when an organic vapor respirator is not acceptable due to the lack of an odor warning at the end of a cartridge life, and where odors may not indicate a hazard due to extremely low odor thresholds which may be well below the respective TLVs.
[18] Edward Avila DO, Paul Schraeder MD, Ajit Belliappa MD, Scott Faro MD, "Pica With Paradichlorobenzene Mothball Ingestion Associated With Toxic Leukoencephalopathy", Journal of Neuroimaging Volume 16, Issue 1, pages 78–81, January 2006, retrieved 9/22/12,
Abstract: This is a case report of central nervous system toxicity associated with paradichlorobenzene (PDCB) ingestion. The patient had ingested mothballs composed of 99.99% PDCB for a period of 7 months. She was admitted for depression and had no neurologic symptoms. Later she developed an acute cerebellar syndrome followed by stupor and coma. An extensive workup was negative except for decreasing levels of PDCB in her serum. Imaging revealed a diffuse leukoencephalopathy. Her clinical picture was attributed to PDCB toxicity.
[19] Stone, David L. (David Louis), Stock, T. (Tim), "Mothballs: proper use and alternative controls for clothes moths", PNW 606-E, May 2008, Oregon State University. Extension Service Washington State University. Extension University of Idaho. Extension, May, 2008, retrieved 9/22/12, original source: http://scholarsarchive.library.oregonstate.edu/ xmlui/bitstream/handle/1957/20800/pnw606-e.pdf?sequence=1, citation: http://hdl.handle.net/1957/20800, Abstract: In some homes, clothes moths can damage garments and other belongings. There are two common species of clothes moths in the Pacific Northwest: the webbing clothes moth (Tineola bisselliella) and the casemaking clothes moth (Tinea pellionella). The larvae, or immature form, of the moths are responsible for the damage done to personal belongings. [copy on file as Mothballs_Guide_PNW.pdf]
Citing the following 2 sources on mothball chemistry, use, hazards:
[20] Black, Judy. Fabric and Museum Pests. In Mallis Handbook of Pest Control, 9th edition, S.A. Hedges and D. Moreland, eds. GIE Media, Cleveland, OH, 2004, pp. 581 –623.
[21 U.S. Department of Health and Human Services. Illness Associated with Exposure to Naphthalene in Mothballs—Indiana. Morbidity and Mortality Weekly Report, 1983, Vol. 32: 34–5..
[22] Cornell University, "Material Datsa Safety Sheet (MSDS) for Air Sponge", produced by Pall Mall Manufacturing Co. PTY LTD, NSW, Australia, retrieved 1/18/2014, original source http://fm.fs.cornell.edu/file/Air%20Sponge.pdf, copy on file
Wikipedia provided background information about some topics discussed at this website provided this citation is also found in the same article along with a " retrieved on" date. NOTE: because Wikipedia entries are fluid and can be amended in real time, we cite the retrieval date of Wikipedia citations and we do not assert that the information found there is necessarily authoritative.
Books & Articles on Building & Environmental Inspection, Testing, Diagnosis, & Repair
Our recommended books about building & mechanical systems design, inspection, problem diagnosis, and repair, and about indoor environment and IAQ testing, diagnosis, and cleanup are at the InspectAPedia Bookstore. Also see our Book Reviews - InspectAPedia.
...