Guide to Heating System Boiler Zone Valve Controls
How to install,wire, troubleshoot or repair a zone valve

ZONE VALVES - CONTENTS: Zone Valves on hot water heating systems: zone valve types, zone valve installation, zone valve wiring, & zone valve troubleshooting & repair. What is a motorized zone valve on a hot water heating system? How do heating zone valves work, how do we inspect, repair, install them?
AIRBOUND HEAT SYSTEM REPAIR by WATER FEED VALVE - separate article
Questions & Answers about zone valves on hot water heating systems: installation, diagnosis, repair advice
Got a Question? Just ask us! - use the search box at upper right
InspectAPedia tolerates no conflicts of interest. We have no relationship with advertisers, products, or services discussed at this website.
Zone valves on hot water heating systems: what is a zone valve, how do they work.How do I choose & install a zone valve, how do I wire up a zone valve, and how do I troubleshoot, repair or replace a zone valve?
This article series answers most questions about Heating System Boiler Controls on central heating systems to aid in troubleshooting, inspection, diagnosis, and repairs. The photo above shows a a bank of six zone valves controlling heat distribution in a large home.
Green links show where you are. © Copyright 2013 InspectAPedia.com, All Rights Reserved.
Explanation of Zone Valves on Heating Boilers - Controlling Hot Water Heat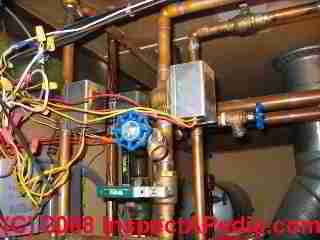 Our photo at left shows a Honeywell (TM) zone valve installation.
Heating water piping in a building, particularly where hot water baseboard heat is used, may be divided into separate heating zones (different floors, or different areas on a single floor) to permit more detailed control of heat distribution in a building.
The control of heating water through these different heating zones may be accomplished by use of zone valves (one per heating zone or area or "loop" of heating piping) which in turn are connected to individual thermostats.
When the thermostat calls for heat in a particular building area, the thermostat switch causes the zone valve to open, to permit hot water to flow through that zone.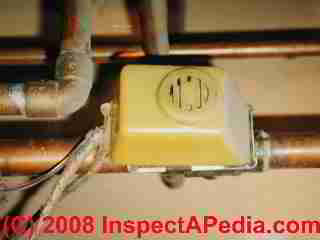 Other brands of zone valves such as those made by Flair (TM) (problem prone), and White Rodgers work similarly but their wiring may be slightly different. Wiring details for the yellow Flair Zone-A-Trol valve shown above are given at ZONE VALVE WIRING
In all cases, when the zone valve is fully open, an "end switch" inside the valve tells the heating system's circulator to begin operating, causing hot water to flow through the zone.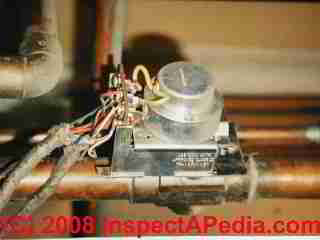 Typically heating systems using zone valves will have two or more zone valves (usually but not always located close to the heating boiler) and a single circulator pump (usually located on the return end of the hot water piping close to the heating boiler).
But if you see a zone valve with the cover off (photo at left) that may be a clue that the valve has been having problems with jamming or sticking - someone left the cover off to try to keep the valve a little cooler.
Good installation details install a zone valve on the return side of the heating piping loop where it will be exposed to lower and thus less stressful temperatures.
Zone Valve Defects to Watch For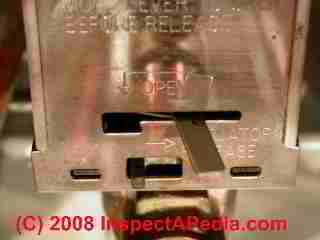 Zone valve does not work - jammed, stuck, does not open in response to call for heat at that zone. Provided the wiring and thermostat are correct and operating, if no hot water flows past the valve on a call for heat (feel the pipes for heat) it may be jammed and need replacement

Our photo (left) shows the manual control valve in its "automatic" or normal position on a Honeywell™ heating zone control valve.
Zone valve is leaking - leaky zone valves will stop working soon and need replacement
Zone valves installed on the hot side or boiler-out side of the heating piping loop, exposing the valve to higher and more stressful temperatures
Zone valve with covers off - may indicate overheating and jamming
Zone valve with its manual lever left in the manual "on" position - may indicate that the valve does not work - this zone is forced into "always on" status. In our photo above, that notch at the left end of the zone valve control lever will "lock" the valve in the open position. In normal, not-locked-open operation, the lever will move from left to right in the horizontal slot as the zone valve motor opens (lever to left) or closes (lever to right) the valve.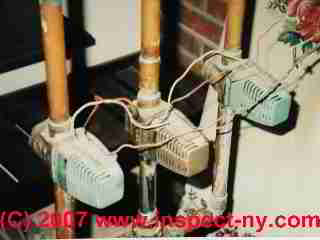 Older models of some zone valves such as these Flair™ valves are perhaps more likely to be "stuck" either open (you'll have heat in that zone) or shut (that zone won't heat).
5 Simple Zone Valve Diagnostic Steps
Mechanically-stuck zone valve motors. If your zone valve has a manual override lever you can test the valve to see if it will open and shut. (Our Honeywell zone valve photo above shows this mechanical lever. The Flair zone valves at left do not have this feature). If the valve can be operated mechanically but does not operate in response to the thermostat we suspect that there is
A bad zone valve drive motor - the valve is not mechanically stuck but the zone motor won't operate the valve. Time for a new zone valve.
Faulty zone valve wiring connections or thermostatic control. Watch out: different brands of zone valves may require different wiring hook-ups and a mix of zone valve brands can lead to some head-scratching in figuring out proper wiring. I can't give a general solution to this problem as we need to look at the wiring diagram. But yes, the problem can be solved.
No electrical power to the zone valve unit or to the thermostat that controls it
Air-bound hydronic heating system: if the zone valve appears to operate properly but heat never arrives in the zone it controls, check that the system circulator pump (CIRCULATOR PUMPS & RELAYS) is working (pump motor hums & moves, pipes get hot on both sides of the circulator inlet and outlet). If the circulator pump is spinning and the zone valve is open, see AIRBOUND HEAT SYSTEM REPAIR by WATER FEED VALVE.
While going through the detailed sequence in the operation of the heating boiler, watch for and inspect the condition of the heating boiler controls and safety devices (as required by ASHI 9.1.A.3 automatic safety controls).
Zone Valves on Indirect-Fired Domestic Hot Water Heaters
Indirect fired hot water heaters, in some designs, use a heating coil located in the bottom of the hot water tank to heat the domestic hot water (used for washing and bathing).
A typical design will include a thermostat on the water heater that will cause hot water from a physically separate heating boiler to circulate through the heating coil located in the bottom of the indirect-fired water heater.
A separate loop of piping conducts water from a nearby heating boiler, through the coil in the bottom of the indirect fired water heater tank (thus transferring heat to water in the water heater tank), and back to the heating boiler.
Sketch (left) courtesy of Carson Dunlop Associates.
The water temperature inside the indirect fired water heater tank is sensed by a thermostatic control that causes the hot water tank's contents to be re-heated as needed, typically by turning on a circulator pump that moves hot water from the separate heating boiler through the coil in the bottom of the water heater.
While typical indirect water heaters use a heating loop encompassing a circulator pump and check valve, some systems may use a zone valve in this piping loop that first opens to let hot water flow though the piping loop (boiler to water heater coil and back to boiler), and second, when the valve has opened, it turns on a circulator pump to cause water movement.
This arrangement (or a simple check valve) prevents water in the hot water tank from being heated by the boiler when it is not needed (circulating by convection, for example).
See Indirect-fired Water Heaters for details.
Question: Heating Zones: How can I determine how many heating zones I have?
I took a look at the boiler. I see the 5 zones going off the outbound pipe, but I only see 2 converging back to the intake. Do you think that means the zones are not all individual loops? - Lisa
Reply:
Most likely you have

5 individual room thermostats
5 individual heating zones
5 loops of hot water heating piping leaving the boiler (one at each zone valve)

but at some convenient locations the installer joined several of those individual zones into one of two return lines - that's why you see just two hydronic heat (hot water) lines returning to the boiler.

You can still drain and turn off 3 of the zones but you'll need a plumber to find the END of each of the loops you want to turn off - right where it joins a common return line. There s/he will install a drain and control valve. It may be necessary to add air bleeder or air purge valves to permit draining of individual heating zones. See Air Bleed Valve Installation.

The risks of turning off heat completely, besides my previous warning about not getting all the water out, are that you freeze up plumbing somewhere. If the zones do NOT heat any rooms with plumbing you may be ok.

An alternative, and the one that I use, is to keep all 5 zones working, but set the thermostats for the three unused areas to a lower than usual temperature, just high enough to avoid freeze-ups - say 45 degF. You'll save significantly just by dropping the thermostat set temperature.

In an unfamiliar home I might try dropping the thermostat set temperature gradually in very cold weather, double-checking to see just how cold the room gets. You'll want the zones to run occasionally to protect against freezing.

Finally, for freeze protection advice for the building, see WINTERIZE A BUILDING ( a link I'll add at Related Topics )
More Reading
Green link shows where you are in this article series.
...
Frequently Asked Questions (FAQs) About Zone Valve Controls for hot water heating systems
Question: After adding a third zone valve one of my other heating zones stopped working
I have a two zone heating system with two thermostats and one circulator. I recently added a third zone for my basement. I have not wired in the zone valve and T-stat yet for the new zone. Since adding my third (non active) zone my 2nd floor zone has stopped working.
If I manually open the valve then when the circulator starts to heat the first floor it pushes water around the second floor as well. I have tried testing voltages across terminals 1 and 2 and 2 and 3 but I get no readings either on the bad zone or the good one. I would have expected to see 24V on at least the working zone but I don't. Why is that ?
I have checked the connections to the thermostats and transformer and all seem secure. Also I noticed that my transformer doesn't appear to be sending out power - do I need to be there when something else tells it to send out power or is it constant. If it's constant and I have no power then how is my system working at all ?
Could it be I just fried my zone 2 thermostat, how could I test for that ?
I have bled the bad zone countless times and I am sure I have purged all of the air.

Any suggestions would be appreciated. - Will 11/13/11
Reply:
Will,

Since you never wired up the new zone valve, and presuming you did not change the existing wiring to the existing zone valves and circulator and thermostats, it does not sound like a wiring or control problem. Therefore you need to look for a different problem.

When you open the new valve manually, IF one of the other zones is also calling for heat, then hot water will circulate through both the zone calling for heat AND the other zone valve that you opened manually.

I agree that you ought to be seeing voltage from the transformer - that's what sends power to the zone valves as well as the thermostat. I'd look for an open wire connection or a bad transformer.
Reader follow-up:
It wound up being an airlock. I just kept purging and purging and eventually got it.

I have another quick question. I used PEX and SharkBites for the whole system, however, the PEX I used was the type without the oxygen barrier. I'm told that this will cause my boiler to rust. What do you know about this, anything ?

I don't want to have to get another roll of PEX with the barrier and tear out what I did if I don't need to, On the other hand I don't want an indoor pool.

Thanks
Will
Comment:
Will, when you added the new zone valve to the heating system piping, the operation of cutting the heat distribution piping and soldering in the new zone valve could have introduced air into the heating system. If you didn't bleed that air out or provide an automatic air bleeder in a location that would do that for you, your system could be airbound. To check for, diagnose, and fix that problem, see AIRBOUND HEAT SYSTEM REPAIR by WATER FEED VALVE if you need to address this problem again.
Question: zone valve makes clicking noise when it is fully open and gear motor continues to run
Eric zone valve vt2343g13a02a works good but when in the open position it keeps clicking like the gear motor continues to run and the gear is clicking on the last tooth of the actuator or something???? - Ken 11/23/11
Reply:
Ken a zone valve that keeps clicking suggests to me that either
the zone valve motor gears have become stripped or
the valve assembly is jammed and is not opening fully - the motor is unable to turn the valve to the fully open position, it is not reaching its "end switch" position, so it keeps trying to open the valve. Most likely you need to replace the unit.
Question: upstairs heating zone won't turn on or doesn't receive heat
My upstairs heating zone is not turning on this year. I have checked the setting on the Electronic Aquastat L 7124/L7148 and can not find anything amiss. What might I be missing? - Lisa 12/30/11
Reply:
Lisa:

If your non-working heating zone has its own circulator pump, the service tech will check that the circulator responds to the thermostat on a call for heat. If not, check the thermostat, thermostat wiring, check for power at the circulator, check the separate circulator relay if your system uses one, then check the pump itself.

If the circulator is running, the boiler is hot, but heat is not delivered to one zone, your heating zone could be air-bound.
See AIRBOUND HEAT SYSTEM REPAIR by WATER FEED VALVE

If the heating circulator pump runs but never causes the boiler itself to turn on and re-heat water, the primary control aquastat could have a burned-out primary or secondary circulator control circuit.

Keep us posted, what you find will help others.
Question: two zone boiler, single circulator pump replaced, now one zone doesn't heat
I have a two zone boiler with a single circulator pump that was recently replaced. I'm now having trouble with ciculation for one of my zones. I think its the zone valve itself though when the thermostat calls for heat I see the valve adjust and I can also set the arm into manual. My question is, is there a way test further if the valve is faulty. My instincts say if I can set the valve and it responds to the thermostat then its not faulty. Thanks - Chris 2/12/12
Reply:
Chris, as the circulator pump is running (else your working zone would also be cold) I suspect that either the zone valve is stuck shut or that zone is air bound. You are right that setting the room thermostat up above room temperature should cause the valve to open, but if the zone valve itself is jammed or if the zone is air bound you won't get heat.
Question: Taco zone control valves 571, 573 led to short heating cycles
I Installed two Taco zone controls 571 & 573, and now I have short heating on cycles. I never had this problem before, for 47 years. I had to replace the zone controls because the old zone valves started to stick, but they were not Taco brand. I replace the thermostat with a Honeywell TH3000 series, but that didn't solve the problem. - Anon
Reply:
Anon,
When the thermostat calls for heat the zone valve opens and the circulator starts pumping. It is the temperature of the water in the boiler that turns the burner on and off. By short cycling I presume you're meaning that the boiler stays on for just a short time, turns off, then quickly turns back on. Sometimes this is a normal event, for example when the first surge of cold water from zone 1 hits the boiler and turns it on, the boiler's burner may be able to heat up the boiler quickly and shut it off; the boiler would stay off for a while. But when zone 2 then opens and sends a new surge of cold water into the boiler it will start again quickly in response to that new temperature drop.
However, because it normally takes some time for the heating zones to actually satisfy the thermostat, once both zones are running your boiler should return to normal run times. If it doesn't I suspect a sensor or control problem at the boiler.
Question: boiler temperatures are too high and the circulator pump malfunctions
Our burner keeps getting hotter than 190 degrees and the circulator has been replaced six times in the last four months. Our aquastat has also been replaced. We had a double then a triple installed. The aquastat currently in place is an electronic hydrostat. The wiring to the burner has been replaced. What can be causing the Taco circulator to malfunction or the burner to get hotter than the settings on the aquastat? - Andrew D'Agostino 4/25/12
Reply:
Andrew, 6 circulators in 4 months sounds quite odd and as if no one found the real problem. I have seen repeat curculator failures when the tech replaced just the motor or pump but left a bent or worn support that torqued against the shaft bearing and ruined the replacement. If course, limited to no onsite assessment i am not sure what's going on.

If an aquastat us not shutting off the burner at the HI limit I suspect an improper installation, such as poor thermal contact in the sensor well or miswiring.

Perhaps you should ask the service manager for more expert help.
Question: Two zone valves on boiler, but one won't go on unless the other one is also on
I have 2 zone valves on my boiler and zone1 will not go on if zone2 is not on. When zone 2 is on everything works good.Is this a bad valve or a wiring issue. - Frank 10/8/2012
Reply:
Frank, if you mean that the zone valve itself does not operate or it's end switch does not turn on the boiler unless another zone valve is on then it's likely to be a wiring problem. Watch out for the case of two different zone valve brands - sometimes their wiring hookup details are different.
Question: zone valve installation diagram
I need diagram for install zone valve - Manuel 10/8/12
Reply:
Manuel, we don't know if you're asking about piping routing, zone valve location, or zone valve electrical hookup. The wiring for zone valves varies slightly among brands and models - and will be shown in several options on the instructions that came with your zone valve. As you are installing a valve, look in the box. I know, some fellows use the instructions to kneel on during work at the boiler, rather than reading materials. If you've lost the instructions, give us the zone valve brand and model and we (or you) can obtain the detailed instructions from the manufaacturer.
Typically there are four wires at the zone valve.
Two wires connect from the room thermostat to tell the zone valve to open or close in response to room temperature. They may be marked T1 and T2. Two other wires connect the zone valve end-switch (a switch that closes to make the circuit when the zone valve itself is fully open or shut) to the circulator relay. Those may be labelled C1 and C2.
Question: why should my bathroom heating zone always be calling for heat?
I am not sure if bathroom zone should always call for heat when no other zones ever call for heat unless I turn them up - Steve 10/12/12
Reply:
Steve, Properly wired each zone normally calls for heat independently.
If your bathroom zone is always calling for heat, check for a short circuit in its thermostat wires, or for a defective thermostat, or a thermostat set higher than the room temperature.
Question: indirect fired water heater is making water that is too hot
We have an oil fired boiler situated on the ground floor which supplies heating to our radiators and also supplies hot water to our bathrooms and basins from a hot water tank situated in a cupboard on our landing. Recently the actuator to the hot water system seemed to fail as the water was becoming very hot irrespective of whether the hot water was on or off at the control panel situated by the boiler as long as the central heating was set at "on". I replaced the actuator to the hot water and it seemed to be ok for a while but then the problem recurred Can you advise please? The only thing I can think of is that recently our son in law opened all the valves to drain the hot water so that he could re-washer a hot tap. This may or not be relevant though. - Roger Cotton 10/28/2012
Reply:
Roger,

If the indirect fired water heater you describe is making water too hot, check it's thermostat settings first, then check for wrong replacement control thermostat or a sensor that is coated with mineral deposits and is not properly sensing temperature.
Question: 100 Series gas boiler is not heating all parts of the house
Have a 100 series gas boiler. Part of the house gets heat but part of the house isnt getting heat. Worked for about a week and stop working and cant figure out the problem. - Brand 11/4/12
Reply:
Brand,

I would check for a thermostat not calling for heat, a zone valve not operating, a circulator not running, or an air bound system. Often it helps to feel the distribution piping to see where pipes are hot, and not.
Question: After service following flooding from Hurricane Sandy, our boiler keeps running almost constantly
After an annual maintenance visit I noted very hot water and the furnace running almost constantly. They replaced zone valves and charged me. I recently evacuated my house to avoid hurricane sandy. When I left I turned off oil burner and and turned off thermostat.
when I returned home -and turned oil burner switch back on i got hot water but no (baseboard) heat. Technicians replaced zone valves AGAIN and said it was due to power failure. Does this make sense?
I would truly appreciate your opinion. - Zone Valve Issue 11/14/12
Reply:
Zone Valve Issue:

If your zone valves were flooded they'd likely be destroyed.

Since zone valves usually run off of a 24V transformer, if there were a power surge following a power failure, perhaps a transformer might be damaged, but I don't know how the zone valve itself would see the power surge nor power failure. But none of us knows it all. See if you can get your heating service people to be more explicit abouit exactly what component failed and how a power loss would cause that failure, and post the follow-up here for our research.

Also if you can let me know the brand and model of your zone valves we could check with the manufacturer too.

Don't assume malfeasance on the part of your heating people - often the service tech knows what s/he is doing but was not an English major in school.
Question: how do I wire one zone valve to cause another one to turn on?
How do you wire one zone valve to another. One controls the other? - Joe 11/22/2012
Reply:
Joe

I've never tried wiring zone valves in series,
but in effect, if you want two zone valves to open at the same time in response to the same thermostat, you can wire them in parallel - that is, the thermostat wires that talk to Zone Valve #1 are also carried to Zone Valve #2 and connected at the same point.
Question: Our opstairs zone makes noise as if it is opening, and the boiler turns on, but we don't get any heat
I have 2 zones to my furnace basement zone works , but the zone upstairs makes noices as if its working furnace kicks on (2 mins) but no hot water going thru pipes ... Help! - Terri 11/26/12
Reply:
Terri,
Take a look at the zone valve diagnostic steps listed above.
If your zone valve is actually opening and the circulator is running but the zone doesn't receive heat, it may be air bound. See AIRBOUND HEAT SYSTEM REPAIR by WATER FEED VALVE.
On the other hand, the zone valve motor may be making noises but the valve may be stuck and need replacement.
Question: trouble wiring up different zone valve controller brands together
Hi, I have a HE II WeillMcClain nat gas boiler. A few years back I converted about 1/4-1/3 or my house into hydronic radiant floor heat running off same zone as the baseboard. The guy who sweated the tubes and zoned it out has never come back to hook up the zone controller. Someone else came out the other day to hook it up. I have a TACO SR502 2-zone controller and this person purchased a Honeywell L6006C 1018 aquastat controller. I am thinking he purchased the wrong aqua stat. He said the whole system will never allow for 2 zones. I spoke w/techs @both TACO and WeilMcClain who, both said, I can have my floor heat operate separately from the BB units. (I do have 2 thermostats). Can you shed a little light on this, please? Thanks, - T.B. 10/27/2013
Reply: known problem; check with the manufacturer, the wiring diagram, or send us more details
Absolutely, if properly wired, you can take a single loop of hot water baseboard heat and subdivide it, giving each sub-loop its own thermostat and zone control valve.
I have moved the details of this discussion to a new article ZONE VALVE WIRING where I give specific wiring examples for multiple zone valve installation and where I give more details about how we wire up "incompatible" brands of zone valves on the same heating system.


Ask a Question or Search InspectApedia
Questions & answers or comments about zone valves on hot water heating systems: installation, diagnosis, repair advice.
Ask a Question or Enter Search Terms in the InspectApedia search box just below.
Technical Reviewers & References
Related Topics, found near the top of this page suggest articles closely related to this one.
Click to Show or Hide Citations & References
Mark Cramer Inspection Services Mark Cramer, Tampa Florida, Mr. Cramer is a past president of ASHI, the American Society of Home Inspectors and is a Florida home inspector and home inspection educator. Mr. Cramer serves on the ASHI Home Inspection Standards. Contact Mark Cramer at: 727-595-4211 mark@BestTampaInspector.com
John Cranor is an ASHI member and a home inspector (The House Whisperer) is located in Glen Allen, VA 23060. He is also a contributor to InspectApedia.com in several technical areas such as plumbing and appliances (dryer vents). Contact Mr. Cranor at 804-747-7747 or by Email: johncranor@verizon.net
Carson, Dunlop & Associates Ltd., 120 Carlton Street Suite 407, Toronto ON M5A 4K2. (416) 964-9415 1-800-268-7070 info@carsondunlop.com. The firm provides professional home inspection services & home inspection education & publications. Alan Carson is a past president of ASHI, the American Society of Home Inspectors. Thanks to Alan Carson and Bob Dunlop, for permission for InspectAPedia to use text excerpts from The Home Reference Book & illustrations from The Illustrated Home. Carson Dunlop Associates' provides:

Commercial Building Inspection Courses - protocol ASTM Standard E 2018-08 for Property Condition Assessments
Home Inspection Education Courses including home study & live classes at eleven colleges & universities.
Home Inspection Education Home Study Courses - ASHI@Home Training 10-course program.
Special Offer: Carson Dunlop Associates offers InspectAPedia readers in the U.S.A. a 5% discount on these courses: Enter INSPECTAHITP in the order payment page "Promo/Redemption" space. InspectAPedia.com editor Daniel Friedman is a contributing author.
The Home Reference Book, a reference & inspection report product for building owners & inspectors.
Special Offer: For a 10% discount on any number of copies of the Home Reference Book purchased as a single order. Enter INSPECTAHRB in the order payment page "Promo/Redemption" space. InspectAPedia.com editor Daniel Friedman is a contributing author.
The Home Reference eBook, an electronic version for PCs, the iPad, iPhone, & Android smart phones.
Special Offer: For a 5% discount on any number of copies of the Home Reference eBook purchased as a single order. Enter inspectaehrb in the order payment page "Promo/Redemption" space.
The Illustrated Home illustrates construction details and building components, a reference for owners & inspectors.
Special Offer: For a 5% discount on any number of copies of the Illustrated Home purchased as a single order Enter INSPECTAILL in the order payment page "Promo/Redemption" space.
The Horizon Software System manages business operations,scheduling, & inspection report writing using Carson Dunlop's knowledge base & color images. The Horizon system runs on always-available cloud-based software for office computers, laptops, tablets, iPad, Android, & other smartphones.

Domestic and Commercial Oil Burners, Charles H. Burkhardt, McGraw Hill Book Company, New York 3rd Ed 1969.
National Fuel Gas Code (Z223.1) $16.00 and National Fuel Gas Code Handbook (Z223.2) $47.00 American Gas Association (A.G.A.), 1515 Wilson Boulevard, Arlington, VA 22209 also available from National Fire Protection Association, Batterymarch Park, Quincy, MA 02269. Fundamentals of Gas Appliance Venting and Ventilation, 1985, American Gas Association Laboratories, Engineering Services Department. American Gas Association, 1515 Wilson Boulevard, Arlington, VA 22209. Catalog #XHO585. Reprinted 1989.
The Steam Book, 1984, Training and Education Department, Fluid Handling Division, ITT [probably out of print, possibly available from several home inspection supply companies] Fuel Oil and Oil Heat Magazine, October 1990, offers an update,
Principles of Steam Heating, $13.25 includes postage. Fuel oil & Oil Heat Magazine, 389 Passaic Ave., Fairfield, NJ 07004.
The Lost Art of Steam Heating, Dan Holohan, 516-579-3046 FAX
Principles of Steam Heating, Dan Holohan, technical editor of Fuel Oil and Oil Heat magazine, 389 Passaic Ave., Fairfield, NJ 07004 ($12.+1.25 postage/handling).
"Residential Steam Heating Systems", Instructional Technologies Institute, Inc., 145 "D" Grassy Plain St., Bethel, CT 06801 800/227-1663 [home inspection training material] 1987
"Residential Hydronic (circulating hot water) Heating Systems", Instructional Technologies Institute, Inc., 145 "D" Grassy Plain St., Bethel, CT 06801 800/227-1663 [home inspection training material] 1987
"Warm Air Heating Systems". Instructional Technologies Institute, Inc., 145 "D" Grassy Plain St., Bethel, CT 06801 800/227-1663 [home inspection training material] 1987
Heating, Ventilating, and Air Conditioning Volume I, Heating Fundamentals,
Boilers, Boiler Conversions, James E. Brumbaugh, ISBN 0-672-23389-4 (v. 1) Volume II, Oil, Gas, and Coal Burners, Controls, Ducts, Piping, Valves, James E. Brumbaugh, ISBN 0-672-23390-7 (v. 2) Volume III, Radiant Heating, Water Heaters, Ventilation, Air Conditioning, Heat Pumps, Air Cleaners, James E. Brumbaugh, ISBN 0-672-23383-5 (v. 3) or ISBN 0-672-23380-0 (set) Special Sales Director, Macmillan Publishing Co., 866 Third Ave., New York, NY 10022. Macmillan Publishing Co., NY
Installation Guide for Residential Hydronic Heating Systems
Installation Guide #200, The Hydronics Institute, 35 Russo Place, Berkeley Heights, NJ 07922
The ABC's of Retention Head Oil Burners, National Association of Oil Heat Service Managers, TM 115, National Old Timers' Association of the Energy Industry, PO Box 168, Mineola, NY 11501. (Excellent tips on spotting problems on oil-fired heating equipment. Booklet.)
Books & Articles on Building & Environmental Inspection, Testing, Diagnosis, & Repair
The Home Reference Book - the Encyclopedia of Homes, Carson Dunlop & Associates, Toronto, Ontario, 25th Ed., 2012, is a bound volume of more than 450 illustrated pages that assist home inspectors and home owners in the inspection and detection of problems on buildings. The text is intended as a reference guide to help building owners operate and maintain their home effectively. Field inspection worksheets are included at the back of the volume. Special Offer: For a 10% discount on any number of copies of the Home Reference Book purchased as a single order. Enter INSPECTAHRB in the order payment page "Promo/Redemption" space. InspectAPedia.com editor Daniel Friedman is a contributing author.

Or choose the The Home Reference eBook for PCs, Macs, Kindle, iPad, iPhone, or Android Smart Phones. Special Offer: For a 5% discount on any number of copies of the Home Reference eBook purchased as a single order. Enter INSPECTAEHRB in the order payment page "Promo/Redemption" space.
Carson Dunlop, Associates, Toronto, have provided us with (and we recommend) Carson Dunlop Weldon & Associates' Technical Reference Guide to manufacturer's model and serial number information for heating and cooling equipment
Special Offer: Carson Dunlop Associates offers InspectAPedia readers in the U.S.A. a 5% discount on any number of copies of the Technical Reference Guide purchased as a single order. Just enter INSPECTATRG in the order payment page "Promo/Redemption" space.

Fuel Oil & Oil Heating Magazine, 3621 Hill Rd., Parsippany, NJ 07054, 973-331-9545
Home Heating System Should Be Checked [for proper venting and for CO Carbon Monoxide Hazards - DJF]
...