Heating Zone Valve Wiring FAQs
Q&A on How to connect or wire a heating zone valve or zone controller
InspectAPedia tolerates no conflicts of interest. We have no relationship with advertisers, products, or services discussed at this website.
Hot water heating system zone valve installation wiring questions & answers:
Frequently-asked questions (and answers) about wiring heating zone control valves and zone controllers from all manufacturers.
This article series describes how to wire up heating zone valves.
We include wiring diagrams and installation instructions for most zone valve model and multi-zone controllers, and we describe special wiring problems that can occur if you mix different types, brands, or models of heating zone valves on the same hydronic heating (hot water heating) system.
Page top photo: Honeywell V8043 Zone Valve showing a wiring connection terminal block.
Green links show where you are. © Copyright 2017 InspectApedia.com, All Rights Reserved.
Zone Valve Wiring Hookups for Hydronic (Hot Water) Heating Systems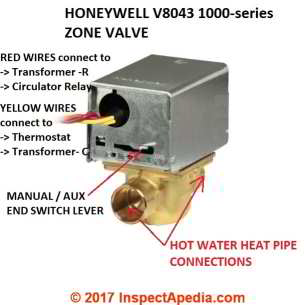 These Questions & answers about wiring up heating zone valves & zone controllers, were posted originally at ZONE VALVE WIRING
Annotated photo: Honeywell V8043-1000 series zone valve showing basic information about the red & yellow wire connections discussed on this page.
[Click to enlarge any image]
Taco ZVC403 Zone Controller Wiring & Troubleshooting.
Question: why does one of my zones shut off after just a few seconds?
... The other issue [besides the relief valve leak we discuss at RELIEF VALVE LEAK DUE TO EXPANSION TANK ] I'm having is with my 3 zone 1 pump radiant heat system.
Zones 2 and 3 work fine, but when zone 1 activates, the pump turns on for about 5 seconds, then shuts off
I'm using a Taco 3 valve control module and a Tekmar 360 mixing control.
This system is about 8 years old, and has mostly worked fine until lately. On the Taco, both the zone 1 thermostat and zone valve LED's illuminate.
Any suggestions or tips would be most welcome. - Karl Peterson by private email 2017/12/09
This discussion is indexed as ZONE CONTROLLER TACO ZVC403
More details about this system:
My boiler is an embassy industries Cosmogas BMS 15/29, and I have a manual. It is for both domestic hot water and heat in a radiant heat floor.
[The Cosmogas boiler manual for this heater/water heater gas fired combo boiler as well as company contact information is at COSMOGAS® boiler / water heater combo manuals - thanks to Karl for providing this document - Ed.]
Below is a photo of the front panel. It is supposed to have a minimum of 12 psi, and a max of 30psi according to the manual, but the relief valve is at 50psi (another photo below.)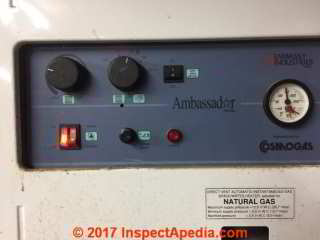 At rest, the pressure is indeed about 12-15 psi generally, but after 2 or three cycles of the heater heating up water for the radiant heat, the pressure climbs to about 45psi, and the valve starts to bleed off pressure.
Its done this all last heating season, and possibly the previous season as well. it never does this in the summer time (or when the heat is off) and as I mentioned previously, it didn't do this at all for the first 6 or 7 years it was installed. There is no banging or hammer noises.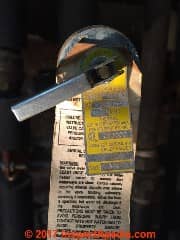 [Click to enlarge any image] Above: Zurn Model P1000A temperature/pressure relief valve rated for 200,000 input BTUH and opening at 50 psi. This TPR is rated to handle thermal expansion of hot water and complies with ANSI Z21.22 / CSA 4.4 relief valve specifications.
The Taco [multiple heating zone controller ] is a ZVC403, and yes, the green LED is always on, and the zone 1 issue is after both the yellow/orange thermostat LED and red Zone Valve LED are illuminated. The pump starts for about 5 seconds, then shuts off.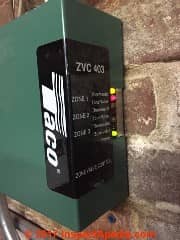 Although, I did notice that at one point yesterday, zone 1 was the only zone calling for heat, and the circulation pump was running normally.
However, about 15 minutes ago, it was back up to it's new trick of only turning the pump on for 5ish seconds and then shutting off again.
At the time of this photo, the pump was not running, and there was no domestic hot water demand.

Reply: diagnosing a too-short zone-on cycle & the Taco ZVC403 control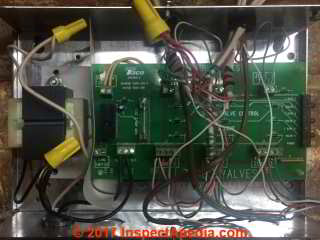 I have not encountered the "just 5 seconds on" problem you describe so I can only speculate. The LED indicators you describe sound normal per the documentation I'll cite below. .
Since there's a common circulator pump and controls one might naturally suspect either the zone valve itself ( a bad connection, loose wire), or a bad control module in the Taco master zone control.
Take a look at the system temperatures and at whether or not you are using domestic hot water when this short-on-zone problem is occurring.
Watch out: also look for a leak into the hydronic system that could be pushing the pressure up abnormally, such as a leaky tankless coil (if you have one).
You might want to give Taco a call directly to ask about this situation as I'd bet a beer that their engineers have encountered it before.
Or we can wait a few days: I have posted this question with Taco's customer technical support and asked for an opinion, the support rep responded immediately, and has said that he is not familiar with the problem you describe but he also asked for wiring photos - now sent from those you provided.
In the U.S. contact Taco at Taco Comfort Solutions, Inc. 1160 Cranston St. Cranston, RI 02920 Phone: (401) 942-8000 FAX: (401) 942-2360 International readers should also use this contact address.
In Canada contact Taco at Taco (Canada) Ltd. 8450 Lawson Road Unit # 3 Milton, Ontario L9T 0J8 CANADA Phone: (905) 564-9422 FAX: (905) 564-9436
Watch out: some multiple zone controllers like your Taco permit assigning one of the zones as a "priority" zone - typically used to assure that an indirect fired water heater for domestic hot water supply will get priority over heating zones. That controller will turn off zones 1 and 2 when zone 3 is calling for heat if zone 3 is set up as "priority zone".
Watch out: also some digital thermostats can fail to work properly when connected to this zone controller.
The instruction manual and wiring diagram for your Taco ZV403 Zone Valve Controller will be one of these two documents
TACO ZVC403 ZONE VALVE CONTROL WIRING & MANUAL [PDF] (2013) # 102-391 retrieved 2017/12/10 original source: http://www.taco-hvac.com/uploads/FileLibrary/102-391.pdf
The light codes and zone priority for this controller are excerpted below:

Operation/External Diagnostics: When any thermostat calls for heat, the appropriate zone valve is energized and the yellow light goes on. When the zone valve is fully open, the red light goes on and energizes the end switch relay. The green light should always be on, indicating that power is connected.

Priority Operation: When zone 3 is switched to the priority setting and is actuated, all other zones will stop operation until zone 3 is satisfied. When zone 3 is not switched to priority, all zones will operate independently.

Note: When a circulator is used on the priority zone instead of a zone valve, jumper 3 and 4 of the priority zone.
TACO ZVC403 ZONE VALVE CONTROL WIRING & MANUAL [PDF] (2006) # 102-089 retrieved 2017/12/10 original source: http://www.taco-hvac.com/uploads/FileLibrary/102-089.pdf|
The light codes for this controller are given herein:

Operation/External Diagnostics: When any thermostat calls for heat, the appropriate zone valve is energized and the yellow light goes on. When the zone valve is fully open, the red light goes on and energizes the end switch relay. The green light should always be on, indicating that power is connected.
VIDEO of COSMOGAS BOILER OPERATION [85MB .mov file] illustrates the sequencing of the TACO ZVC403 zone controller operation and LED light sequencing

made during diagnosis of RELIEF VALVE LEAK DUE TO EXPANSION TANK
Taco's equipment manuals and contact information are at TACO HVAC components & controls

Email is at the page top or bottom CONTACT link
Here are DETAILED WIRING DIAGRAMS FOR HONEYWELL ZONE VALVES V8043E & T822 & T822
Also see HONEYWELL V8043 ZONE VALVE - [PDF] complete installation and wiring instructions.
Watch out: some multiple zone controllers permit assigning one of the zones as a "priority" zone - typically used to assure that an indirect fired water heater for domestic hot water supply will get priority over heating zones.
A typical design will permit the priority zone to run while shutting down the other zones for an hour, the controller figures if you're still in the shower you ought to get out - so it turns the other zones back on.
@Dec. 8 2017 Gene, Yes I will exchange one with you. what is your email

Gene,

I'm pretty sure that when two of your zone valves are wired normally closed and two are wired normally open you need to take care not to run into both wiring incompatabilites and also low voltage transformer overloads and burnout.
But we can confirm that your zone controls are wired properly by finding the installation wiring guide for your particular Taco zone valve model.
We give Taco zone valve wiring instructions and links to PDF copies of installation guides at ZONE VALVE WIRING and also at .

The thermostat is wired to the zone valve and on a call for heat opens the valve (in a normally-closed zone valve design). Once a zone valve is open it makes an end switch witch turns on your circulator relay.
On a normally-open zone valve the thermostat closes the valve and turns off the circulator.
We describe that wiring in the ZONE VALVE WIRING article.
If you previously had all these working and you haven't change the wires I would start by asking if it's possible that the low voltage Transformer has failed from being asked to run too many zone valves.
An overloaded Transformer can work for years until by coincidence all of the Zone Motors are asked to run at exactly the same time.

Also I'm interested in obtaining a Mercury bulb type thermostat for research purposes. If you're willing to exchange I'll be glad to mail you a newer non Mercury thermostat by Honeywell. Use a page bottom contact link and I can give you the details.
Shown below: the Omron G2R 24VAC - 120/240V switching relay discussed by the reader Gene.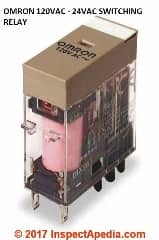 I forgot to add my name to the to the problem below.
I have 3 small pumps and and 6 zone valves which as near as I can tell they are V8043F by Honeywell and 6 thermostats - can you tell me how to get these to all connect and work properly .
The 4 thermostats are Honeywell round with mercury for connection and 2 Honeywell digital cheap programable type.
and I am using 6 Omron G2R-2-S 24 volt VAC relays for 110 or 220 volt .they have 2 normally open and 2 normally closed .
I have had 4 zone valves working great for 2 or 3 winters and I had 2 more zone valves to connect with wire they were already in the pipe system this is for under floor added heat.
And if you can help me with I had also I had indicater light that would light up each time a relay connected . I seamed to have lost how of this this was be for but it worked well last winter . Can you help me ?
Is it possible to control 1 Honeywell V4043 valve from 2 seperate thermostats (one wired with its own clock and one from a programmable clock and thermostat) so that whichever stat is asking for heat (even both) then the valve will be opened.
The valve will only close when neither stat is demanding heat?
Im replacing a zone valve in a 2 zone system. Old zone valve has 5 wires but new zone valve has 4
I followed all wires took apart 1 for 1 and matched them up.
2 wires to zone motor and
two wires to end switch i believe.
I dont know what to do with the fifth wire
I'm not sure what the other wires and devices are in your description so I'm chicken to give too specific advice but I'll include some general advice here and also refer you to our ZONE VALVE WIRING article.

I would follow the thermostat wires to see where each thermostat is connected.
I'd expect to find each thermostat going to one circulator control relay, or on some systems, one circulator relay is in the main boiler aquastat and the second relay is a separate wall-mounted device.
At HONEYWELL ZONE VALVE INSTRUCTIONS we describe how the red and yellow wires for a zone valve are usually connected:

One yellow wire connects to the C terminal on the low voltage transformer.

The second yellow wire connects to a "heat on" wire from the room thermostat.

One red wire connects to the R-side of the transformer (Think "R" = "Red")

The other red wire conects to one side of the external DPDT relay that operates the circulator pump. (DPDT = "double pole, double throw" switch)

hi my name is joe,
i have a two zone hot water system that was wired wrong ,
when the first floor call for heat both of the zones turns on and when it goes off turns both them off .looks like that the wire from the therm and the tranf and the motor are connected right ,
but there are 2 red wire that coming from the a device on the chimny that are also connected by the valves and motor i m assuming that is a cut off safety ,
i have been looking on the web and i haven't find one boiler wired up that way . can anybody tell me how to wire up the right way .thank in advance
I put a new thermostat onto a 4 zone system. as soon as I did now I have no power to any of my thermostats.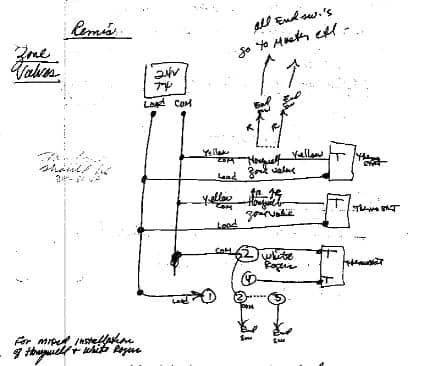 Thanks for the feedback, Randy, that will help others.

For other readers, the "ARD" that Randy describes is perhaps a Honeywell Automatic Round Damper used on a forced-air system not a hot water zone valve system such as those on the page ZONE VALVE WIRING
The company provides models described as power-close, spring-open models ensure low leakage while controlling circulating air in heating, cooling and ventilation systems.
I had 3 bad actuators they have been replaced with new ARDs
With the honeywell minizone system with heat pump does it matter on thermostats or do you need a master and 2 slaves I have 3 zones right now my zones aren't closing like they are supposed to
I am trying to wire a Honeywell zone valve and have a red and white wire coming from my thermostat and I need the correct wiring as I see no 24v transformer I think it is in the broiler room in a condo building. Central broiler for all units.
Hi my cir pump is running all the time in my heating system
I have been looking into getting an Ecobee3 thermostat but I have an older Burnham boiler with no "c" wire.
My wiring is currently all 2 wire since its only for heating. I was thinking about just running a C wire from the transformer that powers my 4 Taco zone valves.
Looking into it I realize I have a 40VA transformer for 4 0.9amp valves. All my reading says I should only have 3 valves on a 40VA transformer.
Should I put in another 40VA transformer and run one valve off it and the "C" wire to the thermostat?
If I do this and run the "c" wire to the c on the thermostat, what would I connect the other terminal wire to, Rc on the Thermostat?
Thanks you for this site. Been fussing how to wire a Honeywell L8124E with two V8043E zone valves and one circulator. Your site verified that I'd gotten it worked out correctly, so now I can go ahead!
Moderator reply: how to wire thermostat to honeywell zone valves
Anon: see
I need to know how to wire thermostat to honeywell zone valves and then to a Weil-McLain noiler
I am seeking to verify that the V8043E Zone Valves I bought are compatible with our L8124A Aquastat on my oil boiler.
Figure 13 of the manual that came with the zone valves would seem to indicate they are compatible as Honeywell shows them together. But I remain concerned because the Aquastat boiler control unit is noted at 120 volts and the V8043E Zone Control is 24 Volts.
The existing 24VAC transformer used by your boiler for the existing thermostat may be sufficient.
I am trying to wire 2 white Rodgers zone valves ( 1361-104) that are currently not wired. The thermostat is wired directly to the boiler ( mini therm 2 jvt125n) not sure if I need an external transformer to power them... Any help will be highly appreciated
Any idea how to hook up a 3 zone system with circulating pump to the boiler?
Thanks for helping-out Radiant.
@Marie, I am not sure what a elecdiccircuit is. In a hydronic radiant install with two zones, if one works and the other doesn't then the issue is most likely the zone valve controller for the zone that isn't working. It could also be the thermostat for the zone that isn't working.
I have one floor house with two zones one side heat goes on the other does not,.
Do I have two electdiccircuits? Could one circuit not be working
Farm

As Bob Dylan said many times, I believe that can be easily done - and [without having to hitchhike] out on Hwy 61: you need a thermostat for the upstairs heating zone, wire from the thermostat down to the location where you're installing the B&G circulator, maybe a 24VAC transformer to power the thermostat if you don't already have one installed nearby, and a separate zone control relay to turn the circulator on and off under thermostat control.

When the TT calls for heat the circ will run and send hot water around the system on the zone to which it's connected (provided it's not shut off from water by a valve somewhere).
The drop in temp at the boiler will turn the boiler on as needed.

Perhaps I misunderstood something?
I would like to install a bell and Gossett model SZV-075N-4WE snap zone valve for an upstairs hot water heat system. It's not clear to me how it should be wired into your Azel SZ-V6 zone controller.
I need to wire the zone valve separate from the 6 zones I already have setup.
And why do you not want zone control (thermostats ) on each zone?
thats the point of zoning! Anyways - sounds like you have multiple issues that would be better served by having a professional look at.
Do you have a mixing valve installed for the radiant floor? or are you just running high temp water there? Lots to know about doing this properly.
Hey Guys - transformers are rated for Va, Zone valves are also rated at specific Va,
you cant say 1 transformer will power 5 zone valves, what if its a 25 Va transformer? or a 40Va? both sizes are quite normal...
Typically Sam one transformer can power up to a maximum 5 zone valves. Check the total VAC provided by your transformer against the total VAC draw should all four of your zone valves try to open at the same moment.
Normally one thermostat ought to be able to switch two zone valves on by using common connections - power is coming from the transformer.
The thermostat is basically operating as a low voltage switch. But it might be significant that I have not seen this example in any of the wiring diagrams for zone valves.

Click on the PDF files given at ZONE VALVE WIRING to see zone valve and thermostat wiring diagrams in more details. You'll also find our contact information for Honeywell to ask further.
I have 4 Honeywell zone valves and 2 thermostats I want to wire 1 tstat to 2 zonevalves not sure how to do
Mark

I agree that
it sounds as if there is indeed a wiring error.

Check that each thermostat only talks to one zone valve. That's where I'd start.

The thermostat wires open the zone valve.
When the zone valve is open an end switch turns on the circulator.

Also check that neither zone valve is manually latched "open"

I have a Navian combination boiler/hot water heater and I'm trying to wire it to a Honeywell switching relay and Honeywell zone valves. There is an upstairs zone and a downstairs zone. When I turn it on, both zones open, but the upstairs zone is only calling for heat.
Anon and Scott:

Check for thermostat wires that are shorted together - always calling for heat.

A zone valve stuck open or opened manually can give the same overheating trouble.

A thermostat improperly located on a cold wall or in a draft could also be a problem.
See these diagnostic articles
I have the exact same problem, did you a answer to your dilemma?
I just put a new thermostat in hoping to solve this problem. It has not helped.
No matter what temperature I set my thermostat to, the room gets oppressively hot. Can the zone valve be wired incorrectly?
Or can you wire it to remain on full time? I'm at my wits end and don't want massive bills as a result. Thanks in advance.
...
Continue reading at ZONE VALVES, HEATING - home, or select a topic from closely-related articles below, or see our complete INDEX to RELATED ARTICLES below.
Or see CIRCULATOR PUMPS & RELAYS
Or see these
Zone Valve Articles
Suggested citation for this web page
ZONE VALVE WIRING FAQs at InspectApedia.com - online encyclopedia of building & environmental inspection, testing, diagnosis, repair, & problem prevention advice.
Or use the SEARCH BOX found below to Ask a Question or Search InspectApedia
...
Frequently Asked Questions (FAQs)
Try the search box below or CONTACT US by email if you cannot find the answer you need at InspectApedia.
...
Ask a Question or Search InspectApedia
Use the "Click to Show or Hide FAQs" link just above to see recently-posted questions, comments, replies, try the search box just below, or if you prefer, post a question or comment in the Comments box below and we will respond promptly.
Search the InspectApedia website
Technical Reviewers & References
Click to Show or Hide Citations & References
Taco, Inc., "Tacon Zone Controls and Wiring Diagrams", Taco Inc., 1160 Cranston Street, Cranston, RI 02920 Telephone: (401) 942-8000 FAX: (401) 942-2360 - USA or TACO (Canada), Ltd., 8450 Lawson Road, Unit #3, Milton, Ontario L9T 0J8. Telephone: 905/564-9422. FAX: 905/564-9436. Retrieved 3/4/2014, original source: http://www.taco-hvac.com/uploads/FileLibrary/100-9.0.pdf
[2] "Installation Instructions, Flair Zone-A-Trol Models"
3-wire sweat type zone valves: VJ1B0, VJ1C0, VJ1D0, VJ1E0 (models represent pipe diameters 1/2" to 1 3/4"
2-wire sweat type zone valves: VJ5C0, VJ5C2, VJ5D0, VJ5B2
Flair Manufacturing, 600 Calebs Path, Hauppage, LI* NY 11787
[3] "Motorized [Zone] Valves [Installation Instructions]", Honeywell Corporation, 1957, Honeywell, Minneapolis MN 55408, International sales offices in principal cities of the world, Manufacturing in Australia, Canada, Finland, France, Germany, Japan, Mexico, Netherlands, Spain, Taiwan, United Kingdom, USA.
Thank-you to Mr. Scott Meenen , G&S Mechanical Services , for providing some common thermostat wiring codes also found at Mr. Meenen's web page Malware Deleted 12/9/2014 . Mr. Meenan provides heating, heat pump, and air conditioning repair services in Maryland, Washington D.C., and northern Virginia. He can be contacted at 301-591-1646 or by Email to Malware Deleted 12/9/2014 - 10/2010. Quoting:
We service American Standard, Amana, Arco, Arco-Air, Bryant, Carrier, Coleman Evcon, Comfortmaker, Day/Night/Payne, Dunham-Bush, Fedders, Fredrich, Goodman, General Electric, Heil, Intertherm, ICP, Janitrol, Lennox (Armstrong, Johnson Air-Ease), Miller, Modine, Nordyne, Rheem/Ruud/Weatherking, Sears, Stewart Warner, Trane, Weather King, Williams, White-Westinghouse, Whirlpool, Weil Mclain, York, (Frasier Johnson/Borg Warner) and others.

[4] Azel Technologies Inc., P.O. Box 53138 10 Royal Orchard Blvd. Thornhill, Ontario, Canada L3T 7R9 Ph: 905-223-5567 Fax: 905-223-3778 Email: info@azeltec.com, Website: www.azeltec.com.
[5] Honeywell Controls, the company wants you to use their contact form at this web page: http://www51.honeywell.com/honeywell/contact-support/contact-us.html
Honeywell Consumer Products, 39 Old Ridgebury Road Danbury, CT 06810-5110 - (203) 830-7800
World Headquarters, Honeywell International Inc., 101 Columbia Road, Morristown, NJ 07962, Phone: (973) 455-2000, Fax: (973) 455-4807 1-800-328-5111

Honeywell product model numbers & instruction Manuals: see http://yourhome.honeywell.com/home/Applications/FindYourModelNumber.aspx


[6] White Rodgers Thermostats and HVAC controls,
Homeowner information: http://www.emersonclimate.com/en-US/brands/white_rodgers/Pages/wr-homeowner-info.aspx
Contractor information: http://www.emersonclimate.com/en-US/brands/white_rodgers/wr_contractor_info/Pages/white-rodgers-contractor-info.aspx
White Rodgers Product Catalog (don't misspell the company's name as White Rogers Thermostats) -
http://www.emersonclimate.com/Documents/thermostats.pdf - Thermostat Catalog
[7] White Rodgers 1F90 Low Voltage Digital Comfort-Set thermostat Installation Instructions, PN 37-3654, White-Rodgers Division, Emerson Electric Co., 9797 Reavis Rd., St. Louis MO 63123
[8] "Automatic Oil Burner Controls - Thermostats", Domestic and Commercial Oil Burners, 3rd Ed., Charles H. Burkhardt, McGraw Hill, 1969 (and later editions), ASIN B0000EG4Y8
[9] Thermostat wiring color codes & conventions, Thanks to reader " Helpful Pointers" Regarding 24V T, 10/7/2012
[10] Domestic Central Heating Wiring Systems and Controls, 2d Ed., Raymond Ward, Newnes, ISBN-10: 0750664363, ISBN-13: 978-0750664363, Quoting from Amazon.com:
This unique A-Z guide to central heating wiring systems provides a comprehensive reference manual for hundreds of items of heating and control equipment, making it an indispensable handbook for electricians and installers across the country. The book provides comprehensive coverage of wiring and technical specifications, and now includes increased coverage of combination boilers, recently developed control features and SEDBUK (Seasonal Efficiency of Domestic Boilers in the UK) boilers ratings, where known.
In addition to providing concise details of nearly 500 different boilers fuelled by electric, gas, oil and solid fuel, and over 400 programmers and time switches, this invaluable resource also features numerous easy-to-understand wiring diagrams with notes on all definitive systems. Brief component descriptions are provided, along with updated contact and website details for most major manufacturers.
[11] Proliphix Corporate Headquarters, 3 LAN Drive Suite #100, Westford, MA 01886 Phone: +1.978.692.3375 Toll Free (U.S.): 866-IP-LIVING (866.475.4846) Fax: +1.978.692.3378 - Sales: sales@proliphix.com Marketing: marketing@proliphix.com Customer support: support@proliphix.com http://www.proliphix.com/ - quoting from the company's website:
All Proliphix Network Thermostats come with our free Uniphy Remote Management Service. This unique offering lets you monitor and control your HVAC systems by simply pointing your Browser to our secure Proliphix Web Site. Enjoy the convenience of programming a thermostat from any location, using a simple graphical interface. No computer equipment or software is required. And since Proliphix takes care of the network configuration for you, you'll be up and running in no time. We'll even proactively monitor your thermostats and send you an immediate email or SMS message when an HVAC problem is detected.

[12] "Heating Control Handbook for the Installer and Service Man,Oil Burner, Gas Burner and Stoker Controls", Honeywell Corporation, March 1949 [copy on file as HoneywellControlsHandbookSA1399-2-1949.pdf] . Some of the controls discussed in detail here include the

Honeywell T1 and T11A = Series 10
Honeywell T21A (T2) = Series 20
Honeywell T847A = Series 80
Honeywell RA117A (RA1) = Series 10
Honeywell LA101A = Series 10,
Honeywell LA419A (LA4) = Series 40
V155A = Series 10, V435A = Series 40, V575A = Series 50, V835A = Series 80

[13] Trane TCONT800 Series Touch Screen Programmable Comfort Control Ownes Guide, American Standard, Inc., Troup Highway, Tyler TX 75711, January 2005, Telephone: Customer Service: 1-877-3381, website: www.trane.com
Books & Articles on Building & Environmental Inspection, Testing, Diagnosis, & Repair
Our recommended books about building & mechanical systems design, inspection, problem diagnosis, and repair, and about indoor environment and IAQ testing, diagnosis, and cleanup are at the InspectAPedia Bookstore. Also see our Book Reviews - InspectAPedia.
...