Metal Chimneys & Flues: Inspection, Diagnosis, Cleaning & Repair Guide
InspectAPedia tolerates no conflicts of interest. We have no relationship with advertisers, products, or services discussed at this website.
This article describes the types of manufactured metal chimneys. We explain the difference between Class-A Chimneys, Metalbestos chimneys, Type B Vents, Type L Vents, Triple Wall metal chimneys, and Super Chimneys, 629 Chimneys, and 650-C Chimneys.
Each of these chimney types has specific intended uses, fire clearances, and installation requirements. Improperly-installed chimneys, use of the wrong chimney type, or failure to properly maintain the chimney are likely to lead to unsafe conditions and risk a building fire.
We also provide a MASTER INDEX to this topic, or you can try the page top or bottom SEARCH BOX as a quick way to find information you need.
Metal Chimneys & Flues: Types, Codes, Installation Requirements
Types of Metal Chimneys and Metal Vents
Our page top photo shows a remarkable number of metal chimneys (at least 24) on a Duluth Minnesota building. Can you explain it?.
The metal faux-chimney top shown in our photo is being inspected by an ASHI Headquarters staff member during a Chicago IL field trip.
Disassembly would be required to know much about the interior of this chimney, but from the exterior we can inspect for
Missing chimney capRust damage (see photo of a Type B gas vent below)Creosote or soot & signs of overheatingFlashing defects
Other mechanical damage
Without more information we cannot see for sure just what kind of metal chimney terminates in the chimney cap shown by our ASHI Staff person.
List of Manufactured Metal Chimney Types
Here are the principal types of manufactured metal chimneys. We discuss each of these in the articles linked-to below.
CLASS A CHIMNEYS, MetalBestos™ (photo at left shows a Class A chimney cleanout tee in process of installation, courtesy Galow Homes.
See Chimney Cleanout Combustible Clearance for an article about the necessary clearance between a chimney cleanout opening and combustible materials.
This chimney cleanout tee was being installed in an existing closet. Therefore for fire safety the cleanout tee was later enclosed in 5/8" fire-rated drywall with an access panel to permit opening the cleanout tee (and for accessing the wiring junction boxes) when necessary.
FIRE CLEARANCES, FLUE VENT CONNECTORS are not chimneys but rather single-wall metal pipes used to connect a heating appliance to a chimney.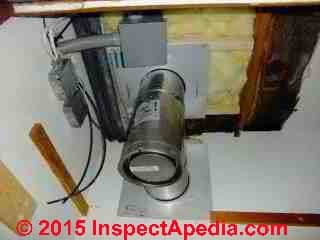 Metal chimney and flue: types, clearances, installation, inspection, fire hazards

Question: Metalbestos stove pipe fire clearances: roofing mastic was blobbed around our metalbestos chimney
I have an 8 inch Metalbestos™ stove pipe going through an open beam ceiling, with an avalon wood stove.
My question is how hot does the outside of the metalbestos pipe get on the roof in the area of the stove pipe flashing, its a reddish rubber boot style?
The reason I am asking is a roofer installed a new metal roof and rubber boot flashing and cut the back side of boot to get it to fit then patched it with a black sticky flexible flashing, with flash point of 201 degrees. Thanks - R.W.
Our photo (left) shows a Class A "Metalbestos™ type chimney at a low slope EPDM roof penetration - not the chimney penetration in the reader question described above. Photo courtesy Galow Homes.
Reply: Follow the manufacturer's instructions for air spaces and chimney clearances
A competent onsite inspection by an expert usually finds additional clues that help accurately diagnose a problem or identify fire clearance and chimney safety issues including the one you raise. But when workmanship is amateur or incomplete, keep in mind that the same installer may have made other errors.
That said, here are some things to consider:The temperature that you will find on the outside of the metalbestos chimney pipe varies from cold (not in use) to warm (in normal use) to potentially higher, depending on what fuel is being burned, distance from the fire source, conditions in the chimney, and other variables.
Example of an insulated metal chimney surface temperature
At a new Class "A" insulated metal flue venting an oil fired heating boiler and located about 35" from the flue vent connector atop the boiler and with the boiler at operating temperature (about 450 degF inside the flue vent connector at the boiler top) the outside temperature of the metalbestos chimney was "hot" to the touch but less than 200 degF.
But because of the variables involved that cause variation in metal chimney surface temperatures, I'm not sure anyone could quote a specific number to answer your question.
You will find in the metal chimney installation instructions (and perhaps your local building codes) that the manufacturer wants 2" or 2 1/2" air space clearance between the Class "A" chimney sections and any nearby combustibles.
So if your roofer put combustible roofing mastic against a Class-A chimney chimney s/he has probably violated the instructions and possibly local and national building codes.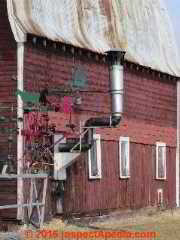 Details about fire clearances for different types of metal flues and chimneys are found
at FIRE CLEARANCES, METAL CHIMNEYS
Readers of this section should also
see CHIMNEY DEFINITIONS.
Also
see FIRE CLEARANCES, METAL CHIMNEYS
These articles on chimneys and chimney safety provide detailed suggestions describing how to perform a thorough visual inspection of chimneys for safety and other defects. Chimney inspection methods and chimney repair methods are also discussed.This article explains the types, uses, characteristics, and installation requirements for different classes of metal chimneys.
All of these metal chimneys use multiple-walled metal pipe; some products add a fire-proof insulating material between the walls of the chimney pipe while others rely on air space.
Single-wall metal pipes used to connect heating appliances to chimneys (metal or masonry) are discussed separately
at Single-Wall Metal Flue Vent Connectors where we provide details about single wall metal flues and their fire clearance requirements.
The installer of the single wall metal chimney (probably venting a woodstove) observed on this Minnesota barn on Highway 61 north of Duluth had to go to some trouble to clear the edges of the barn roof. This chimney made me nervous.
...
Continue reading at BRACING for METAL CHIMNEYS or select a topic from closely-related articles below, or see our complete INDEX to RELATED ARTICLES below.
Or see CHIMNEY HEIGHT & CLEARANCE CODE
Or see FIRE CLEARANCES, METAL CHIMNEYS
Or see METAL CHIMNEY CONNECTIONS
Or see METAL CHIMNEYS & FLUES - home
Suggested citation for this web page
METAL CHIMNEYS & FLUES at InspectApedia.com - online encyclopedia of building & environmental inspection, testing, diagnosis, repair, & problem prevention advice.
Or use the SEARCH BOX found below to Ask a Question or Search InspectApedia
...
Frequently Asked Questions (FAQs)
Try the search box below or CONTACT US by email if you cannot find the answer you need at InspectApedia.
Question:
(Aug 12, 2012) Mark Whitaker (UK) said:
The following information may be useful. I experienced problems with rust stains on the wall of a cottage in Wales beneath the outlet of a flue from an oil-fired boiler. The stains were due to rain falling on the outlet and dripping down. I totally solved the problem by installing a protective cowl which I made from thin sheet aluminium fashioned into an inverted angular 'U' form (a bit like a metal paper staple in profile) to shield the outlet from the rain. This has saved me continually repainting the wall to erase the unsightly rust stains.
Reply:
Thanks for the idea and comment, Mark. Send us some photos if you can. It may assist other readers.
Question: bulged metalbestos chimney dangers
(Jan 17, 2013) Diane said:
We have a metalbestos II chimney that's been in use for 18 years. We use it with our Harmon wood boiler. We've noticed some bulges/buckles in the interior of the chimney for the past couple of years while cleaning it out. Are these dangerous? Has anyone had experience going back to Selkirk for a replacement?
Reply:
Diane:
a bulged metalbestos chimney sounds unsafe - as if its internal layers have been damaged by frost or some other expanding force. I'd have a professional chimney sweep inspect the chimney for safety. Let us know what you're told and we can comment further.
Question: what's inside of old chimneys?
(Jan 27, 2013) Kristina said:
I have opened up a closet wall to expose the original lath and plaster and discovered a metal (over ceramic?) tube full of old old ashes that i was able to clean out by opening a plate at the bottom and scooping out about 2 grocery bags full of old ashes. I would like to remove or cap this off under the ceiling and then recover the wall with sheetrock AND I am unclear if this is something I should leave alone or if I can do this removal. I have been told that this must have been the inner chimney for wood burning stove/cooking from the original house (built in 1926)I now have a gas stove and a hood that I dont think is attached to this circular chimney thing. Do you have any idea what this is or how I can get more information on how to remove it or if I should just leave it alone? (asbestos?) thansk so much!
Reply:
Kristina
If you are confident that the old chimney is no longer in use, its blockage or abandonment are less of a concern - if it were in use the situation would be quite dangerous - enough that I'd shut off anything venting into that flue.
A second concern is possible presence of asbestos - or cement asbestos - if the flue were transite - an asbestos cement material. If the chimnney is really metallic it's not transite but if it's a multi-walled chimney and is an older product its internal insulation could be or contain asbestos. So removal could raise safety concerns. If it can be safely sealed in place and left alone that'd make the least disturbance.
Question:
(Nov 9, 2014) Wes said:
I have an external masonry brick chimney (with an internal clay flu, that has began to separate from the home about 70% up. The bottom half is fine, and is still aligned well. Is it possible for me to remove the top 30%, and connect steel chimney pipe to replace the masonry? wesgull@hotmail.com
Reply:
Wes:
Indeed having just traveled throughout New Zealand where earthquakes have damaged many masonry chimneys, we saw a number of installations that did just what you suggest. The damaged or unsafe upper portion of the masonry chimney was removed entirely, an insulated metal chimnney was constructed to provide safe above-roof venting and was installed, connected, and sealed to the intact lower masonry flue by a chimney professional.
A detail that's important is the treatment of the "flat" masonry top - to be sure that there is no leakage into the masonry.

...
Ask a Question or Search InspectApedia
Try the search box just below, or if you prefer, post a question or comment in the Comments box below and we will respond promptly.
Search the InspectApedia website
Technical Reviewers & References
Click to Show or Hide Citations & References
Thanks to Mark Cramer, Tampa Florida, for assistance in technical review of the "Critical Defects" section and for the photograph of the deteriorating gray Owens Corning flex duct in a hot attic. Mr. Cramer is a Florida home inspector and home inspection educator. Carson, Dunlop & Associates Ltd., 120 Carlton Street Suite 407, Toronto ON M5A 4K2. (416) 964-9415 1-800-268-7070 info@carsondunlop.com. The firm provides professional home inspection services & home inspection education & publications. Alan Carson is a past president of ASHI, the American Society of Home Inspectors. Thanks to Alan Carson and Bob Dunlop, for permission for InspectAPedia to use text excerpts from The Home Reference Book & illustrations from The Illustrated Home. Carson Dunlop Associates' provides:

Commercial Building Inspection Courses - protocol ASTM Standard E 2018-08 for Property Condition AssessmentsHome Inspection Education Courses including home study & live classes at eleven colleges & universities.Home Inspection Education Home Study Courses - ASHI@Home Training 10-course program.
Special Offer: Carson Dunlop Associates offers InspectAPedia readers in the U.S.A. a 5% discount on these courses: Enter INSPECTAHITP in the order payment page "Promo/Redemption" space. InspectAPedia.com editor Daniel Friedman is a contributing author.The Home Reference Book, a reference & inspection report product for building owners & inspectors.
Special Offer: For a 10% discount on any number of copies of the Home Reference Book purchased as a single order. Enter INSPECTAHRB in the order payment page "Promo/Redemption" space. InspectAPedia.com editor Daniel Friedman is a contributing author.The Home Reference eBook, an electronic version for PCs, the iPad, iPhone, & Android smart phones.
Special Offer: For a 5% discount on any number of copies of the Home Reference eBook purchased as a single order. Enter inspectaehrb in the order payment page "Promo/Redemption" space.The Illustrated Home illustrates construction details and building components, a reference for owners & inspectors.
Special Offer: For a 5% discount on any number of copies of the Illustrated Home purchased as a single order Enter INSPECTAILL in the order payment page "Promo/Redemption" space.
The Horizon Software System manages business operations,scheduling, & inspection report writing using Carson Dunlop's knowledge base & color images. The Horizon system runs on always-available cloud-based software for office computers, laptops, tablets, iPad, Android, & other smartphones.

Thanks to Luke Barnes for suggesting that we add text regarding the hazards of shared chimney flues. USMA - Sept. 2008. Eric Galow, Galow Homes, Lagrangeville, NY. Mr. Galow can be reached by email: ericgalow@gmail.com or by telephone: 914-474-6613. Mr. Galow specializes in residential construction including both new homes and repairs, renovations, and additions.Arlene Puentes, an ASHI member and a licensed home inspector in Kingston, NY, and has served on ASHI national committees as well as HVASHI Chapter President. Ms. Puentes can be contacted at ap@octoberhome.com Roger Hankeyis principal of Hankey and Brown home inspectors, Eden Prairie, MN, technical review by Roger Hankey, prior chairman, Standards Committee, American Society of Home Inspectors - ASHI. 952 829-0044 - hankeyandbrown.com
NFPA 211 - Standards for Chimneys & Fireplaces, NFPA 211: Standard for Chimneys, Fireplaces, Vents, and Solid Fuel-Burning Appliances, 2006 Edition (older editions and standards are found at the same bookstore)NFPA #211-3.1 1988 - Specific to chimneys, fireplaces, vents and solid fuel burning appliances.NFPA # 54-7.1 1992 - Specific to venting of equipment with fan-assisted combustion systems.GAMA - Gas Appliance Manufacturers' Association has prepared venting tables for Category I draft hood equipped central furnaces as well as fan-assisted combustion system central furnaces.
National Fuel Gas Code, an American National Standard, 4th ed. 1988 (newer edition is available) Secretariats, American Gas Association (AGA), 1515 Wilson Blvd., Arlington VA22209, and National Fire Protection Association (NFPA), Batterymarch Park, Quincy MA 02269. ANSI Z223.1-1988 - NFPA 54-1988. WARNING: be sure to check clearances and other safety guidelines in the latest edition of these standards.Fire Inspector Guidebook, A Correlation of Fire Safety Requirements Contained in the 1987 BOCA National Codes, (newer edition available), Building Officials and Code Administrators International, Inc. (BOCA), Country Club HIlls, IL 60478 312-799-2300 4th ed. Note: this document is reissued every four years. Be sure to obtain the latest edition.Uniform Mechanical Code - UMC 1991, Sec 913 (a.) Masonry Chimneys, refers to Chapters 23, 29, and 37 of the Building Code.New York 1984 Uniform Fire Prevention and Building Code, Article 10, Heating, Ventilating, and Air Conditioning RequirementsNew York 1979 Uniform Fire Prevention & Building Code, The "requirement" for 8" of solid masonry OR for use of a flue liner was listed in the One and Two Family Dwelling Code for New York, in 1979, in Chapter 9, Chimneys and Fireplaces, New York 1979 Building and Fire Prevention Code:"Top Ten Chimney (and related) Problems Encountered by One Chimney Sweep," Hudson Valley ASHI education seminar, 3 January 2000, contributed by Bob Hansen, ASHIChimney Inspection Checklist, Carson Dunlop, Associates, Toronto, Ontario"Rooftop View Turns to Darkness," Martine Costello, Josh Kovner, New Haven Register, 12 May 1992 p. 11: Catherine Murphy was sunning on a building roof when a chimney collapsed; she fell into and was trapped inside the chimney until rescued by emergency workers."Chimneys and Vents," Mark J. Reinmiller, P.E., ASHI Technical Journal, Vol. 1 No. 2 July 1991 p. 34-38."Chimney Inspection Procedures & Codes," Donald V. Cohen was to be published in the first volume of the 1994 ASHI Technical Journal by D. Friedman, then editor/publisher of that publication. The production of the ASHI Technical Journal and future editions was cancelled by ASHI President Patrick Porzio. Some of the content of Mr. Cohen's original submission has been included in this more complete chimney inspection article: InspectAPedia.com/chimneys/Chimney_Inspection_Repair.php. Copies of earlier editions of the ASHI Technical Journal are available from ASHI, the American Society of Home Inspectors."Chimneys and Vents", 789 CMR 68.00 Massachusetts Building Code, web search 10/15/2010, original source:
http://www.mass.gov/Eeops/docs/dps/780%20CMR/780068.pdf 03/23/2007
780 CMR: STATE BOARD OF BUILDING REGULATIONS AND STANDARDS THE MASSACHUSETTS STATE BUILDING CODE - quoting:
6801.11 Multiple-Appliance Venting Systems. Two or more listed and labeled fossil fuel-fired appliances shall not be connected to a common natural draft venting system unless permitted per applicable requirements of 248 CMR or 527 CMR. For solid fuel-burning appliances, see 780 CMR 6801.12.Chimneys and Vents, Chapter 18, M1801,model building code - [on file as Code_Chim_Res_C_18.pdf] - widely used by U.S. & Canadian Municipalities,"Model DFS L-Vent / Type B Gas Vent Installation Instructions", Selkirk Corporation, 5030 Corporate Exchange Blvd., Grand Rapids MI 49512, Tel: 800-433-6341 & Selkirk Canada Corporation, PO Box 526, Depot 1, Hamilton ON L8L 7X6, 888-735-5475, web search 10/15/2010, original source: www.mass.gov/Eeops/docs/dps/780%20CMR/780068.pdf "Type L Temperature Venting Systems [on file as L_Vent_Metal_Fab.pdf] - ", Installation and Maintenance Instructions, Metal-Fab Inc., PO Box 1138, Sichita KS 67201, 316-943-2351, Email: info@mtl-fabinc.com website: www.mtl-fabinc.com "Type L Vent Vent for Oil/Gas Fired Appliances, Installation and Maintenance Manual", Energy Vent Ltd., 241 Arvin Ave., Stoney Creek Ontario Canada L8E 2L9, web search 10/15/2010 original source: www.selkirkcorp.com/WorkArea/downloadasset.aspx?id=2380 www.selkirkcorp.com/WorkArea/downloadasset.aspx?id=1802Natural Gas Weekly Update: http://tonto.eia.doe.gov/oog/info/ngw/ngupdate.asp Official Energy Statistics from the U.S. Government
US Energy Administration: Electrical Energy Costs http://www.eia.doe.gov/fuelelectric.html
Books & Articles on Building & Environmental Inspection, Testing, Diagnosis, & Repair
Carson Dunlop, Associates, Toronto, have provided us with (and we recommend) Carson Dunlop Weldon & Associates' Technical Reference Guide to manufacturer's model and serial number information for heating and cooling equipment
Special Offer: Carson Dunlop Associates offers InspectAPedia readers in the U.S.A. a 5% discount on any number of copies of the Technical Reference Guide purchased as a single order. Just enter INSPECTATRG in the order payment page "Promo/Redemption" space.
Fireplace & Chimney Design, Repair Books - Fireplaces, Chimneys: design, repairFireplace & Chimney Inspection Books - Inspecting and diagnosing chimney problems, fireplace problems, chimney & fireplace standardsCeramic Roofware, Hans Van Lemmen, Shire Library, 2008, ISBN-13: 978-0747805694 - Brick chimneys, chimney-pots and roof and ridge tiles have been a feature of the roofs of a wide range of buildings since the late Middle Ages. In the first instance this ceramic roofware was functional - to make the roof weatherproof and to provide an outlet for smoke - but it could also be very decorative.
The practical and ornamental aspects of ceramic roofware can still be seen throughout Britain, particularly on buildings of the Victorian and Edwardian periods. Not only do these often have ornate chimneys and roof tiles but they may also feature ornamental sculptures or highly decorative gable ends. This book charts the history of ceramic roofware from the Middle Ages to the present day, highlighting both practical and decorative applications, and giving information about manufacturers and on the styles and techniques of production and decoration.
Hans van Lemmen is an established author on the history of tiles and has lectured on the subject in Britain and elsewhere. He is founder member and presently publications editor of the British Tiles and Architectural Ceramics Society. Available at the InspectAPedia Bookstore.Chimney Inspection Checklist, Carson Dunlop, Associates, Toronto, OntarioChimney & Stack Inspection Guidelines, American Society of Civil Engineers, 2003 - These guidelines address the inspection of chimneys and stacks. Each guideline assists owners in determining what level of inspection is appropriate to a particular chimney and provides common criteria so that all parties involved have a clear understanding of the scope of the inspection and the end product required. Each chimney or stack is a unique structure, subject to both aggressive operating and natural environments, and degradation over time. Such degradation may be managed via a prudent inspection program followed by maintenance work on any equipment or structure determined to be in need of attention. Sample inspection report specifications, sample field inspection data forms, and an example of a developed plan of a concrete chimney are included in the guidelines. This book provides a valuable guidance tool for chimney and stack inspections and also offers a set of references for these particular inspections.Fireplaces, a Practical Design Guide, Jane GitlinFireplaces, Friend or Foe, Robert D. MayoNFPA 211 - Standards for Chimneys & Fireplaces, NFPA 211: Standard for Chimneys, Fireplaces, Vents, and Solid Fuel-Burning Appliances, 2006 Edition (older editions and standards are found at the same bookstore)Principles of Home Inspection: Chimneys & Wood Heating (Principles of Home Inspection), Carson DunlopNFPA 211 - 3-1.10 - Relining guide for chimneysNFPA 211 - 3-2 - Construction of Masonry ChimneysNFPA 211 - 3-3 - Termination Height for chimneysNFPA 211 - 3-4 - Clearance from Combustible MaterialNFPA 54 - 7-1 - Venting of Equipment into chimneysBrick Institute of America - Flashing Chimneys
Brick Institute of America - Proper Chimney Crowns
Brick Institute of America - Moisture Resistance of BrickAmerican Gas Association - New Vent Sizing TablesChimney Safety Institute of America - Chimney Fires: Causes, Effects, EvaluationNational Chimney Sweep Guild - Yellow Pages of Suppliers
...
Publisher InspectApedia.com - Daniel Friedman