The Aluminum Wiring Hazards & Repairs Website

ALUMINUM WIRING HAZARDS & REPAIRS - CONTENTS: This website answers nearly all questions about aluminum wiring inspection, hazards, repairs - a Complete guide to aluminum electrical wiring hazards & repair. How to identify & repair aluminum wiring, what are the hazards, what are the right & wrong repairs. What are the hazards of aluminum electrical wiring? What is copper wire pigtailing? Sources of COPALUM electricians & alternative aluminum wiring repair methods. Can the home electrical system or wiring system cause electrical appliance failures?
POST a QUESTION or READ FAQs about aluminum electrical wiring: hazards, risks, proper repairs, identifying aluminum wiring. Questions and Answers about Aluminum Wiring Hazards, Failures, Failure Cause, & Aluminum Wiring Repairs
InspectAPedia tolerates no conflicts of interest. We have no relationship with advertisers, products, or services discussed at this website.
Aluminum Electrical Wiring Hazards & Aluminum Wiring Repair Methods:
this Aluminum Wiring Website answers just about any question concerning aluminum electrical wiring, aluminum wiring failure causes, cures, repairs, and prevention. We include authoritative, expert aluminum wiring failure research, field failure reports, and descriptions of approved aluminum wiring repair procedures and products.
Photos at page top show an improper aluminum-to-copper pigtail splice which is overheating, and an infra-red photo of the same connection, from a more distant view (courtesy of G. Cohen). Aluminum wire connections can overheat enough to start a fire without ever drawing enough current to trip a circuit breaker.
Green links show where you are. © Copyright 2017 InspectApedia.com, All Rights Reserved.
Aluminum Electrical Wiring Risks & Hazards Explained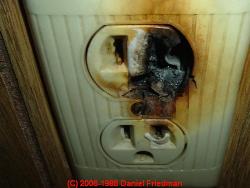 Aluminum wiring, used in some homes from the mid 1960's to the early 1970's, is a potential fire hazard.
[Click to enlarge any image]
How safe is aluminum wiring? According to the U.S. Consumer Product Safety Commission, fires and even deaths have been reported to have been caused by this hazard.
Problems due to aluminum wiring expansion, or much more likely micro-fretting and arcing at the aluminum wiring connectors, can cause overheating at connections between the wire and devices (switches and outlets) or at aluminum wire splices.
See THERMAL EXPANSION of MATERIALS
The connections can become hot enough to start a fire without ever tripping a circuit breaker!

The photos shown at left and just below are not the most dramatic catastrophes linked to fires caused by aluminum wiring. But these are conditions that are found in many homes with aluminum wiring, confirming that this is a real, common, and widespread hazard.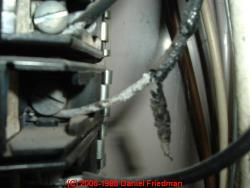 CPSC research shows that "homes wired with aluminum wire manufactured before 1972 are 55 times more likely to have one or more connections reach "FireHazard Conditions" than are homes wired with copper.
"Post 1972" aluminum wire is also a concern. Introduction of the aluminum wire "alloys" in 1972 time frame did not solve most of the connection failure problems.
Aluminum wiring is still permitted and used for certain applications, including residential service entrance wiring and single-purpose higher amperage circuits such as 240V air conditioning or electric range circuits.
The fire risk from single purpose circuits is much less than for branch circuits.
But it's not necessarily because of a "new alloy" as some folks assert. It's because there are enormously fewer connections (four or six rather than 30 or 40 per circuit) and thus statistically a smaller chance of a connection failure. These connections do still burn up, as indicated by field reports.
Key Information Articles: Aluminum Wiring Hazards & Repair Methods

ALUMINUM WIRING HAZARDS & REPAIRS The Aluminum Wiring Website, describing the hazards of & repairs for aluminum electrical wiring, including authoritative, in-depth information, photographs, documents. You are on the aluminum wiring website main page.
Suggested citation for this web page
ALUMINUM WIRING HAZARDS & REPAIRS at InspectApedia.com - online encyclopedia of building & environmental inspection, testing, diagnosis, repair, & problem prevention advice.
The AMP TYCO COPALUM Connector for Aluminum Wiring Pigtailing Repairs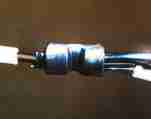 AMP TYCO COPALUM Copper-to-Aluminum Pigtailing Use the special AMP (now TYCO) COPALUM high pressure crimp connector and special tool to connect short copper wires to every aluminum wire end in the building, reconnecting the copper to the various devices (outlets, switches, lights) and splices.
The AMP (originally TYCO) COPALUM connector method is described is described in detail
at PIGTAILING USING AMP "COPALUM" CONNECTORS.
COPALUM ALUMINUM WIRING CONNECTOR AVAILABILITY discusses how to get these aluminum wire connectors
The AlumiConn™ Aluminum Wiring Connector for Pigtailing and Repairs

AlumiConn TM Purple #95135 aluminum to copper lug connectors [New in 2006, U.L. Listed, 2007 completed independent testing] available from King Innovation.
The AlumiConn connector is now recommended for aluminum wiring repairs - US CPSC.
Results of independent testing indicate that this product "... is predicted to have a high probability of failure-free long-term safe performance, PROVIDED THAT THE SETSCREWS ARE CAREFULLY TIGHTENED TO THE MANUFACTURER'S RECOMMENDATION".
Alumi-Conn where to buy, how to install:
Obsolete Aluminum Wiring Repair Method - No Longer Recommended

Scotchlok 3M Special Method [- superceded by new alternate repair as of June 2007 -]: this ""Scotchlok 3M Special Method was previously recommended as independent tests showed that it performed acceptably.
While this repair method has been superceded by new alternate repair as of June 2007, we have kept this description available to aid home buyers, electricians and home inspectors who may discover or need to be able to recognize this aluminum wire repair method if it was previously used in the building.

A summary of this method is at "Scotchlok 3M connector" and details of this method are at Aluminum Wire alternative repair: Special Aluminum Wire Repair Method
Other Aluminum Wiring Repair Methods that Are Not Recommended

Other methods - not recommended: Warnings regarding other "repair" methods which are not recommended are discussed
at ALUMINUM WIRING REPAIR, Other Products,
such as the Ideal 65 purple "Twister" connector shown in the photo at left (12 connectors cost $49. to $79.), Marrette B-Cap ACS™ #63 AL/CU Twist-On Connectors, and electrical receptacles and outlets marked "COALR" (even if these worked, which has not been demonstrated, what about all of the other electrical connections and splices in the building?) and others.
Citation by brief quote or links-to this website are invited, provided you credit this source website InspectAPedia.com/aluminum/Aluminum_Wiring_Hazards.php
Printed copies of our website pages are permitted (hard copies on paper) for free (not for sale) distribution provided that you do not edit the content, you include a citation of the source web page, and you do not imply that our website is endorsing any product or service for sale.
Do NOT copy electronically nor reproduce our website content electronically (for example to a web page) without writing to us (Contact Us) first to obtain express permission. See our Policy on use of website contents - OK in printed form only, do not make electronic copies.
Aluminum Electrical Wiring Information you CAN copy to your website: for information on aluminum electrical wiring that can be copied to your website, see Aluminum Wiring Summary Page for Public Use.
3/4/2014 Aluminum Wiring Home Page, InspectAPedia.com/aluminum/Aluminum_Wiring_Hazards.php - © 2014 - 1988 Copyright InspectAPedia.com All Rights Reserved, The information on this page may not be reproduced or republished on another web page or website - InspectAPedia® is a Registered U.S. Trademark
Aluminum Electrical Wiring Articles
...
Continue reading at ALUMINUM WIRING IDENTIFICATION or select a topic from the More Reading links or topic ARTICLE INDEX shown below.
Or see ALUMINUM WIRING HAZARD FAQs - questions & answers posted to this article
Suggested citation for this web page
ALUMINUM WIRING HAZARDS & REPAIRS at InspectApedia.com - online encyclopedia of building & environmental inspection, testing, diagnosis, repair, & problem prevention advice.
More Reading
Green link shows where you are in this article series.
OR use the Search Box found below at Ask a Question or Search InspectApedia
...
Frequently Asked Questions (FAQs)
Try the search box below or CONTACT US by email if you cannot find the answer you need at InspectApedia.
Recently posted questions & answers about the hazards of aluminum electrical wiring are at ALUMINUM WIRING HAZARD FAQs
...
Ask a Question or Search InspectApedia
Questions & answers or comments about aluminum electrical wiring in buildings: safety, proper repairs, history, recommendations.
Use the "Click to Show or Hide FAQs" link just above to see recently-posted questions, comments, replies, try the search box just below, or if you prefer, post a question or comment in the Comments box below and we will respond promptly.
Search the InspectApedia website
Technical Reviewers & References
Click to Show or Hide Citations & References
Aluminum Electrical Wiring Information for your website: for information on aluminum electrical wiring that can be copied to your website, see Aluminum Wiring Summary Page for Public Use.
"Repairing Aluminum Wiring", US CPSC Publication 516, U.S. Consumer Product Safety Commission, Bethe3sda MD, website: www.cpsc.gov / www.SaferProducts.gov, updated June 2011, original source: .cpsc.gov/cpscpub/pubs/516.pdf, Quoting:
The U.S. Consumer Product Safety Commission (CPSC) staff and other government officials have investigated numerous hazardous incidents and fires throughout the nation involving aluminum branch circuit wiring. A national survey conducted by Franklin Research Institute for CPSC showed that homes built before 1972, and wired with aluminum, are 55 times more likely to have one or more wire connections at outlets reach "Fire Hazard Conditions"1 than homes wired with copper. That survey encompassed only the wire connections at outlets. It did not address other types of aluminum wire connections and splices in homes that are also prone to fail. No information was developed for aluminum-wired homes built after 1972.
The fire hazard investigated by CPSC occurs at connections with aluminum wire, including receptacles or switches and junction boxes; or the hazards occur with major appliances, including dishwashers or furnaces, for example. There are several deterioration processes in aluminum wire connections that cause increased resistance to the flow of electric current, resulting in damage that is cumulative in effect. That increased resistance causes overheating, sometimes at hazardous levels, when current is flowing in the circuit.
AlumiConn website - http://www.kinginnovation.com/products/alumiconn/ has installation videos, Wire combinations, specification sheets,  and other information and assistance in purchasing or using this product.
AlumiConn™ AlCopStore.com 223 Salt Lick Road, #279, St. Peters, MO 63376
Tel: 866-826-2256, Fax: 636-754-0500, Email Sales: pking@AlCopStore.com, Email General Inquiry: info@AlCopStore.com
"Repairing Aluminum Wiring," [As updated 2011] U.S. Consumer Product Safety Commission Publication REPAIRING ALUMINUM WIRING, US CPSC Pub. No. 516available online
"Repairing Aluminum Wiring," [Original, now obsolete] U.S. Consumer Product Safety Commission Publication REPAIRING ALUMINUM WIRING, US CPSC Pub. No. 516available online
"Record of Commission Action, Commissioners Voting by Ballot", CPSC Publication No. 516, Repairing Aluminum Wiring (original version op.cit.), (Briefing package dated March 15, 2011), Quoting:
The Commission voted unanimously (5-0)·to approve republication of CPSC Publication No. 516, Repairing Aluminum Wiring, with the explicit recognition that the COPALUM and AlumiConn connectors currently are the only products that meet the agency's standards to prevent aluminum wire fire hazards
Copy on file as /aluminum/Pub516_Alumi_Conn.pdf

Southwire Corporation, manufacturer of aluminum (and other) wire products
What Owners Need to Know About [Aluminum] Wiring Dangers, Sandra Fleishman, Washington Post, 3 July 2004 pF01

Carson Dunlop's Home Inspector's Home Study Course (DJF is a contributor and participant in this education project).




Dr. Jess Aronstein, protune@aol.com is a research consultant and an electrical engineer in Schenectady, NY. Dr. Aronstein provides forensic engineering services and independent laboratory testing for various agencies. Dr. Aronstein has published widely on and has designed and conducted tests on aluminum wiring failures, Federal Pacific Stab-Lok electrical equipment, and numerous electrical products and hazards. See ALUMINUM WIRING BIBLIOGRAPHY and see FPE HAZARD ARTICLES, STUDIES for examples.
"The Influence of Corrosion Inhibitor and Surface Abrasion on the Failure of Aluminum-Wired Twist-on Connections", Aronstein, J.; Campbell, W., Components, Hybrids, and Manufacturing Technology, IEEE Transactions on Volume 7, Issue 1, Mar 1984 Page(s): 20 - 24
"Overheating Failures of Aluminum-Wired Special Service Connectors", J. Aronstein and W.E. Campbell, IEEE Transactions, Vol. CHMT-6, No. 1, March 1983.
This paper appears in: Components, Hybrids, and Manufacturing Technology, IEEE Transactions on Publication Date: Mar 1983 Volume: 6, Issue: 1 On page(s): 8 - 15 ISSN: 0148-6411 Current Version Published: 2003-01-06. This paper is available to IEEE members and subscribers and can be obtained through public or academic libraries.
Abstract: Special service" twist-on connectors are tested with aluminum and copper wire combinations. The special service connectors are qualified by a Canadian standard which applies to connectors for use with aluminum branch circuit conductors. Two brands of special service connectors are presently qualified by this standard and marketed. Both are rated for various combinations of aluminum and copper conductors. Samples of both brands are tested in this investigation. The tests are conducted within rated electrical and environmental conditions, with connections made according to the connector manufacturers' instructions. Overheating failures have occurred among the aluminum-wired special service connector combinations. The failures are accelerated by humid environment to a greater extent than by the application of electrical current. In contrast, connections which are copper-wired, using either standard or special service connectors, are stable and failure-free. The difference between the standard twist-on connectors and the special service connectors is in the material used for the connector spring. Improved compatibility between the spring material and the aluminum conductor, compared to the plated steel springs of the conventional twist on connectors, has not dealt with several important failure mechanisms. The test results indicate that the new standard, as presently defined, cannot be relied on to screen out aluminum-wired connector combinations which will not survive long-term operation within rated conditions. Thus the objective of accelerated qualification testing-- the prediction and assurance of safe and reliable operation in actual service---is not achieved in this case. The reasons are discussed, along with possible improvements.
"Evaluation of a Twist-on Connector for Aluminum Wire", Dr. Jesse Aronstein, Forty-Third IEEE Holm Conference on Electrical Contacts, Jan 1997, 0-7803-3968-1/97. [This article describes the Ideal Industries Ideal#65 purple "Twister" twist-on connector marketed as a repair/retrofit for residential aluminum wiring. --DJF]
Abstract: A new type of twist-on splicing component for use with aluminum and copper wire combinations is tested to determine initial resistance, performance in a zero-current environment test, performance in a heat-cycle test, and portion of current carried by the connector's steel spring. The splices tested consist of two aluminum wires and one copper wire.
The aluminum wire samples used for the test are of the types actually installed in aluminum-wired homes. Initial resistance is found to be relatively high, and there is a significant sample-to-sample variation. This reflects failure to consistently establish low-resistance wire-to-wire contact through the insulating oxide film on the wire. Results of the environmental and heat-cycle tests show deterioration of a significant portion of the samples.
The splices made with this connector are also found to be sensitive to mechanical disturbance, such as applied in normal installation when the completed splice is pushed back in to the junction box. Based on the test results, it is concluded that this connector has not overcome the fundamental deficiency of twist-on connectors for use with aluminum wire applications. Keywords: aluminum wire, connectors, twist-on connectors, environmental test, heat-cycle test.
Marrette® (Brown)Company, (Canadian Thomas & Betts) ACS™ Aluminum Wiring connector product brochure indicates that this connector is "approved for circuits up to 600V and lighting fixtures and signs up to 1000V, not UL Listed (therefore not approved for use in the United States).
Thomas & Betts, 8155 T&B Boulevard Memphis, TN 38125 USA, is a producer of more than 30,000 electrical components. 888-862-3289. Quoting the company:
Thomas & Betts offers more than 30,000 high-quality products marketed under a variety of market-leading brand names. Designed to help passively conduct electricity, Thomas & Betts products are found everywhere electricity is used -- inside commercial and industrial buildings, in homes and schools, inside complex machinery and original equipment, in the power generating plant and distribution network, outside your home and underground.

Website Kudos

12/1995 - PC Computing Magazine: Names this website as among the "Best 1001 Internet Sites." See the Engineering category, p. 146.
Starting Point: named this website as a key Internet resource page as a Starting Point Hot Site
Books & Articles on Building & Environmental Inspection, Testing, Diagnosis, & Repair
Recommended books on electrical inspection, electrical wiring, electrical problem diagnosis, and electrical repair can be found in the Electrical Books section of the InspectAPedia Bookstore. (courtesy of Amazon.com)
Aluminum Wiring Information Link code to paste to your website: Use these LINK EXCHANGE INSTRUCTIONS to request a listing and to exchange website links.
The Aluminum Wiring Information Website Wiring Hazards and Repairs: in-depth info, photos, documents. Main Page.
The Aluminum Wiring Bibliography: extensive resources on Aluminum Wiring
Aluminum Wire Failure Reports & Photos: Real life aluminum wiring field failure reports can be seen at InspectAPedia.com/aluminum/Aluminum_Wiring_Failure_Reports.php
Reducing the Fire Hazards in Aluminum-Wired Homes , Jess Aronstein, Ph.D., This document answers most technical questions about the hazards and remedies of aluminum electrical wiring. Some of the sections of this very thorough document are listed below:
Electrical Panels, How to Inspect in buildings, safety for electrical inspectors, electrical panel, fusing, wiring defects, defective products. Inspection Class Presentation
Zinsco Electrical Circuit Breaker Failures: overheating, failure to trip, burn-ups involving Zinsco and certain Sylvania electrical panel components
...