Best Practices in Porch & Deck Construction
InspectAPedia tolerates no conflicts of interest. We have no relationship with advertisers, products, or services discussed at this website.
Deck & Porch construction details & procedures.
Deck & Porch Construction Materials Choices. Deck & Porch Construction & Structural Fasteners. Deck & Porch Safety. Deck & Porch Railings, Code Requirements, Safety.
Finishes for Exterior Decks. Poor Construction Details and Improper Connections Can Lead to Dangerous Collapse of Decks and Porces.
This article series discuss best porch & deck construction practices, including choice of framing materials, decking or flooring choices & installation, how to select and use deck and porch structural and flooring fasteners, actual deck & porch framing construction details & connections, deck joist & beam span tables.
We also describe how to build leak-proof rooftop decks, construction of covered & screened porches, deck & porch railing construction & materials, choices of finishes and stains for decks & porches, and past & current deck lumber preservative treatments with related health & environmental concerns.
We also provide a MASTER INDEX to this topic, or you can try the page top or bottom SEARCH BOX as a quick way to find information you need.
Decks and Porches: Best Construction Practices, Details, Products, Specifications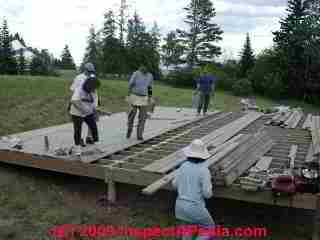 According to Best Practices Guide to Residential Construction, Chapter Four, Best Construction Guide for Building Decks and Porches: Also see our BOOK REVIEW of that book.
Decks and porches are challenging applications for wood building products and finishes. The structural framework is exposed to the elements and may be in partial contact with the ground.
Horizontal surfaces are exposed to rain, snow, and direct sun and, in the case of decking and stairs, to the abrasive effects of heavy foot traffic as well.
Photo: construction of an outdoor stage in Two Harbors Minnesota in 2001.
The original construction, installation and long term performance of this outdoor performing arts stage floor are described in a series of articles given at FOUNDATION DAMAGE by ICE LENSING.
[Click to enlarge any image]
As part of the growing trend toward low-maintenance exteriors, plastics and composites are starting to make significant inroads as decking and railing materials.
Some of these products, such as Trex®, developed by Mobil Chemical in the late 1980s, have seen well over 10 years of use in the field and are proving themselves as durable, attractive alternatives to wood decking.
To simplify construction and reduce costs, many porches today are built essentially like exterior decks with added roofs and an open balustrade or partial-height walls. Since porch floors get less exposure to rain and sun and are therefore less prone to crack and warp, they can be built with less durable materials than open decks.
A solid floor consisting of tongue-and-groove or square-edged decking, pitched for drainage, is sometimes used in porches, although spaced decking is more forgiving and requires less maintenance.
Pressure-Treated Wood: Deck Framing Materials
Details about pressure treated wood and wood preservative treatments are at PRESERVATIVE TREATED LUMBER. Excerpts are below.
Most builders choose pressure-treated lumber for the structural framework because of its low cost and high durability.
At this time there are few viable alternatives. However, composite and synthetic products are beginning to enter the market and are worth considering, especially for environmentally sensitive sites, such as wetlands or other applications where clients object to the use of treated lumber (see Table 4-1).
Pressure-Treated (PT) Lumber
The vast majority of residential decks were framed with lumber treated with chromated-copper arsenate (CCA) until 2004, when CCA was phased out and replaced primarily by alkaline copper quat (ACQ) and copper azole.
The treated lumber is typically Southern yellow pine in the eastern United States and hem-fir in the West. The more expensive and stronger Douglas fir is also used in the West, but it is more likely treated with the waterborne treatment ammoniacal copper zinc arsenate (ACZA).
Incising Lumber for Treatment Penetration
Both Douglas fir and hem-fir are typically "incised" with surface cuts for better penetration of the treatment chemical. Even with incising, however, full chemical penetration is rarely achieved with these species, so the center of that wood remains vulnerable to rot, particularly in 4x and larger material. With these species, effective field treatment of holes and cuts with a liquid preservative is essential.
Health Concerns for Chromated-Copper Arsenate (CCA) Pressure Treated Lumber
Despite CCA's track record as an effective, economical wood preservative, its safety has long been questioned by health and environmental advocates.
Their primary focus has been CCA's heavy concentration of arsenic, a known carcinogen. Although most experts agree that leaching of arsenic from CCA lumber is minimal and poses negligible health risks to end users, the industry acknowledges that CCA does pose risks to workers who handle the wet wood or burn scraps, and significant pollution around treating plants has been well documented.
Phase Out of Chromated-copper Arsenate (CCA) Treated Lumber
In response to these concerns, manufacturers began a voluntary phase out in 2003 of all CCA treated lumber for noncommercial applications.
Starting January 1, 2004, the Environmental Protection Agency (EPA) banned the manufacture of CCA-treated lumber intended to be used in residential settings, including retaining walls, decks, fencing, and playground equipment. Pressure-treated shakes and shingles were exempted. CCA treatment will also still be available for plywood and heavy timbers used in commercial, industrial, and marine applications. Existing stocks of CCA-treated lumber were mostly depleted by the end of 2004.
Advice for Existing Structures Built Using Chromated-copper Arsenate (CCA) Treated Lumber
The EPA has issued no warnings regarding existing installations of CCA-treated lumber. However, for homeowners who are concerned about potential exposure to chemicals leaching out of the wood, researchers at the USDA Forest Products Laboratory (FPL) recommend periodically treating the pressure-treated lumber with a water-repellant or a semitransparent penetrating stain. Film-forming finishes, such as paints, are not recommended.
New Wood Preservative & Deck Lumber Treatment Chemicals
The two main chemicals replacing CCA are the waterborne compounds alkaline copper quat (ACQ) and copper azole.
Copper azole Type B (CA-B) has largely replaced Type A (CBC-A) in the United States and Canada. Both ACQ and copper azole perform as well as CCA and are free of any EPA-listed hazardous compounds. As with CCA-treated wood, premium treated lumber is available with a factory-applied water repellant.
With significantly higher copper content than CCA lumber, the new materials are 10 to 15% more expensive. Of greater concern is the fact that the higher concentration of copper makes the lumber more corrosive to certain metals and metal coatings (see "Increased Corrosion Potential," next page).
Health Precautions for Alkaline Copper Quat (ACQ)-Treated Lumber
Despite the lack of chromium, arsenic, or other hazardous chemicals, wood treated with alkaline copper quat (ACQ) and copper azole carry essentially the same handling instructions as CCA-treated materials.
Workers handling ACQ and copper azole are still advised by the EPA to wear gloves or wash hands after contact, wear a dust mask when cutting, and not to burn the scraps. Like CCA-treated wood, it is not recommended for direct contact with food or drinking water.
Retention Ratings: Treatment Levels & Durability of Alkaline Copper Quat (ACQ)-Treated Lumber
While most CCA lumber was rated for ground contact, manufacturers are holding down costs with ACQ and copper azole by limiting treatment levels to the expected application of the lumber.
For example, deck boards, 2x6s, and 4x4s at the lumberyard will typically have three different treatment levels (Table 4-2). In most cases, lumber will be stamped or tagged with a designation such as "decking," "above ground," "ground contact," or "PWF" (permanent wood foundation). Make sure the material purchased is rated for the intended application or one level higher.
Borate Treatment for Lumber & Deck Framing
Wood preservatives based on borate compounds have been used for decades abroad and are slowly becoming available in the United States.
Borates are noncorrosive to metals and harmless to pets and humans, but they are very effective against insects and decay. Borate's main limitation is its tendency to leach out of wood that is buried in soil or exposed to regular wetting, making it unsuitable for decks or other exterior applications.
New techniques to better fix the compounds into wood are under development, however, and may soon offer a viable alternative to copper-based treatments.
Increased Corrosion Potential for ACQ and Copper Azole-Treated Lumber
Because of their higher concentrations of copper, ACQ and copper azole are significantly more corrosive to aluminum, steel, and galvanized coatings than CCA (see "Galvanic Corrosion," page 83 in the Best Practices text cited at the start of this article).
Preliminary tests have also shown that formulations with ammonia-based carriers (used for better penetration in heartwood species such as Douglas fir) are more corrosive than those with an amine or hybrid bases.
Many factors affect corrosion rates, but some studies have found ACQ-treated wood to corrode untreated steel up to four times faster than CCA and to attack galvanized coatings at twice the rate of CCA (also see "Fasteners," page 141).
Decay-Resistant Wood Species for Decks & Porches
Details about rot and insect resistant framing lumber and porch flooring material are found at Rot-Resistant Deck Lumber & Flooring. Excerpts are below.
For a price, redwood and cedar are available in structural grades. How rot-resistant the untreated wood is depends on the amount of extractives in the wood, which is greatest in the heartwood cut from dense, old-growth trees.
To purchase all-heart, structural-grade redwood or cedar, expect to spend two to three times more than for pressuretreated lumber. It is also difficult to find away from the West Coast. Left untreated, even the heartwood of these species is not recommended for ground contact.
Guide to Plastic Alternatives for Deck & Porch Construction
Structural lumber products made of recycled plastics are starting to make their way into the marketplace and are turning up as railroad ties, dock components, and park walkways. Since there are few standards available for these products, designers and installers will need to rely on manufacturer data for structural characteristics.
One product, TriMax (TriMax of Long Island), is made of recycled plastic and fiberglass and has compression and horizontal-shear strength similar to treated yellow pine. Like most plastic products, however, the material is more flexible than wood due to a low modulus of elasticity. This means spans must be small and the structure may have a bouncy feel.
Choices of Deck & Porch Surface & Flooring Materials
Details about deck and porch flooring material are found at Rot-Resistant Deck Lumber & Flooring. Excerpts are below.
Horizontal deck surfaces take a beating. Rain and snow, exacerbated by wet-dry and freeze-thaw cycles, open up widening cracks, and ultraviolet radiation breaks down wood surfaces. The more sun exposure and water a deck sees, the quicker it will deteriorate. In addition, foot traffic makes it hard to maintain protective finishes.
In choosing a decking material, look beyond its short lived original condition to its appearance and maintenance needs down the road (Table 4-3).
In all cases, use the best grade of material you can afford. With wood decking, select tight, straight grain, few if any knots, and low moisture content. Since most wood decking materials are graded only for appearance, the grading is unregulated and grade names may be confusing. It is best to see a sample before committing to a purchase.
Choosing Pressure-Treated Wood for Decks
Pressure-treated decking is still the most common choice due to its low cost and ready availability. As with other pressure-treated lumber products, CCA has been phased out in favor of wood treated with copper quat (ACQ) and copper azole (see PRESERVATIVE TREATED LUMBER).
Most builders in the eastern United States choose nominal 5/4 x 6 radius-edge decking (RED), which is dressed to 1 inch thick and can span 16 inches. Western softwoods are typically sold as 2x4 or 2x6 stock and can span up to 24 inches.
For fully exposed decks, particularly those with south-facing exposure, use the best grade available, generally called Premium in southern pine and Patio 1 or Dex in Western species. The radiused edges on RED stock make an attractive deck surface and help prevent splintering.
Many homeowners become disappointed with pressuretreated decking when they discover that it must be treated regularly to prevent cupping, checking, and warping. Except where the decking is under a roof and well protected from sun and rain, it must be treated with a water-repellant sealer or a semitransparent penetrating stain to prevent problems.
It is important to finish the wood as soon as the surface is dry but before it has a chance to start cracking, allowing water to penetrate and do additional damage (see Finishes, Coatings, Stains for Decks). A few premium products come factory pretreated with a sealer that has penetrated the wood surface and should outlast on-site sealing.
Decay-Resistant Species for Deck & Porch Floor Surfaces
Until the recent introduction of synthetic decking materials, the only viable alternatives to pressure-treated lumber were naturally decay-resistant wood species, such as redwood and cedar. A number of tropical hardwoods are now available to deck builders as well.
Redwood and Cedar Deck & Porch Flooring
The most decay-resistant materials are cut from the dense heartwood of old-growth trees, which is expensive and increasingly rare. In redwood, the lighter colored sapwood offers moderate resistance to decay. Cedar sapwood is even less resistant. If possible, choose all-heart grades for exposed areas (see Figure 4-1).
The two most commonly used cedar types are western red cedar and Alaska cedar, sometimes sold as Alaska cypress. Western red cedar is relatively soft and easily dented, but dimensionally stable. Yellow cedar is stronger and has a harder surface; but it is prone to shrinkage movement, so it is best purchased kiln-dried.
Other less common cedar species suitable for decking include Port Orford cedar, a strong, dense wood from southern Oregon, and northern white and Atlantic white cedar.
Redwood and cedar should, at a minimum, be treated regularly with water repellants to protect against cupping, checking, and cracking. Occasional treatment with a water-repellant preservative will increase the service life.
Even then, the wood will weather to a silver gray like nearly all wood decking products. For clients who want to preserve the original wood color, the best option is to use an oil-based semitransparent stain with pigments that resemble the desired color.
Tropical Hardwoods for Deck & Porch Flooring
A number of tropical hardwoods are becoming increasingly available as decking materials, typically sold as nominal 1x4 or 5/4 x6 stock, which can span 16 inches and 24 inches, respectively.
The most widely available hardwood decking now is Ipe, a group of dense teak like woods sometimes marketed under the brand name Pau Lope and reported to have a life expectancy in outdoor use of up to 40 years. Another option, Cambara, is somewhat less dense and lighter in color than Ipe, but it also offers excellent resistance to decay and insects.
Both of these are typically knot-free with a tight grain pattern that helps keep out water.
They are strong, dense, and highly resistant to decay and insects, making them ideal for deck surfaces. In general, these woods will outlast the redwood and cedar available today and should require only periodic treatment with a UV-blocking water repellant or a penetrating oil finish such as Penofin (Performance Coatings Inc.).
Like most hardwoods, Ipe and cambara cut slowly and must be predrilled for screws.
A third tropical hardwood group, sometimes marketed as maranti, is more commonly known as lauan or Philippine mahogany. This wood offers moderate resistance to decay and insects and requires periodic treatment with a water repellant preservative.
With all tropical hardwoods, there are valid concerns about the wood's origin and the impact of its harvesting on the world's rainforests.
Fortunately, there are established third-party certification organizations that track the "chain of custody" of hardwood products and certify that they were harvested using sustainable logging practices. Contact the Forest Stewardship Council or the Smartwood Program for more information (see Deck & Porch Products, Manufacturers).
Synthetic Decking for Deck & Porch Floors
at SYNTHETIC DECK BOARDS, COMPOSITE PLASTIC VINYL we discuss details about wooden deck board alternatives such as Trex®, TimberTech®, wood-plastic composites, and plastic or vinyl decking products. Excerpts are below.
Manufacturers have introduced a wide range of synthetic decking products, most of which promise wood like appearance and low or no maintenance. Most fall into a few categories discussed below, but each has unique characteristics and installation requirements. In all cases, review the product specifications and, if possible, look at an installation before purchasing.
Wood-Plastic Composites for Decks & Porches
Decking materials made from wood fiber with polymer resin have been in use for over a decade and have generally established a strong track record. Many, like Trex®, use a high percentage of recycled materials. Most have a solid profile and are sold in sizes that match and install like standard wood decking.
The oldest solid composite decking on the market is Trex®, but competitors now include Boardwalk® (Certainteed), ChoiceDec® (Weyerhauser), and products from several smaller manufacturers (see Figure 4-2).
Other synthetic decking products are extruded into a hollow 2x6 profile, such as WeatherBest® (Louisiana Pacific) and TimberTech® (TimberTech Ltd.). These are generally lighter and stiffer than the solid materials, allowing spans up to 24 inches.
These typically fit together in a tongue-and-groove fashion, have built-in drainage systems, and use proprietary fasteners. End caps and other accessories are used to trim out these products, and some include a modular railing system (Figure 4-3).
In general, composite decking materials are dimensionally stable, impervious to the elements, and can be worked more or less like wood. The solid products are installed like wood decking. Special screws designed for composite decking leave a clean hole without dimpling around the screw head.
Most solid products cannot exceed 16-inch on-center framing, and they feel a little bouncy underfoot due to the material's greater flexibility (low modulus of elasticity) compared to wood. Some have an embossed wood-grain finish that may wear away over time.
With composite decking, no surface treatment is needed.
Once the surface weathers, it bears a strong resemblance to weathered wood, but without the customary warping and checking.
Although these surfaces are largely impervious to the elements and contain no food source for mold or mildew, manufacturers do point out that a dirty deck can support mold and mildew growth and recommend periodic cleaning with a deck cleaner to prevent this.
Also synthetic decking is vulnerable to oil and grease stains, which can be difficult to remove if not cleaned right away with a degreasing agent.
Really? See COMPOSITE LUMBER DURABILITY for a different view and for research on composite deck board durability. Research in the past fifteen years has increased our understanding of the effects of moisture, freeze/thaw cycles, temperature, sunlight and other factors on the wear and safety of composite decking and has given additional direction to the manufacturers of these products. - Ed.
Vinyl and Other Plastics for Decks & Porches
A variety of manufactured decking systems are aimed at the commercial and do-it-yourself (DIY) markets. Materials include FRP (fiber-reinforced plastic), recycled HDPE (high-density polyethylene), and polyvinyl chloride (PVC).
Most of these products are available in a nominal 6-inch width and have an etched surface to provide traction and a wood-grain appearance. Most products are sold as a complete system with integral fasteners, end caps, and other accessories, making them well suited to the DIY market.
Metal Fastener Choices for Deck & Porch Construction
Details about structural fasteners, screws, nails, for deck construction and the effects of preservatives on structural fasteners for treated lumber are at DECK NAILS, SCREWS, HIDDEN FASTENERS
Excerpts are below.
Corrosion Concerns for Deck & Porch Fasteners: Like other deck components, metal fasteners are subject to numerous stresses. The sealers and stains typically used on decks provide little protection to fasteners, and the copper-based chemicals used in most waterborne preservatives accelerate corrosion in many metals.
When the fasteners corrode, they contribute to decay in the surrounding wood, further weakening the connection.
New Preservatives and Deck or Porch Fastener Corrosion
Because the new wood preservatives ACQ (alkaline copper quat) and copper azole contain significantly more copper than the older CCA-treated lumber, they are estimated to be two to four times more corrosive to metals and galvanized coatings than the CCA they are replacing.
Most treatment manufacturers recommend that fasteners and hardware in contact with the new treated wood be stainless-steel, heavily coated hot-dipped galvanized, or proprietary fasteners tested and approved by the manufacturer.
Hot-Dipped Galvanized Deck Fasteners Used for ACQ or Copper Azole-Treated Lumber
When using lumber treated with ACQ or copper azole, use hot-dipped galvanized fasteners that meetASTMA153 with a minimum of 2 ounces of zinc coating per square foot. Some are marketed as "double hot- dipped."
Connectors, flashings, and other hardware in contact with treated wood should meet ASTM A653, Class G185 (1.85 ounces of zinc per square foot of metal surface).
These have three times as much zinc coating as standard G60 connectors. Examples of G185 coatings include Simpson's Z-Max or USP Connector's Triple-Zinc. Galvanized fasteners may stain redwood and cedar, however.
Stainless Steel Deck Fasteners Best Choice for Salt Exposed Structures
In very wet or humid climates, or in areas subject to salt-water spray or deicing salts, stainless steel is the best choice. Stainless steel is also recommended for tropical hardwoods, which tend to cause staining with coated nails.
Both types 304 and 316 stainless steel have been tested for use with the new wood preservatives ACQ and copper azole.
Type 304 is suitable for aboveground applications. Type 316 is recommended in areas subject to salt or salt water.
Watch out: Never use stainless steel in contact with galvanized steel, as the galvanized coating will quickly corrode. Where fasteners such as nails, bolts, or lags are in contact with metal connectors, use the same metal for both.
Proprietary Coatings on Deck Screws
Many decking screws sold in home centers have newer proprietary ceramic and epoxy coatings over an electrogalvanized core. Originally developed for use with CCA-treated lumber, many have now been tested and approved for use with ACQ and copper azole. If using one of these fastener types, make sure that it is recommended by the manufacturer for the specific type of decking being installed.
Aluminum Fasteners & Pressure-Treated Lumber
Watch out: Do not use aluminum fasteners, connectors, or flashings in contact with pressure-treated wood. The copper-based waterborne preservatives will cause corrosion and premature failure.
Recommended Fasteners for Deck & Porch Flooring
Details about selecting the proper fasteners for constructing decks and porches and how they are installed can be read at DECK NAILS, SCREWS, HIDDEN FASTENERS.
Excerpts are below.
Whether using nails or screws, make sure to choose a product that is up to the task both structurally and aesthetically. In general, screws are more expensive to buy and install, but often they make for a neater job with fewer callbacks due to boards popping up. Construction adhesives specially formulated for treated wood may be used in conjunction with nails or screws.
Nails for Deck Boards
If the decking is to be nailed, use either spiral-, twist-, or ring-shanked nails to resist pullout. When using pressure-treated wood, the fasteners should be either hotdipped galvanized, meeting ASTM A153, or stainless steel Type 304 or higher (see "New Preservatives and Corrosion," above).
Galvanized nails sometimes cause discoloration with redwood, cedar, and tropical hardwoods, so stainless steel is a safer choice with these materials. Aluminum nails are also an option for redwood or cedar, but they should not be used with pressure-treated wood.
The bigger the head, the better the hold-down power. At a minimum, use a casing nail, preferably a common. Some manufacturers sell special decking nails with a head size in between the two. For 5/4-inch decking use a 10d (3-inch) nail. For thicker decking, use a 16d (3 1/2-inch) nail. Deck spans are shown in Table 4-4.
Screws for Deck & Porch Flooring
Power-driven screws are more expensive and a little slower to install, but they are the best choice since they do a better job of holding down the decking and are more easily removed for repairs.
For treated wood, use either hot-dipped galvanized screws that meet ASTM A153, stainless-steel multipurpose screws, or specialty decking screws with proprietary coatings tested and approved for use with the new types of wood treatments.
Multipurpose screws have a thicker shank and courser thread than drywall screws, giving them greater strength and better holding power. Some specialized decking screws also have cutting nubs under the head for self-countersinking in wood.
Others have special concave "pancake" heads for composite decking. The composite-decking screws leave a crisp hole in the decking surface without the typical pucker of excess material (mushrooming) around the screw head (see Figure 4-4).
In addition to Phillips-head screws, decking screws come with square-drive and star-drive heads that allow higher torque driving without stripping the head.
Spacing the Deck Boards for Drainage & Drying
Details about gaps needed between deck boards and protecting joists from rot are found at DECK BOARD GAPS, SPACING GUIDE
Excerpts are below.
When securing the decking, it is important to leave adequate spacing between the boards for water to drain. The goal is to have about an 1/8-inch gap (the diameter of an 8d nail) between boards after the decking has dried to its equilibrium moisture content.
If the decking is installed wet, as is often the case for pressuretreated material, it is best to install the boards tight, letting gaps form as the wood dries.
When installing kiln-dried stock, use a 16d nail as a spacer to leave enough space for the boards to swell slightly and still leave an adequate drainage space. For wood that has partially air-dried, it is a judgment call. If in doubt, it is best to err on the side of leaving a little extra space for the wood to swell when wet.
Protecting the Deck or Porch Joists from Leaves, Rot
In decking applications subject to continuous wet conditions or the buildup of leaves and tree debris, it is best to protect the tops of the joists from moisture.
This can be achieved by laying strips of felt paper or self-adhesive membrane (one approved for UV exposure) over the tops of each joist prior to laying the decking boards. A proprietary product for this application, Vycor Deck Protector™, is available from Grace Construction Products.
Membranes such as Vycor Deck Protector can also be used as a barrier between pressure-treated joists and joist hangers, flashings, or other metal hardware to reduce corrosion.
Hidden Deck Fasteners for Deck Boards
Please see details at Deck Nails, Screws, Hidden Fasteners. Excerpts are below.
Over time, face-nailed deck fasteners may loosen, stain the wood decking, or lead to splitting and water penetration. Particularly with higher-end decking materials, such as tropical hardwoods, more customers are opting for hidden fastening systems (see DECK & PORCH PRODUCTS, MANUFACTURERS).
Each system is proprietary, and some require proprietary tools supplied by the fastener manufacturer. Some suppliers of hardwood decking recommend a specific fastener for their product and may sell the fasteners along with the decking.
There are two types of systems.
One, such as Deckmaster® (Grabber Construction Products), uses a right-angle bracket that fastens to the tops of the joists and screws into the underside of the decking. These are easiest to install if the installer has access from below the deck.
The other type uses individual fasteners that fit between adjacent decking planks and screw down into the top of the joist. These typically attach to the edges of the decking planks with clips or prongs.
A variation on this type called Eb-Ty (Blue Heron Enterprises) fits into slots cut into the edges of adjacent deck boards with a plate jointer (see Figure 4-5).
The biggest concern with hidden deck fasteners is whether they are strong enough to resist the tendency of deck boards to warp or twist.
For that reason, they are best used with premium decking products, which are dimensionally stable. Tropical hardwoods and composite decking are good candidates for hidden fasteners.
Specifications for Structural Fasteners and Connectors for Decks & Porches
Details about choosing the right structural connectors for decks and how they should be installed are at FRAMING CONNECTORS & JOIST HANGERS.
At FRAMING FASTENERS, NAILS, SCREWS, & HIDDEN we discuss choosing the proper nail, screw, or hidden fastener for fastening deck boards, railings, or joist hangers. Excerpts are below.
At minimum, all structural hardware for decks should be hot-dipped galvanized steel. For the best protection, use stainless steel (see "Joist Hangers and Connectors," below). At connections carrying structural loads, such as deck ledgers or railing posts, use through-bolts or lag screws.
Through-bolts are stronger and should be used where possible.
For the heaviest connections on a deck, such as where ledgers attach to the house or to posts, use 1/2-inch bolts or lags. Place large washers under the heads of lags and at both ends of through-bolts. Re tighten bolts and lags after the first year and check periodically for tightness.
Machine-Threaded Bolts Used for Deck Construction
Where both sides of the joint are accessible, bolts offer the strongest connections. Drill pilot holes 1/32 to 1/16 inch larger than the diameter of the bolt so it will slide through easily. After drilling, saturate the hole with preservative. Use large washers under both the head and nut. Re tighten after the first year, since the wood may have shrunk.
Lag Bolts Used for Deck Construction
For lags, drill a full-diameter pilot hole for the unthreaded portion and a smaller hole (65 to 75% of the lag's diameter) for the threaded portion. So, for example, a 1/2-inch lag would get a 5/16-inch pilot hole for the threaded portion; a 3/8-inch diameter lag would get a 1/4-inch diameter pilot hole.
After drilling, saturate the pilot hole with wood preservative. It is also important that at least half the length of the lag is threaded into solid wood.
For example, driving a 5-inch lag through a 4x4 post into a 2x joist will produce a weak connection with only 1 1/2 inches of anchoring. Instead, the lag screw should go through the 2x and be threaded into the thicker 4x4. Use a large washer under the head, and re tighten after the first year in case materials have shrunk.
Joist Hangers and Steel Connectors Used for Deck Construction
At a minimum, use hot-dipped galvanized hardware. With pressuretreated wood, hot-dipped galvanized steel should conform to ASTM A153 (for fasteners) or ASTM A653, G185 (for connectors). Stainless steel offers the best protection.
Type 304 or higher stainless steel is recommended for very wet environments such as poolside decks; or Type 326 for exposure to salt or saltwater. Also, do not mix metals: Use stainless-steel fasteners with stainless-steel connectors and galvanized fasteners with galvanized connectors.
Also see DECK NAILS, SCREWS, HIDDEN FASTENERS and see NEW PRESERVATIVES AND CORROSION where we describe structural fasteners designed for use in pressure-treated lumber.
Deck Construction Framing Details
Details about how the deck or porch ledger should be attached to a building are found at DECK & PORCH CONNECTIONS: LEDGER BOARDS.
Also see critical deck flashing details for the ledger board, found at DECK FLASHING AT BUILDING.
How to Construct Deck Ledgers
Most residential decks are supported on one side by a ledger that is bolted or lagged to the home's band joist.
This connection is critical, since a failure here can cause a deck to collapse. Failure of the ledger can be caused by too few or undersized fasteners, or by decay in the ledger or band joist.
Lags or bolts provide little support when fastened to rotted wood. So proper flashing of the ledger and band joist area is critical. It is also important that the band joist be nailed adequately to the surrounding structure, since the ledger is only as strong as the structural members it is attached to.
Band Joist-to-House Connection for Decks & Porches
In new construction, if a deck is planned, make sure the band joist is pressure treated and adequately nailed to the sole plate above and the sill or top plate below, using stainless-steel or double-hot-dipped galvanized nails.
Fastening with 16d common nails at 8 inches on-center is recommended. If the nailing cannot be confirmed in a retrofit, extra toenails driven through the exterior can help to reinforce this connection (see Figure 4-6)
Ledger-to-Band Joist Connection for Decks & Porches
Through-bolts are the most reliable connection, but lag bolts are adequate as long as they are long enough to fully penetrate the band joist. For through-bolts, drill holes 1⁄16 inch larger than the bolt.
For lags, drill a full-diameter hole for the unthreaded portion and a smaller hole (65 to 75% of the lag's diameter) for the threaded portion. Use washers under the head of the lag bolt or at both ends of through-bolts to keep the head from crushing the wood. Soak the holes with a preservative before inserting the bolts. Spacing for bolts and lags are shown in Table 4-5.
In humid climates, some deck builders prefer to leave a 1/2-inch air space between the ledger and house to assist with drying in the event that the ledger area gets wet. Because this weakens the connection, through-bolts should be used, as shown in Table 4-6.
To prevent splitting, lag screws or bolts should be held back two inches from edges and staggered as shown in Figure 4-7.
Deck Flashing at the Band Joist
Details about deck flashing at the band joist / ledger board are found at Deck Flashing at Building. Excerpts are below.
Proper flashing is critical since leakage at the band joists could lead to decay and failure of the deck connections.
The siding should be removed over the band-joist area, and a wide band of peel-and-stick membrane or metal flashing should run over the band joist and up under the building felt or housewrap.
A second cap flashing should direct water over the ledger and away from the house (Figure 4-8).
Some deck builders prefer to leave an air space at the ledger to assist with drying if the area gets wet. Flashing details are shown in Figure 4-9.
Watch out: Do not use aluminum flashings with pressuretreated lumber unless a durable barrier material, such as a bituminous membrane, separates the aluminum from contact with the wood. Preferably use membrane-type flashings, G185 galvanized steel, or copper. However, copper flashings should not contact galvanized hardware or fasteners.
Alternative to Deck Ledgers
Given all the problems inherent in supporting a deck with a ledger, one approach is to forgo the ledger altogether and support the deck on posts on all sides, keeping it structurally independent of the house. In this approach, the deck may be braced to the house to help it resist racking, but all vertical loads are carried to the ground by posts (Figure 4-10).
A conservative rule-of-thumb states that joists can cantilever one-fourth of their total length, assuming that the cantilevered end is not carrying any loads other than the normal uniform floor loading.
Deck & Porch Post Specifications
See details about deck and porch post construction at DECK PIERS & POSTS.
Excerpts are below.
In frost-susceptible soils, all posts should sit on concrete piers that extend below the frost depth. The tops of the concrete piers should extend slightly above grade to keep the post ends out of standing water (see Figure 4-11).
It is also a good idea to use steel post bases to keep the wood out of direct contact with concrete. Where deck uplift from wind is an issue, use structural post bases that are rated for the necessary uplift loads and connected to the concrete with anchor bolts.
Many of these are adjustable laterally so the footing and anchor bolt do not need to be precisely placed. Use pressure-treated posts rated for ground contact with a minimum preservative level of .40 pounds/cubic feet.
Treat any cut post ends and do not place cut ends in contact with soil or concrete.
While 4x4 posts can be used up to about 10 feet in height, depending on loads, tall pressure-treated 4x4s are prone to warping and twisting when they dry. Some local codes limit the use of 4x4s to 8 feet.
Diagonal sway bracing can help stiffen tall posts and provide resistance against racking. The easiest approach is to run short 2x4 or 4x4 sway braces from posts to beams (Figure 4-12).
Deck & Porch Support Beams
Deck beam or girder construction are discussed and illustrated at DECK BEAMS & GIRDERS.
Excerpts are below.
For the strongest connection of beam to post, place the support beam directly on top of the posts, rather than bolting them to the side, so the full load is transferred to the posts. To keep the post in place and to prevent any twisting or shifting, the connection should be reinforced with steel strapping, a steel connector, or a treated plywood cleat (Figure 4-13).
In general, notching a 4x4 post will leave too little wood for an adequate connection. A double 2x beam can rest on a notched 6x6 post, as shown.
For the strongest connection of joists to the support beam, the joists should sit on top of the beam.
For a more streamlined appearance, however, joist hangers are acceptable. Make sure the hangers and nails are approved by the manufacturer for use with the new types of pressuretreated wood (ACQ or ACZA) and fill all the holes in the hangers with properly sized nails.
In general, nail into the joists with 1 1/2-inch joist-hanger nails and nail into the beam with 10d to 16d common nails, as specified by the hanger manufacturer. Sizes for joists and beams are shown in Table 4-7 and Table 4-8.
Deck & Porch Railing Construction Specifications
Details about deck and porch railing codes, construction, and safety and useful illustrations and photos are at DECK & PORCH GUARDRAILINGS.
Excerpts are below.
Building Code Requirements for Decks, Balconies, Porches
The International Residential Code (IRC) requires a minimum 36-inch-high guardrail for all decks, balconies, or screened enclosures more than 30 inches off the ground. For child safety, the balusters or other decorative infill must be spaced less than 4 inches apart (a 4-inch-diameter ball should not pass between the balusters).
The railing must be strong enough to resist horizontal loads from people leaning on it. The IRC requires that the railing be able to resist a 200-pound concentrated load applied along the top in any direction, while some local codes still in effect specify a smaller load of 20 pounds per linear foot.
Under the IRC, the infill or balusters must resist a concentrated horizontal load of 50 pounds applied to a square foot area. The baluster requirement is easily met with standard fastening techniques, but meeting the IRC guardrail requirement is difficult without adding steel hardware. The majority of residential decks, which rely on notched posts lag-screwed into the band joist, do not meet the 200-pound requirement.
Post Connections for Deck & Porch Railings
Posts that run continuously from footings to railings are the strongest, but these are often not practical. More commonly, the posts are attached to the rim joist or beam, preferably with through-bolts (see Figure 4-14).
While 4x4 railing posts are often notched where they connect to the beam, this creates a weak point in the post that will not meet the load requirements. Another problem is that the rim joist needs to be reinforced to keep it from rotating when a strong force is applied to the railing.
This can be achieved with lag bolts, steel strapping, or steel connectors tying the rim joist to the abutting joists. On sides where the rim joist runs parallel to the joists, solid blocking should be lagged in place to keep the rim joist from rotating. Additional steel connectors may also be required. Posts should be no more than 6 to 8 feet apart, depending on local codes.
Wood Railing Connections for Decks, Porches
The top rail can be a 2x6 either flat or on edge. Use the longest pieces you can find—a continuous railing is best. Balusters can be nailed or screwed directly to the rim joist or attached to a bottom rail (Figure 4-15).
Use either one screw or two spiral-shank nails top and bottom on each baluster. If you use a flat rail on top, it is best to slope or chamfer the top surface to shed water.
Manufactured Railing Assemblies for Decks, Porches
Many types of manufactured railing systems are also available, often from the same companies that provide composite decking products. Examples include SmartDeck's post and rail system made from an extruded wood-poly composite and a similar railing made of fiber-reinforced plastic (FRP) from Shakespeare Composites, best known for its FRP fishing rods (see Figure 4-16).
An advantage of the prefab systems, in addition to their easy assembly, is that most are engineered to meet the strength requirements of the model codes in the areas where they are marketed (see DECK & PORCH PRODUCTS, MANUFACTURERS).
Details for Building Rooftop Decks
Details and illustrations for rooftop deck and railing construction are at DECKS, ROOFTOP CONSTRUCTION.
Excerpts are below.
Decks over living spaces can be detailed various ways, but all should have the following elements:
Along-lasting membrane roof sloped at least 1/4inch per foot, designed to drain at the lower end
Decking screwed to sleepers so that it can be removed for inspection or repair
A sturdy railing system that, preferably, does not penetrate the roofing membrane
Single-Ply Membranes for Rooftop Decks
A variety of roofing membranes have been used successfully under rooftop decks, but EPDM remains the most widely used on residential roofs. EPDM owes its popularity to its longevity and durability.
It is dimensionally stable and strong over a wide temperature range (it will not expand and contract or tug at flashings), is highly UV-resistant, and can stretch without tearing. In most residential jobs, EPDM is fully adhered to the roofing deck with a contact-type adhesive rolled onto both surfaces.
Seams can be avoided on small jobs, since rolls come as wide as 50 feet. If necessary, however, seams are relatively easy to seal, using a special double-sided seam tape and lap caulk at the exposed joint. To seal around corners and penetrations, use flexible uncured EPDM, which will conform to irregular shapes and seals well to the main roofing membrane (see EPDM, page 96).
EPDM roofing membranes typically come in .045- and .060-inch thicknesses and carry at least a 10-year warranty in residential work.
If properly installed, however, the .060 material should last for decades. EPDM's chief weakness is its vulnerability to petroleum products, such as oils, grease, and solvents. If used under a deck, warn the homeowners not to splash oil or grease from cooking or solvent-based wood finishes on the decking.
EPDM is often installed over a base layer of fiberboard or rigid insulation, but most EPDM membranes can bond directly to a sanded wood underlayment such as a 1/4-inch AC plywood.
If bonding directly to plywood or oriented-strand board (OSB), check with the roofing manufacturer regarding treatment of joints in the sheathing and the need for a primer.
To allow for some movement at sheathing joints, some manufacturers recommend holding the adhesive back one inch from the joints.
Terminations and Flashings for Rooftop Decks
Where the roofing membrane meets the house, run it 10 to 12 inches up the wall under the sheathing wrap. At outside edges, leave a 3- to 6-inch flap, depending on the edge treatment. A large metal drip-edge usually caps the roof along the fascia boards.
Deck Flooring Construction for Rooftop Decks
The decking sits on 2x sleepers, usually laid flat.
If you want the decking surface to be level, the sleepers will need to be tapered to compensate for the slope in the roof deck. For a large deck where flat sleepers are too thin to taper, you can use 2x4s or 2x6s set on edge. To protect the roofing membrane, set the sleepers on strips of EPDM or rooftop walkway matting (available from commercial roofing suppliers).
Attach the decking with screws so it can be removed later for inspection or repairs.
Post and Railing Construction for Rooftop Decks
As with other decks, guardrails must be a minimum of 36 inches high, infill balusters less than 4 inches apart, and the whole assembly strong enough to resist a 200-pound horizontal load (or 20 pounds per linear foot, depending on the local code). Use the longest pieces available for railings.
If the deck is small enough, use a single continuous top railing on each side. Then tie the side railings to the house with steel angle brackets to create a rigid railing assembly.
From a waterproofing standpoint, it is desirable to keep the posts outside of the roofing membrane. This can be achieved by bolting the posts to the rim joists or subfascia in the roof framing (see Figure 4-17.).
If this is not practical or if it is unacceptable from a design standpoint, then the EPDM will need to be sealed around each post. This is best left to a professional roofer.
Typically, the roofer will fashion a metal or membrane flashing collar around the base of each post and seal this to the roofing membrane, as with the boots used for plumbing vents.
Construction Detailing for Covered & Screened Porches
Details about constructing and screening porches are at PORCH CONSTRUCTION & SCREENING.
Excerpts are below.
The detailing for decks and porches is very similar. Code requirements for railings are the same, whether a deck is open or closed in with screening. If the screening runs to the floor, railings will be required to protect the screening, even if the railing is not required by code.
Porch decking can be spaced (like an open deck) or installed tight with a slope for drainage. Structurally, posts are easier to anchor on a porch, since they are tied in to the roof framing, which keeps them rigid.
Guide to Solid Decking for Porch Floors
Where the decking will be protected by a roof, it can be either spaced like a typical open deck or sealed and painted with a decking enamel for a more formal appearance. Solid decking is typically tongue-andgroove 1x4, 5/4x6, or 2x6 decking. For solid decking, choose kiln-dried stock and install it with tight seams.
Solid decking should be sloped 1/4 inch per foot to drain.
Make provisions for drainage on the three exterior sides and, if exposed to significant wetting, on the house side as well. If the porch has a solid knee wall, leave minimum 1-inch scuppers at floor level to allow water to drain from the porch interior to outside.
How to Install Enclosed Porch Screening
With a screened enclosure, use either solid decking or spaced decking with insect screening stapled to the underside of the joists. Furring strips tacked over the screening will help keep it from sagging and tearing.
If the screening goes from floor to eaves, a system of rails and balusters will need to be installed to protect the lower half of the screen (Figure 4-18).
If the porch is 30 inches or more above grade, the railing will need to comply with code for guardrails (see "Railings," page 147). Another option is to build an enclosed knee wall and start the screening at the top of the knee wall (see Figure 4-19).
There are several options for screening. Whether you build your own or buy custom screens, aluminum screening is much stronger and more tear-resistant than fiberglass. Removable screens have the advantage of being easy to remove and repair. However, building screens from wooden screen mold is very time-consuming. Simpler options for screening are:
Have a window supplier build custom wood or metal screens with vinyl splines to hold the screen in place.
Use a manufactured screening system such as Screen Tight™ (One Better Way), a vinyl snap-in-place system for fiberglass screening that screws onto the exterior face of the porch framing.
Staple aluminum screening to the exterior of the 4x4 posts and trim with 1x wood trim pieces screwed in place.
Guide to Finishes for Wood Decks
Details about finishes, coatings, and water repellent treatments or stains for exterior decks are at DECK FINISHES COATINGS PRESERVATIVES. Excerpts are below.
All wood decking, whether pressure-treated or not, needs to be sealed at installation and periodically thereafter to prevent checking, warping, and deterioration of the surface due to exposure to water and sunlight.
The chemicals in treated wood and the natural tannins in redwood and cedar resist decay and insect attack, but they will not stop checking and warping. There are a wide array of deck finishes on the market, but they all consist of one or more of the following: water repellants, preservatives, UV blockers, pigments, and a drying oil or varnish base (see Table 4-9.)
Water Repellants for Wood Decks
At a minimum, all wood decks should be treated with a water-repellant coating, preferably a water-repellant preservative (WRP), which has an added mildewcide.
Also called "sealers," these formulations typically contain a water-repelling wax and a varnish or drying oil, such as linseed or tung oil. The finish penetrates and seals the wood surface, reducing the amount of water absorption and thereby protecting against checking, splitting, and warping.
After application, water should bead up as on a newly waxed car.
Some water repellants contain a small amount of wax (about 1% by volume) and are intended as a pretreatment for other finishes.
Others contain up to 3% wax and are intended as a final coating. Some of these cannot be stained or painted over, so it is important to read the label.
WRPs, which have an added mildewcide, help prevent dark stains on natural woods like redwood and cedar, and on pressure-treated lumber as well. In addition, WRPs provide some protection against decay in the sapwood of redwood and cedar and in the cut ends of pressure-treated decking.
Some sealers and WRPs also have UV-inhibitors, an important addition if the sealer is the final coating, since this will help protect against deterioration of the wood surface from sunlight.
If a sealer or WRP is the only treatment used, the homeowner should plan to recoat every one to two years or whenever water on the surface no longer beads up and is quickly absorbed. WRPs also make an excellent undercoat for semitransparent stains.
The combination of a semitransparent stain over a WRP base coat provides the best long-term protection for decks. However, not all WRPs are suitable for use as an undercoat—so check the label or ask the manufacturer before proceeding.
Semitransparent Stains for Wood Decks
Oil-based semitransparent stains contain many of the same ingredients as a WRP and penetrate the wood in the same manner. The main difference is the addition of pigments, which provide some color and help protect against UV radiation.
Some, such as Penofin (Performance Coatings Inc.), are very lightly pigmented but add UV inhibitors to achieve a similar level of protection. Since oil based stains penetrate the wood surface, they will not peel, blister, or chip like paint.
Stains formulated specifically for decks may have improved resistance against abrasion as well.
Stains are a good finish for either treated wood or naturally decay-resistant species. The pigment provides good protection against UV radiation and extends the life of the finish beyond that of a simple water-repellant or WRP.
Light-colored finishes will reflect more light and, therefore, tend to outlast darker colors on exposed surfaces.
For the stain to penetrate properly, the wood surface must be fairly dry when the stain is applied. If the decking material was factory-treated with a sealer or was recently sealed on-site, it may be necessary to wait two weeks or longer before staining.
For best results, apply two coats of stain, with the second applied before the first coat completely dries. Once dried, the first coat will block the proper penetration of the second coat.
Paints and Solid-Color Stains for Use on Wood Decks
Paints and solidcolor stains (also called "opaque" stains), whether latex or oil-based, all form films on the wood surface. While these provide excellent protection against water penetration and UV degradation, they are not recommended for decking for two main reasons:
They do not protect against decay and they are prone to bubble, peel, and crack if moisture does get through.
They can also peel or crack during the initial drying of the wood.
While not recommended for the decking, paint may be applied successfully to other deck components, such as railings.
If the job calls for paint, take the following precautions: First, seal the wood with a water-repellant preservative formulated to serve as an undercoat. Make sure all end grain is sealed and primed prior to assembly, when it may become inaccessible.
After two to three weeks, when the surface is dry enough to paint, prime and paint the rest of the wood. A better alternative, if the budget allows, is to buy kiln-dried pressure-treated lumber, which can be sealed, primed, and painted immediately. Kiln-dried pressure-treated lumber is marked KDAT (kiln-dried after treatment).
Woods such as redwood and cedar, which have a high level of extractives, require special stain-blocking primers, or the dark-colored extractives will bleed through and stain the painted surface.
While painters have traditionally preferred oil-based primers on wood species prone to extractive bleeding, new latex primers specially formulated for stain blocking may also do the job.
Deck & Porch Resources, Products, Manufacturers: Where to Buy
See DECK & PORCH PRODUCTS, MANUFACTURERS for our complete/updated listings of manufacturers of porch & deck products, materials, coatings, fasteners, lumber, tools.
Suppliers of Composite Structural Lumber for Decks & Porches
See SYNTHETIC & COMPOSITE DECK SOURCES
Metal Decking Systems
FSI Home Products Division www.lockdry.com. LockDry aluminum decking and railing system
Prefabricated Deck & Porch Railing Systems
Avcon Structural Railing Systems www.avconrail.com Thermoplastic and aluminum railings
CertainTeed www.certainteed.com EverNew PVC railing system
Global Dec-K-Ing Systems www.globaldecking.com DEC-K-ING aluminum railing system
DecKorators Inc. www.deckrail.com Decorative aluminum balusters and connectors for wooden railing systems. Also, tempered-glass balusters
Duradek www.duradek.com Durarail powder-coated aluminum railing system and walk-on vinyl decking membrane.
FSI Home Products Division www.railingworks.com Aluminum railing systems
Fypon www.fypon.com Polyurethane railing systems in classic architectural styles
HB&G www.hbgcolumns.net PermaPorch cellular-polyvinyl chloride (PVC) railings and posts reinforced with wood or aluminum; cellular-PVC or aluminum balusters Kroy Building Products www.kroybp.com Classic Manor PVC-railing system
L.B. Plastics www.lbplastics.com Sheerline PVC-railing systems and PVC- post cladding
Royal Crown Limited www.royalcrownltd.com PVC railing system with steel reinforcing
Shakespeare Composites Structures www.armor-rail.com Armor-Rail structural fiberglass (FRP) railing system with turned balusters
Thermal Industries www.thermalindustries.com Dream Rail PVC-railing system with optional tempered glass balusters
U.S. Plastic Lumber Corp. www.carefreexteriors.com Recycled HDPE railing system
Hidden Deck Fastener Suppliers
BEN Manufacturing www.premier1.net/~ben69 Dec-Klips fit between deck planks with prongs into edges; nailed into top of joists; electrogalvanized steel
Blue Heron Enterprises www.ebty.com Eb-Ty UV-resistant polypropylene biscuit fits into slots in edge of decking, screws into top of joist Grabber Construction Products www.deckmaster.com Deckmaster angle bracket screws to side of joist and up into decking; available in galvanized or stainless steel
Simpson Strong-Tie www.strongtie.com DBTC deck ties screw down to top of joist with prongs into edges of decking planks; triple-zinc-coated or stainless steel by special order; disposable plastic driving tool
Spotnails www.spotnails.com Tebo stainless-steel fasteners fit between decking boards with prongs into edges of decking; installed with mallet and proprietary tool
TY-LAN Enterprises Inc. www.shadoetrack.com Shadoe Track angle bracket nailed along top of joist and screws up into bottom of deck boards; available in galvanized, powder-coated, and stainless steel
USP Lumber Connectors www.uspconnectors.com Deck Clip screws into edge of one decking board and locks to next board; requires toenailing one edge of each board
Screen Systems for Porches
One BetterWay www.screentight.com Screen-Tight vinyl porch screening system screws to exterior of porch framing; snap-on facings conceal screws and screen splines; available in white, beige, gray, and brown
Sources of Deck Finishes, Stains, Preservative Coatings
Amteco www.mfgsealants.com/amteco.htm Sealers, preservatives, and deck stains
Cabot www.cabotstain.com Clear sealers and deck stains
Cuprinol, a division of Sherwin Williams www.cuprinol.com Sealers, preservatives, and deck stains
The Flood Company www.floodco.com Clear sealers and deck stains
Penofin www.penofin.com Lightly tinted oil-based sealers and stains
Olympic, PPG Architectural Finishes www.olympic.com Clear sealers and deck stains
Wolman Wood Care Products, division of Zinsser Co. www.wolman.com Wolman sealers and deck stains and DAP Woodlife clear sealers
Deck & Porch Industry Associations
American Wood Preservers Association (AWPI) www.awpa.com
California Redwood Association www.calredwood.org
Deck Industry Association www.deckindustry.org
Forest Stewardship Council www.fscus.org Information on certified tropical hardwoods
Rainforest Alliance, Smartwood Program www.rainforest-alliance.org Information on certified tropical hardwoods
Southern Forest Products Association www.sfpa.org
Southern Pine Council www.southernpine.com
Western Wood Products Association www.wwpa.org
Western Wood Preservers Institute www.wwpinstitute.org
-- Adapted with permission from Best Practices Guide to Residential Construction.
...
Continue reading at DECK STYLE CHOICES or select a topic from closely-related articles below, or see our complete INDEX to RELATED ARTICLES below.
Or see DECK DESIGN & BUILD - home
Suggested citation for this web page
DECK CONSTRUCTION BEST PRACTICES at InspectApedia.com - online encyclopedia of building & environmental inspection, testing, diagnosis, repair, & problem prevention advice.
Or use the SEARCH BOX found below to Ask a Question or Search InspectApedia
Or see
Or use the SEARCH BOX found below to Ask a Question or Search InspectApedia
...
Frequently Asked Questions (FAQs)
Try the search box below or CONTACT US by email if you cannot find the answer you need at InspectApedia.
Question:
(Mar 27, 2013) Karen said:
How should deck railings connect over a post to prevent water from leaking down onto the post? Also should the top rail be wider than the post to prevent water getting on the top or sides of the post?
Reply:
Karen you might need to send me a photo or sketch as I don't quite get the question. On an outdoor deck, windblown rain will wet a post regardless of how the railings are connected.
However I agree that if the top rail covers the top of the post, OR if the installer caps the post with a decorative cap of wood, copper, other, then that protection of the end grain at the post top will extend the life of the system. An alternative some use is to simply cut the post top on an angle or into a pyramid to better shed water.
Deck guardrailings, unlike handrails along a stair, do not need to be continuous, so can but into the sides of a guardrail post OR can cover over its top.
Question:
(June 26, 2014) Anonymous said:
We're in high, dry country in the Great Basin(5700'). When it rains or with Spring snow melt, Water drips /pours down from the cedar deck above (through the cracks between the boards), onto the screened in cedar front porch and makes it unusable. Is there a special kind of calk that I could seal the upper deck with between the planks so as to avoid this?
Reply:
Anon, you need to construct a water tight roof over the screened in porch
Question: replacing a flat with a gable roof over a deck
(Aug 31, 2014) Don E. Shope said:
I currently have a flat room over a deck. I want to take that roof off and put on a gable roof. The deck is 9'high with 4"X 4" treated post extending on up to support the roof. the new deck would be same height but new roof would be about 20' high at corners. What size post do I need spaced on 8" centers? is There a light steel post that would do it?
Reply:
Don
I think you meant you're replacing a flat roof with a gable roof.
You're talking about a very tall height overall - though I'm not sure if I should be adding 20 ft. roof height at corners to 9 feet of deck height to another unknown height addition to get to the roof ridge. Tall structures are at risk of wobbling, side to side movement, dangerous structural collapse.
Posts in compression are pretty strong even at simple 4x4", but with a 20 foot height I'd have two concerns, even before consulting a structural engineer or architect:
1. side wobble and bend - which can be addressed by suitable cross-bracing
2. appearance - a skinny tall post can look ridiculous.
I use 6x6's for porches and decks for these reasons even when it's "overbuilding" according to my engineer.
More snaus to avoid with structural posts and columns are at
inspectapedia.com/structure/Column-Defects.php
And of course it's the connections that are critical.
You will want to make a drawing showing all dimensions and to have it approved by your local building department. Even if those folks don't require a sign-off by a licensed professional engineer or architect, if you are not building off of stock plans and dimensions whose engineering was already done, in my opinion it would be worth a brief paid consult with a structural engineer, civil engineer, or architect familiar with your type of construction. Ask for details about bracing and connections in particular.
Deck and porch collapses happen often enough to take their construction seriously.
Question:
(Aug 31, 2014) Don E. Shope said:
I currently have a flat room over a deck. I want to take that roof off and put on a gable roof. The deck is 9'high with 4"X 4" treated post extending on up to support the roof. the new deck would be same height but new roof would be about 20' high at corners. What size post do I need spaced on 8" centers? is There a light steel post that would do it?
(Sept 25, 2014) Anonymous said:
We want to build a 12x20 deck with 16' of it screened in with a shed roof. We would like to cantilever it by 2'. Our deck guy says this is fine but I've read all the weight of a shed roof is at the end where it would be cantilevered. Is this really ok to do?
Reply:
Anon
You have the option of including a supporting beam under the roof rafters that is in turn supported by posts that carry the load down to the ground through the deck girder itself - setting those in from the very end of the cantilever to place them over the deck girder.
While it is the design architect or engineer whose sign-off on your deck plans that will assure you of the load bearing adequacy of the structure, keep in mind that the on-site implementation is critical too - such as the proper use and placement of structural connectors and fasteners.
Don: use a concrete filled steel Lally column.
Question:
xApr 24, 2015) justin said:
whats a 9 pitch deck
Reply:
Probably someone is referring to a roof deck sloped at a 9/12 pitch. That is, for 12 inches of horizontal run the surface slopes 9 inches.
Question:
14 June 2015
Can I use perforated pipe to drain around porch posts? - Cindy
Reply:
Cindy:
I'm unclear what you are draining that would run perforated piping around porch posts, but generally the answer is yes.
Keep in mind that you would not excavate nor locate a perforated drain that encouraged water movement in such a way as to undermine the footing of a porch post.
...
Ask a Question or Search InspectApedia
Questions & answers or comments about the best deck and porch construction details
Try the search box just below, or if you prefer, post a question or comment in the Comments box below and we will respond promptly.
Search the InspectApedia website
Technical Reviewers & References
Click to Show or Hide Citations & References
Books & Articles on Building & Environmental Inspection, Testing, Diagnosis, & Repair
Our recommended books about building & mechanical systems design, inspection, problem diagnosis, and repair, and about indoor environment and IAQ testing, diagnosis, and cleanup are at the InspectAPedia Bookstore. Also see our Book Reviews - InspectAPedia.
Decks and Porches, the JLC Guide to, Best Practices for Outdoor Spaces, Steve Bliss (Editor), The Journal of Light Construction, Williston VT, 2010 ISBN 10: 1-928580-42-4, ISBN 13: 978-1-928580-42-3, available from Amazon.com
Manual for the Inspection of Residential Wood Decks and Balconies, by Cheryl Anderson, Frank Woeste (Forest Products Society), & Joseph Loferski, October 2003, ISBN-13: 978-1892529343, $39.00 at Amazon.com or at the InspectAPediaBookstore
...
Publisher InspectApedia.com - Daniel Friedman