Cold pour joints in concrete foundations & floors
How to identify & if necessary repair cold pour joints & leaks
CONCRETE COLD POUR JOINTS - CONTENTS: definition of cold pour joints in concrete walls & floors. How to identify or recognize apparent "cracks" that are actually cold pour joints - where sequential pours of concrete come into contact with one another. Leaks at cold pour joints in concrete. Cold pour joint leak repair suggestions. Vertical marks or joints in concrete foundations that are not cold pour joints - concrete form mark recognition.
POST a QUESTION or READ FAQs about concrete cold pour joints, definition, identification, causes, troubleshooting, repair.
InspectAPedia tolerates no conflicts of interest. We have no relationship with advertisers, products, or services discussed at this website.
Concrete foundation cold pour joints:
This article describes the appearance, cause, & problems that may occur at cold pour joints in concrete foundation walls and occasionally floors or ceilings. A cold pour joint, where successive pours or placements of concrete abut during building construction, are normal but on occasion are leak points that may need sealing or repair.
Cold pour joints in concrete, defined here, are often mistaken for structural damage, cracking, or movement in buildings.
Green links show where you are. © Copyright 2017 InspectApedia.com, All Rights Reserved.
How to Identify Cold Pour Joints in Concrete Foundation Walls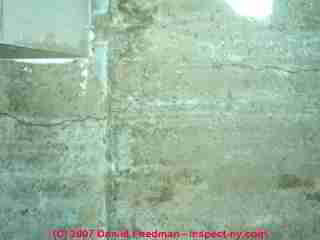 Cold Pour Joints in concrete foundations
which leave visible lines in the concrete foundation wall are not usually a structural problem but may in some cases form a dry joint which permits water leakage through the foundation wall.
Cold pour joints occur because of the time delay between subsequent "pours" into the foundation forms.
An astute inspector, by noting the position, pattern, and slope of the cold pour joint, can probably determine the position from which the concrete was poured into the forms (the high end of the sloping lines) and the extent of delay between pours (evidence of water leaks through the joints indicates that enough time passed for the lower pour to solidify).
Water leaks into buildings at cold pour foundation joints are discussed at Basement Foundation Leak Points - Leaks at Cold Pour Joints.
Our photo (below) provides a closeup of a distinct cold pour joint in a concrete foundation wall of a 1980's home in New York.
Reader Wade Mariage has pointed out that cold pour joints may also occur due to the accumulation of form-release oil on top of a pour into oiled aluminum concrete forms.
As Mr. Wade noted and we agree, even when the concrete crew "chuck" the "mud" (concrete) between pours to improve bonding of the subsequent pour and to reduce pour marks, these marks still often appear in the cured concrete.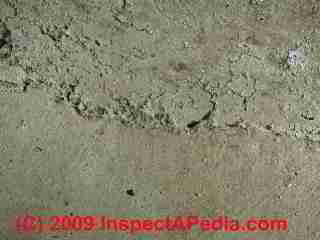 If the aluminum concrete forms are heavily oiled the cold pour mark may be still more visible.
Mariage asserts and we agree that normally a cold pour line is not a structural concern. Exceptions are wall leaks or failure of subsequent pours to bond well if the concrete actually sets between pours - unusual events in normal concrete construction.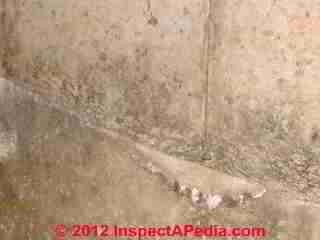 These close-up photographs of cold pour joints in concrete foundation walls will help in identification of this phenomenon. Notice that there is an apparent boundary that is almost always sloped to some degree and that there are significant texture differences on either side of the diagonal or cold pour joint.
The two concrete cold pour joints shown at left and immediately above are not leaking significantly, though in the lower photo (at left) we see a bit of white stains that are probably mineral effloresence.
Visual clues of cold pour joints give a history of construction sequence and timing
In the photograph above one can just make out the lines of boards used to construct the forms used to pour this foundation wall. The visual clues combine to suggest how this foundation wall was constructed and what happened later.
The use of boards and somewhat rough workmanship suggest a "do it yourself" project, perhaps by a small builder or the homeowners themselves. Small contractors or homeowners might rent a cement mixer and mix small batches of concrete, perhaps not even a cubic yard at a time.
Because a fair amount of manual labor would be involved in mixing each small batch of concrete, it's possible that so much time elapsed between concrete pours that the lower pours had cured and hardened so much that subsequent concrete pours did not bond with their predecessors.
This (speculative) history might explain why we see horizontal cracks in this concrete wall in a pattern which tracks, almost exactly, the cold pour joint lines in the wall. If the builder also skimped on reinforcing steel or wire in the wall that might be another factor in the development of these cracks in response to earth or frost pressure from outside after the wall was cured.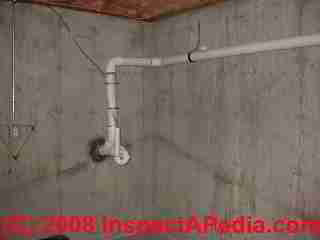 Visual clues of cold pour joints in concrete indicate where the concrete truck or concrete source was located and how full was it during pouring of the foundation
The cold pour joints in this concrete foundation wall show us that the concrete truck made the first pour from the corner of this foundation wall.
Concrete spread roughly evenly away (and sloping down) from each side of the foundation corner as the concrete was poured into the forms. The truck was probably nearly empty when it started this pour as we don't see much height of concrete below the cold pour joint.
A full concrete truck probably made the second pour as we see no other cold pour joints up to the top of the foundation wall.
In the photos above and below you will also notice vertical "marks" in the concrete wall that we discuss below - these are the joints of abutting concrete forms. A nice clue to understanding the vertical joint marks is the concurrent present of concrete form tie marks.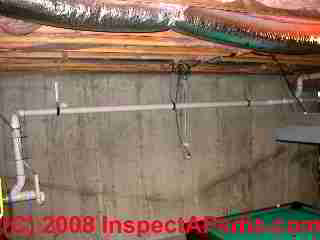 This interesting cold pour joint (at left) tells us that this wall was poured from its two opposite corners, leaving a vee-shaped cold pour joint in the center of the wall.
Although we can see the dark line between the two concrete pours that formed this wall section, as there was no evidence of an actual crack and no water leakage in the wall, this cold pour joint, like the one above, is not a structural concern - it's cosmetic.
Sometimes we can learn something subtle about how a home was constructed and how organized was the builder or mason contractor by observing these clues.
Multiple Diagonal Cold Pour Joints Close Together = many small pours
The following multiple diagonal "cracks" and stains in a poured concrete foundation wall look to us like cold pour joints but in an unusual pattern of closeness and opposing diagonals that might have indicated amateur workmanship or some odd site problem during construction.
And nearly all of the diagonal cracks or joints are leaking along with leaks at some of the form ties and at the floor/wall juncture.

The cold pour joint photos shown above are also discussed in detail in our Q&A section
of DIAGONAL FOUNDATION CRACKS where the reader was concerned that the patterns shown below were evidence of foundation cracking, damage, or movement: they were not.
Vertical "Joints" & Marks in Poured Concrete Walls are not cold pour joints but other cold pour joints may still be present
In my photo at below left we see stains that look like a nearly-vertical cold pour joint in a concrete foundation wall - a pattern caused by a history of water leakage through the wall. This leak, which was not a cold pour joint but looked like one, is discussed at BASEMENT LEAKS, INSPECT FOR .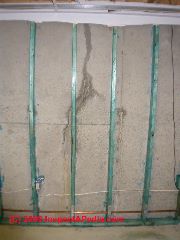 In the photo below (when I was a much younger fellow) I was pointing to the origin of a water leak stain high on a foundation wall and a second leak lower into the wall (my left hand) where water was penetrating at form ties. A nearly-perfectly-vertical line or mark that may appear on some poured concrete walls is more likely to be a mark where the sides of two concrete forms abutted and is not a cold pour joint.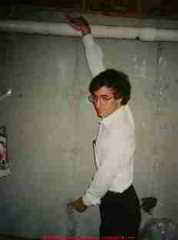 The "vertical mark" in poured concrete walls that is clearly the abutment of concrete forms is shown in the photograph below. But this wall also shows sloping low-diagonal cold pour joints.
[Click to enlarge any image]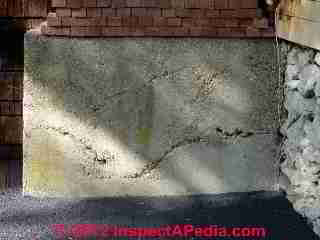 Concrete cold pour joints in a hand-mixed hand-poured concrete wall
Our photo above of a portion of the foundation of a home built by hand in the 1940's (built by Mr. Prole, Poughkeepsie, NY) provides unmistakable evidence of a hand-mixed, hand-poured concrete foundation. You will observe considerable variation in the texture of the finished wall as well as multiple cold pour joints.
Photo courtesy Paul & Eric Galow.
How can we distinguish a diagonal structural crack from a cold pour joint in a poured concrete foundation wall?
Reader Question: I am hoping you can help me out here, the home inspector was not very helpful to me for this one. I have attached an image of the foundation cracks in the basement, I am wondering if you can help me identify if there is any structural problems. The outside of the wall is backfill. Thank you so much for your help! - C.C. 9/5/12

Reply: Unfortunately your photos were quite blurry and small, making any detailed examination impossible. I cannot see if you are actually showing photos of actual foundation cracking (such as due to settlement or movement) or if in fact we are looking at foundation wall leak stains along cold pour joints.

In one of your photos the apparent "cracks" look like a Vee shape that would be unusual (not impossible) in foundation settlement but would be common in a cold pour joint. Were there similar marks on other foundation walls? Perhaps cold pour joints that were not leaky so were less obvious? If on the other hand you saw actual separation or broken concrete - then it's a crack not a cold pour joint.
I also see what looks like leak stains along some of these cracks - or joints. Water leakage through a poured concrete foundation wall can indeed occur at all types of cracks and also occurs at some cold pour joints as well as occasionally at form ties.

I am also disappointed in your home inspector - s/he was paid a fee to inspect the home and owes you a useful explanation of what was observed. If the inspector doesn't know - that's fine, and honest - but then unless the inspector is confident that these cracks and stains are meaningless (an opinion I'd doubt as there is evidence of leakage), I'd have expected the inspector to suggest that more expert inspection and diagnosis were appropriate.
Reader Follow up:
Thank you SO much for your detailed response. They are actual cracks, and I believe there are some white residue left on the walls (possibly efflorescence ?) Also, the left side of the wall seems like it's a little bent outwards and the right side is bent inwards (think concave and convex). Is that signs of bulging?

Right now I am asking the inspector to give me full resolution photos of that particular area of the house.  (he declined to give me all full size photos for the entire inspection).

Also, because this is sold conditionally to me, I can walk away with no loss.  The seller of this house has gotten an injection crack fix quotation ($2500) as well as a structural engineer to report on the structural stability of the house.

I guess at the end of the day, the big question is whether this will be:
1.  good structurally?  (ie the house won't collapse on me)
2.  if the cracks are fixed by injection, will it indeed waterproof the basement?

Thanks again for your help here.  I am grateful for the information on your website.  - C.C.
Reply:
OK so when we know there are cracks in a foundation wall we need to know:
cause
impact on structure
history & probability of continuing cracking, damage, movement
proper repair steps
FOUNDATION CRACK DICTIONARY discusses evaluating foundation damage by examining concrete crack size, shape, pattern, and location. If inspection confirms that the foundation wall is actually leaning or bulging, particularly confirming that it was not built in that position, then movement has occurred and an accurate diagnosis is important in deciding what repair work, if any, is needed.

Crack injection into a concrete foundation wall principally addresses water or air leaks, not structural issues in residential applications. (Indeed there are some cases in which epoxies are used also for structural repairs). The risk is that you end up having to do a foundation or footing repair. Far far more than just the cost to seal up cracks.

It's not that a sudden calamitous collapse is imminent - but rather that there is an ongoing settlement problem (bad footings, bad site work, built on fill, something else) that ultimately means foundation repair.

Take a look at the crack evaluation articles at our site if you haven't already done so, keep me posted, send along sharper photos, and let me know other diagnostic data (site properties, cracks present or absent on other walls, etc)
Sharp photos of these foundation cracks and patterns would be helpful and would permit some comment, but they are never a substitute for an onsite inspection by an expert. In my experience, the onsite expert almost always finds important additional information that simply was not apparent to a homeowner nor to others.
Reader Follow-up - Nine Diagnostic Photos of Diagonal Foundation "Cracks" that may be cold pour joints
Here are some more pictures.  Hopefully you can offer your experience and shed some light on the situation
Reply: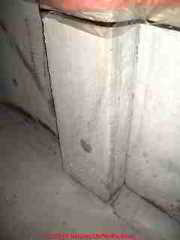 In this photo I notice what a diagonal or sloped concrete "patch" along the joint between the bottom of the foundation wall and the floor - suggesting that someone has been trying to deal with a problem of foundation leakage and basement water entry.
It would be useful to marry this observation with what your home inspector noticed outside the building regarding the condition of the roof drainage system, gutters and downspouts, as well as any surface runoff or grading issues around the home.
Zooming in on the image [Click this or any image to see an enlarged version] these begin to look more like leaky cold pour joints but we can't yet reconcile that opinion with your suspected observation of foundation lean or bulge.
We have some experts among InspectAPedia readers, including some structural engineers familiar with foundation problems - and invite further comments.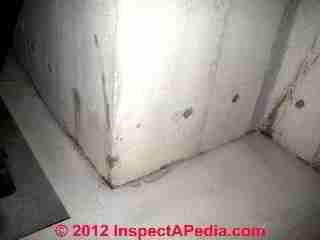 In the photos just above and then below (images were lab-enhanced from as-received) water leak stains are plain at form ties (photo below left, left side), at the floor/wall juncture, and at the diagonal cracks.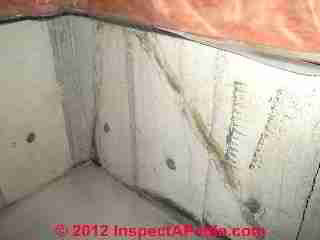 The photos below offer closer views that look to me like cold pour joints that were leaking.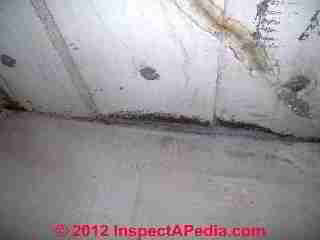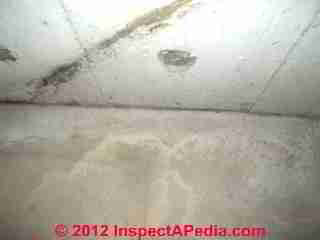 Your last two photos (below) illustrate an unusual number of unusually close together diagonal foundation crack patterns, nearly all of which have also been leaking.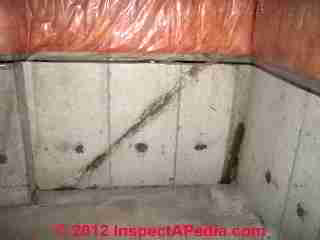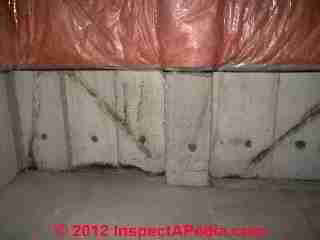 Even where I find cold pour joints in foundation walls, the only time I see so many such marks so close together is in a poured concrete foundation that was mixed by hand or set in place using many small-quantity concrete pours with enough time delay between each successive pour that there was poor bonding between them.
Certainly the diagonals would appear to "contradict" one another in their indications of directions of foundation movement or settlement- a further argument for cold pour joints and either some very unusual site conditions during construction or amateur workmanship.
You didn't say where this home is located nor if it's in an earthquake zone. But while we see other close-set structural cracks in areas of earthquake damage, it would be unusual for a severely earthquake-damaged building to show vertical and diagonal foundation cracks with absolutely no lateral movement or dislocation.
I would like to examine some really sharp close-up photos of some of those crack areas in order to look for classic cold pour joint details in comparison with cracks due to shrinkage, loading, structural movement, but I SPECULATE from the crack pattern, location, even the contradicting directions of cracks in nearby wall sections, that these are leaky cold pour joints.
These walls look as if an amateur concrete mason built the foundation out of a large number of small pours.

See if you can find out the age of the house, who built it, and who did the foundation work, and if neighboring buildings by the same contractor built at the same time have similar foundation leaks and damage. .

We've either got cold pour joints or a unique heave/settlement/absence of reinforcement problem that is unusual.

I'd be more confident about my guess if I could look closely at the concrete around those cracks - you can do that. First take a look at some of my cold pour joint photos so you know what you are looking for.  IF the concrete is smooth, uniform, on both sides of the crack, then it's a break or crack; if the concrete is rough, funny looking along the area of cracking, you may be able to spot where two successive pours of concrete met one another after enough time had elapsed between the first and second pour such that there was little mixing, blending, adhesion between the two pours.
If they are cold pour joints with no other movement nor lateral dislocation, then this is not a structural nor settlement hazard it's a leak problem
If there is weird foundation settlement or earthquake damage, then the foundation is a mess and needs expert diagnosis and assessment.
Tell me the age and location of the home and what else you can about its history, including the condition of roof and site drainage, frost exposure?
Tell me if you can find out by asking neighbors if there are similar problems on other homes by the same builder.
Reader Follow-Up:
The house is only 8 years old. The grading outside is nothing too unusual. The roof has proper drainage as well. I went to a friends house who is in the same row and he doesn't have that problem. do you think a crack fix from outside and a vapor barrier outside of the foundation will prevent leakage for good? When i told people about my worries, That solution was what I have been told by multiple people. -C.C.
Reply:
C.C., before choosing a "repair" we must be confident that we understand the problem - otherwise it's likely to be money wasted.

Fixing leaks from outside the building is usually the best approach but if the problem is not just a roof gutter/downspout or surface runoff problem, that is, if the proposal involves excavating the foundation to install a waterproofing system or new footing drains, that approach will also the most expensive; that's why we prefer to start fixing foundation leakage by finding and fixing sources of outside leaks. Start by looking at the roof drainage system and surface runoff/grading.
At WATER ENTRY in BUILDINGS we provide a series of articles detailing approaches to basement waterproofing, starting with the simple, inexpensive basics but also including the use of excavation, geotextiles, etc.
Research citations on cold pour joints, effects of cold pour joints on concrete durability & cold pour joint sealing procedures for concrete
Baragary, Chance, and Hani A. Salim. "Effects of cold joints in blast resistant structural concrete [abstract]." In 2007 Undergraduate Research and Creative Achievements Forum (MU). University of Missouri--Columbia. Office of Undergraduate Research, 2007.
Biel, Timothy D., and Hosin Lee. "Performance study of portland cement concrete pavement joint sealants." Journal of transportation engineering 123, no. 5 (1997): 398-404.
Bussell, M. N., and R. Cather. Design and construction of joints in concrete structures. Vol. 146. Thomas Telford, 1995.
Collepardi, M., R. Khurana, and M. Valente. "Construction of a dry dock using tremie superplasticized concrete." ACI Special Publication 119 (1989).
Den Entwurf, Neue Deutsche Richtlinie Für, Zur Rückhaltung Von Wassergefährdenden Von Betonbauten, Nouvelle Directive Allemande Sur La Conception, R. E. T. E. N. T. I. O. N. De Produits, And Dangereux Pour L'eau. "New German Guideline For Design Of Concrete Structures For The Containment Of Hazardous Materials." Otto-graf-journal 17 (2006): 9.
Erickson, Scott. "Pervious concrete durability testing." In Proceedings of the 2006 Concrete Technology Forum. 2006.
Fowler, T. J. "Lessons Learned from Refractory Concrete Failures." ACI Special Publication 57 (1978).
McCurrich, L. H., and N. R. Cook. "Airfield and road pavement use in the UK of high performance coal tar pitch PVC joint sealants, and a comparison of UK and ASTM standards." ACI Special Publication 70 (1981).
Odum-Ewuakye, Brigitte, and Nii Attoh-Okine. "Sealing system selection for jointed concrete pavements–a review." Construction and Building Materials 20, no. 8 (2006): 591-602.
Ribeiro, AC Bettencourt, J. Díez-Cascón, and A. F. Gonçalves. "Roller compacted concrete-tensile strength of horizontal joints." Materials and Structures 34, no. 7 (2001): 413-417.
Sarsam, K. F., and M. E. Phipps. "The shear design of in situ reinforced concrete beam–column joints subjected to monotonic loading." Magazine of Concrete Research 37, no. 130 (1985): 16-28.
Soliman, Haithem, Ahmed Shalaby, and Leonnie Kavanagh. "Performance evaluation of joint and crack sealants in cold climates using DSR and BBR tests." Journal of Materials in Civil Engineering 20, no. 7 (2008): 470-477.
Yan, Shangyao, and Weishen Lai. "An optimal scheduling model for ready mixed concrete supply with overtime considerations." Automation in Construction 16, no. 6 (2007): 734-744.
Yildirim, Yetkin, Yusuf Yurttas, and Ilker Boz. "Service Life of Crack Sealants." In First International Conference on Pavement Preservation. 2010.
...
Continue reading at CONTROL JOINT CRACKS in CONCRETE or select a topic from closely-related articles below, or see our complete INDEX to RELATED ARTICLES below.
Or see DECK POST MISTAKES for some dodgy deck post and piers of poured concrete
Suggested citation for this web page
CONCRETE COLD POUR JOINTS at InspectApedia.com - online encyclopedia of building & environmental inspection, testing, diagnosis, repair, & problem prevention advice.
Or use the SEARCH BOX found below to Ask a Question or Search InspectApedia
...
Frequently Asked Questions (FAQs)
Try the search box below or CONTACT US by email if you cannot find the answer you need at InspectApedia.
...
Ask a Question or Search InspectApedia
Use the "Click to Show or Hide FAQs" link just above to see recently-posted questions, comments, replies, try the search box just below, or if you prefer, post a question or comment in the Comments box below and we will respond promptly.
Search the InspectApedia website
Technical Reviewers & References
Click to Show or Hide Citations & References
Eric Galow, Galow Homes, Lagrangeville, NY. Mr. Galow can be reached by email: ericgalow@gmail.com or by telephone: 914-474-6613. Mr. Galow specializes in residential construction including both new homes and repairs, renovations, and additions.
Paul Galow - technical consultant on networking, LAN design, applications support. Galow Consulting Services, 914-204-1749, email: paulgalow@galowconsulting.com
"Concrete Slab Finishes and the Use of the F-number System", Matthew Stuart, P.E., S.E., F.ASCE, online course at www.pdhonline.org/courses/s130/s130.htm
Mark Cramer Inspection Services Mark Cramer, Tampa Florida, Mr. Cramer is a past president of ASHI, the American Society of Home Inspectors and is a Florida home inspector and home inspection educator. Mr. Cramer serves on the ASHI Home Inspection Standards. Contact Mark Cramer at: 727-595-4211 mark@BestTampaInspector.com
John Cranor is an ASHI member and a home inspector (The House Whisperer) is located in Glen Allen, VA 23060. He is also a contributor to InspectApedia.com in several technical areas such as plumbing and appliances (dryer vents). Contact Mr. Cranor at 804-747-7747 or by Email: johncranor@verizon.net
Cordon, William A. "Freezing and thawing of concrete-mechanisms and control." (1966).
A Symposium. "Entrained Air in Concrete." In ACI Journal Proceedings, vol. 42, no. 6. ACI, 1946.
Gokce, A., S. Nagataki, T. Saeki, and M. Hisada. "Freezing and thawing resistance of air-entrained concrete incorporating recycled coarse aggregate: The role of air content in demolished concrete." Cement and Concrete Research 34, no. 5 (2004): 799-806.
Pigeon, Michel, and Richard Pleau. Durability of concrete in cold climates. CRC Press, 2010.
Powers, Treval Clifford. "The properties of fresh concrete." (1969).
Powers, Treval Clifford. "Void space as a basis for producing air-entrained concrete." In ACI Journal proceedings, vol. 50, no. 5. ACI, 1954.
Powers, Treval Clifford, and R. A. Helmuth. "Theory of volume changes in hardened portland-cement paste during freezing." In Highway research board proceedings, vol. 32. 1953.
Powers, Treval Clifford, and T. F. Willis. "The air requirement of frost resistant concrete." In Highway Research Board Proceedings, vol. 29. 1950.
Verbeck, George J., and Paul Klieger. "Studies of'salt'scaling of concrete." Highway Research Board Bulletin 150 (1957).
Whiting, David, and David Stark. "Control of air content in concrete." NCHRP report 258 (1983).
Wright, Peter Joseph Frederick. "ENTRAINED AIR IN CONCRETE." In ICE Proceedings, vol. 2, no. 3, pp. 337-358. Thomas Telford, 1953.
"Concrete Slab Finishes and the Use of the F-number System", Matthew Stuart, P.E., S.E., F.ASCE, online course at www.pdhonline.org/courses/s130/s130.htm
Sal Alfano - Editor, Journal of Light Construction*
Thanks to Alan Carson, Carson Dunlop, Associates, Toronto, for technical critique and some of the foundation inspection photographs cited in these articles
Terry Carson - ASHI
Mark Cramer - ASHI
JD Grewell, ASHI
Duncan Hannay - ASHI, P.E. *
Bob Klewitz, M.S.C.E., P.E. - ASHI
Ken Kruger, P.E., AIA - ASHI
Aaron Kuertz aaronk@appliedtechnologies.com, with Applied Technologies regarding polyurethane foam sealant as other foundation crack repair product - 05/30/2007
Bob Peterson, Magnum Piering - 800-771-7437 - FL*
Arlene Puentes, ASHI, October Home Inspections - (845) 216-7833 - Kingston NY
Greg Robi, Magnum Piering - 800-822-7437 - National*
Dave Rathbun, P.E. - Geotech Engineering - 904-622-2424 FL*
Ed Seaquist, P.E., SIE Assoc. - 301-269-1450 - National
Dave Wickersheimer, P.E. R.A. - IL, professor, school of structures division, UIUC - University of Illinois at Urbana-Champaign School of Architecture. Professor Wickersheimer specializes in structural failure investigation and repair for wood and masonry construction. * Mr. Wickersheimer's engineering consulting service can be contacted at HDC Wickersheimer Engineering Services. (3/2010)
*These reviewers have not returned comment 6/95
Best Practices Guide to Residential Construction, by Steven Bliss. John Wiley & Sons, 2006. ISBN-10: 0471648361, ISBN-13: 978-0471648369, Hardcover: 320 pages, available from Amazon.com and also Wiley.com. See our book review of this publication.
Decks and Porches, the JLC Guide to, Best Practices for Outdoor Spaces, Steve Bliss (Editor), The Journal of Light Construction, Williston VT, 2010 ISBN 10: 1-928580-42-4, ISBN 13: 978-1-928580-42-3, available from Amazon.com
The Journal of Light Construction has generously given reprint permission to InspectAPedia.com for certain articles found at this website. All rights and contents to those materials are ©Journal of Light Construction and may not be reproduced in any form.
Appliances and Home Electronics, - energy savings, U.S. Department of Energy
Avongard foundation crack progress chart for structural crack monitoring
Building Pathology, Deterioration, Diagnostics, and Intervention, Samuel Y. Harris, P.E., AIA, Esq., ISBN 0-471-33172-4, John Wiley & Sons, 2001 [General building science-DF] ISBN-10: 0471331724 ISBN-13: 978-0471331728
Building Pathology: Principles and Practice, David Watt, Wiley-Blackwell; 2 edition (March 7, 2008) ISBN-10: 1405161035 ISBN-13: 978-1405161039
Construction Drawings and Details, Rosemary Kilmer
Diagnosing & Repairing House Structure Problems, Edgar O. Seaquist, McGraw Hill, 1980 ISBN 0-07-056013-7 (obsolete, incomplete, missing most diagnosis steps, but very good reading; out of print but used copies are available at Amazon.com, and reprints are available from some inspection tool suppliers). Ed Seaquist was among the first speakers invited to a series of educational conferences organized by D Friedman for ASHI, the American Society of Home Inspectors, where the topic of inspecting the in-service condition of building structures was first addressed.
Design of Wood Structures - ASD, Donald E. Breyer, Kenneth Fridley, Kelly Cobeen, David Pollock, McGraw Hill, 2003, ISBN-10: 0071379320, ISBN-13: 978-0071379328
This book is an update of a long-established text dating from at least 1988 (DJF); Quoting:
This book is gives a good grasp of seismic design for wood structures. Many of the examples especially near the end are good practice for the California PE Special Seismic Exam design questions. It gives a good grasp of how seismic forces move through a building and how to calculate those forces at various locations. THE CLASSIC TEXT ON WOOD DESIGN UPDATED TO INCLUDE THE LATEST CODES AND DATA. Reflects the most recent provisions of the 2003 International Building Code and 2001 National Design Specification for Wood Construction. Continuing the sterling standard set by earlier editions, this indispensable reference clearly explains the best wood design techniques for the safe handling of gravity and lateral loads. Carefully revised and updated to include the new 2003 International Building Code, ASCE 7-02 Minimum Design Loads for Buildings and Other Structures, the 2001 National Design Specification for Wood Construction, and the most recent Allowable Stress Design.
Building Failures, Diagnosis & Avoidance, 2d Ed., W.H. Ransom, E.& F. Spon, New York, 1987 ISBN 0-419-14270-3
Domestic Building Surveys, Andrew R. Williams, Kindle book, Amazon.com
Defects and Deterioration in Buildings: A Practical Guide to the Science and Technology of Material Failure, Barry Richardson, Spon Press; 2d Ed (2001), ISBN-10: 041925210X, ISBN-13: 978-0419252108. Quoting:
A professional reference designed to assist surveyors, engineers, architects and contractors in diagnosing existing problems and avoiding them in new buildings. Fully revised and updated, this edition, in new clearer format, covers developments in building defects, and problems such as sick building syndrome. Well liked for its mixture of theory and practice the new edition will complement Hinks and Cook's student textbook on defects at the practitioner level.
Guide to Domestic Building Surveys, Jack Bower, Butterworth Architecture, London, 1988, ISBN 0-408-50000 X
"Avoiding Foundation Failures," Robert Marshall, Journal of Light Construction, July, 1996 (Highly recommend this article-DF)
"A Foundation for Unstable Soils," Harris Hyman, P.E., Journal of Light Construction, May 1995
"Backfilling Basics," Buck Bartley, Journal of Light Construction, October 1994
"Inspecting Block Foundations," Donald V. Cohen, P.E., ASHI Reporter, December 1998. This article in turn cites the Fine Homebuilding article noted below.
"When Block Foundations go Bad," Fine Homebuilding, June/July 1998
Quality Standards for the Professional Remodeler, N.U. Ahmed, # Home Builder Pr (February 1991), ISBN-10: 0867183594, ISBN-13: 978-0867183597
Books & Articles on Building & Environmental Inspection, Testing, Diagnosis, & Repair
Our recommended books about building & mechanical systems design, inspection, problem diagnosis, and repair, and about indoor environment and IAQ testing, diagnosis, and cleanup are at the InspectAPedia Bookstore. Also see our Book Reviews - InspectAPedia.
...