Flood Damage Repairs for Brick Veneer Walls

Masonry veneer wall flood damage repair & prevention
InspectAPedia tolerates no conflicts of interest. We have no relationship with advertisers, products, or services discussed at this website.
Repair options for homes subject to flood damage through brick veneer walls:
Area flooding sends water and mud through weep openings and into veneer wall cavities.
Here we describe three repair options for flood-damaged veneer walls built over hollow framed-wall cavities. Option 1: rebuild the first floor walls with solid masonry, Option 2: retain the exterior veneer wall but repair from the inside to create a Sealed Flood-Resistant Veneer Wall, and Option 3: repair from the inside using styrofoam insulation but making no effort to build a flood resistant veneer wall.
We also discuss options for repairing a veneer wall and modifying its weep openings or drainage when interior demolition involves only the lower portion of existing walls.
This article series discusses brick or stone veneer wall construction and flood damage repairs. Page top sketch courtesy of Carson Dunlop Associates, a Toronto home inspection, education, and report-writing tool company.
Green links show where you are. © Copyright 2017 InspectApedia.com, All Rights Reserved.
Brick veneer rebuild suggestions for homes located in flood-prone areas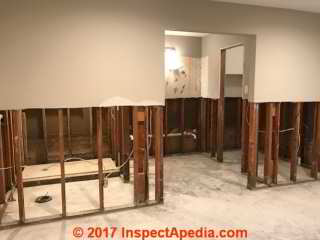 Shown here in our photograph contributed by a reader is the interior of a Texas home flooded during Hurricane Harvey in 2017, after initial demolition has been completed: drywall was removed from the floor up four feet, and the insulating board sheathing on the exterior wall was cut away from the inside for a height of about two feet above the wall sill plate.
[Click to enlarge any image]
This article is a continuation of BRICK VENEER WALL LEAKS in FLOOD PRONE AREAS.
That article discusses the first priorities of action if your brick-veneer or brick wall home has been damaged by flooding: things to do for safety and to minimize mold contamination.
There we also describe steps to take if you anticipate flooding and want to try to reduce water entry through the exterior walls.
Here we continue our brick veneer wall design, drainage, and waterproofing topic with a discussion of approaches to re-build, repair, or modify a brick or brick veneer wall building to help resist water damage from the next flood.
Carson Dunlop Associate's [website link] sketch at page top illustrates typical brick veneer wall construction.
Speaking with an architect who is familiar with brick veneer wall troubles when exposed to flooding in homes the professional had two suggestions to reduce flood damage to brick veneer wall homes:
Flood Protection Steps Before Floodwaters Arrive
Sandbagging against weep holes around base of veneer wall:

When you anticipate floodwaters around the home, dense packing of sandbags around the wall bottom can slow water penetration into the veneer wall cavity and should also reduce the volume of clogging mud that will enter those openings from flooding
Move valuable items to higher floors or higher areas in the home.
Listen to and follow emergency advice broadcast in your area.



Watch out

: Do not stay in homes likely to be exposed to dangerous hurricanes, floods, earthquakes, etc. Remember to take medications and key documents when you are evacuating to a shelter.
Question: no one tells you how difficult to remedy the problem of wet and moldy exterior sheathing
2017/09/25 Michelle said:
I flooded here in Texas in the Harvey storm and when we pulled off the first 2 ft. of drywall and insulation we found a lot of mold on the black moisture barrier paper and also on the exterior wall sheathing approx. 3"-24" the flood insurance adjuster told us to remove 4ft of drywall and also the exterior sheathing as it was wet and moldy.
Which we did and now have studs and exposed brick from 2'-4' (which also has holes in the mortar at various spots etc). The house was built in the early to mid 70's.
The problem is that no one seems to be sure how to fix the problem (everyone has an opinion) and the flood adjuster said there is a product that their report will recommend (we do not yet have the report) but of course no need to go from the brick side.
A FEMA rep. stated that the proper way to replace that is to remove the brick section by section to insert the Tyvek and sheathing board, but insurance wont want to pay for that.
What is the best way to fix this to avoid problems down the road and do I get the contractor to battle with the insurance company or is there any type of product that can be on the bricks to seal out the water? Sorry if I sound ignorant on this but I am beside myself with worry and know very little about construction and how to argue the points or if it is necessary.
I did as I was advised but no one tells you how difficult to remedy the problem. Any help appreciated.
This question was originally posted at FIBERBOARD SHEATHING MOLD CONTAMINATION

Reply:
Michelle
Choosing the best repair method for flood-damaged veneer walls where an insulating board sheathing was used is difficult but there may be some approaches that are much better than the FEMA advice you cited.
Please see BRICK VENEER WALL REPAIRS in FLOOD PRONE AREAS [this article on this web page] as the best information we have to date. Take a look at the options for repairing brick veneer walls and post further questions and comments there or contact me by Email.
I would NOT follow FEMA's first response. That advice that you report is not consistent with FEMA flood damage repair and prevention documents that we cite in this article, and is in my opinion given by someone for whom money is no object - or perhaps thinking that she or he is spending "other people's money". It's advice that is safe for the advice-giver but not necessarily very nice for the recipient.
Equally troublesome is that the advice you describe offers no improved resistance to water damage from the next flood.
The argument that Texas saw a "once in a thousand years" hurricane is not one that I would trust considering the effects of global warming on the ferocity of hurricanes, particularly hurricanes developing over the Gulf of Mexico.
While it's not itself a scholarly article, Jason Samenow, writing in the Washington Post on 22 March 2017 reported well ahead of the recent and severe hurricanes striking both Texas and Florida:
The warm water temperatures in the Gulf of Mexico, in particular, could mean that thunderstorms that erupt over the southern and central United States are more severe this spring. Berger explained in his Ars Technica piece:

"While the relationship is far from absolute, scientists have found that when the Gulf of Mexico tends to be warmer than normal, there is more energy for severe storms and tornadoes to form than when the Gulf is cooler." - The Washington Post, 22 March 2017, www.washingtonpost.com/news/capital-weather-gang/wp/2017/03/22/gulf-of-mexico-waters-are-freakishly-warm-which-could-mean-explosive-springtime-storms/?utm_term=.77583ff7e08e
If you can, use the page top or bottom CONTACT link to send me some sharp photos of the exterior of the home and details of its veneer wall, and the interior of the home and the exposed veneer wall and I can offer more specific advice.
Also, the advice to remove four feet of material might be incorrect and arbitrary, depending on the depth to which your home was flooded.
You need to remove material that was soaked and /or is mold contaminated. Typically we remove material until we have at least 12" of clear margin - mold free material remaining. Do NOT forget to inspect the cavity side of the drywall for mold.
Re-building Options for Brick & Brick Veneer Wall Buildings After Flooding
Option #1: Re-build the first floor with solid masonry walls
If you are re-building a flood-damaged home in a flood prone area, you should consider replacing the lower floor walls with a high-lime-mortar based solid masonry structure that can withstand flooding with much less damage.
Other sources suggest alternative strategies that we consider less reliable but probably less costly than a re-build of the structural wall.
"Wet floodproofing" by using flood vents in basement or crawl space walls can reduce structural damage from the pressures of outside floodwaters but it won't keep water out of the home.



Watch out

: The pressure of flood water against a building foundation wall has been shown to cause foundation collapse of block, stone or brick foundations, leading to the use of flood vents

Many Texas, Florida (and other) homes are built as slab on grade, but if your home is built on a crawl space or basement flood vents may prevent foundation damage.

See FLOOD VENTS & FLOOD PORTS

Also see FOUNDATION DAMAGED, by FLOODING



Watch out

: some sources suggest replacing flood-risk-exposed fiberglass batt floor or wall insulation with washable closed-cell foam. (FLASH ret. 2016).

But water entering such a wall cavity will not leave quickly enough to prevent a mold problem in the wall. In a flooded wall cavity, mold will grow on the cavity side of drywall and on wood framing and sheathing even if the insulation itself were mold-resistant.

Watch out: even a home built on slab can experience serious foundation damage and slab damage from flooding as hydrostatic or "buoyancy force" presses the floor slab upwards from below. (FEMA Dry Floodproofing 5D)

... brick-veneer and concrete block walls can withstand only approximately 3 ft of static water head without damage. If a building or home is loaded to excessive depths, it can fail instantaneously and possibly result in injury or death to occupants. (Pace 1988)
Add a water-proof exterior veneer to the home: if flood waters are not likely to rise high enough against exterior walls to risk structural damage from water pressure alone (less than 24" above ground level), you may consider adding a waterproof exterior veneer to the home's walls, sealing all openings including windows and doors, to prevent (much) water entry.

The veneer, according to some sources can be a brick veneer backed by a waterproof membrane, though I'd worry that you may end up back at the situation that caused original masons to add weep holes to the original brick veneer in the first place: water behind a brick veneer may damage the veneer even if it does not enter the building interior.

And adding a brick or any veneer is going to probably require building-out the trim around all windows and doors lest your building look as if it has sickly sunken eyes and doors. If you are considering this option you might want to consider option 2 above and compare cost estimates.

FEMA, "PROTECTING YOUR PROPERTY FROM FLOODING", [PDF] FEMA, retrieved 2016/03/28, original source: FEMA http://www.fema.gov or call 1-8900-480-2520
FEMA, "DRY FLOODPROOFING", [PDF], FEMA, retrieved 2016/03/28, original source: http://www.fema.gov/media-library-data/20130726-1506-20490-0469/fema259_ch5d_rev.pdf
This article is section 5D of FEMA an article series that contains engineering principles and practices for retrofitting flood-prone residential structures.
FLASH, "FLOODS: WATERPROOFING - WET", Federal Alliance for Safe Homes (FLASH), retrieved 2016/03/28, original source: http://www.flash.org/peril_inside.php?id=60
Option #2: Re-Build the Lower Portion of First Floor with Filled Cavity, Sealed Flood-Resistant Veneer Wall Materials

Suitable where flood depths are no more than two feet

Here we describe flood damage prevention to a brick veneer wall home by working only from the interior, preserving the original exterior brick veneer.

FEMA's similar proposal, illustrated in our sketch adapted from FEMA's information cited below, presumes that the building exterior must be demolished and re-built - a more costly approach that results in about the same situation as what Option #2 describes.

[Click to enlarge any image]

First damaged drywall, insulation and insulating board or gypsum board exterior sheathing are removed by working from the building interior.

Use closed cell foam in the wall cavities and other waterproof or water resistant materials such as cement board instead of drywall to minimize future water entry into the wall cavity itself and to reduce water damage to wall covering on the interior in future flooding.

Done with care this approach may improve the resistance of the building to future flood damage.

Watch out: this approach alone cannot assure that flood waters will not enter a home exposed to standing floodwater: water enters at windows,doors, openings and perhaps under the wall sill plate or through penetrations.

The object here is to reduce future flood damage by repairing a flood-damaged veneer wall with materials that keep water out of the wall cavity. We use only materials that are themselves waterproof or water resistant such as closed cell foam insulation in the wall and cement board on the interior wall surface.

Discuss with the foam manufacturer the tolerance of their product to future flood conditions.

For option #2 (Sealed Flood-Resistant Veneer Wall ) two situations must be considered:
Complete demolition of interior side of exterior walls: Where houses suffered deep flooding such that the full interior surface of exterior walls (as well as other interior walls and perhaps ceilings) are being stripped to the studs, the wall cavity may be partially-sealed against future water intrusion using closed cell foam.

Where the exterior wall sheathing was a soft fiber insulating board (IB) or where gypsum board exterior sheathing was used, once wet those materials may host mold growth and thus need to be removed by cutting along the wall cavity studs, sill, and top plate.

When that work is complete and the surfaces are dry and clean, the wall might be insulated and sealed using a closed cell foam product.
Partial demolition of interior side of exterior walls: where flooding was not deep and only a portion of the interior wall coverings are being removed, it may still be feasible to clean the remaining surfaces (for good bonding with the foam) and then insulate those wall cavities with closed cell foam insulation.

However in this case additional brick veneer weep openings should be installed higher on the wall just above the bottom edge of the remaining fiberboard sheathing that was not removed from the interior side of the exterior wall in each stud bay.

See BRICK VENEER WALL REPAIRS in FLOOD PRONE AREAS for details and an ongoing discussion of this approach.



Watch out

: this approach appears to have merit but needs additional review and advice from experts including the spray foam manufacturers and other flood damage repair experts.

The success of either of these sealed wall cavity approaches requires that the foam insulation be of a closed-cell, water-repellant/waterproof type, and that the sealant be applied with the best workmanship to assure that it is in good adhesive contact with all of the surfaces to which it is installed.

If foam is sprayed into a dirty wall cavity where loose debris or incompletely-cleaned surfaces remain water entry at the next flood may be more significant.

Waterproof insulation must fill the wall cavity flush with the wall stud faces on both outer and inner wall faces. Otherwise future flood waters may penetrate and remain in open cavities left in the wall.
Modified Option #2 maintaining a draininage plane behind a foam-filled cavity veneer wall is an option described by Masonry Technology, Inc. cited below at FLOOD ZONE VENEER WALL REPAIR RESEARCH.

This is a hybrid approach that attempts to build a flood-damage-resistant framed cavity wall behind a brick veneer while also keeping an option of a veneer wall drainage plane and drainage at the wall bottom.
Watch out: as FEMA warns in the document cited just below,
Adding a waterproof veneer is appropriate in areas where the flood depth is less than 2 feet. When flood depths exceed 2 feet, the pressure on waterproofed walls increases greatly, usually beyond the strength of the walls. If greater flood depths are expected, consult with a licensed civil or structural engineer before using this method.
This building flood damage resistant construction advice from U.S. FEMA recommends a design very similar to this Option #2 flood-resistant brick veneer wall design. The essential difference is that the FEMA description presumes you are removing and rebuilding the walls from the building exterior.
Protecting Your Property From Flooding, ADD WATERPROOF VENEER TO EXTERIOR WALLS [PDF] FEMA, U.S. Department of Homeland Security. To obtain copies of FEMA documents, call FEMA Publications at 1-800-480-2520. Information is also available on the World Wide Web at http//:www.fema.gov.

Excerpts:

Even in areas where flood waters are less than 2 feet deep, a house can be severely damaged if water reaches the interior. The damage to walls and floors can be expensive to repair, and the house may be uninhabitable while repairs are underway.

One way to protect a house from shallow flooding is to add a waterproof veneer to the exterior walls and seal all openings, including doors, to prevent the entry of water. As shown in the figure, the veneer can consist of a layer of brick backed by a waterproof membrane.

Before the veneer is applied, the siding is removed and replaced with exterior grade plywood sheathing. If necessary, the existing foundation footing is extended to support the brick. Also, because the wall will be exposed to flood water, changes are made to the interior walls as well so that they will resist moisture damage.

In the area below the flood level, standard batt insulation is replaced with washable closed-cell foam insulation, and any wood blocking added inside the wall cavity is made of exterior grade lumber.
BRICK VENEER WALL FLOOD REPAIR CODES & STANDARDS contains a more-complete set of codes, standards, and references for repair for post-flood-damage re-build options for masonry veneer buildings
The Brick Industry Association Does Not Support The Option #2 Approaches Described Above
Watch out: The most-expert brick construction people in the U.S., represented by the BIA, do not agree with the FEWA nor the Option 2 approach described above.
Mr. Z. Booker was kind enough to respond to a request for technical review of this article. We report his advice below:
The proposed repairs that recommend filling the air space/drainage cavity with closed cell spray foam do not meet code-mandated requirements nor do they conform to BIA recommendations as noted in the BIA Technical Notes linked below. These proposed repairs may severely impact the performance of the wall by eliminating or compromising the following critical components of the wall assembly: air space/drainage cavity, flashing, sheathing, water-resistive barrier, and brick ties.

BIA Technical Notes - http://www.gobrick.com/Technical-Notes

The best approach to repair damaged sheathing in a brick veneer/wood stud wall involves replacing the sheathing from the exterior in order to ensure that repairs to all components conform to code-mandated requirements or better.
Whatever approach is implemented, the local building code official should be consulted before a contractor is engaged to begin repairs as some jurisdictions require a building permit for these types of repairs.
Be advised that if the proposed repairs differ from code-mandated requirements, the local building code official will need to determine whether they are acceptable. Most local jurisdictions can advise on methods they have approved for these types of repairs.

If you have any further questions, feel free to contact me directly.

Zachary J. Booker, EIT
Engineer
Brick Industry Association
cid:image004.jpg@01D1BC0E.85825410
12007 Sunrise Valley Drive, Suite 430
Reston, VA 20191
Office: (703) 674-1547
Email: zbooker@bia.org
Brick Industry Association, "BRICK VENEER WALL / WOOD STUD WALLS" [PDF] , BIA, 1850 Centennial Park Drive, Reston, Virginia 20191 Brick Industry Association, 12007 Sunrise Valley Drive Suite 430 Reston, Virginia 20191 703-620-0010 brickinfo@bia.org Website: www.gobrick.com, Tel: 703-620-0010 retrieved 2017/09/27, original source: http://www.gobrick.com/portals/25/docs/technical%20notes/tn28.pdf - request sent by email 2017/09/27
Option #3: Traditional Veneer Re-Build, Un-sealed Repair
This approach combines cleaning water-damaged brick veneer walls from inside and more-traditional repairs, changing only the wall insulating materials: eliminate fiberglass and use styrofoam.
According to some of our readers corresponding by private email, this is the Brick Industry Association (BIA)'s recommendation.
Some insurance adjusters recommend removal of wet drywall, exterior sheathing board, insulating board or gypsum board (plywood that is not delaminated might be left in place), cleaning the wall cavity, installing 1" styrofoam against the veneer wall, and use of traditional insulation or more loose-fit or custom-cut styrofoam and drywall to complete the wall repair.

Watch out: Adjusters or contractors who recommend this approach do so out of a an important concern: drying out an Option #2 Sealed Flood-Resistant Veneer Wall after future flooding will be difficult. That's correct if Option #2 is not implemented correctly.

For example if a builder uses conventional drywall on the wall interior or if they do not properly prepare, clean, and insulate the wall cavity to fill it with closed cell foam water may penetrate and sit in the wall cavity after flooding.

Watch out: however this approach means that the same veneer wall repair will be required in every future flooding event - an event more-likely in view of global warming and changing weather patterns. This approach foregoes an effort to re-build with a flood-damage-resistant approach.
Field Report: Repairing a Flood-Damaged Brick Veneer Walled Home in Texas
Question: how should I restore this flood-damaged brick-veneer-walled home
I'm single mom to a one year old and just recently had 18 inches of water in my house due to Harvey in Dickinson, Texas.
The restoration company, after remediating and dehumidifying for 2 weeks said the blackboard between the studs and the brick needed to come out.
We called the insurance adjuster and he agreed.
[Click to enlarge any image]
My question moving forward is how do we rebuild things.
I'm getting different answers from contractors and given I'm a woman on my own, I don't want to be taken advantage of and want to ensure the safety of my daughter and I in the future.
I read some of your articles but still unsure the best way to rectify this situation to make this right.
I appreciate your help. - Anonymous by private email 2017/09/17
Reply: Basic advice for repairing & re-building a flooded home with brick veneer walls
There are several options, depending probably on cost, what the insurance company will pay-for, and what resources are available, as well as depending on who is available to do the work.
Details of our discussion with this homeowner and a description of each repair option for this home have been moved to BRICK VENEER WALL FLOOD DAMAGE REPAIR
Flood-Resistant Construction Lessons from Venice and Aqua Alta Flooding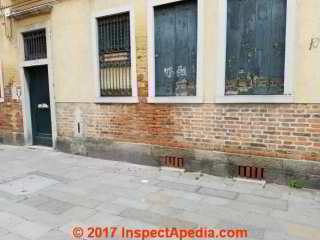 As climate change and increased storm severity will continue to increase the extent of flood damage to buildings other countries will want to study more-closely what flood damage control measures have been developed by the Netherlands, England, and Venice, Italy.
In the Netherlands a combination of dams, dikes, floodgates and natural sand dunes prevent flood water entry, an approach that combines with a combination of drainage canals and pumping stations to keep water out of low areas.
In the U.K. a combination of natural measures such as tree planting have been shown to reduce flooding but in 2016 the Department of Environmen t, Food and Rural Affairs (DEFRA) reported that there is no funding specifically for flood management.
In north-eastern Italy, where the Venetian Lagoon has been settled since around 400 A.D., flooding has been a recurrent condition.
Venice in fact includes among its sobriquets the name "Floating City" as the city of Venice on its main "island" is actually comprised of many small islands connected by bridges and sports large stone structures as well as stone paved streets built atop pilings.
In 2017 we visited Venice to photograph flood conditions and the measures taken by Venetians to cope with flooding.
Venetians cope with annual flooding or Aqua Alta [high water] that arrives in Venice each year between September and April, with particularly severe flooding during October through December.
Aqua Alta in Venice is caused by a combination of rising sea levels, unusally high tides (typically during a new moon or a full moon), low barometric pressure, and a sirocco wind that blows waters from the Adriatic Sea into the Venetian Lagoon.
Aqua Alta occurs (currently) whenever the tide is about three feet (90cm) above normal.
Venetians have coped with flooding by a variety of measures including raising the first floor level, moving living spaces to the second floor of buildings, using flood-damage-resistant solid masonry (no mold and water-damage friendly drywall nor hollow frame wall construction) on lower floors, and the installation of a combination of flood vents in foundations and wall drain openings that allow water back out of masonry and cavity walls.
The MOSE Project (MOdulo Sperimentale Elettromeccanico, Experimental Electromechanical Module) to install flood gates at the Venice Lagoon entrance and raised pavement areas in lower areas of the city also attempt to address Aqua Alta flooding in Venice. Construction of the MOSE flood gates, though not without considerable controversy is expected to be complete and operational in 2018.
Our photo above shows the equivalent of flood vents at the bottom of a masonry wall in Venice, Italy. In the last centry the arrival of aqua alta in Venice has increased from about ten times a year to more than 60 such flood events each year.
Below, also a building in Venice, Italy, we see both foundation flood vents used where the building structure includes open space below grade and elevated drain openings in the brick cavity wall.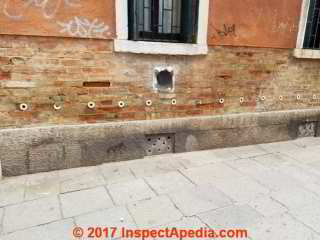 Codes, Standards, Recommendations for Veneer Wall Repair in Flood Zones
This information is now found at BRICK VENEER WALL FLOOD REPAIR CODES & STANDARDS along with a list of technical reviewers of this article series. CONTACT us to suggest additions or corrections to this article.
...
Continue reading at BRICK WALL DRAIN, FLASHING, VENT SOURCES or select a topic from closely-related articles below, or see our complete INDEX to RELATED ARTICLES below.
Or see BRICK VENEER WALL FLOOD DAMAGE REPAIR - a detailed field report on repairing a flooded brick veneer wall home in Texas in 2017
Or see FIBERBOARD SHEATHING FLOOD & MOLD FAQs - questions & answers posted originally at this article
Or see FIBERBOARD SHEATHING MOLD CONTAMINATION - mold contamination of fiberboard wall sheathing products; approaches to removing and repairing wet or moldy sheathing board.
Or see FLOOD DAMAGE REPAIR PRIORITIES
Or see SHEATHING, GYPSUM BOARD - another product often found behind brick veneer walls and one facing similar flood damage repairs
Or see STUCCO WALL WEEP SCREED DRAINAGE
Or see this
Article Series Contents
Suggested citation for this web page
BRICK VENEER WALL REPAIRS in FLOOD PRONE AREAS at InspectApedia.com - online encyclopedia of building & environmental inspection, testing, diagnosis, repair, & problem prevention advice.
Or use the SEARCH BOX found below to Ask a Question or Search InspectApedia
...
Frequently Asked Questions (FAQs)
Try the search box below or CONTACT US by email if you cannot find the answer you need at InspectApedia.
...
Ask a Question or Search InspectApedia
Use the "Click to Show or Hide FAQs" link just above to see recently-posted questions, comments, replies, try the search box just below, or if you prefer, post a question or comment in the Comments box below and we will respond promptly.
Search the InspectApedia website
Technical Reviewers & References
Click to Show or Hide Citations & References
Arumala, Joseph O. "Brick Veneer Steel Stud Wall Systems: State-of-the-Art." The Masonry Society Journal (2007): 9-19.
Illustrations used in the article above include adaptations from BIA Technical Notes 28B Figure 1 as used in this article. ©IAP 2016
[1] Williams, M.F., Williams B.L., "Water Intrusion in Barrier and Cavity / Rain Screen Walls", Water in Exterior Building Walls: Problems and Solutions, ASTM STP 1107, Thomas A. Schwartz, Eds., American Society for Testing and Materials, ASHRAE, Philadelphia, 1991, retrieved 8/10/12, Abstract:
Exterior walls are designed and constructed using barrier or cavity / rain screen wall principles. Exterior Insulation and Finish Systems (EIFS) are typically constructed as barrier walls; masonry is often constructed as a cavity wall. These wall systems are discussed along with common deficiencies that allow water intrusion to occur.
[Mark F. Williams and Barbara Lamp Williams are president and vice president respectively of Kenny/Williams/Williams, Inc., a building diagnostics firm at 945 Tennis Ave., Maple Glen PA 19002.]
Airolite BVC Brick Vents (extruded aluminum), The Airolite Company, LLC, PO Box 410, Schofield WI 54476, TelP 715-841-8757.
Brick Development Association, The Building Centre, 26 Store Street, London, WC1E 7BT, England, U.K., Tel: 020 7323 7030, Email: brick@brick.org.uk
Brick Industry Association, 1850 Centennial Park Drive, Suite 301, Reston, VA 20191 Phone: 703.620.0010 Fax: 703.620.3928.
Brickvent™, Masonry Innovations, Masonry Innovations, 36 Woodview Drive, Pittsboro, IN 46167, Tel: 317.341.0882 or 317.695.0509, Email: info@masonryinnovations.com - the company provides this BrickVent™ moisture control system instruction sheet. Web Search 02/16/2011, original source: http://masonryinnovations.com/Instruction_Sheet.pdf
Canada Masonry Centre, 360 Superior Blvd., Mississauga ON Canada L5T 2N7. Tel: (905) 564-6622. Offers the CMCA Textbook of Canadian Masonry.
Canada Masonry Centre, 360 Superior Blvd., Mississauga ON Canada L5T 2N7. Tel: (905) 564-6622. Offers the CMCA Textbook of Canadian Masonry.
Masonry Design Manual, James E. Amrhein & Walter L. Dickey, Civil & Structural Engineers, Masonry Industry Advancement Committee, Masonry Institute of America, ASIN B0006XMFZE
Tamlyn building products, Tom Tamlyn, President, 13623 Pike Rd., Stafford TX 77477, Tel: 800-334-1676.
"Concrete Slab Finishes and the Use of the F-number System", Matthew Stuart, P.E., S.E., F.ASCE, online course at www.pdhonline.org/courses/s130/s130.htm
Sal Alfano - Editor, Journal of Light Construction*
Thanks to Alan Carson, Carson Dunlop, Associates, Toronto, for technical critique and some of the foundation inspection photographs cited in these articles
Terry Carson - ASHI
Mark Cramer - ASHI
JD Grewell, ASHI
Duncan Hannay - ASHI, P.E. *
Bob Klewitz, M.S.C.E., P.E. - ASHI
Ken Kruger, P.E., AIA - ASHI
Aaron Kuertz aaronk@appliedtechnologies.com, with Applied Technologies regarding polyurethane foam sealant as other foundation crack repair product - 05/30/2007
Bob Peterson, Magnum Piering - 800-771-7437 - FL*
Arlene Puentes, ASHI, October Home Inspections - (845) 216-7833 - Kingston NY
Greg Robi, Magnum Piering - 800-822-7437 - National*
Dave Rathbun, P.E. - Geotech Engineering - 904-622-2424 FL*
Ed Seaquist, P.E., SIE Assoc. - 301-269-1450 - National
Dave Wickersheimer, P.E. R.A. - IL, professor, school of structures division, UIUC - University of Illinois at Urbana-Champaign School of Architecture. Professor Wickersheimer specializes in structural failure investigation and repair for wood and masonry construction. * Mr. Wickersheimer's engineering consulting service can be contacted at HDC Wickersheimer Engineering Services. (3/2010)
*These reviewers have not returned comment 6/95
FOUNDATION CRACK EVALUATION discusses detail the process of evaluating foundation cracks and signs of foundation damage by examining the crack size, shape, pattern, and location.
FOUNDATION BULGE or LEAN MEASUREMENTS explains a simple method for determining how much bulge or lean is present in a foundation or wall,
FOUNDATION MOVEMENT ACTIVE vs. STATIC helps determine if the foundation movement is ongoing,
FOUNDATION DAMAGE SEVERITY discusses how we decide the severity of foundation damage and the urgency of further action.
FOUNDATION FAILURES by TYPE & MATERIAL describes the types of foundation damage, cracks, leaks, or other defects associated with each type of foundation material (concrete, brick, stone, concrete block, etc.).
Masonry structures: The Masonry House, Home Inspection of a Masonry Building & Systems, Stephen Showalter (director, actor), DVD, Quoting:
Movie Guide Experienced home inspectors and new home inspectors alike are sure to learn invaluable tips in this release designed to take viewers step-by-step through the home inspection process. In addition to being the former president of the National Association of Home Inspectors (NAHI), a longstanding member of the NAHI, the American Society of Home Inspectors (ASHI), and the Environmental Standard Organization (IESO), host Stephen Showalter has performed over 8000 building inspections - including environmental assessments. Now, the founder of a national home inspection school and inspection training curriculum shares his extensive experience in the inspection industry with everyday viewers looking to learn more about the process of evaluating homes. Topics covered in this release include: evaluation of masonry walls; detection of spalling from rebar failure; inspection of air conditioning systems; grounds and landscaping; electric systems and panel; plumbing supply and distribution; plumbing fixtures; electric furnaces; appliances; evaluation of electric water heaters; and safety techniques. Jason Buchanan --Jason Buchanan, All Movie Review
Masonry Design for Engineers and Architects, M. Hatzinikolas, Y. Korany, Canadian Masonry (2005), ISBN-10: 0978006100, ISBN-13: 978-0978006105
Masonry Structures: Behavior and Design, Robert G. Drysdale, Ahmid A. Hamid, Lawrie R. Baker, The Masonry Society; 2nd edition (1999), ISBN-10: 1929081014, ISBN-13: 978-1929081011
Masonry, Engineered: Using the Canadian Code, J. I. Gainville, Cantext publications (1983), ASIN: B0007C37PG
Masonry, Non-reinforced masonry design tables, Hans J. Schultz, National Concrete Producers Association and the Canadian Masonry Contractors Association (1976), ASIN: B0007C2LQM
Moisture Control in Buildings, U.S. Department of Energy
Moisture Control in Walls, U.S. Department of Energy
"Vapor Barriers or Vapor Diffusion Retarders", U.S. DOE: how vapor barriers work, types of vapor diffusion barriers, installing vapor barrier
Ventilation for energy efficient buildings, Purpose, Strategies, etc.,
Books & Articles on Building & Environmental Inspection, Testing, Diagnosis, & Repair
Building Failures, Diagnosis & Avoidance, 2d Ed., W.H. Ransom, E.& F. Spon, New York, 1987 ISBN 0-419-14270-3
Building Pathology, Deterioration, Diagnostics, and Intervention, Samuel Y. Harris, P.E., AIA, Esq., ISBN 0-471-33172-4, John Wiley & Sons, 2001 [General building science-DF] ISBN-10: 0471331724 ISBN-13: 978-0471331728
Building Pathology: Principles and Practice, David Watt, Wiley-Blackwell; 2 edition (March 7, 2008) ISBN-10: 1405161035 ISBN-13: 978-1405161039
Construction Drawings and Details, Rosemary Kilmer
Diagnosing & Repairing House Structure Problems, Edgar O. Seaquist, McGraw Hill, 1980 ISBN 0-07-056013-7 (obsolete, incomplete, missing most diagnosis steps, but very good reading; out of print but used copies are available at Amazon.com, and reprints are available from some inspection tool suppliers). Ed Seaquist was among the first speakers invited to a series of educational conferences organized by D Friedman for ASHI, the American Society of Home Inspectors, where the topic of inspecting the in-service condition of building structures was first addressed.
Domestic Building Surveys, Andrew R. Williams, Kindle book, Amazon.com
Defects and Deterioration in Buildings: A Practical Guide to the Science and Technology of Material Failure, Barry Richardson, Spon Press; 2d Ed (2001), ISBN-10: 041925210X, ISBN-13: 978-0419252108. Quoting:
A professional reference designed to assist surveyors, engineers, architects and contractors in diagnosing existing problems and avoiding them in new buildings. Fully revised and updated, this edition, in new clearer format, covers developments in building defects, and problems such as sick building syndrome. Well liked for its mixture of theory and practice the new edition will complement Hinks and Cook's student textbook on defects at the practitioner level.
Guide to Domestic Building Surveys, Jack Bower, Butterworth Architecture, London, 1988, ISBN 0-408-50000 X
"Avoiding Foundation Failures," Robert Marshall, Journal of Light Construction, July, 1996 (Highly recommend this article-DF)
"A Foundation for Unstable Soils," Harris Hyman, P.E., Journal of Light Construction, May 1995
"Backfilling Basics," Buck Bartley, Journal of Light Construction, October 1994
"Inspecting Block Foundations," Donald V. Cohen, P.E., ASHI Reporter, December 1998. This article in turn cites the Fine Homebuilding article noted below.
"When Block Foundations go Bad," Fine Homebuilding, June/July 1998
Historic Preservation Technology: A Primer, Robert A. Young, Wiley (March 21, 2008) ISBN-10: 0471788368 ISBN-13: 978-0471788362
...