Heating Oil Line De-Clogging Guide
OIL LINE CLOGGING FIX - CONTENTS: Causes of & cures for fuel oil piping clogging and blockage: oil tank sludge, water, waxing fuel, kinks, dirt, rust, etc.
POST a QUESTION or READ FAQs about how to de-clog a furnace oil line, or a clogged boiler or water heater oil pipe line
InspectAPedia tolerates no conflicts of interest. We have no relationship with advertisers, products, or services discussed at this website.
Oil line clogging: cause & cure.
This article describes the causes and cures of blocked or clogged fuel oil piping or lines that are used to deliver heating oil to oil fired furnaces, boilers, or water heaters.
We give emergency steps to keep heat working when the oil line is blocked and we describe alternatives to try before going on to replace an old clogged fuel oil pipe line.
We discuss using heating oil piping vacuum gauges, pressure gauges, and both hand pumps and CO2 blowout guns to diagnose, test, & repair clogged fuel oil piping lines.
Green links show where you are. © Copyright 2017 InspectApedia.com, All Rights Reserved.
How to clear or un-block a clogged heating oil line
Symptoms of furnace, boiler, or water heater oil line clogging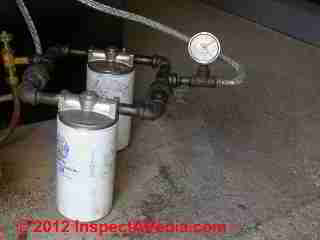 Often there are symptoms of a clog or blockage problem developing in a heating appliance oil line before the line is totally blocked. Here we discuss:
Cures for oil line blocked: how do you de-clog or un-block a clogged heating oil fuel line? Guide to Unclogging a blocked furnace, boiler, or water heater fuel oil pipe line. Where to buy & how to use hand pumps, fittings, vacuum gauges, pressure gauges, & CO2 blowout guns to diagnose, test, & repair clogged fuel oil piping lines.
A clogged or blocked heating oil line can cause buzzing or vibration noise, oil line leaks, and ultimately intermittent failures of the oil burner to ignite or to keep running, the system going "off on reset", a poor oil burner flame, and ultimately simply loss of heat when the burner will no longer start.
If your heating appliance includes an oil vacuum gauge on the oil piping (sometimes but not usually installed) you may see abnormally high oil line vacuum readings - the fuel unit is sucking away on the oil line but is having trouble pulling oil through the system.
Keep in mind that a high vacuum can also develop if the gauge is downstream from a blocked or dirty oil filter. Vacuums greater than minus-10 psi may indicate a blockage.
Westwood Products [2] and other suppliers distribute pump tester gauge sets (Reillo pump testers and vac-probe oil line access port testers) that can als be used to detect problems with the heating appliance fuel piping system such as blockages and leaks.
What causes a heating appliance fuel oil line to become blocked?
Fuel oil piping for oil fired furnaces,oil fired heating boilers, and oil fired water heaters can become blocked due to
A bend or kink in the oil line that reduces flow and collects debris upstream of the blockage
Sludge passing from the oil tank out into the fuel line, particularly in systems whose oil piping is supplied from a connection at the bottom of the oil tank
Mud or other crud that enters the oil tank or heating equipment when a building is flooded during a storm, hurricane, etc. -
see OIL LINE UNBLOCKING after HURRICANE or FLOOD DAMAGE
Rust from an oil tank entering the oil piping
Heating equipment being left off for long periods of time
Heating oil that waxes or gels due to exposure to cold weather where the oil storage tank is located outdoors or is otherwise in an unheated area -
see HEATING OIL CLOUD WAX GEL POINT
Water or ice entering or blocking the heating fuel oil line in freezing climates where the oil storage tank is located outdoors or is otherwise in an unheated area -
see OIL TANK WATER CONTAMINATION

and also OIL TANK WATER REMOVAL
How to Confirm that a Heating Oil Line is Blocked
Start by checking vacuum gauge readings on the oil line as we described above.
A hand pump or CO2 cartridge oil line blowout gun can be used to pressurize the oil line between its (for this purpose disconnected) end at the oil filter and its inlet at the oil tank.
If no pressure develops, then the oil line is clear.
If pressure is developed but falls, you may be successfully pushing the blockage back into the oil tank. If pressure is developed and does not fall, the oil line is blocked and you are not clearing it.
How to De-Clog or Un-Block a Clogged Heating Oil Fuel Liine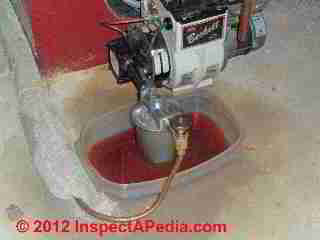 Remedies for a clogged heating oil line depend in part on an assessment of just why the line has become blocked. IN the list above we give links to some oil line blockage problem causes and solutions.
First check the oil filter for clogging or blockage
Before assuming that the heating oil line has become clogged with sludge, rust, waxed heating oil or ice, check the oil filter condition.
Open the oil filter canister and take a look for thick goop inside the canister and on the outside of the oil filter cartridge itself.
Pull out (and dispose of) the oil filter itself. Now look in the bottom of the oil filter canister base for thick deposits of goop.
Clean that mess out. Also look for rust in the canister bottom - an indicator of excessive water in the oil storage tank.
Now replace the canister filter, reassemble the unit, bleed out the air from the unit, and check for functional oil flow. More details are
at OIL FILTERS on HEATING EQUIPMENT.
Try using a pressure and vacuum hand pump or a CO2 blowout gun with CO2 cartridge to blast open a clogged heating oil line
More generally, if the heating service tech thinks that the oil line is blocked by sludge or debris, before replacing the line s/he will often attempt to blast the debris and crud backwards from the connection at the oil burner all the way back into the oil tank. There are three approaches we've seen HVAC techs use:
a CO2 blowout gun is attached to the oil line at the fuel unit and used to send a blast of carbon dioxide backwards through the oil supply line
a hand pump is attached at the oil line and is used to try to clear the oil line
a small canister of compressed air along with appropriate fittings is used as the CO2 blowout gun method
Why might that approach work? Because it's common for some sludge to accumulate in the bottom of older oil tanks; the tank is installed (or should be) pitched slightly away from its bottom oil outlet port so that oil tank sludge or water that collects there (as long as it's not too much or too deep) will be kept away from the oil line.
Heating oil line cleanout or blasting is attempted using compressed air or more commonly a small portable canister whose end fittings accept a connection to the oil line flare fitting. The canister's other end accepts a CO2 cartridge. When the service tech screws the oil line blaster canister cartridge fully shut, a pin opens the CO2 cartridge, sending a blast of carbon dioxide backwards through the oil line.
If this quick and easy approach clears the oil line, you're back in business. (One may still need to bleed air from the oil piping lines after the fittings are reconnected).
CO2 blowout guns and replacement CO2 cartridges are sold by HVAC suppliers, including Westwood Products.[2 ]
Watch out: excessive pressures applied to the heating oil line can damage the piping, blow out the line, fittings, or other components, and can cause an oil spill in the building. Some oil line blowout gun models include a built-in safety valve to limit the outlet pressure to 150 psi to avoid this hazard.
Watch out: using a blowout gun or any high pressure method to try to clear a buried oil line is dangerous. The risk is that you create an underground oil leak - very costly to clean-up and repair. I'd use a hand pump or the (more popular) CO2 blowout gun that limits its output pressure to within the design range of the oil piping system, and I prefer to use only very low pressures to feel your way into clogs in buried oil lines.
Emergency steps to keep heat running with a clogged oil line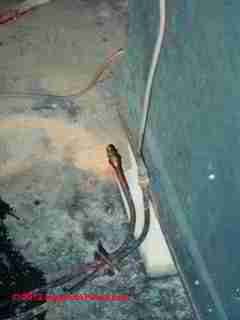 For buried oil tanks or other oil tank installations that use a dual oil line piping arrangement, one oil line is the supply (the one that has become clogged) and the second line is a return pipe that sends excess oil back to the oil storage tank.
Typically these installations insert the two oil lines through the top of the oil storage tank, and down into the tank to perhaps 6" from the tank bottom, and spread apart several feet (by bending the lines) so that the agitation of oil tank bottom sludge caused by the returning oil does not send sludge up through the oil pickup pipe.
If this is the arrangement at your oil tank and provided that the problem oil line is not totally blocked, we might keep heat running by temporarily switching the roles of the oil feed and oil return pipe.
That's because oil flowing backwards from the oil burner fuel unit (oil pump) to the oil tank has been filtered (before entering the oil pump) and will be less likely to have already clogged the return line.
Our dual heating oil line photo (above left) shows that just one oil line is in use at this oil fired heating furnace. Further investigation is needed to determine if the capped oil line is an old abandoned sludge-clogged oil pipe or if the system is limping along having been converted to a single oil line set-up.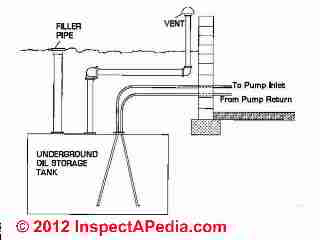 Watch out: don't swap the oil supply and return line roles if one of these lines (probably the original supply line) is totally blocked.
Doing so can damage the oil pump at the oil burner, or worse, cause a dangerous leak of oil into the building if the higher pressure on the return line (caused by a blocked oil pipe) causes the oil pump (fuel unit) to blow a gasket.
Watch out: in a few oil tank installations at which a dual oil pipe system was installed on a oil tank that is located above ground, it may be possible to temporarily keep heat running by converting back to a single oil line system, using the "return line" now as the oil supply line.
But the oil pump unit on the oil burner will also have to be changed back to a single-oil line set-up. An internal bypass valve plug needs to be correctly installed for the fuel unit oil pump to work safely and correctly.
Replace clogged heating oil lines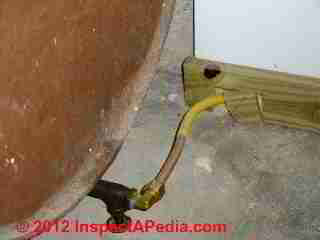 If the heating oil line cannot be cleared with one to three blast-out tries using the CO2 cartridge, the heating service tech will most likely recommend replacing the oil piping.
We recommend using newer plastic-coated oil lines for better protection from corrosion and /or mechanical damage.
If the old oil line was just 3/8" ID or smaller, you might want to go to a 1/2" ID oil line to further protect against clogging in the future.
At "Question: how to get the heating oil line flowing after hurricane & flood damage" we describe using a CO-2 canister and cartridge to try to blast open a sludge or mud or debris-clogged fuel oil pipe or line following a building flood.
...
Continue reading at OIL TANK PIPING & PIPING DEFECTS or select a topic from closely-related articles below, or see our complete INDEX to RELATED ARTICLES below.
Also see HEATING OIL SLUDGE
Or see OIL LINE BUZZ & VIBRATION CURE - buzzing may indicate a partial blockage in the oil piping system, oil line, or filter or in the fuel unit
Suggested citation for this web page
OIL LINE CLOGGING FIX at InspectApedia.com - online encyclopedia of building & environmental inspection, testing, diagnosis, repair, & problem prevention advice.
Or use the SEARCH BOX found below to Ask a Question or Search InspectApedia
...
Frequently Asked Questions (FAQs)
Try the search box below or CONTACT US by email if you cannot find the answer you need at InspectApedia.
Question: Where to buy CO2 cartridges and gun for cleaning out #2 fuel oil lines from tank to burner
I need to buy CO2 cartridges and gun for cleaning out #2 fuel oil lines. Please tell me where I can get these in Manhattan or brooklyn. Wouild home depot carry this? Thanks, D.G.
Reply:
The CO2 oil line blow out gun or "oil line blaster tool" that I have and use takes a CO2 cartridge that is a bit bigger than the ones commonly sold for use in seltzer makers and similar devices. I purchase refills at my local plumbing supplier who sells HVAC tools and equipment.
If you do not have a convenient local supplier for heating system test and repair tools, you can also contact the oil line plug repair tools distributors listed in the references section of this article, just below. [2][3][4]
Question: oil line clogging between tanks
[delete] (Feb 26, 2014) Anonymous said:
I ran out of oil. I have 2 large tanks that are connected. The lines were cleared, the filters changed, including the "crossover filter". I got oil delivered. The level indicates one tank is 3/4 full, the other side less than a 1/4 tank. Will the oil run smoothly or am I going to draw up sludge on the low tank? after I got oil why isn't it evenly distributed? Will running the furnace eventually even out the tank distribution?
Reply:
Anon, it sounds as if the oil lines connecting the two tanks are clogged. Other possibilities include
- clogged or missing oil tank vent
- a stuck fuel gauge
...
Ask a Question or Search InspectApedia
Use the "Click to Show or Hide FAQs" link just above to see recently-posted questions, comments, replies, try the search box just below, or if you prefer, post a question or comment in the Comments box below and we will respond promptly.
Search the InspectApedia website
Technical Reviewers & References
Click to Show or Hide Citations & References
[1] "Fuel Oil Piping and Storage", 2006 Mechanical Code, Chapter 13, International Code Council, 500 New Jersey Avenue, NW, 6th Floor, Washington, DC 20001, Tel: 888-ICC-SAFE (422-7233); Website: iccsafe.org/, Email: webmaster@iccsafe.org, Customer Store (buy publications) 800-786-4452. Also see 2009 International Codes and 2012 International Codes.
[2] Westwood Products Inc., 330 William St., PO Box 610, South River, NJ 08882-0610 Phone: (732) 651-7700 Toll-Free: (800) 442-1630, Website: westwoodproducts.com, emailwestwoodproducts.com
[3] Mitco Manufacturing, 137 Puncheon Creek Drive, Andrews SC 29510, Tel: 800-338-903, website: mitcomfg.com also produces tools for clearing plugged heating equipment oil lines including their4 Kwik-Purge CO2 Blow-out Gun.
[4] Charles Gallo Drain Gun, uses CO2 to blow out A/C condensate drain line clogs, is distributed by DiversiTech Corporation 6650 Sugarloaf Parkway Duluth, GA 30097 800.995.2222 Website: diversitech.com. This tool includes an adapter kit to allow use of the blowout gun on oil burner lines.
Mark Cramer Inspection Services Mark Cramer, Tampa Florida, Mr. Cramer is a past president of ASHI, the American Society of Home Inspectors and is a Florida home inspector and home inspection educator. Mr. Cramer serves on the ASHI Home Inspection Standards. Contact Mark Cramer at: 727-595-4211 mark@BestTampaInspector.com
John Cranor is an ASHI member and a home inspector (The House Whisperer) is located in Glen Allen, VA 23060. He is also a contributor to InspectApedia.com in several technical areas such as plumbing and appliances (dryer vents). Contact Mr. Cranor at 804-747-7747 or by Email: johncranor@verizon.net
Arlene Puentes, an ASHI home inspector in Kingston, NY, contributed the example photograph of an outdoor aboveground oil tank. Ms. Puentes can be contacted at ap@octoberhome.com
Audels Oil Burner Guide, Installation, Servicing, Repairing, Frank D. Graham, 1940's edition (obsolete). Updated versions of this guide are available in various editions, 1947, 1950, 1955, 1958, 1959, 1962, 1965, 1967, and at prices from around $3.00 to nearly $70.00 - useful for simple, clear, but not current, explanation of how heating equipment works. The original retail price was $1.00.
Dave Ferris - M&S Environmental Systems, Dutchess County, New York. Mr. Ferris was an HVAC expert. Personal communication to DJF 1987. Remove the firematic or fusible oil supply line valve on return oil-line side - in case of fire if this one closes first the pump continues to run, blows its seal, and sprays oil all over the fire. Proper installation is to have a fusible link valve only on the supply side, and to install a check valve on the return line to prevent back-siphonage from the tank.
"HUD Regulation for Manufactured Homes; Requirement that Heat-Tape not include a GFCI [ copy on file as /plumbing/GFCI_Heat_Tapes_HUD_CPSC_Letter1994.pdf ] - ", Meeting Log, US CPSC, HUD, Dennis McCoskrie, ESEE, 2/14/1994
Books & Articles on Building & Environmental Inspection, Testing, Diagnosis, & Repair
Our recommended books about building & mechanical systems design, inspection, problem diagnosis, and repair, and about indoor environment and IAQ testing, diagnosis, and cleanup are at the InspectAPedia Bookstore. Also see our Book Reviews - InspectAPedia.
...