Insulation FAQs
Questions & answers about insulation
INSULATION FAQs - CONTENTS: Insulation & Heat Loss Inspection Guide; Insulation R-values, Types, & other characteristics
POST a QUESTION or READ FAQs about identifying & troubleshooting building insulation & ventilation systems
InspectAPedia tolerates no conflicts of interest. We have no relationship with advertisers, products, or services discussed at this website.
Building insulation guide to selection, installation, inspection, troubleshooting, & improvement: this article series discusses how to inspect, diagnose and correct problems in building insulation or ventilation systems.
We also describe how to install or repair building insulation & ventilation systems including using stains and other clues to diagnose air movement, heat loss or moisture problems.
Green links show where you are. © Copyright 2017 InspectApedia.com, All Rights Reserved.
FAQs Building Insulation & Ventilation Systems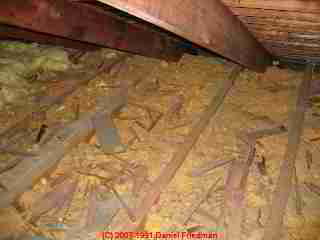 Question:
(Mar 19, 2015) Steve said:
Hi there,
I'm trying to ID some attic insulation I have.
I see it (darker yellow, foam chunk looking) clearly depicted in the top photo of this page INSULATION INSPECTION & IMPROVEMENT [and shown at above-left - Ed.] but what I don't see anywhere is a statement or description of what that image is showing?
Thank you kindly
fatire155ATGEEEMAIL.COM
Reply:
Steve
The photo shows two generations of fiberglass - chopped, darker golden brown fiberglass, and lighter yellow fiberglass insulation batts.
There is also a lot of wooden debris atop the insulation, suggesting that probably a wood shingle roof was replaced and workers (unavoidably) dropped scrap and trash into the attic.
Look closely [click to enlarge any image] and you may notice that insulation does not come to the top of the joists that form both the attic floor and support for the ceiling below. This home may need more insulation, depending on where it's located.
Before adding insulation I'd prefer to remove the wooden trash. And if there is a chance that during that roofing work the fiberglass insulation got wet I'd replace it. (Search InspectApedia.com for FIBERGLASS INSULATION MOLD to see why I say that).
Question: Does Johns Manville Spintex insulation contain asbestos and what's its R-value?
(May 3, 2015) Dan said:
Does John Manville Aluminum Wrapped Spintex batt Insulation (with aluminum foil on one side and paper on the other side) contain asbestos and what would be the R value.The insulation is from the 1950's.
There's a number on the aluminum side Hl-131B
Reply:
From the Johns Manville Spintex insulation citations we've found to date, the product refers to a mineral fiber or "rock wool" insulation - not an asbestos material.
The R-Value for Mansville Spintex was about 4.8 per inch before allowing for the effects of insulation gaps or material inconsistencies.
You can see advertisements for Mansville's Spintex in Life Magazine LIFE Oct 6, 1958 - I include a photo in our Rock Wool Insulation article - ASBESTOS IN MINERAL WOOL / STONE WOOL
and detail about this specific insulation product is at SPINTEX MINERAL WOOL PROPERTIES - MANSVILLE
The R-values for mineral wool or "rock wool" insulation are given at MINERAL WOOL / STONE WOOL R-VALUES.
(May 3, 2015) Dan said:
The front of the batt insulation is all aluminum(looking)and does not have the words rock wool.
it says: John Manville Aluminum Wrapped Spintex Insulation along with installation instruction and drawing.It doesn't look cottony- it looks more like fiberglass and has a very slight crunch when squeezed. Thanks Again
Dan
(mod) said:
Dan
I found Mansville's own description of Spintex as well as advertising data both describing it as mineral wool. Take a look at the Rock wool insulation link I provided earlier.
Also if you can, please find my email at our CONTACT link at page bottom and send me some sharp photos of your insulation in place and closeups of its marks or labeling, and a closeup of the insulation material itself. You can also mail me a sample if you like, we'll take a look at it in the lab (pro bono).

Question: yellow foamy stuff dripping down the building exterior in Dallas
June 27, 2015) Sharon said:
There is a strange yellow scrambled-egg like foamy substance suddenly forming and dripping down building exterior from above the top floor of my apartment building. Building approximately 10 years old; I've lived here 3 years and never seen anything like it. No recent maintenance done to exterior that I'm aware of and I'm home all day. Is it more likely to be spray foam insulation squeezing out or mold? Located in Dallas area which recently had a lot of rain. I have photos but don't see an option to post them.

Reply:
I do not know, Sharon. It is not at all likely that previously-installed foam insulation would now be dripping out of the building.
An onsite expert will consider the location of the yellow foamy stuff, what mechanical equipment or other stored items are near and above that point, and then she'd examine those as possible sources. I'd also look for a honeybee colony in the wall.
Question: ok to install a bath vent fan when there's vermiculite in the attic?
(July 12, 2015) P. Durocher said:
Is it possible to install a new bathroom ventilator in a attic that contains vermiculite (containing asbestos) in a safe manner, OR
we absolutely have to take out all isolant of the attic before (prio to) the remplacement of the ventilator ?
Thank you
Reply: vent the bath fan to outdoors and don't track vermiculite debris and dust into the building.
Certainly you can install a bath vent fan and run the duct to the outdoors via an attic. Workers need to wear proper gear and you want to take care not to track dust and debris down into the house (or to clean it up if you do).
Use a HEPA vacuum and damp wiping to clean up any dust spills.
See VERMICULITE INSULATION - home
Also see WHAT TO DO ABOUT VERMICULITE INSULATION
Question: safe to remove balsam wool insulation ?
(Oct 2, 2015) Susan said:
Can I safely remove balsam wool insulation as a home project and replace it with fiberglass. The black paper is torn in many areas and falling.
Reply:
Yes, taking normal precautions against breathing dust.
See BALSAM WOOL BATT INSULATION
Question: ok to leave space in an insulated wall?
(Oct 7, 2015) Michael said:
I want to frame a 2x8 exterior wall but only required to put in 6" thick insulation.
Will there be a problem if there is a space between insulation and drywall or do I need to fill insulation for full depth of the wall stud?
Reply:
Michael:
Provided you don't have air leaks into and out of the wall, you can leave a space as you describe. In fact with some insulating products, such as products using a reflective facing, leaving a still-air space in the wall cavity will increase the total R-value of the wall.
Over at FOAM BOARD INSULATION TYPES you'll see some examples of increases in R-value for an added air space.
Question: best way to ventilate an attic around a hinged roof rafter in a modular home
(May 5, 2016) Phil said:
What's the best way to ventilate around a hinged roof rafter in the attic of my modular home?
The footer type framing just above the ceiling doesn't allow for much room for the baffles to extend far enough into the attic from each knee wall. Should I just clear as much blown in insulation away from the little bit of exposed baffles or is there a way to get around that footer?
Would it be safe to drill a couple three .5 inch holes in that footer to allow for better air flow beyond the baffles?
Reply:
1/2" holes won't move enough air to have an effect on attic ventilation, Phil.
But I also don't want to remove insulation as that creates a cold spot above the exterior walls and may increase the risk of ice damming. Long baffles should improve the problem, or you can use my labor-intensive but more effective approach of tacking furring strips to the upper sides of the rafters, then installing solid foam insulation between rafters.
The 1 1/2" or larger air space between rafter and the upper side of the solid foam forms a more effective (and more pricey) air passage
Question: leak caused water to run out of a ceiling fan, now my dog almost died and I had to go to the ER
(Sept 11, 2016) Anonymous said:
I had a leak that caused water to run out of my ceiling fan - no problems. The roof was fixed by guys who work for my landlord. No problem.
Then it poured down rain for about 5 minutes hard. Immediately I felt skin burning eyes nose throat severely irritated. I felt like a truck was on my chest causing me to not be able to take a full breath. I looked at my light fixtures and it looked like tiny pieces of glass on it. Mom saw it and I left. Been to ER 4 times and my dog almost died. I was breathing these particles for about 2 weeks cause no one saw what me and mom saw.
They checked in the day with no bright light. they didnt check the attic or duct work. Could my insulation somehow have gotten stirred up and in the air? Keep in mind they are tiny pieces. I did wipe some on a sponge to show dad. He also got sick. Who can I talk to? My landlord is done but I can't even go home now. He says I can move but this is all over all of my belongings. Everything is contaminated. HELP PLEASE
Reply:
Anonymous
You need to start review of these worries with your doctor. If your doctor agrees that there was an environmental cause or aggravate her, then it might be worth having inappropriate environmental test lab examine representative dust settles from you're home.
If the material is fiberglass then HEPA vacuuming and cleaning would be appropriate before moving carpets furniture and such and so forth from your home.
From just your text one cannot know what hazards are present in your home - or might be. But certainly if insulation got wet it could also be moldy, as could the cavity side of ceilings or walls covered in drywall if water ran in those areas. There could be a problematic (big) mold resevoir in your home.
See MOLD in FIBERGLASS INSULATION
...
Continue reading at INSULATION INSPECTION & IMPROVEMENT - home, or select a topic from closely-related articles below, or see our complete INDEX to RELATED ARTICLES below.
Or see INSULATION AIR & HEAT LEAKS
Or see INSULATION IDENTIFICATION GUIDE
Or see INSULATION LOCATION - WHERE TO PUT IT
Suggested citation for this web page
INSULATION FAQs at InspectApedia.com - online encyclopedia of building & environmental inspection, testing, diagnosis, repair, & problem prevention advice.
Or use the SEARCH BOX found below to Ask a Question or Search InspectApedia
...
Frequently Asked Questions (FAQs)
Try the search box below or CONTACT US by email if you cannot find the answer you need at InspectApedia.
...
Ask a Question or Search InspectApedia
Use the "Click to Show or Hide FAQs" link just above to see recently-posted questions, comments, replies, try the search box just below, or if you prefer, post a question or comment in the Comments box below and we will respond promptly.
Search the InspectApedia website
Technical Reviewers & References
Click to Show or Hide Citations & References
"Controlling Moisture in Log Homes" and the more general (but brief) DOE article series on moisture control:
Ice Dam Leaks in building attics and roof cavities, how to inspect for evidence of leaks, identify causes, and correct bad attic ventilation, improper roof venting, and these causes of attic mold or roof structure damage
"Ventilation", U.S. DOE, describes the purpose of building ventilation and three basic ventilation strategies:
"Weather-Resistive Barriers [copy on file as /interiors/Weather_Resistant_Barriers_DOE.pdf ] - ", how to select and install housewrap and other types of weather resistive barriers, U.S. DOE
"Vapor Barriers or Vapor Diffusion Retarders", U.S. DOE: how vapor barriers work, types of vapor diffusion barriers, installing vapor barriers
"Moisture Problems: Causes and Cures. Understanding moisture problems can steer you free of trouble", Steve Bliss: Building it Right, Solar Age, March 1983 p. 37, 38. -- Adapted with permission, from original material to form this web page article.
Asbestos: How to find and recognize asbestos in Buildings - visual inspection methods, list of common asbestos-containing materials
Asbestos products and their history and use in various building materials such as asphalt and vinyl flooring includes discussion which draws on ASBESTOS, ITS INDUSTRIAL APPLICATIONS, ROSATO 1959, D.V. Rosato, engineering consultant, Newton, MA, Reinhold Publishing, 1959 Library of Congress Catalog Card No.: 59-12535 (out of print).
Asbestos Identification and Testing References

Asbestos Identification, Walter C.McCrone, McCrone Research Institute, Chicago, IL.1987 ISBN 0-904962-11-3. Dr. McCrone literally "wrote the book" on asbestos identification procedures which formed the basis for current work by asbestos identification laboratories.
Stanton, .F., et al., National Bureau of Standards Special Publication 506: 143-151
Pott, F., Staub-Reinhalf Luft 38, 486-490 (1978) cited by McCrone

ASHRAE resources on building insulation, dew point and wall condensation - see the ASHRAE Fundamentals Handbook, available in many libraries. The following three ASHRAE Handbooks are also available at the InspectAPedia bookstore in the third page of our Insulate-Ventilate section:
Brick nogging used as soundproofing is mentioned in this article on Popular Forest
Brick Nogging, Historical Investigation and Contemporary Repair, Construction Specifier, April 2006. Historical use of brick in timber-framed buildings, drawing on the investigations of the Kent Tavern in Calais, VT. "Brick nogging is a European method of construction which was brought to the new world in the early-nineteenth century. It was a common construction method that employed masonry as infill between the vertical uprights of wood framing." -- quoting the web article review.
Photo of very rough in-wall brick nogging at an architects website
"Energy Savers: Whole-House Supply Ventilation Systems [copy on file as /interiors/Energy_Savers_Whole-House_Supply_Vent.pdf ] - ", U.S. Department of Energy energysavers.gov/your_home/insulation_airsealing/index.cfm/mytopic=11880?print
"Energy Savers: Whole-House Exhaust Ventilation Systems [copy on file as /interiors/Energy_Savers_Whole-House_Exhaust.pdf ] - ", U.S. Department of Energy energysavers.gov/your_home/insulation_airsealing/index.cfm/mytopic=11870
"Energy Savers: Ventilation [copy on file as /interiors/Energy_Savers_Ventilation.pdf ] - ", U.S. Department of Energy
"Energy Savers: Natural Ventilation [copy on file as /interiors/Energy_Savers_Natural_Ventilation.pdf ] - ", U.S. Department of Energy
"Energy Savers: Energy Recovery Ventilation Systems [copy on file as /interiors/Energy_Savers_Energy_Recovery_Venting.pdf ] - ", U.S. Department of Energy energysavers.gov/your_home/insulation_airsealing/index.cfm/mytopic=11900
"Energy Savers: Detecting Air Leaks [copy on file as /interiors/Energy_Savers_Detect_Air_Leaks.pdf ] - ", U.S. Department of Energy
"Energy Savers: Air Sealing [copy on file as /interiors/Energy_Savers_Air_Sealing_1.pdf ] - ", U.S. Department of Energy
Fiberglass: Indoor Air Quality Investigations: Health Concerns About Airborne Fiberglass: Fiberglass in Indoor Air from HVAC ducts, and Building Insulation
From the walls in, Charles Wing
Humidity: What indoor humidity should we maintain in order to avoid a mold problem?InspectAPedia Bookstore (Amazon.com)
Insulate & Weatherize (Taunton's Build Like a Pro), Bruce Harley. Review quoted:
An engineer who trains builders in energy-efficient construction, Harley offers a wealth of information that will allow readers to improve their home's efficiency, saving both money and natural resources. After an introductory section that explains the underlying principles of heat transfer, insulation, and air quality, Harley demonstrates basics such as weather-stripping and moves forward through advanced projects including insulation and major upgrades. Short "Pro Tips" as well as sections labeled "Trade Secrets," "What Can Go Wrong," and "In Detail" provide a great deal of helpful information. Increasing energy efficiency is one of the easiest ways for homeowners to save money
"Insulation: Adding Insulation to an Existing Home," U.S. Department of Energy - tips on how to do your own check for the presence of absence of insulation in a home
Insulation: Selecting Insulation for New Home Construction, U.S. Department of Energy - "Your state and local building codes probably include minimum insulation requirements, but to build an energy-efficient home, you may need or want to exceed them. For maximum energy efficiency, you should also consider the interaction between the insulation and other building components. This is called the whole-house systems design approach."
Insulation Types, table of common building insulation properties from U.S. DOE. Readers should see INSULATION R-VALUES & PROPERTIES our own table of insulation properties that includes links to articles describing each insulation material in more detail.
The National Institute of Standards and Technology, NIST (nee National Bureau of Standards NBS) is a US government agency - see www.nist.gov

"A Parametric Study of Wall Moisture Contents Using a Revised Variable Indoor Relative Humidity Version of the "Moist" Transient Heat and Moisture Transfer Model [copy on file as/interiors/MOIST_Model_NIST_b95074.pdf ] - ", George Tsongas, Doug Burch, Carolyn Roos, Malcom Cunningham; this paper describes software and the prediction of wall moisture contents. - PDF Document from NIS

Nogging: See this photo of exposed bricks on a building exterior On a building exterior in Canada. [Thanks to Carson Dunlop, Toronto - see References below].
Piquet Wall Construction: See this photo of piquet wall construction - involving timber-framed wall construction with long top girts, diagonal timber bracing, and small diameter logs placed vertically along with concrete chinking to fill in the wall plane.
Plank House Construction: weblog from plankhouse.wordpress.com/2009/01/25/plank-house-construction/ and where plank houses were built by native Americans, see
Large 1:6 Scale Plank House Construction / P8094228, Photographer: Mike Meuser
06/12/2007 documented at yurokplankhouse.com where scale model Museum quality Yurok Plank Houses are being sold to raise money for the Blue Creek - Ah Pah Traditional Yurok Village project.
Principles of Heating, Ventilating, And Air Conditioning: A textbook with Design Data Based on 2005 ASHRAE Handbook - Fundamentals, Harry J., Jr. Sauer, Ronald H. Howell, William J. Coad. Quoting
... textbook for college level HVAC courses or independent study and review, especially when combined with the 1997 ASHRAE Fundamentals Handbook. Contains the most current ASHRAE procedures and definitive, yet easy to understand, treatment of building HVAC systems -- from basic principles through design and operation. Dual units of measurement.
Re-Bath, tub lining products is a bath tub relining manufacturer and distributor located in Tempe, Arizona - see rebath.com
Rubblestone Wall Filler: See this Lartigue House using exterior-exposed rubblestone filler between vertical timbers of a post and beam-framed Canadian building.
The super-insulated retrofit book: A homeowner's guide to energy-efficient renovation (Sun builders series), Brian Marshall
Understanding Ventilation: How to Design, Select, and Install Residential Ventilation Systems, John Bower, Quoting:
Understanding Ventilation is the only book that covers all aspects of exchanging the air in houses: infiltration, equipment selection, design, heat-recovery ventilators, sizing, costs, controls, whole-house filters, distribution, and possible problems that a ventilation system can cause--all in easy-to-understand language.
"Weather-Resistive Barriers [copy on file as /interiors/Weather_Resistant_Barriers_DOE.pdf ] - ", how to select and install housewrap and other types of weather resistive barriers, U.S. DOE
Weaver: Beaver Board and Upson Board: Beaver Board and Upson Board: History and Conservation of Early Wallboard, Shelby Weaver, APT Bulletin, Vol. 28, No. 2/3 (1997), pp. 71-78, Association for Preservation Technology International (APT), available online at JSTOR.
Books & Articles on Building & Environmental Inspection, Testing, Diagnosis, & Repair
Our recommended books about building & mechanical systems design, inspection, problem diagnosis, and repair, and about indoor environment and IAQ testing, diagnosis, and cleanup are at the InspectAPedia Bookstore. Also see our Book Reviews - InspectAPedia.
...