HVAC Thermostat Power & Voltage
How a thermostat used for heating or cooling gets its electrical power & what voltages are provided
InspectAPedia tolerates no conflicts of interest. We have no relationship with advertisers, products, or services discussed at this website.
Heating or cooling room thermostat voltage levels & power sources: where does a wall thermostat get its electrical power & what voltage level is usually required. While most thermostats use a 24V DC circuit, some use different voltage levels and / or 120V AC is used by line voltage thermostats.
How do we know what kind of thermostat is installed and what voltage it requires? Where do we find the thermostat's power source how do we know if it's getting power? How do we diagnose and fix a blank thermostat display?
Page top photo: a basic room thermostat showing the red and white wires being switched by the thermostat and a place where it's easy to check for voltage at those terminals.
Green links show where you are. © Copyright 2017 InspectApedia.com, All Rights Reserved.
Source Power & Voltage Level for Room Thermostats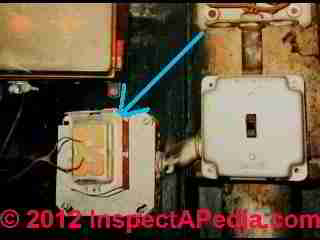 Most room thermostats on heating and cooling systems receive their 24V DC electrical power from a low voltage transformer that itself is usually found at the boiler or furnace (blue arrow in our photo at left).
[Click to enlarge any image]
The voltage transformer or power supply may also be supplied from a transformer located inside the heating boiler or furnace or inside its primary controller, as we show in the next photograph below.
An exception is the use of 120V "line voltage" thermostats that we discuss separately
See LINE VOLTAGE THERMOSTATS .
To find and test the thermostat's power supply provided by a low voltage transformer
See LOW VOLTAGE TRANSFORMER TEST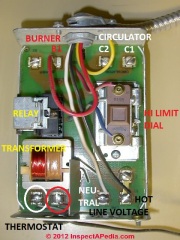 At left is a photo of the interior of a primary controller for a heating boiler. At the lower left corner of the control you can see a low voltage transformer that can power a thermostat or in some instances a circulator relay or zone valve.
Watch out: some room thermostats require a battery to operate at all. These wall thermostats do not use power from the 24V thermostat wiring system and its low voltage transformer, and typically these thermostats will have larger batteries than those using battery power only for temporary backup.
To find and check the thermostat's back-up battery that prevents losing the thermostat's programming
See THERMOSTAT BACKUP BATTERIES below
At the thermostat, using a volt meter (VOLTS / AMPS MEASUREMENT EQUIP)
or digital multimeter (DMM DIGITAL MULTIMETER HOW TO USE ), you can confirm the voltage supplied to the room thermostat by checking across the appropriate pair of wires (typically red and white for a simple heating thermostat, as shown in our page top photo).
To understand which wires carry voltage to and from the thermostat (which is itself acting as a simple on-off switch on that circuit) you'll want to check the wiring instructions for your thermostat, or you can see any of these articles on thermostat wiring:
Question: Control Voltage for Thermostats
I've read several pages of these troubleshooting tips and none of them refer to "control voltage" .I have found this to be the problem in more than one HVAC unit that I had to work on . FYI folks . - Charlie G 7/7/11
Reply:
Charlie G:

It would be great if you'd expand your comment and explanation about control voltage - it would surely help other readers. Working together and exchanging information makes us better informed than any individual can be working alone. I'm not sure how you are using the term "control voltage" but I guess you refer to the voltage provided to the thermostat circuit by the low voltge transformer, usually 24V, though some systems use 14V or other voltage levels.
Question: contactor in my AC condenser won't get the 24-volts it needs
I have a unit don't star the condensing unit the blower in the air handler work good but the contactor in the condensing unit does not get the 24V, I check the contactor with the tester an work good I check the transformer in the air handler and is good, thermostat is in cool mode and set up at 60F. room temp. is 87F Do you thinks is the thermostat? - Angel, 5/29/12
Reply:
Angel, I'm not sure from just the info in your question, but I have this suggestion: it's easy to find out if the thermostat is the problem since that device is basically an "on-off" switch. Just take the thermostat out of the loop by disconnecting it and then jumping the two TT terminals.
Also see our article LOW VOLTAGE TRANSFORMER TEST
Reader followup:
I have the thermostat in cool mode and on 55F.
room tem is 87F
The blower come on or is working.
the condensing unit or outdo side unit don't star.
I check the contactor with volt meter is is good.
I check the low volts transformer and is good in the Air handler.
but low voltage don't go true to the contactor to the contactor can be energy.
Do you thing is the thermostat? - Angel
Reply:
No Angel, if the thermostat calls for cooling and the air handler blower operates, but the outside compressor/condenser unit does not start, the problem lies in the compressor/condenser unit and its controls and relays, not in the thermostat.
Question: Our digital thermostat is blank - what causes the thermostat LCD screen to go blank and refuse to respond when I press thermostat keys or controls?
When we came home from the store the digital thermostat was blank. We tried to take off the face of the thermostat to look for a battery as we were doing that the thermostat kicked on. Problem was it started to blow hot air. We went back to the thermostat and when we fiddled with it it went off but then came back on this time it blew cold air. Everything fine right?

Not so fast. In the middle of the night I woke up drenched with sweat. For some reason the AC started blowing hot air. I simply touched the thermostat and it went blank. I haven't touched it since.

Help..its hot and we have three kids. - Pearl in Annapolis
Reply: things to check if the LCD display on the room thermostat is blank or does not respond to touch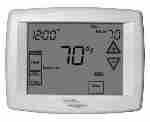 Pearl:

First make sure that your thermostat has power. When the display on a digital thermostat goes blank that means that power has been lost to the unit. Power for a digital TT comes from one or at most two sources:

The low-voltage transformer mounted somewhere, often near the electrical panel or near the heating or cooling equipment supplies normal power to the thermostat; if one of those wires is disconnected, the transformer burned up, or power to the equipment where the transformer is mounted is turned off, the thermostat will go blank

Some thermostats also use a backup battery to remember settings when someone has turned off power or there has been a power outage. If the batteries are dead that'd be a second reason for a blank display. This is a less serious concern, as thermostats have a fall-back default program that will get things running after a power outage - which takes us back to reason #1 - power is off to the thermostat.
Next, check the thermostat setting mode and physical switches. Trane gives this advice if the display on their TCONT800 series Touch Screen programmable thermostat (illustrated at above left) is blank or not responding to touch:
Check to determine if the screen is in the Locked or Clean mode. See Screen Locked or Cleaning Comfort Control Screen sections.[21]
For example on this particular thermostat, a screen lockout function is provided under user setup number 0670:
0 — All keys are available. Screen is unlocked.
1 — Screen is partially locked. All key functions are locked except the Temperature Up and Down keys and the Cancel key. Enter Advanced Setup to unlock the screen.
2 — Screen is fully locked. Enter Advanced Settings to unlock the screen.

If the display is not entirely blank, but does not respond to touch, check the thermostat's Advanced Settings to see if the device was put into locked mode.
Question: thermostat can't be adjusted and the digital display just shows a blank space
My digital thermostat only shows a minimal temp (61) and can not adjust to desired temp, only a blank space. Nothing happens when I place unit on cool or heat and depress the related buttons. The furnace fan will run in the "on" position, but can not make any other adjustments. The thermostat will not respond. Any idea? - William Shassere, 5/29/12
Reply:
William, it sounds as if the thermostat has lost a connection to the heating system or is defective. Some thermostats that incorporate a battery intended as backup to preserve the thermostat settings will show some data in their display when under battery power, even if their connection to the heating or cooling system has been lost or is "off".

First see that your heating and cooling equipment all has power and all components are switched on.
Then check the thermostat again to see if its display changes.

If not check the thermostat wires for voltage and if not found, check for a broken wire, lost connection, or a failed low voltage transformer that powers the thermostat.

You can also try turning its power source (usually the heating or A/C system) off for 15 minutes then back on.
Question: Bonnair evaporative cooler went blank
My Bonnaire ducted evaporative air con controller went blank; there's power to the unit and no breakers were tripped. Any suggestions? - Mike 12/23/12
Reply:
Mike:
check for a broken or disconnected low voltage wire between the low voltage transformer and the thermostat. Also check the transformer itself. See
Backup Batteries & Default Programs for Digital Room Thermostats
Blank thermostat display problems: The discussion of batteries required for room thermostats used for heating or cooling has been moved to THERMOSTAT BACKUP BATTERIES
...
Continue reading at LOW VOLTAGE TRANSFORMER TEST or select a topic from closely-related articles below, or see our complete INDEX to RELATED ARTICLES below.
Or see THERMOSTAT BACKUP BATTERIES
Or see LINE VOLTAGE THERMOSTATS
Suggested citation for this web page
THERMOSTAT POWER & VOLTAGE at InspectApedia.com - online encyclopedia of building & environmental inspection, testing, diagnosis, repair, & problem prevention advice.
Or use the SEARCH BOX found below to Ask a Question or Search InspectApedia
...
Frequently Asked Questions (FAQs)
Try the search box below or CONTACT US by email if you cannot find the answer you need at InspectApedia.
...
Ask a Question or Search InspectApedia
Use the "Click to Show or Hide FAQs" link just above to see recently-posted questions, comments, replies, try the search box just below, or if you prefer, post a question or comment in the Comments box below and we will respond promptly.
Search the InspectApedia website
Technical Reviewers & References
Click to Show or Hide Citations & References
[1] Proliphix Corporate Headquarters, 3 LAN Drive Suite #100, Westford, MA 01886 Phone: +1.978.692.3375 Toll Free (U.S.): 866-IP-LIVING (866.475.4846) Fax: +1.978.692.3378 - Sales: sales@proliphix.com Marketing: marketing@proliphix.com Customer support: support@proliphix.com http://www.proliphix.com/ - quoting from the company's website:
All Proliphix Network Thermostats come with our free Uniphy Remote Management Service. This unique offering lets you monitor and control your HVAC systems by simply pointing your Browser to our secure Proliphix Web Site. Enjoy the convenience of programming a thermostat from any location, using a simple graphical interface. No computer equipment or software is required. And since Proliphix takes care of the network configuration for you, you'll be up and running in no time. We'll even proactively monitor your thermostats and send you an immediate email or SMS message when an HVAC problem is detected.

[2] "The Nest Learning Thermostat", Nest Thermostat, 900 Hansen Way Palo Alto, CA 94304, Tel: 855-4MY-NEST, Email: info@nest.com, website http://www.nest.com/, retrieved 1/24/2013.
[3] Honeywell Controls, the company wants you to use their contact form at this web page: http://www51.honeywell.com/honeywell/contact-support/contact-us.html
Honeywell Consumer Products, 39 Old Ridgebury Road Danbury, CT 06810-5110 - (203) 830-7800
World Headquarters, Honeywell International Inc., 101 Columbia Road, Morristown, NJ 07962, Phone: (973) 455-2000, Fax: (973) 455-4807 1-800-328-5111
[4] Honeywell Corporation, Honeywell T451A, T651A, T694A,B,D,F Light Duty Line Voltage Thermostats, [installation, troubleshooting manual], 1992, Honeywell Consumer Products, 39 Old Ridgebury Road Danbury, CT 06810-5110 - (203) 830-7800 copy on file as Honeywell_Line_Voltage_T651A.pdf
World Headquarters, Honeywell International Inc., 101 Columbia Road, Morristown, NJ 07962, Phone: (973) 455-2000, Fax: (973) 455-4807 1-800-328-5111 copy on file as Honeywell_Line_Voltage_T651A.pdf
"T451, T651, T694 Thermostats provide on-off control of valves, fans, motors, contactors, electric heat elements, duct furnaces and fan coil units in heating/cooling systems. Switching sub-bases provide manual control of heating, cooling and fan."
[5] Honeywell Corporation, "Honeywell Thermostats", website http://www.honeywell-thermostat.com/line-voltage.html retrieved 3/16/13
[6] Honeywell EConnect™ Wireless Thermostat Kit TL9160AR System Installation Guide, retrieved 3/15/13, copy on file as Honeywell_EConnect69-2474EFS.pdf
[7] Trane, Ingersoll Rasnd Residential Solutions, Trane PO Box 9010, Tyler TX 75711, Website www.trane.com
[8-10 pending]

[11] White Rodgers Thermostats and HVAC controls,
Homeowner information: http://www.emersonclimate.com/en-US/brands/white_rodgers/Pages/wr-homeowner-info.aspx
Contractor information: http://www.emersonclimate.com/en-US/brands/white_rodgers/wr_contractor_info/Pages/white-rodgers-contractor-info.aspx
White Rodgers Product Catalog (don't misspell the company's name as White Rogers Thermostats) -
http://www.emersonclimate.com/Documents/thermostats.pdf - Thermostat Catalog
[12] Domestic Central Heating Wiring Systems and Controls, 2d Ed., Raymond Ward, Newnes, ISBN-10: 0750664363, ISBN-13: 978-0750664363, Quoting from Amazon.com:
This unique A-Z guide to central heating wiring systems provides a comprehensive reference manual for hundreds of items of heating and control equipment, making it an indispensable handbook for electricians and installers across the country. The book provides comprehensive coverage of wiring and technical specifications, and now includes increased coverage of combination boilers, recently developed control features and SEDBUK (Seasonal Efficiency of Domestic Boilers in the UK) boilers ratings, where known.
In addition to providing concise details of nearly 500 different boilers fuelled by electric, gas, oil and solid fuel, and over 400 programmers and time switches, this invaluable resource also features numerous easy-to-understand wiring diagrams with notes on all definitive systems. Brief component descriptions are provided, along with updated contact and website details for most major manufacturers.
[13] "Automatic Oil Burner Controls - Thermostats", Domestic and Commercial Oil Burners, 3rd Ed., Charles H. Burkhardt, McGraw Hill, 1969 (and later editions), ASIN B0000EG4Y8
[14] Hunter Fan 2500 Frisco Ave. Memphis, TN 38114 888-830-1326 www.hunterfan.com
[15] Trane TCONT800 Series Touch Screen Programmable Comfort Control Ownes Guide, American Standard, Inc., Troup Highway, Tyler TX 75711, January 2005, Telephone: Customer Service: 1-877-3381, website: www.trane.com
[16] Boilers, Boiler Conversions, James E. Brumbaugh, ISBN 0-672-23389-4 (v. 1) Volume II, Oil, Gas, and Coal Burners, Controls, Ducts, Piping, Valves, James E. Brumbaugh, ISBN 0-672-23390-7 (v. 2) Volume III, Radiant Heating, Water Heaters, Ventilation, Air Conditioning, Heat Pumps, Air Cleaners, James E. Brumbaugh, ISBN 0-672-23383-5 (v. 3) or ISBN 0-672-23380-0 (set) Special Sales Director, Macmillan Publishing Co., 866 Third Ave., New York, NY 10022. Macmillan Publishing Co., NY
Books & Articles on Building & Environmental Inspection, Testing, Diagnosis, & Repair
Our recommended books about building & mechanical systems design, inspection, problem diagnosis, and repair, and about indoor environment and IAQ testing, diagnosis, and cleanup are at the InspectAPedia Bookstore. Also see our Book Reviews - InspectAPedia.
...