Reset Button Operation on Primary Controls for Oil Fired Heating Equipment
RESET SWITCH, HEATER REPAIR - CONTENTS: Find the Primary Control Reset Buttons on Boilers, Furnaces, or Water Heaters - "Stack Relay" or (Honeywell) Protectorelay Reset Button. Where Else Might I Find the Reset Button on My Oil Fired Furnace, Boiler, or Water Heater. How to Use or Bypass the Cover-Mounted Reset Button on the Honeywell R8182 Aquastat Primary Control. Examples of Missing Red Reset Buttons - on a Cad Cell Relay. Finding the Primary Control Reset Switch if the Red Button if It's Not Red.
POST a QUESTION or READ FAQs about how to find & use the reset button on heating equipment primary safety controls; how to bypass a broken cover-mou7nted reset button on older equipment
InspectAPedia tolerates no conflicts of interest. We have no relationship with advertisers, products, or services discussed at this website.
Reset Button Guide for boilers, furnaces, water heaters, oil-fired:
Here we explain how to find the reset button on heating equipment primary safety controls. And if you heating system has locked out on safety or "gone off on reset" we show you where to find details about the reset procedure.
Here we explain how to reset the primary control safety switch if the cover-mounted plastic reset button has broken off.
Green links show where you are. © Copyright 2017 InspectApedia.com, All Rights Reserved.
Primary Control Reset Buttons on Boilers, Furnaces, or Water Heaters
"Stack Relay" or (Honeywell) Protectorelay Reset Button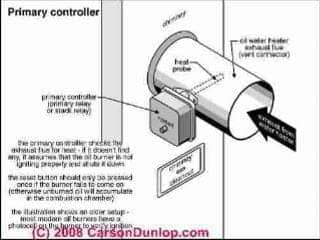 A "stack relay" is a primary heating system safety control mounted on the flue vent connector close to an oil fired heating boiler, furnace, or water heater.
The Type RA 116A or Type RA117A primary control is also designed to automatically re-start the oil burner after a cool-down cycle of a minute to a minute and a half after an abnormal shutdown. If multiple re-start attempts fail to get the oil burner operating satisfactorily the system will shut down entirely in "SAFETY OFF" condition.
Our sketches (above) of a Type RA 116A / RA 117A Primary Control, also called a Stack Relay or a Protectorelay, shows the cover removed and identifies the principal components of this heating system control.
Sketch from Audel. This control includes a red safety reset button (shown on the gray rectangle and in the drawing, labeled "RESET") that pops out if the control has caused a safety shut down of the oil burner.
Here we explain when, how, and how-often to press the red reset button to try re-starting the oil burner.
How to Reset the Oil Burner Stack Relay - Using the Reset Button
A gray box with a red reset button housing the stack relay and its reset switch will be found mounted on the flue vent connector if this control is in use. The first is simply to press the red reset button that protrudes through the cover of the stack relay box itself.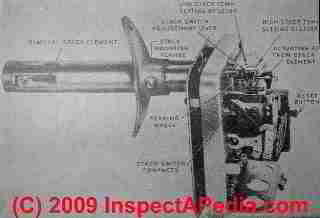 The primary control reset button on a Delco master control is labeled at the center right of the illustration at left. A primary control stack relay reset button is also pointed out by arrow #8 in our sketch above.
This red button should project through a small hole in the primary control's cover. If you don't see the red button but you see the hole in the control cover, it's possible that a plastic reset button extension has broken off and been lost, but the actual working reset button and switch can still be found inside the control cover and it can still be pressed.
Knowing how to reset the stack relay can avoid a costly no heat service call or it can keep the heating boiler running sufficiently to keep the building warm while waiting for the heating service technician.
There are actually two resets that can be performed on an oil burner stack relay.
A second stack control reset might be necessary - we discuss it at How to Reset the Oil Burner Stack Relay
How many times can I press the reset button on the oil burner primary controller?
Watch out: Most heating technicians and inspectors will tell you to only press the reset button once. That's because we worry that a homeowner will keep pressing the button even though the oil burner flame is never igniting.
Where Else Might I Find the Reset Button on My Oil Fired Furnace, Boiler, or Water Heater
You can see the "reset button" illustrated in sketch earlier on this page. Note: the "reset button" on some primary safety controls is actually a round red button protruding through the control cover. Usually when the control has locked out the oil burner, this button "pops out" to project further through the control cover.
Using a cad cell relay as a model we illustrate that the safety control red reset button may be a small (5/16" diameter) round plastic button protruding up through the control cover (below left) or it may be a larger round red rubber button such as the cad cell reset switch (below right).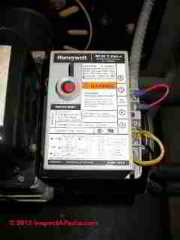 Where the Heck Are The Various Reset Buttons on Heating Equipment?

If you are looking for the main reset button on heating equipment you'll want to see:
AQUASTAT CONTROL FUNCTIONS and
CAD CELL RELAY SWITCH (hot water boilers and some water heaters),
STACK RELAY SWITCH on older oil fired boilers and furnaces,
SPILL SWITCH, FLUE GAS DETECTOR (gas fired equipment), and
Low Water Cutoff Controls on steam heating systems.
At ELECTRIC MOTOR OVERLOAD RESET SWITCH we discuss the thermal overload switch and reset button that is found on many electric motors including those operating air conditioning fans, heating system oil burners, and furnace blowers and motors.

How to Use or Bypass the Cover-Mounted Reset Button on the Honeywell R8182 Aquastat Primary Control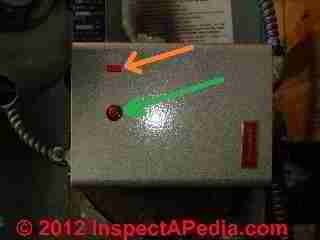 On the Honeywell R8182 aquastat (above) the reset button protrudes through the control cover (green arrow below left).
Below I've removed the cover from the control and my green arrow points to the actual electrical switch that is the reset button inside the control.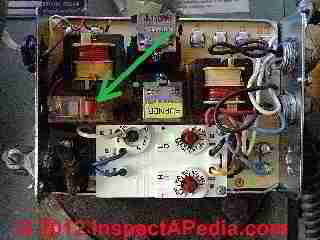 Pushing that red reset button through the control cover will in turn push the contacts on an actual electrical safety switch located inside the control cover (green arrow, below right).
In our photo just below I've taken off the cover from the R98182 aquastat and I show its interior. I'm pushing the plastic reset button from the other side of the cover, and you can see how the button will protrude into the control by this action.
You can also see how elegantly simple this outer switch really is. Cast out of a single piece of red plastic, the narrow portion acts as a spring, and the "H" shaped portion is used to anchor the plastic button/spring assembly to the metal control cover.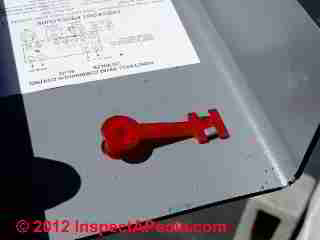 Watch out: a heavy-handed button pusher or someone messing with the control cover can break off this red plastic "outer" reset button - but you can survive the problem as we explain here:
This "outer button pushing a switch button" is a nice detail to know because we have found a few safety controls at which the red plastic button has broken off and become lost. In our photo at below left, the orange arrow points to the hole where the red reset button should have been found on a different control - a cad cell. But the original construction of that cover was the same as my photos above.
Also see AQUASTAT TROUBLESHOOTING
More Examples of Missing Red Reset Buttons - on a Cad Cell Relay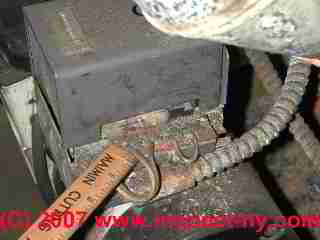 Above: a nasty cad cell relay switch. Look closely at the top center of this photo at the gray control cover - you'll see that the red reset button is missing.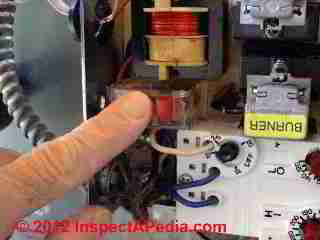 Not to worry, you can still reset the equipment, but you'll have to remove the control cover to expose the actual electrical switch that you will see was located exactly under the hole in the control cover where that red button used to be.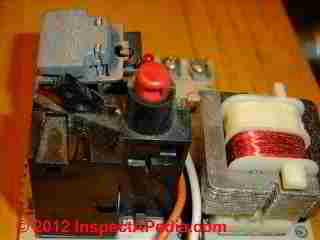 On the cad cell the button might look like the one above right, or more likely it will look like the actual electrical reset switch button assembly shown by the green arrow in our R8182 photos just above.
My photo at left shows how I'd push the R8182 aquastat internal reset button if it were necessary.
Watch out: if you remove the control cover to find the actual reset switch and its (also red) button, there is live voltage in there - you can get shocked or killed.
Some folks think of leaving the aquastat or primary control (cad cell or stack relay) cover in place and just pushing the true reset switch using a pencil, eraser end first, through the hole where the red plastic cover-bound push button has broken away. I just don't like sticking pencils or any tool into a control with its cover on - I'm not sure what it may encounter or damage.
Below we discuss other reset functions peculiar to the Stack Relay Switch, also called the Primary Controller on older oil fired heating equipment. But first we make a brief warning about puffbacks.
Watch out: There is a reason that instructions for a homeowner tell you to push the primary heating control reset button just "once". If you keep pushing it the oil burner will indeed keep trying to start, spraying more heating oil into the combustion chamber at each "try".
DO NOT keep resetting the system since doing so can flood the combustion chamber with un-burned heating oil - a dangerous condition as we just explained. See OIL BURNER SOOT & PUFFBACKS for details.
-- the above is paraphrased from Audel
Finding the Primary Control Reset Switch if the Red Button if It's Not Red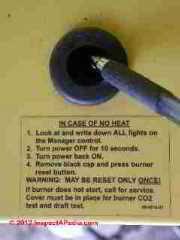 Watch out:
Just to make things tricky, on some controls the reset switch is black and even recessed, such as on the Energy Kinetics cover shown above. But other manufacturers know we're seeing red if we've lost heat - and most of them make the reset button red.
Heating Equipment Reset Buttons, Switches, Controls
See x for a complete list of reset buttons & switches plus links to articles listing all of the controls used on cooling or heating systems.
...
Continue reading at RESET SWITCH, CAD CELL RELAY - home , or select a topic from closely-related articles below, or see our complete INDEX to RELATED ARTICLES below.
Or see AQUASTAT RESET BUTTON - reset button found on aquastats used on heating equipment such as boilers & water heaters.
Or see BOILER CONTROLS & SWITCHES
Or see COOLING & HEATING CONTROL & SWITCH INDEX - index to all controls
Or see FURNACE CONTROLS & SWITCHES
Or see WATER HEATERS OIL FIRED
Suggested citation for this web page
RESET SWITCH, HEATER REPAIR at InspectApedia.com - online encyclopedia of building & environmental inspection, testing, diagnosis, repair, & problem prevention advice.
Or use the SEARCH BOX found below to Ask a Question or Search InspectApedia
...
Frequently Asked Questions (FAQs)
Try the search box below or CONTACT US by email if you cannot find the answer you need at InspectApedia.
Question: reset switch is stuck down, burner won't start
Oct 10, 2014) Anonymous said:
reset switch is stuck down will not pop up Burner will not start.
Reply:
Anon:
The normal position of the reset button is "down" not "popped up" so I suspect a different problem: a bad primary control switch.
You can try removing the cover from the switch to confirm the position of the actual electromechanical button but
Watch out: there is live electrical voltage in the switch - you could be killed.
It's time for a service call
Question: radiator gets hot but water stays cold
(July 25, 2015) Anonymous said:
Oil burner fires, gets hot, central heating radiator heats, but water remains cold.
Fires for maybe 10 minutes, then stops.

Red rest button on front NOT illuminated.
Thermostats set to max ( despite being summer )
Reply:
Anon
Most reset buttons do not illuminate but rather pop up when tripped. After a wait period the button can be re-set by pushing it in.
DO THIS JUST ONCE.
You need a heating repair service call. DO NOT keep pushing the reset button as you could cause a fire or puffback explosion.

...
Ask a Question or Search InspectApedia
Use the "Click to Show or Hide FAQs" link just above to see recently-posted questions, comments, replies, try the search box just below, or if you prefer, post a question or comment in the Comments box below and we will respond promptly.
Search the InspectApedia website
Technical Reviewers & References
Click to Show or Hide Citations & References
[2]Audels Oil Burner Guide, Installing, Servicing, Repairing, Frank D. Graham, Theo. Audel & Co., New York 1946, 1947, 1955 (out of print, copies occasionally available from antique book dealers and on EBay). Use this link to read a free online copy of this helpful classic textbook.. Originally this 364 page guide to oil burner installation, operation, diagnosis, and repair sold for $1.00 - one dollar.
[3] RA116A and RA117A Protectorelay®, Oil Burner Controls, Honeywell, 1985 Douglas Drive North, Golden Valley MN 55422-3992, Tel: 800-3456770 x 423, Website: customer.honeywell.com or in Canada: Honeywell Limited, 35 Dynamic Dr., Toronto, Ontario M1V 4Z9, website: www.honeywell.com, June 2000. Web search 4/3/2012, original source: http://customer.honeywell.com/techlit/pdf/63-0000s/63-9421.pdf
[4] Domestic and Commercial Oil Burners, Charles H. Burkhardt, McGraw Hill Book Company, New York 3rd Ed 1969.
[5] Honeywell Protector Relay Controller 3-Wire # RA117A1047, Installation Instructions from Honeywell
[6] Honeywell Protectorelay Controller (Stack Switch) # RA116A1055, Installation Instructions from Honeywell
The Steam Book, 1984, Training and Education Department, Fluid Handling Division, ITT [probably out of print, possibly available from several home inspection supply companies] Fuel Oil and Oil Heat Magazine, October 1990, offers an update,
Principles of Steam Heating, $13.25 includes postage. Fuel oil & Oil Heat Magazine, 389 Passaic Ave., Fairfield, NJ 07004.
The Lost Art of Steam Heating, Dan Holohan, 516-579-3046 FAX
Principles of Steam Heating, Dan Holohan, technical editor of Fuel Oil and Oil Heat magazine, 389 Passaic Ave., Fairfield, NJ 07004 ($12.+1.25 postage/handling).
"Residential Steam Heating Systems", Instructional Technologies Institute, Inc., 145 "D" Grassy Plain St., Bethel, CT 06801 800/227-1663 [home inspection training material] 1987
"Residential Hydronic (circulating hot water) Heating Systems", Instructional Technologies Institute, Inc., 145 "D" Grassy Plain St., Bethel, CT 06801 800/227-1663 [home inspection training material] 1987
"Warm Air Heating Systems". Instructional Technologies Institute, Inc., 145 "D" Grassy Plain St., Bethel, CT 06801 800/227-1663 [home inspection training material] 1987
Heating, Ventilating, and Air Conditioning Volume I, Heating Fundamentals,
Boilers, Boiler Conversions, James E. Brumbaugh, ISBN 0-672-23389-4 (v. 1) Volume II, Oil, Gas, and Coal Burners, Controls, Ducts, Piping, Valves, James E. Brumbaugh, ISBN 0-672-23390-7 (v. 2) Volume III, Radiant Heating, Water Heaters, Ventilation, Air Conditioning, Heat Pumps, Air Cleaners, James E. Brumbaugh, ISBN 0-672-23383-5 (v. 3) or ISBN 0-672-23380-0 (set) Special Sales Director, Macmillan Publishing Co., 866 Third Ave., New York, NY 10022. Macmillan Publishing Co., NY
Installation Guide for Residential Hydronic Heating Systems
Installation Guide #200, The Hydronics Institute, 35 Russo Place, Berkeley Heights, NJ 07922
The ABC's of Retention Head Oil Burners, National Association of Oil Heat Service Managers, TM 115, National Old Timers' Association of the Energy Industry, PO Box 168, Mineola, NY 11501. (Excellent tips on spotting problems on oil-fired heating equipment. Booklet.)
Books & Articles on Building & Environmental Inspection, Testing, Diagnosis, & Repair
The Home Reference Book - the Encyclopedia of Homes, Carson, Dunlop & Associates Ltd., Toronto, Ontario, 2010, $69.00 U.S., is a bound volume of more than 450 illustrated pages that assist home inspectors and home owners in the inspection and detection of problems on buildings. The text is intended as a reference guide to help building owners operate and maintain their home effectively. InspectAPedia.com ® author/editor Daniel Friedman is a contributing author. Field inspection worksheets are included at the back of the volume.