Congoleum Nairn Vinyl-Asbestos Floor Tiles & Sheet Flooring Identification Photo Guide
CONGOLEUM-NAIRN FLOORING - CONTENTS: identification photos, guide, comments, history of asbestos-containing flooring, sheet flooring, resilient flooring manufactured by Congoleum-Nairn
POST a QUESTION or READ FAQs about identifying Congoleum or Congoleum Nairn flooring materials & their asbestos content
InspectAPedia tolerates no conflicts of interest. We have no relationship with advertisers, products, or services discussed at this website.
Congoleum asbestos flooring identification:
This article provides a guide to identifying Congoleum-Nairn asphalt-asbestos, vinyl asbestos floor tiles, linoleum, and sheet flooring (resilient flooring) materials that are reported to contain asbestos, or that have been confirmed as containing asbestos in asbestos fiber or asbestos powder-filler form.
Green links show where you are. © Copyright 2017 InspectApedia.com, All Rights Reserved.
Asbestos in Some Congoleum-Nairn Vinyl-Asbestos Floor Tiles & Congoleum Linoleum Sheet Flooring: Resilient Floors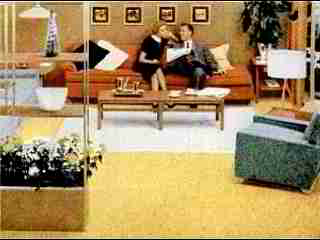 Asbestos was found in at least these Congoleum flooring products: Congoleum-Nairn Flor-Ever Vinyl, Fashionflor Cushioned Vinyl flooring, Gold Seal Vinyl Inlaid flooring, Gold Seal Vinyl Nairon Standard flooring.
Asbestos is safe and legal to remain in homes or public buildings as long as the asbestos materials are in good condition and the asbestos can not be released into the air.
SEQUIN PATTERN [image] Congoleum resilient flooring is shown above.
[Click to enlarge any image]
Article contents
Asphalt asbestos Congoleum Nairn & Congoleum Nairn vinyl-asbestos floor tile identification and advice 1917 - 1986
How to recognize Congoleum Nairn floor tiles & linoleum or resilient sheet flooring that may contain asbestos fibers.
We include photographs of Congoleum Nairn asbestos containing floor tiles, sheet flooring, linoleum, and resilient floor coverings as well as photos of products that have been confirmed as asbestos-free.
Congoleum Nairn, was established in 1886, and presently headquartered in Mercerville, NJ, U.S., produced resilient sheet flooring, vinyl asbestos floor tiles in patterns such as their Congoleum-Nairn Romanaire pattern. Original Congoleum was made from materials imnported from the Belgin Congo and was produced in 36" wide strips in a variety of patterns, often bordered.
Details about the history of Congoleum Nairn flooring and other floor coverings are at FLOOR TILE HISTORY & INGREDIENTS.
Additional Images of Congoleum linoleum sheet flooring products are at LINOLEUM & OTHER SHEET FLOORING
Watch out: the backing on some of these vinyl flooring or linoleum products may also contain asbestos.
Congoleum Sheet Flooring ca 1949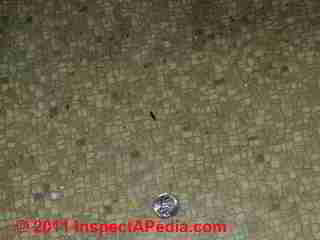 Congoleum Vinylbest vinyl asbestos floor tiles were produced in the 1950s along with Congoleum Gold Seal inlaid linoleum flooring shown at above left from a Life magazine advertisement, and the Congoleum sheet linoleum shown in a Florida Home (left) provided a scattershot or color fleck pattern.
The Congoleum linoleum photograph (left) of Congoleum sheet flooring installed in a 1949 Tampa Florida home is provided courtesy of M.B.
M.B. placed a U.S. quarter on the flooring to provide a pattern size scale reference. [Click image for a larger view]. [We think the flooring itself may date from the 1960's.]
Other Congoleum products included Vinylfloor, Vinyltop (countertops), Congoleum, CongoWall, Ranchtile, Cork tile, Linoleum tile, Vinyl tile, Rubber tile, and Asphalt tile marketed under the Congoleum Gold Seal trademark.
Congoleum Nairn tile flooring and resilient flooring or linoleum flooring photos wanted - CONTACT US to contribute to InspectAPedia.com
Congoleum Gold Seal Sheet Flooring ca 1950: test indicated No Asbestos Content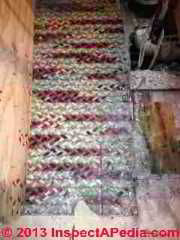 This Congoleum flooring Gold-Seal sheet flooring is dated from the 1950's. Reader C.H. wrote: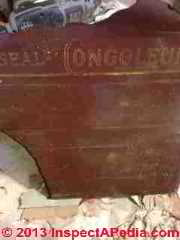 I've just discovered an old (and ugly) sheet vinyl in a bathroom floor dating from the early 1950's which is labeled on the back as "Gold Seal Congoleum Trade Marked." It is not glued down but is hidden under modern vinyl that is glued to a thin plywood which is then stapled through the old stuff into a pine floor. The suspicious vinyl bends almost double and then breaks easily.
We haven't done any sanding or sawing of it during the demolition of the bathroom (so hope we haven't released any asbestos fibers), but we have disposed of some of the small broken pieces along with other demolition refuse in trash bags at our county dump.
Does this look like an asbestos problem to you guys? Attached are photos of the hideous red/black/gray pattern (the red color actually transferred slightly to the plywood) and of the back of the same piece. We would welcome any comments or advice. Thanks! - C.H., Clemson, SC 8/18/2013
Reply:
Certainly there were Congoleum flooring products that did not contain asbestos, and from its appearance we'd suspect your flooring is one of those. But simply from an emailed photograph, and without testing or other information, to be safest I would treat the material as presumed-asbestos-containing material (PACM).
One should not assert for sure the presence or absence of an environmental hazard just from a brief email description. From your description it sounds as if you've handled the matter correctly and that the amount of dust released of any sort would have been trivial.
In particular, a sheet flooring that was not glued down is usually easily removable in large pieces without breakage and dust other than the accumulated dirt and dust debris that accumulates in old building layers and materials.
Watch out: I would recommend using damp mopping or HEPA vacuuming when cleaning up dust and debris from any renovation work on older buildings to control dust as much as possible. Even when potentially dangerous asbestos or lead particles are not present, there may be other contaminants, allergens, irritants in the dust, even drywall or plaster dust that can be a respiratory irritant.
Note that Congoleum was not the only company to produce rubber-backed sheet flooring in rug patterns. See ARMSTRONG RUBBER BACKED RUG PATTERNS.
Reader follow-up with asbestos test results: no asbestos in this Congoleum floor sample.
Here is an update on the Congoleum I found under the bathroom floor:  just got the results tonight from Western Analytical Lab and there is NO asbestos in the sample I sent them!  We are very relieved!
Comment:
Happy results, but not a big surprise. Notice in the photographs of Congoleum Gold Seal flooring above that the product backing material is solid dark red throughout? This is not an asphalt-based felt (and often asbestos-containing) paper backer. Below we show three more interesting Congoleum Narin sheet flooring designs from the mid 1950's (excerpted from Life Magazine advertisements).
Congoleum Sheet Flooring Products Resembling Individual Floor Tiles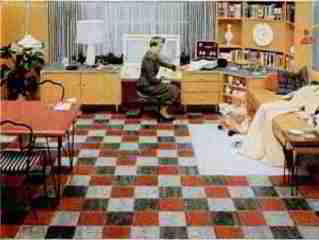 At above is a continuous resilient Congoleum Nairn sheet flooring product that was colored to resemble individual floor tiles in red, black,and white The Congoleum-Nairn company advertised that this approach was less costly and quicker to install than tiles, and permitted better control over tile color consistency.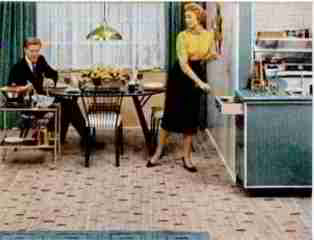 Above you will see our photograph excerpted from another 1950's flooring advertisement shows a Congoleum sheet floor used in a kitchen and dining area.
Congoleum sheet flooring in three foot wide simulated-wood patterns, in "rug" forms intended to be installed without fully extending to the walls of a room, and in larger sheets intended for wall-to-wall installation, were made by bonding a colored pattern layer (similar to linoleum) to a dark or black asphalt-impregnated felt backer layer.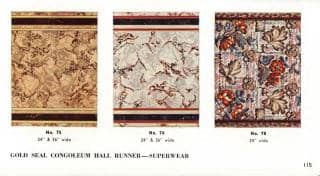 Above: Congoleum Nairn hall runners from the company's 1942 catalog given below.
While the term linoleum is widely used for sheet flooring, this product is not made of true traditional linoleum ingredients described at LINOLEUM & SHEET FLOORING.
We prefer to refer to Congoleum® flooring and similar products by Armstrong® as asphalt-saturated felt-backed sheet flooring.
Watch out: as we explain at RESILIENT SHEET FLOORING ID GUIDE, asphalt-backed sheet flooring may contain asbestos.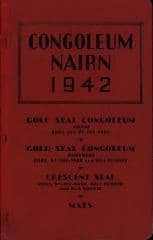 Asphalt-saturated felt (paper) backed flooring, used as early as 1910 in the U.S., looks like but is not linoleum flooring. Armstrong's Linoflor, produced beginning in 1937, is an asphalt-based-backer sheet flooring that some referred to and continue to refer to [in my opinion loosely] as "linoleum", adding to the generic use of that word for sheet flooring. - Wilson & Snodgrass, U.S. FPL (2007)
Congoleum Nairn Sheet Flooring Catalogs
CONGOLEUM NAIRN 1942 SHEET FLOORING CATALOG [PDF] 124 pages. including Gold Seal Congoleum Deluxe "rugs by the yard", Gold seal Congoleum "Superwear" and Congoleum Nairn Crescent Seal and Mats, retrieved 2018/02/07,
original source: https://ia802507.us.archive.org/15/items/CongoleumNairn1942/CongoleumNairn19420001.pdf Digitized and preserved by AAPI and from Tulane University archives.
Clicking the 1942 Congoleum catalog image above will load the PDF file of the actual catalog.
You will see that very ornate "rug" patterns were provided in this product series. Some of these patterns were produced in very similar designs by other manufacturers such as Armstrong, shown at ARMSTRONG SHEET FLOORING 1940 - 1980.
Also see our complete RESILIENT SHEET FLOORING ID GUIDE - home.
Congoleum Sheet Vinyl Flooring, 1960's: Tested, No Asbestos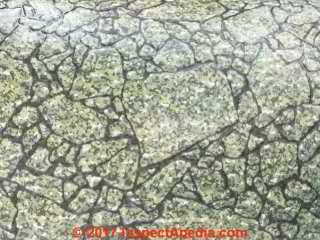 Contributed by a reader, the Congoleum vinyl flooring shown here flooring shown here has a blue felt-like backing. This floor was installed in a Denver Colorado home built in 1967, though of course the flooring could have been installed at a later date.
A flooring sample tested by DCM Science Laboratories, a certified asbestos test lab in Colorado detected no asbestos in this Congoleum flooring material. The lab reported the flooring composition in general terms as
5% Yellow Mastic, non-fibrous, asbestos not detected
15% Green/White Resinous Tile (sic), non-fibrous, asbestos not detected
22% Blue Fibrous material, other fibrous constituents, asbestos not detected
58% Brown Wood, non-fibrous, asbestos not detected
Lab report on file.
Congoleum Sheet Flooring Backer Text - Australia 1970's - Asbestos?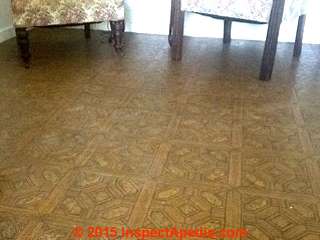 This Congoleum sheet flooring and the photographs of text on the flooring backer were observed in an Australian home. The design pattern looks like some older sheet flooring whose backer contained asbestos. But we're not sure where nor just when this particular floor covering was produced.
The pattern shown above does not appear in the current (2016) Congoleum sheet flooring catalogs scanned online at the company's website.
However the reference to Seam Sealer SU 106 suggests that this might be a more-recent Congoleum flooring product. If so it would not be expected to contain asbestos. Thanks to readers L and G.R. 2016/03/31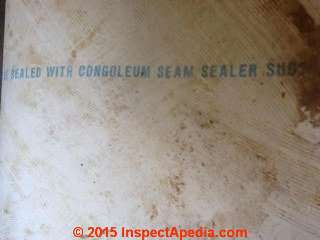 Above: text indicating that seams of this flooring product should be sealed with Congoleum SU106 seam sealer. Congoleum's SU106 seam sealer is a current product (2016). This product is applied on top of the seam of Congoleum sheet flooring that has already been joined below using QuikStik adhesive tape.
(You'll need to protect the sealed Congoleum floor seam from foot traffic for at least 16 hours.) This same seam sealing product can be used to repair small areas of damaged or torn flooring.
Below: close-up photo of text on the "back" of Congoleum sheet flooring.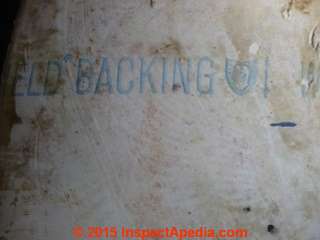 Modern, contemporary Airstep Congoleum sheet flooring seams are sealed with a Congoleum seam sealer kit and are used with Congoleum and IVC Flexitec vinyl floor coverings. The company provides an adhesive sealer for sheet flooring and a "QuikStik tape used for loose-laid flooring seams and to adhere the perimeter of sheet flooring to the subfloor.
Sheet flooring can also be stapled down to wood floors or subflooring around its perimeter if those edges are to be covered by a wood floor trim.
Congoleum Forecast No-Wax Sheet Flooring, ca 1980: Asbestos-Content Confirmed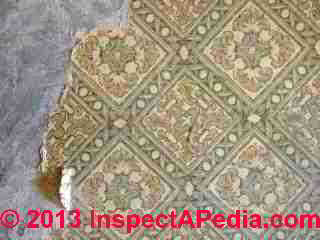 I have attached a photo of some vinyl flooring that I have in my house. I was prepping the floor for new wood and found this underneath. Unfortunately I scraped some of it out prior to finding out that it could contain asbestos. My house was built in 1982. The vinyl appears to be large sheet vinyl.
The bottom is marked Congoleum™ and the model is Forecast. It also says no wax vinyl. I was unable to find an reference to it in your picture library. I'm currently looking for somebody to test it. I'm hoping to put my mind at ease in the meantime. - Reader G. 8/11/2013
Indeed there were some sheet vinyl products that contained asbestos fibers and filler - typically in the backing and of course in some mastics. When a home was built close to the end of the era of popular use of these materials I worry that someone could still have installed an asbestos-containing floor product from older stock.
If you are not doing dusty messy demolition the chances of a significant asbestos particle contamination problem are pretty low; we list the best sources of certified asbestos test labs in our article found at https://InspectAPedia.com/hazmat/Asbestos_Test_Lab_Lists.php
Reader follow-up: the sample came back from the lab positive for asbestos. Feel free to pass the info and photos along. - G.
Reply: I'd like to see the actual asbestos test lab report or any quantitative findings given.
Hopefully you didn't create much actual respirable dust during tear-up; my experience with sheet flooring is that the backer is not very friable compared with many other asbestos-containing materials, and though some Congoleum sheet flooring backer did contain asbestos. Even without a lab test of a flooring sample, the safe procedure for asbestos-suspect flooring installed through the early 1980's is to treat the flooring as PACM - Presumed Asbestos Containing Material.
My OPINION is that actual asbestosis cases traced to residential exposure are slim to none except for family members of workers in the asbestos industry who inadvertently brought home asbestos dust on clothing or in a few oddball cases of workers deliberately using friable asbestos pipe insulation or similar products to "insulate" their own homes "for free" so to speak.
Family member asbestosis / mesothelioma claims relating to industry workers are cited in various legal asbestos exposure lawsuit cases such as
Amchem Products, Inc. v. Windsor, 521 U.S. 591, 117 S. Ct. 2231, 138 L. Ed. 2d 689 (1997).
Keene Corp. v. Ins. Co. of North America, 667 F.2d 1034 (D.C. Cir. 1981).
Karjala v. Johns-Manville Products Corp., 523 F.2d 155 (8th Cir. 1975).
Beshada v. Johns-Manville Products Corp., 447 A.2d 539, 90 N.J. 191, 150 N.J. Super. 50 (1982).
But I have not yet (8/2013) found scholarly studies nor lawsuit citations involving homeowners / occupants claiming asbestosis or mesothelioma related to exposure to ordinary levels of residential PACM products
Reader Comment on Congoleum No-Wax Flooring Design by Pyright
(June 28, 2014) Mike Padgett said:
I have just removed a vinyl floor I had installed. Underneath that subfloor was another vinyl floor. It is printed with "Congoleum/The No-wax Floor Shiny Vinyl". Above Congoleum it reads: Design by Pyright. The backing appears to be similar to the paper from the vinyl I installed. I have pictures.
Congoleum Gold Seal Rugs and Nairn Linoleum - is there difference in their ingredients?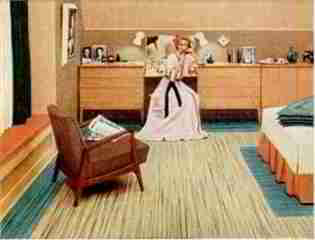 Above: this Congoleum flooring advertisement, also from the 1950's, demonstrated use of sheet flooring to provide a border and carpet image in a bedroom.
Below: an asphalt-saturated felt-based "linoleum rug" from Congoleum developed in North America and sold in the U.S. and Canada as an alternative to more-costly true linoleum.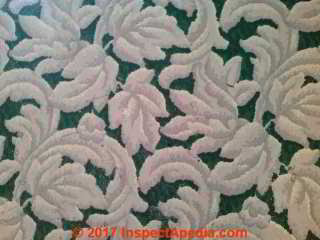 This photograph of the green and white floral pattern Congoleum rug was provided courtesy of an anonymous reade. Our reader guessed that this floor covering was installed in 1949 and remained there until it was found under other layers of flooring and then removed from its Canadian home in 2017.
Other sheet flooring from the same home and provided by the reader can be seen at IDENTIFY SHEET FLOORING TYPE, HOW TO.
CONGOLEUM FLOORING HISTORY gives details about the history of linoleum and the Congoleum corporation.
Felt-based sheet flooring is not a true linoleum - the latter was made from linseed oil and used a jute fabric back.
Shown here, this less expensive type of sheet flooring product first produced by Armstrong is a printed pattern imposed on a felt backer similar to roofing felt or "tar paper" but thicker.
As we caution readers throughout this article series, because some asphalt felt paper products produced in this area contained asbestos we do not assume that these floors are asbestos free.
Wilson & Snodgrass (2007), in describing the history of resilient flooring both clarify and add examples of the confusion around using the term "linoleum" as generic for sheet flooring. Those authors note that by 1937 Armstrong Flooring was producing LinoFlor, a printed linoleum product on an asphalt-impregnated paper "felt" backing.
Below Wilson & Snodgrass, U.S. FPL (2007) have provided some of the history of resilient flooring and have their own photo of this beautiful example of a Congoleum "rug" still in use by the US FPL.
Richa Wilson, Kathleen Snodgrass, "EARLY 20TH-CENTURY BUILDING MATERIALS: RESILIENT FLOORING" [PDF 1.5MB], Richa Wilson, Intermountain Regional Architectural Historian Kathleen Snodgrass, Project Leader, United States Department of Agriculture Forest Service, Technology & Development Program, August 2007, 7300-0773-2322-MTDC.

Contact Kathie Snodgrass at MTDC: Tel: 406–329–3922, Email: ksnodgrass@fs.fed.us or Richa Wilson, author; USDA Forest Service, Intermountain Region, 324 25th Street, Ogden, UT 84401. Phone: 801–625–5704; fax: 801–625–5229: e-mail: rwilson@fs.fed.us
Correctly speaking, in our opinion, some of these sheet flooring products may not be "linoleum" if they were not produced using traditional linoleum ingredients (see LINOLEUM & SHEET FLOORING).
Here is another image of the same Congoleum sheet flooring pattern and product from the US FPL article cited above.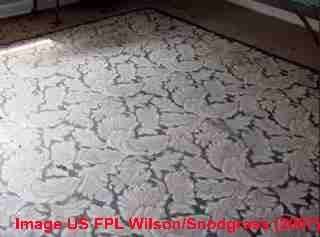 The pigments in traditional linoleum extended through its thickness, the product was linseed oil based, and it used a jute backing. In contrast, other sheet flooring products were made of a thin pigment or colored pattern layer glued to an asphalt-paper-based or "felt" backer that is black in color and that looks like thick roofing felt.
But many authors and historians including those cited just above refer to most or even all sheet flooring products from this era using the word linoleum. Linoleum, then became rather generic, just as Kleenex™ became generic for tissues among many sniffers.
Really? Why do we care whether an old or historic floor covering is traditional linoleum or some other product made of different ingredients?
Well because at least some older asphalt-impregnated paper felt backing products contained asbestos, while no pure linoleum flooring products contain nor ever contained asbestos in their ingredients.
Congoleum Gold Seal Rugs along with Nairn Linoleum were marketed from the 1920's into the 1950's when Congoleum-Nairn was producing 12-foot wide sheet vinyl-based flooring.
Colors/Shades of a Congoleum-Nairn 1963 vinyl asbestos flooring style Romanaire 9" x 9" x 1/16" patternshown (Shade VA 581 above left, Shade VA 577, Shade VA 578, Shade VA 582, Shade VA 580 above right, and Shade VA579 below left) [Note: these image files are mis-named by some websites as Kentile - properly they are Congoleum-Nairn products.]
We provide tips for identifying types of sheet flooring & resilient flooring at RESILIENT SHEET FLOORING ID GUIDE. We also discuss the history and manufacture of asphalt-asbestos floor tiles in our Age of House articles at FLOORING MATERIALS
We discuss the inspection, diagnosis, and repair of all types of flooring products at FLOOR TYPES & DEFECTS.
Don't Confuse Congoleum Nairn Resilient Flooring with Armstrong Floors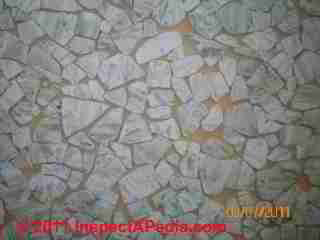 Armstrong and Congoleum were and are two distinctly different flooring companies.
This photograph of sheet flooring was identified by a reader in a 1964 home. She found remnants in the bottom of a kitchen cabinet on which was imprinted "Armstrong".
While the reader referred to this as "Armstrong Congoleum sheet flooring", Armstrong and Congoleum are separate individual companies. The flooring in our photo (left) is identified as an Armstrong resilient flooring product.
For Armstrong flooring products, identification, & asbestos content information, see ARMSTRONG FLOOR TILE IDENTIFICATION
Congoleum Sheet Flooring - ca 1990
Reader question: I'd like to know if "Congoleum Triumph #25031 flat" may contain asbestos. It was installed in my bathroom in 1990. A picture of the installed flooring is attached. Any information you can provide on this product would be greatly appreciated. Thank you! - P.F. 1/7/2014

Reply:
A competent onsite inspection by an expert usually finds additional clues that would permit a more accurate, complete, and authoritative answer than we can give by email alone - for example there may be other much more immediate health and safety hazards in your home. You will find additional depth and detail in articles at our website.

That said, it is reasonable to believe that flooring installed in 1990 in the U.S. would not contain asbestos. While I do on occasion find flooring products that were "new old stock" that contained asbestos and that were installed in homes in the first few years after manufacturers stopped producing such materials, by 1990, in my OPINION that would be a very unusual case.
For a detailed photo guide to all brands of vinyl-asbestos floor tile & resilient flooring patterns, sizes, and years of manufacture, see ASBESTOS FLOOR TILE IDENTIFICATION PHOTOS 1951-1980.
Readers should see ASBESTOS FLOORING HAZARD REDUCTION and also see FLOOR TILE HISTORY & INGREDIENTS for a discussion of the ingredients and production of asbestos-containing flooring.
And see ASBESTOS FLOOR TILE IDENTIFICATION for detailed advice on handling and identifying vinyl-asbestos floor tiles or flooring products that probably do or don't contain asbestos.
For a strategy for collecting building dust samples, when, where, how many samples to collect, see DUST SAMPLING PROCEDURE Also see Micro-Photographs of Dust from the World Trade Center collapse following the 9/11/01 attack. Links to U.S. government and other authoritative research and advice are included.
"AirStep Installation Instructions" [PDF] (2013), Congoleum, 3500 Quakerbridge Road, PO BOx 3127, Mercerville NJ 08619, Website: www.congoleum.com, retrieved 2016/04/01, original source: http://www.congoleum.com/uploads/files/dri_installation_guides/AirStep%20Install%20Instructions.pdf
...
Continue reading at CORK FLOORING & FLOOR TILES or select a topic from closely-related articles below, or see our complete INDEX to RELATED ARTICLES below.
Or see ASBESTOS FLOOR TILE IDENTIFICATION COLOR KEY
Or see CONGOLEUM FLOORING HISTORY
Or see FLOOR TILE HISTORY & INGREDIENTS.
Or see FLOOR TILE / SHEET FLOORING PHOTO GUIDES
Or see IDENTIFY SHEET FLOORING TYPE, HOW TO
Or see LINOLEUM & OTHER SHEET FLOORING
Or see SHEET FLOORING INSPECT / TEST
Suggested citation for this web page
CONGOLEUM-NAIRN FLOOR TILES & LINOLEUM at InspectApedia.com - online encyclopedia of building & environmental inspection, testing, diagnosis, repair, & problem prevention advice.
Or use the SEARCH BOX found below to Ask a Question or Search InspectApedia
...
Frequently Asked Questions (FAQs)
Try the search box below or CONTACT US by email if you cannot find the answer you need at InspectApedia.
Question:
(July 8, 2014) Kimberly said:
Trying to identify the tile in our kitchen. House was built in 1970 in the Midwest, and underwent renovation in 1974. Tiles are brick shaped, 8 1/2 by 2 1/2, white with grey speckles and edges/mortar lines. Appear very rigid and durable. Thanks.
Reply:
Kimberly
there were several manufacturers of brick pattern asbestos containing floor tiles.
See inspectapedia.com/hazmat/Armstrong_Tile_List_1974-79.htm Romford Brick patterns in white and red for examples.
Question: Benjamin floor tiles
Aug 8, 2014) Cathy Butler said:
Hello I own an asbestos testing laboratory and my lab manager calls some floor tiles "Benjamin tiles." This is what they were called at her previous job. I'm unable
to fine any info using that name. Have you heard of Benjamin tiles? where did the name come from. Thank you.
Reply:
I've never heard of "Benjamin tiles" either, and would certainly be interested if your lab manager can give us some actual information. I'd be glad to research the topic given a clue, but I must gripe that having researched this topic for nearly two decades, that's not an asbestos floor tile name I've seen. Perhaps she's referring to flooring products from Benjamin Moore? Principally a paint and floor coating company.
Question: did our linoleum contain asbestos?
(Dec 31, 2014) Celeste Malvar said:
we recently had two layers of linoleum removed from our kitchen floor and our contractor did no asbestos testing; how would I know if any asbestos fibres have been released into our home now?
Reply:
Celeste, if you *know* that the product was truly linoleum, that does not contain asbestos. Other sheet flooring products might. If the sheet flooring was glued down, some of those mastic adhesives also contained asbestos. (In More Reading above see MASTIC, CUTBACK ADHESIVE, FLASHING CEMENT ASBESTOS)
You could try taking a tape sample of settled dust that you think represents dust that might have been created by work on your home. Send that to a certified asbestos test lab.
See tape sampling procedure details at inspectapedia.com/mold/Mold_Test_Adhesive_Tape.php
Question: Congoleum Shinyl Vinyl dust hazard?
(Apr 13, 2015) Christy Spradling said:
My husband and I recently renovated our kitchen, and found Congoleum Shinyl Vinyl under another layer of linoleum. We took it out in large pieces, and where it was completely stuck, I used a heat gun to pry it up. I used adhesive remover to get MOST of the backing left behind on the wood floor, and then we completely masked off the room when my husband (while wearing a respirator) took a palm sander to what was left to smooth out the floor. Unfortunately, some of the dust from sanding got into the next room on the other side of the wall from under the baseboard. It was completely cleaned up by the next day, but 3 months later, I'm still having anxiety thinking we've poisoned our kids and doomed them to lung cancer in the future. Am I overreacting? We tried to hard to be careful with it, and I'm scared to death it wasn't enough.
Reply:
Look: we don't know (without a lab test) what was in the dust, how much dust you spread, what was the actual exposure to occupants. At this point, if there is more cleanup to be done use damp wipes or a HEPA-rated vacuum cleaner. You could also collect a tape sample of dust to have it analyzed by a forensic lab. If asbestos particles are a significant portion of the dust then more cleanup would be appropriate. I understand the anxiety, but I'm doubtful that you'll find scholarly data asserting that your kids suffered a measurable health impact. So don't be scared to death. The anxiety itself is bad for you.
Question: Congoleum Nairn, Gold Seal Asphalt Tile 1/8 gauge, 9X9
5 June 2015 sueha417 said:
We live in a home that is 65 years old. There is carpeting covering asphalt tile in our basement. We recently found a box of tiles (same as on the basement floor) that are labeled Congoleum Nairn, Gold Seal Asphalt Tile 1/8 gauge, 9X9. Does this manufacturer's line of tile contain asbestos? If so, it is a danger as long as it is under carpeting?
Reply:
Yes that's an asbestos containing floor tile - a claim you can confirm if you face significant costs - by sending a sample to a certified asbestos testing lab. It's not costly - about $50. USD.
...
Ask a Question or Search InspectApedia
Use the "Click to Show or Hide FAQs" link just above to see recently-posted questions, comments, replies, try the search box just below, or if you prefer, post a question or comment in the Comments box below and we will respond promptly.
Search the InspectApedia website
Technical Reviewers & References
Click to Show or Hide Citations & References
Richa Wilson, Kathleen Snodgrass, "EARLY 20TH-CENTURY BUILDING MATERIALS: RESILIENT FLOORING" [PDF 1.5MB], Richa Wilson, Intermountain Regional Architectural Historian Kathleen Snodgrass, Project Leader, United States Department of Agriculture Forest Service, Technology & Development Program, August 2007, 7300-0773-2322-MTDC.

Contact Kathie Snodgrass at MTDC: Tel: 406–329–3922, Email: ksnodgrass@fs.fed.us or Richa Wilson, author; USDA Forest Service, Intermountain Region, 324 25th Street, Ogden, UT 84401. Phone: 801–625–5704; fax: 801–625–5229: e-mail: rwilson@fs.fed.us
Armstrong ® Residential Flooring - Website 05/15/2010 http://www.armstrong.com/ lists current flooring products provided by the Armstrong Corporation, including Armstrong's current vinyl floor tile products at http://www.armstrong.com/flooring/products/vinyl-floors
Armstrong Corporation, Corporate History - http://www.armstrong.com/corporate/corporate-history.html - Web Search 05/19/2010
Armstrong vinyl asbestos floor tiles: photos of asbestos-vinyl floor tiles as catalog pages (PDF form) are at www.asbestosresource.com/asbestos/tile.html
Accoflex 2005 series semi-flexible vinyl tile Wonder flooring product description; Armstrong's Accoflex is a vinyl composition floor tile. WonderFlooring, Private Bag X02, Fordsburg 2033, Telephone: 011 298 8100, Fax: 011 836 4450, National Call Centere: 0860-29-80-80, Email: info@wonderflooring.com & marketing@wonfloor.com/ [2nd is a defective email address]
Web search 01/29/2011, original source: http://www.wonderflooring.com/accoflex/accoflextech2.pdf
Reference: Armstrong Flooring: Accotile, Accoflex & Coke Tile. Publication 333, Armstrong Flooring.
Note on use of the "Accoflex" name:
In addition to Accoflex flooring produced by Armstrong, Accoflex® is also a U.S. registered trademark used for Insulation Jackets For Industrial Pipes, Tanks and Conduits Including Flexible and Rigid Insulation In the Form of Foamed Synthetic Material Sheeting, owned by Armacell Enterprise Gmbh, Armstrong World Industries, Inc, also distributed in the U.K., Australia, & New Zealand, also in Indonesia. Armacell Australia Pty Ltd, a producer of engineered foams, (http://www.armacell.com/) was founded officially in August 2000 when the then Armstrong Insulation Products (Australia) became a separate legal entity from Armstrong World Industries group.
"Asbestos in your home or at work," Forsyth County Environmental Affairs Department, Winston-Salem NC 12/08
"Asbestos Floor Tile Removal", the University of Minnesota's advice on removing VAT (vinyl asbestos or asphalt asbestos floor tile) can be read in detail at www.health.state.mn.us/divs/eh/asbestos/floortile/index.html
Copy on file as ASBESTOS IN YOUR HOME - U.S. EPA, Exposure Evaluation Division, Office of Toxic Substances, Office of Pesticides and Toxic Substances, U.S. Environmental Protection Agency, Washington,D.C. 20460
Resilient Floor Covering Institute, 1030 15th St. NW, suite 350, Washington D.C.
Book Recommendations for Asphalt & Vinyl-Asbestos Floor Tile Identification:
Asbestos products and their history and use in various building materials such as asphalt and vinyl flooring includes discussion which draws on ASBESTOS, ITS INDUSTRIAL APPLICATIONS, ROSATO 1959, D.V. Rosato, engineering consultant, Newton, MA, Reinhold Publishing, 1959 Library of Congress Catalog Card No.: 59-12535 (out of print).
Congoleum Corporation, "Company History", Congoleum Corporation, Department C, P.O. Box 3127, Mercerville, NJ 08619-0127 1-609-584-3601, web-search 03/14/2011, original source: http://www.congoleum.com/history.html
David Grudzinski, Advantage Home Inspections, is a professional home inspector in Cranston, RI. 02910. He can be reached at 401-935-6547, fax- 401-490-0607 or by email to contact/us@advantagehomeinspections.us 04/26/2009
EPA Guidance for Controlling Asbestos-Containing Materials in buildings, NIAST, National Institute on Abatement Sciences & Technology, [republishing EPA public documents] 1985 ed., Exposure Evaluation Division, Office of Toxic Substances, Office of Pesticides and Toxic Substances, U.S. Environmental Protection Agency, Washington,D.C. 20460
EVER WEAR TILE CO is currently (2009) in the Terrazzo, Tile, Marble, and Mosaic Work industry in Fallon, NV. 775) 423-6221. [We do not know the company history nor whether there is an association with EverWear vinyl asbestos floor tiles discussed in this article.]
Kentile KenFlex flooring photographs:Flickr web search 5/15/2010 - see original material and other asbestos product photos
"Plastic Flooring Spreads Through the House", Jackson Hand, Guide to Home-Improvement Materials, Popular Science, April 1969, p. 154-158
Thomas Hauswirth, Managing Member of Beacon Fine Home Inspections, LLC and (in 2007) Vice President, Connecticut Association of Home Inspectors Ph. 860-526-3355 Fax 860-526-2942 beaconinspections@sbcglobal.net 06/07: thanks for photographs of transite asbestos heating ducts
Gary Randolph, Ounce of Prevention Home Inspection, LLC Buffalo, NY, for attentive reading and editing suggestions. Mr. Randolph can be reached in Buffalo, NY, at (716) 636-3865 or email: gary@ouncehome.com 3/07
Thanks to reader Matt Abel, Design Services Department, Strongwood Log Home Company, 711 Shadow Road, Waupaca WI 54981, Office (715) 258-4818, Toll Free (866) 258-4818, www.gostrongwood.com "Begin your journey home.." for vinyl asbestos floor photos, October 2010.
Thanks to reader Meryl Silvers for hexagonal floor tile photos showing a possible Kentile product that contained asbestos. October 2010.
Thanks to reader N.H. for providing a photo of 1970's era vinyl asbestos floor tile that we identify as most likely Armstrong Solarian Devonport white.
M.B. provided photographs of Congoleum linoleum flooring from a 1960's Tampa Florida home.
June 1997 - Window Putty - OSHA case cites contractor for asbestos exposure during removal of window putty http://www.osha.gov/pls/oshaweb/owadisp.show_document?p_table=NEWS_RELEASES&p_id=1091
Asbestos Identification and Testing References

Asbestos Identification, Walter C.McCrone, McCrone Research Institute, Chicago, IL.1987 ISBN 0-904962-11-3. Dr. McCrone literally "wrote the book" on asbestos identification procedures which formed the basis for current work by asbestos identification laboratories.
Stanton, .F., et al., National Bureau of Standards Special Publication 506: 143-151
Pott, F., Staub-Reinhalf Luft 38, 486-490 (1978) cited by McCrone

ASBESTOS IN YOUR HOME U.S. EPA, Exposure Evaluation Division, Office of Toxic Substances, Office of Pesticides and Toxic Substances, U.S. Environmental Protection Agency, Washington,D.C. 20460
Asbestos products and their history and use in various building materials such as asphalt and vinyl flooring includes discussion which draws on ASBESTOS, ITS INDUSTRIAL APPLICATIONS, ROSATO 1959, D.V. Rosato, engineering consultant, Newton, MA, Reinhold Publishing, 1959 Library of Congress Catalog Card No.: 59-12535 (out of print, text and images available at InspectAPedia.com).
"Handling Asbestos-Containing roofing material - an update", Carl Good, NRCA Associate Executive Director, Professional Roofing, February 1992, p. 38-43
EPA Guidance for Controlling Asbestos-Containing Materials in buildings, NIAST, National Institute on Abatement Sciences & Technology, [republishing EPA public documents] 1985 ed., Exposure Evaluation Division, Office of Toxic Substances, Office of Pesticides and Toxic Substances, U.S. Environmental Protection Agency, Washington,D.C. 20460
...
Books & Articles on Building & Environmental Inspection, Testing, Diagnosis, & Repair
Our recommended books about building & mechanical systems design, inspection, problem diagnosis, and repair, and about indoor environment and IAQ testing, diagnosis, and cleanup are at the InspectAPedia Bookstore. Also see our Book Reviews - InspectAPedia.
...