Step by Step Guide to Electromagnetic Field Surveys - a Recommended EMF Measurement Procedure
EMF MEASUREMENT STEP BY STEP - CONTENTS: details of how to make reliable measurements of electromagnetic field exposure: EMF levels using simple hand-held inexpensive instruments. Outside EMF Measurements & Outside EMF Measurement Documentation. Indoor EMF Measurements. Other Indoor EMF Measurement Targets. Workplace EMF Measurements. EMF Measurement Documentation Details
POST a QUESTION or READ FAQs about how to measure electromagnetic fields, EMF radiation at and around buildings
InspectAPedia tolerates no conflicts of interest. We have no relationship with advertisers, products, or services discussed at this website.
EMF exposure field strength measurements, exact procedure:
This paper discusses a recommended procedure for performing electromagnetic field (EMF) or electro-magnetic radiation EMR measurements either by engaging a professional or by consumers using low-cost instruments which measure EMF exposure levels in gauss or milligauss.
We discusses sources of error and variation in EMF measurements and we review and make suggestions for using several low-cost EMF measurement devices to determine the instantaneous electromagnetic field exposure.
Green links show where you are. © Copyright 2017 InspectApedia.com, All Rights Reserved.
Steps in A Recommended Electromagnetic Field Measurement Procedure - How to make Outdoor & Indoor EMF Measurements
We have documented a proposed procedure for making site surveys of electromagnetic field strength in order to improve the accuracy and repeatability of such measurements. We welcome critique and suggestions for this procedure. Contact Us with criticism.
Article Contents
As we explained earlier:
Instead of contacting us with a request to perform EMF Electromagnetic or RF Radio Frequency Field Strength measurements, in most cases it is more economical and convenient for a property owner to purchase their own instrument, making measurements under varying conditions.
In this series of articles we describe how to make measurements using a consistent approach and using good documentation. Following good procedure and using instruments properly are two steps towards making accurate, repeatable EMF measurements.
But because the signal transmission for RF sources such as radio, TV, or cell towers, the load on a power transmission line is not under control of an individual property owner, and because the EMF strength varies as the power transmission line load varies, it is important to have an idea of that condition as well when attempting to characterize EMF exposure at a specific location.
In contrast, EMF measurements are quite accurate and repeatable at other EMF sources such as close to electrical appliances and service entry cables.
Outside Measurements of Electromagnetic Field Strength at a Property
Make these EMF measurements
At perimeter of the property at a point closest to a suspect source such as a power transmission or distribution line
At the electric meter at distance of 12" (confirms equipment is responding). Also note if the electric meter or service entry cable of other high amperage wiring is run along walls on the other side of which may be found the head of beds in sleeping areas.

At targets of opportunity such as pole-transformers near building, below service laterals to building. (Photo at left)
In street in front of building, or other apparently neutral location more than 1000 meters from the power line of interest, to determine an apparent ambient or background level (commonly 0 to .5 mG, larger near local power distribution wiring under some conditions)
Document these Outdoor EMF measurement Parameters and Readings
Estimated or measured distance from nearest point on building to point directly below nearby power line
Same, for distance from corners of building to the point named above.
The date and time of the EMF measurement, for comparison with power transmission line load level data for that same time.
The EMF levels found at each location
Indoor Measurements of Electromagnetic Fields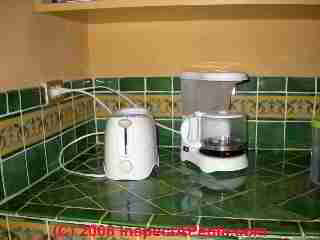 If the outside of the building is in a strong EMF, all measurements inside the building might be expected to produce the identical number.
However if the inspector agrees to a detailed site survey we recommend spot checks in every room as well as at obvious common interior targets of interest (such as an electrical device which is normally kept on and which is close to the head of a bed (clocks).
You will observe that while there may be a strong field close to a clock, the field will fall off to undetectable in 2 feet or so.
Toasters, coffee makers, electric irons, crockpots, and similar electrical appliances are an EMF Enviro-Scare "red-herring" and need not be measured unless the client indicates that someone sleeps with their head in or on the toaster and that it's kept on for long periods of time each day.
Other indoor targets of opportunity in residential properties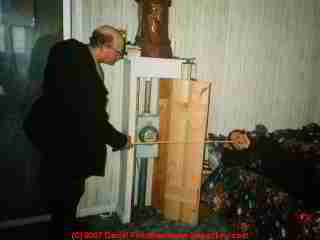 Bedroom walls adjacent to electrical service equipment, refrigerators, or computers if left on 24 hours.
Bedroom walls or bed locations on the opposite side of walls where electrical meters or service entry cable wiring are run (photo at left).
Appliances that are always-on. Some electric clocks, located on a night-stand close to a sleeper's head will expose the occupant to a much stronger EMF than nearby power lines.
Bedroom walls inside of outside location of electrical service entrance cables.
Every bedroom heated by electric radiant panels in ceiling or floor (when these devices or systems are turned on) - we have found very strange anomalies in some rooms, possibly due to damaged equipment or improperly installed wiring. we have also identified sections of floor or ceiling electric radiant heat that was no longer operating. (You can also make that check with the heat on using an infra red sensor or thermography.
Sleeping areas (or areas where people spend many hours daily) traversed by steel piping or ducting which in turn passes by electrical equipment.
Commercial properties have special targets of opportunity for EMF Measurements:
Local power distribution systems, electric meter buses which may produce a field which is further distributed by building plumbing or wiring
Special high-amp equipment such as X-ray machines, computer equipment, compressors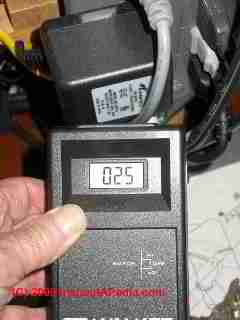 Given the ease with which electrical components within a building can be relocated or modified, field inspectors are strongly warned to absolutely refuse to permit clients to assert that the sample measurements made are a comprehensive or exhaustive study of a property.
Health professionals, epidemiological experts, and in the case of EMF, electrical engineers can offer competent, expert advice which should be considered before any costly or risky actions are taken regarding this or other environmental topics.
This information is has not been sanctioned nor technically reviewed by the American Society of Home Inspectors.
Use it at your own risk.
EMF Measurement Documentation Requirements
Document date, time, location, weather conditions (hot means air conditioners are running and load may be higher; time means it is at least theoretically possible to correlate the measurement results with actual load data if the power company would provide it)
Document distance from measurement location to suspected source of EMF and identify that source
Document any reports of medical anomalies (if anyone volunteers such information or if your procedure or study permits its collection)
See WORKPLACE EXPOSURE to Electromagnetic Fields for information about exposure to electromagnetic fields in the workplace.
Please see WORKSHEET for EMF MEASUREMENTS - Example for a sample worksheet that collects EMF measurements and summarizes the results.
Readers are urged to consult expert sources and to give any suggestions regarding these notes to the author. Readers may want to see our EXCEL Spreadsheet EMS_Survey_Sample1.xls for an example of common locations and measurement points. This spread sheet includes computations necessary to produce mathematically valid measurement results for those who are using position-sensitive instruments.
Some studies by some experts have suggested a possible link between exposure to electromagnetic fields and various cancers or other health problems. Other studies suggest that no definite correlation could be demonstrated. It is likely that the jury will be out on this matter for some time, for both economic and political reasons.
Small absolute health risk from EMF: Most researchers indicate that where a risk is present, the absolute risk level from EMF is likely to be small, and less than other less obscure hazards. (Automobile accidents, trip and fall, fire, and shock hazards, smoking and other health risks.) Consumers should not let focus on a specific emotionally-charged hazard distract them from these other more mundane but more dangerous concerns.
Instead of contacting us with a request to perform EMF Electromagnetic or RF Radio Frequency Field Strength measurements, in most cases it is more economical and convenient for a property owner to purchase their own instrument, making measurements under varying conditions.
See Recommended EMF Measurement Procedure for details of how to collect EMF measurement data.
See Evaluation of Low-Cost EMF Instruments This article describes several low-cost and reasonably accurate EMF measurement devices that are readily available.
See Radio Frequency RF Detection Meters This article describes several low-cost and accurate radio frequency or RF detection and measurement devices suitable for radio, TV, cellphone, microwave, and similar signals.
Articles About Electromagnetic Fields, Hazards, Measurements
...
Continue reading at EMF SURVEY PROCEDURE or select a topic from closely-related articles below, or see our complete INDEX to RELATED ARTICLES below.
Or see EMF REFERENCES
Suggested citation for this web page
EMF MEASUREMENT STEP BY STEP at InspectApedia.com - online encyclopedia of building & environmental inspection, testing, diagnosis, repair, & problem prevention advice.
Or use the SEARCH BOX found below to Ask a Question or Search InspectApedia
...
Frequently Asked Questions (FAQs)
Try the search box below or CONTACT US by email if you cannot find the answer you need at InspectApedia.
Question: information on how I can test a house for electromagnetic waves
I'm considering buying a house next to high tension wires please help me with information on how I can test the house for electromagnetic waves. - F.R. 6/1/2013
Reply:
A competent onsite inspection by an expert usually finds a range of hazards, some of which may be more immediate and severe than possible risks from electromagnetic fields, so be sure you aren't distracted from those. That said, here are some things to consider:

You can probably buy a decent quality EMF/EMR meter and make your own field measurements for a fraction of the cost of bringing in a hired professional, with the added advantage of making multiple measurements since over time field strengths vary considerably depending on the load on the power line.

You can eschew measurement entirely and still estimate both the possible impact on real estate re-sale (price or time on market due to some buyers' fear level) and possible exposure levels to EMF, independent of any actual health risk assessment (ENVIRO-SCARE - PUBLIC FEAR CYCLES ) , by determining the name, owner, and transmission line voltage levels of the power lines near your building along with simple on-the-ground measurements of the distances involved.
There is ample data including in some of our articles, on the relationship between field strength and distance from the source (Distance from the EMF Source Affects Strength). Since actual electrical field strength varies with load on the power line, knowing the line's maximum-rated voltage level can set an upper limit of field strengths regardless of individual onsite measurements.

At EMF MEASUREMENT BASICS we introduce the topic and outline measurement procedures; that article includes links to detailed how-to procedures, worksheets, and related data.

At EMF MEASUREMENT STEP BY STEP  we give detailed measurement suggestions.
If any of our articles leave you with questions, comments, criticism, just let me know and I'll do my best to research further as needed.
Comment:
(Aug 16, 2012) Karl Riley said:
Hi, I will just add to your description of magnetic field sources, that in my decades of field surveys in buildings, the main source of area magnetic fields comes from certain common wiring errors which shunt neutral current from one circuit off to either grounding conductors, pipes, ducts, girders, etc or else to neutral conductors from other circuits. The result is net current fields, which weaken only directly with distance. These are NEC Code violations and can be corrected by electricians who are shown where the error is. For details see my book, Tracing EMFs in Building Wiring and Grounding.

...
Ask a Question or Search InspectApedia
Questions & answers or comments about how to measure electromagnetic fields, EMF radiation at and around buildings
Use the "Click to Show or Hide FAQs" link just above to see recently-posted questions, comments, replies, try the search box just below, or if you prefer, post a question or comment in the Comments box below and we will respond promptly.
Search the InspectApedia website
Technical Reviewers & References
Click to Show or Hide Citations & References
Electric Power Lines, Electromagnetic Fields, Cancer Risk, & "Enviro-Scare" - The Normal Curve Cycle of Public Fear About Environmental Issues - online document by DF
A Procedure for Measuring EMF electromagnetic fields online document by DF
"Questions and Answers about Biological Effects and Potential Hazards of Radiofrequency Electromagnetic Fields", Federal Communications Commission, Office of Engineering and Technology, US FCC, OET Bulleting 56, 4th Edition, August 1999
" Many consumer and industrial products and applications make use of some form of electromagnetic energy. One type of electromagnetic energy that is of increasing importance worldwide is radiofrequency (or "RF") energy, including radio waves and microwaves, which is used for providing telecommunications, broadcast and other services. In the United States the Federal Communications Commission (FCC) authorizes or licenses most RF telecommunications services, facilities, and devices used by the public, industry and state and local governmental organizations. Because of its regulatory responsibilities in this area the FCC often receives inquiries concerning whether there are potential safety hazards due to human exposure to RF energy emitted by FCC-regulated transmitters. Heightened awareness of the expanding use of RF technology has led some people to speculate that "electromagnetic pollution" is causing significant risks to human health from environmental RF electromagnetic fields. This document is designed to provide factual information and to answer some of the most commonly asked questions related to this topic." - original source: U.S. Federal Communications Commission Office of Engineering and Technology, http://www.fcc.gov/Bureaus/Engineering_Technology/Documents/bulletins/oet56/oet56e4.pdf
"Magnetic Field Exposure and Cancer: Questions and Answers [ copy on file as /emf/EMF_Fact_Sheet_NCI_NIH.pdf ] - ," National Cancer Institute, U.S. National Institutes of Health, web search September 2010, original source: http://www.cancer.gov/cancertopics/factsheet/Risk/magnetic-fields
makes these five key points about EMF

Electric and magnetic fields (EMF) are areas of energy that surround any electrical device. EMFs are produced by power lines, electrical wiring, and appliances (see Question 1).
Electric fields are easily shielded or weakened by walls and other objects, whereas magnetic fields are not. Since magnetic fields are more likely to penetrate the body, they are the component of EMFs that are usually studied in relation to cancer (see Question 1).
Overall, there is limited evidence that magnetic fields cause childhood leukemia, and there is inadequate evidence that these magnetic fields cause other cancers in children (see Question 2).
Studies of magnetic field exposure from power lines and electric blankets in adults show little evidence of an association with leukemia, brain tumors, or breast cancer (see Question 3).
Past studies of occupational magnetic field exposure in adults showed very small increases in leukemia and brain tumors. However, more recent, well-conducted studies have shown inconsistent associations with leukemia, brain tumors, and breast cancer (see Question 4).

EMF RF FIELD & FREQUENCY DEFINITIONS RF and EMF measurement tools need to be properly chosen to measure the particular type and frequency of RF or EMF signal that is of interest. See EMF RF FIELD & FREQUENCY DEFINITIONS for a simple explanation of different types of radio frequency (RF) and electromagnetic frequency (EMF) types and where they are found.
Definitions of Gauss vs Milligauss for details about gauss and milligauss and definitions of these terms.
Consumer Product Safety Commission, 800-638-CPSC.
US Environmental Protection Agency, Office of Pesticides and Toxic Substances, TSCA Assistance Office (TS-799), 800-424-9065 or 202-554-1404.
"Evaluation of Potential Carcinogenicity of Electromagnetic Fields," EPA Report #EPA/600/6-90/005B October 1990. EPA: 513/569-7562.
"Biological Effects of Power Frequency Electric and Magnetic Fields" background paper, prepared as part of OTA's assessment of "Electric Power Wheeling and Dealing: Technological Considerations for Increasing Competition," prepared for OTA by Indira Nair, M. Granger Morgan, H. Keith Florig, Department of Engineering and Public Policy, Carnegie Mellon University, Pittsburgh, PA 15213
"Biological Effects of Power Line Fields," New York State Powerline Project. Scientific Advisory Board Final Report, July 1, 1987.
"Extremely Low Frequency (ELF) Fields," Environmental Health Criteria 35. World Health Organization, Geneva, 1984.
"Electric and Magnetic Fields at Extremely Low Frequencies: Interactions with Biological Systems. In: Non ionizing Radiation Protection, World Health Organization, Regional Office for Europe, Copenhagen, 1987.
"Electric and Magnetic Fields from 60 Hertz Electric Power: What do we know about possible health risks?," Department of Engineering and Public Policy, Carnegie Mellon University, Pittsburgh, PA 15213 1989.
"Electromagnetic Fields Are Being Scrutinized for Linkage to Cancer," Sandra Blakeslee, New York Times, Medical Science section, April 2, 1991
Books & Articles on Building & Environmental Inspection, Testing, Diagnosis, & Repair
Our recommended books about building & mechanical systems design, inspection, problem diagnosis, and repair, and about indoor environment and IAQ testing, diagnosis, and cleanup are at the InspectAPedia Bookstore. Also see our Book Reviews - InspectAPedia.
...