Guide to the Basics of Solar Hot Water Heating Systems
SOLAR HOT WATER HEATERS - CONTENTS: How to select, install, use, maintaine & troubleshoot solar water heaters; reduce domestic hot water heating energy or fuel cost
POST a QUESTION or READ FAQs about solar water heater systems: choices, properties, installation, maintenance & repair
InspectAPedia tolerates no conflicts of interest. We have no relationship with advertisers, products, or services discussed at this website.
Solar water heaters: this article explains the basic components of solar hot water heating systems used to heat water for washing and bathing. Solar water heaters use renewable energy - sunlight - collected in outdoor rooftop or ground-mounted solar collectors to heat water which is circulated by a pump between a hot water storage tank and the panels.
Green links show where you are. © Copyright 2017 InspectApedia.com, All Rights Reserved.
How to Hook Up & Use Solar Water Heating Systems to Provide Domestic Hot Water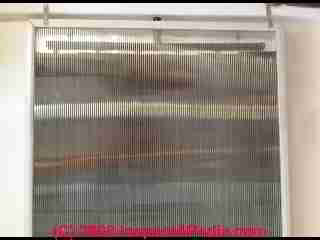 Sketch of the hookup schematic for solar hot water heating shown at page top was provided courtesy of Lennox Industries.
Solar water heaters use renewable energy - sunlight - collected in outdoor rooftop or ground-mounted solar collectors to heat water which is circulated by a pump between a hot water storage tank and the panels.
The upper end of a simple solar water heater collector is shown in our photo at left. Look closely and behind the corrugated plastic surface, at the top you can see the horizontal black tubing that moves water through the top end of this collector.
Solar water heaters have been in use for decades, with popular use at remote cottages or off-the-grid buildings and are likely to see increasing use in much of the world as energy costs continue to climb.
What are the Components of a Solar Hot Water Heating System?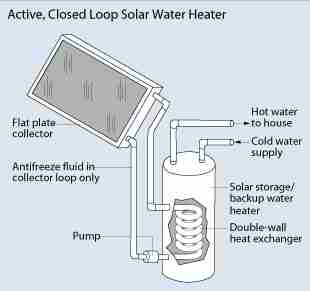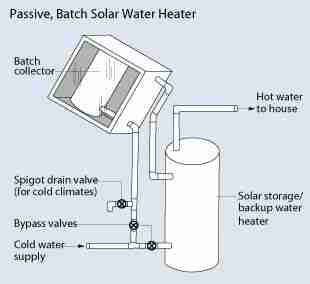 The schematic at above left (U.S. Department of Energy) explains a typical active, closed loop solar water heater hookup and shows the basic parts of a solar hot water system. The schematic at above right (U.S. DOE) explains a typical passive-batch solar water heating system, showing the batch collector containing a volume of hot water and located separately from a backup solar water storage or water heater tank.
[Click to enlarge any image]
Here are the key parts of solar hot water heating systems:
Our solar water heater photographs below show a convection-type solar water heater widely distributed in Mexico. The white water tank and the bank of solar heating tubes are initially filled with cold water.
As the sun heats water in the parallel heater tubes, warmed water rises by convection in the tubes and enters the storage tank while cooler water from the tank falls into the tubes for further heating. Heated water is drawn from a fitting at tank top while incoming cool water is fed into the tank bottom.
This system heats water and stores it in the reservoir tank using only natural convection with no pump required. Our second photo (below right) shows one of these systems installed.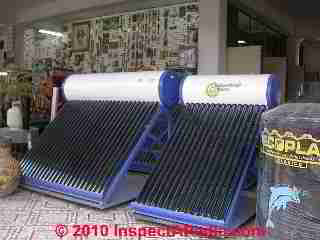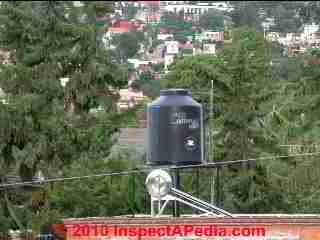 One or more solar collectors are located where they will receive an appropriate (or maximum) amount of sunlight. In our photo below you can see a simple solar collector hanging at the Don Pedro Ferreteria hardware store in San Miguel de Allende, Mexico.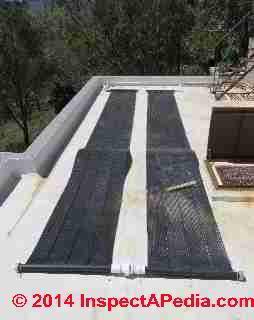 Heat exchanger: The solar hot water collectors are connected by a loop of piping to a heat exchanger unit located inside of a hot water storage tank located in the building.

In other words, the building's domestic water supply to be heated is not itself circulated through the solar collector but rather it is heated inside the water tank by a heat exchanger which itself contains a liquid (containing an anti-freeze in northern climates) which circulates in the solar collectors and inside the heat exchanger.

Our photo (left) illustrates a rooftop heat exchanger: a rubber tubing solar collector system on a rooftop in Guanajuato, Mexico. This solar water heating system producers domestic hot water for washing & bathing and for a hot tub.

The solar gain on this rooftop was so high that the owners have blocked some of the tubing to prevent excessive hot water temperatures. In the FAQs found at POST a QUESTION or READ FAQs we include additional photographs of this installation.
A hot water storage tank contains domestic hot water heated by the heat exchanger; the tank is supplied with incoming cold water and provides outgoing hot water to the building's plumbing fixtures. In our photo below you can see a simple solar water heater tank at the Don Pedro Ferreteria hardware store in San Miguel de Allende, Mexico. In areas where there is plenty of sunlight and water usage is more modest, a simple collector, pump, controls, and small water tank such as the one we show below are often adequate.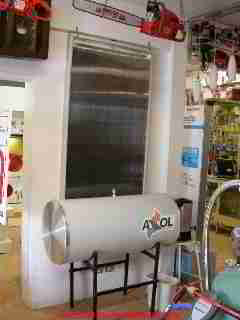 Temperature sensors mounted at the water storage tank and also at the solar collectors monitor water temperatures and communicate with a solar controller module.
The solar controller module determines when it is appropriate to circulate water from the hot water tank through the solar collectors, preventing water circulation when it would cool rather than warm the hot water.
A circulator pump is controlled by the solar controller module to move water between the solar collectors and the hot water storage tank. See Guide to Heating System Circulator Pumps & Circulator Relays for details.
An expansion tank absorbs the pressure increase created in the (closed) system when water is heated. See Guide to Heating Boiler Expansion Tanks for details.
A pressure and temperature relief valve is provided on the hot water tank for safety
An air vent valve is provided at the solar collectors to avoid the piping becoming air bound, purging un-wanted air in the water circulation loop.
A tempering valve or mixing valve is installed to mix cold water in with the outgoing hot water from the hot water tank, permitting storage of more heat in the water tank without risking scalding building occupants. We discuss tempering valves or mixing valves in detail at Guide to Mixing Valves & Anti Scald Valves
A backup hot water heater is usually provided, using electricity, gas, oil, or other fuel to assure that there is adequate hot water when weather conditions do not provide enough solar energy.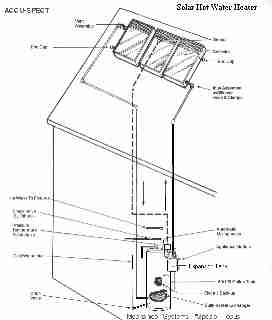 As energy costs continue to increase the payback-time for the cost of solar panels and piping installation for solar hot water systems will continue to improve. The solar water heater system sketch is courtesy of Accu-Spect.
Especially in areas that receive adequate sunlight we should expect to see an increase in popularity of these systems.
A Comparison of Alternative Hot Water Heaters & Sources
This article series describes the characteristics of these water heating methods:
More water heater help articles
...
Continue reading at SOLAR WATER HEATER ANTIQUE or select a topic from closely-related articles below, or see our complete INDEX to RELATED ARTICLES below.
Suggested citation for this web page
SOLAR HOT WATER HEATERS at InspectApedia.com - online encyclopedia of building & environmental inspection, testing, diagnosis, repair, & problem prevention advice.
Or use the SEARCH BOX found below to Ask a Question or Search InspectApedia
...
Frequently Asked Questions (FAQs)
Try the search box below or CONTACT US by email if you cannot find the answer you need at InspectApedia.
Question: which is most efficient backup system for solar hot water?
The solar system I am pricing has one backup heating element, in the middle of the tank. I expect a lot of my use will be at night, therefore I was an efficient electrical system too. Would the performance of a supply tank with an element on the top and on the bottom, at traditional tank, be more efficient and supply more hot water than the single element, middle mounted heating element? - dan@dudden.com
Reply:
Interesting question Dan. I don't know - insofar as being able to cite an authoritative source without more research. But it may help to understand the role of dual heating elements in electric water heaters. The lower element warms all water in the tank, starting with cold water entering (cold water usually is directed to the tank bottom by a dip tube). The upper element boosts the ending temperature of hot water leaving the tank.

We should both read some detailed descriptions of the operating of dual-element electric water heaters. My experience with models I've tested and repaired was that both elements worked simultaneously.

If we find a single-element electric water heater tank I figure it's probably because it's a pretty small tank.

You may be better served by choosing the tank size closely matched to your needs so as not to heat more hot water than needed, using a timer to turn off the electric heaters when not wanted or needed, and choosing a water heater with a high energy rating.
Question: Thermal slab with pipes deep in the concrete?
Current building regs here in Scotland dictate that I fit a thermal slab of at least 125mm thick as a floor in my house extension. I couldn't see the point of just relying on the sun through the window to heat it so I fitted under floor heating pipes.The slab is 250 mm thick,the pipes are 200mm below the surface,there is 170mm of "kingspan " between the membrane/subsoil and the edges are insulated with 5mm Kingspan.
I intend to fit a solar hot water panel to slowly,maybe over several days ,heat the slab,intending it to be a heatstore rather than a radiator ,say from a boiler system.
I can see from many posts on this site that my pipes are in too deep for a radiant system ,heated from a boiler,but I think that as a heated from below heat store it should provide a very stable source of heat to keep the room warm through the night or dull days( plenty of those in Scotland)
Comments please.
Reply:
Lee, my experience is that pipes deep in the slab don't work well - which is reflected in the documents by experts in the radiant heating indusry. There are two heat transmission issues:

1. heat loss downwards into soil that exceeds the heat flow upwards into occupied space - you MIGHT overcome this by very good insulation between the slab underside and the soil, resulting in a huge heat sink that takes a long time to heat but eventually sends heat upwards; (If this works in your case do let us know.)

2. heat transfer resistance in the upwards direction caused by the thickness of concrete.

In sum, I'm not optimistic. Can you tell me the R-value of 170mm of Kingspan insulation? Also have you insulated the slab perimeter?
For technical details about placing heating tubing of any sort in to concrete slabs, see these articles:
Passive solar heated slabs: SLAB INSULATION, PASSIVE SOLAR
Radiant heat flooring design:
RADIANT HEAT
RADIANT HEAT FLOOR MISTAKES
RADIANT HEAT TEMPERATURES
RADIANT SLAB FLOORING CHOICES
RADIANT SLAB TUBING & FLUID CHOICES
Reader follow-up:
The R value is 5.100 M2.k/w.Yes the edges have 50mm of the same spec kingspan.The floor slab is encosed in the foundation wall and above ground level. Nothing much lost if it doesn't work,just the £70 for the barrier pipe.I will just have to fit a conventional radiator to the wall and connect the panel to the hot water tank if the heat goes down into the subsoil. Do you think that heat would rise through a solid ,as it does through a gas or liquid?
My aim is to help the thermal store by feeding heat in from below, I want the process to be slow( no avoiding that with the pipes in deep eh.)On reflection maybe midway up would have been better,but after the initial outlay for the panels ,the heat is almost free,might just need a few more. Thanks for you comment,will let you know if it works,probably won't be operational for 18 months or so.
Reply:
Lee,

We'd need to discuss details of some of your questions with a heat transfer engineer; but in general, various solids conduct heat at varying rates, and solids won't have internal currents or movements that occur in liquids or gases. Heat transmits through a solid mor or less at the same rate in all directions, with variation of course when one side of a solid is in contact with or exposed to conditions or temperatures different from another side.

In my OPINION, heat transfers down through an uninsulated concrete slab into the (normally cooler) earth at a rate faster than heat will transfer up through an uninsulated concrete slab into air (normally warmer) in a building above.

In the RADIANT HEAT Floor Mistakes to Avoid article cited above, we had to abandone the in-slab radiant heat floor system. Trials confirmed that it was simply impossible to get the building warm - the rate of heat movement into the earth below the slab (not uniformly insulated, not enough insulation, and tubing too deep in the slab) always exceeded heat movement into the building.

We kept the tiny boiler that had been installed to heat this building and considered installing a thin-set radiant heat tubing floor under a new layer of tile atop the original installation. But because we (and the otherwise goofy builder) had done a good job on building insulation of the walls and roof we found that we could heat the building ( a small cabin) with just a couple of electric heaters + some solar gain thorugh windows and skylights) in cold though perhaps not the coldest (northern Minnesota) temperatures.

Your floor will store passive solar gain heat from sun exposure but I suspect the tubing system will operate at a net loss.

Question: is it normal for the solar hot water panels to be empty or to collapse?
Are solar mats supposed to collapse when [the solar heating system] is turned off?
And is [the solar hot water heating system] meant to be and open air system or a closed system? - L.S. 1/22/2014
Reply:
You are asking about solar hot water or solar heating systems that use a water-antifreeze mix. Among the many types of solar collectors are rubber tubes bonded in mats or gangs of tubing fed at either end by a connected rigid tube connected to the inlet and outlet piping for the system.
Depending on the manufacturer, these tub-mats are rather rigid and would look the same with or without water flowing, while others, made of softer plastic or rubber components may thin down when not under water pressure. In both cases the system stays full of water, not air, when the system is activated.
The solar hot water panel ends shown in my photographs just above are installed on a rooftop in Guanajuato, Mexico and are used to provide domestic hot water and to heat a spa or hot tub. This is a rigid mat, it does not "collapse" when water is not circulating. In fact there is so much solar gain on this roof that the owners have blocked off some of the solar collector tubing so that water is not overheated. Not shown in my photos is a pressure relief safety valve installed on the piping to release water in the event of an unsafe or over-pressure condition. You can see the solar water heater piping, a control valve, and the pressure-relief safety valve in this photo.
But in freezing climates and for some heating applications that are heating water for direct use, that is where an antifreeze mix is not being used in the solar heating system, the system is designed to drain-down when off in freezing weather, to prevent freeze-up. A drain-down solar design will indeed be virtually empty of water in that state: additional controls and air valves are installed on such systems to allow air in or to allow air to exit as required to prevent freezing.
I hope that with these details, if your question is not answered fully you can ask again with more information.
...
Ask a Question or Search InspectApedia
Questions & answers or comments about solar water heater systems: choices, properties, installation, maintenance & repair.
Use the "Click to Show or Hide FAQs" link just above to see recently-posted questions, comments, replies, try the search box just below, or if you prefer, post a question or comment in the Comments box below and we will respond promptly.
Search the InspectApedia website
Technical Reviewers & References
Click to Show or Hide Citations & References
Additional technical contributors & reference sources for this article are listed below.
Mark Cramer Inspection Services Mark Cramer, Tampa Florida, Mr. Cramer is a past president of ASHI, the American Society of Home Inspectors and is a Florida home inspector and home inspection educator. Mr. Cramer serves on the ASHI Home Inspection Standards. Contact Mark Cramer at: 727-595-4211 mark@BestTampaInspector.com
John Cranor is an ASHI member and a home inspector (The House Whisperer) is located in Glen Allen, VA 23060. He is also a contributor to InspectApedia.com in several technical areas such as plumbing and appliances (dryer vents). Contact Mr. Cranor at 804-747-7747 or by Email: johncranor@verizon.net
Desmex Solar, Blvd. José Ma. Morelos 3649, Col. Purísima de Jerez, León, Gto. C.P.37290 Tel. +52 (477) 788 06 00, Fax. +52 (477) 771 10 02, e-mail: leon@desmexsolar.com: website http://www.desmexsolar.com/ Additional offices in San Miguel de Allende, Guanajuato, Mexico - Carretera a Celaya Km. 1, Plaza Alhóndiga Local 14 (1M), Frente a Mega Comercial Mexicana, San Miguel de Allende, Gto. Tel: +52 (415) 150 73 12 e-mail: sanmiguel@desmexsolar.com, Guadalajara, Mexico - +52 (33) 3165-2454 e-mail: guadalajara@desmexsolar.com, Monterrey Mexico - Tel. +52 (818) 356 43 30 e-mail: monterrey@desmexsolar.com, and Mexico City - Tel. +52 (55) 2643 26 29, Fax. +52 (477) 771 10 02 e-mail: mexico@desmexsolar.com
Passive Solar Design Handbook Volume I, the Passive Solar Handbook Introduction to Passive Solar Concepts, in a version used by the U.S. Air Force - online version available at this link and from the USAF also at wbdg.org/ccb/AF/AFH/pshbk_v1.pdf
Passive Solar Design Handbook Volume II, the Passive Solar Handbook Comprehensive Planning Guide, in a version used by the U.S. Air Force - online version available at this link and from the USAF also at wbdg.org/ccb/AF/AFH/pshbk_v2.pdf [This is a large PDF file that can take a while to load]
Passive Solar Handbook Volume III, the Passive Solar Handbook Programming Guide, in a version used by the U.S. Air Force - online version available at this link and from the USAF also at wbdg.org/ccb/AF/AFH/pshbk_v3.pdf
The Passive Solar Design and Construction Handbook, Steven Winter Associates (Author), Michael J. Crosbie (Editor), Wiley & Sons, ISBN 978-047118382 or 0471183083 is available at Amazon.com and via the The Passive Solar Design and Construction Handbook, Steven Winter Associates (Author), Michael J. Crosbie (Editor), Wiley & Sons, ISBN 978-047118382 or 0471183083 is available at Amazon.com and via the InspectAPedia Bookstore
"Passive Solar Home Design", U.S. Department of Energy, describes using a home's windows, walls, and floors to collect and store solar energy for winter heating and also rejecting solar heat in warm weather.
Solar Water Heating: A Comprehensive Guide to Solar Water and Space Heating Systems (Mother Earth News Wiser Living Series), Bob Ramlow, Benjamin Nusz, ISBN13: 9780865715615
Heating water with the sun is almost as old as humankind itself, and it is done all over the world. Yet there are strangely few resources on the topic in North America.
Solar Water Heating fills this gap. It reviews the history of solar water and space heating systems from prehistory to the present, then presents the basics of solar water heating, including an introduction to modern solar energy systems, energy conservation and energy economics. Drawing on the author's experience as an installer of these systems, the book goes on to cover:
* Types of solar collectors, solar water and space heating systems and solar pool heating systems, including their advantages and disadvantages * System components, their installation, operation, and maintenance * System sizing and siting * Choosing the appropriate system.
Since people often get turned off by the up-front cost, the book focuses especially on the financial aspects of solar water or space heating systems, clearly showing that such systems can save significant costs in the long run. Well-illustrated, the book is designed for a wide readership from the curious to the student or professional.
"Solar Water Heaters", U.S. Department of Energy article on solar domestic water heaters to generate domestic hot water in buildings, explains how solar water heaters work. Solar heat for swimming pools is also discussed.

"Heat Exchangers for Solar Water Heating Systems", U.S. DOE describes the types of solar water heater heat exchange methods between the sun and the building's hot water supply
"Heat-Transfer Fluids for Solar Water Heating Systems", U.S. DOE, describes the types of fluids selected to transfer heat between the solar collector and the hot water in storage tanks in a building. These include air, water, water with glycol antifreeze mixtures (needed when using solar hot water systems in freezing climates), hydrocarbon oils, and refrigerants or silicones for heat transfer.
"Solar Water Heating System Freeze Protection", U.S. DOE,using antifreeze mixture in solar water heaters (or other freeze-resistant heat transfer fluids), as well as piping to permit draining the solar collector and piping system.
www.energysavers.gov/your_home/water_heating/index.cfm/mytopic=12850 is the base U.S. DOE website for these articles

"Active Solar Heating Systems", U.S. Department of Energy, including
"Side by Side Testing of Eight Solar Water Heating Systems", ETSU S/P3/00275/REP/2, DTI Pub URN 01/1292, Contractor, The Energy Monitoring Company Ltd., C Martin, M Watson, 2001
This study compared the amount of energy that eight modern solar water heating systems could produce over an average year.
Document: - local copy
Document: - original is at http://www.berr.gov.uk/files/file16826.pdf
Books & Articles on Building & Environmental Inspection, Testing, Diagnosis, & Repair
Our recommended books about building & mechanical systems design, inspection, problem diagnosis, and repair, and about indoor environment and IAQ testing, diagnosis, and cleanup are at the InspectAPedia Bookstore. Also see our Book Reviews - InspectAPedia.
...