HVAC Noise Diagnosis & Cure
How to Evaluate Air Conditioner / Heat Pump Compressor, Air Handler, Ductwork Noises
InspectAPedia tolerates no conflicts of interest. We have no relationship with advertisers, products, or services discussed at this website.
Air conditioner or heat pump noise diagnosis & cure:
HVAC systems can produce a stunning range of noises many of which can help lead quickly to the trouble source and thus can help tell us what repair is needed.
This air conditioning repair article discusses the diagnosis and repair of air conditioning compressor noises which range in importance from normal (if annoying squeaks and squeals, to rattling loose bolts and hardware, to shrieking and howling or death-rattles that sometimes (not always) presage costly compressor damage indicating air conditioning compressor or A/C compressors at or near end of their life.
We also provide a MASTER INDEX to this topic, or you can try the page top or bottom SEARCH BOX as a quick way to find information you need.
A/C & Heat Pump System Noise Diagnosis & Repair Noises: How to Diagnose Air Conditioner Compressor, Fan, Refrigerant Piping, Ductwork Noises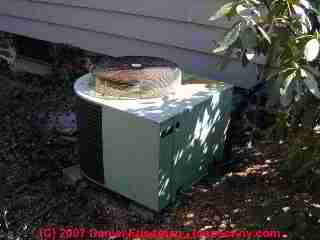 In the A/C system noise diagnosis article below we discuss how we approach listening to and interpreting noises coming from an air conditioning or heat pump system.
Topics: how to diagnose & repair noises or sounds traced to HVAC systems including compressor/condenser units, air handler units, air conditioners, heat pumps, furnaces, ductwork, motors & controls. Recordings of HVAC system noises.
Categories of sound by HVAC system sound type & what the sound significes.
Article Series Contents
NOISES, HVAC SOUND DESCRIPTIONS - Five groups of HVAC sounds, listed alphabetically from Banging to WuWuWu help track down the noise source & suggest repairs
This article discusses how to diagnose & repair air conditioning compressor noises from the compressor/condenser, air handler, duct work, filters, or controls
Diagnose & repair air conditioning system noises: compressor, fans, air handler, ductwork, Recordings of air conditioner or heat pump noises & sounds
Air conditioner buzzing may be just a loose part
Air conditioner humming, clanking, buzzing noises can indicate a minor or a serious problem - it depends ...
AIr conditioner or heat pump noises may diagnose lost cooling capacity
Air conditioner or heat pump noises may predict equipment damage
Recordings of A/C or Heat Pump Sounds & Noises: Submit, Listen-to, or Comment on These Sounds
If your air conditioning or heat pump system has lost its cooling capacity or won't start

see REPAIR GUIDE for AIR CONDITIONERS.

See HOW to DETERMINE COOLING CAPACITY of air conditioning equipment if the system seems to be working but is inadequate to cool your building. Contact us to suggest text changes and additions and, if you wish, to receive online listing and credit for that contribution.
First question in diagnosing HVAC system noises is where are the noises coming from?:
Second question in diagnosing air conditioner or heat pump noises & sounds: what does the noise sound like?
Air Handler & Ductwork Noise Diagnosis & Cure for HVAC Systems
How to Diagnose & Fix Noises at the Compressor/Condenser & Condenser Fan Unit
If you hear unusual noise at the air conditioning system, these compressor sounds could indicate the need for a simple service and adjustment requirement.
But air conditioner compressor noises might also mean that you face an upcoming costly repair involving replacement of the compressor itself. You should have the system checked promptly by an air conditioning service technician.
The following is a list of air conditioning compressor noises and what they may mean about the operation, condition, and remaining life of the cooling system equipment.
Banging or Clanking air conditioner / heat pump compressor noises, at least the costly ones, are usually due to a loose connecting rod, piston pin, crankshaft, or other internal part.

Since compressors on most modern commercial and residential air conditioning systems are a sealed unit, the only repair is to replace this (costly) part.

A similar clanking or banging sound can be caused by loose internal mounts. Examples of banging, clanking, rattling noises from A/C and heat pump systems are found

at BANGING A/C or heat pump.
Bubbling, hissing, refrigerant leaks: a catastrophic refrigerant leak on the air conditioner or heat pump high pressure side will make a loud hissing sound - but that sound won't continue for any longer than to dump the refrigerant into the atmosphere (something prohibited).

But a more subtle refrigerant leak that results in low refrigerant can result in refrigerant gas bubbles traveling around in the liquid refrigerant line. You might hear bubbling sounds at the refrigerant piping or see bubbles in the sight glass if your system has one.

See REFRIGERANT LEAK DETECTION.

Bubbling in the refrigerant liquid line and using

the SIGHT GLASS are discussed

at REFRIGERANT SIGHT GLASS.
Buzzing noises at the outside fan motor: sounds like a failing motor; check first for loose wiring, arcing connections, arcing or burning at the fan contactor relay switch. The video shown near the top of this page includes

a VIDEO EXAMPLE of BUZZING NOISESat the fan/compressor outdoor unit.
and

See BUZZING SOUNDS from A/C or HEAT PUMP

Also see "Chattering" noises below.
Chattering or rattling noise in the A/C or heat pump compressor motor at start-up on some models of HVACR equipment whose compressor uses a compressor crankcase heater element if the equipment is started-up before allowing 24-hours of power-on time first.

Details about chattering contactors or relay switches are

at CHATTERING RELAY CONTROL SWITCHES

Example from Carrier: "On 24ANA7 models, starting the compressor without a minimum of 12 hours of crankcase heat prior to initial start--up may result in a compressor chattering noise and possible damage to the compressor." Details about HVACR compressor motor crankcase heaters are found

at CRANKCASE HEATERS



Watch out

: a chattering electrical relay switch at any electrical equipment or appliance can be caused by a variety of problems such as burned contacts, low voltage, loose wiring, equipment malfunction, and a hard-starting motor.
If your air conditioner or heat pump compressor motor is having trouble starting that may show up as a buzzing or chattering relay. I'd turn off the equipment and call for an inspection and repair. A hard-start capacitor might get such a motor going but I suspect it's headed for replacement.

Chattering electrical switch relays occur on other mechanical systems as well.

See CHATTERING RELAY CONTROL SWITCHES

Also see FAN NOISES, HVAC as ticking and chattering may be traced to a fan problem.

Also see WATER PRESSURE SWITCH NOISES and

also see CHATTERING RELAYS, PUMP SWITCH in that article
Clanking or rattling air conditioner or heat pump compressor: the compressor motor mounts have failed and the motor is thrashing around inside the hermetically-sealed compressor motor can. It may look normal from outside,

but the clanking sound is coming from inside the sealed unit. The compressor should be replaced.
Clicking, rumbling, ticking, rattling, clang and clunk at startup: loose hardware: Air conditioner compressor noise could be due simply to loose hardware such as a loose shipping bolt, tubing, or a broken spring. Does the noise sound like a metallic rattle?

A visual inspection for loose hardware may help diagnose this condition.

Sometimes a shipping bolt may have been left in the unit and could be the source of a rattle. Loose refrigerant tubing or a bend in tubing that carries it too close to the air conditioner frame or case can lead to rattling that is easily corrected with a careful bend.

Watch out: Beware of both the chance of electrical shock and of injury from moving compressor parts like the cooling fan which can easily chop off a finger. Homeowners should not attempt to open, disassemble, or repair an air conditioner compressor as special training and safety procedures are needed to avoid injury.

Clicking noises from relays & controls can be heard at either the compressor/condenser or at the indoor air handler unit:

A failing or defective thermostat or to a defective control itself can cause relays to click on and off repeatedly or the relay may ultimately buzz -

see CONTACTOR RELAY DIAGNOSIS & REPAIR.
Hissing or Screaming A/C compressor, also described as "very loud screaming" by some sources [1], may be caused by excessive internal pressures - a dangerous condition.

Compressors include a high pressure sensor that should shut the system down if internal pressures are approaching a dangerous level. But if the compressor continues to run and is screaming, turn it off immediately as the system is unsafe.

Watch out: turn off electrical power to the screaming A/C Condenser / Compressor unit immediately.

Other more quiet hissing noises from the air conditioner compressor motor may (if the motor is a reciprocating compressor) be due to leaky internal valves.

The compressor motor makes a hissing sound all during the time the compressor is running; when the motor stops the hissing dies down fairly quickly as the high side and low side pressures equalize.

In this case the condition may not be dangerous, just an inefficient system that is costly to operate.

Examples of field reports of hissing noises from A/C and heat pump systems are found at section below and

at SCREAMING A/C & HEAT PUMP COMPRESSOR / CONDENSERunit sounds - warning!
Humming air conditioning compressor motors, fan motors, other electric motors, particularly if the motor is slow to start or does not start at all, may indicate that the starting capacitor needs replacement.

If the compressor hums and never starts it could also be that the compressor motor has seized. In that case, leave the system turned off and ask for service from a professional.

Humming electric motors: Note that while many electric motors make a modest and unchanging humming sound when running - a normal condition - any electric motor that is seized or having trouble starting may produce a humming sound at start-up, not just the A/C or heat pump compressor motor.

For example fan motors at the compressor/condenser or in the air handler blower unit may hum when they cannot start. A failed motor, failed start/run capacitor, or low voltage are common causes of this humming.

See ELECTRIC MOTOR DIAGNOSTIC GUIDE for help with motor diagnosis,
and
see CAPACITORS for HARD STARTING MOTORS.

Examples of more humming noises from A/C and heat pump systems are found at our FAQs section below.
Humming, hard-start compressors, oil leaks:

Another source of cooling system compressor noise is a low oil condition in the compressor unit. Low oil may be diagnosed perhaps by observing evidence of compressor oil leakage on or around the unit.

Modern residential air conditioning compressors are usually a hermetically sealed unit; it would be abnormal to ever see oil loss around this equipment. (But don't mistake spilled oil from lubricating an electric motor or cooling fan bearing for a refrigerant or compressor oil loss.)

Checking air conditioner oil level: A few residential air conditioning compressors and many commercial systems provide

an OIL SIGHT GLASS to permit a visual check of oil levels. On those units, when the compressor is running the oil level on the sight gauge should read 1/2 to 3/4 full.

If adding oil to a commercial unit, be careful not to add too much.

Both too much or too little oil can cause compressor noises. On a residential compressor which is usually a hermetically-sealed motor, it is not possible to see the oil level nor to add oil.
Squeals, normal A/C compressor:

Normal air conditioner compressor squealing: Some compressors emit a high pitched noise during normal operation or just at startup. This noise should be brief and just at start-up, and will probably have always been present on the system if it's normal.

Also see HVAC NOISE-5 SCREAM SING TRUMPET WHINE WUWU where we describe various high pitched HVAC equipment noises.

Examples of squealing noises from A/C and heat pump systems are found

at NOISES, HVAC SOUND RECORDINGS
Start-up Compressor noises - refrigerant floodback: Air conditioning compressor noise could also be due to refrigerant liquid "floodback" into the compressor crankcase.

If this is the problem the noise will appear only at the interval of compressor start-up.

That's why it's useful for the inspector or service technician to be right at the compressor unit when the air conditioning system is first turned-on. If this is the problem, a low cost repair might work: a crankcase heater can be installed to address this defect.

Watch out: a burned-out crankcase heater on an air conditioner or heat pump can permit liquid refrigerant to enter the compressor, destroying the motor by liquid slugging.

We explain this further

at REFRIGERANT PRESSURE READINGS & CHARTS where we discuss the effects of improper refrigerant charges.

We discuss crankcase heaters

at CRANKCASE HEATERS.
Ticking or loud clicking noises at the air conditioner or heat pump compressor unit fan: the fan blade may be contacting a bent fan screen or a stick or piece of debris that has fallen into the compressor unit; a loose or worn fan bearing permitting the fan blade to wobble might also cause this ticking or clicking fan noise.
Trumpet or trombone sounds from the compressor motor at shut-down, possibly loud, may be due to leaky internal refrigerant valves; Meenen [1] asserts this is not a problem as long as a hissing sound is not observed.
Overheating, Blocked Coils, & Air Conditioner or Heat Pump Noise? we have had a field report from a reader who explained that a noisy outdoor compressor unit was, according to his HVAC service technician, traced to a blocked, clogged outdoor condensing coil.

We speculate that perhaps the compressor was running hot and that correcting air flow across the condensing coil corrected that condition.

Cooling coils (indoors) or condensing coils (outdoors) can become so blocked that air flow is seriously reduced, possibly also leading to an evaporator or cooling coil icing problem indoors or an overheated, damaged compressor outdoors, or simply loss of cooling capacity of the system.
I have a National comfort Products CPO 2464-B unit which is an air conditioner and gas heating unit combined.
The unit is about 5 years old. The air conditioner had become increasingly noisy. I called the party that installed the unit. After spending $90.00 for a service call I was informed the the external coils were dirty, opening up the unit light was not visible thru the coils.
I was advised to use a garden hose and rinse the coils. I did not have that available so I turned the unit on and using a watering can, poured warm soapy water onto the coils. this was done several times. the unit now seems to work properly. I did not see this particular problem described on your website.
There may be other means of cleaning the coils but this was all I could think of. - C.A.P., Norristown PA

How to Diagnose Noises at a Split System Air Conditioner / Heat Pump Indoor Wall-Mounted Unit
Fujitsu has offered some helpful advice in troubleshooting noises that may be heard at the indoor wall-mounted air handler of a split system air conditioner or heat pump. What's particularly helpful is that Fujitsu points out that some noises that people worry about are actually normal and not an indication of trouble. Quoting [3]
During operation and immediately after stopping the unit, the sound of water flowing in the air conditioner's piping may be heard.

Also, noise may be particularly noticeable for about 2-3 minutes after starting operation (sound of coolant flowing).
During operation, a slight squeaking sound may be heard. This is the result of minute expansion and contraction of the front cover due to temperature changes.
During Heating operation, a sizzling sound may be heard occasionally. This sound is produced by the Automatic Defrosting operation.
Here are some other noise or sound diagnostic clues for split system air conditioners & heat pumps
...
Continue reading at NOISES, HVAC SOUND DESCRIPTIONS or select a topic from closely-related articles below, or see our complete INDEX to RELATED ARTICLES below.
Or see HVAC SYSTEM NOISE DIAGNOSIS FAQs - questions and answers posted originally on this page.
Or see these
HVAC Noise Diagnosis Articles

Or see this
List of Common HVAC Failures that Cause Noises
Suggested citation for this web page
NOISES, HVAC SYSTEM DIAGNOSIS at InspectApedia.com - online encyclopedia of building & environmental inspection, testing, diagnosis, repair, & problem prevention advice.
Or use the SEARCH BOX found below to Ask a Question or Search InspectApedia
...
Ask a Question or Search InspectApedia
Try the search box just below, or if you prefer, post a question or comment in the Comments box below and we will respond promptly.
Search the InspectApedia website
Technical Reviewers & References
Click to Show or Hide Citations & References
Thanks to Mark Cramer, Tampa Florida, for assistance in technical review of the "Critical Defects" section and for the photograph of the deteriorating gray Owens Corning flex duct in a hot attic. Mr. Cramer is a Florida home inspector and home inspection educator.
Thanks to Alan Carson and Bob Dunlop, Carson Dunlop, Associates, Toronto, for permission to use illustrations from their publication, The Illustrated Home which illustrates construction details and building components. Carson Dunlop provides home inspection education, publications, report writing materials, and home inspection services. Alan Carson is a past president of ASHI, the American Society of Home Inspectors.
Thanks to reader Michael Anderson, 8 May 2009, for discussing clicking sounds coming from air conditioning equipment.
Thanks to Diaz, Domingo I. CIV NAVAIR Bldg.2118, rm. 131: domingo.diaz@navy.mil - Ming Diaz, Great Falls, MD for editing help with the text about discharging air conditioning compressor capacitors - 3/07 DF]
Thanks to reader Charles A. Plinton, Norristown, PA, for discussing A/C compressor noise, coil cleaning, and system maintenance - August 2010
[1] Scott Meenen, G&S Mechanical Services, email: ; web search 5/1/11
[2] Carrier 24ANA Infinity™ Series Air Conditioners with Puron® Refrigerant, 2 to 5 Nominal Tons (Sizes 24-60) Installation Instructions, Carrier Corporation, [copy on file as 24ana-6si.pdf]
[3] Troubleshooting Split System A/C or Heat Pump Noises, Fujitsu General America, Inc., 353 Route 46 West, Fairfield, NJ 07004, Tel: (888) 888-3424, Tel-Service hotline: (866) 952-8324, Email: hvac@fujitsugeneral.com, Email service: servicehvac@fujitsugeneral.com , retrieved 8/30/12, original source: http://www.fujitsugeneral.com/troubleshooting.htm [copy on file as Troubleshooting Fujitsu Ductless Mini-Splits.pdf]
Modern Refrigeration and Air Conditioning, A. D. Althouse, C.H. Turnquist, A. Bracciano, Goodheart-Willcox Co., 1982
Principles of Refrigeration, R. Warren Marsh, C. Thomas Olivo, Delmar Publishers, 1979
"Air Conditioning & Refrigeration I & II", BOCES Education, Warren Hilliard (instructor), Poughkeepsie, New York, May - July 1982, [classroom notes from air conditioning and refrigeration maintenance and repair course attended by the website author]
Refrigeration and Air Conditioning Technology, 5th Ed., William C. Whitman, William M. Johnson, John Tomczyk, Cengage Learning, 2005, ISBN 1401837654, 9781401837655 1324 pages
[10] Fujitsu Room Air Conditioner, Wall Mounted Type, Heat & Cool Model (Reverse Cycle) [Heat pump units] Operating Manual, Models: ASU18RLXS ASU24RLXS ASU30RLX (indoor & outdoor units). Fujitsu General America, Inc., 353 Route 46 West, Fairfield, NJ 07004, Tel: (888) 888-3424, Tel-Service hotline: (866) 952-8324, Email: hvac@fujitsugeneral.com, Email service: servicehvac@fujitsugeneral.com , retrieved 8/30/12, original source: http://www.fujitsugeneral.com/PDF_06/OperationManual/%28OM%29ASU18-24RLX-30RLX.pdf [copy on file as FujitsuASU18-24RLX-30RLX.pdf]
...
Books & Articles on Building & Environmental Inspection, Testing, Diagnosis, & Repair
Our recommended books about building & mechanical systems design, inspection, problem diagnosis, and repair, and about indoor environment and IAQ testing, diagnosis, and cleanup are at the InspectAPedia Bookstore. Also see our Book Reviews - InspectAPedia.
...