Age of Building Flooring Materials - A Guide to Estimating Building Age

FLOORING MATERIAL AGE - CONTENTS: How to determine the age of a building's flooring materials - building component age: construction materials, methods, including hardware, saw cuts, and other details can help determine when a building was constructed or when it was modified.
FLOOR TILE HISTORY & INGREDIENTS - separate article
FLOOR TILE / SHEET FLOORING ID GUIDE- list of photo guides
Questions & answers about how to determine the age of building flooring materials & how to infer the age of a building & its components
Got a Question? Just ask us! - use the search box at upper right
InspectAPedia tolerates no conflicts of interest. We have no relationship with advertisers, products, or services discussed at this website.
This article provides a guide to estimating the age of all types of flooring materials in buildings as a guide to determining building age. The age of a building can be determined quite accurately by documentation, but when documents are not readily available, visual clues such as those available during a professional home inspection can still determine when a house was built. In this flooring age determination article we list some helpful clues using an inspection of interior flooring materials to help answer the question "how old is the house?" and we provide photographs of key visual clues useful for determining the age of a building. Readers should see FLOOR TYPES & DEFECTS and also see FLOOR TILE HISTORY & INGREDIENTS where we describe history, dates, and description of the production process and ingredients in asphalt floor tiles, asphalt-asbestos floor tiles, & vinyl-asbestos floor tiles.Also see ASBESTOS FLOOR TILE IDENTIFICATION.
Green links show where you are. © Copyright 2013 InspectAPedia.com, All Rights Reserved.
Flooring Materials as Indicators of Building Age
List & History Resilient Floor Coverings Used in buildings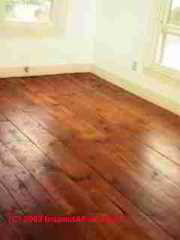 Resilient floor coverings include organic flooring materials such as asphalt tile, cork tile, linoleum, rubber flooring, vinyl tile, vinyl sheet flooring.
Also see these articles on types, ages, characteristics, ingredients, & inspection of different types of floor coverings:
Asphalt Tile Flooring as an Indicator of Building Age - 1920 - 1974 (est)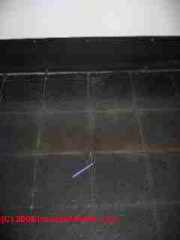 In 1920 asphalt roofing manufacturers, who had been using asphalt and fiber binders to make asphalt roofing shingles for some time, tried to develop a rigid product that could be a substitute for (more costly) slate roofing.
The material did not perform acceptably as a roof covering, but it led to the development of asphalt floor tiles.
Asphalt floor tiles are 9" square (or other sized) tiles which used asphalt as the main binding material. the original asphalt tiles were produced only in dark colors because asphalt was a main ingredient.
Rosato indicates that the first publicized asphalt tile installation was in 1920 in New York City's Western Union office.
The product was very successful and by 1936 over four million square yards of asphalt floor tiles were being sold annually. By 1940, 5% of floor coverings sold in the U.S. were asphalt tile. -- Rosato
In the U.S. the 1940's saw a tremendous expansion in the sales of this flooring material, largely because other materials were more difficult to obtain. At the end of World War II and combined with the reduction in military consumption of the product, asphalt floor tile sales increased to about 12% of the flooring market (1946), selling 41 million square yards. By 1949 the post-war construction boom led to asphalt floor tile sales of 61 million square yards.
By 1952 "asphalt-asbestos" floor tiles contained much less asphalt or gilsonite. Those binders produced only dark tiles. IN the 1950's manufacturers changed to use of synthetic organic resins and solvents made of vegetable or petroleum pitches. These new synthetic binders permitted manufacture of lighter colored, brighter floor tiles in a wider range of colors. But asbestos continued to be the main filler ingredient in these tiles.
Vinyl asbestos floor tiles were produced from approximately 1954 to 1980. Early vinyl asbestos flooring was made in 9" x9" floor tiles, and also sold as decorative or accent solid color strips, typically 1" wide by 24" long. By 1960 12" x 12" vinyl asbestos floor tiles were produced by Armstrong™, particularly their Excelon™ line. Asbestos was also used in sheet flooring.
By 1973 only a small portion of flooring was produced as asphalt-based floor tiles (9"x9") as vinyl asbestos flooring was dominating production. The size, thickness, color, and patterns of floor tiles can distinguish between asphalt-asbestos and vinyl-asbestos flooring.
While asbestos-containing floor tiles were made in a wide variety of colors and patterns (see ASBESTOS FLOOR TILE PHOTO ID GUIDE), if you encounter black or very dark asphalt floor tiles they are probably particularly high in asbestos fibers. We discuss floor tiles as an asbestos fiber source in buildings in more detail at ASBESTOS FLOOR TILE IDENTIFICATION.
Colors and Patterns of Resilient Floor Tiles Can Indicate When They Were Produced
Asphalt -asbestos tiles manufactured early in their life (1920's) were either black, near black, brown, or a gray-brown tone. Brown asphalt-asbestos tiles were made by substituting gilsonite as a binder. In both cases the tiles were hardened by evaporating a solvent used in the fabrication process, or by cooling of hot asphalt used in the mixture.
Gilsonite could be used to produce a wider range of mixtures, but required some asphalt as a softener. Dark vinyl-asbestos tiles used, for example, a mixture of 40 parts asphalt or gilsonite, 60 parts asbestos floats, 30 parts powdered limestone, and pigments (parts by weight). Another typical mixture cited by Rosato contained 70% asbestos fiber.
See these articles on asphalt and vinyl-asbestos floor tile identification:
Cork Floor Tiles or Cork Planks as an Indicator of Building Age
Cork floors, real cork flooring, were and are a wood product made out of cork from the cork oak tree (Quercus suber) native to Mediterranean countries, primarily Spain and Portugal. The bark of the cork oak is or was harvested once every nine or ten years, without injuring the tree. The epitome of a resilient floor, cork flooring can compress up to 40% and still return to its original shape.
Armstrong Cork Floor Tiles
In the U.S. Thomas Armstrong, a Scotch-Irish immigrant, began his business as a cork cutter in 1860, delivering hand-carved bottle corks by wheelbarrow. The use of cork expanded to the construction of corkboards (bulletin boards) and cork-insulated brick. By 1909 Armstrong had begun producing linoleum. "Corkboard led to fiberboard, fiberboard led to ceiling board, cork floor tile led to linoleum that ultimately led to vinyl floor coverings, in both tile and sheet vinyl forms.
Armstrong's familiarity with cork grew into today's Armstrong Corporation worldwide as one of the largest flooring producers. See Armstrong flooring history.
Dodge Cork Floor Tiles
The Dodge Cork Company, a second Lancaster PA flooring company, also has a long history in floor covering production, dating from its founding in 1926. Dodge Cork notes that their cork floors were used by Frank lloyd Wright at Falling Waters and of course in many other buildings and that the company was producing a million square feet of cork floor tiles a month by 1962, probably a peak in the cork floor market.
Details about cork flooring are at CORK FLOORING.
Laminate Flooring: Determining the Age of buildings Using Laminate Flooring Products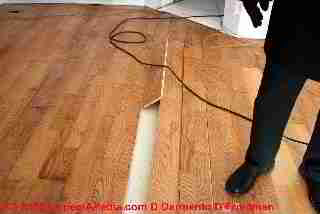 Contemporary snap-together flooring products that resemble wood or other surfaces, but are made of plastic, and other pre-finished and ready-to-assemble wood flooring products are a much more modern product.
Sadly the laminate floor shown at left was ruined by a building flood.
Pergo™ laminate flooring, for example, was developed by Pergo AB, a Swedish company founded around 1890 as a vinegar manufacturer. Product development for Pergo laminate flooring began in 1977 and was first brought to the market in 1984. Pergo laminate flooring was first sold in the U.S. in 1994.
It's safe to say that if you see a Pergo™ product in building in U.S. the flooring was installed no longer ago than 1994. But because this product is has been widely used as a renovation material installed atop older pre-existing finish floor surfaces, one should not presume that the product age is the same as the building age unless the floor was installed as original material - that is, unless it was not installed over an older floor covering.
Just seeing Pergo™ laminate flooring over a plywood subfloor is not sufficient data to conclude the age of a home. Older carpeting may have been removed to expose a plywood subfloor over which the laminate flooring was then installed.
Keep in mind that even when we can identify specific types of building materials and building methods, precise dating of the time of construction of a building remains difficult: old building materials were often re-used, so beams, siding, and other components may appear in a building built later than when the materials were first made.
Also, in the U.S. various states had machines for making cut nails, screws, and sawmills at different times. For example, New York State was industrialized earlier than some western or southern states, so machine-made nails appear earlier in New York than elsewhere.
Details about laminate flooring and wood laminate floors are at
Age of Linoleum Flooring & Older Sheet Flooring Materials Indicate Age of a Building (1890 - 1960 est)
Prior to the development of linoleum sheet flooring, floor coverings were made of painted canvas. According to Rosato, "The original resilient floor coverings were developed during the latter part of the Nineteenth Century by Frederick Walton. The original covering was linoleum for use as a floor decking on British naval ships." The composition of the original products included asphaltic binders to which an asbestos filler was added by mixing on a rubber mill.
As discussed at ASBESTOS FLOOR TILE PHOTO ID GUIDE that Linoleum may be used as a generic term for older sheet floorings (sometimes incorrectly). Linoleum was invented as a ship deck, later floor covering in 1860 by Frederick Walton to describe sheet flooring.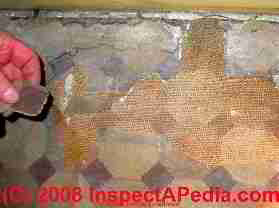 Here is a photograph of an early (pre-vinyl) continuous floor covering, ca 1900, in an 1840 historic Vermont house.
Note the fabric backing of the flooring material.
This article explains various common flooring materials (rough wood, finished wood, parquet, carpeting, linocrusta, sheet vinyl, and other items as they assist in determining The age of a building or other building.
Details about linoleum flooring products and the history and ingredients of linoleum are found at LINOLEUM & Other Sheet Flooring.
Also see Congoleum Flooring History and FLOOR TYPES & DEFECTS.
Details about the history of Sheet and Tile Resilient flooring are at FLOOR TILE HISTORY & INGREDIENTS.
At below left is Congoleum Gold Seal Jackstraw pattern, and below right, Congoleum "Square Dance" sheet linoleum sold in a 9" x 9" tile pattern.
Vinyl Asbestos Floor Tiles as an Indicator of Building Age - 1954 - 1980 (est)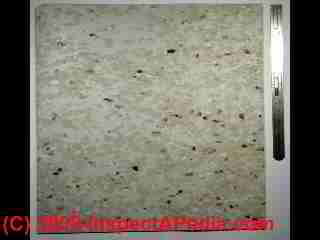 Vinyl floor tiles, including vinyl-asbestos floor tiles and homogenous vinyl floor tiles (non-asbestos product) are almost as old as asphalt floor tiles. By the early 1950's in the U.S. vinyl tile floor products were more popular than asphalt-based flooring. The reason is pretty obvious.

Asphalt-based flooring as it was originally produced used heavy asphalt products which meant that the floor tiles could be made in dark colors only.

Soon after asphalt-asbestos floor tiles were marketed manufacturers heard from their buyers that consumers wanted lighter floor tiles and tiles of varying color and pattern.

Organic resin vinyl increased in popularity for this reason, but slowly. By 1952, the production of vinyl plastic floor tile sales in the U.S. was about half the volume of asphalt floor tiles, selling 35 million square yards.

Microphotographs of vinyl-asbestos floor tiles can be seen at our article at ASBESTOS FLOOR TILE IDENTIFICATION. -- Rosato

See these articles on asphalt and vinyl-asbestos floor tile identification:

Also see
Non-Resilient Floors Used in buildings
Examples of non-resilient flooring used in buildings include
Ceramic Tile Floors
Concrete Floors including stained, colored, textured, or specially-finished concrete floor surfaces
Wood Floors including strip wood flooring and parquet floors
Wood Floors Used in buildings - Indicators of Building Age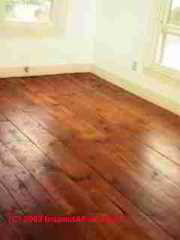 The list of flooring types by wood species, widths, thickness, edge types (square, shiplap, tongue & groove), and the history and age of the use of these products in buildings is enormous.
Here we collect and provide photographs of a collection of wood flooring types as an aid to flooring restorers, preservationists, and inspectors wishing to determine the age of a building and its materials.
Please see Wood Floor Types for a detailed inventory of types and eras of use of various types of wood flooring such as wideboard wood floors, solid strip flooring, solid short-strip flooring, and pre-finished wood floor materials.
We also distinguish between square-edged solid floor boards, shiplap edged flooring, and tongue-and groove flooring among older types of solid wood floors and subfloors. The shiplap-edged solid wideboard floor floor shown in our photo (left) was in an 1860's frame home restored by the author.
Also See Wood Floor Damage.
More Reading
Green link shows where you are in this article series.
...
Frequently Asked Questions (FAQs)
No FAQs have been posted for this page. Try the search box below or CONTACT US by email if you cannot find the answer you need at InspectApedia.
...
Ask a Question or Search InspectApedia
Use the search box below to ask a question or to search the InspectApedia.com website.
Ask a Question or Enter Search Terms in the InspectApedia search box just below.
Technical Reviewers & References
Related Topics, found near the top of this page suggest articles closely related to this one.
Click to Show or Hide Citations & References
Books & Articles on Building & Environmental Inspection, Testing, Diagnosis, & Repair