Asbestos in Building Siding Materials
How to identify & inspect asbestos-cement wall siding
ASBESTOS CEMENT SIDING - home - CONTENTS: Guide to Cement-asbestos Wall Shingles or Siding Products - How to recognize asbestos building siding or wall cladding materials: asbestos cement or "cement-asbestos siding". How can we tell the difference between asbestos-containing shingles and fiber-cement wall shingles? Planning demolition of cement asbestos siding

POST a QUESTION or READ FAQs about asbestos cement siding on buildings
InspectAPedia tolerates no conflicts of interest. We have no relationship with advertisers, products, or services discussed at this website.
Asbestos-containing building siding identification & history:
This document provides a photo guide and text for the identification of asbestos-containing wall siding products like asphalt shingles & asbestos-cement siding shingles. We include a history of asbestos cement siding & roofing products.
This document assists building buyers, owners or inspectors who need to identify asbestos materials (or probable-asbestos) in buildings by simple visual inspection. In cement asbestos siding article series listed below, we provide photographs and descriptive text of asbestos insulation and other asbestos-containing products to permit identification of definite, probable, or possible asbestos materials in buildings.
While an expert lab test using polarized light microscopy may be needed to identify the specific type of asbestos fiber, or to identify the presence of asbestos in air or dust samples, many asbestos-containing building products not only are obvious and easy to recognize, but since there were not other look-alike products that were not asbestos, a visual identification of this material can be virtually a certainty in many cases.
Green links show where you are. © Copyright 2017 InspectApedia.com, All Rights Reserved.
Photo Guide to Cement-asbestos Wall Shingles or Siding Products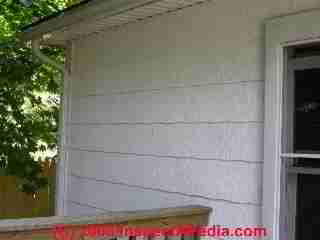 In this photo of a house in New York State we can see both original cement-asbestos wall shingles and newer fiber cement replacement wall shingles that do not contain asbestos. This is the "wavy edge" asbestos cement shingle siding product.
But only the installer (me in this case) an expert or a lab can tell the new fiber cement from the old asbestos fiber cement shingles - or you can with help of the inspection and repair tips we provide below.
Is it safe to buy a home with cement asbestos siding? Most cementious building materials are considered to be non-friable, and are probably less hazardous than other friable asbestos products such as asbestos pipe insulation.
[Click to enlarge any image]
However removal of asbestos-containing roofing products is regulated as we discuss at ACRM Roofing Disposal Regs.
Asbestos-cement products were developed in an era of ingenuity for creating easy to install and economic building materials. Although asbestos-cement has acquired a poor reputation by association of its title, it has not gained that reputation through a lack of durability or utility.
In order to preserve this twentieth-century material, understanding what makes, or does not make, asbestos a hazard is truly important. In this case, no hazard is created when asbestos-cement building materials are sound and left in place, or when treatments incorporate non-abrasive means. - "Keeping a Lid on It..., Woods, NPS technical brief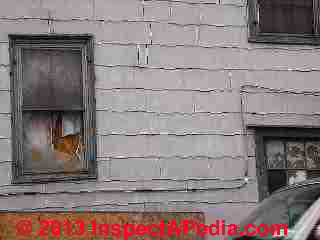 Asbestos cement wall shingles were in popular use in the U.S. from the 1920's (est) through the 1960's (est). A mixture of asbestos fibers and portland cement the material was durable and fire resistant.
The building shown at left, located in Hughsonville, NY, using the "thatch edged" shingle siding style is almost certainly sided with asbestos-cement shingles.
From the 1940's to perhaps the early 1970's it was popular to cover peeling wood clapboard buildings with this durable material. We estimate that this building was probably re-sided in the 1960's.
Siding materials that use fibers and aggregate other than asbestos are properly called "fiber cement" building siding products. Some manufacturers use the term "fiber-reinforced cement" for these products.
All of these products use some sort of fiber along with cement. Before 1978 in the U.S. the common reinforcing fiber used was asbestos. Asbestos in granular or powder form may also have been mixed in with cement as a filler when these products were m anufactured.
How can we tell the difference between asbestos-containing shingles and fiber-cement wall shingles?
It's tricky. But here are some ways to distinguish between asbestos containing shingles and non-asbestos fiber-cement shingles. At below left I point to an older asbestos cement siding shingle while to the right of my finger the next shingle is a modern asbestos-free fiber cement siding shingle.
I know the difference because I installed the new material. Otherwise, without close inspection or a lab test it would be difficult to say which was which.
Age or date of installation: installed before 1978 the fiber-cement shingles probably contain asbestos.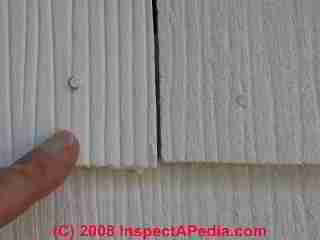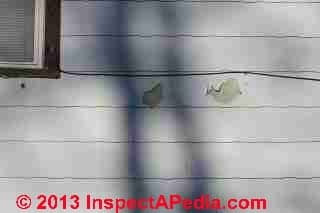 Layers of paint or finish coatings; the original shingles of both asbestos-cement and fiber cement usually come from the factory painted white on one side.

Owners often painted cement asbestos shingle siding to make it look fresh, or if it was weathered and fuzzy, to preserve it. On a building that has has a portion of its original cement asbestos shingles replaced with newer fiber cement shingles, and where some original asbestos cement shingles remain, you'll see a difference in the thickness of layers of paint on the two materials.

The shingle at the right in the above-left photo clearly has fewer paint layers than the one at left. The left shingle is an older asbestos-cement shingle and the right photo is a new fiber cement shingle we installed.

At above right we illustrate why additional coats of paint on a fiber cement or asbestos cement siding shingle means future painting maintenance will be required. Proper paint preparation (cleaning) and priming, then painting with paints recommended for use on this material may give better results than we see at above right.
If an asbestos-cement sided home has been re-modeled such as by adding a window or door, it's likely that the old asbestos cement shingles were broken around that new opening during the construction work - expect to see newer fiber cement shingles there.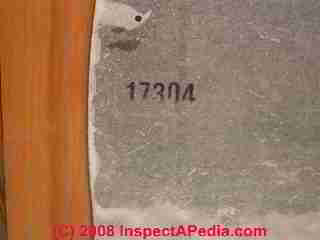 The back of a new fiber cement wall shingle will probably have a code stamped on it such as we show above.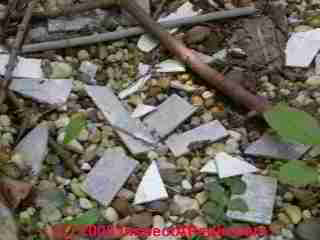 The presence of old dirty demotion materials may suggest that old asbestos cement shingles have been removed from the home even when new, completely different materials are installed.

We found this cement asbestos siding debris on the ground around a home that boasted new vinyl siding.
The presence of multiple layers of exterior siding can be spotted by noticing that the wall cladding extends out past the original window or door trim.

But beware; when we renovated the building shown above we built-out the exterior trim so that it would continue to project beyond new vinyl siding installed on some wall surfaces.
The nails used to secure the shingles probably won't help unless some are obviously different from others; installers use the same galvanized box nails to hang these shingles as they did in 1955.
Early History & Age of Asbestos-Cement Siding & Roof Shingles: Production & Use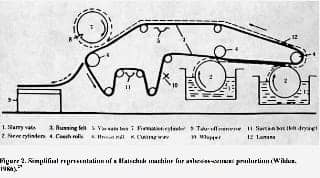 The Rosato text cited below and our research article and patent search on asbestos cement shingles and siding give insight into the history of and development of cement-asbestos shingles, siding, and cement board used on and in buildings. Cementious siding and roofing such as fiber-cement siding, lap siding, and fiber cement roof shingles containing asbestos may then have appeared on homes constructed between 1906 and 1980 in North America and contining later in some other countries.
At CEMENT ASBESTOS PRODUCT MANUFACTURE we provide a more-detailed history of the development and use of asbestos in building and other products. There we describe the Hatschek Machine for Production of Asbestos Sheet Goods.
Excerpt:
It was not until 1907 that the invention by an Austrian engineer, Ludwid Hatschek, made possible the manufacture of pre -formed asbestos-cement products. The Hatschek machine, a wet transfer roller, was used to produce the initial asbestos-cement sheets, while two other manufacturing processes included the Mazza process for pipes, and the Magnani semi-dry process for corrugated sheets. - Woods (2000)
We learn further from patent citations that asbestos-cement products were in use in the U.S. before 1910, as inventions often cite improvements to existing designs and that an explosion of patents and products making use of asbestos-cement ensued between 1907 and 1940. The improved fire-resistance of cement asbestos roofing led to its recommendation in the U.S. by the National Board of Fire Underwriters in 1920. (National Board of Fire Underwriters 1920).
A similar-looking product, composite siding made of asphalt-impregnated fiberboard was also used for lap siding and wall shingles but is not an asbestos-cement product. See SIDING TYPES, INSTALLATION, DEFECTS for a guide to siding products of various types.
Question: when was asbestos cement siding first used?
2016/09/08 Gary said:
In what year did they start to use asbestos in cement siding ?
This question was posted originally at ASBESTOS DISPOSAL REGULATIONS
Reply:
Gary, a reasonable guess for the start of widespread use of asbestos cement siding in the U.S. would be 1920, but patent disclosures and other research make clear that such products were in development and use one or two decades earlier. The earliest use of asbestos in modern building products that I found was discussed in a Scientific American article published in 1876 and cited below. Asbestos researchers note that human interest in the properties and uses of asbestos is more than 2000 years old.
The following citations giving a history of the use of asbestos-cement in building products are arranged chronographically, rather than alphabetically - Ed.
An excellent history of the use of Asbestos was provided by Rosato whose complete text we provide online beginning at ASBESTOS ORIGIN & NATURE
"The Industrial Uses of Asbestos," Scientific American (22 April 1876), 258-259.
Back issues of Scientific American magazine are available from http://www.scientificamerican.com/store/archive/?magazineFilterID=Scientific%20American%20Magazine
H. W. Johns, Patent Trademark Materials: Asbestos (New York: H. W. Johns Manufacturing Co., 1878)
Jacobs, Frank Davis. "Roofing and siding material." U.S. Patent RE12,475, issued April 24, 1906.
Norton, Charles Ladd. "Process for forming fibrous sheets." U.S. Patent 979,547, issued December 27, 1910.
Excerpt: Be it known that 1, CHARLES LADD NORTON, a citizen of the United States, and resident of Hudson, in the county of Hillsboro and State of New Hampshire, have invented 'newand useful Improvements ,in Processes for Forming Fibrous Sheets, of which the following is a specification.
This invention relates to the manufacture of sheets, slabs,and similar articles, of cement and fiber, or fiber-concrete, and consists in a new process of manufacture whereby such articles may bemade rapidly, continuously and economically.
Slabs or sheets of fiber and cement have been made singly in fiber presses, and with success, using heavy pressure upon wet mush or pulp composed of fiber. and cementitious material, but though the improvements in compounding and handling such material by the press-process have reduced the cost and increased the output, the advantages of a continuous process have not, so far as I am informed, been attained.
My invention'relat-es particularly to the manufacture of fire-proof sheets or slabs for structural and analogous purposes, in which asbestos fibers, or the similar fibers obtained by grinding serpentine rock and a hydraulic cement, constitute the ingredients 0 the fiber-concrete, 'and the following specifications will be addressed to the manufacture of asbestos fiber and hydraulic cement sheets or slabs. Such cement-asbestos concrete nec essarily requires the presence of water to set the cement, and also requires considerable pressure to compact the mass before the hydration, or setting, of the cement is completed. Attempts to produce compressedsheets by feeding a wet mass of concretepulp through rollers or other progressive pressure devices have been embarrassed by the persistence with which the wet pulp sticks to the pressure devices and to other objects which come in contact with wet uncompressed pulp.
My improved process which obviates the difllculties encountered in handling wet uncompressed pulp, is characterized by a preliminary continuous or progressive dry pressing of a properly compounded mixture of fiber and cement: the dry pressing comi pacts the'mixture and gives it consistency and integrity which, when setting liquid is afterward added, is effective to prevent the concrete mass from sticking to objects with which it makes contact, so that a final wet continuous or progressive pressing is easily applied. to give the finished product the necessary density and strength for mechanical and structural uses, and a progressive or continuous manufacture of'concreted sheets is made practical and possible.

Newsome, Edgar Thomas. "Protected metal sheet." U.S. Patent 1,002,301, issued September 5, 1911.
Stewart, Perez M. "Composite building structure." U.S. Patent 1,068,541, issued July 29, 1913.
Asbestos Shingle, Slate and Sheathing Company, Asbestos Corrugated Sheathing, Ambler, Pennsylvania: The Keasbey & Mattison Company, 1913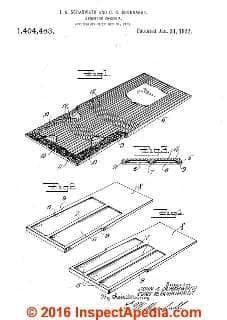 Heppes, George P. "Shingle." U.S. Patent 1,159,766, issued November 9, 1915.
Excerpt: In both views the same reference characters are employed to indicate similar parts. While my invention may be used in connection with shingles and tiling generally it is especially adapted for composition shingles, such as those made of asbestos and the like and a more or less flexible asphalt shingle of which felt forms the base.
Wardell, Henry R. "Cement shingle." U.S. Patent 1,244,148, issued October 23, 1917.
Excerpt:
Be it known that I, HENRY R. WARDELL, a citizen of the United States of America, residing at New York city, borough of Man- 5 hattan, county and State of New York, have invented certain new and useful Improvements in Cement Shingles, of which the fol lowing is a specification. My invention relates to the production of 10 cement shingles, or to shingles formed of hydraulic cement and asbestos known as asbestos shingles, and is particularly designed to produce a shingle, or similar slab, which shall have a surface variegated in color, or of a dominant color different from that of the cement or other materials of which the body of the slab is formed, and which color shall be permanent and not removable by the action of Water. In certain aspects my invention constitutes an improvement on the fibrous sheets set out in U. S. Letters Patent to Charles L. Norton, numbered 979,547 and 97 9,548, granted'December 27, 1910. The asbestos shingles or other articles made by the Norton process, or by any other process known to me, are extremely diflicult to color-permanently. Furthermore the color produced by known methods is usually a flat even shade, devoid of relief or variegation. If architects or owners object to the natural light s gray color of such shingles it has been customary to treat them after manufacture with various coloring solutions, but when in use the rain gradually washes out the coloring matter entirely or so as to produce an unsightly streaked appearance. Many ex periments have been made in the attempt to produce a coloringmaterial which will per 40 manently resist the effects of weather and the action of sunlight when applied to or incorporatechin these asbestos shingles, but so far without-entirely satisfactory results as far as'I know.
MacMillan, A. "Asbestos-Cement Roofing." Industrial & Engineering Chemistry 9, no. 10 (1917): 983-983.
Excerpt: ... After being finely ground and freed from extraneous matter the asbestos, which acts as a reinforcing agent, is mixed with Portland cement in the ...
The National Board of Fire Underwriters, Dwelling Houses (New York: The National Board of Fire Underwriters, 1920), 2nd ed. pp 36-37.
Also see National Board of Fire Underwriters: Dwelling houses : a code of suggestions for construction and fire protection recommended by the National Board of Fire Underwriters, New York, to safeguard homes and lives against the ravages of fire. ([New York : National Board of Fire Underwriters], 1920) (page images at HathiTrust) This book can be viewed in PDF form from a copy obtained from the University of Minnesota
Excerpt from p. 36-37:
Whenever possible use a fire-resistive roof covering. The safety which it offers is well worth the additional expense. There is a variety of approved roofings on the market which will afford satisfactory protection and service; a number of them are but little more expensive than first class wooden shingles. The first cost of a roofing material must be averaged with the years of service it will render in order to ascertain the real expense of maintaining the construction. The life of the best fire-resistive roofings is considerably longer than that of the wooden shingle, and this fact should be considred in selecting. Among the recommended roofings are tile, tin, slate, asbestos shingles, and other composition shingles and prepared roofings which have been tested and approved for fire-resistance and durability.
Norton, Charles L. "Process for controlling the setting of cement products." U.S. Patent 1,379,204, issued May 24, 1921.
Burkhardt, Curt R., Scharwath John A., "Asbestos shingle." U.S. Patent 1,404,483, issued January 24, 1922.
Excerpt: The shingle or artificial slate of this invention comprises a slab of asbestos cement, tapered in thickness from one end to the ot er as indicated at1 5 and provided in the .back thereof, at the lower thicker end, with recesses 01'' depressions 6, said recesses being separated and defined by an intervening rib or ribs 7, These recesses are shown as extending longitudinally throughout greater portion of the thickened section of the shingle and as tapering in depth from, the lower to the upper end thereof to accord with the reduced thickness of the shingle and so produce a substantially even thickness of wall and distribution of weight throughout theshingle. The intervening rib or ribs 7 strengthen and support the reduced or thinned portion of the shingle, reinforcing and preventing breakage of the same. In the first form disclosed, there are only two depressions 6, but in Figure 4 we have illustrated three such -de ressions, with two in tervening ribs 7 and it will be apparent that this number may be increased, if desired.
Overbury, Frederick C. "Roof and roof covering." U.S. Patent 1,447,567, issued March 6, 1923.
Brossler, Franz. "Asbestos slate material and process for manufacturing it." U.S. Patent 1,541,106, issued June 9, 1925.
Blake, Ernest G., Roof Coverings: Their Manufacture and Application, New York: D. Van Nostrand Company, 1925.
Lechner, E. "Recent Innovations in the Manufacture of Asbestos-cement," Cement and Cement Manufacture, (June 1934).
James McCawley, Asphalt and Asbestos-Cement Shingle Residing, New York: United Roofing Contractors Association, (1940).
Asbestos-Cement Products for War Buildings," Asbestos (April 1942)
United States Department of the Interior Bureau of Mines, Materials Survey: Asbestos, (Washington D.C.: US Government Printing Office 1952).
Hannant, D.J., Fibre Cements and Fibre Concretes, New York: John Wiley & Sons, (1978).
Wilden, John E., A Guide to the Art of Asbestos Cement , Winchester, England: Taylor & Partners Translations, (1986).
Bentur, Arnon & Sidney Mindess, Fibre Reinforced Cementitious Composites, London: Elsevier Applied Science, 1990.
Woods, Amy Lamb, "Keeping a Lid On It: Asbestos Cement Building Materials" [PDF], U.S. National Parks Service, (2000), www.cr.nps.gov/hps/tps/recentpast/asbestosarticle.htm
Ward, Michael. Fire officer: Principles and practice. Jones & Bartlett Learning, 2005.
IAFC, "Live Fire Training: Principles and Practice", International Society of Fire Service Instructors, Barnes & Noble, Jones & Bartlett Learning, (2014) (2016 in e-book edition),
ISBN-13:9781284041231
Description: All fire fighters need the safe and controlled "real life" training offered through live fire exercises in order to be fully prepared for the hazards of the fireground. Live Fire Training: Principles and Practice Revised First Edition provides a definitive guide on how to ensure safe and realistic live fire training for both students and instructors. Updated to address all the requirements for NFPA 1403, Standard on Live Fire Training Evolutions, 2012 Edition...
Wilson, Richa, Kathleen Snodgrass, "Early 20th-Century Building Materials: Siding and Roofing" [PDF], U.S. Department of Agriculture Forest Service, Technology & Development Program (February 2008) #0873-3208-MTDC, USDA Forest Service, Missoula Technology and Development Center 5785 Hwy. 10 West Missoula, MT 59808–9361 Phone: 406–329–3978 Fax: 406–329–3719 E-mail: wo_mtdc_pubs@fs.fed.us retrieved 2016/09/08, original source: http://www.fs.fed.us/t-d/pubs/pdfpubs/pdf08732308/pdf08732308dpi72.pdf
Excerpt: In the early 1900s, manufacturers reinforced Portland cement with asbestos fibers to create a fire-resistant and durable building material. The product, first made in 1905, served as a coating for boilers, steam pipes, and equipment that generated heat. Asbestos-cement coatings also were used to patch roofs and seal areas where pipes or other items penetrated the roof. The production of asbestos-cement sheets became possible in 1907 when Austrian Ludwig Hatschek brought his patented process to the United States. Forming and curing processes were improved and it was not long before shingles and corrugated panels for roofs and walls were manufactured. A wide range of asbestos-cement products, such as pipes, faux ceramic tiles, and decorative moldings, became available. Successful manufacturers included Eternit, Johns-Manville, and the Asbestos Shingle Slate and Sheathing Co. The National Board of Fire Underwriters, with its initiative to eliminate the fire hazards of wood shingles, was instrumental in the public's acceptance of asbestos-cement roofing. By the 1920s, large asbestos-cement roof shingles were available in a natural gray color, as well as red and blue-black colors that resembled tile and slate. Pigments, either added to the wet mixtures or rolled into surfaces, faded when they were exposed to the elements.
Planning demolition of cement asbestos siding or shingle siding materials?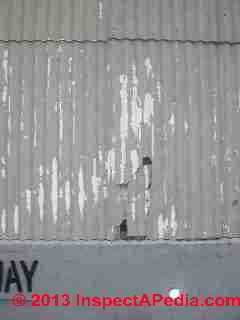 The risk of high levels of airborne asbestos from cementious products is probably very low unless the workers are using power equipment like sanders and saws on these substances.
Our photograph at left illustrates that corrugated asbestos cement (or on newer buildings corrugated fiber cement) panels are also used as siding, not just as a roofing product.
This building was observed in New York City and based on its age, we suspect that the material shown is asbestos cement corrugated siding, not a newer fiber cement product.
Using cement asbestos roofing products as an example, according to NRCA, the National Roofing Contractors' Association, their studies up to February 1992 had not found a single roofing job at which these limits were exceeded, and NRCA reported that in some cases no fiber release was detected.
But it appears that the association may have been referring only to asphalt-based roofing materials, not jobs involving the demolition of other ACRM such as cement-asbestos roof shingles (or "asbestos roof tiles" as some consumers refer to them) which might produce different statistics.
Asbestos-Cement Siding Articles
...
Continue reading at ASBESTOS CEMENT SHINGLE WEAR SIGNS or select a topic from closely-related articles below, or see our complete INDEX to RELATED ARTICLES below.
Or see ASBESTOS CEMENT PRODUCTS or see ASBESTOS IDENTIFICATION IN BUILDINGS - home
Or see FIBER-WOOD & FIBERBOARD ROOFING - home
Or see FIBER CEMENT SIDING - home
Suggested citation for this web page
ASBESTOS CEMENT SIDING at InspectApedia.com - online encyclopedia of building & environmental inspection, testing, diagnosis, repair, & problem prevention advice.
Or use the SEARCH BOX found below to Ask a Question or Search InspectApedia
...
Frequently Asked Questions (FAQs)
Try the search box below or CONTACT US by email if you cannot find the answer you need at InspectApedia.
Question: I have some cement-asbestos siding from 1972; it's cracked. Is it safe to remove?
I have siding from 1972. Some are cracked and I have replacements. Is it a risk to remove the old ones? - Joe 6/28/11
Reply:
Cement asbestos siding from 1972 could release substantial asbestos fibers during demolition, especially depending on how it is removed. Breaking up into small pieces, running power tools, etc. make the problem worse.
Question: Should we be worried about buying a house with asbestos-cement siding? Can we cover it up?
we are looking at a house that has concrete asbestos siding on part of the house, should we be concerned about it, or can we cover them with vinyl without the removing the old ones. please reply - Jerry Massie 7/25/11
Reply:
Jerry you'll want to avoid demolition, using power tools like saws, or something that creates a lot of dust. You can paint cement asbestos siding to bring the potential surface fiber release down close to zero, or you can side over it, taking care not to generate a lot of broken scraps in that process. Functionally you don't have to remove the old material, though for aesthetic reasons, adding layers of siding to a building can look funny at windows and doors unless you also build out the window and door trim - that's what I'd do.
Question: I have to drill holes through cement asbestos shingles
I'm an amateur remodeling the third floor of our 1890s house. To create roof ventilation, required by code, I may have to drill 2-inch vent holes through the exterior wall in between each pair of rafters. This would mean drilling through the top row of shingles, which look like cement asbestos shingles. Should I try to remove the top row of shingles instead? (It's a long way up the ladder.) Or is it unrealistic for a do-it-yourselfer to deal with this problem? My budget is extremely tight. - Paul 7/28/11
Reply:
Paul

Be careful when asking for advice, especially from strangers or consultants. It's always safer for others to spend more of your money to reduce their risk.

That caveat made, and with the emphasis that what follows is mere unsubstantiated OPINION, you might consider following the same procedure to drill two holes through possibly-cement-asbestos-siding shingles as you would if you were obtaining a sample to send to a lab - control the dust - that's the key. Wetting the surfaces, using slow speed cutting, cleaning up all of the dust and crud, can minimize the hazard. Wear a HEPA dust mask. Don't leave a dusty mess.

My OPINION in conclusion is that the risk of an injury from climbing up to a great height on a ladder to try to remove two sections of suspected-cement-asbestos-shingle-siding is greater than the hazard from careful cutting two holes through the material. (Normally we avoid power tools because we want to minimize dust).

Finally, unless you're experienced, the chances that you can remove just two shingles of this material without breaking their neighbors, are low.

Keep us posted, send some photos.
Reader follow-up:
Many thanks. I will start by drilling one hole to see how it goes. It may be difficult to control the dust because the 2-inch-round drill bit will have to go through the wood cladding (about 3/4 inches thick) first, and then through the shingle. I'll definitely follow your recommendations as best as I can. I am concerned, however, that the drilled-out hole and the dust will fall to the ground, 30 feet below. I will try to post some pictures in the next couple of days. Again, I appreciate the thoughtful advice very much.
Comment:
Paul, try also hooking up a HEPA vacuum and use that to collect what dust you can from inside as you drill. Frankly I suspect that the escaped dust from the siding will be below the ability of most tests to detect after this project is over.
Question: Is there a tool for removing nails in cement asbestos shingle siding?
Is there a specific pry or cutting tool to grab and cut the nails On broken shingles you want to replace? - Catfishlynd 9/20/11
Reply: how to remove individual fiber cement or asbestos cement siding or roof shingles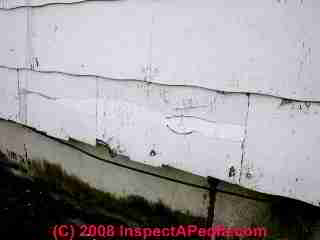 Watch out: don't pry against the cement asbestos shingle with the nail puller nor other tools or you'll risk breaking the shingle below.
What we found worked best was to use a pair of end-cutting pliers, called by some folks nippers or a "nail biter" - sold at hardware stores in various sizes.
Buy a tool whose handle and cutting face will be at right angles to the work surface and whose cutting face is flush (with the cutting angle filed just on the inside of the cutting edges. Working CAREFULLY we found we could usually grab the nail head protruding just proud of the fiber cement shingle and pull it straight out.
We use pliers made by Channellock, like the Channelock 358 8-inch End Cutting Pliers tool
"Grab the nail head and yank" straight out seemed to work best but for full details on how to do this job please see Remove & Replace Asbestos Cement Shingles
Question: reader warns about amateur cement-asbestos shingle siding or roofing removal
To all those reading this comment feed, know that most of what these people are saying is incorrect. If you are a contractor know that 29 CFR 1926.1101 OSHA asbestos standards apply and you need to remove the material properly. A dust mask (N95) will not protect you or your employees. Contact an asbestos abatement company to remove the asbestos and DO NOT ATTEMPT TO REMOVE THE MATERIAL YOURSELF. Your just asking for mesothelioma (lung cancer) if you do. - Inspector 5/11/12
Reply: be careful, understand voluntary asbestos standards, be reasonable
Thanks Inspector. We agree that there are both health and legal hazards in removing asbestos-containing materials, even cementious ones. In our experience there are often local regulations or ordinances that describe the level of site and dust control required when demolishing cement-asbestos materials (roof shingles or siding usually) outdoors.
But it's also fair to point out that the standard you cite is "...a non-mandatory appendix to the asbestos standards for construction and for shipyards." Details about asbestos removal and handling regulations including the actual standards and recommendations are at OSHA Regulations, Asbestos Roofing, Siding
In our OPINION, even non-mandatory standards involving health and safety ought to be followed, though it is reasonable to guess that some adjustments may be needed for the variation in individual cases and environments. For example, we seriously doubt that a homeowner or even a small contractor is going to set up a tent, containment, negative air, air monitoring and testing, and expert trained supervision simply to pull two nails and replace one cracked asbestos-cement wall shingle with a new fiber-cement shingle that fits into the same space.
CFR 1926.1101 OSHA asbestos standards refers to the U.S. OSHA regulations and standards PART 1926 Safety and Health Regulations for Construction - retrieved 8/10/12, original source: http://www.osha.gov/pls/oshaweb/owasrch.search_form p_doc_type=STANDARDS&p_toc_level=1&p_keyvalue=1926
Within that OSHA standard, 1926 Subpart Z - Toxic and Hazardous Substances contains subsection 1926.1101 - Asbestos which in turn contains quite a few sections and a bit of advice. We quote from the introduction to the standard here
This is a non-mandatory appendix to the asbestos standards for construction and for shipyards. It describes criteria and procedures for erecting and using negative pressure enclosures for Class I Asbestos Work, when NPEs are used as an allowable control method to comply with paragraph (g)(5)(i) of this section. Many small and variable details are involved in the erection of a negative pressure enclosure. OSHA and most participants in the rulemaking agreed that only the major, more performance oriented criteria should be made mandatory. These criteria are set out in paragraph (g) of this section. In addition, this appendix includes these mandatory specifications and procedures in its guidelines in order to make this appendix coherent and helpful.
The mandatory nature of the criteria which appear in the regulatory text is not changed because they are included in this "non-mandatory" appendix. Similarly, the additional criteria and procedures included as guidelines in the appendix, do not become mandatory because mandatory criteria are also included in these comprehensive guidelines. In addition, none of the criteria, both mandatory and recommended, are meant to specify or imply the need for use of patented or licensed methods or equipment. Recommended specifications included in this attachment should not discourage the use of creative alternatives which can be shown to reliably achieve the objectives of negative-pressure enclosures.
Requirements included in this appendix, cover general provisions to be followed in all asbestos jobs, provisions which must be followed for all Class I asbestos jobs, and provisions governing the construction and testing of negative pressure enclosures. The first category includes the requirement for use of wet methods, HEPA vacuums, and immediate bagging of waste; Class I work must conform to [additional detailed provisions that describe supervision, dust control, air monitoring, worker safety]. - retrieved 8/10/12, original source http://www.osha.gov/pls/oshaweb/owadisp.show_document?p_table=STANDARDS&p_id=10868
Question: Did or does China Glaze house siding / shingles (installed by Sears) Contain Asbestos?
Years ago I sided my house . Sears did the siding and and they called it China Glaze at that time. Would that have been an asbestos shingle?
I want to take my siding to the landfill. If it is asbestos I will have to prepare it for them to accept it . Is it your opinion that my siding is asbestos?
How can I tell if my siding is asbestos?
- Charles Beranek 8/10/2012
Reply: China Glaze siding was an asbestos cement siding shingle product trademarked by U.S. Gypsum
Certainly lots of old cement-based exterior shingle type siding products contained asbestos - cement asbestos products if properly named. "China Glaze siding" was popular in the 1950's - by era alone, as a cementious product it would at least be treated as PACM (presumed asbestos containing material).

China Glaze was a trademarked name for a cement-asbestos siding shingle filed by U.S. Gypsum and trademarked in 1962. Our research found that the term "china glaze siding" was first used in February 1957. So it would be reasonable to treat your siding as presumed asbestos-containing material. I will post details of our research in the FAQs section just above in this article.

You can tell for sure if your siding is asbestos by having a lab test a small sample of it. The typical cost is around $50. Be sure to use a certified asbestos test lab.

You might want to ask your landfill director what the actual regulations are for accepting construction demolition debris, containing asbestos, presumed asbestos, or asbestos-suspect materials, or not.
On Monday, December 03, 1962, a U.S. federal trademark registration was filed for CHINA-GLAZE by United States Gypsum Company. The USPTO assigned the CHINA-GLAZE trademark serial number of 72158404. The current federal status of this trademark filing is expired. - retrieved 8/10/12 web search, http://www.trademarkia.com/chinaglaze-72158404.html
From that citation, the trademark registration was owned by the United States Gypsum Company, and the trademark application number and date were 0775204 and 8/18/1964 respectively. The application description provided to the USPTO for CHINA-GLAZE was "ASBESTOS CEMENT SHINGLES AND SIDING". The trademark expired in 1984.
In our OPINION the term "china glaze siding" may well have been more widely used or applied to cementious-based or even cement-asbestos shingle siding than just products sold by U.S. Gypsum, as we find the phrase "my house was sided with China Glaze siding" appearing in quite a few more vague descriptions of homes dating from the 1950's into the 1970's.
Question: do I have to segregate asbestos siding in the waste stream?
(Mar 7, 2014) ian barclay said:
question my state (md.) does not appear to have a reg. to see that asbestos/cement shingles go to a separate waste stream, as I believe they should. Some day these general landfills may be dug up; hence it is short-sighted to not direct this material to a higher level segregation for worker community health. Do u know of a state or county or city that does require segregation? Thanks Ian James Barclay thanks for ur reply in advance
Reply:
Ian
In More Reading links or Article Index links above please see ASBESTOS DISPOSAL REGULATIONS
Question: history of Pyramid Cement Siding
(Dec 1, 2014) Tom Gregg said:
I have a farm house with cement siding. Invoice records show it was purchased from a ' pyramid cement siding' in 1953 in Quincy Washington.
We are searching for a parent company or something to identify its source. Can you help me? trgreggs@ yahoo.com
Reply:
Our list of companies known to have produced asbestos containing products is at
Pyramid Cement Siding is not listed there.
You might find the company in
Lowndes, W. S. The Building Trades Handbook: A Reference Book Dealing with Mathematics, Geometrical Drawing, Structural Design, Masonry, Fireproofing, Carpentry, Joinery, Roofing, Plastering, Estimating, and the Elements of Architectural Design. John C. Winston Company, 1921.
A Pyramid Plastics company might be relevant - having patented a "Embossed plastic sheet and method of manufacture"
I researched but did not find better citations for the Pyramid Cement Siding Company - but that may have been a local siding installer rather than the brand of fibre cementor asbestos cement shingle siding. Let us know if you find more information - it will assist others.
Question: corrugated (asbestos ?) material on my shed
(Dec 2, 2014) kim m. said:
I have a corrugated material on my shed. How can I figure out if it is asbestos, Its very heavy and it won't burn it's about a 1/4 inch thick and sheets are about 4ft. X 8ft. Please help want to put vinyl siding on shed but not sure what to do.

Reply:
Kim
In the ARTICLE INDEX links above click on the article titled ASBESTOS ROOFING, CORRUGATED
for photos. If the material on your roof is cementious in appearance, corrugated, and dates prior to early 1980's it would be prudent to presume it contains asbestos. If newer it may be a substitute fiber cement product.
Use our CONTACT US link at page top or bottom to send me some photos for further comment
...
Ask a Question or Search InspectApedia
Use the "Click to Show or Hide FAQs" link just above to see recently-posted questions, comments, replies, try the search box just below, or if you prefer, post a question or comment in the Comments box below and we will respond promptly.
Search the InspectApedia website
Technical Reviewers & References
Click to Show or Hide Citations & References
Asbestos products and their history and use in various building materials such as asphalt and vinyl flooring includes discussion which draws on Asbestos, Its Industrial Applications, D.V. Rosato, engineering consultant, Newton, MA, Reinhold Publishing, 1959 Library of Congress Catalog Card No.: 59-12535 (out of print).
"Handling Asbestos-Containing roofing material - an update", Carl Good, NRCA Associate Executive Director, Professional Roofing, February 1992, p. 38-43
EPA Guidance for Controlling Asbestos-Containing Materials in buildings, NIAST, National Institute on Abatement Sciences & Technology, [republishing EPA public documents] 1985 ed., Exposure Evaluation Division, Office of Toxic Substances, Office of Pesticides and Toxic Substances, U.S. Environmental Protection Agency, Washington,D.C. 20460
Copy on file as - /hazmat/Asbestos_in_Your_Home_US_EPA.pdf - Asbestos in Your Home - U.S. EPA, Exposure Evaluation Division, Office of Toxic Substances, Office of Pesticides and Toxic Substances, U.S. Environmental Protection Agency, Washington,D.C. 20460
NRCA Roofing and Waterproofing Manual, 4th Ed., available from the National Roofing Contractors' Association.
"Tips for working with fiber-cement roofing products", Thomas L. Smith, AIA, RRC, Professional Roofing, September 1996
Bullet Tools 920 Pro Magnum Shear I-20 Electricity Free 20 Inch Flooring and Siding Dust Free Cutter -(sold at Amazon and at other tool distributors) this is a great tool, but $900. http://www.bullettools.com/ Bullet Tools Company, 3390 W. Hayden Ave., Hayden ID 83835 - 800-406-8998 or international: 208-772-0175. sales@bullettools.com
"Copy on file as - /exterior/Asbestos_Cement_Shingles_NPS.pdf - Keeping a Lid on it - Asbestos Cement Building Materials - ", Amy Lamb Woods, Technical Preservation Services, National Park Service, 2000. Web search 07/08/2010 original source: http://www.nps.gov/history/hps/tps/recent past/asbestosarticle.htm
Asbestos-cement products were developed in an era of ingenuity for creating easy to install and economic building materials. Although asbestos-cement has acquired a poor reputation by association of its title, it has not gained that reputation through a lack of durability or utility. In order to preserve this twentieth-century material, understanding what makes, or does not make, asbestos a hazard is truly important. In this case, no hazard is created when asbestos-cement building materials are sound and left in place, or when treatments incorporate non-abrasive means.

END NOTES to the above article provide excellent historical references for asbestos cement products:
1D.V. Rosato, Asbestos: Its Industrial Applications (New York: Reinhold Publishing Corp., 1959), 1, 62. This text is an excellent resource for information on the manufacture and production of asbestos products.
2 L. Michaels and S.S. Chissick, eds., Asbestos, Properties, Applications, and Hazards (New York: Wiley, 1979), 1-2. Resource for various kinds of asbestos, their properties and chemical constituencies.
3 Arnon Bentur and Sidney Mindess, Fibre Reinforced Cementitious Composites (London: Elsevier Applied Science, 1990), 288-304. This text reviewed long-term performances of asbestos-cement and concluded that "in natural weathering the composite is excellent." More detailed quantitative material properties are also given in this text.
4 L. Michaels and S.S. Chissick, eds., 306-312
5 United States Department of the Interior Bureau of Mines, Materials Survey: Asbestos, (Washington D.C.: US Government Printing Office 1952), I-1 - I-4.
6 Caleb Hornbostel, Construction Materials: Types, Uses and Applications (New York: John Wiley & Sons, 1978), 82.
7 H. W. Johns, Patent Trademark Materials: Asbestos (New York: H. W. Johns Manufacturing Co., 1878), 12.
8Rosato,63.
9 D.A. St John, A.B. Poole, and I. Sims, Concrete Petrography: A Handbook of Investigative Techniques (London: Arnold Publishers, 1998), 320-322.
10"Asbestos-Cement Products for War buildings," Asbestos (April 1942), 2-4
11 Rosato, 75.
12 The National Board of Fire Underwriters, Dwelling Houses (New York: The National Board of Fire Underwriters, 1920), 36-37.
13 Ernest G. Blake, Roof Coverings: Their Manufacture and Application (New York: D. Van Nostrand Company, 1925), 144-171. Resource for detailed descriptions of many asbestos-cement roof shingle forms, styles, and hardware.
14 James McCawley, Asphalt and Asbestos-Cement Shingle Residing (New York: United Roofing Contractors Association, 1940).
15 E. Lechner, "Recent Innovations in the Manufacture of Asbestos-cement," Cement and Cement Manufacture, 7:6 (June 1934), 180-181.
16 R.C. Smith, Materials of Construction, Third Edition (New York: McGraw-Hill Book Company, 1979), 358-359
17 Asbestos Shingle, Slate and Sheathing Company, Asbestos Corrugated Sheathing (Ambler, Pennsylvania: The Keasbey & Mattison Company, 1913), 1.
18 "Johns-Manville" product advertisement, Sweet's Catalogue of Building Construction (F. W. Dodge Corporation, 1906-1961), 8b/4.
19 Rosato, 63.
20 National Trust for Historic Preservation, "Coping with Contamination: A Primer for Preservationists," Information Bulletin No. 70 (1993), 12.
21 Bentur and Mindness, 304.
22 Guidance given here only makes recommendations based on national agency laws and regulations; all applicable federal, state, and local laws and regulations must be followed for any asbestos-containing material project.
23 Roger C. Whitman, More First Aid for the Ailing House (New York: McGraw-Hill Book Company, 1977), 282.
24 Martin E. Weaver, Conserving buildings, Guide to Techniques and Materials (New York: John Wiley & Sons, Inc., 1993), 26.
25 D.J. Hannant, Fibre Cements and Fibre Concretes (New York: John Wiley & Sons, 1978), 146-155. This reference give quantitative engineering properties for asbestos-cement and other fiber-cements..
26 "The Industrial Uses of Asbestos," Scientific American (22 April 1876), 258-259.
27 John E. Wilden, A Guide to the Art of Asbestos Cement (Winchester, England: Taylor & Partners Translations, 1986), 108. This resource is primarily concerned with the experience or art of producing asbestos-cement and reflects the practical side of production.

Malco® TSFC Tubo Shear fiber cement cutting tool (sold at Amazon and at other tool distributors) and also the Malco TSF2A Shear Cutting Tool, a heavy-duty pneumatic shear cutting tool for the same purpose (available at Amazon.com) Malco Products, http://www.malcoproducts.com/ specializes in producing tools for the HVAC trade. Malco Products, Inc. - PO Box 400, 14080 State Highway 55 NW, Annandale, MN 55302-0400 P: 800-328-3530, F: 320-274-2269
Environmental Health & Investigation Bibliography - our own technical library on indoor air quality inspection, testing, laboratory procedures, forensic microscopy, etc.
Asbestos Identification and Testing References

Asbestos Identification, Walter C.McCrone, McCrone Research Institute, Chicago, IL.1987 ISBN 0-904962-11-3. Dr. McCrone literally "wrote the book" on asbestos identification procedures which formed the basis for current work by asbestos identification laboratories.
Stanton, .F., et al., National Bureau of Standards Special Publication 506: 143-151
Pott, F., Staub-Reinhalf Luft 38, 486-490 (1978) cited by McCrone

Asbestos in Your Home U.S. EPA, Exposure Evaluation Division, Office of Toxic Substances, Office of Pesticides and Toxic Substances, U.S. Environmental Protection Agency, Washington,D.C. 20460
Asbestos NESHAP Adequately Wet Guidance, EPA340/1-90-019, December 1990, U.S. ENVIRONMENTAL PROTECTION AGENCY, Office of Air Quality Planning and Standards, Stationary Source Compliance Division, Washington, DC 20460,original web source: http://www.epa.gov/region04/air/asbestos/awet.htm
Asbestos products and their history and use in various building materials such as asphalt and vinyl flooring includes discussion which draws on Asbestos, Its Industrial Applications, D.V. Rosato, engineering consultant, Newton, MA, Reinhold Publishing, 1959 Library of Congress Catalog Card No.: 59-12535 (out of print, text and images available at InspectAPedia.com).
"Handling Asbestos-Containing roofing material - an update", Carl Good, NRCA Associate Executive Director, Professional Roofing, February 1992, p. 38-43
EPA Guidance for Controlling Asbestos-Containing Materials in buildings, NIAST, National Institute on Abatement Sciences & Technology, [republishing EPA public documents] 1985 ed., Exposure Evaluation Division, Office of Toxic Substances, Office of Pesticides and Toxic Substances, U.S. Environmental Protection Agency, Washington,D.C. 20460
Books & Articles on Building & Environmental Inspection, Testing, Diagnosis, & Repair