Vacuum-Operated Oil Piping Valves
Uses, locations, prohibitions & codes for the use of vacuum-controlled valves in oil piping systems
OIL LINE VACUUM-ACTIVATED OSVs & PRVs - CONTENTS: uses of in-line vacuum-activated check valves on heating oil piping systems: where vacuum-type OSVs or check valves are installed, how they work, why they are used
POST a QUESTION or READ FAQs about the use of vacuum-type OSVs on heating oil piping systems to protect against overpressure and to guard against oil line leaks & spills
InspectAPedia tolerates no conflicts of interest. We have no relationship with advertisers, products, or services discussed at this website.
Oil piping vacuum-controlled check valve use, installation & prohibitions: this article describes the use of vacuum-operated check valves in heating oil piping systems. We include citations from key industry sources & building codes on the use of vacuum-type OSVs or oil piping safety valves including Webster's OSV and Suntec's PRV that incorporates an oil safety valve with an oil filter.
The article also explains the difference between a vacuum-type OSV or oil safety valve and a fusible link OSV or oil safety valve. These controls are often referred-to by the same OSV name, but they work differently and serve very different purposes.
Green links show where you are. © Copyright 2017 InspectApedia.com, All Rights Reserved.
Guide to Vacuum-Activated Oil Safety Valves, OSVs & PRVs (Webster & Suntec)
How are vacuum type OSVs different from fusible link OSVs?
Most residential heating equipment is supplied by oil piping that moves from oil tank to oil burner by gravity (above ground oil storage tanks) and that is under negative pressure (a vacuum) when the oil burner is running: the oil burner fuel unit is pulling oil from the tank to the burner.
[Click to enlarge any image]
How a fusible link Firomatic™ OSV provides offers fire protection.
Typically a spring-loaded fusible-link oil safety valve such as the Firomatic type is used on both above-ground and underground oil supply systems to provide fire protection at the oil burner. In normal operation the valve is manually opened to permit oil to flow to the burner. It can also be manually closed for service.
But when the valve is manually "open" it will also be closed automatically by spring force should its fusible link be exposed to a pre-set temperature of 160°F, a fire safety feature.
How a Vacuum-operated Webster OSV provides over-pressure protection
A vacuum-operated Webster OSV™ provides both oil line pressure protection & oil line leak protection but is not a fire protection device.
A Webster OSV provides vacuum-activated protection against both leaks and oil line overpressure from a supply pump or from overhead oil piping. Oil is permitted to flow only if the oil burner fuel unit is running, creating a vacuum in the oil supply line.
Typically a vacuum-operated safety valve like the Webster Oil Safety Valve, also mounted close to the oil burner is normally closed. This OSV opens only in response to a "sustained vacuum" created at its outlet end when the oil burner's fuel unit pump is drawing oil from the supply.
Protection against over-pressure from the supply piping prevents leaks at the fuel pump inlet or seals that might occur when the fuel pump is not operating but the supply piping is under pressure from the oil source.

How a Vacuum Operated Oil Safety Valve Protects Against Oil Leaks & Spills
Protection against leaks in the oil supply piping between the oil source and the fuel pump works by stopping oil flow to the burner should a leak in the oil line occur between the source and the vacuum-operated OSV. If the heating oil supply piping leak is large enough to prevent the fuel pump from pulling an adequate vacuum the Webster OSV won't open, thus the burner won't run and presumably the leak will be thus detected.
By this approach Webster's vacuum-activated OSVs provide protection against oil spills by preventing oil siphoning out of the oil tank should there be a break or leak in the oil piping between the oil tank and the oil burner(s). These valves are used with oil supply pump or booster pump systems and as we explained just above, they also protect against excessive oil pressure at the oil burner inlet. Quoting Webster [4],
The OSV® valve will not open during fuel unit operation if there is any air leak in the the system between OSV® and burner that prevents development of the operational vacuum required.
For a detailed discussion of a similar device that incorporates an oil filter, see our discussion of the Suntec PRVbelow.
Dual Applications of the Webster OSV: both pressurized & vacuum-level oil supply piping
Vacuum-activated Webster OSV valves provide protection for pressurized oil line piping systems that may be found on central heating oil supply systems for multiple mobile homes, on commercial heating systems and at other installations in which a stand-alone heating oil supply pump is delivering oil to the equipment.
But they are also installed on non-pressurized oil piping systems whose lines are under vacuum when the oil burner is running. Webster provides instructions for OSV use on both conventional gravity-fed oil fired heating equipment and pump-fed oil fired heating equipment.
Where to Install Vacuum Operated Oil Safety Valves OSVs
Two different installation instructions have been provided.
Installing the OSV close to the oil tank
For vacuum-operated OSVs, unlike fusible link OSVs, an OSV device is installed not at the oil burner (since this is not a heat-activated fusible link device) but rather close to the oil tank, and an individual OSV and oil feed line is provided from the tank to each heating appliance. [Webster's sketch, above-left.] In the illustration shown above left (courtesy Webster Fuel Pumps & Valves [3].) the OSVs are at the oil tank and additional service shut-off valves are at the individual oil burners.
Installing an OSV close to the Oil Burner
Webster's instructions for their OSV Series OSVA 39 (3/8" piping) and OSVA 50 (1/2" piping) used with Now. 2 or lighter fuel oil at a maximum of 60 psi inlet pressure are mounted close to the burner assembly. A sustained vacuum at the outlet side of the OSV is created when the burner's fuel unit is running, causing the valve to open. [7b]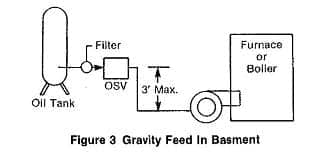 Watch out: protect the OSV from debris: Webster's instructions for OSVs recommend that a reliable in-line oil filter should be installed between the oil tank and the OSV "to insure maximum seal reliability in the OFF" mode.
This warning means that debris from the oil tank or oil piping can interfere with proper operation of the OSV's valve seal.
Watch out: As you can observe in the illustration at left Webster's instructions for OSVs include this warning to avoid fuel siphoning:
Do not mount the oil safety valve more than three feet above the lowest point in the fuel pump inlet [in most residential cases this means the oil burner fuel unit], nor more than three feet above the lowest point in the fuel line connecting the OSV to the burner fuel pump. In-line mounting with the burner fuel pump inlet is recommended.
Failure to observe the above caution may result in siphoning action in the event of failure of the fuel line between the burner fuel pump and the OSV. [3] [7b]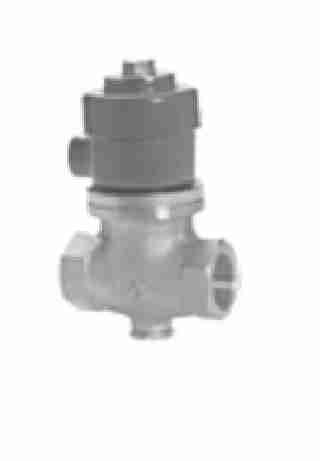 Suntec's PRV installation instructions include the same warning:
Caution: to prevent siphoning in the event of an [oil] line failure, the PRV valve should not be mounted more than three feet above the burner, or three feet above the lowest point in the [oil] line connecting the valve to the burner. [8a]
Shown at left is an anti-siphon valve sold by Envirosafe, #710 Series Solenoid Valve (Normally Closed).
This anti-siphon valve is installed on the suction line exiting an above ground oil (or other liquid) storage tank to prevent accidental siphoning out of the tank should a leak occur in the piping downstream from the valve.
The valve is normally closed but will open when a dispenser pump is switched on.
See ...
Webster OSV Tool Assists in Priming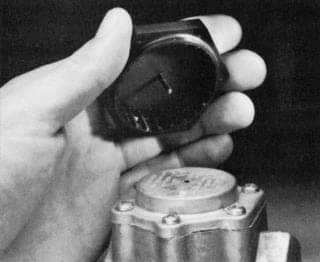 A bit of insight into the operating personality of the Webster OSV can be inferred from the company's provision of a clever little tool that will hold the OSV in the "OPEN" position temporarily.
In new oil piping installations or when the oil supply has run out or for some other reason has left the oil piping system full of air, particularly when the oil supply is from an oil tank that is buried or is below the level of the oil burner, the fuel unit has to work to draw air and oil out of the piping during the system priming operation.
For this purpose Webster provides an OSV tool for use only during priming. Installing and holding the tool in position will hold the valve open temporarily to assist.
See Webster Fuel Pumps & Valves Oil Safety Tool Bulletin FU43-11 (April 2006) or contact the company or your heating supplier for details.
The Suntec PRV-38PF discussed below also provides assistance for fast priming by pushing down on an exposed, spring-loaded stem.

Suntec's PRV Valves are OSVs that incorporate an automatic (supply-side check valve) that Prevents Oil Flow or Leaks When the Oil Burner is Not Running
The following description is adapted, paraphrased, and expanded from Suntec Industries information.[9]
A PRV valve, such as Suntech Industries Inc.'s Model PRV-38P (replaces the now obsolete PRV-38PF)is an oil safety valve that prevents oil from flowing out of an oil tank by gravity, or by siphoning action, when flow is not desired. At the inlet side of the PRV valve, oil can be supplied under pressure or under a vacuum (depending on whether or not the oil burner fuel unit is running). But the PRV will not open to allow oil to flow unless it senses a vacuum.
This means that oil will not flow past this valve unless the oil burner and its fuel unit are operating. The effect is that this valve prevents oil from flowing out of an oil tank under any other conditions.
Really? Well not exactly. It seems to me [DF] that an oil line leak between the PRV and the oil tank will still leak, but if the leak size is enough to prevent the fuel pump from reaching a normal vacuum operating level then the valve should remain closed and the loss of heat should notify building occupants to look for a problem.
Why is a PRV valve installed? Suppose you have a large, above-ground oil storage tank at a facility, and that a leak occurs in the oil piping between the tank and the oil burner. Even if the oil line was cut entirely, the PRV valve will keep oil in the tank. In essence, the PRV valve is an oil leak and spill preventer.
PRV Installation Location & Use Recommendations
PRV Valves are installed on the oil supply line as close to the oil tank as possible. And no, we don't usually find a PRV valve installed on residential heating systems. The Suntec PR-38PF supports a maximum flow rate of 45 gph - a volume typically found in commercial or multiple-heating-unit installations, not at a single family residence.
Watch out: in our opinion, and for the reasons given above, you should consider installing an OSV right at the oil burner rather than relying only on this device back at the oil tank. The advantage of installing the PRV-38_PF at the oil tank is that this unit includes and thus located an oil filter cartridge at the start of the oil supply piping - a measure that helps prevent oil sludge or debris piping of the oil line.
But fire protection is not provided by this type of OSV; rather that feature would be provided by a fusible-link valve located close to the burner.
The PRV is mounted with its cap "down" if it's in an area exposed to moisture, to keep moisture out of the valve body. But it will work just fine in any orientation. Suntec's installation instructions for PRVs recommend that the valve be protected by a system filter.
If the PRV is used in a centralized oil supply system that is supplying fuel to multiple heating appliances, or if you are installing the valve on a system that uses oil flow booster pumps, each oil burner should have its own PRV valve, as Suntec explains, to insure against high system pressures.
Watch out: When installing a PRV or other valves and controls on oil fired heating equipment, do not use teflon tape. The worry is that a fragment of tape enters the system where it can clog a check valve or injure a device. Instead use a non-hardening pipe dope. We use a non-hardening version of blue LeakLok that works very well on oil fired equipment.
Watch out: the Suntec PRV installation instructions include the same warning as with other vacuum-operated safety valves: do not install the PRV valve more than three feet above the burner nor more than three feet above the lowest point in the oil line connecting the PRV to the burner.
When you are priming an oil fired heating appliance, that is, bleeding air out of the lines, you can speed the process by pressing down on an exposed stem to hold the valve in an open position. We need this feature because the fuel unit does not pull such a strong vacuum on the oil line if the line is full of air (such as at a new installation).
PRV valves and No-Heat Calls
If there is an air leak in the piping system anywhere between the PRV valve and the oil burner, and if the air leak is big enough to prevent the burner from pulling enough vacuum to open the PRV, the PRV will remain shut, no oil will flow, and the burner will of course not operate.
You can test for this condition by pressing the prime button described above and checking for oil flow. A pressure gauge installed on the system can also be used to monitor for leaks (can the system hold a vacuum when the fuel unit shuts off?). We discuss pressure testing oil lines in the article above where we discuss Oil Safety Valves. You can also pressure test the oil lines under positive pressure.
Suntec PRV UL Listing & NFPA Standards Citation
PRV Series products are UL approved (US & Canada's CSA) and fulfill the NFPA standards (par. 3.7 & 3.8 in NFPA 31). Consult local codes for compliance to other applicable regulations. - Suntec Model PRV-38PF Oil Safety Valve with Filter Cartridge Installation Information
Suggested citation for this web page
OIL LINE VACUUM-ACTIVATED OSVs & PRVs at InspectApedia.com - online encyclopedia of building & environmental inspection, testing, diagnosis, repair, & problem prevention advice.
Or use the SEARCH BOX found below to Ask a Question or Search InspectApedia
...
Frequently Asked Questions (FAQs)
Try the search box below or CONTACT US by email if you cannot find the answer you need at InspectApedia.
...
Ask a Question or Search InspectApedia
Use the "Click to Show or Hide FAQs" link just above to see recently-posted questions, comments, replies, try the search box just below, or if you prefer, post a question or comment in the Comments box below and we will respond promptly.
Search the InspectApedia website
Technical Reviewers & References
Click to Show or Hide Citations & References
[1]AUDELS OIL BURNER GUIDE, INSTALLING, SERVICING, REPAIRING, [PDF online copy of this book] Frank D. Graham, Theo. Audel & Co., New York 1946, 1947, 1955 (out of print, copies occasionally available from antique book dealers and on EBay). Use THIS LINK to read a free online copy of this helpful classic textbook.
[2] Beckett Model SR Oil Burner Instruction Manual, R.W. Beckett Corporation, PO Box 1289, Elyria OH 44036 and R.W. Beckett Canada, Ltd., 430 Laird St., Guelph, Ontario, Canada N1G 3x7
[2a] "Beckett Cleancut Installation Information, Single Stage Fuel Unit PN 21844 & 2-Stage Fuel Unit PN 21941", R.W. Beckett Corporation, (2007) op .cit.,
[3] Thanks to Bottini Fuel service technician Bob for discussing the buzzing aquastat relay problem, 4/18/2012. Bottini Fuel is a residential and commercial heating oil distributor and oil heat service company in Wappingers Falls, NY and with offices in other New York locations. Bottini Fuel, 2785 W Main St, Wappingers Falls NY, 12590-1576 (845) 297-5580 more contact information for Bottini Fuel
[4] Beckett Model SF Oil Burner Instruction Manual, op .cit.
[4a] R.W. Beckett Corporation, website: http://www.beckettcorp.com, 38251 Center Ridge Rd. North Ridgeville, OH 44039, Phone: 440-327-1060, Fax: 440-327-1064, Email: sales@beckettcorp.com
Quoting:
Fusible Fire Safety Valves are designed to reduce fire damage by shutting off the flow of oil from the oil tank in the event of a fire. These valves conform to UL/ULC 842 and are listed in the US and Canada. They are required by code in residential oil heating installations in conformance with NFPA 31.
All valves are embossed with the direction of oil flow and include unique part number identification ring or each valve. The seal stem uses a double seal washer/ o-ring system with high grade Viton® equivalent materials suitable for No. 2 fuel oil, Kerosene and up to 20% Biodiesel blend.
[5] Sunstrand Corporation - Sunstrand Fuel Units, 4949 Harrison Avenue, P.O. Box 7003, Rockford, Illinois 61125-7003, U.S.A., Tel: (815) 226-6000 Fax: (815) 226-5399 Website: http://www.sundstrand.com,
[6] Sunstrand Transmission Service Manual, May 1974, web search 08/19/2011, original source: http://www.cushmantrackster.com/pay-pdfs/sundstrand.pdf - Sunstrand Series 15 hydrostatic transmissions
[7] Webster Fuel Pumps & Valves, Capitol City Tool, Inc., http://www.websterfuelpumps.com/
[7a] "Service Technician's Handbook, Webster Fuel Pumps & Valves" [handbook]. Webster Fuel Pumps & Valves Co., Division of Capital City Tool, Inc., Op. Cit.
[7b] "Dimensions & Specifications, OSV Series Oil Safety Valves, OSVA 38, OSVA 50", Webster Fuel Pumps & Valves, (1980), Op. Cit. retrieved 2/24/2014, original source: http://www.websterfuelpumps.com/pdffiles/osv1.pdf
[8] Suntec Industries, 5000 Glasgow KY, 42142-5000, Tel: 270-651-7116, Website: www.suntecpumps.com, Email: info@suntec.com
[8a] Suntec Model A-7400 Fuel Unit Solenoid Dumping Pump,
Suntec Industries Inc., 60 Aberdeen Drive - PO Box 5000, Glasgow, KY 42142-5000 - USA, Tel: 270 651 7116 - Fax : 270 651 9276 e-Mail : info@suntecpumps.com and
Suntec Industries France, 1 Rue Lavoisier - B.P. 102 F-21603 LONGVIC Cedex - FRANCE Tel : +33 (0)3 80 70 60 70 - Fax : +33 (0)3 80 70 61 11 e-Mail : information@suntec.fr, [copy on file as /heating/Oil pumps fuel units/Sunted_Solenoid_DumpingPPump.pdf] ,
Also /Suntech_Solonoid_Safety_Valves.pdf (brochure)
web search 4/19/12, original source: http://www.suntecpumps.com/Suntecus/PDFs/Form%202740%20
-%20Solenoid%20Dumping%20Pump.pdf
[9] Suntec Model PRV-38 Oil Safety Valve Installation Information, Suntec Industries Inc., 60 Aberdeen Drive - PO Box 5000 Glasgow, KY 42142-5000 - USA Tel : 270 651 7116 - Fax : 270 651 9276 e-Mail : info@suntecpumps.com and
Suntec Industries France, 1 Rue Lavoisier - B.P. 102 F-21603 LONGVIC Cedex - FRANCE Tel : +33 (0)3 80 70 60 70 - Fax : +33 (0)3 80 70 61 11 e-Mail : information@suntec.fr, [copy on file as /heating/Oil pumps fuel units/Form 2155 - PRV-38 Installation.pdf]. You can download this file from Suntec's website.
[10] Firomatic Globe Type Oil Line Valves & Lever Type Fusible Link Control Valves: ISP Automation, Inc., 1035 Old Georges Road, North Brunswick, NJ 08902, Phone: 866-383-3481, FAX 866-383-3482, Email: support@ispautomation.com
[11] Fusible link oil line control valves for commercial equipment: ASCO products by Emerson Industrial Automation, P.O.Box 160, 17 Airport Road Brantford, Ontario Canada N3T 5M8 Tel: (519) 758-2700 Fax: (519) 758-5540
[12] Fuel oil safety valves, Webster Fuel Pumps & Valves, 219 Hahn Road Frankfort, Ky. 40601, Tel: (800) 766-1233 Email: czahalka@cctoolinc.com (Curtis Zahalka Sales Mgr/Mkt /Cust Service/Tech Support/Webmaster ) web search 10/12/2011 original source http://www.websterfuelpumps.com/pdffiles/osv1.pdf
[13] Webster Service Technicians' Handbook, Webster Fuel Pumps & Valves, 219 Hahn Road Frankfort, Ky. 40601, Tel: (800) 766-1233

[14] "The Oil Safety Valve (Service)", Charles Bursey, Sr., Fuel Oil News, February 2006 (Still trying to get the full article - October 2008 - DF) Charles W. Bursey Sr. can be reached at F.W. Webb Co. www.fwwebb.com/
[15] "Installation Information for Suntec A-2000, A-7000 Single Stage and B-8000 two stage fuel units"Suntec Industries, 60 Aberdeen Drive, Glasgow KY 42141, 270-651-7116 (1725 rpm black label, 3450 rpm white label)
[16] Tigerloop: oil line de-aerator devices, Westwood Products Inc., 330 William St., PO Box 610, South River, NJ 08882-0610 - (732) 651-7700
[17] Newmac Furnaces & Boilers, "Installation, Operating, and Service Manual, Oil Fired Boiler Model NBR-2001 NBR 2002", (2007) Newmac Manufacturing, Inc., Debert Air Industrial Park, Lancaster Crescent, PO Box 9, Debert, Nova Scotia, BOM 1GO Canada, Tel: 902-662-3840, retrieved 2/23/2014

Dave Ferris - M&S Environmental Systems, Dutchess County, New York. Mr. Ferris was an HVAC expert. Personal communication to DJF 1987. Remove the firematic or fusible oil supply line valve on return oil-line side - in case of fire if this one closes first the pump continues to run, blows its seal, and sprays oil all over the fire. Proper installation is to have a fusible link valve only on the supply side, and to install a check valve on the return line to prevent back-siphonage from the tank.
Thanks to Rick Johnston for pointing out that the more likely cause of a fire safety valve in the return oil line is a burst seal on the fuel unit 4/6/2009
Thanks to reader Bernie Daraz for suggesting the need for clear photographs illustrating the OSV or oil line safety valve in the open and closed positions. Personal correspondence 2/15/2013.
Thanks to reader T.R. for suggesting clarity on where oil safety valves should or should not be installed and for discussing the proper hook-up location for the Tigerloop and similar oil line prime protection & air removal devices. April 2011.
Thanks to reader Anonymous by request 2/23/2014, for requesting clarification of the safety hazards involved in placing an OSV on the return line of a two-pipe oil system.
Books & Articles on Building & Environmental Inspection, Testing, Diagnosis, & Repair
Our recommended books about building & mechanical systems design, inspection, problem diagnosis, and repair, and about indoor environment and IAQ testing, diagnosis, and cleanup are at the InspectAPedia Bookstore. Also see our Book Reviews - InspectAPedia.
...